Letter #1:
Dear Lighthouse Trails:
You may already be aware of this, but going into work this morning (5 Jan) I tuned into David Jeremiah's Turning Point radio broadcast titled "Living a Life Wide Open." In the broadcast Jeremiah lists biblical characters whom he describes as having a passion for God or being "on fire" for God. One of these characters he listed was Moses, which sounds right except he based it on the events of Numbers 20. Numbers 20:1-12 gives the account of God providing water to the children of Israel in the wilderness. Gold told Moses to speak to the rock and water would come forth, but Moses, angry at the Israelites because of their complaining, struck the rock twice. God went ahead and gave the water, but because of Moses disobedience he was not allowed to enter the Promise Land. As a matter of fact the Bible specifically tells us Moses' action was rebellion against God's commandment (Numbers 27:14). Just to make sure I didn't misunderstand what Jeremiah said I listened again to a repeat of the broadcast in the evening. I scratch my head wondering how a prominent Bible teacher, preacher, and author could make such a mistake!
In another portion of the broadcast, he favorably mentioned Erwin McManus giving "insight" into one his books. Basically in the book mentioned McManus criticizes some of the old hymns such as "Leaning on the Everlasting Arms" which (according to McManus) encourages believers to be passive (leaning on God I guess?) instead of passionate. I don't know if this was a recent sermon Jeremiah preached or a re-broadcast of an older one.
Letter #2:
To Lighthouse Trails:
Praying for you to be able to understand God's Word with true understanding. That Satan will leave the person, who is trying to discredit the work being done in El Cajon, California.  Really blatant remarks being made.  Dr. Jeremiah preaches the Word according to the Bible.  No nonsense, but True Scripture from God.  El Cajon being located in the most populous state in the Union and David Jeremiah choosing to be among the people bringing the Gospel and trying to meet the people's needs.  Being obedient to God in spreading the Gospel.  He uses his time raising up rather than tearing down. Satan interacts through his demons here on earth. We pray that you walk in God's light rather in the darkness of Satan's work. [LT Note: We have removed some derogatory remarks from this letter about Lighthouse Trails that are unbeneficial, untrue, and have nothing to do with the subject matter.]
All I am asking is that you focus on God's Word and not on God's true servants, who are being obedient by reaching millions of we sinners each week, through his obedience to God. I will say no more. Please make each of your days count for God and not for Satan's condemnation of others.
Our Comments: First, we would like to reiterate previous statements we have made regarding the articles at Lighthouse Trails. We are not attempting to destroy the reputations of those we critique. However, as we watch the complete silence by Christian leaders in matters pertaining to the preservation of the Gospel message, we remain compelled to challenge them and beseech them to stand for truth and against apostasy no matter the cost.
Coincidentally, Lighthouse Trails received both of the letters above just a couple days apart. The second letter is an example of someone who is devoted to David Jeremiah but who has not gathered all the facts before making his assessment. The sermon that is referenced in the first letter pertains to David Jeremiah's book Life Wide Open,which was published several years ago but still in circulation today and as one can see from the recent broadcast, still inspiring Jeremiah today. Lighthouse Trails wrote a review of Life Wide Open a number of years ago. Below we are re-posting a portion of our original review of the book because it is still a relevant issue and is a case in point of another Christian leader who is not speaking out against spiritual deception, including his own. While the broadcast mentioned above is from an earlier date, the present-day introduction by Jeremiah shows that he still approves of his book and his ideas on a "passionate" life.
Sadly, as he did in Life Wide Open, you will hear Jeremiah speaking in this broadcast in a demeaning matter about hymns, much differently than he did in his 90s book Invasion of Other Gods, where he commendably gave a strong warning about the New Age and spoke lovingly of hymns. In Life Wide Open, he stated: "Unfortunately, we often encourage comfort zones in the church." He then quoted contemplative Calvin Miller as saying, "I was struck one day by all the hymns that center on faith as a protective refuge." Examples he gave included "A Mighty Fortress is Our God," "Rock of Ages," and "Haven of Rest." Jeremiah said that such songs were "comfort music for weak-kneed saints" (pp. 164-165). We are wondering what invaded David Jeremiah's thoughts to change them regarding hymns over the course of a decade. And how is it that he condemned the New Age in the 90s but in Life Wide Open (ten years ago) admired them, and today, still resonates with that book?
From our original review:
David Jeremiah's 2003/2005 book, Life Wide Open, has a subtitle of "Unleashing the Power of a Passionate Life." In the introduction of the book, Jeremiah tells readers that "A Small handful among us have discovered what the rest of us would pay dearly to know: How can we bring real, living excitement into this life?" Jeremiah goes on to tell readers that "This book is a map to the life of passion and purpose, the life wide open…"  (p. xii) Who are these small handful of people who have discovered the secret? Well according to Jeremiah's book, his list includes Rick Warren, contemplative, feminine spiritualist Sue Monk Kidd (When the Heart Waits), contemplative Calvin Miller (Into the Depths of God), Buddhist sympathizer Peter Senge (The Fifth Discipline), emerging church leader Erwin McManus, contemplative Michael Card, and Brother Lawrence (Practicing the Presence of God).
When one ponders the spirituality of some of these names, it is disheartening to see that David Jeremiah continues promoting his book rather than having it pulled from the market. What would cause him to do that? Well, either he is not pulling the book because he does not see anything wrong with Sue Monk Kidd, Rick Warren, Peter Senge, and the others or he knows something is wrong with them but for whatever reasons he has chosen to ignore the fact that his book could potentially mislead many people.
Looking at just one of the names in Life Wide Open (as someone who has found the secret to passion and purpose), Sue Monk Kidd, may put things into perspective. Ray Yungen explains:
A Sunday school co-worker handed Sue Monk Kidd a book by Thomas Merton telling her she needed to read it. Once Monk Kidd read it, her life changed dramatically. What happened next completely reoriented Sue Monk Kidd's worldview and belief system. She started down the contemplative prayer road with bliss, reading numerous books and repeating the sacred word methods taught in her readings.

She ultimately came to the mystical realization that: "I am speaking of recognizing the hidden truth that we are one with all people. We are part of them and they are part of us … When we encounter another person, …we should walk as if we were upon holy ground. We should respond as if God dwells there." (A Time of Departing  p. 134)
Monk Kidd, also author of The Secret Life of Bees (emulating the goddess Madonna), reveals her spirituality when she states in a book endorsement: "In Radical Optimism, Beatrice Bruteau sets forth a deep and shining vision of spirituality, one that guides the reader into the contemplative life and the very root of our being. Dr. Bruteau is a philosopher of great measure whose work should be required reading for all who seek the deepest truth about themselves" (Monk Kidd's endorsement of Bruteau's book). For those who are not familiar with Beatrice Bruteau, she is a Catholic panentheistic contemplative.
Monk Kidd's journey has also led her to say: "We also need Goddess consciousness to reveal earth's holiness. . . . Matter becomes inspirited; it breathes divinity. Earth becomes alive and sacred. . . . Goddess offers us the holiness of everything" (The Dance of the Dissident Daughter, pp. 162-163). Few would argue that this does not line up with biblical Christianity nor is it the kind of life of "passion" and" purpose" that Christians should seek after. She also said in The Dance of the Dissident Daughter that God can be found in everything, even graffiti and excrement! (p. 160).
In Life Wide Open, it wasn't The Dance of the Dissident Daughter that Jeremiah quoted from. But the book he did quote from, When the Heart Waits, is also about Monk Kidd's propensities. In that book, she explains: "There's a bulb of truth buried in the human soul [everyone] that's only God … the soul is more than something to win or save. It's the seat and repository of the inner Divine, the God-image, the truest part of us" (as quoted by Ray Yungen in A Time of Departing, 2nd ed., p. 134, citing pp. 47-48 of Monk Kidd's book) .
When the Heart Waits is a primer on contemplative spirituality. Monk Kidd talks about finding her "true self" and explains how mystics like Teresa of Avila, John of the Cross, Meister Eckhart, and Thomas Merton helped her to find it. She quotes Beatrice Bruteau's book, Gospel Zen, and Thomas Keating's book, The Heart of the World. Keating and Bruteau embrace a mystical panentheistic view, without a doubt. She even quotes favorably Alan Jones, author ofReimagining Christianity. Reading a couple quotes by Jones in that book will show the seriousness of this situation:
"The Church's fixation on the death of Jesus as the universal saving act must end, and the place of the cross must be reimagined in Christian faith. Why? Because of the cult of suffering and the vindictive God behind it." (p. 132)
"The other thread of just criticism addresses the suggestion implicit in the cross that Jesus' sacrifice was to appease an angry god. Penal substitution [the Cross] was the name of this vile doctrine." (p. 168)
And even though the book by Sue Monk Kidd is in Life Wide Open, David Jeremiah's book is still promoted throughout mainstream book venues.
In 2006, a year after the second edition of Life Wide Open came out, Jeremiah said he wanted to use a book by emerging leader Erwin McManus to help bring a "major paradigm shift" to his church. The book Jeremiah wanted to use was The Barbarian Way, a book that McManus admits had at its core "mysticism." Considering that David Jeremiah chose Sue Monk Kidd as part of a road map to spirituality,is is any wonder that he also chose Erwin McManus who once said:
My goal is to destroy Christianity as a world religion and be a recatalyst for the movement of Jesus Christ," McManus, author of a new book called "The Barbarian Way," said in a telephone interview.

"Some people are upset with me because it sounds like I'm anti-Christian. I think they might be right." Erwin McManus
Isn't it time for Christian pastors and leaders to step up to the plate of humility, sorrow, and repentance? For the sake of the sheep.  (END OF REVIEW)
Related Articles:
Ravi Zacharias on Henri Nouwen – "I regret having said that" "Henri Nouwen Was One of the Greatest Saints In Our Time"
Hymns – Why Do Some Modern-Day Christian Authors Dislike Them?
David Jeremiah Opens Pulpit to Contemplative Advocate John Ortberg
David Jeremiah's Book Life Wide Open – Still Sold on His Website – Still Includes New Agers
David Jeremiah Quotes Mystic/Panentheist Henri Nouwen … Again
David Jeremiah Quotes New Ager … A Mysterious Twist
David Jeremiah Instructs "Visualize Jesus" – References Mystic Francis de Sales
David Jeremiah Proposes "Major Paradigm Shift" For His Church
According to a Christian Post article dated December 31, 2014 and titled "Former Mars Hill Pastor Mark Driscoll Launches New Website," the former pastor of the mega church  has started a new resource ministry & website. All we can say at this point is, that sure didn't take long.
Interestingly, Rick Warren gave the final "sermon" at the now-defunct Mars Hill Church on December 28th. It was Bob Buford (who worked with then-colleagues Rick Warren and Bill Hybels), mentored by Peter Drucker, who hand chose Mark Driscoll, along with Brian McLaren, Doug Pagitt, et.al. in the late 1990s to start the Terra Nova project, which later became the Emergent movement (read Faith Undone for more on that history or click here). All we can say to that is, the apple doesn't fall far from the tree.
Lighthouse Trails research on new spirituality icon Mark Driscoll:
Mark Driscoll Resigns From Mars Hill Church For Social Failures – But Media Silent on Controversial Doctrinal Issues
Seattle Megachurch Mars Hill Dissolves 2 Weeks After Founder Mark Driscoll Resigns
Mark Driscoll's Distorted View on Noah and Salvation . . . (And How Some People Have a Very Strange Idea as to the Meaning of God's Salvation)
Related articles across the web
Looking Back: It's been a very busy year for the small staff at Lighthouse Trails. In addition to relocating back to Northwest Montana after a 24-month stay in Oregon, we have been working hard to publish several new Booklet Tracts in 2014. We now have 49 booklets on many different topics related to the work and research at Lighthouse Trails.
We want to take this opportunity to ask you to please remember to pray regularly for our authors. There are now over 30 authors throughout North America who associate themselves with Lighthouse Trails. These are dedicated brothers and sisters who understand the times in which we live and who sacrificially lay down their lives and their own comforts to serve the body of Christ and to share the Gospel with others. They will never get rich doing this because the issues they talk and write about are too controversial, but making money is not their goal. They truly love the Lord and know that the Bible is His Word. So please pray for them and support them as you are able to. Just this past year alone, there have been mishaps in some of their lives: Caryl Matrisciana had a near-fatal bicycle accident, Roger Oakland fell off a ladder and had a serious arm injury, Diet Eman (our 94-year-old Holocaust survivor) is struggling with her health as never before, and some of them have had to endure extreme financial difficulties.
As for 2014 from a spiritual point of view, this past year has seen some major changes in the church – the most significant being the widespread acceptance among highly popular evangelical leaders regarding the Catholic Church and the Pope (you can see a number of the articles in our Year in Review posts). In addition, contemplative spirituality (i.e., Spiritual Formation) has truly become absorbed into the church at large. We estimate that over 90% of the Christian colleges, seminaries, and universities are incorporating Spiritual Formation into their students' lives. And many of these schools are coming up with laxed views on homosexuality. While many Christian pastors and leaders are crying out "revival," "renewal," "oneness," and "unity," we hear very little about repentance within the church. If there were a revival today, led by these leaders, we fear it would not be a revival (or reformation as some call it) from the Lord.
Looking Ahead: In 2015, Lighthouse Trails and its authors will continue to do the work that is set before us. Several of our authors are going to be on the speaking circuit, speaking to churches and other groups. If you and your group would like to have any of them come speak, they do not charge any fees. They ask for their transportation to be covered as well as comfortable lodging and meals and if feasible, a love offering. Ray Yungen, Warren B. Smith, Roger Oakland, Anita Dittman, Patrick Crough, Greg Reid, Chris Lawson, Mike Oppenheimer, Lynn Lusby Pratt, and Mary Danielsen are regular speakers.
Also in 2015, Lighthouse Trails hopes to produce and publish 20-25 more Booklet Tracts. The need is there, and we want to get these low-cost resources distributed. We also plan to publish Bill Randles updated and expanded book, Beware the New Prophets, Maria Kneas' book, How to Prepare for Hard Times and Persecution, Roger Oakland and Caryl Matrisciana's updated and expanded book, The Evolution Conspiracy, and new LT author Claris Van Kuiken's book, Missions, Mysticism, and Magic addressing what is taking place in missionary societies today. We have other books in the workings as well, but we won't announce those until later.
In 2010, Lighthouse Trails began The Shepherd's Garden, a small side-line to help support Lighthouse Trails. Our own creation, Shepherd's Bible Verse Tea, now has 6 different organic blends, and every tea bag has a Bible verse attached. This isn't a gimmicky idea we came up with; we truly see it as a tent-making effort, and we are pleased that so many Lighthouse Trails readers love this tea.
We pray that 2015 will be a blessed year for you and your loved ones. We thank you for standing with Lighthouse Trails and our authors. We hope we can continue to be a blessing to your lives. We trust the Lord to give us the grace and strength to walk in His ways.
Therefore being justified by faith, we have peace with God through our Lord Jesus Christ: by whom also we have access by faith into this grace wherein we stand, and rejoice in hope of the glory of God.And not only so, but we glory in tribulations also: knowing that tribulation worketh patience; and patience, experience; and experience, hope: and hope maketh not ashamed; because the love of God is shed abroad in our hearts by the Holy Ghost which is given unto us. (Romans 5:1-5)
My first trip to Kenya was during the month of November 2011. I stopped in Kenya on my way home from South Africa and visited several communities I had been made aware of through the ministry of one of the local pastors. While I had been accustomed to visiting areas of the world where parentless children went to bed hungry every night, the needs I saw first-hand in Kenya touched me deeply.
The people in one area in particular and the experiences I encountered remain etched in my mind.  Over 50 percent of that community consisted of widows and orphans as the result of the devastation caused by AIDS.
Before my arrival, the community was notified of my scheduled visit. A large gathering, including grandmothers, mothers, and children of all ages, greeted me, singing and praising the Lord showing how grateful they were that I had come to visit them. Several communicated personally with me. One grandmother prayed God would provide material assistance though this "white-skinned" man who had come from the west whom she believed God might use to help her find a way out of the hopeless situation she faced.
For a short video illustrating this scenario please click on:
https://www.youtube.com/watch?v=h-ypFgX0Z_A&list=UUKB5wYb_lCrTACVlq0S0R1w
A month or two after my first visit to Kenya, Understand The Times, with assistance from Lighthouse Trails, established the Bryce Homes Kenya Program. A partnership was made with three capable Kenyan leaders committed to the program.
Initially there were five Homes. This expanded to twelve, then twenty, and now twenty-four. In one particular region there, there are now six Bryce Homes. This is the remote community where the widows and orphans gathered to greet me in November of 2011. The Bryce Homes Program has made a huge impact in this one community alone. Not only have the people living there seen "true Christianity" in action, the chief of the area has told us that the whole community has benefited in many ways. So far, the Bryce Program has built six new homes in this one community, food, and clothes have been provided, and water collecting and purification systems have been installed to provide clean and pure drinking water.
Currently, the Bryce Homes families in this one region of Kenya are holding church services outdoors.  Already a pastor has committed to overseeing the Bryce Homes there, and care for the flock that has been established. While the praise and worship of these saints during their outdoor services is attracting others in the community to join them, being exposed to the elements (hot sun, rain, wind, etc) is difficult; plus there are only rocks and the odd log to sit on. When the sky opens and the rain pours down, the congregation is forced to flee to their homes until the rain subsides.
A legitimate and worthy request has come from our Bryce Homes Kenyan leaders regarding the constructing of a church shelter for this region. Not only would this provide a place of worship for each of our six Bryce Homes, it would provide a tremendous opportunity for outreach to the entire community with the gospel on a weekly basis.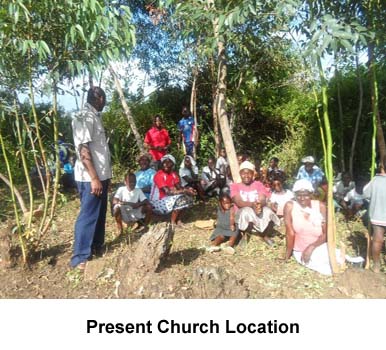 The number of adults and children expected to attend a Sunday morning service would be over 200. Mid-week the shelter would be used for other activities that would benefit the entire community. The facility could also be partitioned in the future with removable walls so that it could be used for an education center where a Bible college could be established. It could also be used as a place where various trades could be taught with the goal to assist young people within the Bryce Program to work towards self-sufficiency.
While North Americans are accustomed to raising and spending millions of dollars for steeples, stages, balconies, carpet, and chandeliers, the church shelter we are planning, capable of holding 250 people, will be very basic – a place for the congregation to get out of the sun and rain. Of course, another necessity would be a latrine – preferably one with four compartments in order to meet the demand.
Now, the cost for a church building similar to the one above would be around submitted $3700. This includes church building and the latrine.  Three thousand and seven hundred dollars is a project that can be accomplished as God's people provide.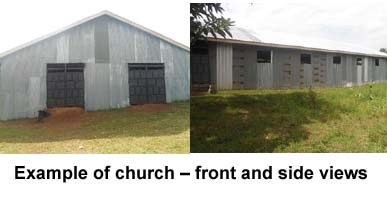 The floor will be plaster. Ventilation will be provided through open doors and windows. A steeple is not included in the plan.  Plastic chairs will be added later for the congregation.
Speaking of a building fund, several generous year-end donations have already been given to Understand The Times in the past week designated for Kenya. As we feel God is leading us, the Church Building Fund for Kenya has begun.
We are hoping and praying the church may even be completed when one of my Board members and myself visit Kenya in March of 2015. If you are interested in investing in this project, let us know.
LT Note: If you need to reach someone to talk about this project and cannot reach anyone by phone at UTT, you can call Lighthouse Trails office (406-889-3610), and we will assist you. To donate directly to the Bryce Home Program using paypal, click here.