Courtesy Understand the Times
Written by Heather Clark
Christian News Network
Russell Moore, the president of the Ethics and Religious Liberty Commission of the Southern Baptist Convention, and Saddleback megachurch leader Rick Warren will team up with Roman Catholic Pontiff Francis later this month for an interfaith Vatican conference on marriage and family.
"Complementarity of Man and Woman," will be held Nov. 17-19 at the Vatican, and is expected to feature more than 30 speakers from over 20 countries. According to the Catholic News Service, those of the Jewish, Islamic, Buddhist, Hindu, Jaina Shasana, Taoist and Sikh religions will be present, as well as Roman Catholics and professing Christians.
The event is sponsored by the Pontifical Council for the Family, the Pontifical Council for Interreligious Dialogue, and the Pontifical Council for Promoting Christian Unity. "I hope that this gathering of religious leaders can stand in solidarity on the common grace, creational mandate of marriage and family as necessary for human flourishing and social good," Moore wrote in a blog post this week entitled "Why I'm Going to the Vatican." "I also hope that we can learn from one another about where these matters stand around the world."
Rick Warren, the author of "The Purpose Driven Life," has spoken glowingly of Pope Francis during several public interviews about the pontiff and the Roman Catholic religion.
"[Pope Francis] is doing everything right. You see, people will listen to what we say if they like what they see," Warren stated on Catholic television network EWTN earlier this year. "His kissing of this deformed man, his loving the children, this authenticity, this humility, the caring for the poor; this is what the whole world expects Christians to do. And when they go, 'Oh, that's what a Christian does.'—In fact, there was a headline here in Orange County—and I loved the headline—I saved it. It said, 'If you love Pope Francis, you'll love Jesus.'" Click here to continue reading.
For those who love the story of The Hiding Place by Corrie ten Boom (a Lighthouse Trails author), the following 6 minute audio clip will be a memorable experience. You will think you are sitting in a cozy living room with Corrie herself. This is a dramatic presentation by Susie Sandager who portrays Corrie from the book, The Hiding Place.
Description: At one time Corrie ten Boom would have laughed at the idea that there would ever be a story to tell. For the first fifty years of her life, nothing at all out of the ordinary had ever happened to her. She was an unmarried watchmaker living contentedly with her sister and their elderly father in the tiny Dutch house over their shop. Their uneventful days, as regulated as their own watches, revolved around their abiding love for one another. However, with the Nazi invasion and occupation of Holland, everything changed.
Corrie ten Boom and her family became heavily involved in the Dutch Underground, hiding Jewish people in their home in a specially-built room and aiding their escape from the Nazis. For their help, all but Corrie found death in a concentration camp.
You may purchase this entire audio set of The Hiding Place, a "listening adventure," at Lighthouse Trails.
By Understand the Times and Lighthouse Trails
WATER FILTRATION
We are happy to report that all of the twenty-four Bryce Homes in Kenya now have water filtration systems. Understand the Times began to place  water filtration units in each Bryce Home in June after Roger Oakland, founder and director of Understand the Times, returned from visiting the homes this past spring. Many of the children and widows were suffering  with disease and sickness because of unclean and contaminated water. In a June report, Roger explained:
[I]t became apparent that one of the greatest needs for our widows and their families was water—both uncontaminated drinking water and water for other basic needs (bathing, washing clothing, etc.). Where our families live in a remote area, they are required to walk long distances to get water from streams, ponds, or community boreholes and then carry the water in five-gallon pails back to their houses. Not only is there the problem of the water source being a long distance away, such water also contains many pathogens that are the cause of serious life-threatening diseases.
Understand the Times was able to obtain water filtration systems from a company called Sawyer that provides such filters to many organizations that help the poor around the world. The Sawyer filters are inexpensive yet durable and easy to use. Thanks to Understand the Times and Lighthouse Trails readers, we have been able to purchase enough systems so that each of the Bryce Homes in Kenya have one. In addition to the water filtration systems, the families will all be receiving a water collection system as we have mentioned in the past. Some of the families already have them, and we hope all the families will have them soon. This allows for the collection of rain water that can be used for drinking, bathing, cooking, and personal hygiene.
SMALL BUSINESS OPPORTUNITY (SBO)
We are also pleased to report that all of the Bryce Home widows now are participating in the Small Business Opportunity (SBO) program started by UTT. The small home-based businesses are up and running. As we have explained in other reports, UTT gives each widow $75 as a start up amount. She, in turn, buys raw materials or finished goods that she sells. Florence 2, the overseer of the project (and one of the Bryce widows), checks in regularly with each widow to talk about the progress and to remind the widows to save enough of their earnings to turn around and buy more material or product. The testimonies coming in from the widows have been wonderful. Each of them is testifying how this and the other Bryce Home projects have changed their entire family life. And best of all, when we hear these testimonies, they give the glory and thanks to God.
SOLAR PANEL FOR PASTOR ACHILLA
We are grateful for some special donations that came in that helped to pay for a new solar panel system for Pastor Achilla's house. The decision was made to purchase the system after he had gone without electricity for several weeks, making extreme hardship not just for his family but also for the Bryce Home project. Being as Pastor Achilla is the head director of the program, it is essential that he be able to use his computer and also have light in his home. During any given week, many people come by Pastor Achilla's house for some kind of assistance or to have a meal. We have found Pastor Achilla to be a very kind and giving man, and we are glad we were able to help set him up with solar energy. As God provides, we would like to see all of the Bryce Homes have solar panels in the future. Currently, most of them do not have any form of electrical or solar power.
VITAMIN C AND EBOLA
As you can imagine, many of the Bryce Home families suffer from poor health. Most of the widows became widowed after their husbands died of AIDS. Needless to say, some of the Bryce Home widows (and children too) have HIV. For privacy sake, we don't mention which ones do, but even if that wasn't an issue, there is the ongoing threat of disease and sickness to all of the families. After hearing that Vitamin C could possibly help those with Ebola, we decided to try to make sure that the Bryce Home families each had a small stock of Vitamin C if they became sick with Ebola or other similar diseases. While we know that this is not a sure cure, it is an affordable and easy-to-obtain substance that can help improve the overall health and immune system.
PLEASE PRAY
Please join us in prayer as we ask the Lord for wisdom and guidance in moving into the next stages of development for the Bryce Homes in Kenya. It was just about 3 years ago that the project was launched after Roger Oakland made a trip to Kenya where he saw the tremendous and dire need in the lives of these Christian families in Kenya. Since then, twenty-four families have become Bryce Homes in Kenya. New houses have been built, clothes and bedding purchased, family agriculture developed, latrines have been built, cookstoves and stove pipes installed in all the new homes, and much more. And best of all, the widows and children are being taught the Word of God by Pastor Achilla, Pastor Nelson, and other area pastors who have discernment; and many in the community are turning to the Lord in seeing His goodness and mercy. What many of them are saying now is, "God has not forgotten us."
For those who may not realize it, this project is supported solely by UTT and LT readers. If you would like to help support these dear families, click here to go to the Understand the Times website. Also recently we posted a short piece answering some questions about the program. You can read that piece below. Also check out our newest slideshow (see below) for recent photos of the Bryce Homes in Kenya. And thank you for your prayers and support.
FIVE THINGS YOU MIGHT BE WONDERING
1.  Does the Bryce Home project have a U.S. building that it must maintain?
Answer: No, there are no U.S. overhead building costs whatsoever.

2. Does the Bryce Home project have a staff it must pay?
Answer: The pastors in Kenya who run the program are compensated for their time, but there is no paid staff in the U.S. or Canada.

3. How much of the donations from Lighthouse Trails and Understand the Times go directly to the Christians in Kenya who are in the Bryce Home project?
Answer: 100% of the donations received.

4. How much accountability is there in the Bryce Home project?
Answer: Roger Oakland, director of Understand the Times and founder of the Bryce Homes International, travels to Kenya once or twice a year where he meets with the three Kenyan men (Pastor Achilla, Pastor Nelson, and Walter) who are running the program from Kenya. He also meets with each Bryce Home family during these visits. In addition, both he and the editors at Lighthouse Trails have regular communication through the year.
5. Is there an emphasis on teaching the Word of God to the Bryce Home widows and children?
Answer: Definitely. While the program does put donations toward practical needs such as housing, food, clothing, water purification, latrines, standard education for the children, and start up money for agriculture and other businesses for the widows, there is regular instruction in the Word of God presented by Pastor Achilla, Pastor Nelson, Pastor Lawrence, and Pastor Daniel.
By John Foxe
(Author of Foxe's Book of Martyrs)
John Huss [1372-1415]
John Huss was born at Hussenitz, a village in Bohemia, about the year 1372. His parents gave him the best education their circumstances would admit; and having acquired a tolerable knowledge of the classics at a private school, he transferred to the University of Prague where he soon gave strong proofs of his mental powers and was remarkable for his diligence and application to study.
In 1398 Huss was chosen to be pastor of the Church of Bethlehem in Prague, and dean and rector of the university. In these stations he discharged his duties with great fidelity; and became so conspicuous for his preaching, which was in conformity with the doctrines of Wickliffe, that it was not likely he could long escape the notice of the pope and his adherents, against whom he complained with no small degree of harshness.
The archbishop of Prague, finding the reformists daily increasing, issued a decree to suppress the further spreading of Wickliffe's writings: but this had an effect quite different to what he expected, for it stimulated the friends of those doctrines to greater zeal and almost the whole university united to propagate them.
Being strongly attached to the doctrines of Wickliffe, Huss opposed the decree of the archbishop, who eventually obtained a bull from the pope which gave him commission to prevent the publishing of Wickliffe's doctrines in his province. Dr. Huss, with some other members of the university, protested against these proceedings and entered an appeal from the sentence of the archbishop.
When this affair became known to the pope, John Huss was ordered to appear personally at the court of Rome to answer the accusations laid against him of preaching both errors and heresies.
Dr. Huss declined to appear at this trial, after which he was declared obstinate and excommunicated forthwith. From this unjust sentence Huss appealed to a future council, but without success; and, notwithstanding so severe a decree, and an expulsion in consequence from his church in Prague, he retired to Hussenitz, his native place, where he continued to promulgate his new doctrine both from the pulpit and with the pen.
The letters which he wrote at this time were very numerous; and he compiled a treatise in which he maintained that reading the books of Protestants could not be absolutely forbidden. He wrote in defense of Wickliffe's book on the Trinity; and boldly declared against the vices of the pope, the cardinals, and clergy of those corrupt times. He wrote also many other books, all of which were penned with a strength of argument that greatly facilitated the spreading of his doctrines.
In the month of November, 1414, a general council was assembled at Constance in Germany, in order, as was pretended, for the sole purpose of determining a dispute then pending between three persons who contended for the papacy; but the real motive was to crush the progress of the Reformation.
John Huss was summoned to appear at this council. To encourage him, the emperor sent him a safe-conduct. The civilities, and even reverence, that Huss met with on his journey were beyond imagination. The streets were lined with people, whom respect, rather than curiosity, had brought together. He was ushered into the town with great acclamations and it may be said that he passed through Germany in a kind of triumph.
As soon as Huss arrived at Constance, he immediately took lodgings in a remote part of the city. A short time after his arrival came one Stephen Paletz, who was employed by the clergy at Prague to manage the intended prosecution against him. Paletz was afterwards joined by Michael de Cassis on the part of the court of Rome. These two declared themselves his accusers and drew up a set of articles against him, which they presented to the pope and the prelates of the council.
When it was known that he was in the city, he was immediately arrested and committed prisoner to a chamber in the palace. This violation of common law and justice was particularly noticed by one of Huss's friends, who invoked the imperial safe-conduct; but the pope replied he never granted any safe-conduct nor was he bound by that of the emperor.
While Huss was in confinement, the council acted the part of inquisitors. They condemned the doctrines of Wickliffe and even ordered his remains to be dug up and burned to ashes; which orders were strictly complied with. In the meantime, the nobility of Bohemia and Poland strongly interceded for Huss; and so far prevailed as to prevent his being condemned unheard, which had been resolved on by the commissioners appointed to try him.
When he was brought before the council, the articles exhibited against him were read: they were upwards of forty in number and chiefly extracted from his writings.
The excellent sentences Huss offered in defense of his doctrines were esteemed as so many expressions of treason and tended to inflame his adversaries. Accordingly, the bishops appointed by the council stripped him of his priestly garments, degraded him, put a paper miter on his head on which was painted devils and this inscription, "A ringleader of heretics." Which when he saw, he said:
My Lord Jesus Christ, for my sake, did wear a crown of thorns; why should not I then, for His sake, wear this light crown, be it ever so shameful? Truly I will do it and willingly.
When it was set upon his head, the bishop said: "Now we commit your soul unto the devil."
"But I," said John Huss, lifting his eyes towards the heaven, "do commend into Your hands, O Lord Jesus Christ, my spirit which You have redeemed."
When the chain was put about him at the stake, he said with a smiling countenance, "My Lord Jesus Christ was bound with a harder chain than this for my sake, and why then should I be ashamed of this rusty one?" When the fagots were piled up to his very neck, the duke of Bavaria was so meddlesome as to desire him to retract. "No, (said Huss;) I never preached any doctrine of an evil tendency; and what I taught with my lips I now seal with my blood."
When the flames were applied to the fagots, our martyr sung a hymn with so loud and cheerful a voice that he was heard through all the cracklings of the combustibles and the noise of the multitude. At length his voice was interrupted by the severity of the flames, which soon closed his existence.
Then, with great diligence, gathering the ashes together, they cast them into the river Rhine, that the least remnant of that man should not be left upon the earth, whose memory, notwithstanding, cannot be abolished out of the minds of the godly, neither by fire, neither by water, neither by any kind of torment. (From chapter 8 of the special Lighthouse Trails edition of Foxe's Book of Martyrs)
We are reposting this important radio interview because the incidence of children being sexually exploited by online predators is steadily increasing.
Below are several short audio clips from the recent interview Jan Markell of Olive Tree Ministries did with Lighthouse Trails author and investigative sergeant Patrick Crough. Patrick is the author of Seducers Among Our Children. We have posted some excerpts from that book below the audio clips. Lighthouse Trails has been reporting on the issue of child sexual abuse since our inception nearly twelve years ago. As Patrick says in his book, parents are to be the shepherd's of their children. And yet millions of children are sexually abused by predators every year. Please equip yourselves to know the warning signs when a predator has his eye on your child. In the audio clips below, you will hear one father tell the story of what happened to his son. Click here to listen to the entire interview. Click here to order a copy of this interview CD.
Excerpts from Seducers Among Our Children:
A Tribute to Protecting Our Children – The Tragic Story of Kali Ann Poulton
NEW BOOKLET TRACT: 5 Things You Can Do to Protect Your Kids From Sexual Predators
How to Protect Your Child From Sexual Predators – Part 1 – The Internet
How to Protect Your Child From Sexual Predators – Part 2 – With Prayer & the Word
Preface of Seducers Among Our Children
Other Related Article:
A Special Commentary: Recent Events Show America's Children in Grave Increased Danger of Sexual Abuse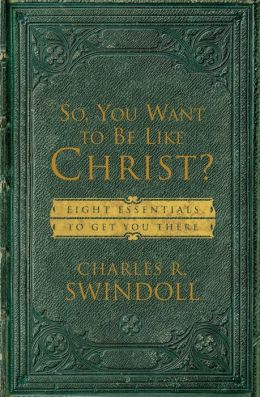 In an article on Chuck Swindoll's website titled "Segments of Solitude," Swindoll states: "Henri Nouwen called solitude . . . 'the furnace of transformation.'" A LT article, "Why Christian Leaders Should Not Promote Henri Nouwen" helps to clarify the serious problem with Henri Nouwen's "solitude" and "transformation" meaning.
A caller once told Lighthouse Trails she had heard that Chuck Swindoll said he wants to "get back to Bible basics." We told the caller that if Chuck Swindoll really means that, then he will make sure that his book So You Want to Be Like Christ: Eight Essential Disciplines to Get You There will be removed from the market including off his own website, and he would begin speaking publicly recanting his promotion of contemplative spirituality in that book.
In So You Want to Be Like Christ, Swindoll favorably quotes spiritual formation (i.e., contemplative prayer) pioneers Richard Foster and Dallas Willard. Swindoll calls Celebration of Discipline by Foster a "meaningful work" (p. 15) and Willard's book The Spirit of the Disciplines "excellent work" (p. 13). In chapter three,"Silence and Solitude," Swindoll talks about "digging for secrets … that will deepen our intimacy with God (p. 55). Quoting the contemplative poster-verse Psalm 46:10, "Be still and know that I am God," Swindoll says the verse is a call to the "discipline of silence." As other contemplative proponents have done, he has taken this verse very much out of context as Larry DeBruyn explains in his article "Be Still."
Swindoll goes on to say that we "discover who God is" when we "commit ourselves to periods of absolute, uninterrupted silence" (p. 61). Swindoll suggests that we cannot really know God without the "stillness" and the "silence." Beth Moore said the same thing in the Be Still DVD. It's common among contemplatives to say this. But as Ray Yungen points out, "It is not the silence that draws us closer to God . . . Scripture clearly teaches that it is only through the blood atonement of Jesus Christ that we can gain access to Him" (p. 191, A Time of Departing). Richard Foster teaches that anyone can connect to God through contemplative prayer – it is not just for believers of Jesus Christ.
In a section of So You Want to Be Like Christ called "Ministry of Silence" (p. 64), Swindoll quotes Henri Nouwen, a Catholic priest who had strong affinity and experience with mysticism. Swindoll quotes Nouwen from his book The Way of the Heart, Nouwen's primer on contemplative prayer. Swindoll wraps up that section by saying, "I do not believe anyone can ever become a deep person without stillness and silence" (p. 65). Lest you think that Swindoll is referring to going to a quiet place (like sitting beside a stream or turning off the television) when he says silence, he differentiates solitude (outer quietness) and silence (stilling the mind) in his book. He admits that silence is referring to an inner silence of the mind. All contemplatives (and New Age meditators for that matter) know that stilling the mind or putting it in neutral can only be done with some form of mantric-like meditation, breath prayers, or focusing on something to eliminate thought and distractions, thus going into the silence.
Maybe the rumor got started that Chuck Swindoll wants to be more biblically sound because of his book, The Church Awakening: An Urgent Call for Renewal (which came out after So You Want to Be Like Christ). With a title like that, we could see where some might think Swindoll is referring to a return to truth. And in fact, in that book Swindoll does make a case for the Bible. In chapter three, he states: "[W]hen the inerrant word of God is not our standard for truth, erosion will creep in. It will eventually crowd out the truth" (p. 87). Sadly, in this book, Swindoll quotes favorably six times from Eugene Peterson's book The Message. Talking about the inerrancy of Scripture in one breath then sprinkling the book with someone who openly endorses The Shack sends out a confusing message to say the least. The Shack author has openly rejected the substitutionary atonement of Christ. Eugene Peterson is also an advocate for contemplative spirituality; he endorsed the back cover of New Age goddess worshiper Sue Monk Kidd's contemplative book, When the Heart Waits.
On page 260 of The Church Awakening, Chuck Swindoll asks the question: "What is needed in the ranks of ministry? A massive repentance . . .!" he answers. He then immediately quotes Eugene Peterson. Something is very wrong here. If Chuck Swindoll is turning to Bible basics, then shouldn't he pull So You Want to Be Like Christ from the market before any more people are influenced by it? And shouldn't he stop quoting and referring to people who promote messages such as that in The Shack.
If Swindoll is turning to Bible basics, there is at least one he is forgetting about; and it's one of the most important yet most forgotten Bible basics—the Bible basic of true discernment against spiritual deception. For those who question whether discernment against spiritual deception is actually a basic message or theme of the Bible, consider this: In the very first book of the Bible, Genesis, there is a story about spiritual deception and a key Bible figure not being able to spot it – Eve in the Garden of Eden. And in the very last book of the Bible, Revelation, we are told about Satan, "which deceiveth the whole world" (12:9). And in just about every book of the Bible you will find stories or warnings about deception. We believe it is one of the most vital basic messages of the Bible – God warning man of spiritual deception. Yet today, Christian leaders, colleges, pastors, publishing houses, celebrities, denominations, fellowships, and mission organizations either don't talk at all about spiritual deception, or as in Chuck Swindoll's case with his new book, illustrate that they do not understand it.
Many of those participating in this fiasco of no discernment are highly educated men and women. But education is not the key to understanding the times and discerning spiritual deception. These leaders would probably not agree with that. A few years ago, Bible teacher and pastor Erwin Lutzer contacted Lighthouse Trails after we had called his office to talk about his endorsement of Larry Crabb's contemplative promoting book, The Papa Prayer. Lutzer told Lighthouse Trails that day that we were "not qualified to spot spiritual deception." We assumed he meant we did not have the educational credentials to spot spiritual deception. But we must contend with this view. Most of the disciples were not highly educated men; yet God allowed them to discern deception. How is it that believers in Jesus Christ are qualified? Meager men and women, appearing foolish to the world . . . and now to Christian leaders.
The apostle Paul talked quite a bit about this in the Bible. In Colossians 1:9, he tells the saints that he was praying for them that they "might be filled with the knowledge of his will in all wisdom and spiritual understanding." He was praying that they would have discernment ("spiritual understanding"). He did not put a qualifier on there that they would need great education in order to receive this wisdom and understanding. What he did say was that God, the Father, had made us "partakers of the inheritance of the saints in light" (vs 12) and had "delivered us from the power of darkness [i.e., power of deception]" (vs. 13). But what was the key to having this wisdom and spiritual understanding and being delivered from the power of darkness? Paul tells us in that same chapter. He calls it "the mystery which hath been hid from ages and from generations, but now is made manifest to his saints" (vs. 26). What is that mystery? Verse 27 says: "To whom God would make known what is the riches of the glory of this mystery among the Gentiles; which is Christ in you, the hope of glory." (emphasis added)
It isn't formal education, from a practical point of view, that gives discernment; it's being born-again (John 3); it's receiving Jesus Christ as Lord and Savior (Matthew 10:40); it's studying, pondering on, and believing the Word of God; it's having Him living inside you (Revelation 23:20), by faith, through His abundant grace (Romans 5:2). And it is a gift that is offered to "whosoever" will come unto Him (John 12:46). It's Christ in you, the hope of glory! And to believers He has given His written Word and "the Spirit of truth" (which confirms the Word of God in our hearts – John 14:17; John 16:13 ) .
Paul tells us that we have been reconciled to Him (Colossians 1: 21-22) if we "continue in the faith grounded and settled, and be not moved away from the hope of the gospel" (vs. 23). We beseech Christian leaders who have swayed from the truth through their promotion and embracing of those who teach a false gospel to repent from their ways and return to the solid faith that is "grounded and settled." Get rid of your books that promote a contemplative mystical spirituality even if you will lose some money (God will supply your needs according to His riches in glory – Philippians 4:19); don't stand on platforms with those you know are teaching another gospel (better to preach in a brothel than to share a platform with a heretic – see Titus 3:10); don't tell large crowds that you are a "good friend" with one who is helping to bring in a one world false religion;"1 don't be part of DVD projects that outwardly promote the dangerous contemplative prayer movement 2; and by all means don't say you are returning to Bible basics if you leave out one of the most important Bible basics of all.
On October 14, 2014, Mark Driscoll, the senior pastor of Mars Hill Church in Seattle, Washington for the past 18 years, formally resigned from his position after numerous accusations came against him from former members and others. As is the case with most mega-church pastors these days when they do just about anything different than usual, Driscoll's resignation received widespread attention from both Christian and secular news media. Unsurprisingly, none of these news stories are talking about Driscoll's unbiblical and faulty doctrinal beliefs but are rather reporting primarily on his moral and social failures, minimizing these failures and emphasizing his apologies.
According to one media source:
Controversial Seattle megachurch founder Mark Driscoll has resigned from Mars Hill Church, stating that he does not wish to continue to be a distraction to the ministry although a six-week review of charges lodged by others within the church cleared him of moral wrongdoing.1
Charges include plagiarism, misuse of church funds, authority abuse against other members, "creating a climate of fear,"2 derogatory remarks made in the past about women, and rude, angry, and unkind behavior toward others who were in submission to him. Driscoll had temporarily stepped down in August for a six-week period while an investigation by Mars Hill board members took place. These events led to his resignation where Driscoll apologized for his past sins.
According to the Christian Post:
Driscoll made headlines earlier this week when he publicly released his resignation letter from Mars Hill, a church he founded in Seattle, Washington, in 1996 and has served as lead pastor since then.

His decision comes shortly after a letter from some Mars Hill Church elders was issued asking Driscoll to step down from leadership. These elders were later fired. . . .

Driscoll grew a small Bible study to a 13,000-member campus with 15 other locations in five states. Mars Hill was recognized as the third fastest growing and 28th largest church in the country by Outreach magazine in 2012.3
CNN stated:
In a statement, Mars Hills' board of overseers said Driscoll hadn't committed any acts of "immorality, illegality or heresy" — sins that have felled many a powerful pastor.4
Religious News Service's report stated:
Driscoll, who came into evangelical prominence as multisite churches and podcasts rose in popularity, found a niche within a largely secular Northwest culture. Though he has been controversial for years for statements on women and sexuality, several tipping points likely led up to Driscoll's resignation.5
In addition to the reports above, other media outlets that reported on Driscoll's resignation include: Huffington Post, Washington Post, Christianity Today, Fox News, ABC News, New York Observer, and numerous television stations.
Doctrinal Deficiencies Ignored
But in all of these reports, not one that we are aware of has addressed Driscoll's serious doctrinal deficiencies. What the media, both Christian and secular, has failed to report is that Driscoll has many beliefs and affinities that are contrary to the Word of God. However, neither Christian leaders nor Christian media seem the least bit concerned about that.
To begin with, one of the most serious doctrinal deficiencies is that Mark Driscoll is a proponent of contemplative spirituality and has been for many years. For example, in an article written by Driscoll, ironically titled "Obedience," Driscoll tells readers to turn to contemplative advocates Richard Foster and Gary Thomas. Driscoll states: "If you would like to study the spiritual disciplines in greater detail … helpful are Celebration of Discipline, by Richard Foster, and Sacred Pathways, by Gary Thomas." But these two books that Driscoll has recommended are two of the most damaging books within Christianity today!  In Celebration of Discipline, Foster says that everyone "should enroll in the school of contemplative prayer (p. 13, 1978 ed.), and in Sacred Pathways, Thomas tells readers to repeat a sacred word for 20 minutes in order to hear God. Another article written by Mark Driscoll on the Mars Hill Resurgence site is titled "Spiritual Disciplines: Worship." For those who do not understand the underlying nature of contemplative prayer (and the spiritual disciplines), read this article, "5 Things You Should Know About Contemplative Prayer." The roots behind the contemplative prayer movement are panentheism (God in all) and interspirituality (all paths lead to God).
In addition to Driscoll's contemplative leanings, Driscoll publicly mocks and derides Christians who believe in the biblical account of the end times, who homeschool, who believe in a rapture, and who talk about an antichrist coming on the scene one day.

Below is a clip from Joe Schimmel's DVD, The Submerging Church: How the emerging church is drawing multitudes away from biblical Christianity. This clip shows  Driscoll's mockery of Bible-believing Christians.
Mark Driscoll's 2008 book, Vintage Jesus, has some noteworthy quotes that further illustrate Driscoll's faulty beliefs. When that book came out, we contacted the late Chuck Smith (founder of Calvary Chapel) and warned him about Driscoll's book because some Calvary Chapel pastors were trying to bring Driscoll's teachings into the Calvary Chapel movement (which has been successfully done in some CC churches).
Calls Christians Little Christs -  (page 120):
"To be a Christian is to be a 'little Christ.'"—Mark Driscoll
Mocks Homeschooling and Armageddon: -  (page 157):
"Unlike today where Christians have largely fled the cities in favor of homeschooling about the rapture amidst large stacks of canned goods readied for a hunkering down at the unleashing of Armageddon, Christianity has historically been an urban religion. A reading of the history book of early Christianity, Acts, reveals that Christianity began as an urban movement led by Paul, whose itinerant church planting ministry was almost exclusively urban as he moved from city to city and bypassed the rural areas."—Mark Driscoll
The Rapture is Dumb –  (page 44):
"One of the most astonishing things about Jesus is that as God he actually chose to come into our fallen, sick, twisted, unjust, evil, cruel, painful world and be with us to suffer like us and for us. Meanwhile, we spend most of our time trying to figure out how to avoid the pain and evil of this world while reading dumb books about the rapture just hoping to get out."—Mark Driscoll
(LT Note: In Vintage Jesus, Driscoll favorably quotes Walter Wink, whom Driscoll refers to as "insightful." But Wink was a liberal theologian who would fall in the emergent camp because of his anti-biblical beliefs. For instance, in Wink's 1998 book The Powers That Be, Wink denies a "violent" atonement, which is the emerging way of saying that he rejects the idea that God, the Father would send His Son to a violent death as a substitute for the sins of man. This is the exact same thing that Brian McLaren, Harry Fosdick, and other atonement deniers have said, and Wink is in this same category (see our article "A Slaughterhouse Religion.)" We are not saying that Driscoll is denying the atonement, but his favorable reference to an atonement denier shows a serious lack of discernment, at best.)
In addition, Driscoll has promoted what we term "the new sexuality." Please refer to our 2009 article "A Pastor Speaks Up: Mark Driscoll and the New 'Sexual Spirituality'"and this Baptist Press article titled "Driscoll's vulgarity draws media attention."  Radio host Ingrid Schleuter (formally of VCY America) documents Driscoll's "new sexuality" in her article "Sexpert Pastor Mark Driscoll is Told, 'Enough is Enough.'"
The "fruit" of Mark Driscoll's teaching can also be seen in one of Mars Hills' congregants, a young author named Jeff Bethke, who shares Driscoll's sentiment regarding Christians who believe the Bible about the last days.
Bethke echoes Driscoll's distain in his book Jesus > Religion: Why He Is So Much Better Than Trying Harder, Doing More, and Being Good Enough (Thomas Nelson, 2013) in a chapter titled "Religion Points to a Dim Future/Jesus Points to a Bright Future."  Bethke puts down the kind of believers who see a dismal future for earth (according to Scripture) and says things like:
"God actually cares about the earth, but we seem to think it's going to burn. God actually cares about creating good art, but we seem to think it's reserved for salvation messages." (Kindle Locations 2107-2109, Thomas Nelson).
And just to prove that when Bethke says "religion," he means biblical Christianity, what other religion is there that "points to a dim future" for planet earth and its inhabitants? Biblical Christianity is the only one that says that the world is heading for judgement because of man's rebellion against God and because of God's plan to destroy the devil and his minions. Jesus does point to a "bright future," but the Bible is very clear that this will not come before He returns; rather He promises a blessed eternal life to "whosoever" believeth on Him. The Jesus Christ of the Bible did not promise a bright future for those who reject Him (and even says that the road to destruction is broad – Matthew 7:13); in fact, Scripture says Jesus Himself was a man of sorrows rejected and despised (Isaiah 53:3). He knew what awaited Him, and He knew what was in the heart of man. But across the board, emergents reject such a message of doom and teach that the kingdom of God will be established as humanity realizes its oneness and its divinity (this realization will be accomplished through practicing meditation—enter contemplative prayer in the Christian church to help bring about a great falling away).
While Mark Driscoll has resigned because of social and moral failures, there is absolute silence coming from Christian leaders, Christian media, and secular media on the real heart of Driscoll's problems—his beliefs. Perhaps nothing illustrates the  nature of Driscoll's beliefs more than his recent comments about the 2014 Hollywood movie, Noah. A Lighthouse Trails article titled "Mark Driscoll's Distorted View on Noah and Salvation . . . (And How Some People Have a Very Strange Idea as to the Meaning of God's Salvation),"   shows Driscoll's very distorted view of salvation (the Gospel). In Driscoll's so-called defense of the biblical account of Noah, he says that the Noah account was an example of God's grace and that it had nothing to do with Noah's righteousness or even Noah's faith in God. And in fact, in a sermon by Mark Driscoll (see video clip below), he says that Noah was "bad all of the time." This is a commonly believed and twisted view of God and salvation that says God loves and chooses some and hates and rejects others based on nothing more than God's own personal whim rather than on one's  faith or trust in God ("without faith it is impossible to please [God]"—Hebrews 11:6). Could it be that Driscoll's view of salvation and of a God who does not love all of mankind is at least in part the reason for his social and moral failures (e.g., anger, abuse, ridicule, and mockery)? In actuality, the story of Noah is about God saving the one man on the earth who had faith in God.
Noah was a just man and perfect in his generations, and Noah walked with God. (Genesis 6:9)

Thus did Noah; according to all that God commanded him, so did he. (Genesis 6:22)

And the Lord said unto Noah, Come thou and all thy house into the ark; for thee have I seen righteous before me in this generation. (Genesis 7:1)

By faith Noah, being warned of God of things not seen as yet, moved with fear, prepared an ark to the saving of his house; by the which he condemned the world, and became heir of the righteousness which is by faith. (Hebrews 11:7)
You can click here to read a short piece by Dr. Harry Ironside on Noah that will help dispel the confusion that Mark Driscoll has brought.
The accusations of plagiarism, misuse of church funds to manipulate one of his books to get on the New York Times best-seller list, authority abuse, and crude and demeaning talk about women certainly is enough reason for Driscoll to resign from the pulpit; however his beliefs and "doctrines" are being completely ignored, and it is our guess that in time (and probably not too much of it) Driscoll will resurface with a new ministry or a "restoration" to his old ministry, and this contemplative, emerging pastor will not have changed at all in the areas most important. He has publicly apologized for getting angry and being mean to people, and that's all people seem to care about. And why not? Many of today's Christian leaders share Driscoll's contemplative, emerging propensities. They'll be the last ones to speak up.
In short, the saddest thing of all is the lack of discernment and integrity of the church at large to stem the tide of apostasy that has already flooded our midst.