Archive for the 'Rick Warren' Category
Dear Friends at Lighthouse Trails,
Thank you so much for your ministry! I could tell you stories that would seem utterly unbelievable to most, but they have happened to me!
My girlfriend and I meet every week for coffee and always choose a book for study when we meet.  I have a [relative] who is married to a former  pastor of Saddleback Church (Now he pastor's in [another state] but is still associated with Saddleback).  Please pray for her and her husband that God deliver them from falsehood!
After hearing some things about the Daniel Plan and having had reservations previously about Rick Warren, my friend and I decided to read Roger Oakland's book Faith Undone.  Praise God! He specifically led us to that book!!
We read it because we wanted to to better understand what was going on at Saddleback, because I dearly love my [relative]!  The Lord prepared my heart that I might become aware of "contemplative teachings" coming into my son's church via an up and coming young pastor, but that is a long story that I would like to share sometime with you at length.
After having become aware of what my son was being led in to, to make a very long story short, my friend and other's began to pray that the Lord bring my son and family out of that church. The Lord answered!  Several months later, "all of a sudden" (by the grace of God and His answering our prayers), they left and are now attending the church we attend!
Roger Oakland, and the rest of you, "God bless you abundantly for making us acutely aware" of these demonic teachings!! My heart grieves every day by this fall into apostasy the church is taking.
Anyway, I first wanted to thank you from the bottom of my heart before giving you some vital information of which folks need to be aware which is the following:
Many years ago, my husband and I received a flyer for "Barnabas Family Ministries," a Christian family camp in British Columbia.  The flyer was enclosed in a "Focus on the Family" magazine.  We decided to go.  It is an absolutely gorgeous spot and the fellowship there was wonderful, but I do remember being somewhat disappointed that there seemed to be more focus on having teachers that often promoted so-called Christian physchology than the Word of God.
Anyway, we have continued over the years to receive their flyers.  This year I was sorely disappointed and grieved when I read the title for an upcoming spring retreat that was held between February 27-March 1 of this year, titled "Contemplative Prayer"!  I have not but will soon be writing them a serious, but loving, letter asking to be taken off their mailing list.  If there is anyway you can get this information out, it would be greatly appreciated.  May our wonderfully faithful God have mercy upon, and cleanse, His Bride!!! I still have the pamphlet adverstising the camps if you are interested.
Thank you again for all that you do!! The Lord has used you powerfully in my life, and He has faithfully answered many prayers that have been prayed because He warned me through your ministry and others!! May God bless and keep you in His loving care, and may He grant to each one of us a boldness to speak the Truth in love and gentleness always!
Sincerely,
Your Sister in Christ
LTRP Note: We would like to note that Barnabas Family Ministries is also hosting a retreat this summer (July 19th-24th 2015), which will be led by Mark and Cheryl Buchanan. According to the Barnabas website, Cheryl is a Spiritual Director (a contemplative mentor) with a Masters in the Art of Spiritual Formation) from Carey Theological College. It is quite apparent that Barnabas Family Ministries has decided to introduce contemplative spirituality into the lives of their retreat attenders.  More and more Christian retreat and conference centers are incorporating contemplative prayer (i.e., spiritual formation) into their programs. Here's one article we wrote about this in 2013: "Sending Your Child or Teen to Camp This Summer? – Be Careful – Many are Promoting Contemplative Spirituality."
Also read:
"Got Your Spiritual Director Yet?" Should Be – Got Your Interspiritual Mystic Yet . . .
Christian Missionary Alliance (CMA) Mahaffey Family Camp Brings in New Age Sympathizer Leonard Sweet as Camp Speaker
LTRP Note: Please refer to our previous post titled "Rick Warren: Protestants, Catholics Must Unite to Defend Life, Sex, Marriage – 'We're on the Same Team'"  to understand what we mean by the title of this article.
"An Account of the Persecutions in Italy Under the Papacy"
By John Foxe
(author of Foxe's Book of Martrys – * please read our note at the bottom of this post.)
We shall now enter an account of the persecutions in Italy, a country which has been, and still is, the center of popery. Italy is also the source of various errors which have spread themselves over other countries, deluded the minds of thousands, and diffused the clouds of superstition and bigotry over human understanding. In pursuing our narrative we shall include the most remarkable persecutions which have happened and the cruelties which have been practiced by the immediate power of the pope through the power of the Inquisition.
In the twelfth century, the first persecutions under the papacy began in Italy at the time that Adrian, an Englishman, was pope, being occasioned by the following circumstances:
A learned man and an excellent orator of Brescia, named Arnold, came to Rome and boldly preached against the corruptions and innovations which had crept into the church. His discourses were so clear, consistent, and breathed forth such a pure spirit of piety, that the senators and many of the people highly admired his doctrines.
This so greatly enraged Adrian that he commanded Arnold instantly to leave the city as a heretic. Arnold, however, did not comply, for the senators and some of the principal people took his part and resisted the authority of the pope.
Adrian now laid the city of Rome under an ecclesiastical censure, which caused the whole body of clergy to interfere; and at length he persuaded the senators and people to give up the point and allow Arnold to be banished. This being agreed to, he received the sentence of exile, and retired to Germany where he continued to preach against the pope and to expose the gross errors of the Church of Rome.
Adrian still thirsted for his blood and made several attempts to get him into his hands; but Arnold  avoided every snare laid for him. At length, Frederic Barbarossa requested that the pope would crown him king of Germany with his own hand. This Adrian complied with and at the same time asked a favor of the emperor, which was to put Arnold into his hands. The emperor very readily delivered up the unfortunate preacher, who soon fell as martyr to Adrian's vengeance, being hanged and his body burnt to ashes at Apulia. The same fate attended several of his old friends and companions.
Encenas, a Spaniard, was sent to Rome, to be brought up in the Roman Catholic faith; but having conversed with some of the reformed and reading several treatises which they put into his hands, he became a Protestant. When this became known, one of his own relations informed against him. He was burnt by order of the pope and a conclave of cardinals. The brother of Encenas had been taken up about the same time for having a New Testament in the Spanish language in his possession; but before the time appointed for his execution, he found means to escape out of prison and retired to Germany.
Faninus, a learned layman, by reading controversial books became of the reformed religion. An information being exhibited against him to the pope, he was apprehended and cast into prison. His wife, children, relations, and friends visited him in his confinement and persuaded him to renounce his faith. This obtained his release. But he was no sooner free from confinement than his mind felt the heaviest of chains—the weight of a guilty conscience. His horrors were so great that he found them insupportable, until he had returned from his apostasy and declared himself fully convinced of the errors of the Church of Rome. To make amends for his falling off, he now openly and strenuously did all he could to make converts to Protestantism and was pretty successful in his endeavors. These proceedings occasioned his second imprisonment, but he had his life offered him if he would recant again. This proposal he rejected with disdain, saying that he scorned life upon such terms. Being asked why he would obstinately persist in his opinions and leave his wife and children in distress, he replied, "I shall not leave them in distress; I have recommended them to the care of an excellent trustee." "What trustee?" said the person who had asked the question. Faninus answered, "Jesus Christ is the trustee I mean, and I think I could not commit them to the care of a better."
On the day of execution he appeared remarkably cheerful. An observer said, "It is strange you should appear so merry upon such an occasion, when Jesus Christ Himself, just before His death, was in such agonies, that He sweated blood and water." To which Faninus replied:
Christ sustained all manner of pangs and conflicts with hell and death on our account; and thus, by His sufferings, freed those who really believe in Him from the fear of them.
He was then strangled, his body was burnt to ashes and then scattered about by the wind.
Dominicus, a learned soldier, having read several controversial writings, became a zealous Protestant, and retiring to Placentia, he preached the gospel in its utmost purity to a very considerable congregation. One day, at the conclusion of his sermon, he said, "If the congregation will attend tomorrow, I will give them a description of Antichrist and paint him out in his proper colors."
A vast concourse of people attended the next day, but just as Dominicus was beginning his sermon, a civil magistrate went up to the pulpit and took him into custody. When he was brought to examination this question was put to him: "Will you renounce your doctrines?" To which he replied: "My doctrines? I maintain no doctrines of my own; what I preach are the doctrines of Christ, and for those I will forfeit my blood, and even think myself happy to suffer for the sake of my Redeemer." Every method was taken to make him recant for his faith and embrace the errors of the Church of Rome; but when persuasions and menaces were found ineffectual, he was sentenced to death, and hanged in the marketplace.
Galeacius, a Protestant gentleman, who resided near the castle of St. Angelo, was apprehended on account of his faith. Great endeavors being used by his friends he recanted and subscribed to several of the superstitious doctrines propagated by the Church of Rome.
Becoming, however, sensible of his error, he publicly renounced his recantation. Being apprehended for this, he was condemned to be burnt. He was chained to a stake, where he was left several hours before the fire was put to the fagots, in order that his wife, relations, and friends, who surrounded him, might induce him to give up his opinions. Galeacius, however, retained his constancy of mind and entreated the executioner to put fire to the wood that was to burn him. This he did, and Galeacius was soon consumed in the flames which burnt with amazing rapidity and deprived him of sensation in a few minutes.
Soon after this gentleman's death, a great number of Protestants were put to death on account of their faith in various parts of Italy,  giving a sure proof of their sincerity in their martyrdoms.
End
* A note from Lighthouse Trails: Foxe's Book of Martyrs was first published five hundred years ago. Today, there are many editions of this book available. When Lighthouse Trails decided to start offering this book to our readers, we began our search for a suitable edition. Much to our dismay, we discovered that many of the current editions were compromised in one form or another. For example, in one edition by a Christian publisher, front page endorsements included the names of those who promote contemplative spirituality and/or the emerging church. When one realizes that contemplative/emerging spirituality embraces some of the very same beliefs that Foxe's martyrs opposed to the point of suffering cruel persecution and death, it is most troubling and misleading to see these names in the cover of an edition of Foxe's Book of Martyrs.
In another edition we reviewed, the book was among a special set of "Christian classics." We were once again perplexed to see that some of the other books in that series were written by contemplative mystics.
And yet another edition, published by a secular publisher, advertised mystical and occult practices on the back cover.
Still another edition removed most of the section (like the section above) in Foxe's Book of Martyrs about persecution by the Roman Catholic papacy.
Finally, after an unsuccessful search, Lighthouse Trails decided to publish our own edition of this truly incredible and unforgettable account.
And whatsoever ye do in word or deed, do all in the name of the Lord Jesus, giving thanks to God and the Father by him. Colossians 3: 17
According to a Christian Post article dated December 31, 2014 and titled "Former Mars Hill Pastor Mark Driscoll Launches New Website," the former pastor of the mega church  has started a new resource ministry & website. All we can say at this point is, that sure didn't take long.
Interestingly, Rick Warren gave the final "sermon" at the now-defunct Mars Hill Church on December 28th. It was Bob Buford (who worked with then-colleagues Rick Warren and Bill Hybels), mentored by Peter Drucker, who hand chose Mark Driscoll, along with Brian McLaren, Doug Pagitt, et.al. in the late 1990s to start the Terra Nova project, which later became the Emergent movement (read Faith Undone for more on that history or click here). All we can say to that is, the apple doesn't fall far from the tree.
Lighthouse Trails research on new spirituality icon Mark Driscoll:
Mark Driscoll Resigns From Mars Hill Church For Social Failures – But Media Silent on Controversial Doctrinal Issues
Seattle Megachurch Mars Hill Dissolves 2 Weeks After Founder Mark Driscoll Resigns
Mark Driscoll's Distorted View on Noah and Salvation . . . (And How Some People Have a Very Strange Idea as to the Meaning of God's Salvation)
Related articles across the web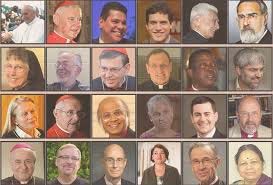 By Roger Oakland
Understand the Times, International
On November 17-19, 2014, an interreligious conference was hosted at the Vatican to discuss the sanctity of marriage under the definition that marriage is a relationship between a man and a woman. Beside numerous representatives of the Roman Catholic Church, the conference was attended and addressed by members of the Buddhist, Hindu, Muslim, Jewish, and Mormon faiths. Also, well-known Christian evangelical leaders from the United States—Pastor Rick Warren and Russel Moore—played a major role and were in attendance.
Warren's comments documented by the proceeding video clip are clear and require no explanation.
The purpose of posting Rick Warren's video statement is to appeal to Calvary Chapel pastors who have been persuaded by the new leadership at Calvary Chapel Costa Mesa that Warren's ecumenical direction is the "new" and enlightened pathway that Calvary Chapels of the future must choose in order to become relevant for the postmodern era that has reformed sound biblical teaching over the past decade. This is also an appeal to all evangelical pastors who have brought the Purpose Driven movement into their churches.
Further, this proclamation by Rick Warren is very similar to some of the ideas being presented by the "New Calvary Movement" promoted by Brian Brodersen and his cohorts. (Listen to a portion of Brodersen's September 7, 2014 message titled "Unity in the Spirit").
Click here to continue reading.
Courtesy Understand the Times
Written by Heather Clark
Christian News Network
Russell Moore, the president of the Ethics and Religious Liberty Commission of the Southern Baptist Convention, and Saddleback megachurch leader Rick Warren will team up with Roman Catholic Pontiff Francis later this month for an interfaith Vatican conference on marriage and family.
"Complementarity of Man and Woman," will be held Nov. 17-19 at the Vatican, and is expected to feature more than 30 speakers from over 20 countries. According to the Catholic News Service, those of the Jewish, Islamic, Buddhist, Hindu, Jaina Shasana, Taoist and Sikh religions will be present, as well as Roman Catholics and professing Christians.
The event is sponsored by the Pontifical Council for the Family, the Pontifical Council for Interreligious Dialogue, and the Pontifical Council for Promoting Christian Unity. "I hope that this gathering of religious leaders can stand in solidarity on the common grace, creational mandate of marriage and family as necessary for human flourishing and social good," Moore wrote in a blog post this week entitled "Why I'm Going to the Vatican." "I also hope that we can learn from one another about where these matters stand around the world."
Rick Warren, the author of "The Purpose Driven Life," has spoken glowingly of Pope Francis during several public interviews about the pontiff and the Roman Catholic religion.
"[Pope Francis] is doing everything right. You see, people will listen to what we say if they like what they see," Warren stated on Catholic television network EWTN earlier this year. "His kissing of this deformed man, his loving the children, this authenticity, this humility, the caring for the poor; this is what the whole world expects Christians to do. And when they go, 'Oh, that's what a Christian does.'—In fact, there was a headline here in Orange County—and I loved the headline—I saved it. It said, 'If you love Pope Francis, you'll love Jesus.'" Click here to continue reading.
By Paul Proctor
Free-lance writer
Used with permission.
Every now and then I get a terse email from someone who has taken exception to my candid comments on Rick Warren, asking questions like: "Have you ever spoken with him personally about your objections and concerns and tried to work through your differences privately as scripture teaches, rather than attack him publicly as you do?"
The scripture they usually cite is, of course, Matthew 18:15-17
"Moreover if thy brother shall trespass against thee, go and tell him his fault between thee and him alone: if he shall hear thee, thou hast gained thy brother. But if he will not hear thee, then take with thee one or two more, that in the mouth of two or three witnesses every word may be established. And if he shall neglect to hear them, tell it unto the church: but if he neglect to hear the church, let him be unto thee as an heathen man and a publican."
This is probably one of the more misunderstood and misapplied Scriptures quoted today, especially among those who ingest Church Growth Carcinogens and Purpose Driven Lies. Because we have been inappropriately taught that unity and relationships are the most important things for Christians to pursue and protect in the church, these verses are often touted as the principal directive we should follow when addressing false teachers, which frankly, couldn't be any further from the truth and only ends up protecting, sustaining and empowering them, which is probably why they teach it.
There is absolutely no biblical record of Jesus or any of His disciples ever taking a heretic off to the side for coffee and donuts after they led someone astray distorting the Word of God. They didn't shake hands, exchange hugs, kisses and phone numbers or set up appointments on their PDAs to dialog their doctrinal differences over lunch in the quiet corner of a favorite restaurant at a more convenient time.
No, Jesus dealt with heretics harshly, publicly, and immediately, as did Paul and the other disciples. And, keep in mind; we're talking New Testament here friends. In the Old Testament, false prophets were simply taken out and stoned to death for their lies. That's how serious God is about His Word being rightly divided and properly proclaimed.
So, what was Jesus referring to in Matthew 18? Look again carefully at how he begins:
"…If thy brother shall trespass against thee, go and tell him his fault between thee and him alone…"
You see, the Lord is referring here to a personal offense, grievance and/or misunderstanding between two people – something that has broken their fellowship and has little or nothing to do with anyone else. Personal and private matters of wrongdoing should always be dealt with personally and privately first, so as not to unduly disrupt the unity of the body. That is indeed, biblical.
Now, as for wolves in sheep's clothing that stand in pulpits and on stages before vast audiences with microphones and television cameras proclaiming demonic doctrines as the Word of God, the scriptural directive is altogether different:
"But though we, or an angel from heaven, preach any other gospel unto you than that which we have preached unto you, let him be accursed." – Galatians 1:8

"And have no fellowship with the unfruitful works of darkness, but rather reprove them." – Ephesians 5:11
("Reprove" is another word for rebuke)
"A man that is an heretic after the first and second admonition reject" – Titus 3:10

"If there come any unto you, and bring not this doctrine, receive him not into your house, neither bid him God speed: For he that biddeth him God speed is partaker of his evil deeds." (2nd John 1:10)
Jesus didn't request a closed-door session with the Scribes and Pharisees in order to find common ground, build relationships and promote unity in Jerusalem. He condemned their blasphemy before one and all and repeatedly warned His disciples about their leaven. And when His number-one disciple challenged Him about His own up and coming crucifixion, Jesus didn't put His hand gently on Peter's shoulder and softly whisper: "My friend, you just don't understand." No, He lashed back at him with power and authority in front of ALL the disciples saying:
"…Get thee behind me Satan: thou art an offence unto me: for thou savourest not the things that be of God, but those that be of men." – Matthew 16:23
Why? Because, Peter was publicly contradicting God's Word and Divine plan, which is the equivalent of proclaiming Jesus to be a lunatic or a liar.
Did the religious leaders stone Stephen to death because of all the cute and cuddly things he had to say about them? I don't THINK so. Stephen spoke the cold hard truth that day and they hated him for it because God's Truth is always "evil" and intolerable in the ears of the unrepentant. He told them:
"Ye stiffnecked and uncircumcised in heart and ears…who have received the law by the disposition of angels, and have not kept it."
You see, defenders of today's religious leaders almost always resort to calling their critics, among other things, "legalists," for incessantly using scripture to rebuke unbiblical teachings and practices; comparing them to the Pharisees of Stephen's day, when, in reality, Stephen might just as easily say to Rick Warren and others like him:
"Ye stiffnecked and uncircumcised in heart and ears…who have received the Gospel, but have not proclaimed it."
Of course, when someone reprimands today's religious leaders for their unbiblical teachings, they are silenced, shamed, slandered, marginalized, isolated and/or asked to leave. But, isn't that exactly what the religious leaders did to Jesus and His disciples?
The Pharisees were a lot of things but they were not "legalists." They've merely been labeled as such by the religious liberals of OUR day in order to try and discount the importance of studying and obeying scripture. In fact the word "legalist' does not even appear in any version of the Bible I searched. It is just another contemporary twisting of the truth to forward a corrupt agenda and steer people away from God's Word to something more flexible, entertaining and endearing.
"Legalism" is defined in my dictionary as the "strict adherence to a literal interpretation of a law, rule, or religious moral code." Under this definition, is not Jesus Himself a legalist? You see, without the law, there is no need for a cross; which probably explains why both are being expelled from the church and society today as outdated and offensive relics from the past.
So, according to Stephen's own testimony, if the religious leaders indeed "received the law but have not kept it," they don't even QUALIFY as true "legalists" but only as lawbreakers; or, as Jesus repeatedly called them; "Hypocrites," which is another word for "actor," meaning, they only pretended to keep the law.
And THAT, my friends, is what today's Purpose Driven Pastor is – an actor – a hypocrite and a pretender, because he CLAIMS the Word of God but does not actually believe it nor proclaim it. If he did, he would preach the Bible and nothing else; verse by verse, for the rest of his ministry; not The Purpose Driven Life, chapter by chapter for 40 days. He would quote The Almighty with power and conviction before a trembling and uneasy congregation, instead of quoting Rick Warren with purpose and ambition before a casual and comfortable constituency.
When church attendance and revenues are down, closet liberals, be they Purpose Driven or otherwise, often minimize, in varying degrees, the importance of the Bible in a Christian's life, calling it "legalism" whenever one encourages the brethren to obey God's Word or dares to chastise those who refuse. Well, THEY might call keeping God's commandments "legalism," but Jesus Christ calls it "love." Don't believe me? Read it for yourself:
"If ye love me, keep my commandments." – John 14:15

"He that hath my commandments, and keepeth them, he it is that loveth me: and he that loveth me shall be loved of my Father, and I will love him, and will manifest myself to him." – John 14:21

"Jesus answered and said unto him, If a man love me, he will keep my words: and my Father will love him, and we will come unto him, and make our abode with him. He that loveth me not keepeth not my sayings: and the word which ye hear is not mine, but the Father's which sent me." – John 14:23-24

"If ye keep my commandments, ye shall abide in my love; even as I have kept my Father's commandments, and abide in his love." – John 15:10

"He that saith, I know him, and keepeth not his commandments, is a liar, and the truth is not in him." – 1st John 2:4

"For this is the love of God, that we keep his commandments: and his commandments are not grievous." – 1st John 5:3
Keeping God's commandments will not gain you entry into the Kingdom of Heaven anymore than attending church will make you a member. That only comes by faith in Jesus Christ and His sacrifice on the cross for our sins. (Ephesians 2:8-10) But for those of us who claim Him, there is no other way to exercise that faith and prove our discipleship.
Loving God is not having a hand-raising, hip-hopping, wave-making, emotional experience in a Hawaiian shirt and sandals before a rock band in some downtown arena full of shrieking Seekers, Creekers, Promise Keepers and Passionate Purposeites. The only true act of love, worship and service to God is obedience to His Word. Everything else is distortion, distraction, deception, delusion and destruction.
And, when you set your Bible aside for some other book or teacher or preacher, you are neither loving, nor following, nor obeying the One you claim as your Lord and Savior. Oh, you might be Purpose Driven or Seeker Sensitive; but more than anything else, you're a hypocrite.
"Not every one that saith unto me, Lord, Lord, shall enter into the kingdom of heaven; but he that doeth the will of my Father which is in heaven. Many will say to me in that day, Lord, Lord, have we not prophesied in thy name? and in thy name have cast out devils? and in thy name done many wonderful works? And then will I profess unto them, I never knew you: depart from me, ye that work iniquity." – Matthew 7:21-23
Related Articles: