Archive for the 'Willow Creek/Hybels' Category
Dear Lighthouse Trails:
Our Christian churches are being strongly influenced by what I call Religious Correctness. It is similar to Political Correctness.  If you question anything, you are told to sit down and shut up. Do not rock the boat.
I am a former Roman Catholic who now knows and loves Jesus Christ.  In Sunday school class at my church, when I questioned Mother Teresa (soon to become a Catholic saint to whom Catholics can pray), and I also brought up some of the anti-biblical practices of the RCC, I was told that I could either keep quiet or leave.
Besides that, last Sunday's sermon at that same church was all about getting more of the un-churched in our community to come to church. Nothing about a sinner's need for a Savior was even mentioned.
The methods of Rick Warren and Bill Hybels for filling churches with more people are being adopted all over America. Instead of spreading the Gospel of Jesus Christ, a church is now supposed to be run like a business.  Growth is the most important thing.
Thankfully, the Lord has already led me to a strong Bible-believing church.
Congratulations [on] influencing the Assemblies of God to reconsider joining the growing number of churches in America with anti-Semitic leanings. Keep up your good work.  You are making a difference.
In His name, Mark
Related Articles:
LTRP Note: In view of our recent post on Albert Mohler who promoted the book The Benedictine Option (a book that encourages contemplative prayer practices), we are posting this article by Ray Yungen from his book A Time of Departing so readers who are unfamiliar with the contemplative prayer movement can gain better understanding.
By Ray Yungen
Within the evangelical world, contemplative prayer is increasingly being promoted and accepted. As a result, it is losing its esoteric aspect and is now seen by many as the wave of the future. One can't help but notice the positive exposure it is getting in the Christian media these days. In Today's Christian Woman, a popular and trusted Christian magazine, feature titles make the appeal to draw closer to God. The author of one such article says, "Like a growing number of evangelicals, I've turned to spiritual direction because I want to know God better."1 But without exception, every person she cites is a dedicated contemplative, one being Ruth Haley Barton, author of Invitation to Solitude and Silence. Barton was trained at the Shalem Institute (founded by panentheist Tilden Edwards); and in fact, that organization was featured in the article as a resource for the reader. However, considering the content of many statements on the Shalem Institute website, how could Shalem even be listed as a resource for Christians? Listen to a few:
In Christianity and other traditions that understand God to be present everywhere, contemplation includes a reverence for the Divine Mystery, "finding God in all things," or "being open to God's presence, however it may appear."2

[Thomas] Merton taught that there is only one way to develop this radical language of prayer: in silence.3

The rhythm of the group includes . . . chanting, two periods of sitting in silence separated by walking meditation, and a time for optional sharing.4
In another magazine article, Ruth Haley Barton, who incidentally is the former Associate Director of Spiritual Formation at Willow Creek Community Church, echoes Southern Baptist-turned-goddess worshiper Sue Monk Kidd in many ways, including the general malaise or condition of the human soul. Barton recounts:
A few years ago, I began to recognize an inner chaos in my soul . . . No matter how much I prayed, read the Bible, and listened to good teaching, I could not calm the internal roar created by questions with no answers.5
The following scenario Barton relates could be the wave of the future for the evangelical church if this movement continues to unfold in the manner it already has:
I sought out a spiritual director, someone well versed in the ways of the soul . . . eventually this wise woman said to me . . . "What you need is stillness and silence so that the sediment can settle and the water can become clear." . . . I decided to accept this invitation to move beyond my addiction to words.6
By "addiction to words," she means normal ways of praying. She still uses words, but only three of them, "Here I am." This is nothing other than the Cloud of Unknowing or the prayer of the heart.
Like Richard Foster, Barton argues that God cannot be reached adequately, if at all, without the silence. In referring to 1 Kings 19 when Elijah was hiding in a cave, Barton encourages:
God loves us enough to wait for us to come openly to Him. Elijah's experience shows that God doesn't scream to get our attention. Instead, we learn that our willingness to listen in silence opens up a quiet space in which we can hear His voice, a voice that longs to speak and offer us guidance for our next step.7
What Barton fails to mention here is that Elijah was a valiant defender of the belief in the one, unique God—Yahweh (as seen in his encounter with the 450 prophets of Baal), and he never went into an altered state of silence in his personal encounter with God.
Barton is no longer teaching at Willow Creek. She left there to start the Transforming Center and now teaches pastors and other Christian leaders spiritual formation. Hers is just one of many avenues through which contemplative prayer is creating a new kind of Christian, possibly the Christian of the future.
Endnotes:
1. Agnieszka Tennant, "Drawing Closer to God"(Today's Christian Woman, September/October 2004, Vol. 26, No. 5), p. 14. Published by Christianity Today International, Carol Stream, Illinois.
2. Shalem Institute, "What Does Contemplative Mean?" (Shalem Institute About Shalem page, http://web.archive.org/web/20050204190729/http://shalem.org/about.html#contemplative).
3. Ann Kline, "A New Language of Prayer" (Shalem Institute newsletter, Vol. 29, No. 1, Winter 2005, http://web.archive.org/web/20060930230219/http://www.shalem.org/publication/newsletter/archives/2005/2005_winter/article_04).
4. Shalem Institute website, General Events, "Radical Prayer: A Simple Loving Presence Group" (http://www.shalem.org/programs/generalprograms/groupsevents_folder; no longer online—on file at LT).
5. Ruth Haley Barton, "Beyond Words, Issue #113, September/October, 1999, http://web.archive.org/web/20060628075740/http://www.navpress.com/EPubs/DisplayArticle/1/1.113.13.html), p. 35.
6. Ibid.
7. Ibid., pp. 37-38.
LTRJ Note: Some who read this article and other similar articles by Roger Oakland and LT accuse us of "lumping" all Calvary Chapels together saying they are all bad. We find this line of reasoning troubling. Lighthouse Trails historically has challenged many denominations (and the leaders within those groups), Calvary Chapel being one of them. Because Calvary Chapel has claimed it is not a denomination, there has been this expected idea by some who contact us that they are so loosely connected to each other that one Calvary Chapel church should not in any way be implicated with other Calvary Chapel churches.But the fact is, if a church takes on a particular name for the benefit of being associated with that name or group, then it seems unfair to expect that no one associate them with that group. Does this mean that all Calvary Chapels are going astray because some are? Of course not. Just like not all Baptist or Nazarene churches are going astray because some are. Calvary Chapel, as a group or denomination, should not be singled out for undue criticism, but neither should it be excused from criticism. And if a church has the name and association of Calvary Chapel, then that church must bear some of the responsibility for the leaders of that group, just like any other denomination or ministry. While Lighthouse Trails does not say that a particular local church should break away from a denomination if some of the denomination is going astray (because that is a decision only that church can make), we do say that pastors and church members who see their group or denomination going astray should speak up, not be silent, and call out those who are leading their group toward apostasy. Roger Oakland and Chris Lawson, both long-time Calvary Chapel ministers/teachers, finally left the Calvary Chapel movement and speak about the problems within the movement in an effort to help Christians stay the course of truth. Lighthouse Trails supports their efforts.
By Roger Oakland
Understand the Times, International
This commentary will be short. It will also be clear and to the point. There are three things I am compelled to share.
First, I am often accused of being a Calvary Chapel basher. Not so. For those of you who have read my biography, Let There Be Light, you know I first began working with Calvary Chapel in 1989 at Chuck Smith's personal invitation. Chuck had asked me to bring my teachings on evolutionary thinking and the New Age (and how both were affecting the world and the church) to Calvary Chapel pastors. Thus, I moved my family from our farm in Saskatchewan to Southern California.
I had only been with Calvary Chapel less than a year when I began seeing serious problems within the movement. In my book, I described the situation:
From 1998 on, the battle I faced in southern California . . . only intensified . . . A number of things simply did not line up with my "farming" way of seeing things. Many times I was reminded of my dad's famous statement: "The reason I am a farmer is that I would rather deal with nature than human nature." This became etched in my mind over and over as I saw the signs of a Christian church being run more like a corporation than a New Testament church. . . . Since I had traveled throughout America and the world in Calvary Chapel circles since 1989, giving me opportunity to make observations, I didn't have to be a forensic scientist to see when something was wrong. [1]
You can read more about my years at Calvary Chapel in Let There Be Light, but I bring this up because of being accused of only wanting to hurt Calvary Chapel. Nothing could be further from the truth. I've sometimes been asked, "Why did you stay so long at Calvary Chapel if problems began surfacing within the first year." I explain this in my book:
Well, that's simple—I truly was convinced God had brought me to Calvary Chapel to be a blessing, to teach those at Calvary Chapel about creation versus evolution and the ramifications of believing in evolution, and to help prepare and equip Calvary Chapel against spiritual deception and a great coming apostasy. With such conviction and my love for the Calvary Chapel pastors, I never felt the freedom to just walk away from the movement, at least not until I had done all I could possibly do. My farmer heritage gave me the tenacity to not give up, while the Lord in my life helped me to persevere. [2]
While I have been accused of being divisive and unloving, the fact is, to say nothing when people are in danger is the most unloving thing of all. Bottom line is, at Understand The Times, we have attempted to promote the truth, not just to Calvary Chapel but to the body of Christ at large. When light shines into the darkness, the darkness does not like the light. You will find this in the Bible where we read:
The light shall be dark in his tabernacle, and his candle shall be put out with him. (Job 18:6) Click here to continue reading and for endnotes.
By Roger Oakland
Understand the Times, International
There may still be people on UTT's list who lack discernment and insist that Willow Creek theology is safe as mother's milk and harmless to anyone and everyone.
This commentary will be very short but also very important. It will help connect the dots.
Please open the following link and read: https://www.instagram.com/WillowCreekCC

Read the following: http://www.understandthetimes.org/commentary/c176pf.shtml

Please contact Calvary Chapel Association Council by going to their web site. This can be done by clicking on the following link: http://calvarychapelassociation.com/leadership-council/
After reading this material, you may want to contact your local church and pass on this commentary.
Paul stated: "God hath chosen the foolish things of the world to confound the wise; and God hath chosen the weak things of the world to confound the things which are mighty" (1 Corinthians 1:27).
Roger Oakland (source)

For over a decade  now, Lighthouse Trails editors have been concerned about the direction that the AWANA children's club is heading. Today, in this report, we want to first give an overview of our past decade of reporting on AWANA, and then we want to share some new information that should concern every parent and grandparent who has a child or grandchild in AWANA.
It was just over ten years ago, in Feb of 2006, that we posted our first article about AWANA after having contacted them about our concerns. That article talked about connections AWANA had with Willow Creek (for documentation on Willow Creek, see links at the end of this article). In that article, we stated:
Awana Clubs has been a respected and trusted Christian organization for many years. Countless children have been Cubbies and Sparkies and have memorized Scripture through the program.

With so much of the church heading into the contemplative/emergent camp, also known as the spiritual formation movement, what a tragedy it would be to see Awana being sucked into this also. Few things are stable these days … is Awana the next to cave in?
As 2006 moved forward, our concerns heightened as AWANA continued promoting contemplative materials and the Spiritual Formation movement and showed no signs of breaking away from Willow Creek.
In 2007 and 2008, we posted a number of other articles documenting the organization's move into the "new" emerging spirituality. Two phone calls from us and sending printed materials had no apparent effect. And as one of our articles stated, "Today, we received another email [from AWANA] backing up their insistence that nothing is amiss."1In one article we wrote in 2007, we explained:
Awana is showing signs that it is becoming a full-blown contemplative organization. First of all, through Awana's prison project, the organization is incorporating New Age sympathizer Ken Blanchard's Lead Like Jesus Encounter program. On July 13th, we spoke with Lyndon Azcuna, Awana Cross Cultural Ministries director, who told us he was a Lead Like Jesus facilitator. Azcuna works in the main headquarters office of Awana. He said that the project was using Ken Blanchard's materials. When we explained to him that Blanchard promoted the New Age and mystical meditation, he said that the program did not have these elements.

However, the Lead Like Jesus Encounter is largely based on Blanchard's book, Lead Like Jesus, and that book does include contemplative elements. For instance, in the chapter called "The Habits of a Servant Leader" a palms-up, palms-down exercise is described (something Richard Foster has encouraged)(p. 158). The book gives a typical instruction on contemplative:

"Before we send people off for their period of solitude, we have them recite with us Psalm 46:10 in this way: Be still and know that I am God. Be still and know. Be still. Be…. When people return from their time of solitude, they have big smiles on their faces. While many of them found it difficult to quiet their mind, they say it was a powerful experience. The reality is most of us spend little if any time in solitude. Yet if we don't, how can God have a chance to talk with us?"

For Awana to include Ken Blanchard's teachings into its organization, shows that the situation is quite serious.
In that same article in 2007, we announced the release of a book, partly authored by two AWANA leades (at that time), called Children's Perspectives on  Spiritual Formation. We stated:
[T]here is something even more disquieting with regard to Awana and their slide into contemplative – a book that is recommended by Awana and also carried by the Awana store: Perspectives on Children's Spiritual Formation. A description of the book is as follows:

"In childrens ministry, models, methods, and materials abound. How do you decide what direction you want your ministry to children to take? Perspectives on Children's Spiritual Formation allows you to examine the four prominent points-of-view in the church today. You will then be able to make a more informed decision on the way in which your ministry should take."

The book offers four different views on how to transform children. One author, Scottie May, a professor at Wheaton, writes the section titled, "Contemplative-Reflective Model." May gives a hearty promotion of centering prayer, the Jesus prayer, Christ candles, the Catholic Eucharist and an strong endorsement for contemplative spirituality ala Thomas Merton, whom she favorably quotes in the book. Two Awana staff writers respond in the book to May's contemplative approach and give it a thumbs up with only minor cautions. But overall they believe that contemplative is a valid approach for all Christians, including children. Perspectives on Children's Spiritual Formation is giving a green light to Awana leaders around the world to practice contemplative prayer.
In 2007, we wrote an article titled "Awana Revisited: Is it or is it not promoting contemplative spirituality?" that examined in more detail the book (Children's Perspectives on  Spiritual Formation) that was still being promoted by AWANA. Here are a couple quotes from that book written by the two AWANA leaders:
Page 82: "In his excellent overview, Streams of Living Water, Richard Foster outlines six different spiritual traditions that present within the Christian faith. They are the contemplative tradition, the holiness tradition, the charismatic tradition, the social justice tradition, the evangelical tradition, and the incarnational tradition. Each of these has played an important part in the larger history of the Christian church…. Each of these traditions has made significant contributions to Christian spirituality and each has weaknesses when isolated from other traditions. (bold added)

P. 83-84: "While we believe that the Contemplative-Reflective Model highlights some significant needs in children's spiritual formation, we should see it as an addition to the base provided for us in the Scriptures….We share agreement with the Contemplative-Reflective Model in a number of areas … we have much to learn from the Contemplative-Reflective Model. Many of our children's programs are far from reverential, and the constant barrage of impulses does not seem to help in developing this interior life [this is the mystical contemplative life that Teresa of Avila practiced]." (bold added)
Our response in 2007 to these and other comments from the book was:
If the Awana writers in this book are trying to persuade readers that they do not promote contemplative spirituality, they have done a terrible job in expressing this. On the contrary, they have given minor cautions and major affirmations. They conclude with: "Given this framework, the Contemplative-Reflective Model becomes, at best, an important tool in helping provide a balanced development of the Christian spiritual life" (p. 87). While Carson and Crupper [the two AWANA leaders] point out some of the flaws in the Contemplative-Reflective Model, they make it clear that there is much good in it. Their response to contemplative spirituality leaves one message to readers: contemplative has some problems but if incorporated with other spiritual traditions, it has great value. And it is this attitude that is going to take Awana down a slippery slope of deception, unless they truly come to understand the underlying dangers of contemplative and then make every effort to rid Awana of its influence. (bold added)
In 2012, we contacted the publisher of Children's Perspectives in Spiritual Formation and learned that the book was still in active print. Sadly, AWANA leadership had decided that the contemplative approach was valid.
In November of 2015, we posted a letter to the editor titled "Concerns By Awana Leader About Awana Linking Hands with the Emerging Church." The letter from one of our readers who was a former AWANA leader, stated:
Dear Lighthouse Trails:

My family has been involved with the Awana ministry for almost 20 years both as "clubbers" and leaders.

Awana came out with new junior high curriculum. I reviewed one of the books and was not happy. The high school level curriculum too is in the process of being re-written with the help of a man named Josh Griffin. Josh Griffin is the high school pastor for Rick Warren's Saddleback Church. Griffin is associated with Doug Fields who was a speaker for Youth Specialties, then went on to be a youth pastor for Saddleback before returning back to work for Youth Specialties. Both Fields and Griffin have written books together and share a blog.

In September, Awana sent out an e-mail invitation to the 2015 National Youth Convention put on by Youth Specialties. Awana had a booth there.

A link on the e-mail connects to a promotional video where you see many people including Tony Campolo. Also Mark Matlock, the director of Youth Specialties tells his audience, "Youth ministry reminds the church that teens are not marginalized members of the body, but are co-creators and conspirators in the divine work of the church."

This is chilling considering that the words co-creators and conspirators are words associated with the New Age.

Speakers of the conference included such emerging church personalities as Doug Fields, Dan Kimball, Tony Campolo, Mike King, Jim Burns, and Alan Hirsch. Josh Griffin was the M.C. for the worship sessions.

The convention also offered spiritual directors for one-on-one sessions.

It is truly sad to see Awana linking hands with the emerging church movement.
This brings us to the present, 2016. On March 9th of this year, a press release came out announcing the retirement of long-time AWANA president Jack Eggar who was being replaced by an interim president and CEO, Valerie Bell. Bell is a member of Willow Creek (and her husband is a Vice President of Willow Creek Association). The fact alone that AWANA has selected someone from Willow Creek to lead AWANA should be enough to show that AWANA has at least in part absorbed the spirituality of Willow Creek, which is the spirituality of the emerging church (and that is NOT guilt by association). But the selection of Valerie Bell has even deeper roots in the "new" spirituality.
While Bell has some disconcerting resource links on her website, the one that stands out the most is Hungry Souls, the website of David and Karen Mains.  For a number of years, the Mains have had affinity with New Age concepts and teachings as has been brought out by a number of different discernment ministries (you can do a search on the Internet and see this for yourself). For example, a 2005 article by pastor, researcher, and author Gary Gilley reveals that in a book written by Mains, Lonely No More, Mains "chronicled her journey into Jungian psychology, visualization and the occult." Gilley stated, "The spiritual path that Karen Mains describes in Lonely No More can easily be found in most occult spiritual transformation books." That book, Lonely No More remains available today on Amazon as a Kindle book.
In a more recent book of Mains, The God Hunt, in a Further Reading section in the back, a number of contemplative/new spirituality authors are listed including Tilden Edwards (co-founder of the panentheistic Shalem Prayer Institute in Washington, DC), emerging church leader, the late Phyllis Tickle, and contemplatives Esther de Waal and Kathleen Norris.
Furthermore, on Karen Mains' site in an article titled "The Practice of Silence," she says, "I became convinced that no deep spiritual growth could occur in my life without the practice of silence that allows us to develop the capacity of holy listening." This "holy listening" and the "practice of silence," of course, is contemplative prayer.
There is no question that Bell and Mains share a spiritual affinity. In 2008, they traveled to France together and lead a group in a 10-day "pilgrimage." Promotional advertising for the trip said:
We will teach you how to "read" great art and then how to use those same viewing exercises to develop a contemplative prayer practice for the soul.
Among various teachings and practices included in the trip was instruction in the contemplative practice, Lectio Divina.
In addition to promoting David and Karen Mains, Valerie Bell shares her own views on contemplative spirituality on her website. On a page with the subtitle Soul Care (another way of saying contemplative), it says:
Valerie has a strong interest in soul-care as a way to find spiritual well-being and relationship with a loving God. Her approach invites people to learn spiritual practices that can sustain them through the most difficult life challenges. Her book, A Well-Tended Soul, describes the nuances of that inner journey and is a core resource to her spiritual formation seminars. (bold added)
There is no question that AWANA  is becoming a whole-hearted emerging/contemplative organization, and children in the program will eventually feel the effects. Unfortunately, deception can often be slow and subtle so parents may not realize their AWANA Cubbies and Sparkies are being influenced, a little more week after week through the AWANA curriculum. While we still believe there are AWANA local teachers who love the Lord and are trying to present a biblical view, the handwriting has been on the wall for over a decade, and it's getting easier to read all the time.
Lighthouse Trails Articles on Willow Creek:
Calvary Chapel, Bill Hybels, and Jesuit Mysticism
"Christian Palestinianism" & Emergents Lynn Hybels and Jim Wallis Come to Multnomah University For "Justice" Conference
No Repentance from Willow Creek – Only a Mystical Paradigm Shift
Thy word is a lamp unto my feet, and a light unto my path. (Isaiah 119:105)
For nearly 14 years, Lighthouse Trails has been trying to warn Christian leaders and the body of Christ of the spiritual deception that has entered the church. While thousands of Christians have responded favorably to the work we do, and we believe our material and the material of our authors has influenced, either directly or indirectly, tens of thousands of believers, the sad reality is tens of millions (if not hundreds of millions) of proclaiming Christians throughout the world are following leaders who will not warn them about spiritual deception, even when it is warned about in the Bible. In an ongoing effort to warn the church, Lighthouse Trails has put together a spreadsheet with the names of over 100 Christian leaders. We have now collected mailing addresses to all these names. While we have given away thousands of copies of books, booklets, and DVDs to leaders, professors, missionaries, pastors, and church members since 2002, we have never had a list with names and addresses so that we could send materials to a large number of leaders all at once. Now that we have this database, we are going to begin sending these 100+ leaders booklets on a regular basis with the hope of stirring them to discerning action.
While we realize our efforts in this mailing project to leaders may end up being futile, we are motivated by a sense of desperation as we witness the snowballing effect taking place in the church with regard to Christians becoming seriously deceived and deluded.
Because most Christian leaders are not even talking about Sarah Young's Jesus Calling, the first booklet we are sending out to these leaders is Warren B. Smith's new booklet, 10 Scriptural Reasons Why Jesus Calling is a Dangerous Book.
The following is a cover letter we will be including with the booklet. Below that, we have listed the 100+ leaders who will be getting this booklet and subsequent ones. As the Lord provides and leads, we will send out a new booklet to these men and women every two or three months. Please take a look at the names we have listed below, and if you know of a leader whom we have not listed and feel we should, please e-mail us at editors@lighthousetrails.com, and we will take your suggestion into serious consideration. Please include that person's organization name and mailing address so we can include him or her on the list. Keep in mind, the names we have chosen are primarily considered influential leaders of the evangelical church.
We hope our efforts will encourage you to continue the good fight for the contending of the faith. For those who may be feeling dismayed at the struggle in their own efforts to contend for the faith, please read "The Unacknowledged War and the Wearing Down of the Saints" by Cedric Fisher.
OUR LETTER TO CHRISTIAN LEADERS
Dear Christian Leader:

Sarah Young's perennial best-selling book, Jesus Calling, has sold over 15 million copies since it was first published in 2004. It continues to be enthusiastically read around the world and is available in over 20 different editions in English alone. With the book more popular than ever, there are entire Sarah Young' sections in Christian bookstores that feature Jesus Calling and other related products. Sadly, most Christian leaders are either unaware of the book's serious problems or are just choosing to stay away from the growing controversy surrounding Jesus Calling. Whatever the case, few, if any, warnings are being issued by those in Christian leadership.

In case you happened to be unaware of the problems involving Jesus Calling, we have enclosed our recently published Lighthouse Trails booklet titled 10 Scriptural Reasons Why Jesus Calling is a Dangerous Book. Hopefully, it will help you to understand why Sarah Young's book is such a threat to the spiritual well-being of today's church.

Sincerely in Christ,

The Editors at Lighthouse Trails Publishing
The List of Leaders We Are Reaching Out To
(Not all of the names below are those in deception. This list has a variety of persuasions within the evangelical camp. We are compelled to send each of these people specific information on various important issues that are basically not being addressed in the church today.)

First Name
Last Name
Organization
Randy
Alcorn
Eternal Perspective Ministries
John
Ankerberg
John Ankerberg   Ministries
Kay
Arthur
Precept Ministries International
Ted
Baehr
MovieGuide
Mark
Bailey
Dallas Theological Seminary
Jim
Bakker
Morningside Church
Gary
Bauer
American Values
Alistair
Begg
Truth for Life
Steve
Berger
Grace Chapel
John and Lisa
Bevere
Messenger International
Pat
Boone
Actor and Activist
Brian
Broedersen
Calvary Chapel Costa Mesa
Kirk
Cameron
c/o Liberty University
Pastor Tom
Carter
Dinuba First Baptist Church
Dan
Cathy
Chick-fil-A
Matt
Chandler
The Village Church
Gary
Chapman
Bryan
Chappell
Grace Presbyterian Church
Roberta
Combs
Christian Coalition of America
Ray
Comfort
Living Waters
Jim
Daly
Focus on the Family
Mart
DeHaan
Our Daily Bread
Dr. James
Dobson
Family Talk
Joni
Eareckson-Tada
Joni and Friends
Jack
Eggar
Awana CEO President
Dr. Tony
Evans
Oak Cliff Bible Fellowship
Pastor Jonathan
Falwell
Thomas Road Baptist Church
Jerry
Falwell
Liberty University
Joseph
Farah
World News Daily
Dr. Ronnie
Floyd
Southern Baptist President Crosschurch
Jim
Garlow
Skyline Church (La Mesa, CA)
Norman
Geisler
Summit Ministries
Louie
Giglio
Passion City Church
Franklin
Graham
Samaritan's Purse
Dr. Jack
Graham
Prestonwood Baptist Church
Anne
Graham-Lotz
AnGel Ministries
David
Green
Hobby Lobby Stores Inc
Pastor John
Hagee
Cornerstone Church
Ken
Ham
Answers in Genesis
Hank
Hanegraaff
Bible Answer Man
Jack
Hayford
The Church on the Way
Pastor Skip
Heitzig
The Connection
Hugh
Hewitt
The Hugh Hewitt Show
Pastor Jack
Hibbs
Real Life With Jack Hibbs
Pastor Dave
Hocking
Hope for Today
Dr. Michael
Horton
Westminster Seminary
Pastor Bill
Hybels
Willow Creek Community Church
Pastor Robert
Jeffress
First Baptist Church
Pastor David
Jeremiah
Shadow Mountain Community Church
Bill
Johnson
Bethel Church
Pastor Timothy
Keller
Redeemer Presbyterian Church
Pastor R T
Kendall
R T Kendall Ministries
The
Kendrick Brothers
Film makers
Dan
Kimball
Vintage Faith Church
Ben
Kinchlow
700 Club
Dr Tim
LaHaye
Southern California Seminary
Dr. Richard
Land
President-Southern Evangelical Seminary
William
Lane Craig
Biola University
Pastor Greg
Laurie
Harvest America
Nancy
Leigh DeMoss
Revive Our Hearts
Mike
LeMay
Stand up for the Truth
Hal
Lindsey
Hal Lindsey Ministries
Pastor Max
Lucado
UpWords
Pastor Fred
Luter
Franklin Avenue Baptist Church
Dr. Erwin
Lutzer
Moody Church
Pastor John
MacArthur
Grace Community Church
Mike
Macintosh
Horizon Christian Fellowship (Calvary Chapel)
James
McDonald
Walk in the Word
Josh
McDowell
Josh McDowell Ministry
Janet
Mefferd
Janet Mefferd Today
CEO Santiago "Jimmy"
Mellado
Compassion International
Eric
Metaxas
The Eric Metaxas Show
Joyce
Meyer
Joyce Meyer Ministries
Chuck
Missler
Koinonia House
Albert
Mohler
Southern Baptist Theological Seminary
Beth
Moore
Living Proof Ministries
Elisa
Morgan
Women of Faith
Dr Joel
Mullinex
Rejoice in the Lord
Pastor Joel
Osteen
Lakewood Church
Luis
Palau
Luis Palau Association
Sarah
Palin
Tony
Perkins
Family Research Counsel
John
Piper
Bethlehem Baptist Church
Dennis
Pollock
Spirit of Grace Ministries
Thom
Rainer
LifeWay Resources
Dave
Ramsey
The Lampo Group
Dave
Reagan
Lamb and Lion Ministries
Ron
Rhodes
Ron Rhodes Ministries
Pastor Raul
Ries
Calvary Chapel Golden Springs
Pat
Robertson
700 Club Christian Broadcasting Network
James & Betty
Robison
LIFE Outreach International: LIFE TODAY
Rev. Samuel
Rodrigues
New Season Christian Worship Church
Joel
Rosenberg
Trident Media Group
Dennis
Rydberg
Young Life Service Center
Philip
Ryken
Wheaton College
Pastor Tim
Savage
Camelback Bible Church
Mark
Schoenwald
HarperCollins Christian Publishing
Bobby
Schuller
Crystal Cathedral Church
Jay
Sekulow
American Center for Law and Justice
Gary
Smalley
Smalley Relationship Center
Larry
Spargimino
Southwest Radio Church Ministries
Dr Charles
Stanley
First Baptist Church
Brad
Stine
Christian Comedian
Cameron
Strang
Relevant Media Group
Steve
Strang
Charisma Magazine
Jimmy
Swaggart
Jimmy Swaggart Ministries
Leonard
Sweet
SpiritVenture Ministries
Chuck
Swindoll
Insight for Living Ministries
Tim
Tebow
Tim Tebow Foundation
Jack and Rexella
Van Impe
Jack Van Impe Ministries International
Pastor Joe
Van Koevering
Gateway Christian Center
Sheila
Walsch
musician
Pastor Rick
Warren
Saddleback Church
David A.R.
White
Founder Pure Flix Movies
Dr George
Wood
Assemblies of God president
Dr Rick
Yohn
Men of the Word
Dr Ed
Young
The Winning Walk
Pastor Michael
Youssef
Leading the Way
Ravi
Zacharius
International Ministries
Charisma
magazine
Board of Director
Bible Study Fellowship
 Aviel
 Schneider
 Israel Today
Kimm
 Carr
Community Bible Study
Michael
Farris
Home School Legal Defense Association
Marvin
Olasky
World Magazine
Dr. Jeff
Meyers
Summit Ministries
Dr. Jerry
Nance
Teen Challenge global president
By Roger Oakland
Understand the Times, International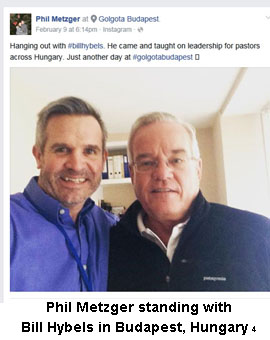 Recently, I was informed about a conference held this week in Budapest, Hungary where Willow Creek senior pastor Bill Hybels taught leaders. According to comments posted on Phil Metzger's Facebook page, the event was held at Calvary Chapel Golgota Budapest where Metzger is pastor. He is also the director of Calvary Chapel Bible College Europe (also located in Hungary). On Metzger's Facebook, Hybels was not only endorsed, he was praised. [3]
Perhaps most who read about this event will not be alarmed. But I was because I see the significance. I know that what Chuck Smith and Calvary Chapel once stood for is not at all what Hybels stands for. Bill Hybels was mentored by Peter Drucker along with Rick Warren to "reshape" Christianity for the 21st century. Hybels, from the famous Willow Creek Church located in South Barrington, Illinois, fathered the "seeker-friendly" movement.
When Hybels and his cohorts discovered that the seeker-friendly model produced spiritually illiterate believers, they said they "repented" [5] from this model of church; but in actuality, they delved right into teachings associated with the emergent church and contemplative mysticism, seeing those as the next "great" step. Interestingly, on Metzger's Facebook page, someone defending Metzger's promotion of Hybels said that it was irrelevant to talk about the emerging church because it was no longer an issue. But nothing could be further from the truth. While often called other names now, such as progressive, the ideologies of the emerging church are very much at work today. Click here to read this entire article and for endnotes.
Related Information
A Jesuit Pope? Understanding The Jesuit Agenda and the Evangelical/Protestant Church