Archive for the 'Contemplative Denominations' Category
LTRP Note: As many of you know, Roger Oakland, of Understand the Times, International, and Chris Lawson, of Spiritual Research Network, are former Calvary Chapel pastors/teachers, who both left the movement when their warnings about the infiltration of serious false teachings fell on deaf ears for several years and when they felt they could no longer, in good conscience, remain associated with the movement. Last week, Lighthouse Trails was informed of another Calvary Chapel pastor, Steve Shively of Refuge Church in Atascadero, California, who has made the decision (along with his church elders) to disaffiliate from the Calvary Chapel movement. The following letter was sent to the Calvary Chapel Association on June 29th, 2014. We are posting it with permission:
By Editors at Christian News Network
DETROIT — The 1.8 million-member Presbyterian Church (USA) voted Thursday (June 19) to allow homosexual 'weddings,' making it among one of the largest religious groups to take an embracing step toward openly supporting homosexuality.
By a 76-24 percent vote, the General Assembly of the PCUSA voted to allow their pastors to perform homosexual "marriages" in states where they are considered legal. Delegates, meeting in Detroit this week, also approved new language about marriage in the PCUSA Book of Order, or constitution, altering references to "a man and woman" to "two persons."
This change will not become church law until a majority of the 172 regional presbyteries vote to ratify the new language. But given the lopsided 3-1 ratio of the vote, approval is expected.
Homosexual activists within the PCUSA rejoiced at their victory, which was remarkable for its margin of victory after multiple years of razor-thin defeats. Click here to continue reading.
Related Articles:
Presbyterians in Mexico to break with apostate PCUSA on homosexuality
Presbyterians to consider redefining marriage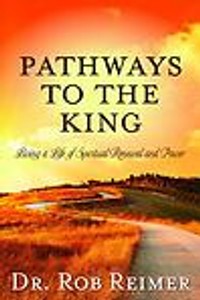 By L. Putnam
Dr. Rob Reimer, pastor of the Christian & Missionary Alliance South Shore Community Church, adjunct professor at the Alliance Theological Seminary, and speaker at various conferences has authored a book: Pathways to the King: Living a Life of Spiritual Renewal and Power.  To look inside is to learn how Reimer loses his way straying onto contemplative and kingdom now roads as he strives to experience, and expand God's kingdom on earth.
The Beginning:  Reimer's Renewal Pathways:

Reimer relates the church desperately needs renewal, and in order to reach this goal we must pursue intimacy with Christ.  To attain this goal there are eight pathways to the King from the first chapter's "Personalize Our Identity" to the final chapter's "Persist."
The Ending:  Reimer's Back Cover Endorsees:

Endorsements are given by Dr. Ron Walborn (Dean of ATS); Seth Barnes (Head of Adventures in Missions); Bishop Carlton T. Brown (Pastor, Bethel Gospel Assembly); and Rev.Tom Flanders (District Supt., CMA, New England).
Reimer's "Soul as a Container Image:" (p.22)
Reimer asks the reader to picture one's soul as a container with walls that thicken through sufferings.  If we process suffering well then we thicken the walls of our soul thus expanding our capacity to experience more of God.   If the walls of our soul are thin then we can't sustain the presence of God, and it will blow out the walls of our soul.  Curious!  Scriptural?  You be the judge. Click here to continue reading.
By Menno-Lite
Are the Mennonites who are teaching contemplative spirituality to children leading them astray?
In 2005, at a Mennonite Educators Conference workshop, Dr. Sara Wenger Shenk taught child educators to:
using a biblical story for guided meditation, pausing to ask prayerful questions that invite imaginative engagement at various points in the story. Source: How do we cultivate faithfulness in children?

Mennonite Educators Conference
September 22-24, 2005
Workshop: Practices for Nurturing Children in Faith 
Presenter: Dr. Sara Wenger Shenk http://www.emu.edu/seminary/resources/practicessws.html
The primary source for ideas in this workshop was a book called Real Kids: Real Faith—Practices for Nurturing Children's Spiritual Lives by Karen Marie Yust[1]. Since then, the deas in this book have since captured the imagination of other child educators. In 2011, this same book by Yust (among others) was used as a reference source for an article about children and contemplative prayer in The Mennonite. Here is an excerpt…
"there has been an increased recognition that children in our society have an intense yearning for silence and meditation (see Real Kids Real Faith by Karen Marie Yust). There is also a growing understanding that children have the capacity to enter the meditative silence of various spiritual practices and often with greater ease than some adults. The keys to helping children enter these practices are creating space and providing them with the tools and understanding necessary to connect with God in prayer.
Click here to continue reading.
LTRP Note: This series by Roger Oakland is one of the most significant stories we have ever covered. You will come to understand this as the rest of the series unfolds. If you have not read our articles/booklets The New Evangelization From Rome or Finding the True Jesus or The Jesuit Agenda, we encourage you to do so to help come up to speed on the Road to Rome issue. Considering the millions of Christians being influenced by Rick Warren and the Purpose Driven movement worldwide, what is happening here simply cannot be ignored.
By Roger Oakland
Understand the Times
What did he say? This is exactly the direction we predicted he would go! It will be crucial that skeptics hear and see this interview. These were my thoughts when I first watched the EWTN interview with Rick Warren and Raymond Arroyo provided by YouTube. April 11, 2014. The comments by Rick Warren in response to Arroyo's questions from an interview that took place at Warren's church in southern California were stunning. There is no room for doubt: Warren's march towards ecumenical unity with Rome is becoming clearer and bolder as time passes.
The interview opened with the following question from Arroyo:
The Purpose Drive Life is the bestselling book in the world – 36 million plus copies. It's been translated more than any book except the Bible. What is the key to that success? Why were so many people touched by that book and continue to be? [1]
Warren's response to this question provides insight to two very important questions – the inspiration behind the book and the reason why it was written. His own words confirm that Roman Catholic mystics and their writings have been a strong influence on him personally and his ministry. This affinity associates him with the emerging church as well as numerous other statements he has made in the past. Warren responded:
You know, Ray, There is not a single new thought in Purpose Driven Life that hadn't been said for 2,000 years. I've just said it in a fresh way. I said it in a simple way. When I was writing Purpose Drive Life it took me 7 months, 12 hours a day. I'd get up at 4:30 in the morning. I'd go to a little study. Start at 5 a.m. I was fasting til noon and I would light some candles and I would start writing and rewrite, rewrite, rewrite. One of the things I did before I wrote the book was, um, I'd ask the question—How do you write a book that lasts 500 years? For instance, um, Imitation of Christ by Thomas Kempis, Practicing the Presence of God by Brother Lawrence. Ok? The Desert Fathers, St. John of the Cross, Teresa of Avila. All of these great, classic devotional works. Any one of them—I just realized that in order to be timeless you have to be eternal. Click here to continue reading.
LTRP Note: Since the passing of Calvary Chapel founder Chuck Smith last fall, Lighthouse Trails has received calls from a number of people who have expressed concern over the direction that Calvary Chapel has gone. To understand more about the commentary below by Roger Oakland, you can read a full account in Roger's book, Let There Be Light (a biography). You may also wish to read the following articles by Roger Oakland: "The Facts Behind My Departure from Calvary Chapel" – by Roger Oakland -Part One,  "The Facts Behind My Departure from Calvary Chapel" – by Roger Oakland – Part Two, (also see more related material below).
 By Roger Oakland
Several years ago, I wrote a commentary titled "Ichabod." As someone familiar with the workings of Calvary Chapel Costa Mesa for over twenty years, it became apparent to me that drastic measures were needed in order to correct the direction that the mother ship of the Calvary Chapel movement was headed. While many were upset with me at the time, suggesting that I was firing a missile over the bow of the ship, time has shown that the warning God placed upon my heart at that time was accurate and was for a reason.
While management has changed at CC Costa Mesa since that commentary was written, daily reports from the many now jumping off the ship verify the once mighty Titanic may be in trouble.  Many of the older and mature members who were pillars in the old Calvary Chapel regime have already left. They have found a new church home with a pastor who was fired by the new leadership at Costa Mesa who has planted his own church not far away. A drive by the Calvary Costa Mesa parking lot at service time is also very enlightening. No longer is the parking lot overflowing with cars.  Where have the people gone, and what is the reason? The answer – a number of churches in the area report their congregations are growing as former Calvary Chapel Costa Mesa church attendees are being added to their pews.
The message found in the "Ichabod" commentary written to warn Calvary Chapel several years ago remains the same, only it is more relevant today than it was when the commentary was written. Not a day goes by when I am not confronted or approached by someone or some group with eyes now opened to see what I saw in the past. While the "New Calvary Chapel leaders," as they call themselves, boast that their transition to power has been a total success and that great and wonderful things lie ahead, there are many voices from former staff and church members who have either been fired, insulted, or left on their own who would strongly disagree.
Apparently, those who have taken over the leadership of Calvary Chapel Costa Mesa believe that Costa Mesa will remain the mother of all churches in the future as it was in the past. While the Calvary Chapel Movement remained intact while Chuck Smith was alive, now that he has passed on there are rumblings that a major change is underway.  Based on conversations I have had with many Calvary pastors whom I have known for years spread throughout the United States, the consensus is that the movement is fragmenting and the chance of this happening is very slim. Of course, there are Calvary pastors who also see (just as God showed me) what lies ahead, and they are preparing for the future. Rather than following some man (or woman), they tell me they will follow Jesus and His Word instead. Click here to continue reading.

Related Material:
Calvary Chapel Rejects Contemplative and Emergent Spirituality!
Calvary Chapel Rejects Purpose Driven and Emerging Spirituality
Warren Smith addresses 800 Calvary Chapel pastors by invitation of Chuck Smith.
New Age Similarities, Popularity Continues, and Calvary Chapel Gives Official Statement
What Happened to the Calvary Chapel Book, When Storms Come?
SPECIAL REPORT: Calvary Chapel Termination Has Profound Implications
The Depths of Our Concerns for Calvary Chapel and Other Christian Organizations