Archive for the 'Contemplative Denominations' Category
From Understand The Times, International
RE: Calvary Chapel Costa Mesa and the Alpha Course (April 18, 2016)
Recently, Brian Brodersen, senior pastor of Calvary Chapel Costa Mesa, sent out an endorsement of Nicky Gumbel's Holy Trinity Brompton Alpha Course program. While Alpha is very well known in North America and around the world, it seems that Brian Brodersen and many other pastors know very little about Alpha.
In order to bring awareness to Brian Brodersen and all other Calvary Chapels and evangelical churches choosing to go this direction, Understand The Times has made the decision to post several links from the web site of Take Heed Ministries based in Northern Ireland. The speaker of the messages and the author of the article that follows is my good friend Cecil Andrews from Northern Ireland.
Please take the time to listen to these two messages and to read one of his articles posted on his web site. His web site is very important. Please click on the link and add it to your favorites.
Christian pastors and leaders should be warning about Alpha, not promoting it. By doing so, these leaders are showing a lack of concern for those who are blindly following them and their man-made programs.
Here are two video links to research:
https://www.youtube.com/watch?v=n6DjxpYR7mk
https://www.youtube.com/watch?v=Ll0A00LqKeM
Here is the link to an excellent article:
http://www.takeheed.info/pdf/January-2014/Alpha-attend-or-avoid.pdf
Dear Lighthouse Trails:
Wow, so glad to hear about your efforts to reach out to Christian Leaders to warn them about Jesus Calling.  Whether they heed the warnings or not, thank you for doing this!!
While I don't have any names to add to your list, (you covered most of the major leaders), the idea inspired me, because I've been wanting to reach out to pastors to warn them about Contemplative Prayer.
My wife and I left a church a year ago because we started hearing names like Richard Foster, Dallas Willard, Brennan Manning etc. and things have only escalated since we've left.
There's about 40-50 churches in the conference our previous church is in that I'd like to send some tracts to, addressed to the pastors and also send to the bishops in the different conferences until I can afford to send to all churches in every conference.
We have some good friends in the _____ yet, and we'd like to try to reach these pastors (although it might fall on deaf ears) who are following and recommending these contemplative practices. The tracts that I thought I was most interested in sending are:
1.) Serious Look at Richard Foster's School of Contemplative Prayer

2.) Brennan Manning's "New Monks" and their Dangerous Contemplative Monasticism

3.) 5 Things You Should Know About Contemplative Prayer – 2015 updated edition

4.) So You Want to Practice "Good" Contemplative Prayer

5.) Is Your Church Doing Spiritual Formation?
Wasn't sure if you had any recommendations on the one that might be best to send (would love to send the whole bunch to each one, but would have to do that over a period of time since I don't have that money to spend right now ), I did see the multi-pack, but would be better I think to buy the individual tracts if I'm buying 40 or 50.
Thanks for all the information, materials and resources you provide.  With all that's coming into the church these days it's a bit like watching the dam about ready to burst every which way you turn.
Blessings in Christ,
_______________

Dear ___________:
Thank you for your e-mail. We find it very encouraging. Your idea of reaching out to pastors and leaders within your own group is a great idea. The 5 booklets you mentioned above would all be good choices. You might consider starting with Warren Smith's booklet 10 Scriptural Reasons Why Jesus Calling is a Dangerous Book.  If you do, you are welcome to include the letter we wrote with what you send. Please feel free to copy that letter from our article from February 25th.   In two months, we plan to send out a second booklet to this list of leaders (which now has over 125 names on it). That one will be by Ray Yungen, dealing with contemplative prayer. God willing, we will send out a different booklet every two to three months to these people. As we stated in our 2/25 article, we have a sense of desperation to reach these men and women who are influencing and leading millions of people.
Sincerely,
Editors at Lighthouse Trails
By Roger Oakland
Understand the Times, International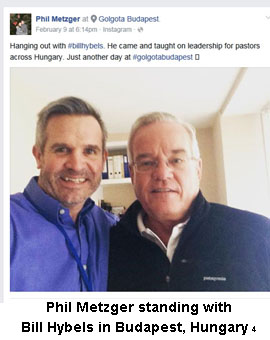 Recently, I was informed about a conference held this week in Budapest, Hungary where Willow Creek senior pastor Bill Hybels taught leaders. According to comments posted on Phil Metzger's Facebook page, the event was held at Calvary Chapel Golgota Budapest where Metzger is pastor. He is also the director of Calvary Chapel Bible College Europe (also located in Hungary). On Metzger's Facebook, Hybels was not only endorsed, he was praised. [3]
Perhaps most who read about this event will not be alarmed. But I was because I see the significance. I know that what Chuck Smith and Calvary Chapel once stood for is not at all what Hybels stands for. Bill Hybels was mentored by Peter Drucker along with Rick Warren to "reshape" Christianity for the 21st century. Hybels, from the famous Willow Creek Church located in South Barrington, Illinois, fathered the "seeker-friendly" movement.
When Hybels and his cohorts discovered that the seeker-friendly model produced spiritually illiterate believers, they said they "repented" [5] from this model of church; but in actuality, they delved right into teachings associated with the emergent church and contemplative mysticism, seeing those as the next "great" step. Interestingly, on Metzger's Facebook page, someone defending Metzger's promotion of Hybels said that it was irrelevant to talk about the emerging church because it was no longer an issue. But nothing could be further from the truth. While often called other names now, such as progressive, the ideologies of the emerging church are very much at work today. Click here to read this entire article and for endnotes.
Related Information
A Jesuit Pope? Understanding The Jesuit Agenda and the Evangelical/Protestant Church
LTRP Note: With more than 90% of the Christian colleges and seminaries now bringing in contemplative spirituality via Spiritual Formation programs, and with Christian leaders such as Rick Warren and Beth Moore endorsing the movement, and with countless pastors giving it a thumbs up to their congregations, isn't it time professors, pastors, and leaders understand what the final outcome of contemplative prayer is? Isn't it time they understand that leading Christians and church goers down this path is leading them away from the Cross, not toward it. At Lighthouse Trails, we believe it is beyond time for this understanding to occur.
By Ray Yungen
The final outcome of contemplative prayer is interspirituality. If you have truly grasped the portrait I have tried to paint in my book and articles, you have begun to see what this term signifies. The focus of my criticism of mystical prayer must be understood in the light of interspirituality.
Just what exactly is interspirituality? The premise behind interspirituality is that divinity (God) is in all things, and the presence of God is in all religions; there is a connecting together of all things, and through mysticism (i.e., meditation) this state of divinity can be recognized. Consequently, this is a premise that is based on and upheld by an experience that occurs during a self-hypnotic trance linking one to an unseen world rather than to the sound doctrine of the Bible.
It is important to understand that interspirituality is a uniting of the world's religions through the common thread of mysticism. Wayne Teasdale, a lay monk who coined the term interspirituality, says that interspirituality is "the spiritual common ground which exists among the world's religions."1 Teasdale, in talking about this universal church also states:
She [the church] also has a responsibility in our age to be a bridge for reconciling the human family . . . the Spirit is inspiring her through the signs of the times to open to Hindus, Buddhists, Muslims, Sikhs, Jains, Taoists, Confucians, and indigenous peoples. As matrix [a binding substance], the Church would no longer see members of other traditions as outside her life. She would promote the study of these traditions, seek common ground and parallel insights.2 (emphasis mine)
An article in my local newspaper revealed just how well received interspirituality has become in certain circles. One Presbyterian elder who was described as a "Spiritual Director" made it clear when she said:
I also have a strong interest in Buddhism and do a sitting meditation in Portland [Oregon] as often as I can. I considered myself ecumenical not only in the Christian tradition, but with all religions.3 (emphasis mine)
There is a profound and imminent danger taking place within the walls of Christianity. Doctrine has become less important than feeling, and this has led to a mystical paradigm shift. Sound doctrine must be central to this debate because New Ageism has a very idealistic side to it, offering a mystical approach to solve human problems. Everyone would like to have his or her problems solved. Right? That is the practical aspect I wrote about in the last chapter—a seemingly direct route to a happy and fulfilled life. However, one can promote the attributes of God without actually having God.
People who promote a presumably godly form of spirituality can indeed come against the truth of Christ. Then how can you be assured what you believe and practice is of God?
The Christian message has been clear from the beginning—God has sent a Savior. If man only had to practice some kind of mystical prayer to gain access to God then the life, ministry, death, and resurrection of Jesus Christ was a fruitless, hollow endeavor.
Sound Christian doctrine comes from the understanding that mankind is sinful, fallen, and separated from God. Man needs a saving work by God! A teaching like panentheism (God is in everybody) cannot be reconciled to the finished work of Christ. How could Jesus be our Savior then? New Age constituents will say He is a model for Christ consciousness, but the Bible teaches He is the Savior of mankind. Therefore, panentheism cannot be a true doctrine.
The problem is that many well-intentioned people embrace the teachings of panentheism because it sounds so good. It appears less bigoted on God's part. No one is left out—all are connected to God. There is a great appeal in this message. Nevertheless, the Bible does not teach a universal salvation for man. In contrast, Jesus said:
Enter ye in at the strait gate: for wide is the gate, and broad is the way, that leadeth to destruction, and many there be which go in thereat: Because strait is the gate, and narrow is the way, which leadeth unto life, and few there be that find it. (Matthew 7:13-14)
Christ's message is the polar opposite of these universalist teachings. Many people (even Christians) today think only a few really bad people will be sent to hell. But in Matthew, the words of Jesus make it clear that this just is not so.
While God sent His Son, Jesus Christ, to die for the sins of the world, He did not say all would be saved. His words are clear that many would reject the salvation He provided. But those who are saved have been given the "ministry of reconciliation" (2 Corinthians 5:18) making an appeal to those who are perishing (2 Corinthians 4:3). The Christian message is not samadhi, Zen, kundalini, or the contemplative silence. It is the power of the Cross!
For the preaching of the cross is to them that perish foolishness; but unto us which are saved it is the power of God. (1 Corinthians 1:18)
Yes, perishing, and not just unaware of their true self.
In an opinion poll, the startling results describe how Americans actually view God. Spirituality and Health magazine hired a reputable pollster organization to gauge the spiritual beliefs of the American public. This national poll revealed that 84 percent of those questioned believed God to be "everywhere and in everything" rather than "someone somewhere."4 This means panentheism is now the more popular view of God. If true, then a high percentage of evangelical Christians in America already lean towards a panentheistic view of God. Perhaps many of these Christians are fuzzy about the true nature of God.
How could this mystical revolution have come about? How could this perspective have become so widespread? The answer is that over the last thirty or forty years a number of authors have struck a deep chord with millions of readers and seekers within Christendom. These writers have presented and promoted the contemplative view to the extent that many now see it as the only way to "go deeper" in the Christian life. They are the ones who prompt men and women to plunge into contemplative practice. It is their message that leads people to experience the "lights" and the "inner adviser!"
Endnotes:
1.  Wayne Teasdale, "Mysticism as the Crossing of Ultimate Boundaries: A Theological Reflection" (The Golden String newsletter, http://clarusbooks.com/Teasdale.html, accessed 10/2009).
2. Wayne Teasdale, A Monk in the World (Novato, CA: New World Library, 2002), p. 64.
3. Jan Alsever quoted in Statesman Journal, January 27th, 1996, Religion Section.
4. Katherine Kurs, "Are You Religious or Are You Spiritual?" (Spirituality & Health Magazine, Spring 2001), p. 28.
Dear Lighthouse Trails:
The Wesleyan church is being lead by Jo Anne Lyon, who has yoked the denomination with false teachers.  I had been in a church that was taken over by the Wesleyan denomination.  I later transferred my membership away from it.  She has spoken in our church and she all but tripped over herself in bowing down in name dropping being in meetings with Rick Warren and Bono.  She also was giving credit to the teachings of Richard Foster.  She also has signed many documents with the usual suspects and their names on it – Rick Warren, Bill and Lynn Hybels, Tony Campolo, Jim Wallis, Ron Sider, and the like.  She has equated being pro-environment/climate change with being pro-life.  She is pushing the social gospel and spiritual formation.
Even if it were a man in the pulpit spewing this stuff, I would say it is unbiblical.  Thought I would let you know to keep your eye on things.
https://www.wesleyan.org/sftour
Here is just one of the stops coming up:
GO + MAKE | The Wesleyan Church

The Spiritual Formation Department Tour: GO + MAKE is coming to the Chesapeake District on Saturday, November 7, 2015. The event will be hosted by Calvary Wesleyan Church in Harrington, Delaware. https://www.wesleyan.org/3490/go-make

Saturday, November 7th is the date set for GO + MAKE a one-day, holistic, all-church discipleship training event for local church leaders plus a Generous Church Training event for lead pastors and spouses. Both events will be hosted by Calvary Wesleyan Church in Harrington, Delaware for the Chesapeake District and will run from 9:00 am to 3:30 pm. Don't miss this day of training and learning. These events are a great opportunity for you and your church congregants to be challenged and energized by our denominational leaders.

Presenters include:

Rev. Jeremy Summers, Director of Spiritual Formation, previous to his current appointment, he served three Wesleyan churches in Indiana and Illinois. He has also studied at Indiana Wesleyan University, Asbury Theological Seminary, and currently at Fuller Theological Seminary. Jeremy is also the author of Awakening Grace: Spiritual Practices to Transform Your Soul, the Merge Discipleship Series, and The Way Forward.

Rev. Scott Simmons, Director of Youth Ministries for the Wesleyan denomination, has served in youth ministry for over 18 years. He is an ordained minister in The Wesleyan Church and a graduate of Bethany Bible College and Indiana Wesleyan University. Scott is committed to the Wesleyan youth movement, being involved with youth camps, student and adult leadership development and the Wesleyan youth conventions.

Rev. Kathy George, Director of Children's Ministries for the Wesleyan denomination, has been a children's ministry director for 28 years. She served at First Wesleyan Church in Chilllicothe, Ohio for 9 years, and is currently in her 19th year at Cypress Wesleyan in Columbus, Ohio. During her time at Cypress, she has seen the children's ministry grow from 200 to over 1,000 participants. She loves sharing her passion for Children's Ministries through her position in The Wesleyan Church.

The Generous Church Training for lead pastors and their spouses will be presented by The Generous Church Organization. Andy Stanley, Senior Pastor, North Point Community Church, Alpharetta, Georgia say of this event, "The Generous Church team are partners to churches striving to create cultures of generosity by reaching every steward. Creating culture starts with the leaders, and the team brings the vision, strategies, and tools to equip church leaders for this important yet challenging task."
Back Up Research and Documentation from Lighthouse Trails:
Dr. Jo Anne Lyon's book The Ultimate Blessing: My Journey to Discovering God's Presence is laden with quotes by and references to contemplative and or emergent figures such as Henri Nouwen, Richard Foster, Soren Kiekergaard, and Jurgen Moltmann.
 The Wesleyan Church website offers a book series on Lectio Divina (see LT article on What is Lectio Divina?)
 The "Consistent Life" Document ("An International Network for Peace, Justice, and Life") is signed by several contemplative/emergent/New Spirituality figures including: Wendell Berry, Shane Claiborne, Richard Foster, Richard Rohr, Brian McLaren, Jim Wallis, Ron Sider, Jean Vanier (trained Rick Warren's spiritual director),and New Age teacher Wayne Teasdale.
To Lighthouse Trails:
Last December during our Church Council, they (pastor and his wife) announced that we would be studying The Purpose Driven Life by Rick Warren, and the Sunday School teachers would  be teaching it.  As one of the teachers, I said "No, I will not teach it.  I don't believe in it."  One of the women on the Council said, "But we love it."  I told them I didn't love it, and I would not teach it.  She is the woman who teaches most of the Women's Bible studies and had them read  [Don Miller's] Blue like Jazz.  I read a couple of pages and refused to participate.  Same thing with a Beth Moore study.  She was behind this one also and had talked about "lifeboats" and had a group of the church leaders in her home to meet the man who wrote the book about that concept.
I gave my Sunday School the option of continuing their Bible study or going to the presentation of The Purpose Driven.  I explained my objections to it.  They chose to follow her, and I told them I would return to continue the class when that was over.
When I returned to the class, we began a study of prophecy in the Bible, starting with Genesis.  The Pastor required that I submit my syllabus to his wife for approval.
At that time, I had to leave on a trip for a family matter.  Before we returned from that trip, I checked the local newsletter online and saw the announcement that the pastor had cancelled Prayer Meetings and instituted Cottage meetings to teach Richard Foster's book on Contemplative Prayer.  I was heartsick.  This was just an ongoing issue with the church.  I got home on Tuesday, and by Saturday I was in the hospital with a bleeding ulcer and getting a blood transfusion.  I felt strongly, and so did my husband, God was telling us to leave our little Southern Baptist church.
When I was discharged, I sent a letter of resignation to the pastor and others who needed to know and resigned all my responsibilities.  I was chairperson for several committees as well as a teacher and worship leader.
We started attending a little Baptist church down the road, and then I found out that the progressives have invaded and pretty much taken over our seminaries and colleges
.  The pastor of our new church is an awesome young man and well rooted in the Christian faith.  I have listened carefully and questioned him, and I am impressed.
I am 70 years old and I have been a Christian for about 66 of those years. I was heart broken over my church.  I was disturbed and sad and felt lonely even though my husband was with me on this.  I questioned whether or not I needed to stay and keep fighting this or just leave.  I had given it my best shot and nobody listened.  Several of my class members came to see me while I convalesced but nothing was changing at church.  I definitely felt God telling me to leave and not look back.
You have been there for me also as I struggled with the apostasy in the church.  God bless you and thank you for myself and my husband.
To Lighthouse Trails:
In March 2015, we were at a small Calvary Chapel in ________________. Our pastor needed to relocate so we were without a regular pastor for many months.
Since we were unable to find a satisfactory Calvary Chapel pastor, we were extremely anxious as to what our next step should be. Someone knew of a C&MA [Christian & Missionary Alliance] District Superintendent who mentioned he could come talk to us as a congregation. When he came, he was extremely nice and personable and exuded confidence and kindness.
We were all extremely excited, and when we looked at their statement of beliefs we were relieved to find they were very close to Calvary Chapels. They soon provided us with a temporary pastor who would take over our congregation until we could be matched with the perfect pastor.
I had been attending this church for over four years and teaching a women's Bible study for about three years. At different times during the Bible study, I taught on the emergent church and showed videos such as Wide is the Gate 1, 2, and 3 on the dangers of these emergent teachings. A lot of the women alienated themselves from me because I criticized Beth Moore and her teachings and Priscilla Shirer.
At some point, I began to see, through Lighthouse Trails, a few things on the Alliance and its ties with the emergent church and spiritual formation. As I really began to dig, I was horrified. I called four C&MA seminaries to ask them if they offered classes on Spiritual Formation. I was told very enthusiastically, yes they offered many classes in Spiritual Formation. When I called Simpson University, I was even told that if I wanted to dig deeper into that sort of thing, they recommended Bill Johnson's [Bethel Church] School of the Supernatural.
I approached our three elders with all this information: two of the elders were very dismissive, saying I was just reading "ranting blogs" and that they knew C&MA to be a very reputable denomination. One elder and about four of the women were very interested and seem to be quite alarmed. They did their own research and agreed it was a scary situation.
Then this past Saturday, we all met in one of the women's houses including the one elder and had a two-hour meeting discussing the situation and that something needed to change, that maybe we should develop a home church or at least take back our church.
Sunday came around and our new pastor called a meeting of our transition board, which mostly consists of myself and the other eight or nine people I had told. He had been informed that I had some problems with the Alliance and the emergent church, so he focused on me and was very kind and very nice and asked me what the problem was. When I told him what I had read, he said that the emergent church was very evil and that Alliance was aware of it and they were fighting it. When I asked him why they were teaching Spiritual Formation in their colleges and seminaries, he said they were educating students about the dangers of it. He then mentioned someone that he was friends with named Timothy Keller. I asked him did he think Timothy Keller was a good teacher and a good pastor, and he said absolutely. I then asked him how he could say that when Pastor Keller was bringing in the emergent church full blown into his Presbyterian Church?
Our new pastor then told me that the best way to fight these kind of things was to be relevant to the culture and to bring all these things in to the church and let the false teachers teach alongside the true teachers of the Gospel and that the Gospel would prevail. He said in a place like New York where Timothy Keller pastors, you have to be relevant to the population; and teaching things like yoga, contemplative prayer, and lectio divina was necessary to bring people in, and then you could present the Gospel, and they would be saved. When I told him that was not biblical that we were told to flee from false teachers and have nothing to do with them, he told me that was my interpretation of the Bible.
The new pastor then told me I was needed in the congregation because I had such an acute sense of discernment that he needed me in the church, Yeah Right! I told him I was sorry that with the name Alliance over the front door, I couldn't, in good conscience, attend the church. His whole demeanor changed like a mask came over his face, and he said "OK, then I will be addressing your women's Bible study Wednesday." When I asked him why, he said, "I don't want these women just left and abandoned. I told him I would be there Wednesday to say goodbye to finish the class. He then looked at me since I had stood up and looked around at the other people who were there and said, "we have things to discuss—you can go now." I said OK and I left.
Even though all those people in that living room meeting 28 hours earlier had been against him, by the time he was done talking, they were all either neutral or on his side. Not one person said a word in defense of what I was saying.
All last night, I was disturbed. I was sad, and I felt lonely. Had I done the wrong thing? Was I sure this was what God wanted? I know that sounds silly looking at it from the outside, but it's just the way it played out in my head. When I tried to call a couple of those people, they didn't even want to talk to me. And then, I just happened to get in the mail a booklet from Lighthouse Trails that I had ordered about a week earlier called A Serious Look at Richard Foster's "School" of Contemplative Prayer. I knew a lot of the information from previous researching, except where it mentioned Richard Rohr. It rang a bell, so I Googled his name with C&MA. I came up with so much information, and after reading that booklet, it was like the blinds fell off my eyes again. With a rush of relief, I suddenly knew I had done the right thing.
Thank you Lighthouse Trails for being there for the people like us that feel like a speck of sand on a huge beach trying to get our message out to the rest of the sand.
God bless you and again thank you, thank you, thank you.
Rachel G.
Information on Richard Rohr:
YouTube video: Richard Rohr on the Cosmic Christ
List of Contemplative Colleges and Seminaries
Excerpt on Richard Rohr from Ray Yungen's book on Richard Foster:
Richard Rohr
Without a doubt, Catholic priest Richard Rohr is one of the most prominent living proponents of contemplative prayer today. His organization, The Center for Contemplation and Action, is a bastion for contemplative spirituality. And like our other contemplative prayer "school" masters, he has been embraced by numerous popular evangelical authors. Richard Foster, for example, had Rohr on an advisory board for a 2010 book Foster edited titled 25 Books Every Christian Should Read: A Guide to the Essential Devotional Classics.22
Rohr has essentially become the new Thomas Merton to an entirely new generation of evangelical Christians. In an interview, Rohr said:
[O]ne of my publishers . . . told me that right now my single biggest demographic is young evangelicals—young evangelicals. Some of my books are rather heavy. I'm just amazed.23
Rohr's statement is correct about young evangelicals. A case in point is an organization called IF: Gathering. The leaders of IF are dynamic energetic women who hold large conferences geared primarily toward young evangelical women. While these women may be sincere in what they are trying to do, they promote figures such as emergent leaders Brian McLaren and Rob Bell, as well as Richard Rohr. Lighthouse Trails has published a booklet on IF that I encourage you to read to understand the full scope of this growing women's movement.24
To further understand the significance of this, Rohr is a prominent champion for the idea of a global religion that would unify the world. He says that "religion needs a new language."25 And that language to bring about this one-world religion is mysticism (i.e., contemplative prayer)! Rohr stated:
Right now there is an emergence . . . it's coming from so many different traditions and sources and parts of the world. Maybe it's an example of the globalization of spirituality.26
This view ties in perfectly with the emerging church's perspective that is so popular among younger evangelicals today. It's no wonder that Richard Rohr and emerging church leaders (such as Brian McLaren) are so supportive of each other and endorse each other's books.
In echoing Merton and Nouwen, Rohr also advocates the concept of dharmakaya. This is the recurring theme of the "school" of contemplative prayer. Rohr states:
God's hope for humanity is that one day we will all recognize that the divine dwelling place is all of creation. Christ comes again whenever we see that matter and spirit co-exist. This truly deserves to be called good news.27
To dispel any confusion about what Rohr is saying, he makes it clear in the same paragraph what he means by God dwelling in all creation. He uses a term that one finds throughout contemplative literature, which signifies that Christ is more of an energy than a personal being. Rohr explains the term "cosmic Christ," telling readers that everything and everyone belongs to God's kingdom.28 That's even the name of one of his books, Everything Belongs: The Gift of Contemplative Prayer.
In his 2011 book, Falling Upward, Rohr implies that we (humanity) are all an "immaculate conception."29 If these things are true, then there was no need for Jesus Christ to die on the Cross for the sins of mankind. We would not need a Savior because we would already be divine ourselves. In truth, contemplative spirituality is the antithesis of the Gospel. That is why there are countless mystics who claim to know God (or Jesus) but will have nothing to do with the Cross. (for footnotes and source, click here)