Archive for the 'Contemplative Denominations' Category
By Menno-Lite Blog
The September issue of the Mennonite Brethren Herald[1] is promoting a long awaited new curriculum for children from age 3 to grade 8. Shine has been in the works for three years, and is now available and coming to Sunday School classrooms in a Mennonite church near you.
The new Sunday school curriculum Shine: Living in God's Light for fall quarter 2014 is now available from MennoMedia and Brethren Press, the publishing houses of the Church of the Brethren, Mennonite Church Canada and Mennonite Church USA.

– New Anabaptist curriculum Shines
http://mbherald.com/new-anabaptist-curriculum-shines/
The article explains the importance of one of the aspects of this curriculum – the spiritual formation of children:
Why is spiritual formation for children important, and why do you call it that now instead of "Sunday school"?
Sunday school indicates a school model based on acquiring information. We certainly want children to become biblically literate, but we hope for something much deeper. Spiritual formation happens in vibrant communities of God's Spirit. One of the things we try to convey is that children's natural language of prayer is thanksgiving. They need to experience joy and hope. Children also need to know that God walks with us in difficult times. God's love transforms our lives, so we can show God's love and call others to follow the Prince of Peace.[2]
To find out what this spiritual formation for children looks like, a link provided to the Shine resource website[3], explains further what will be taught. Click here to continue reading.
Dear Lighthouse Trails:
First of all, thank you for the continue steadfastness and faithfulness to God's Word while being under a lot of pressure to conform in these the last of the last days. I have been blessed time and time again by the articles, as well as the other resources available through Lighthouse Trails.
This morning I read the article-http://www.lighthousetrailsresearch.com/resistersdieorleave.htm. It was such an encouragement since I have recently gone through this at a local Christian school. Regardless, the Lord has used it for my good and I'm sure His glory. Anyway, at the end of the article it mentions in a special note the Calvary boycott of Purpose Driven and emergent focused materials as resources.
The question I have is would it possible, since that is no longer the case, to edit the special note section or add an addendum to it. I chose to post the article on FB this morning, but was hesitant because of the note at the end. Sadly, as you know better than most, many Calvarys have recently openly begun aligning themselves with Rick Warren's and other emergent leaders' message and materials. I'll be adding a comment under my FB explaining the change since 2006, however in an attempt to be as current and clear as possible, I wonder if editing the note in the article might be wise.
Again, thanks for your time and continued stand on the Word. "For we wrestle not against flesh and blood, but against principalities, against powers, against the rulers of the darkness of this world, against spiritual wickedness in high places.  Wherefore take unto you the whole armor of God, that you may be able to withstand in the evil day, and having done all, to stand." Ephesians 6:12-13
In Christ alone,
Richard (not real name)
Dear Richard:
Thank you for your note. We decided your advise was good so have added an updated note just under the 2006 (which we now dated).
Our Note (from 2006): Recently the Calvary Chapel movement (founded by Chuck Smith, Sr.) made a bold declaration when they decided to reject the emerging and contemplative prayer movements and to discontinue their support and use of all Purpose Driven materials. Many applaud this bold and sacrificial action. See our Special Report.
UPDATED NOTE ( 2014): Unfortunately, over the past 8 years since the above "Special Note" was posted, there have been many Calvary Chapel churches that have not heeded the 2006 warnings by the now-late Chuck Smith, Sr. but have rather accepted, promoted, and even embraced emerging/contemplative and/or Purpose Driven beliefs.
Related Information:
Calvary Chapel Bookstore on Jesus Calling: Hush!! It's Controversial – We Keep it in the Back Room
Greg Laurie Connects Purpose Driven to a Move of God – Gives Financial Support
California Church Disaffiliates With the Calvary Chapel Movement Over Heretical Connections
A Commentary: Why Are So Many Departing From Calvary Chapel Costa Mesa?
Letter to the Editor: Main Calvary Chapel Bookstore Just Added Rick Warren's Daniel Plan Book
Further Implications of Calvary Chapel North Coast Event – Lynne Hybels Presence Shows Serious Move Toward Apostasy
SPECIAL REPORT: Calvary Chapel Termination Has Profound Implications
By Roger Oakland
Understand the Times, International
The Titanic was one of the greatest ships that has ever sailed the seas. When built it was considered unsinkable. Today, when the name Titanic is mentioned, we think of one thing – the boat that was, is no more. It's at the bottom of the sea. What a legacy!
The name "Titanic" has become synonymous with the idea that a disaster can be avoided. You see, the sinking of the Titanic provides an analogy of what can happen to human aspirations when humbled by circumstances. A great ship that was deemed to be unsinkable – sank because it hit an iceberg. The disaster did not have to happen if proper precautions had been taken.
The Process of Sinking the Titanic
In the case of the Titanic, human pride and accomplishment came to a tragic end in a moment. The Titanic was on its maiden voyage. The captain was sailing in dangerous waters. Although he had been warned to be careful, the boat was thought to be invincible. But of course we know now, this was not the case.
Nature and its forces intervened to show mankind is subservient. Of course, the Titanic provides an excellent spiritual lesson for those who study the Bible. Great things, great countries, and great leaders can come to and end when a sovereign God pulls the plug.
The history of Christianity shows that the sinking of the Titanic can help us to understand what often happens to denominations and organizations. There comes a time when an organization that was sailing successfully, hits an iceberg and then takes on water.
In the case of the Titanic, the circumstances that brought about the sinking of the ship could have been avoided. Perhaps the captain got a bit too confident. Or maybe the crew was giving him faulty information.
Maybe some of the crew wanted the captain to make a mistake. Maybe some of the crew wanted to be captain when the captain retired or died. Whatever the case, the dangerous waters could have been avoided. If only a watchman would have sounded the alarm. Of course the captain would have had to listen and act accordingly.
But as we know, if there was a watchman who warned the captain, the captain did not listen. The mighty ship hit an iceberg that knocked a hole in the wall of the ship. Some felt the bump but there were those who did not. Soon the boat began to take on water. Then the boat began to list. At first the party continued until it became apparent there was a serious problem.
Eventually concern turned into panic. There was a mad scramble for the lifeboats. As the boat went into its final dive, many had to jump off in desperation. Some were saved but many were not. The ship went down to the bottom of the Atlantic. The greatest ship that had ever been built did not make it to America. How tragic! How sad!
The Process of Sinking a Denomination
Now, think for a moment. Could a Christian denomination go the way of the Titanic? Could the process of sinking be avoided? Is it possible that the captain could foresee the inevitable but do nothing to prevent it?
Over the years of history, many denominations and movements that were once sailing "smoothly" went down just like the Titanic. Apparently, given time, this is what happens, and it just cannot be avoided.
Why is this so? The answer is simple. Christians are humans and human behavior can be predicted.
It is at this point in the analogy that I want to point out a difference. The similarity of using the captain of a ship in comparison with the leader of a denomination may not be appropriate. Denominations, while they may have a moderator or a president, also have others who are striving for position.
The Roman Catholic Church would be a good example. The pope is the top guy. However, next in line are the cardinals. Following this are the bishops, the priests, and finally the people.
There comes a time when the pope gets old and weak. Common sense says there must be a new pope in the making. The new pope is always chosen from the cardinals. While I have never been in a meeting where the next pope was about to be chosen, I am sure there is a lot of political lobbying.
Of course, in order to take over as pope, it is advantageous to be well known. Most cardinals start out as ordinary sheep. First they have to become a priest. A bishop is the next step up the ladder before taking over as cardinal. Cardinals wear different hats and different robes and are noticeably different looking than a bishop. You can pick a cardinal out in a crowd. Besides they always get to speak at the important conferences.
You see, denominations that have hierarchies like the Roman Catholic system are looking for trouble. Without knowing it, there is a tendency to get one's eyes off Jesus and on to a human system. Rather than focusing on being a servant and reaching people, there is a possibility to seek after success for the cause of developing personal kingdoms.
When denominations take on the essence of secular corporations, the Spirit of God departs. When this happens, it is very difficult to recover. Further, the love that once was abundant in this fellowship goes south.
The cardinals in the organization who are seeking after position put the pope between them and Jesus. Sometimes, the cardinals are better known than the pope. They can even veto the pope and do their own thing if they choose.
This pattern that develops is also quite contagious. The pope model of leadership actually gets cloned and passed down. Churches within the denomination play a game similar to follow the leader. Staff members and assistant pastors at these churches follow the law of the corporation. This means one hundred percent loyalty to man is required. When one is not one hundred percent loyal, you are shown the door. Too bad if you were attempting to serve Jesus!
When carnal people are driven to be loyal to a man rather than to Jesus, there is a potential to even perform illegal acts. However, while this is happening, those who are being loyal don't realize that anything is wrong. They are still God's men. They are just doing what they believe to be right.
At first, the common people can't see there is a problem. However, there are signs indicating that something is wrong. Some begin to warn others. When they warn, they are told they are traitors. They are told if they don't like what they see they should find another boat. However, they don't want to find another boat. They liked the boat the way it was before it became a submarine.
Eventually, the secular media reports there are problems that should have been addressed. Dirty laundry is placed in public view. Why didn't someone wash these dirty clothes before?
Finally, the passengers start to panic. "Why didn't the captain tell us sooner?" they shout as they scramble to save themselves from drowning. The only option they have is to get off the ship and find a lifeboat.
Learning from the Titanic
All is not lost. There is good news even though a movement or a denomination sinks.
Christian history reveals there is always a remnant that survives when the ship goes down. There are many sincere Bible-believing pastors who want to do what is right. They love God's Word. They know that its not about property, possession and power. They want to feed the sheep and reach the lost. Isn't that the way the denomination started in the first place?
God is sovereign, you see. Jesus said, "Upon this rock, I will build my church and the gates of hell will not prevail against it." While Satan has his plan, God has the right plan. All those who trust in Jesus alone will spend eternity with Him.
This is what keeps me going!
We are in the last days. Many churches that once were giving their all to be biblical are now gone off track. The Scriptures state we should not be surprised. Satan is out to take down every Christian organization that once stood for truth.
Are you going to let him take you down?
This is a time to get serious about truth. Pastors of churches that proclaim the truth will be like lighthouses that shine bright into the darkness in the future. The darker that it gets, the brighter their lights will shine.
If you know a church, a fellowship, or a movement that is like the Titanic, PRAY. Pray the captain will warn the people that which is underway. Let the light of God's Word shine into darkness and reveal Satan's plans.
Pray that the things that have been hidden in darkness will be brought into the light. God cannot use an organization that allows darkness to exist alongside it. In these days, judgment must begin in the house of the Lord. God is a righteous God. He hates darkness. God would not be God if this were not the case.
I am excited what God is going to do. Aren't you?
Remember – the Titanic!
Therefore whosoever heareth these sayings of mine, and doeth them, I will liken him unto a wise man, which built his house upon a rock:  And the rain descended, and the floods came, and the winds blew, and beat upon that house; and it fell not: for it was founded upon a rock. And every one that heareth these sayings of mine, and doeth them not, shall be likened unto a foolish man, which built his house upon the sand: And the rain descended, and the floods came, and the winds blew, and beat upon that house; and it fell: and great was the fall of it. Matthew 7: 24-27
LTRP Note: As many of you know, Roger Oakland, of Understand the Times, International, and Chris Lawson, of Spiritual Research Network, are former Calvary Chapel pastors/teachers, who both left the movement when their warnings about the infiltration of serious false teachings fell on deaf ears for several years and when they felt they could no longer, in good conscience, remain associated with the movement. Last week, Lighthouse Trails was informed of another Calvary Chapel pastor, Steve Shively of Refuge Church in Atascadero, California, who has made the decision (along with his church elders) to disaffiliate from the Calvary Chapel movement. The following letter was sent to the Calvary Chapel Association on June 29th, 2014. We are posting it with permission:
By Editors at Christian News Network
DETROIT — The 1.8 million-member Presbyterian Church (USA) voted Thursday (June 19) to allow homosexual 'weddings,' making it among one of the largest religious groups to take an embracing step toward openly supporting homosexuality.
By a 76-24 percent vote, the General Assembly of the PCUSA voted to allow their pastors to perform homosexual "marriages" in states where they are considered legal. Delegates, meeting in Detroit this week, also approved new language about marriage in the PCUSA Book of Order, or constitution, altering references to "a man and woman" to "two persons."
This change will not become church law until a majority of the 172 regional presbyteries vote to ratify the new language. But given the lopsided 3-1 ratio of the vote, approval is expected.
Homosexual activists within the PCUSA rejoiced at their victory, which was remarkable for its margin of victory after multiple years of razor-thin defeats. Click here to continue reading.
Related Articles:
Presbyterians in Mexico to break with apostate PCUSA on homosexuality
Presbyterians to consider redefining marriage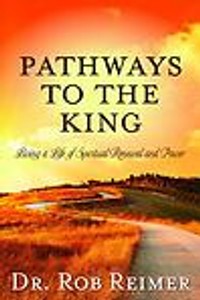 By L. Putnam
Dr. Rob Reimer, pastor of the Christian & Missionary Alliance South Shore Community Church, adjunct professor at the Alliance Theological Seminary, and speaker at various conferences has authored a book: Pathways to the King: Living a Life of Spiritual Renewal and Power.  To look inside is to learn how Reimer loses his way straying onto contemplative and kingdom now roads as he strives to experience, and expand God's kingdom on earth.
The Beginning:  Reimer's Renewal Pathways:

Reimer relates the church desperately needs renewal, and in order to reach this goal we must pursue intimacy with Christ.  To attain this goal there are eight pathways to the King from the first chapter's "Personalize Our Identity" to the final chapter's "Persist."
The Ending:  Reimer's Back Cover Endorsees:

Endorsements are given by Dr. Ron Walborn (Dean of ATS); Seth Barnes (Head of Adventures in Missions); Bishop Carlton T. Brown (Pastor, Bethel Gospel Assembly); and Rev.Tom Flanders (District Supt., CMA, New England).
Reimer's "Soul as a Container Image:" (p.22)
Reimer asks the reader to picture one's soul as a container with walls that thicken through sufferings.  If we process suffering well then we thicken the walls of our soul thus expanding our capacity to experience more of God.   If the walls of our soul are thin then we can't sustain the presence of God, and it will blow out the walls of our soul.  Curious!  Scriptural?  You be the judge. Click here to continue reading.