Archive for the 'The Emerging Church' Category
To Lighthouse Trails:
In March 2015, we were at a small Calvary Chapel in ________________. Our pastor needed to relocate so we were without a regular pastor for many months.
Since we were unable to find a satisfactory Calvary Chapel pastor, we were extremely anxious as to what our next step
should be. Someone knew of a C&MA [Christian & Missionary Alliance] District Superintendent who mentioned he could come talk to us as a congregation. When he came, he was extremely nice and personable and exuded confidence and kindness.
We were all extremely excited, and when we looked at their statement of beliefs we were relieved to find they were very close to Calvary Chapels. They soon
provided us with a temporary pastor who would take over our congregation until we could be matched with the perfect pastor.
I had been attending this church for over four years and teaching a women's Bible study for about three years. At different times during the Bible study, I taught on the emergent church and showed videos such as Wide is the Gate 1, 2, and 3 on the dangers of these emergent teachings. A lot of the women alienated themselves from me because I criticized Beth Moore and her teachings and Priscilla Shirer.
At some point, I began to see, through Lighthouse Trails, a few things on the Alliance and its ties with the emergent church and spiritual formation. As I really began to dig, I was horrified. I called four C&MA seminaries to ask them if they offered
classes on Spiritual Formation. I was told very enthusiastically, yes they offered
many classes in Spiritual Formation. When I called Simpson University, I was even told that if I wanted to dig deeper into that sort of thing, they recommended Bill Johnson's [Bethel Church] School of the Supernatural.
I approached our three elders with all this information: two of the elders were very dismissive, saying I was just reading "ranting blogs" and that they knew C&MA to be a very reputable denomination. One elder and about four of the women were very interested and seem to be quite alarmed. They did their own research and agreed it was a scary situation.
Then this past Saturday, we all met in one of the women's houses including the one elder and had a two-hour meeting discussing the situation and that something needed to change, that maybe we should develop a home church or at least take back our church.
Sunday came around and our new pastor called a meeting of our transition board, which mostly consists of myself and the other eight or nine people I had told. He had been informed that I had some problems with the Alliance and the emergent church, so he focused on me and was very kind and very nice and asked me what the problem was. When I told him what I had read, he said that the emergent church was very evil and that Alliance was aware of it and they were fighting it. When I asked him why they were teaching Spiritual Formation in their colleges and
seminaries, he said they were educating students about the dangers of it. He then mentioned someone that he was friends with named Timothy Keller. I asked him did he think Timothy Keller was a good teacher and a good pastor, and he said absolutely. I then asked him how he could say that when Pastor Keller was bringing in the emergent church full blown into his Presbyterian Church?
Our new pastor then told me that the best way to fight these kind of things was to be relevant to the culture and to bring all these things in to the church and let the false teachers teach alongside the true teachers of the Gospel and that the Gospel would prevail. He said in a place like New York where Timothy Keller pastors, you have to be relevant to the population; and teaching things like yoga, contemplative prayer, and lectio divina was necessary to bring people in, and then you could present the Gospel, and they would be saved. When I told him that was not biblical that we were told to flee from false teachers and have nothing to do with them, he told me that was my interpretation of the Bible.
The new pastor then told me I was needed in the congregation because I had such an acute sense of discernment that he needed me in the church, Yeah Right! I told him I was sorry
that with the name Alliance over the front door, I couldn't, in good conscience, attend the church. His whole demeanor changed like a mask came over his face, and he said "OK, then I will be addressing
your women's Bible study Wednesday." When I asked him why, he said, "I don't want these women just left and abandoned. I told him I would be there Wednesday to say goodbye to finish the class. He then looked at me since I had stood up and looked around at the other people who were there and said, "we have things to discuss—you can go now." I said OK and I left.
Even though all those people in that living room
meeting 28 hours earlier had been against him, by the time he was done talking, they were all either neutral or on his side. Not one person said a word in defense of what I was saying.
All last night, I was disturbed. I was sad, and I felt lonely. Had I done the wrong thing? Was I sure this was what God wanted? I know that sounds silly looking at it from the outside, but it's just the way it played out in my head. When I tried to call a couple of those people, they didn't even want to talk to me. And then, I just happened to get in the mail a booklet from Lighthouse Trails that I had ordered about a week earlier called A Serious Look at Richard Foster's "School" of Contemplative Prayer. I knew a lot of the information from previous researching, except where it mentioned Richard Rohr. It rang a bell, so I Googled his name with C&MA. I came up with so much information, and after reading that booklet, it was like the blinds fell off my eyes again. With a rush of relief, I suddenly knew I had done the right thing.
Thank you Lighthouse Trails for being there for the people like us that feel like a speck of sand on a huge beach trying to get our message out to the rest of the sand.
God bless you and again thank you, thank you, thank you.
Rachel G.
Information on Richard Rohr:
YouTube video: Richard Rohr on the Cosmic Christ
List of Contemplative Colleges and Seminaries
Excerpt on Richard Rohr from Ray Yungen's book on Richard Foster:
Richard Rohr
Without a doubt, Catholic priest Richard Rohr is one of the most prominent living proponents of contemplative prayer today. His organization, The Center for Contemplation and Action, is a bastion for contemplative spirituality. And like our other contemplative prayer "school" masters, he has been embraced by numerous popular evangelical authors. Richard Foster, for example, had Rohr on an advisory board for a 2010 book Foster edited titled 25 Books Every Christian Should Read: A Guide to the Essential Devotional Classics.22
Rohr has essentially become the new Thomas Merton to an entirely new generation of evangelical Christians. In an interview, Rohr said:
[O]ne of my publishers . . . told me that right now my single biggest demographic is young evangelicals—young evangelicals. Some of my books are rather heavy. I'm just amazed.23
Rohr's statement is correct about young evangelicals. A case in point is an organization called IF: Gathering. The leaders of IF are dynamic energetic women who hold large conferences geared primarily toward young evangelical women. While these women may be sincere in what they are trying to do, they promote figures such as emergent leaders Brian McLaren and Rob Bell, as well as Richard Rohr. Lighthouse Trails has published a booklet on IF that I encourage you to read to understand the full scope of this growing women's movement.24
To further understand the significance of this, Rohr is a prominent champion for the idea of a global religion that would unify the world. He says that "religion needs a new language."25 And that language to bring about this one-world religion is mysticism (i.e., contemplative prayer)! Rohr stated:
Right now there is an emergence . . . it's coming from so many different traditions and sources and parts of the world. Maybe it's an example of the globalization of spirituality.26
This view ties in perfectly with the emerging church's perspective that is so popular among younger evangelicals today. It's no wonder that Richard Rohr and emerging church leaders (such as Brian McLaren) are so supportive of each other and endorse each other's books.
In echoing Merton and Nouwen, Rohr also advocates the concept of dharmakaya. This is the recurring theme of the "school" of contemplative prayer. Rohr states:
God's hope for humanity is that one day we will all recognize that the divine dwelling place is all of creation. Christ comes again whenever we see that matter and spirit co-exist. This truly deserves to be called good news.27
To dispel any confusion about what Rohr is saying, he makes it clear in the same paragraph what he means by God dwelling in all creation. He uses a term that one finds throughout contemplative literature, which signifies that Christ is more of an energy than a personal being. Rohr explains the term "cosmic Christ," telling readers that everything and everyone belongs to God's kingdom.28 That's even the name of one of his books, Everything Belongs: The Gift of Contemplative Prayer.
In his 2011 book, Falling Upward, Rohr implies that we (humanity) are all an "immaculate conception."29 If these things are true, then there was no need for Jesus Christ to die on the Cross for the sins of mankind. We would not need a Savior because we would already be divine ourselves. In truth, contemplative spirituality is the antithesis of the Gospel. That is why there are countless mystics who claim to know God (or Jesus) but will have nothing to do with the Cross. (for footnotes and source, click here)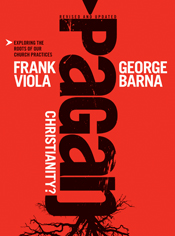 By Philip Gray
Free Lance Writer for Lighthouse Trails
In Pagan Christianity, Frank Viola and George Barna tell readers "Reading this book takes courage." We couldn't agree more, but not for the same reasons that Viola and Barna warn their readers. They tell us that it takes courage, not because of what the books says but because of what a Christian must do after he or she reads it (p. 253). We say it takes courage because of the misrepresentation the authors have given to Christianity and because the book is a smoke screen for the "new" spirituality.
Basically, according to Pagan Christianity, if you are a Christian and you have been participating in any of the following activities, you have been practicing paganism:
1. Meeting in a building for church
2. Listening to a sermon
3. Having a pastor
4. Paying that pastor a salary
5. Sunday School lessons
6. Sitting in a pew (or balcony)
7. Using a pulpit
8. Using some sort of order to the church service, which includes taking an offering, having communion, giving announcements, and singing songs of worship.
9. Dressing up for church
10. Having a choir
11. Altar call
12. Evangelized to save a soul
After reading this list, how did you rate on that? How many of these activities are you guilty of? Did you go to church last Sunday? Did you put on your best outfit? Did you listen to a choir sing? Did that neighbor you bring respond to an altar call to give his life to Jesus Christ? Did you sit and listen to your pastor teach or preach the Word? Well, according to Pagan Christianity, if you did, you are more like a pagan than like a Christian. Of these activities, Barna and Viola say: "Such practices are foreign elements that God's people picked up from their pagan neighbors" (p. xx).
The point of this review is not to defend all of these practices in and of themselves. The point is to show that this book is another subtle stab at traditional Christianity, a stab that attempts to make Christians feel guilty for just about everything they do that has to do with going to church . . . everything that is, that is external. This book has absolutely nothing to do with the heart condition of man, nothing to do with sin and repentance but is merely a smoke screen to cover up the real issues that are plaguing the church today. For whether one dresses up for church or not, whether one gives a sermon or not, whether one sings or not, whether one gives an offering or not, and whether one sits in a pew or not, the issue that God looks at is the condition of the heart and not the outward appearances. One can sit in a pew and have evil intent in his heart; another can sit in a pew and be a godly humble man of God. It's not the pew that makes him one or the other.
Judge not according to the appearance, but judge righteous judgment. John 7:24

[F]or the LORD seeth not as man seeth; for man looketh on the outward appearance, but the LORD looketh on the heart. 1 Samuel 16:7
Pagan Christianity says that "the great bulk of first-century practices have been removed from the Christian landscape." The book tells readers that "such practices are presently being restored on a small scale by those daring souls who have taken the terrifying step of leaving the safe camp of institutional Christianity" (p. xviii). But the book never really tells us what those practices are, except to continually say it is something spectacular that excludes the above activities and includes small groups of people who stand around in circles, embracing, and sharing with one another their various thoughts, feelings, songs, prayers, and ideas – according to Viola and Barna, that is what makes a person a good New Testament Christian (i.e., nobody's wrong, everybody's right, all opinions are good, and we don't need pastors or teachers).
While there is certainly nothing wrong, in and of itself, for a group of people to stand in a circle and share with one another, it is not a guarantee that the group of people will be abiding in God's will in their lives. And, in fact, if Viola's and Barna's recipe for proper Christian living is acted upon, that group of people in the circle is probably going to be in trouble because rather than having the Word of God taught to them or preached to them by those who are called into the office of teacher or pastor, they will be "dialoguing" with one another, asking a lot of questions, and never coming up with any answers (because the postmodern isn't supposed to have any actual answers – having answers offends).
What is the real agenda of Pagan Christianity? Well, this much we can say, it sure isn't to warn believers against true pagan practices and beliefs such as eastern-style meditation, walking through labyrinths, doing Yoga, focusing on the breath, rejecting the atonement, and so forth. In a day when spiritual deception is at an all time high, when growing numbers of Christian leaders, churches, schools, and organizations are falling into the trap of practicing, promoting, and embracing mysticism and other New Age practices (disguised with Christian terminology, by the way), it hardly seems appropriate and wise to tell Christians to stop sitting in pews, stop having sermons (and pastors for that matter), stop meeting in buildings, end all Sunday School lessons, and by all means stop dressing up on Sundays.
Perhaps what is most distressing about this book is that there is an underlying sentiment that the "preaching" and teaching of God's Word is not a New Testament practice and should be done away with. Perhaps this is the real message of Pagan Christianity. Rather than have the Word presented and preached as if it is an authoritative source for believers, get rid of all the venues in which it is presented (church buildings, sermons, pastors, pews,pulpits, etc.) as such and turn it into something we can all debate, dispute, question, challenge and reinvent.
What we would call Pagan Christianity is a perfect example of "missing the point." But with Frank Viola co-authoring a book with New Age sympathizer Leonard Sweet and George Barna, a Rick Warren look alike with a dominionist agenda, is that really any wonder that they have missed the point?
I have preached righteousness in the great congregation: lo, I have not refrained my lips, O LORD, thou knowest. Psalm 40:9

The Spirit of the Lord GOD is upon me; because the LORD hath anointed me to preach good tidings unto the meek; he hath sent me to bind up the brokenhearted, to proclaim liberty to the captives, and the opening of the prison to them that are bound. Isaiah 61:1

Arise, go unto Nineveh, that great city, and preach unto it the preaching that I bid thee. Jonah 3:2

From that time Jesus began to preach, and to say, Repent: for the kingdom of heaven is at hand. Matthew 4:17

Notwithstanding the Lord stood with me, and strengthened me; that by me the preaching might be fully known, and that all the Gentiles might hear: 2 Timothy 4:17

Preach the word; be instant in season, out of season; reprove, rebuke, exhort with all long suffering and doctrine. 2 Timothy 4:2
In 2012, Lighthouse Trails posted an article titled "Young Life's History of Embracing Contemplative Authors Continues," showing that the Christian youth organization, Young Life, was introducing Young Life leaders and kids to contemplative/emergent authors and speakers. The article we wrote talked about a meeting we had in 2002 with the Young Life director of training in Oregon, hoping to persuade him of the dangers of the contemplative prayer movement and hoping he would pass along the information to the leaders at the Young Life headquarters in Colorado, which he promised to do. As you can see in our 2012 article, as well as the letter below written by a former Young Life leader, Young Life has not discontinued its promotion of contemplative/emerging. The letter below is just one leader's experience, but we believe it contains valuable insight into how an organization, which started with a sincere desire to help young people, can get off track by minimizing its focus on the Gospel and the Word of God in order to "reach kids." As we have so often said, so many leaders in the church have set aside the true lasting power of the Gospel for limited powerless substitutes.
Dear Editors of Lighthouse Trails:
I have benefited greatly from the research on your website, helping me to understand the origins of false gospel movements in the Christian community.
It has been nearly five years since I resigned from working for a popular, global youth ministry. Because of its popularity, it has been difficult for me to discuss my experience and found few who want to hear the reality. I want to share my story in hope of helping someone else who might be struggling, as I did.
My husband and I discovered Young Life in our late twenties when we moved to a smaller town. After going through the "40 Days of Purpose" book with our church, we were determined to find a place of service where our gifts could be used for God. I had a college degree in public health with an emphasis in adolescence and had worked in several youth organizations to prevent kids from using alcohol, tobacco and other drugs. I sincerely thought that as a Christian, if I were serious about helping kids, with Jesus as the only real solution instead of a band-aid fix from a state program, then I should go all-in. I would forsake my public health career to serve the Lord in ministry.
My husband jumped in to volunteer as a leader, and I took a part-time job as an office administrator for the local Young Life chapter. We quickly became absorbed into the culture of this ministry of warm and generous Christians.
"Incarnational Evangelism" is the term I began reading and learning about as I immersed myself into the culture. It's difficult to describe the fast-paced, messy, impulsive, do-whatever-it-takes-to-love-kids by serving them to Christ environment I dove into. Every week at club, we would try to lure the kids with a media-rich, party atmosphere and then a short gospel message, attempting to convince them that Jesus was what they needed. There was also great pressure to get them to camp at the end of the year because surely their eyes would be opened if we prayed hard enough and loved hard enough too. There at camp, away from hometown distractions, they would hear the gospel a little every night followed up by a cabin discussion. Through our example of loving them, the hope was that the Holy Spirit would work on hearts, and they would see Christ and realize He is "better than beer" and would fulfill them, giving them an abundant life. And, if they rejected the gospel, that was okay, because we would love them anyway. We did not realize we had created in our selves a kind of pseudo-martyr philosophy.
It wasn't long into my time there before I thought I would make this my career. I eventually moved up from office administrator and volunteer leader to part-time, career, middle-school program director.  I remember adopting this different perspective of serving Christ and sharing the gospel without ever having to talk about hell, God's judgement, or that no one is righteous by his own works. Despite Young Life's Statement of Faith in which I agreed and signed onto, it was the philosophy of incarnational evangelism and its focus on love and grace that became more dominant (largely due to the books and spiritual formation training I was given).  I actually started to believe that I could reject the notion I had from reading the Bible, that I'd really have to suffer rejection like Jesus did in order to share the gospel.  I remember thinking, this mighty, positive, well-funded, popular, contagiously exciting and loving community of people, adventure, and rewards, would be my new avenue to a lifetime of serving God! This was a pseudo-servant attitude of sacrifice that I was developing; later it would come crashing down.
In my town, Young Life had a very positive image with many leaders in the community who personally supported it monthly. The director of the program was hard working, charismatic, and seemed to know everyone and was liked by everyone. Later, I realized what a conflict of interest this was as the pressure to maintain your program funding sources required you to cultivate a sterling image in the community. This came at the cost of sharing the true gospel, which proclaims that we are all sinners in need of God's mercy and salvation found in the righteousness of Jesus Christ alone. Rejecting that puts you in violation of the Law and under eternal judgment. The social pressure to draw wealthy supporters causes directors to keep the message warm and fuzzy but frighteningly devoid of the truth and meat of the gospel. Our focus was off-center from the truth of the whole gospel. Instead, the focus became serving our community by reaching out to lost kids and helping them get through this difficult time in their life by loving them and spending time with them. I became another program builder, promoter, fundraiser, and half-truth teller in a branded YL shirt with a smiley face.
Frantically running from one activity to the next, all the while praying and wanting people to come to Christ but with very little lasting fruit, I became disturbed. In the schools, I would do what is known as "contact work." I spent time volunteering in various ways, often as mundane as crowd control at lunch time, for example. This would permit you to visit with students, making contact so that eventually the kids would see you as a friendly face. Then, in time and through word of mouth, kids would come to club where a snippet of the gospel was mingled with exhilarating games, crazy stunts or skits so that kids were entertained and able to listen to you tell the most important part of why we get together: Jesus.
We bent over backward to serve kids to Christ. Feeding, entertaining, listening, and driving them to and fro, leading them by fun experiences and hopefully meaningful conversations that would discuss Christ, but honestly it didn't come up as often as I would like. Often, kids learned that they could just smile and tell us what we wanted to hear in order to get what they wanted or needed that day. Some would want to meet and study the Bible, but the truths from Scripture just never seemed to take effect in their lives. I'll never forget one encounter with some girls who were regular attenders and classic examples of shallow soil. They told me they knew that every question asked in small group discussion could be easily answered. All you had to say was either, "Pray more, or read the bible more."
Don't get me wrong, I sincerely loved and prayed for the kids I ministered to, but I was so ineffective at leading them to Christ, I felt like a poser. I wanted them to know the Lord like I did, but I was cut off from sharing the gospel or talking about it at school where I was spending my time. Kids would ask me, "Why are you here?" I couldn't tell them it was to share Jesus because I would get thrown out of that public school because the understanding we had made with the administrators was, that we were there to assist them and be a positive adult role models, not evangelizing kids in the hallways. As a program leader, I walked a fine line not wanting to upset relationships in the community that took a long time to build.  I just had to say, "It's because I care about kids, and that's why I'm here." Kids who had been to camp before with me would say, "This is the lady that took me to camp." I became just a gateway to a cool summer camp that was like a resort for exclusive young people who got into the "club." Not just anyone can go to a Young Life camp, you have to come with a leader from a Young Life area group.
The founder of Young Life, Jim Rayburn, taught that if you can "win the right to be heard" in a kid's life, then they will automatically want to hear the gospel and likely want Christ to change their life too. In addition, if you are as compelling in Christ, like Jim Rayburn was purported to be, then flocks of kids will come to hear the gospel. He taught that when they know that you care, they'll listen to whatever you have to say because that's all that a kid these days is looking for.
This was the illusion of what has become modern youth ministry. It was productive in activities, busyness, and massive effort while producing metric data of campers and club attendees. You show this to your donor list of business leaders, and they are proud to support it. But on the other side of the same coin, it was absolutely fruitless in converting hearts to Christ and saving lives from a slavery of sin. So afraid of losing our hip, entertaining youth haven with the community, we often missed the opportunity to share the whole gospel truth. This is where I started noticing that I was not being faithful to Christ. We were not teaching of God's righteousness or need to repent of sin in accordance with God's Word. I was promoting another gospel of love and grace, and I was living a lie to these kids.
At camp, there was a ceremony at the end of the week for kids who made commitments to Christ. These commitments were by way of a leader so they could be corroborated. Some were legitimate, some were merely caught up in the emotion of the week or trying to garner favor from leaders or other campers, perhaps. The ceremony entailed throwing a rock in the pond symbolizing their old life, then putting another rock on a pile symbolizing their new life.  From that moment on, they were supposed to enjoy reading the free Bible they were given, remembering they were new creations in Christ; you were forgiven and free. In reality, these kids were exhausted, sunburned and barely understood their emotions, thoughts or what they had actually committed to. The ceremony was as good as it got when it came to follow up. The kids were being released into the wild soon and with that, the rush of emotions from their time "on the mountain" would end. Often, so would their new found faith as well.
I tried so hard in following up with kids when we got home. Often kids went from their "camp high" back to life, and didn't want to get together and study the Bible with me. And honestly, why would they?! There is a saying that I heard later, that "What you lead them by, you lead them to." We were leading the kids to Jesus by fun, emotional attachment to leaders, experiences, but not by the Word of God. I was convicted when I read scripture teaching "Faith comes by hearing and hearing by the word of Christ" (Romans 10:17). In my time at Young Life, the scripture "The law of the LORD is perfect, converting the soul: the testimony of the LORD is sure, making wise the simple" (Psalm 19:7), was not something we truly esteemed. We did not use it to lead kids to Christ, clearly and from the beginning. It was as if I was ashamed of the gospel.
After praying and trying to work out a time to connect with kids upon returning from camp, it was time for the hectic cycle to begin again. Time to get back to club/camp promotion (there were short Fall and Winter camps also), fundraising golf tournaments, the annual auction, and of course, contact work to get a new crop of kids to the next fun activity where they just might hear about Jesus.  When I would become depleted during these times, questioning whether this was really working, I would look at the smiley face postcards of myself and other leaders with kids that we would send to donors. Maybe watch an inspirational video from the Young Life national office to pump me up about how faithful we were to Christ. All this to assuage my disturbed conscience as I gradually understood how far from the gospel we were. We also attended mandatory, regional Young Life staff meetings and trainings, which also helped numb the conscience and wrestling of my mind with the Holy Spirit's convictions that something was not right.
However, the spiritual food we received at these trainings was a heavy dose of flattery, "understanding youth culture," and spiritual formation teaching. I was given free gifts of books by contemplative and emerging church authors, Young Life-branded clothing, and my very own Message/NIV parallel Bible. We were led through lectio-divina exercises, silence, fasting, prayer, coupled with great food and fun play times with other staff. To help us feel valued these often took place at the beach or a donor's nice home. I loved these times of get away and retreat; they made me feel special and important, but they didn't answer some of the nagging problems with the fruitlessness I was seeing as a result of our great efforts to win kids to Christ. We were not trained in how to share the gospel, basic apologetics, like refuting arguments of evolution or inerrancy of Scripture. The intern training program and staff trainings I went to did not handle that information, but it was reserved for those who went to seminary classes through Young life. It wasn't until after I left Young Life that I realized the reasons for that lack of training were likely due to how controversial these issues had become in the church. As many differing and more liberal interpretations of Scripture were being taught, we seemed to shrink away from specific views on doctrine. What I learned instead through the staff training was that it was better to keep a "good vibe going" through self-help focused spirituality and experiencing "God's love" through the staff community.
I was conflicted and really dying on the inside, surely grieving the Holy Spirit. After several episodes of spiritual abuse with my direct supervisor that led me to seek a counselor for anxiety, I realized something was very wrong. I believed the Word of God to be my source of strength and clarity. Yet I was so confused how to reconcile what I was reading with what I was doing in ministry. The two seemed worlds apart, and no one else involved in the ministry seemed to see it. I was getting depressed and barely able to keep going in my work. In one of many prayer times with the Lord, at the end of my rope, I cried out to the Lord. My heart truly wanted to bring Him glory with my life. I repented of seeking a group of people promoting another Jesus, another gospel instead of being true to His word. God woke me up and revealed once again to me through Scripture how dangerously involved I had become in promoting a false gospel. I had been listening to false teaching and in love with the group experience instead of in love with Him and His Word. I learned that you cannot separate God from His Word.
Through my time in Young Life, I was exposed to the teachings of: The Message and Eugene Peterson, Brother Lawrence, Dallas Willard, N.T. Wright, Brennan Manning, Richard Foster, Tony Campolo, Rob Bell, Jesus Calling and Sarah Young, Henry Nouwen, William P. Young, Upper Room Book's "Guide To Prayer,"  John Piper, Phillip Yancey, Chris Lowney (Jesuit Leadership), Stephen Covey, Donald Miller, Peter Scazzero and more. After five years of ministry, I resigned from Young Life, and the Lord has been very good to me and my family. I don't doubt that other leaders may have had a better and more honest-to-Scripture experience in this ministry, but this was mine and why I had to leave.
Jennifer Roberts (pen name to protect her privacy and her family)
Related Information:
For resources from Lighthouse Trails that deal with protecting children and youth people, click here.
In an article titled "Christ-Followers in India Flourishing Outside the Church," the following statement is made regarding the research of Herbert Hoefer, author of Churchless Christianity:
In striking research undertaken in the mid-eighties and published in 1991, Herbert E. Hoefer found that the people of Madras City are far closer to historic Christianity than the populace of any cities in the western Christian world could ever claim to be. Yet these are not Christians, but rather Hindus and Muslims. In their midst is a significant number of true believers in Christ who openly confess to faith in fundamental Biblical doctrines, yet remain outside the institutional church.1
The article expands this idea that one does not need to become a Christian or to change his religious practices; he just needs to add Jesus to his spiritual equation:
However, some might argue that this [the "smothering embrace of Hinduism"] is the danger with the ishta devata strategy I am proposing. It will lead not to an indigenous Christianity but to a Christianized Hinduism. Perhaps more accurately we should say a Christ-ized Hinduism. I would suggest that really both are the same, and therefore we should not worry about it. We do not want to change the culture or the religious genius of India. We simply want to bring Christ and His Gospel into the center of it. 2
Herbert Hoefer's research is quite interesting. His idea that rather than "changing or rejecting" the Hindu and Muslim culture, missionaries should be "Christ-izing" it.3 He says there are thousands of believers in India whom he refers to as "non-baptized believers." Reasons for the believers not becoming baptized vary, but usually it is because they will suffer financial or social loss and status. Hoefer admits that these non-baptized believers are not Christians, and usually they do not choose to call themselves that. In many of his examples, these non-baptized believers continue practicing their religious rituals so as not to draw suspicion or ridicule from family and friends. Hoefer explains one story:
[There is] a young man of lower caste who earns his livelihood by playing the drum at Hindu festivals and functions. "All this is what I must do," he said, "but my faith is in Christ. Outside I am a Hindu, but inside I am a Christian."4
Another family of the Nayar caste consisted of a wife, her husband and one son. Hoefer describes their situation:
[H]er husband and son have been believers in Christ for eight years. They both had studied in Christian schools and learned of Christ. The husband's father had a vision of Christ, and one brother also is a non-baptised believer. The husband does not join his wife in coming to Church, but he occasionally joins her for the big public meetings. They do not have family devotions, but worship Jesus along with the Hindu gods in their home. Their approach to the Hindu festivals is to carry them out but to think of God, not Jesus specifically.5
I am not here to judge whether these non-baptized believers are truly born again. That is for the Lord to decide. My concern lies with the way missions is changing and how the Gospel is being presented. To say that someone does not have to leave their pagan religion behind, and in fact they don't have to even stop calling themselves Hindu or Muslim, is not presenting the teachings of the Bible.
And the apostle Paul, who ended up dying for his faith, exhorted believers to be willing to give up all for the sake of having Christ:
I count all things but loss for the excellency of the knowledge of Christ Jesus my Lord: for whom I have suffered the loss of all things, and do count them but dung, that I may win Christ. (Philippians 3:8)
The implications of this new missiology are serious and, what's more very unbiblical. Mike Oppenheimer of Let Us Reason ministries has done extensive research and analysis on the new missiology. In his article, "A 'New Evangelism' for the 21st Century," Oppenheimer states:
Can a Christian now call himself a Muslim? The word Muslim is made up of two words, Islam and Mu. Muslim does not just mean submission; it means submission to the God Allah; not the Lord Jesus Christ or Yahweh. Can a Muslim be called a Christian and walk with Allah? This seems to make no doctrinal or practical sense, unless they change the names and the meaning. This only brings confusion. Why do this when you can introduce Yahweh as the true God without any baggage and shuffling around in names, nature or descriptions? The answer is that you may not see the same results. This is what this is all about isn't it, results; pragmatism, the end justifies the means.6
In a book by Oppenheimer and Sandy Simpson titled Idolatry in Their Hearts, they show how widespread this new missiology has become. Listen to some of the comments made by a few new missiology proponents:
New Light embodiment means to be "in connection" and "information" with other faiths…. One can be a faithful disciple of Jesus Christ without denying the flickers of the sacred in followers of Yahweh, or Kali, or Krishna."7–Leonard Sweet

I happen to know people who are followers of Christ in other religions.8–Rick Warren

I see no contradiction between Buddhism and Christianity…. I intend to become as good a Buddhist as I can.9–Thomas Merton

Allah is not another God … we worship the same God…. The same God! The very same God we worship in Christ is the God the Jews–and the Muslims–worship.10–Peter Kreeft
Oppenheimer and Simpson present page after page of documentation showing this paradigm shift in Christian missions. They ask the question, "Can one be a Hindu or a Muslim and follow Jesus?" They explain why the answer is no:
One cannot be in relationship with Jesus within the confines of a false religion. One must leave his or her religion to follow Jesus, not just add Him on….

This broadens Jesus' statement of the road being narrow into a wide, all encompassing concept. What is concerning is that these same kinds of statements are also made by those who are New Agers that hold a universal view. Alice Bailey* said, "I would point out that when I use the phrase 'followers of the Christ' I refer to all those who love their fellowmen, irrespective of creed or religion."11
With Rick Warren saying your religion should have no bearing on your spiritual life, Erwin McManus saying he would like to destroy Christianity, and missionary societies telling new converts they can have Jesus without Christianity (or baptism), the results could be devastating and will very likely undo the tireless efforts of many dedicated missionaries around the world. These Bible-believing missionaries have risked their lives and given up comforts and ease to travel around the world sharing the good news that becoming a Christian (having Jesus Christ come into your heart and life) is the way to eternal life. Now, right behind them, come emerging church missionaries who say Christianity is a terrible religion, and Christians are out to lunch–so just become a Christ-follower, and you don't even have to tell anyone about it. In fact, you can still live like you always have.
To the many who have suffered persecution and martyrdom over the centuries for being Christians and being courageous enough to call themselves that, we now must believe they suffered and died unnecessarily–after all, they did not need to confess Jesus as the only way. And they didn't need to renounce their pagan religions. We also find that the following words of Jesus do not fit into this emerging church paradigm:
Whosoever therefore shall confess me before men, him will I confess also before my Father which is in heaven. But whosoever shall deny me before men, him will I also deny before my Father which is in heaven. (Matthew 10:32-33)
There is a powerful story in the Book of Acts, in which the apostle Paul had been arrested for preaching the Gospel. He was brought before King Agrippa and given the opportunity to share his testimony of how he became a Christian. He told Agrippa that the Lord had commissioned him to preach the Gospel and:
To open their eyes, and to turn them from darkness to light, and from the power of Satan unto God, that they may receive forgiveness of sins, and inheritance among them which are sanctified by faith that is in me. (Acts 26:18)
Agrippa continued listening and then said to Paul, "Almost thou persuadest me to be a Christian (vs. 28)." Paul answered him:
I would to God, that not only thou, but also all that hear me this day, were both almost, and altogether such as I am, except these bonds. (vs. 29)
If Paul had been following the emerging mentality, he would have told Agrippa, "No need to become a Christian. You can remain just as you are; keep all your rituals and practices, just say you like Jesus." In actuality, if Paul had been practicing emerging spirituality, he wouldn't have been arrested in the first place. He would not have stood out, would not have preached boldly and without reservation, and he would not have called himself a Christian, which eventually became a death sentence for Paul and countless others.
This article is also in booklet form: click here.
*Alice Bailey was an occultist who coined the term New Age.
Notes:
1. H. L. Richard, "Christ-Followers in India Flourishing Outside the Church," a review of Churchless Christianity by Herbert Hoefer (Mission Frontiers, March/April 1999, http://www.missionfrontiers.org/1999/0304/articles/04f.htm).
2. Ibid.
3. Herbert Hoefer, Churchless Christianity (Pasadena, CA: William Carey Library, 2001 edition), p. xii.
4. Ibid., p. 17.
5. Ibid., p. 16.
6. Mike Oppenheimer, "A 'New Evangelism' for the 21st Century" (Let Us Reason ministries, 2006, http://www.letusreason.org/Curren 33. htm).
7. Leonard Sweet, Quantum Spirituality, op. cit., p. 130.
8. Rick Warren, "Discussion: Religion and Leadership," with David Gergen and Rick Warren (Aspen Ideas Festival, The Aspen Institute, July 6, 2005, http://www.aspeninstitute.org); for more information: http://www. lighthouse trailsresearch.com/newsletternovember05.htm.
9. David Steindl-Rast, "Recollection of Thomas Merton's Last Days in the West" (Monastic Studies, 7:10, 1969).
10. Peter Kreeft, Ecumenical Jihad, op. cit., pp. 30, 160.
11. Sandy Simpson and Mike Oppenheimer, Idolatry in Their Hearts (Pearl City, HI: Apologetics Coordination Team, 2007, 1st Edition), p. 358.
In Jesus Calling, "Jesus" mentions a key New Age term: co-creation. Many people do not realize that co-creation is a New Age evolutionary concept that teaches that man as God co-creates with God because man is God also. But man is not God.
Co-creation is a New Age concept that entails the necessity of man recognizing that he is God and then acting as God to co-create a positive future. The means to accomplishing this has been laid out by the New Age "Christ" in top New Age leader Barbara Marx Hubbard's book The Revelation—which essentially rewrites the Holy Bible's book of Revelation. The New Age "Christ" has a plan and is promising the world that Armageddon is avoidable and that world peace is possible if everyone collaborates and co-creates with him. He and humanity together can thus save the world. Speaking through Hubbard in The Revelation, the New Age "Christ" uses the terms co-create, co-creation, co-creative, co-creator, and co-creatorship over 100 times. Co-creation is the key to his counterfeit plan of salvation for planet Earth.
Webster's New World Dictionary's sole definition of a collaborationist is "a person who cooperates with an enemy invader."1 And the "Jesus" of Jesus Calling uses the terms collaborate, collaborating, or collaboration at least ten times. For example, he states:
This is a very practical way of collaborating with Me. I, the Creator of the universe, have deigned to co-create with you.2 (emphasis added)
In Jesus Calling, "Jesus" plays into this ultimate New Age collaboration when he talks of humanity collaborating and co-creating with him. Again, co-creation is the key to the spirit world's counterfeit plan of salvation for planet Earth. Occult/New Age author Neale Donald Walsch has been taking spiritual dictation from his New Age "God" for many years now. "God"—speaking through Walsch—has proclaimed that "The era of the Single Savior" is to be replaced with "co-creation":
Yet let me make something clear. The era of the Single Savior is over. What is needed now is joint action, combined effort, collective co-creation.3 (emphasis added)
And Hubbard's New Age "Christ" states:
Here we are, now poised either on the brink of destruction greater than the world has ever seen—a destruction which will cripple planet Earth forever and release only the few to go on—or on the threshold of global co-creation wherein each person on Earth will be attracted to participate in his or her own evolution to godliness.4 (emphasis added)
In "Reimagining" God, Tamara Hartzell underscores the connection between co-creation, meditation, and contemplative prayer by quoting the following from Hubbard's book The Revelation:
We too shall all be changed. . . . the next stage of evolution, the shift from creature to co-creative human. . . .

We draw from all great avatars and paths, but we know that our challenge is to be the co-creative human ourselves. There is no outside person or power that can do this for us. Each of us chooses the disciplines and practices that are most compatible with our temperament. We become faithful to those practices, whether they be meditation, yoga, prayer, contemplation—whatever inner work works, we do faithfully.5
Hartzell also points out the striking similarities of the dictated messages given to both Young and Hubbard by their Presence:
[I]n Jesus Calling, Young's "Presence" of "Jesus" that wants to "reprogram your thinking" looks for "an awakened soul" in order "to co-create with you." Young's "Presence" that also says, "I am all around you, like a cocoon of Light," wants you to "[l]earn to tune in to My living Presence by seeking Me in silence," "[a]ttune yourself to My voice," and "do not relinquish your attentiveness to Me." Likewise, in The Revelation, Hubbard's "Christ presence" that refers to "humanity awakening" as "co-creators with Christ" wants you to: "Create the cocoon of light. Materialize my body of light in your mind's eye." And also: "Keep your attention on me at all times. Practice continually tuning in."6
Speaking through Hubbard in The Revelation, the New Age "Christ" states:
At the moment of cosmic contact, I will appear to you both through inner experience and through external communication in your mass media—the nervous system of the world.

You will all feel, hear, and see my presence at one instant in time, each in your own way.7 (emphasis added)
This New Age "Christ" further elaborates on this co-creative process by describing the moment of experiencing his presence as the Quantum Instant. He also describes the judgment that will come with it, which will be based on people's willingness to co-create the future with him. He states:
At the time of the Quantum Instant there will be a judgment of the quick and the dead. That is, there will be an evolutionary selection process based on your qualifications for co-creative power.8 (emphasis added)
Those of you who happen to be alive at the time of the actual Quantum Instant, will be changed while still alive. . . .
Your co-creative system will turn on. It is being prepared now.9 (emphasis added)
There is a definite overlap of terms as the "Jesus" of Jesus Calling uses this same co-creative term to describe how he will transform people's lives. And Hartzell explains why both Sarah Young's "Christ" and Barbara Marx Hubbard's "Christ" contradict Scripture when they talk of man co-creating with God:
It is Jesus Christ of Nazareth—and He alone is Christ—that is one with God. Jesus said, "I and my Father are one" (John 10:30). And it is Jesus Christ of Nazareth, Who alone is Christ, that is the Father's ("co-") Creator. God's Word also tells us: "God, who created all things by Jesus Christ" (Ephesians 3:9). Man is neither one with God nor God's "co-creator." Man never has been and never will be a "natural Christ."10
This is an excerpt from Warren B. Smith's book, "Another Jesus" Calling.
Endnotes:
1. Victoria Neufeldt, Editor in Chief, Webster's New World Dictionary (New York, NY: Simon & Schuster., Inc 1988, Third College Ed.), p. 273.
2. Sarah Young, Jesus Calling: Enjoying Peace in His Presence (Nashville, TN: Thomas Nelson, 2004), p. 362.
3. Neale Donald Walsch, The New Revelations: A Conversation with God (New York, NY: Atria Books, 2002), p. 157.
4.arbara Marx Hubbard, The Revelation: A Message of Hope for the New Millennium (Novato, CA: Nataraj Publishing, 1995), p. 174.
5. Ibid., pp. 312-313.
6. Tamara Hartzell, "Reimagining" God: Turning the Light off to Look for "Truth" in the Corner of a Dark Round Room, Volume 2, (North Charleston, SC: CreateSpace, an Amazon company, 2013), pp. 408-409.
7. Barbara Marx Hubbard, The Revelation, op. cit., p. 245.
8. Ibid., p. 111.
9. Ibid., p. 197.
10. Tamara Hartzell, "Reimagining" God, op. cit., p. 406.
Related Articles:
Would Jesus Magnify His Presence Above the Word of God?
Letter to the Editor: Her Pastor: "Warren B. Smith Not in Communion With Holy Spirit Because of "Another Jesus" Calling" | LT: "Church Will Bear Brunt of Pastor's Negligence"
LTRP Note: We post this because it is important for people to understand what the deception looks like that young Christians are being saturated with through individuals such as Rob Bell. Bell's tour, Everything is  Spiritual, is panentheistic in nature but disguised in some Christian vernacular.
Bear in mind, Rob Bell isn't the only one who is bringing this "new" progressive spirituality to young people today. There is a deluge of "hip" "relevant" leaders out there who are changing the way young Christians think, moving them away from biblical Christianity. It's happening in our churches, in our colleges and seminaries, on the radio, and in para-church organizations.
By L. Sharp
On Aug.10, 2015, Rob Bell made his final stop on his whirlwind 31-city "Everything is Spiritual Tour," which began in Los Angeles (6/24) and ended in San Francisco (8/10). In 2006, he had done the same tour, but nine years later, his 2015 talk brought people more clearly into the "cosmic One-ness," that "One Community Personality/Personhood" that Bell claims the universe has been moving forward towards for the past 13 billion years. The main thrust of the 2-hour monologue was not exactly what Bell had advertised on his website: "On the Everything is Spiritual Tour . . . Bell make(s) surprising connections between the universe you're living in and the life you're living, showing how science and spirituality are long lost dance partners . . . "
2-Hour Monologue with Whiteboard
The 2,500-capacity theater was nearly full. Prior to the 8:30 pm start time of Bell's 2-hour monologue, there were alcoholic drinks served in the rear, and about 30% of the 2,500 were millennials (under 30), but a majority were in their mid-30s to mid-40s. Bell hopped on stage with his usual dramatics and pulled out his black marker (with ensuing oohs and aahs from the audience). It seemed most of the crowd had either seen Bell's 2007 DVD "Everything is Spiritual" or had been aware of his previous 2006 tour, where his marked-up whiteboard became its own sensation amongst Bell followers.
Bell began by affirming the crowd by telling them: "I'm so glad you came . . . you probably were told you were a heretic because you came, but I'm glad you are here!" He then pulled out his infamous black marker and progressively moved on the whiteboard from left to right: starting from one black point (which he claimed was the "Big Bang" that created the universe 13 billion years ago) to particles, to atoms, to molecules, to cells, to human beings, where he, at the end of the talk and at the far right of the whiteboard, drew a CIRCLE WITH PEOPLE IN IT (Author's note: this is the "cosmic One-ness").
Bell then defined his terms. He said:
Atoms are a relationship of energy. You are a relationship of energy interacting with another person who is another complex relationship of energy. We all exchange more than words with each other . . . We are made of the same substance as rocks and stars . . . We are an exotic cocktail living on this planet . . . We live in this universe which is a self-transcending reality . . . For 13 billion years, this universe has been:

1) Increasing in complexity
2) Increasing in depth (layers of community)
3) Increasing in unity

An example of increasing depth (layers of community) is when birds share a "community brain," that only emerges when birds fly together as flocks. It is called "epi-phenomenon." Humans are "epi-phenomenon."

Since the universe has been increasing in unity over billions of years [evolution], this is why we all know deep down that loneliness is not the direction the universe is headed. Racism is the failure to bond with others of the same or like essence. It is not the direction the universe has been going for 13 billion years [Loud applause and cheers ensued after this comment].

The universe has been moving forward for billions of years . . . Jesuit scientist and priest Pierre Teihard De Chardin said: "Progress is the soul of the universe."

Why has the universe been moving forward? What is at work bringing the whole universe forward? LOVE.

Love is the force, the spirit driving everything. Love is to orient yourself towards another in a way that is self-transcendent . . . it helps you see the world more complexly, more completely . . . new things emerge between you and the one you love, that transcends the two of you . . .

one plus one equals infinity

God is love . . . Jesus didn't just talk about his death and the cross, etc. When Jesus talked about the Kingdom of God expanding, around you, within you . . . was Jesus talking about the universe moving forward, moved by LOVE?

Is the universe done after 13 billion years, or is the whole thing still moving forward and are there new realities or layers that are yet to unfold? What would that be? The next new layer would emerge if people bonded with other people of like/same substance. Is there something that WE, when we bond properly, causes EMERGENCE, an unfolding of a new layer (of community)? New layers always contain properties of the previous layer . . . So, this new layer will have a personality and a personhood . . .

ARE WE FORMING SOMETHING TOGETHER, WITH A SINGULAR PERSONALITY AND PERSONHOOD?

The first Christians kept talking of Christ as an animating energy, an energy universal, as a personal, cosmic Christ . . . a universal human body . . . Were they talking of us forming a NEW SINGULAR BODY? A NEW HUMANITY?

LOVE is the force that drives everything . . . Love is lining yourself up to the universe's expansion, openness . . . Become more aware of the moments where you can stay in the groove of LOVE . . . Don't stay in the constant fear of the EGO . . . If you are afraid people are going to call you a heretic, you will not LOVE . . . You will become dangerous when you don't let the fact they call you a heretic close you up to LOVE . . .

What is present in you, in embryo, genetic form, that is yet to EMERGE? When you become your true best self, others can then become their true best selves . . . .
My Comments
Bell's main point was that "LOVE" (which he defines in New Age terms as: transcending the ego or self, to bond with others of like/same substance (or energy)), has been driving, and is driving the universe's and humanity's forward progress. In other words, man has been spiritually evolving, and progressing, and we have to all connect our unique energies (since Bell claims we are all basically atoms of energy put together in a human form), to cause this new "cosmic One-ness" to emerge.
According to Bell, the emergence of this "cosmic One-ness" has yet to be seen, since we haven't evolved or progressed far enough yet . . . Bell makes this future "cosmic One-ness" sound so noble. Bell said earlier in describing LOVE between two people: One plus one equals infinity . . . When we are alone, we have two eyes. In relationship with one person, we have four eyes . . . We then can see more complexly, more completely, what we couldn't see alone . . .
Bell's main point is that humanity must be interconnected . . . Loneliness is not the will of the universe . . . the universe cannot move forward if there are solitary people who do not jump on the bandwagon of this "cosmic One-ness."
What are the implications for biblical believers who are not convinced of Bell's "cosmic One-ness"? Clearly, as Bell said, these types of people will hinder the entire universe from moving forward, from progressing. According to Bell, solitary biblical believers, need to let go of their self or ego and become of the same like/same substance or energy of others who are part of this "cosmic One-Ness" that is emerging. The universe is moving in this direction. We cannot be alone . . . we must become part of this "cosmic One-ness." If we do not "wake up" to our true destiny as part of this emerging new "cosmic One-ness," then we are hindering the progress of the entire universe. And, we are also hindering others from becoming who they were meant to be, as the universe or "god" intended.
As bible-believing Christians, we must continue to stand on the truth of the Bible that shows us that there is no "cosmic One-ness," but rather a last-days one-world religion is on the forefront that will be ruled by the Antichrist. We must warn others to not join with this last-days delusion, despite feeling more and more marginalized.
We can stand firmly on the Bible's truth as our foundation, amidst this pressure to move towards this "Cosmic One-ness." Rob Bell is just one of the heretical proponents that the Enemy has used to infiltrate, to snare, and to deceive God's people (especially young people) in these last days of apostasy we are in. We are not alone. God is with us. And God has preserved a remnant in these days that is still standing on God's Word, committed to His truth.
Rob Bell's 2015 Everything is Spiritual Presentation:
In case you still aren't sure about William Paul Young and his book The Shack—in case you still have some doubts as to whether Young is really of a New Age/New Spirituality persuasion—in case after reading articles at Lighthouse Trails revealing Young's anti-biblical views on atonement and the Cross—and in case after reading Warren B. Smith's booklet The Shack and Its New Age Leaven that documents Young's affinity with New Age thinking, then perhaps his recently posted "Twenty Books Everyone Should Read" list on Young's blog will convince you that The Shack or any of Young's writings should not be sitting on the shelves of Christian bookstores and North American pastors' offices and should never have become a New York Times best-seller having found itself there through primarily Christian readers (not to mention the big plug it received from endorsements by Eugene Peterson [The Message] and Calvary Chapel speaker Gayle Erwin. You can see the entire list of Young's recommended books by clicking here. Below we are giving you a partial list of the authors whom William P. Young recommends. After looking at this list, you decide for yourself.
1. Andrew Marin's book Love is an Orientation (foreword by atonement denier Brian McLaren): A treatise on how to fully integrate the practicing homosexual "community" into the Christian church.
2. The Shack Revisited by C Baxter Kruger, a book advertising the "virtues" of The Shack with a Suggestions for Further Study at the back that is a who's who of emerging authors.
3. Mystic Frederick Buechner's book The Yellow Leaves
4. Brian D. McLaren's, Why did Jesus, Moses, the Buddha, and Mohammed Cross the Road?: McLaren is one the foremost prolific leaders of the panentheistic, interspiritual emerging church, which is still very much active today, influencing vast numbers of young evangelicals.

5. Surprised by Hope: Rethinking Heaven, the Resurrection, and the Mission of the Church by emerging church hero N.T. Wright
6. Her Gates will Never be Shut: Hope, Hell, and the New Jerusalem by contemplative proponent Brad Jersak (author of Can You Hear Me?)
7. Jean Vanier's book Drawn into the Mystery of Jesus through the Gospel of John: Roger Oakland wrote about Jean Vanier in his article "Rick Warren, Jean Vanier, And The New Evangelization." Oakland's article states:
Vanier is a contemplative mystic who promotes interspiritual and interfaith beliefs, calling the Hindu Mahatma Gandhi "one of the greatest prophets of our times"[3] and "a man sent by God."[4] In the book Essential Writings, Vanier talks about "opening doors to other religions" and helping people develop their own faiths be it Hinduism, Christianity, or Islam.[5]  The book also describes how Vanier read Thomas Merton and practiced and was influenced by the spiritual exercises of the Jesuit founder and mystic St. Ignatius.
8. Henri Nouwen's book The Wounded Healer: As we have documented for over 13 years, Henri Nouwen was a Catholic contemplative  mystic and interspiritualist.

9.  William P. Young recommends reading material by the following three Catholic mystics and panentheists: Thomas Merton, Brennan Manning, and Richard Rohr.
One of the things that most of these authors have in common is their contemplative and interspiritual propensities. Given the fact that William P. Young, in the past, denied the substitutionary atonement, we can see why he is drawn to these authors. But what we can't understand is how so many professing Christians are drawn to him and The Shack and it's New Age spirituality.