Archive for the 'The Emerging Church' Category
In 2009, Lighthouse Trails posted an article titled "The Shack Author Rejects Biblical Substitutionary Atonement." The article was largely based on an interview that The Shack author William Paul Young did. Below is a partial transcript of the interview between Young and a pastor named Kendall Adams. When your Christian friends, family members, pastors, and church members tell you they are going to go and see the upcoming movie, The Shack, ask them if they really understand what The Shack author believes. You may listen to the entire interview by clicking here. You can also pass out Warren B. Smith's article/booklet The Shack and Its New Age Leaven and Substitution: He Took Our Place by Harry Ironside.
On the Penal Substitutionary Atonement (that Jesus Christ took the penalty for our sins on the cross):
Adams: "On page 120 [of The Shack] where God says, you know, I don't punish sin, sin is it's own punishment, you know, this is when Mack , um, is having a hard time with his view of God pouring out wrath, etc. But then when it says, "Mackenzie, I don't need to punish people for sin. I guess when people read the scripture my question is, doesn't God…hasn't God, and doesn't He…punish sin?"
William Young: "Some of it is semantics, we're dealing with the concept of the wrath of God and, and here's an underlying question. "Do you believe that God does anything that is not motivated by love?"
Adams: "Well I think in scripture we have wrath, we have justice, we have mercy-"
Young: "I understand…but…"
Adams: "…we do have love, so…"
Young: "Do you believe that God does anything that is not motivated by love, cuz love is his onthological character, it's his being, justice is an activity of God, uh, wrath is an activity of God, so…"
Adams: "So you do believe though, that he does punish sin…"
Young: "I..I believe in the wrath of God, absolutely, but, but the wrath of God is, is always couched, the wrath of God is revealed from heaven against all the ungodly (undecipherable word here) and unrighteousness of men, it's not against the men, it's against everything that is damaging them, hurting them, causing them to sin against eachother, everything that is contrary to his nature, and um…so…"
Adams: "But-"
Young "I, I absolutely believe in the wrath of God, yes, but I believe it's motivated by love ."
Adams: "But this love also, and just as you quoted, you know, you mentioned uh the lake of fire, etc., it does say that there is torment day and night, so there is punishment, torment…"
Young: "Ya, and it, it is in the presence of the Lamb."
Adams: "Here's my question, if God doesn't punish sin, what is the cross then, because if Jesus took our punishment on the cross, if he died for our sins, he was taking our punishment. If God doesn't punish sin it seems like that demeans the whole concept of the cross."
Young: "Oh, not at all. Look, the cross is, is the plan of God from before the foundation of the world, to redeem us back from being lost, being in the grip of our sin and lostness and idolatry and everything else, it's absolutely essential. There's no hope for any human being let alone the human race apart from the cross."
Adams: "So you do believe that Christ was punished, then, for our sin."
Young: "I believe that, that Christ became sin for us."
Adams: "I mean that he was a sacrifice, that he was punished, he took…"
Young: "Uhuh…by who?"
Adams: "The Father."
Young: "Why…why would the Father punish His son?"
Adams: "Because sin demanded justice, it, it demanded-"
Young: "Oh, it, but it, where was Father when the Son was on the cross?"
Adams: "In your book, when it says, um, Mack had a problem with 'My God, my God, why have you forsaken me?' and God basically says, 'Mack, I never left him'…"
Young: "That's right."
Adams: "When Jesus said 'Why have you forsaken me?' it…"
Young: "Ya, he's quoting, he's also quoting and doing the cry of David in the Psalms, and in Psalms that's totally reconciled within the Psalms. The next thing that he says, even though that's exactly what he feels for the first time as a human being who was born of the spirit, baptized of the spirit, filled with the spirit, for the first time, he doesn't sense the presence of the Father, and in that he cries out. But Paul the apostle comes up later, and Jesus first says, but into your hands I commit my spirit, so he's still saying, you're here. And Paul says, where was God the Father? For God the Father, 2 Cor. 5:19, was in Christ reconciling the world to himself, not counting their sins against them. So where was God the Father? You…and where did reconciliation happen? I believe it happened on the cross. And it says that God the Father was in His son reconciling the world to himself."
Adams: "Ya, many see that as Christ being the agency of our reconciliation but that when, you know, that Christ was taking the wrath of God upon him, I, I take it that you wouldn't, you wouldn't agree that the cross was a place of punishment for our sin."
Young: "No. I don't, I am not a penal substitution …reformation…point of view."
Adams: "But isn't that the heart of the gospel? Is that the heart of the gospel?"
Young: "No! Ha, no! The heart of the gospel is that we are, are so pursued, the heart of the gospel is in Ephesians 1:5. He predestined us before the foundation of the world to be adopted as sons and everything is by, for and through Jesus, and when Jesus dies, all die, all die."
Adams: "But all the sac- all the sacrifices in the Old Testament, they were for the sins of the person, as they laid the hand on the lamb, or, or the Passover, you know the lamb's blood was shed and put on the doorposts so when the death angel came it passed over, that way…"
Young: "And, and I understand uh, ya, I'm not saying that I don't agree with some sense of substitutionary atonement."
Adams: "But you disagree…"
Young: "But it's way broader (muffled) than that."
Adams: "But if you reject a penal substitution that Christ died as a penalty for our sins, it seems like that is the, that is the Christian faith."
Young: "I don't know if you're aware, but that's a huge debate that's going on in theology right now within the evangelical community."
Adams: "It is, and I, and I, and I would say everything hangs on that, I mean, there's so many scriptures that Christ died for our sins, 1 Corinthians 15:3 -"
Young: "Oh, and, and I, I agree with that, I, he became sin for us.."
Adams: "No, he died for our sins. Romans said, the Father delivered him over for our sin. If he didn't, if he wasn't delivered for my sin…"
Young: "I'm not disagreeing with any of those passages at all, it's just that how do we understand it? And how do we define what exactly took place? And I'm saying, that there is a huuuuuge amount of disagreement among theologians, about what all that means."
Adams: "Kay."
Young: "And so there is, you know, a degree of ambiguity there. And uh, what I'm saying everything that happened there, is the purpose of father, son and holy spirit, and that purpose is, our redemption, is salvation, reconciliation, and I don't see, um, that it's necessary to have the father, uh, punish, in that sense, the son!"
Adams: "Ya, we could, this is, I think this is an important issue."
Related Information.
LTRP Note: This short article might be disturbing to read, but what is being described here is happening now in the church. Please take heed and pray for discernment as you listen to Christian speakers and read their books. The links below this article are to articles that substantiate what Lynn Lusby Pratt is saying.
By Lynn Lusby Pratt
About a decade ago, I became aware of the new wave of false teaching entering the church. One aspect of that teaching hinted that our experience with Jesus was (should be?) sexual. (Christians who use a mantra, as in contemplative prayer, and go into an altered state of consciousness sometimes have erotic experiences, which they mistakenly believe to be "union" with God/Jesus.) There was new interest in/promotion of the "bridal mysticism" of medieval nuns like Teresa of Avila: "Body and spirit are in the throes of a sweet, happy pain . . . and a spell of strangulation . . . swoon-like weakness . . ." There were quotes in Christian books, like Tony Campolo saying, "There is nothing wrong . . . with eroticism in worship." And Ann Voskamp: "Mystical union. . . . God as Husband in sacred wedlock, bound together, body and soul. . . . To know him the way Adam knew Eve. Spirit skin to spirit skin . . ." [One Thousand Gifts, p. 217]. Ken Wilson: "I was having feelings of connection with the divine . . . [that] reminded me very much of the amorous feelings I have for my wife" [Mystically Wired, p. 27].
You may not have connected the dots, but go back to the Old Testament (and general history) as a reminder that pagan religions typically include sexual ritual. And when believers in God step away from God's path, it inevitably trends toward an "anything goes" sexual culture. There are loads of Scripture warnings against following pagan practices (ex: Deuteronomy 12:30-32)—not to mention any number of explanations of failures to obey those warnings (ex: 1 Kings 14:22-24). And 2 Kings 23:7 says that the quarters of shrine prostitutes were actually "in the temple of the Lord"!
Well, those people were idiots, right? We in the church would never be tricked into that sort of thing.
But see, you and/or your small group are almost surely using books written by people who are on that path, or who at least are being influenced by such people. (You can partly discern a writer's spiritual family tree by looking at who is quoted in the endnotes.) The average Christian probably reads quotes like those above and brushes them aside with, "Oh, surely it doesn't mean THAT!" But people engaged in mystical practice DO mean that.
And so we come to the next level, with such ideas now being even more openly promoted. There's a new book coming out called Tantric Jesus: The Erotic Heart of Early Christianity. (Tantrism is sex magic. Look it up.) The sales pitch is that this "wisdom" of Jesus resonates with the "tantric yogas of India and Tibet." This thing is so blasphemous against the Lord, I can't even bring myself to give a sample quotation. The U.S. secular culture is already far along the "anything goes" sexual path. The church will follow a la the Jewish religious leaders of the OT—that's how it works—unless we have the savvy to recognize that "What's next—temple prostitutes?" could become more than just a wisecrack.
What to do? We must examine, with discernment, the teachings of the spiritual mentors we're following. "Take heed unto thyself, and unto the doctrine; continue in them," Paul told Timothy (1 Timothy 4:16) who was working in Ephesus, the HQ of the sometimes-erotic worship of the goddess Artemis. Let's read the Old Testament and take a hard look at what happens when believers don't stay on alert. Then we'll be equipped to expose false teaching when we find it, instead of overlooking/endorsing it.
Related Articles:
Sarah Young's "Jesus" More Like a "Love Struck" Boyfriend
Tantric (i.e., Contemplative) Sex and Christianity—A Match NOT Made in Heaven
Understanding the Occultic Nature of Tantric Sex (The Practice Promoted by Dr. Amen – Rick Warren's Daniel Plan Doctor)
[God] will take this hell on earth and someday show us how hell was building heaven.—Jennie Allen (founder of IF: Gathering)
Have you heard of the IF: Gathering? If you haven't, you most likely will soon enough. The women's movement started just a few years ago but is already making some big inroads into the evangelical scene. On the outer appearance, this looks like a legitimate Christian movement – the women who lead and speak at IF: Gathering are young and vibrant; they talk about Jesus, they go to church; some of them homeschool their kids—it all looks so Christian. But underneath this outer thin Christian layer lies an emergent atmosphere . . . and the target is your young evangelical daughters and granddaughters.
In a few days (February 2-3), IF: Gathering will be presenting their annual conference in Austin, Texas. The conference, called IF:2017 will also be live-streamed to many churches throughout America and Canada (and in some other countries as well). Lighthouse Trails has received a number of phone calls and e-mails by concerned parents and grandparents whose daughters and granddaughters are attending the conference, either in Austin or one of the sponsoring churches. Here is a link to the list of churches that will be holding the IF:2017 conference next week via live-stream. According to the IF website, there are over 2000 live-streamed events for this year's event. If you multiply that by even just 150, that is nearly 300,000 women!  When you go to the list, type in your zip code, see if there is a conference being held in your city or town, and if there is, start alerting those you know. Your friends may have daughters who are attending.
This year's event will apparently not include IF speaker Jen Hatmaker who, we have learned, dropped out of IF last year for undisclosed reasons (recently she came out promoting gay marriage, and this got her into trouble with LifeWay Resources who dropped her books at that point). Speakers for this year's event include Jennie Allen (IF's founder), Ann VosKamp (author of One Thousand Gifts – see section in Cedric Fisher's article below), Lysa Terkeurst, Jennie Yang, Jeanne Stevens (Co-Pastor with Husband of Soul City Church – http://jeannestevens.com/about/) – former staff member of Willow Creek and associated with Erwin McManus: ), and Jo Saxton. You may not be familiar with these names, but we encourage you to do your research and please read Cedric's article so you might come to understand the underlying agenda of IF. As Cedric says, we don't question the sincerity of these women, but we do question the direction they are heading spiritually. While her name doesn't appear in this year's line up, Melissa Greene is  involved with IF as well (please see article below to learn about Greene's beliefs and this video of her). Greene, a pastor, resonates with emergent leader Brian McLaren, and her church made headlines when it came out promoting same-sex marriage.
In May of 2015, Lighthouse Trails author, Cedric Fisher, wrote a booklet titled " IF it is of God—Answering the questions of IF:Gathering." We are posting that booklet in its entirety below. If you scroll to the bottom of his article and hit the green Print button, it will format a nice PDF copy for you (you can buy it in booklet format too, but you'll have to print it in order to have it in time before the conference). If you know a woman who is planning to attend the IF:Gathering conference next week, please print this article and give her a copy to read. Because the emergent "theology" is deceptive and spiritually dangerous, these young women need to be given a heads up.
Lest some say that Jennie Allen has cleaned up IF by not having Jen Hatmaker and Melissa Greene at this year's event, keep in mind that Jennie Allen knew what these two friends believed when she invited them to be part of IF just a few years ago. How can we trust our daughters and granddaughters to someone who shows no discernment and who very likely will continue connecting with and inviting speakers who are of a similar emergent mindset.1 For example, Shauna Niequist (Bill and Lynn Hybels daughter) is involved with IF (they sell her book on their site, she contributes on the blog, and she is one of the speakers at IF:2017) and recently she gave her "blessing" to Jen Hatmaker's acceptance of same-sex marriage and endorses Jesus Calling.
Once you read Cedric's article below, we believe you will understand why we are so concerned about this movement. Writing this article reminds us of another article we wrote a number of years ago in 2008. It was titled "Brian McLaren's Hope for the Future – The Minds of Your Grandchildren."  Since then, the emergent church has continued growing and indeed grabbing the minds of countless young people, many of them from Christian homes. We hope and pray parents and grandparents will do all they can to keep their own young people from going down that same path, this time via IF.
Don't forget to check the list of places IF:2017 will be livestreaming to see if your town or city is hosting an IF conference.
IF IT IS OF GOD—Answering the questions of IF:Gathering
By Cedric H. Fisher
IF:Gathering came in like a storm, one of those winter events that seem to appear out of nowhere. No one saw it coming. A team of highly popular women—authors, bloggers, and speakers coming together—what a great idea. But it wasn't novel. Professing Christians have been making pilgrimages for decades to high-energy conferences with a star list of speakers and singers. As with so many of these other conferences, IF purported to do the work of God. However, IF was unique in that it was mostly a digital event. It was greatly effective.
The IF:Gathering held its second event in February of 2015 and involved 1200 women at the physical location, with a possible 100,000 or more watching by 40,000 live links in more than 120 countries. The ongoing influence of IF after the conference has the potential to reach hundreds of thousands of women all while flying under the radar of pastors and church leaders who may be accepting IF:Gathering at face value, not knowing anything about this group of high energy talented women leaders.
After reading the list of IF speakers and researching information about them, I have become convinced that IF poses a significant risk to Christian women, who unwittingly are submitting themselves to IF's speakers and teachers. The danger? It comes in the form of emergent ideology, spiritual formation, and contemplative spirituality (contemplative prayer is a mantra-like "prayer" practice that vitalizes the "progressive" "new" Christianity (i.e., the emerging church). Thus, I am compelled to report on my findings regarding IF.
How did IF:Gathering come about and is it ordained by God? These are questions every responsible Christian needs to ask concerning anything claiming to be a new move or revelation from God. Those questions are especially important during such a time as this, a time when the church is suffering from great deception and apostasy. Is IF influencing women to draw nearer to God or rather leading them onto a spiritually dangerous path to heresy?
IF's Beginning—A Whisper from the Sky
The 2015 IF:Gathering did not end when the conference was over. It continues to function through the network established before the conference occurred. Its influence continues through local churches and individuals who hosted the event, through social media, available videos of the event, and the "IF:Table,"* all of which have the potential to reach countless more women and evolve into a major women's movement. If that occurs, it will help set the agenda of how the future generation perceives and implements Christianity.
The first statement on their website under "Who We Are" is:
We exist to gather, equip and unleash the next generation of women to live out their purpose.1
The founder of IF:Gathering, Jennie Allen, is a bright and energetic, best-selling author, blogger, and popular speaker. She appears sincere and dedicated to ministering to people. She and her husband have been involved in ministry for a number of years. However, since she is the founder, we must consider her activity, her influences, and her statements about the birth of IF:Gathering.
Allen is a Bible teacher who had been teaching groups of girls and young women since high school. She studied at the University of Arkansas for three years, completed her B.S. in Communications at Carson Newman College in Tennessee, and graduated from Dallas Theological Seminary with a Master's in Biblical Studies in 2005. It would be two years after her graduation from DTS when she had an experience that birthed IF: Gathering.
Allen signed a multi-project contract in 2011 with Thomas Nelson, which included a series of seven DVD-based Bible studies and two trade books. Her first study released in 2011, followed by another one released in 2012. Her first trade book was also released in 2012. Allen's book Restless: Because You Were Made for More and the Restless video-based Bible study were released simultaneously in January 2014, a month before the first IF:Gathering.
Allen was also one of the speakers in the neo-emergent Nines Conference in 2014, which hosted a speaker lineup that included some of the main influences in the New Christianity movement.
How did the IF:Gathering originate? There are different and conflicting explanations given by Allen. The first account was presented by Allen in the initial IF:Gathering in Austin, Texas, 2014:
About 7 years ago, a voice from the sky—that doesn't often speak to me—but that day there was this whisper. It was the middle of the night, actually. And it was "Gather and equip your generation." And this was ridiculous, because honestly, I was a stay at home Mom, I didn't know anybody that could help me with that job. And it was a completely ridiculous statement. So ridiculous that I just, for two days my bones hurt, and I didn't know what to do with it. My bones hurt, for two days.

I thought, Okay God, what do you want me to do? Wisely my friend said, "Jennie, if it's God," cause it may not be. All voices from the sky are not always God, FYI. But, "if it's God, then He's going to give you everything you need to accomplish His purposes. So just wait." And so I waited, and that was seven years ago, guys.2
Allen eventually came to believe it was God who whispered. She would wait several years for Him to put IF: Gathering together. However, a year after the account of IF's birth that she gave in the 2014 conference, she posted another account on her blog:
Truth is, IF:Gathering began as more of a hunch than a vision.3
A month later, and one year after her first account, Allen gave another account of how the IF came about during the IF: Gathering February, 2015:
I mean, 7 years ago, 8 years ago now, I heard a voice that . . . well, okay, I didn't. This is like all different theologies right now. Okay, just give me grace. I don't know, but I'm just telling you, in the night I woke up, and I was overcome with these words, "Disciple a generation."

But I sat on it. I put it in my back pocket and said, "Okay God, if you want to do something crazy like that, you're gonna have to make it happen."4
I read Allen's book, Anything: The Prayer that Unlocked my God and My Soul, written a couple of years after her experience with the sky whisperer. In her book, Allen describes deep intimacy with God and willingness to obey Him completely. However, she does not mention anything about Sky Whisperer or his commission to organize the IF: Gathering. I find that puzzling. What better place to introduce and expound on such a life-changing intimate experience and surrender than in a book describing full surrender?
I'm willing to concede that there could be a good reason for the inconsistencies of her accounts as to how IF came about. But an individual whom God supernaturally calls to accomplish a significant work should give a credible and unambiguous account of that call. One could say, "I saw a need and did my best to meet it." However, when one says, "I heard a voice from God," a different standard is involved. The reason is because something that has a supernatural event as an origin will have a much greater weight of influence. It presents the individual as a special agent of God, just as any of the figures in the Bible whom God used to accomplish unprecedented purposes. It almost immunizes the revelation and the individual from critical examination.
Therefore, I believe it is proper and reasonable to examine Jennie Allen's statements concerning the origin of the IF: Gathering. The questions are: "Is Allen's explanations of the origin of IF:Gathering convincing and does she provide viable and credible information that concludes IF: Gathering originated from God? One should prayerfully consider those questions and ultimately should ask: if it's origin is in question and if it's founder is involved in emergent conferences, can IF:Gathering produce good fruit? The next section concerning the speakers in IF:Gathering may help answer that last question.
For a good tree does not bear bad fruit, nor does a bad tree bear good fruit. For every tree is known by its own fruit. For men do not gather figs from thorns, nor do they gather grapes from a bramble bush. (Luke 6:43-44)
IF, The Speakers: Ambassadors of God or Emergent Collaborators
If Jeannie Allen did indeed hear supernaturally from God, and if God supernaturally equipped her to organize the IF:Gathering, we would expect good fruit from the conference and the speakers. We would not expect people who are influenced by emergent, New Age, and other aberrant authors and teachers. It is logical to expect that the speakers would be stellar Christian examples.
Space does not permit me to deal with all the conference speakers, so I have chosen several whom I believe need to be examined. They are listed in alphabetical order.
Sarah Bessey
After reading portions of her book, Jesus Feminist, I get the impression Sarah Bessey believes that Christianity is stuck with the Woman Suffrage movement somewhere in the 1920s. She references radical feminist, social activist, and journalist Dorothy Day in her book and seems to draw from secular feminism. From that concept, she tries to invent a need for radical feminism in Christianity, presenting bizarre commentary on the Scriptures to back up her position. The following quote illustrates her view:
Many of the seminal social issues of our time—poverty, lack of education, human trafficking, war and torture, domestic abuse—can track their way to our theology of, or beliefs about, women, which has its roots in what we believe about the nature, purposes, and character of God.5
In the back of Jesus Feminist under "Further Reading," Bessey offers a book titled How I Changed My Mind About Women in Leadership, which includes essays from emerging church authors Tony Campolo, John Ortberg, and Bill and Lynne Hybels. Jesus Feminist also has endorsements in the book by Brian McLaren and Tony Jones. On her blog, she lists among her favorites A Generous Orthodoxy by Brian McLaren and Ragamuffin Gospel by Brennan Manning.6 She also promotes The Way of the Heart by Henri Nouwen.7 There's no question that Bessey resonates with the views of these men.
With such emergent and contemplative influences, how can good fruit be produced by this speaker?
Christine Caine
Christine Caine claims Joyce Meyer as her "spiritual mother" and lists Word of Faith preacher Sheryl Brady as a dear friend calling her "flat out the best chick preacher of the word."8 Caine has "preached" in seeker/emergent Steven Furtick's mega church in Charlotte, North Carolina. The following is transcribed from Caine's opening statement in Furtick's church:
This place is a little bit like God, take this in context, in that like you are omnipresent. You are here. You are across the room. You are down the street. You are all over the worldwide web. It is like wherever you look, here we are and it is my honor and privilege to be here, I couldn't wait.9
Caine also declared that her heart was "knitted" to Furtick. One whose heart is surrendered to God could not possibly be knitted to an individual such as Furtick. Journalist and researcher Jim Fletcher says this about Furtick:
Steven Furtick . . . mentored as he is by evangelical bigwigs like Rick Warren and Bill Hybels, felt bold enough to post a YouTube video in which he sneeringly challenged what I'd call traditional Christians to basically get out of the way, because their time is past. Presumably, to Furtick, it's the "new generation's" time now, so step aside with your stodgy hymns and expositional preaching style. . . . Masked a bit by a pious nod toward humanitarian causes, the leadership of this group is quite nasty, albeit in subtle ways.10
Further, according to the itinerary on Christine Caine's website, she will be speaking at NAR (New Apostolic Reformation) leader Bill Johnson's Bethel Church in Redding, California in August 2015 in the Bethel Women's Conference. Why does this matter? It shows a pattern of being willing to associate with people and "minister" in churches that are teaching and promoting false and dangerous teachings.11
Melissa Greene
Melissa Greene is the pastor of worship and arts at GracePointe Church in Franklin, Tennessee. The church made national headlines in January of 2015 as senior pastor, Stan Mitchell, declared his church now accepts homosexual marriage.12
When I pull up Greene's website, I immediately notice the picture of her sitting in a Yoga position. In a May 25th, 2014 message on her website titled "Worth," Greene admits to reading emerging church pioneer Brian McLaren's book, A Generous Orthodoxy (and McLaren spoke at GracePointe in the fall of 2014). Greene favorably quotes other prolific New Spirituality names: Phyllis Tickle, Richard Rohr, Frederick Buechner, Rob Bell, Nicholas Wolterstorff, Thomas Merton, Peter Gomes, Aldous Huxley—a list that reads like a veritable who's who in emergent and contemplative heresy.
In "Worth," Greene declares that, "Christianity is broad and diverse."13 Considering that many of her influences accept all religions as being of God, there is no doubt to what she means when she states this. Greene also made the audacious statement: "The most devastating fear in people's lives is the fear of God."14 She attempts to validate her statement by taking verses out of context and misapplying them. What does God's word declare?
And do not fear those who kill the body but cannot kill the soul. But rather fear Him who is able to destroy both soul and body in hell. (Matthew 10:28)

Therefore, having these promises, beloved, let us cleanse ourselves from all filthiness of the flesh and spirit, perfecting holiness in the fear of God. (2 Corinthians 7:1)
For thousands of young Christian-professing women to submit to someone like Melissa Greene could have a detrimental effect.
Jen Hatmaker
In Jen Hatmaker's book, Interrupted: When Jesus Wreck Your Comfortable Christianity, she makes it clear that she is influenced by a number of New Age/New Spirituality individuals. She quotes Catholic priest and contemplative activist Richard Rohr and emergent leader Shane Claiborne. On her blog, she promotes the book, The Circle Maker, by Mark Batterson, a book that encourages readers to draw circles around specific things in order to have more answered prayers. Batterson was inspired with this idea by an ancient sage.
In Hatmaker's book, 7: An Experimental Mutiny Against Excess, she reveals that her family takes part in a Roman Catholic ritual with mystical origins, the "Seven Sacred Pauses."15 Hatmaker got her inspiration from Seven Sacred Pauses, a book by Macrina Wiederkehr who is a spiritual director in the contemplative prayer movement. In Wiederkehr's retreats, seekers are guided through experiences of silence, contemplation and lectio divina (a contemplative practice where words and phrases from the Bible are repeated in mantra-like fashion). The "seven sacred pauses" are seven times a day to pause and pray, which Wiederkehr describes as "breathing spells for the soul."
Consider Hatmaker's statement concerning the preaching of God's Word:
I have spent half my life listening to someone else talk about God. Because of this history, I've developed something of an immunity to sermons.16
This is eerily similar to the sentiment of Sue Monk Kidd (author of The Secret Life of Bees), who once, as a conservative Southern Baptist Sunday school teacher, expressed her dissatisfaction (and eventual rejection) of the preaching of God's Word. That led Monk Kidd down a path away from the Christian faith and straight into the New Age. Today, she worships the goddess Sophia.
This disgruntlement of God's Word is so prevalent among leaders of the emerging New Spirituality church. If not preaching, then what? Is it emotionally charged conventions and books with flowering, poetic phrases that open up to spit out a toxic drop of heresy? If Hatmaker is immune to preaching, she has rejected God's method in favor of her own.
Ann VosKamp
Ann VosKamp's highly popular book, One Thousand Gifts, is peppered with favorable references to and quotes by various mystics, pantheists, and universalists. The following is a list of some of those influences:
Sarah Ban Breathnach, Teresa of Avila, Julian of Norwich, Evelyn Underhill, Brennan Manning, Annie Dillard, Thomas Aquinas, Peter Kreeft, Walter Brueggemann, Francis de Sales, Pierre Teilhard de Chardin, Henri Nouwen, and Jean-Pierre de Caussade. She also quotes mystic Catholic nun Kathleen Norris on her blog.17
You may not have heard of all these names, but in my research, I have found that they all embrace a panentheistic mystical-based spirituality. For VosKamp to quote and reference so many authors in this category shows she is embracing and absorbing the spirituality of these figures.
In the last chapter of One Thousand Gifts, "The Joy of Intimacy," Voskamp writes:
Mystical union. This, the highest degree of importance. God as Husband in sacred wedlock, bound together, body and soul, fed by His body, quenched by His blood . . . God, He has blessed—caressed. I could bless God—caress with thanks. It's our making love. God makes love with grace upon grace, every moment a making of His love for us . . . couldn't I make love to God, making every moment love for Him? To know Him the way Adam knew Eve. Spirit skin to spirit skin . . . The intercourse of soul with God is the very climax of joy . . . To enter into Christ and Christ enter into us—to cohabit.18
This is what contemplatives consider "intimacy" with God, as if God is more a lover or a boyfriend than the Creator of the Universe, the King of Kings, and our beloved Savior. This is what millions of young Christian women are being introduced to.
The question is, are Sarah Bessey, Christine Cane, Melissa Greene, Jen Hatmaker, and Ann VosKamp really called from God as they profess to be? While I won't question their sincerity, I must ask the questions: How can the IF:Gathering be ordained by God? How can Jennie Allen have supernaturally heard from God concerning her conference? And how could righteous God Almighty have sanctioned a movement that is so influenced by diabolical sources?
The IF:Gatherings promise great solutions, but in practice, they covertly chip away at biblical concepts of God, the Holy Spirit, and biblical Christianity. They are based on flawed concepts masked by alluring phrases. Like all other emerging church "coaches" and mentors, the IF leaders intend to solve the problem of what they insist is failed Christianity. They believe a replacement—New Christianity—is the solution.
Considering the influences of the speakers, the IF:Gatherings will lead to dangerous, alternate spirituality. The Conference overwhelms susceptible women with music, visuals, and emotional camaraderie. When their hearts are prepped and open, provocative questions are presented, and  answers that conflict with God's word are offered.
IF the Fruit is Good
When I was a worldling, I visited the notorious Bourbon Street in New Orleans. Fresh from the Oklahoma hills, I had never witnessed anything remotely like it. One thing that fascinated me most were the barkers. The barkers were men who stood outside of the many establishments attempting to coax passersby to enter them. They were so convincing. Their skills had been honed by trial and error. Bending to the persuasive and captivating power of their words, I entered one of those establishments. Once inside, I was shocked at the total absences of morals. Although it made my cheeks blush, and my moral upbringing urged me to leave, I was with a couple of friends and didn't want to be considered a prude. So I stayed. The longer I stayed, the more I got used to the immorality. The more I got used to it, the more I wanted of it.
The speakers at the IF:Gathering are barkers. They are luring many professing Christian women with persuasive and captivating words. A repetitive error I noticed in the Conference was that a speaker would set up a straw man, and then mix the answer to it with Scripture. She would then insist that the conclusion was a valid point. An example was when Jen Hatmaker argued that we cannot possibly know all of God. She quoted a Scripture from Romans 11:33. Her conclusion was that because we cannot know God fully, it is not detrimental to faith to have doubt. However, faith does not depend on knowledge, but trust. Lack of knowledge should not make us doubt, but rather a lack of trust. This was a prevailing theme at IF.
Hatmaker also insisted that God set us free simply to set us free; that He set us free for us. Again, this does not agree with God's Word:
For ye are bought with a price: therefore glorify God in your body, and in your spirit, which are God's. (1 Corinthians 6:20)
We were created for God's purpose, to worship and serve Him. He set us free so we could belong to Him to honor and serve Him with all our hearts, mind, bodies, and spirits.
One constant thing that made me cringe was the cavalier attitude that some of the speakers, especially Jennie Allen, exhibited toward God. At one point, Allen, says, "Darn it, darn it," and goes off on a rant implying that God is stupid, mean, and that His plan is absurd. The rant came only minutes after she declared she was nearly overcome with reverential fear of God.19
In Melissa Greene's "Worth" sermon, one comes away with the following conclusions:
Certainty is bad; Questions (and no answers) is good.

The old-fashioned faith of our parents and grandparents is outdated and irrelevant.

References to numerous mystics and emergents

The "text" (the Bible) is OK, but there is so much more to be grasped.

In the end, everyone is saved.20
As I mentioned earlier, Greene admits to reading Brian McLaren, and from the content of the "Worth" video, McLaren's spirituality has become her own. The IF leaders hope to lead as many women as possible into the same direction as Jennie Allen declares:
While I wish I were a more confident, rebellious pioneer, God had to nearly force me to the wild, new path He had for IF. I am however compelled to call as many of you as possible to the roads less traveled because there are many wandering who may never make it up to the highway.21
IF Conclusion
[God] will take this hell on earth and someday show us how hell was building heaven.22—Jennie Allen
The IF conferences are full of emotional manipulation with videos of heartbreaking stories and impassioned pleas to do something; draw near to God, have more faith, win the lost, help the less fortunate, etc. At various points in the 2015 conference, a speaker would burst out in an impassioned plea to do something about the plight of humanity as if it were the fallback position when passion was otherwise lacking.
IF's leaders insist that biblical Christianity has failed as a viable work of God and that God and they are bringing forth a cure—New Christianity.
I fear that IF's excellent adventure is advertisement for a mass departure from God's Word. Rather than having their faith built up, participants are encouraged to question "traditional" Christianity. And those who are giving the answers—the IF women—are unfortunately getting their information from emergents and mystics who present a different gospel and another Jesus.
It is addictive, this linguistic confection. The mind is overcome with giddiness. But is it of God? Or is it rather a "beautiful" seduction? I believe the latter is true.
To order copies of IF it is of God—Answering the questions of IF:Gathering, click here.
* IF:Table is a dinner hosted by one person on the second Sunday of each month. It is described as six women, four questions, two hours (https://ifgathering.com/new-to-the-table/)
Endnotes:
1. IF:Gathering website, "Who We Are": https://ifgathering.com/who-we-are.
2. Jennie Allen, 2014 IF:Gathering: https://ifgathering.com/if-gathering-2014.
3. Jennie Allen's blog, "How to Leave Normal": https://ifgathering.com/2015/01/how-to-leave-normal, January 21, 2015.
4. Jennie Allen, IF: Gathering: https://ifgathering.com/2014/09/ifgathering-2015, February 2015.
5. Sarah Bessey, Jesus Feminist: An Invitation to Revisit the Bible's View of Women (New York, NY: Howard Books), p. 169.
6. Sarah Bessey's blog: http://sarahbessey.com, December 30, 2008.
7. Ibid., July 17, 2008.
8. http://instagram.mislav.net/users/christinecaine?max_id=216035535549657297_2724891.
9. Christine Caine, Elevation Church, Code Orange Revival 2012, http://elevationchurch.org/sermons/codeorangerevival (some of her sermon can be watched at: http://www.god.tv/code-orange-revival/night-4-anything-is-possible-with-god).
10. Jim Fletcher, "'Hip' church gives biblical Christians new label: 'Hater'" (WorldNetDaily, http://mobile.wnd.com/2014/12/hip-church-gives-biblical-christians-new-label-hater/#JEfipOHtSOZJfZeD.99).
11. Read John Lanagan's article/booklet titled The New Age Implications of Bethel Church's Bill Johnson where it discusses Johnson's propensity toward "quantum spirituality" (the belief that God is in everyone).
12. Elizabeth Dias, "Nashville Evangelical Church Comes Out for Marriage Equality" (Time Magazine, January 29, 2015; http://time.com/3687368/gracepointe-church-nashville-marriage-equality).
13. Melissa Greene, "Worth" (http://melissagreenemusic.com/tag/worth, May 25, 2014, watch video at: https://vimeo.com/97252399, 22:40 minutes to 22:47 minutes).
14. Ibid, 24:18 minutes to 24:25 minutes.
15. Jen Hatmaker, 7: An Experimental Mutiny Against Excess (Nashville, TN: B & H Publishing Group, 2012, Digital Edition), Kindle location 3266.
16. Ibid., Kindle location 435.
17. Ann VosKamp, (http://www.aholyexperience.com/2006/11/memorizing-word).
18. Ann VosKamp, One Thousand Gifts (Grand Rapids, MI: Zondervan, 2010), pp. 213, 216-217.
19. Jennie Allen, IF:Gathering; Session 1- 03.
20. Melissa Greene, "Worth," op. cit.
21. Jennie Allen, "How to Leave Normal," op. cit.
22. Jennie Allen, Restless: Because You Were Made for More (Nashville, TN: W Publishing, 2013), p. 74.
To order copies of IF it is of God—Answering the questions of IF:Gathering, click here.
Author Bio:

As a professional musician, singer, and recording artist, Cedric Fisher was deeply immersed in the darkness of the secular music business and its trappings. He was addicted to drugs and alcohol. There was no thought of God in his life, but he dabbled in I Ching, Transcendental Meditation, believed strongly in reincarnation, witches and wizards, gods, and experienced demonic activities, including levitation and apparitions.  In 1978, while playing a gig in Lubbock, Texas, he decided to purchase a Bible. Early in the morning after the gig, he started reading it. Not wanting to read such a large book without knowing whether it would be interesting, he began reading the last chapter. After reading Revelation 3:20, he kneeled by the bed and prayed. He was gloriously saved and instantly delivered of addiction and the torment that had driven him to it!

Today Cedric is an ordained minister and the director of Truthkeepers, a web-based ministry warning about spiritual deception in the church. He and his wife, Cheryl, live on the East Coast where he pastors a small house church that he pioneered. His past experience helps him to identify diabolical darkness that masquerades as Christianity today. Cedric believes God has called him to not only prepare believers to be equipped to avoid deception and apostasy but also to expose the heresies that have inundated modern Christianity.
On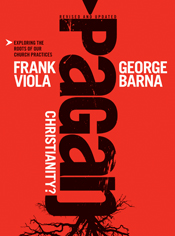 December 7th, author Frank Viola reposted an interview he did with co-author George Barna on their book Pagan Christianity. http://www.patheos.com/blogs/frankviola/georgebarnainterviews. Therefore, Lighthouse Trails is reposting the critique on that book written by our  free-lance writer Philip Gray. Viola and Barna believe that book will help bring about a new reformation to the church. Unfortunately, the reformation the emergents are bringing about is not a reformation from God. This book is a perfect example of that.
"Lighthouse Trails Book Review: Pagan Christianity by Viola and Barna – A Perfect Example of 'Missing the Point'"
In Pagan Christianity, Frank Viola and George Barna tell readers "Reading this book takes courage." We couldn't agree more, but not for the same reasons that Viola and Barna warn their readers. They tell us that it takes courage, not because of what the books says but because of what a Christian must do after he or she reads it (p. 253). We say it takes courage because of the misrepresentation the authors have given to Christianity and because the book is a smoke screen for the "new" spirituality.
Basically, according to Pagan Christianity,  if you are a Christian and you have been participating in any of the following activities, you have been practicing paganism:
1. Meeting in a building for church
2. Listening to a sermon
3. Having a pastor
4. Paying that pastor a salary
5. Sunday School lessons
6. Sitting in a pew (or balcony)
7. Using a pulpit
8. Using some sort of order to the church service, which includes taking an offering, having communion, giving announcements, and singing songs of worship.
9. Dressing up for church
10. Having a choir
11. Altar call
12. Evangelized to save a soul
After reading this list, how did you rate on that? How many of these activities are you guilty of? Did you go to church last Sunday? Did you put on your best outfit? Did you listen to a choir sing? Did that neighbor you bring respond to an altar call to give his life to Jesus Christ? Did you sit and listen to your pastor teach or preach the Word? Well, according to Pagan Christianity, if you did, you are more like a pagan than a Christian. Of these activities, Barna and Viola say: "Such practices are foreign elements that God's people picked up from their pagan neighbors" (p. xx).
The point of this review is not to defend all of these practices in and of themselves. The point is to show that this book is another subtle stab at traditional Christianity, a stab that attempts to make Christians feel guilty for just about everything they do that has to do with going to church . . . everything that is, that is external. This book has absolutely nothing to do with the heart condition of man, nothing to do with sin and repentance, but is merely a smoke screen to cover up the real issues that are plaguing the church today. For whether one dresses up for church or not, whether one gives a sermon or not, whether one sings or not, whether one gives an offering or not, and whether one sits in a pew or not, the issue that God looks at is the condition of the heart and not the outward appearances. One can sit in a pew and have evil intent in his heart; another can sit in a pew and be a godly humble man of God. It's not the pew that makes him one or the other.
Judge not according to the appearance, but judge righteous judgment. John 7:24

[F]or the LORD seeth not as man seeth; for man looketh on the outward appearance, but the LORD looketh on the heart. 1 Samuel 16:7
Pagan Christianitysays that "the great bulk of first-century practices have been removed from the Christian landscape." The book tells readers that "such practices are presently being restored on a small scale by those daring souls who have taken the terrifying step of leaving the safe camp of institutional Christianity" (p. xviii). But the book never really tells us what those practices are, except to continually say it is something spectacular that excludes the above activities and includes small groups of people who stand around in circles, embracing, and sharing with one another their various thoughts, feelings, songs, prayers, and ideas – according to Viola and Barna, that is what makes a person a good New Testament Christian.
While there is certainly nothing wrong, in and of itself, for a group of people to stand in a circle and share with one another, it is not a guarantee that the group of people will be abiding in God's will in their lives. And, in fact, if Viola's and Barna's recipe for proper Christian living is acted upon, that group of people in the circle is probably going to be in trouble because rather than having the Word of God taught to them or preached to them by those who are called into the office of teacher or pastor, they will be "dialoguing" with one another, asking a lot of questions, and never coming up with any answers (because the postmodern isn't supposed to have any actual answers – having answers offends).
What is the real agenda of Pagan Christianity? Well, this much we can say, it sure isn't to warn believers against true pagan practices and beliefs such as eastern-style meditation, walking through labyrinths, doing yoga, focusing on the breath, rejecting the atonement, and so forth. In a day when spiritual deception is at an all time high, when growing numbers of Christian leaders, churches, schools, and organizations are falling into the trap of practicing, promoting, and embracing mysticism and other New Age practices (disguised with Christian terminology, by the way), it hardly seems appropriate and wise to tell Christians to stop sitting in pews, stop having sermons (and pastors for that matter), stop meeting in buildings, end all Sunday School lessons, and by all means stop dressing up on Sundays.
Perhaps what is most distressing about this book is that there is an underlying sentiment that the "preaching" and teaching of God's Word is not a New Testament practice and should be done away with. Perhaps this is the real message of Pagan Christianity. Rather than have the Word presented and preached as if it is an authoritative source for believers, get rid of all the venues in which it is presented (church buildings, sermons, pastors, pews,pulpits, etc.) as such and turn it into something we can all debate, dispute, question, challenge and reinvent.
What we would call Pagan Christianity is a perfect example of "missing the point." But with Frank Viola co-authoring a book with New Age sympathizer Leonard Sweet and George Barna, a Rick Warren look alike with a dominionist agenda, is that really any wonder that they have missed the point?
I have preached righteousness in the great congregation: lo, I have not refrained my lips, O LORD, thou knowest. Psalm 40:9

The Spirit of the Lord GOD is upon me; because the LORD hath anointed me to preach good tidings unto the meek; he hath sent me to bind up the brokenhearted, to proclaim liberty to the captives, and the opening of the prison to them that are bound. Isaiah 61:1

Arise, go unto Nineveh, that great city, and preach unto it the preaching that I bid thee. Jonah 3:2

From that time Jesus began to preach, and to say, Repent: for the kingdom of heaven is at hand. Matthew 4:17

Notwithstanding the Lord stood with me, and strengthened me; that by me the preaching might be fully known, and that all the Gentiles might hear: 2 Timothy 4:17

Preach the word; be instant in season, out of season; reprove, rebuke, exhort with all long suffering and doctrine. 2 Timothy 4:2
Related Articles:
  Leonard Sweet—A More Magnificent Way of Seeing Christ? by Warren B. Smith
Anti-Religion Jeff Bethke Hits the News Again – New Book, Same Message: "Imagine No Religion"
Understanding the Times – "Men Love Darkness Rather Than Light" by Maria Kneas
Lighthouse Trails has been warning readers for several years about the emergent church. In those warnings, we've addressed the spiritual leanings of Erwin McManus.1 We also challenged David Jeremiah because he told his church that he wanted to use McManus' book The Barbarian Way to help bring about a "major paradigm shift" in his church.2 Well, there's no question about it, the evangelical church has gone through a major paradigm shift. This week we received some information from a Lighthouse Trails reader about an event called Barefoot Tribe Gathering, which is another example of where emergent leaders are taking the church, in particular young evangelicals, who by the way are being encouraged not to even call themselves evangelicals or Christians anymore. They see themselves on a much higher ground than that. It's a ground that incorporates all religions, all people, and all beliefs and practices.
This emergent progressive church (which they tried to make us believe was a thing of the past) is the new "Christianity" for millions of young people. Under the disguise of helping the poor, taking care of the environment, and loving everyone (except their critics), is a growing body of people with a New Age/New Spirituality mindset that embraces all spiritual views and believes God exists in everyone. The Cross (or atonement) doesn't mean the place where Jesus Christ took our place and died for our sins but rather means at-one-ment (that is, we are all one and connected together with a "God" energy that flows through all things and all people). This at-one-ment rejects the idea that God would actually send His Son to a violent death to pay for OUR sins; rather this emergent view of atonement means that Jesus was a good example of someone who laid down His life and we should follow that example. That's as far as this "new church" will go with the Cross. To say He paid the penalty for our sins is to say that man is sinful and is not God. The new social justice, emergent, progressive "Christianity" cannot do that because it doesn't believe that.
According to the Barefoot Tribe's website, Erwin McManus was one of the speakers in the 2014 Barefoot Tribe Gathering (and by the way, the emergent church has made a lot of progress since then with the help of "evangelical" names such as McManus). We also noticed that Palmer Chinchen, who heads up Barefoot Tribe,  has been bringing the Barefoot Tribe message to various Christian colleges including Cornerstone University, Biola, Moody, Cedarville, and Liberty. What better place to change the face of Christianity than at the Christian universities. While parents keep their heads in the sand and pay huge dollars to have their children educated at "nice safe Christian colleges," right under their noses, their kids' spirituality is being turned upside down, and in many, if not most, cases will never be restored to biblical Christianity. Other colleges Barefoot Tribe has spoken at are:
Lest some think that Barefoot Tribe is simply an outreach to the poor and needy in the world, Palmer Chinchen's books, including Barefoot Tribe, are packed with quotes by, references to, and inspirations from some of the leading emergent writers today (Sweet, Ortberg, N.T. Wright, Nouwen, Brueggemann, Morgan Cron, Campolo, etc.). Satan has an agenda to deceive the whole world, and most proclaiming Christians and church goers have no idea it is  happening right in their own backyards.
The information sent from our reader:
The Barefoot Tribe Gathering 2014 and 2017
"We are on the crest of an epic shift in humanity. This generation views the world as an extended family – increasingly interconnected through technology – and living with a deep moral obligation to care for one another.
The Barefoot Tribe GATHERING will promote conversation, collaboration, and help network a generation of Christ-followers to respond to the plight of desperate people in broken places."
http://www.palmerchinchen.com/gathering
– Palmer Chinchen is organizer
2014 Speakers
(1)  Bob Goff:  author of Love Does – http://bobgoff.com/
(2)  Dr. John M. Perkins:  https://spu.edu/depts/perkins/john-perkins/
(3)  Caitlyn Crosby:  Oprah pick for Super Soul 100 list  as a "Soul Giver":  http://www.supersoul.tv/supersoul-100/soul-givers/caitlin-crosby
More on Caitlyn:  https://www.thegivingkeys.com/pages/our-founder-caitlin-crosby
(4)  Erwin McManus: http://awakengroup.com/?ag_team=erwin-raphael-mcmanus
Barefoot Tribe:  http://www.palmerchinchen.com/barefoot-tribe
-video
By Tamara Hartzell
(Author of Reimagining God and In the Name of Purpose)
"Thinking outside the box"

"Thy word is a lamp unto my feet, and a light unto my path." (Psalm 119:105)

"Then said Jesus to those Jews which believed on him, If ye continue in my word, then are ye my disciples indeed; and ye shall know the truth, and the truth shall make you free." (John 8:31-32)

"I charge thee therefore before God, and the Lord Jesus Christ, who shall judge the quick and the dead at his appearing and his kingdom; preach the word; be instant in season, out of season; reprove, rebuke, exhort with all longsuffering and doctrine. For the time will come when they will not endure sound doctrine; but after their own lusts shall they heap to themselves teachers, having itching ears; and they shall turn away their ears from the truth, and shall be turned unto fables." (2 Timothy 4:1-4)

"Take heed unto thyself, and unto the doctrine; continue in them: for in doing this thou shalt both save thyself, and them that hear thee." (1 Timothy 4:16)
The importance of the Word of God simply cannot be overstated. Without it, we do not have the truth, faith, or salvation of God. And without the truth, faith, and salvation of God, we do not have God. Scripture is replete with teachings and warnings that make this perfectly clear. One example of many is 2 John 1:9:
"Whosoever transgresseth, and abideth not in the doctrine of Christ, hath not God. He that abideth in the doctrine of Christ, he hath both the Father and the Son."
Where do we get the doctrine of Christ in which we are to abide to have God? From the Word of God.
"But continue thou in the things which thou hast learned and hast been assured of, knowing of whom thou hast learned them; and that from a child thou hast known the holy scriptures, which are able to make thee wise unto salvation through faith which is in Christ Jesus. All scripture is given by inspiration of God, and is profitable for doctrine, for reproof, for correction, for instruction in righteousness." (2 Timothy 3:14-16)

"Being born again, not of corruptible seed, but of incorruptible, by the word of God, which liveth and abideth for ever. For all flesh is as grass, and all the glory of man as the flower of grass. The grass withereth, and the flower thereof falleth away: But the word of the Lord endureth for ever. And this is the word which by the gospel is preached unto you." (1 Peter 1:23-25)

"So then faith cometh by hearing, and hearing by the word of God." (Romans 10:17)
It is the faith of God that comes by the Word of God. Not only does the Word of God give us the truth and faith we are to believe in order to have God, but it also gives us the truth and faith we are to obey in order to please and serve God. And yet people in today's Christianity are no longer willing to accept this faith as is. Rather than simply believe and obey, people want the freedom to "rethink" and "reimagine" God and His Word into a fashion that they are willing to accept and, incredibly, even go so far as to claim that God's own Word of truth puts God in a "box." In other words, they want the truth and faith of God set "free" from the Word of God. Thus, they do not see the Word of God as the truth but as merely a "story" with "changeable" and "debatable" "metaphor" that can be interpreted and retold however anyone chooses. This then gives people their desired freedom to "think outside the box" where they can conveniently "reimagine" their own "story" of who they "rethink" God to be.
Naturally, whether or not these stories line up with God's Word is irrelevant to those who prefer to "think outside the box" of God's Word. In fact, if they did line up with the Word of God, then it would defeat their purpose of "thinking outside the box." And since "rethinking" and "reimagining" God and His Word is what people today actually want, they are turning to fables for their faith and "truth." Fables are not the truth, and the truth is not a fable. This is why God's Word warns that people are turning away from the truth and unto fables. Nevertheless, more and more people are trying to turn fables into the truth—i.e., "reimaginings" into reality—and are dancing around in circles desperately trying to bring the two together as one in a harmonious relationship. This is, in essence, turning the light off to look for "truth" in the corner of a dark round room.
"The entrance of thy words giveth light; it giveth understanding unto the simple." (Psalm 119:130)

"But if thine eye be evil, thy whole body shall be full of darkness. If therefore the light that is in thee be darkness, how great is that darkness!" (Matthew 6:23)

"And this is the condemnation, that light is come into the world, and men loved darkness rather than light, because their deeds were evil. For every one that doeth evil hateth the light, neither cometh to the light, lest his deeds should be reproved. But he that doeth truth cometh to the light, that his deeds may be made manifest, that they are wrought in God." (John 3:19-21)
The light of God's Word is just too bright for today's light-intolerant eyes. More and more people are seeking relief outside the "box" and are intentionally turning away from the Word of God, away from the truth, away from the faith, trying to "find God" in the darkness. However, in the darkness people can no longer tell the difference between what is true and what is false, even when it is obvious. And as a result, they are blindly bearing with those who present them with "another Jesus," "another spirit," and "another gospel" that deceptively affirm their shift from light to darkness, and even lead them astray to another "God." But they don't see it that way. Since people imagine that God's Word of truth is just a manmade "box" from which God and His truth need to be set free, they see it as simply a matter of "finding God" wherever they choose to look. Sadly, this rapidly increasing deception is clearly seen in today's shifting Christianity.
"For if he that cometh preacheth another Jesus, whom we have not preached, or if ye receive another spirit, which ye have not received, or another gospel, which ye have not accepted, ye might well bear with him." (2 Corinthians 11:4)

"I marvel that ye are so soon removed from him that called you into the grace of Christ unto another gospel: which is not another; but there be some that trouble you, and would pervert the gospel of Christ.… But I certify you, brethren, that the gospel which was preached of me is not after man. For I neither received it of man, neither was I taught it, but by the revelation of Jesus Christ." (Galatians 1:6-7, 11-12)

"For this cause also thank we God without ceasing, because, when ye received the word of God which ye heard of us, ye received it not as the word of men, but as it is in truth, the word of God, which effectually worketh also in you that believe." (1 Thessalonians 2:13)
Since more and more people in today's shifting Christianity are rejecting the Word of God as the word of man, and even accepting the word of man as the word of God, one needn't go far to see the many counterfeits being sold to the eager buyers who see no need to beware. In fact, since people now imagine that outside the "box" of God's Word is the "genuine" and inside the "box" of God's Word is the "counterfeit" they will only see a need to beware of God's Word inside the "box." Thus, reviling those who believe the genuine is the genuine and the counterfeits are the counterfeit, they are heeding those who believe the counterfeits are the "genuine" and the genuine is the "counterfeit" because the counterfeits are the "genuine" they are willing to accept. But, naturally, those who prefer to "think outside the box" don't see it that way.
Many people are likewise choosing to see man's fables as the "truth" about God because man's fables are a "reimagined" "truth" they are willing to accept. Absurdly, those who seek to justify "reimagining" God and His Word even claim that Jesus taught parables in order to teach truth to the multitudes. This claim in itself "reimagines" God's Word in order to justify "reimagining" God's Word. Jesus Himself gave the reason for His parables, which is the opposite of man's imaginations in more ways than one. He spoke in parables to keep the truth away from those who did not have ears to hear and had already chosen to close their eyes and ears to the truth. Sadly, some things never change.
"And they shall turn away their ears from the truth, and shall be turned unto fables." (2 Timothy 4:4)

"Who hath ears to hear, let him hear. And the disciples came, and said unto him, Why speakest thou unto them in parables? He answered and said unto them, Because it is given unto you to know the mysteries of the kingdom of heaven, but to them it is not given. For whosoever hath, to him shall be given, and he shall have more abundance: but whosoever hath not, from him shall be taken away even that he hath. Therefore speak I to them in parables: because they seeing see not; and hearing they hear not, neither do they understand.… For this people's heart is waxed gross, and their ears are dull of hearing, and their eyes they have closed; lest at any time they should see with their eyes, and hear with their ears, and should understand with their heart, and should be converted, and I should heal them. But blessed are your eyes, for they see: and your ears, for they hear." (Matthew 13:9-13, 15-16)
If that isn't clear enough:
"And he said, Unto you it is given to know the mysteries of the kingdom of God: but to others in parables; that seeing they might not see, and hearing they might not understand.… Take heed therefore how ye hear: for whosoever hath, to him shall be given; and whosoever hath not, from him shall be taken even that which he seemeth to have." (Luke 8:10, 18)
Those who have chosen to turn their ears away from the truth and unto fables only seem to have the truth. The truth is "Thus saith God," "Thus saith the Lord," and "It is written." This is the settled truth of God, which He has recorded for us in His Word. God's truth is what it is and never changes despite man's never-ending vain attempts to "rethink" and "reimagine" God's Word for God. Truth tells us what is and what is right or wrong. Stories are the opposite. Stories are relativism and allow each person to decide for themselves what they want the meaning to be. This is exactly the freedom desired by those who are shifting from truth to fables. They want the freedom of uncertainty rather than the what is of certainty. Since having ears to hear the truth is necessary to be able to hear the certainty of its meaning, it was to His disciples and not to the multitudes that Jesus told the meaning of His parables:
"If any man have ears to hear, let him hear. And he said unto them, Take heed what ye hear: with what measure ye mete, it shall be measured to you: and unto you that hear shall more be given.… And with many such parables spake he the word unto them, as they were able to hear it. But without a parable spake he not unto them: and when they were alone, he expounded all things to his disciples." (Mark 4:23-24, 33-34)
Because the Lord Jesus Christ is God, even His parables to the multitudes are "Thus saith God" and "Thus saith the Lord." And since even the meaning of His parables has been recorded in God's Word of truth, for us the meaning is not relative as many now think, but rather, "It is written." On the other hand, man's imaginative fables are nothing more than "thus imagines man." Contrary to the popular opinion of those blinded in the darkness, they are not the truth and not the Word of God, and the Lord Jesus Christ and His teachings are not a "style" to emulate. He is the Lord, Whom we are to believe and obey.
"I will worship toward thy holy temple, and praise thy name for thy lovingkindness and for thy truth: for thou hast magnified thy word above all thy name." (Psalm 138:2)

"For this is good and acceptable in the sight of God our Saviour; Who will have all men to be saved, and to come unto the knowledge of the truth." (1 Timothy 2:3-4)

"Then said Jesus to those Jews which believed on him, If ye continue in my word, then are ye my disciples indeed; and ye shall know the truth, and the truth shall make you free." (John 8:31-32)

"It is the spirit that quickeneth; the flesh profiteth nothing: the words that I speak unto you, they are spirit, and they are life. But there are some of you that believe not. For Jesus knew from the beginning who they were that believed not, and who should betray him.… From that time many of his disciples went back, and walked no more with him. Then said Jesus unto the twelve, Will ye also go away? Then Simon Peter answered him, Lord, to whom shall we go? thou hast the words of eternal life." (John 6:63-64, 66-68)

"Enter ye in at the strait gate: for wide is the gate, and broad is the way, that leadeth to destruction, and many there be which go in thereat: Because strait is the gate, and narrow is the way, which leadeth unto life, and few there be that find it." (Matthew 7:13-14)
Too many people in today's shifting Christianity are seeking to set the truth of God free from the "box" of God's Word rather than seeking to be set free themselves by God's Word of truth. Instead of looking for "truth" in the corner of a dark round room they would be far better served looking for truth in a corner of the "box." But, sadly, those who are shifting from the light of the narrow way of absolute truth to the darkness of the broad way of relative "truth" are doing so on purpose, albeit blindly, along with their eyes closed and ears covered. They feel "boxed" in by the narrow way, and the broad way gives them the freedom outside the "box" to "rethink" and "reimagine" God and His narrow way into a broader "truth." With this freedom, people can have a relationship with God however they choose, right?
"He that rejecteth me, and receiveth not my words, hath one that judgeth him: the word that I have spoken, the same shall judge him in the last day." (John 12:48)
(This is an excerpt from Tamara Hartzell's book, Reimagining God: Turning the light off to look for "truth" in the corner of a dark round room; used with permission.)
According to an article in the Catholic Herald, Pope Francis has proposed six new beatitudes. The article states:
At the Mass, which took place at the conclusion of his ecumenical trip to the country, Pope Francis highlighted the lives of the Swedish saints Elizabeth Hesselblad and Bridget of Vadstena.  . . . New situations require new energy and a new commitment, he said, and then offered a new list of Beatitudes for modern Christians.
Four of the "new beatitudes" had to do with forgiving others, caring about the earth, and helping the poor and needy. One of them was ecumenical in nature: — Blessed are those who pray and work for full communion between Christians [meaning Christians and Catholics], and the second resonated with earlier comments Pope Francis has made to indicate that this pope is not only ecumenical, he is also interspiritual (all paths lead to God) and panentheistic (God is in all).
— Blessed are those who see God in every person and strive to make others also discover him.—Francis
Related Articles:
Pope Francis calls for intensified dialogue with Muslims – Everyone "a brother or sister."