Archive for the 'The Emerging Church' Category
by Roger Oakland 
Understand the Times
(author of Faith Undone: the emerging church—a new reformation or an end-time deception)
Stimulating images that provide spiritual experiences are an essential element of the emerging church. While many are bewildered as to why their churches are darkening their sanctuaries and setting up prayer stations with candles, incense, and icons, promoters of the emerging church movement say they know exactly what they are doing. Mark Driscoll of Mars Hill Fellowship explains:
Everything in the service needs to preach–architecture, lighting, songs, prayers, fellowship, the smell–it all preaches. All five senses must be engaged to experience God.1
Often, Christians who have been attending church all their lives find the changes their pastors are implementing disconcerting, as they see the trend away from Bible teaching to multi-sensory stimulation. Dan Kimball quotes an older gentleman who had expressed his concerns about the implementation of an emerging style of mystical worship:
Dan, why did you use incense? I am not sure I like walking over to those prayer stations with all those props; can't we just pray from our seats? Why aren't you just preaching just the Bible? I wasn't too comfortable when you had those times of silence, and it's a little too dark in there for me.2
The comment by this gentleman in his seventies is typical of the comments I hear from many as I travel and speak at conferences around North America. But comments like this not only come from the elderly; many younger people are saying the same things. Both young and old are becoming concerned as they see multi-sensory mystical worship replace the preaching and teaching of the Word.
Nevertheless, Kimball and many others are convinced they are on the right path based on their view that emerging generations desire a multi-sensory worship experience. For example, in a chapter of Kimball's book titled "Creating a Sacred Space for Vintage Worship" Kimball states:
[A]esthetics is not an end in itself. But in our culture, which is becoming more multi-sensory and less respectful of God, we have a responsibility to pay attention to the design of the space where we assemble regularly. In the emerging culture, darkness represents spirituality. We see this in Buddhist temples, as well as Catholic and Orthodox churches. Darkness communicates that something serious is happening.3
Kimball further states:
How ironic that returning to a raw and ancient form of worship is now seen as new and even cutting edge. We are simply going back to a vintage form of worship which has been around for as long as the church has been in existence.4
Of course, that is not really true. There is no evidence in the Bible that the disciples or the early church turned to a "raw" form of worship, especially one that needed darkness to help them feel more spiritual. If the early believers were in darkness, it would have been because they were meeting in secret to avoid arrest. To insinuate they were thinking about multi-sensory practices is an insult to their courage and devotion to God. Nowhere in Scripture is there even a hint of this. (For more on the emerging church, read Faith Undone.)
Notes:
1. "The National Reevaluation Forum: The Story of the Gathering,"(Youth Leader Networks – NEXT Special Edition, 1999, click here),pp. 3-8, citing Mark Driscoll, "Themes of the Emerging Church."
2. Dan Kimball, The Emerging Church, p. 127.
3. Ibid., p. 136.
4. Ibid., p. 169.
"If everything begins with intention, our heart on 'Son of God' was to find the places that we could bring people together."—Roma Downey, New York Times
On February 28th, 20th Century Fox will release the movie Son of God in theaters. The movie is produced by husband/wife team Mark Burnett and Roma Downey (Downey plays Mary in the film). While the movie is about the life of Jesus, and if the movie trailer is any indication, it will be  a very moving and emotional account, Lighthouse Trails wishes to issue a word of caution and warning to those who will be going to see it. Between Roma Downey's affinity toward New Ageism and the highly ecumenical (evangelical, emerging, contemplative, Catholic, Mormon, etc) group of endorsers and advisers, there may be subtle messages in the movie that are contrary to the Word of God and its portrayal of Jesus Christ and truth. Thus, we encourage those who will be seeing the movie to watch it through the eyes of discernment and the filter of God's Word.
We know the Bible tells us the day will come when the whole world will follow a false (anti) Christ and will worship him. And we can see how quickly an apostate ecumenical religious body is rising to the surface, leaving traditional, biblical Christianity behind. There have been films that have been produced over the years with the purpose of drawing people into an ecumenical religious movement. For instance, when Mel Gibson's Passion of the Christ came out, evangelical Christians flocked to the movie in scores, and most major Christian leaders promoted it. But after the movie had come out, Mel Gibson admitted that the his reason for doing the movie was to draw people to the Eucharist, Mary, and the Catholic church. If you did not read Roger Oakland's article, "What Lies Behind Mel Gibson's The Passion of the Christ  by Roger Oakland," we hope you will read it before attending Son of God. Roger received a lot of criticism from peers for his warnings about The Passion of the Christ. But in the end, it was Mel Gibson himself who set the record straight and confirmed what Roger was saying was true. And today, several years later, the evangelical/Protestant church is so much further down the contemplative/emerging, ecumenical road.
With Son of God, we can only hope that Roma Downey's New Age/Catholic bent doesn't surface. However, we are skeptical that it won't. A February 27th New York Times article shows that the intention of filmmakers for Son of God is to reach past the differences of religious faiths and bring people into unity. The article states:
Downey's husband, "The Voice" and "Survivor" producer Mark Burnett, said the Christian filmmaking team reached out specifically to other faiths to tell the story of the life of Jesus . . . without causing offense.

"It just took a lot of work and a lot of time and a lot of listening over a number of years to see everybody's point of view and how to not take the teeth out of the story — the dynamic drama from the story — but be sensitive across groups," Burnett said. "Because there's very different interpretations across the Catholic faith and the Protestant faith and the Jewish faith."
In a July 2013 Lighthouse Trails article, we wrote the following statements, which reflect Roma Downey's spiritual proclivities:
From our July 2013 article, "From the Frying Pan into the Fire: Women of Faith Partners with New Age Advocate Roma Downey" :

In an article we posted earlier this year, "Rick Warren Endorses 2013 Book, "Catholics Come Home" – Calls Catholic Evangelization "Critically Important," we quoted [Roma] Downey as saying this about the Catholics Come Home book: "Catholics Come Home inspires each of us to share God's love with others, in order to help change the world for the better, for eternity!" And, in a book titled Practical Praying: Using the Rosary to Enhance Your Life, there is a companion "Meditation" CD by Roma Downey that comes with the book.

But Roma Downey isn't just a Catholic promoter. She is a New Age/New Spirituality promoter. Within the pages of a book titled Loyalty to Your Soul by Ron and Mary Hulnick (published in 2010 by the New Age publisher, Hay House), Downey endorses the book saying:

"As a USM [ University of Santa Monica - a New Age metaphysical school] graduate, I know firsthand the value I received from participating with Ron and Mary  in the Master's degree Program in Spiritual Psychology. I am so grateful to have Loyalty to Your Soul to sweetly remind me of all I have learned. Let's just say that I went from playing an angel on TV to living more of an angelic life every day. The teachings in this beautiful book have sent me on a journey to the very center of my own being where, wrapped in the safe wings of Love, I feel as though I have come home."

Downey's endorsement in the Hulnick's book is nestled in with full-blown New Agers like Barbara Marx Hubbard, Joan Borysenko, and Gay Hendricks (The Corporate Mystic). By the way, Neale Donald Walsch, the New Ager who said that Hitler did the Jews a favor by killing them,1 wrote the foreword to Loyalty to Your Soul.

Clearly, Downey read this book and resonates deeply with it to say what she did about it. To get an idea of this "journey" that Downey is on, listen to a few quotes from Loyalty to Your Soul:

"Center your awareness in your heart and consciously look for the Loving Essence in the person in your presence. By doing so, you're signifying your respect for the Soul before you . . .  Maintain awareness that you're in conversation with another Divine Being who is engaged in having a human experience." (p. 209)

"We ask for the presence, protection, guidance, and Love of the Divine Beings  who work with each of us." (from the "Invocation" – emphasis added)

"When people speak of spirituality, they simply mean awareness of the sacred reality of the Divine Essence within and beyond all creation." (p. 8, quoting favorably a New Age "spiritual teacher")

"For the awakening person, there is a growing yearning for time in the silence. There is a sense of needing time and space for contemplation, meditation, walking in nature, and just plain being alone. Attuning to the inner channel of Divine Love is supported by quiet moments." (p. 27)

"You begin to recognize others as Divine Beings, and the situations and circumstances of your life as learning devices." (p. 31)

Those familiar with New Age teachings will recognize such statements as being the core essence of the occult (that man is divine). Loyalty to Your Soul is a contemporary version of A Course in Miracles (the New Age book Warren B. Smith talks about in his biography, The Light That Was Dark).

In addition to endorsing Loyalty to Your Soul, Downey also endorsed a book called Angels in My Hair: the true story of a modern day Irish mystic by Lorna Bryne. The book is about spirit guides in people's lives. We find it disconcerting to know that someone with Downey's spiritual propensities, who attended a New Age university, helped to create a program on God's Word.
If you watch the video clips of various Christian leaders who are promoting the Son of God movie (e.g., Bill Hybels, Rick Warren, Max Lucado, etc), you will notice that many of these endorsers are praising Hollywood for coming out with films on Jesus and the Bible (soon a movie on Noah is going to be released). But if the Jesus that Hollywood is depicting is not the Jesus of the Bible but rather a why-can't-we-all-get-along kind of Jesus and if the Word of God itself is being altered and revised, then how can we, as Christian believers, praise such work? Nevertheless, it will be praised by today's popular religious leaders and most likely tens of millions will go to see the film. And the question that must be asked is, what will be the "fruit" of this and other such films?
On February 21st and 22nd, Multnomah University (formerly called Multnomah School of the Bible) in Portland, Oregon, once considered a biblically-based evangelical school, will be hosting the simulcast Justice Conference with speakers Lynn Hybels and Jim Wallis (both emergent leaders who are part of the "Christian Palestinian" movement). Other emergents such as N.T. Wright will also be at the Justice Conference.
Multnomah has been making a steady decline toward all things emergent for some time. Lighthouse Trails has included Multnomah in a number of reports over the last few years dealing with the contemplative prayer issue, including this one from 2012: "Multnomah University Teaches Lectio Divina in Chapel Throughout 2012."
But as is always the case, when an organization goes contemplative, the next step is the embracing of emerging theology (which Roger Oakland shows in Faith Undone), one of which is taking an anti-Israel approach. This is why Lighthouse Trails recently decided to carry Caryl Matrisciana's powerful and courageous new documentary Exposing Christian Palestinianism (see trailer directly below).
When you consider how leaders throughout the world are beginning to call out for the boycott of Israeli goods and services, accusing Israel of committing atrocities against mankind coupled with the memory of Adolph Hitler doing virtually the same thing to the Jews in Germany, one cannot help but realize the dire situation the world is in today.
You can order this DVD by clicking here.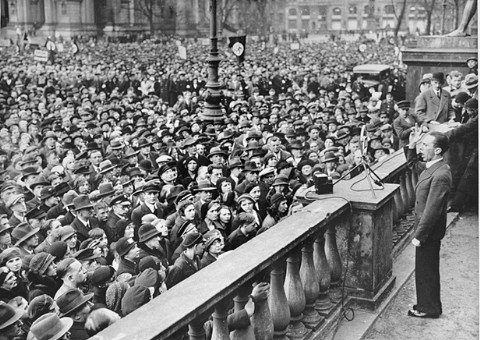 Nazi Propaganda Minister Joseph Goebbels delivers a speech to a crowd in the Berlin Lustgarten urging Germans to boycott Jewish-owned businesses. He defends the boycott as a legitimate response to the anti-German "atrocity propaganda" being spread abroad by "international Jewry." Below: Nazi storm troopers block the entrance to a Jewish-owned store. Their signs read: "Germans, defend yourselves against the Jewish atrocity propaganda, buy only at German shops!" and "Germans, defend yourselves, buy only at German shops!"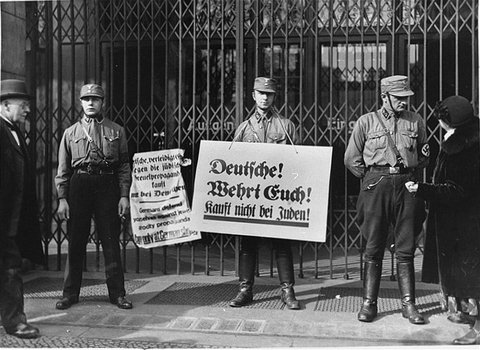 On April 1, 1933, a week after Hitler became dictator of Germany, he ordered a boycott of Jewish shops, banks, offices and department stores. But the boycott was mostly ignored by German shoppers and was called off after three days. However, the unsuccessful boycott was followed by a rapid series of laws which robbed the Jews of many rights.
On April 7, "The Law of the Restoration of the Civil Service" was introduced which made 'Aryanism' a necessary requirement in order to hold a civil service position. All Jews holding such positions were dismissed or forced into retirement.
On April 22, Jews were prohibited from serving as patent lawyers and from serving as doctors in state-run insurance institutions.
On April 25, a law against the overcrowding of German schools placed severe limits on the number of young Jews allowed to enroll in public schools.
On June 2, a law prohibited Jewish dentists and dental technicians from working with state-run insurance institutions.
On May 6, the Civil Service law was amended to close loopholes in order to keep out honorary university professors, lecturers and notaries.
On September 28, all non-Aryans and their spouses were prohibited from government employment.
On September 29, Jews were banned from all cultural and entertainment activities including literature, art, film and theater.
In early October 1933, Jews were prohibited from being journalists and all newspapers were placed under Nazi control. (source-The History Place)
Some Various Out of House Articles on the Boycotting of Israel:
Berlin film festival to honor director who backs Israel boycott
Bill to block federal funding to universities that boycott Israel
Is the Obama Administration Condoning Sanctions and Boycotts Against Israel
Kerry 'coordinating boycott blackmail against Israel'
Also see:
"Propaganda Wins" on Israel  by Jim Fletcher
Two Related Booklet Tracts:
When Hitler Was in Power by Anita Dittman
Christians in Holland in 1941: "Should We Help Save the Jews?" by Diet Eman
Update: Feb. 23, 2014: When this article below was written on Feb. 13, 2014, the Faith Baptist Bible College bookstore was not carrying Sarah Young's Jesus Calling (though they were carrying a couple of her other books). They had been carrying Jesus Calling last year but removed the book when Lighthouse Trails had informed the recently retired president of the book. Unfortunately, today, the book is appearing back on the college bookstore website. Lighthouse Trails had sent a copy of Warren B. Smith's new book "Another Jesus" Calling to the interim president in early February of this year. He wrote us a note thanking us for the book and saying that it would be helpful to the school.
* * * * *
As Lighthouse Trails has reported over the last several years, a fast-growing number of evangelical/Protestant colleges, seminaries, and universities are integrating contemplative spirituality (i.e., Spiritual Formation) and emerging ideologies into their schools. If you or someone you know are currently looking for a Christian college, we beseech you to check potential schools very carefully. Ask to see textbook lists, search their websites to see if they have spiritual formation programs, and find out who speaks at their student chapels. It would also be a good idea to contact the school chaplain and ask some good questions.
For many years now, Lighthouse Trails has maintained two lists on the research site. The first one is our growing list of Christian schools that ARE promoting contemplative and/or emerging: http://www.lighthousetrailsresearch.com/Colleges.htm And the second one is a small list we have put together of schools that are NOT going in that direction at this time: http://www.lighthousetrailsresearch.com/collegesgood.htm.
This brings us to the topic of this article. Today, February 12, 2014, with much dismay, Lighthouse Trails has put a stroke through Faith Baptist Bible College(in Iowa) which is one of the schools that has been on our "good"college  list for many years. At this time, we cannot in good faith recommend the school and are compelled to issue this notice of caution to our readers. It is our hope that before Faith Baptist ends up on the contemplative college list, they will set things straight. Rather than remove their name altogether, we have crossed it out with the hopes that it might be able to remain on that "good" list.
The decision was made primarily because of the ongoing promotion and selling of contemplative-promoting authors in their bookstore (Sarah Young, Gary Thomas (also being used in their course M‐LC 648), John Ortberg, Brennan Manning, Peter Scazzero, Calvin Miller, Philip Yancey, Ken Boa, N. T. Wright (used in their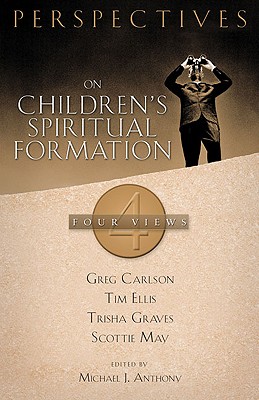 course B‐AN 821), Beth Moore, Mark Driscoll,  Brother Lawrence, and many others. They are even carrying the Thomas Merton promoting book Perspectives on Children's Spiritual Formation. You can find information on each of these authors on our research site).
Over the past several years, Lighthouse Trails editors have had occasional correspondence with the recently retired president of Faith Baptist, Dr. James Maxwell. As a matter of fact, Dr. Maxwell wrote a great informative article a few years ago titled "The New Spirituality." In that article, he rightly identified contemplative prayer as the vehicle through which the New Spirituality was entering the church. He footnoted Lighthouse Trails' research as well. Based on that article and from correspondence we have had with Dr. Maxwell, we have been assured that he shares the same strong concerns that Lighthouse Trails has on this issue.
In 2011, Lighthouse Trails wrote a letter to Dr. Maxwell. The following is a shortened version of that letter with the key points:
Dear Dr. Maxwell,

. . .  We learned recently that the accreditation Faith holds nationally is with Association for Biblical Higher Education. We learned about this while writing an article (http://www.lighthousetrailsresearch.com/blog/?p=7733)  about Christian school accreditation and how ABHE is requiring member schools to incorporate "spiritual formation" into the lives of their students. While we realize that each school is given some liberty as to how they interpret and implement spiritual formation, we have strong concerns because the term spiritual formation was pioneered into the evangelical church by those who promote a mystical contemplative spirituality (Richard Foster, Dallas Willard, etc), and when you point students to "spiritual formation," you will ultimately be pointing them to these and other similar writers. We know that Faith is now beginning to use that term, saying that their spiritual formation will be a good one. 

. . . . As just one example (a serious one) to back up our concerns, in your bookstore, under recommended books, in the Prayer section, you list just one book, and that is a book by homosexuality sympathizer, contemplative advocate, Phil Yancey. http://www.fbbcbooks.com/servlet/the-Books-cln-Christian-Living-cln-Prayer/Categories  Do you realize what is in that book? It is basically a primer on contemplative spirituality. In the back of the book he recommends resources from people like Buddhist sympathizer Catholic convert Peter Kreeft, emerging darling Phyllis Tickle, of course Richard Foster, and many others of the same caliber. How did this recommendation come to be on Faith's site? . . . However, you can remove the book but another will take its place if this issue isn't dealt with properly [Note: while that book appears to no longer be on the Faith bookstore website, other books by Yancey are].

I know you received a letter recently from a Dr. ______ with his concerns. You stated to him that Faith was not going to practice or incorporate contemplative spirituality, but Dr. Maxwell, how are you warning your faculty and students? How can you be so sure that some of them are not at home in the evenings reading Richard Foster, Henri Nouwen, Dallas Willard, or Phil Yancey? They are probably reading Yancey as you have the book readily recommended to them.  I have often wondered these past few years why your school did not ever have your professors or students read A Time of Departing. To date, there is no other book that covers this matter in the well documented, logical and biblical manner that this book does.
Now two years later, Faith Baptist Bible is still carrying books by contemplative authors and using a smattering of them in their classrooms. And the accreditation with ABHE is still in effect. It is because of these things that Lighthouse Trails can no longer safely recommend Faith Baptist to our readers as a school that is free from the contemplative influence.
If you are not acquainted with ABHE, please read our article "An Epidemic of Apostasy – How Christian Seminaries Must Incorporate "Spiritual Formation" to Become Accredited." In that article, we document that ABHE intends to insure that all accrediting member schools will fall into step with a vigorous Spiritual Formation (i.e., contemplative) program. Faith Baptist will be no exception!
We've already done the homework here for nearly 12 years. So please read our "Epidemic of Apostasy" article if you never have. It connects the dots. But we'll give one convincing example now that for a school to be aligned with ABHE for accreditation will mean theological and spiritual suicide for a college in the long run (from a biblical point of view). As you can see on this page here, ABHE is partnered with a
number of various organizations (about eight of them). These partnerships are not some kind of loose association. On the contrary, ABHE utilizes their "cutting-edge services." One of the partnerships is with Spiritual Transformation Inventory. Long story short (see our article for more), this is basically an assessment tool on how well a school is integrating Spiritual Formation and the "spiritual disciplines" and practices into its school. There are numerous things we could show you, but let's take a look at the STI's  Connected Life Workbook.  In the book, under REFERENCES ON SPIRITUAL DISCIPLINES/PRACTICES (p. 23), there is a who's who of contemplative mysticism proponents some of which are Dallas Willard, Richard Foster, Henri Nouwen, David Benner, Ruth Haley Barton, and so forth. The workbook encourages students to "develop a contemplative prayer life" (p. 19). The book focuses on how well the individual feels and experiences "God's presence" (obtaining a low score if the feeling or experience is small). It includes a section on how to hear God's voice while practicing being still and repeating portions of Scripture. This workbook is a classic example of pushing contemplative prayer. ABHE uses this assessment tool to help steer member schools in obtaining and keeping their accreditation. Do the math—it all adds up.
Lighthouse Trails has witnessed many once-solid Christian colleges and seminaries take those first small, seemingly insignificant steps toward the contemplative deception. Once a school starts down that path, the momentum picks up, and before you know it, that school is wholeheartedly embracing this dangerous heretical spirituality.
While the interim president at Faith Baptist Bible College & Seminary did accept a copy of "Another Jesus" Calling and some other materials from us last month, we have yet to see the bookstore cleaned up. After over two years of pleading with the school to remove these books, we are skeptical that it will happen now.
In December of 2013, we sent the following note to Dr. Maxwell as a final effort before he retired:
Dr. Maxwell, in reviewing Faith's "module textbook" list, we found that one of the classes is using Gary Thomas' book Sacred Marriage where Thomas references a tantric sex teacher a dozen times (M‐LC 648 Marriage Counseling Prb. & Case Studies Newman Sacred Marriage).  We wrote about Thomas' book. Here is the link to that article: http://www.lighthousetrailsresearch.com/blog/?p=2515.  We can't figure out why a school like Faith is willing to use a book by a major contemplative figure like Thomas (in his book Sacred Pathways, he tells readers to repeat a word for 20 minutes) but will not use a book like A Time of Departing in their classes, especially when they have had a president who understands the seriousness. We find that so strange. But we are beginning to wonder if our efforts to warn Faith Baptist are just words blowing in the wind.
Related Material:

The "New" Emerging Theology Breeds Atheism in a Generation of Young People
Veritas Seminary Conference Teacher, Lee Strobel, a "Supporter" of Son's Heavily Contemplative Ministry
In Need of a Pastor for Your Church? Try Looking at NON-Contemplative Colleges
Letter from the Editor: Friend's Husband Angry at Lighthouse Trails – Says LT Lies About Liberty University's Contemplative Propensities
Teresa of Avila Comes to Christian College
More articles in our Contemplative Colleges category
Lighthouse Trails is now carrying Caryl Matrisciana's extraordinary new DVD titled Exposing Christian Palestinianism. Lighthouse Trails editors have
reviewed this powerful film, which explains what "Christian Palestinianism" is and identifies key Christian leaders who are strongly promoting this anti-Semitic, anti-biblical movement that is gaining fast ground within the evangelical church. We do not have the trailer for this film yet, but the video below from a Berean Call conference presents Paul Wilkinson who is one of the speakers on the Exposing Christian Palestinianism DVD (Dave Hunt is another).
This 3-part DVD is 104 minutes long and sells for $22.95. It is worth every penny. After watching this film, you will realize how frighteningly similar the world stage is today to how it was in the 1930s with regard to the attitude against the Jews and Israel. With propaganda films such as With God on Our Side, Israel is becoming more and more marginalized while Islam (entering the church through Chrislam) is becoming more and more accepted. While we know that the Bible says the day will come when the world will turn against Israel, woe to those Christians who join with the world in doing so. But that is what is happening today.
Related Articles:
Hostile Sentiment Toward "End-Time" Believing Christians Increasing
Letter to the Editor: What Does Lighthouse Trails Believe About Israel?
The green areas are predominately Muslim countries. Israel is in red.
LTRP Note: The article below (and the accompanying photo) about emerging church leader Tony Campolo is a reminder that children and college-age young people are the target for Satan's devices of deception. Campolo and others with similar "progressive" agendas (such as Brian McLaren, Shane Claiborne, Tony Jones, etc.) are zealously talking to and teaching as many children and youth as they possibly can. And often in Christian school settings. Sadly, pastors and Christian teachers have sat by idly and allowed it to happen. While this article below explains that Campolo will be slowing down now that he is 79 (going from 300 talks a year to just 200), his younger protégées—like Shane Claiborne—are carrying on Campolo's message. To learn more about that message, you can read our articles "On evangelicals and interfaith cooperation: an interview with Tony Campolo,"  "Tony Campolo Against California's Restrictions on Homosexual Marriages." and "Coming to Christ Through Mysticism?."
By Kristin E. Holmes, Inquirer Staff Writer
As a recruiter for the Almighty, the Rev. Tony Campolo lets few things get in his way.
Even a stroke eight years ago prompted defiance.
"I know my civil rights," said the hospitalized minister, challenging a doctor's admonition to postpone a week of speeches at Harvard University. (The doctor wound up monitoring Campolo and his condition from a front-row seat.)
The Bryn Mawr minister, author of more than 35 books, and onetime spiritual adviser to President Bill Clinton has packed his calendar for years with more than 300 speaking engagements annually to raise charitable funds and tap young people for Christian service.
 I went to a John Wimber workshop…. He said he sees the next 20 to 30 years as the time when more signs and wonders will be done than ever in history and when the secular media will be overwhelmed and have to report it every day as great revival spreads.  – John Piper[1]
By Herescope
IHOP In An Era of Celebrity-Driven Christianity 
Evangelical leaders are currently rushing to associate themselves with major youth events that are becoming increasingly popular in the Christian world. These mass youth rallies were developed over the course of several decades by Mike Bickle's IHOP (International House of Prayer) movement, which is interconnected to the New Apostolic Reformation (NAR). IHOP and the NAR share both personnel and doctrine, with roots that go back into the Latter Rain/Manifest Sons of God cult.[4] Previously we have extensively documented the history of the camaraderie of IHOP and NAR.[5]
This rapidly rising youth movement in evangelicaldom is characterized by its emphasis on generating fervent passion. Why are evangelical leaders rushing onto this bandwagon? Why are Francis Chan, John Piper, [both contemplative advocates] . . . and other prominent teachers placing themselves on center stage (literally) of these IHOP-orchestrated mass rallies?[6]
Superficially, one might assume that it is merely for the immediate stardom and pizzazz that comes with such celebrity status in a youth event rocking with fervor, bright lighting, and loud acclamations.[7] . . . But is it conceivable that these leaders also happen to agree with some of the IHOP doctrine? After all, it is impossible to separate the activities at these youth events without encountering the foundational beliefs that give rise to them.
Of course, it can be argued that just because an esteemed evangelical leader shares the stage with adherents and promoters of these IHOP/NAR doctrines doesn't mean he/she agrees with their teaching. However, it is important to note that an evangelical leader's very appearance at these events lends legitimacy and credibility to this movement – a movement that has been aggressively attempting to distance itself from its former cult status, remake its image and become respectable.
The doctrine of the IHOP believes that these mass youth stadium rallies are for the "purpose" of invoking the "presence" of God through generated "passion." These three terms – passion, presence and purpose – are derived from some very strange esoteric doctrines that originated in the Latter Rain/Manifest Sons of God cult.
"Presence" is popular. Recently Warren Smith published a book in which he made us aware of an increasingly popular belief that Christians can invoke the "presence" of "God" (or "Jesus") by their contemplative activities. For endnote material and to read this entire article, click here.