Archive for the 'The Emerging Church' Category
On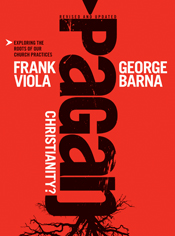 December 7th, author Frank Viola reposted an interview he did with co-author George Barna on their book Pagan Christianity. http://www.patheos.com/blogs/frankviola/georgebarnainterviews. Therefore, Lighthouse Trails is reposting the critique on that book written by our  free-lance writer Philip Gray. Viola and Barna believe that book will help bring about a new reformation to the church. Unfortunately, the reformation the emergents are bringing about is not a reformation from God. This book is a perfect example of that.
"Lighthouse Trails Book Review: Pagan Christianity by Viola and Barna – A Perfect Example of 'Missing the Point'"
In Pagan Christianity, Frank Viola and George Barna tell readers "Reading this book takes courage." We couldn't agree more, but not for the same reasons that Viola and Barna warn their readers. They tell us that it takes courage, not because of what the books says but because of what a Christian must do after he or she reads it (p. 253). We say it takes courage because of the misrepresentation the authors have given to Christianity and because the book is a smoke screen for the "new" spirituality.
Basically, according to Pagan Christianity,  if you are a Christian and you have been participating in any of the following activities, you have been practicing paganism:
1. Meeting in a building for church
2. Listening to a sermon
3. Having a pastor
4. Paying that pastor a salary
5. Sunday School lessons
6. Sitting in a pew (or balcony)
7. Using a pulpit
8. Using some sort of order to the church service, which includes taking an offering, having communion, giving announcements, and singing songs of worship.
9. Dressing up for church
10. Having a choir
11. Altar call
12. Evangelized to save a soul
After reading this list, how did you rate on that? How many of these activities are you guilty of? Did you go to church last Sunday? Did you put on your best outfit? Did you listen to a choir sing? Did that neighbor you bring respond to an altar call to give his life to Jesus Christ? Did you sit and listen to your pastor teach or preach the Word? Well, according to Pagan Christianity, if you did, you are more like a pagan than a Christian. Of these activities, Barna and Viola say: "Such practices are foreign elements that God's people picked up from their pagan neighbors" (p. xx).
The point of this review is not to defend all of these practices in and of themselves. The point is to show that this book is another subtle stab at traditional Christianity, a stab that attempts to make Christians feel guilty for just about everything they do that has to do with going to church . . . everything that is, that is external. This book has absolutely nothing to do with the heart condition of man, nothing to do with sin and repentance, but is merely a smoke screen to cover up the real issues that are plaguing the church today. For whether one dresses up for church or not, whether one gives a sermon or not, whether one sings or not, whether one gives an offering or not, and whether one sits in a pew or not, the issue that God looks at is the condition of the heart and not the outward appearances. One can sit in a pew and have evil intent in his heart; another can sit in a pew and be a godly humble man of God. It's not the pew that makes him one or the other.
Judge not according to the appearance, but judge righteous judgment. John 7:24

[F]or the LORD seeth not as man seeth; for man looketh on the outward appearance, but the LORD looketh on the heart. 1 Samuel 16:7
Pagan Christianitysays that "the great bulk of first-century practices have been removed from the Christian landscape." The book tells readers that "such practices are presently being restored on a small scale by those daring souls who have taken the terrifying step of leaving the safe camp of institutional Christianity" (p. xviii). But the book never really tells us what those practices are, except to continually say it is something spectacular that excludes the above activities and includes small groups of people who stand around in circles, embracing, and sharing with one another their various thoughts, feelings, songs, prayers, and ideas – according to Viola and Barna, that is what makes a person a good New Testament Christian.
While there is certainly nothing wrong, in and of itself, for a group of people to stand in a circle and share with one another, it is not a guarantee that the group of people will be abiding in God's will in their lives. And, in fact, if Viola's and Barna's recipe for proper Christian living is acted upon, that group of people in the circle is probably going to be in trouble because rather than having the Word of God taught to them or preached to them by those who are called into the office of teacher or pastor, they will be "dialoguing" with one another, asking a lot of questions, and never coming up with any answers (because the postmodern isn't supposed to have any actual answers – having answers offends).
What is the real agenda of Pagan Christianity? Well, this much we can say, it sure isn't to warn believers against true pagan practices and beliefs such as eastern-style meditation, walking through labyrinths, doing yoga, focusing on the breath, rejecting the atonement, and so forth. In a day when spiritual deception is at an all time high, when growing numbers of Christian leaders, churches, schools, and organizations are falling into the trap of practicing, promoting, and embracing mysticism and other New Age practices (disguised with Christian terminology, by the way), it hardly seems appropriate and wise to tell Christians to stop sitting in pews, stop having sermons (and pastors for that matter), stop meeting in buildings, end all Sunday School lessons, and by all means stop dressing up on Sundays.
Perhaps what is most distressing about this book is that there is an underlying sentiment that the "preaching" and teaching of God's Word is not a New Testament practice and should be done away with. Perhaps this is the real message of Pagan Christianity. Rather than have the Word presented and preached as if it is an authoritative source for believers, get rid of all the venues in which it is presented (church buildings, sermons, pastors, pews,pulpits, etc.) as such and turn it into something we can all debate, dispute, question, challenge and reinvent.
What we would call Pagan Christianity is a perfect example of "missing the point." But with Frank Viola co-authoring a book with New Age sympathizer Leonard Sweet and George Barna, a Rick Warren look alike with a dominionist agenda, is that really any wonder that they have missed the point?
I have preached righteousness in the great congregation: lo, I have not refrained my lips, O LORD, thou knowest. Psalm 40:9

The Spirit of the Lord GOD is upon me; because the LORD hath anointed me to preach good tidings unto the meek; he hath sent me to bind up the brokenhearted, to proclaim liberty to the captives, and the opening of the prison to them that are bound. Isaiah 61:1

Arise, go unto Nineveh, that great city, and preach unto it the preaching that I bid thee. Jonah 3:2

From that time Jesus began to preach, and to say, Repent: for the kingdom of heaven is at hand. Matthew 4:17

Notwithstanding the Lord stood with me, and strengthened me; that by me the preaching might be fully known, and that all the Gentiles might hear: 2 Timothy 4:17

Preach the word; be instant in season, out of season; reprove, rebuke, exhort with all long suffering and doctrine. 2 Timothy 4:2
Related Articles:
  Leonard Sweet—A More Magnificent Way of Seeing Christ? by Warren B. Smith
Anti-Religion Jeff Bethke Hits the News Again – New Book, Same Message: "Imagine No Religion"
Understanding the Times – "Men Love Darkness Rather Than Light" by Maria Kneas
Lighthouse Trails has been warning readers for several years about the emergent church. In those warnings, we've addressed the spiritual leanings of Erwin McManus.1 We also challenged David Jeremiah because he told his church that he wanted to use McManus' book The Barbarian Way to help bring about a "major paradigm shift" in his church.2 Well, there's no question about it, the evangelical church has gone through a major paradigm shift. This week we received some information from a Lighthouse Trails reader about an event called Barefoot Tribe Gathering, which is another example of where emergent leaders are taking the church, in particular young evangelicals, who by the way are being encouraged not to even call themselves evangelicals or Christians anymore. They see themselves on a much higher ground than that. It's a ground that incorporates all religions, all people, and all beliefs and practices.
This emergent progressive church (which they tried to make us believe was a thing of the past) is the new "Christianity" for millions of young people. Under the disguise of helping the poor, taking care of the environment, and loving everyone (except their critics), is a growing body of people with a New Age/New Spirituality mindset that embraces all spiritual views and believes God exists in everyone. The Cross (or atonement) doesn't mean the place where Jesus Christ took our place and died for our sins but rather means at-one-ment (that is, we are all one and connected together with a "God" energy that flows through all things and all people). This at-one-ment rejects the idea that God would actually send His Son to a violent death to pay for OUR sins; rather this emergent view of atonement means that Jesus was a good example of someone who laid down His life and we should follow that example. That's as far as this "new church" will go with the Cross. To say He paid the penalty for our sins is to say that man is sinful and is not God. The new social justice, emergent, progressive "Christianity" cannot do that because it doesn't believe that.
According to the Barefoot Tribe's website, Erwin McManus was one of the speakers in the 2014 Barefoot Tribe Gathering (and by the way, the emergent church has made a lot of progress since then with the help of "evangelical" names such as McManus). We also noticed that Palmer Chinchen, who heads up Barefoot Tribe,  has been bringing the Barefoot Tribe message to various Christian colleges including Cornerstone University, Biola, Moody, Cedarville, and Liberty. What better place to change the face of Christianity than at the Christian universities. While parents keep their heads in the sand and pay huge dollars to have their children educated at "nice safe Christian colleges," right under their noses, their kids' spirituality is being turned upside down, and in many, if not most, cases will never be restored to biblical Christianity. Other colleges Barefoot Tribe has spoken at are:
Lest some think that Barefoot Tribe is simply an outreach to the poor and needy in the world, Palmer Chinchen's books, including Barefoot Tribe, are packed with quotes by, references to, and inspirations from some of the leading emergent writers today (Sweet, Ortberg, N.T. Wright, Nouwen, Brueggemann, Morgan Cron, Campolo, etc.). Satan has an agenda to deceive the whole world, and most proclaiming Christians and church goers have no idea it is  happening right in their own backyards.
The information sent from our reader:
The Barefoot Tribe Gathering 2014 and 2017
"We are on the crest of an epic shift in humanity. This generation views the world as an extended family – increasingly interconnected through technology – and living with a deep moral obligation to care for one another.
The Barefoot Tribe GATHERING will promote conversation, collaboration, and help network a generation of Christ-followers to respond to the plight of desperate people in broken places."
http://www.palmerchinchen.com/gathering
– Palmer Chinchen is organizer
2014 Speakers
(1)  Bob Goff:  author of Love Does – http://bobgoff.com/
(2)  Dr. John M. Perkins:  https://spu.edu/depts/perkins/john-perkins/
(3)  Caitlyn Crosby:  Oprah pick for Super Soul 100 list  as a "Soul Giver":  http://www.supersoul.tv/supersoul-100/soul-givers/caitlin-crosby
More on Caitlyn:  https://www.thegivingkeys.com/pages/our-founder-caitlin-crosby
(4)  Erwin McManus: http://awakengroup.com/?ag_team=erwin-raphael-mcmanus
Barefoot Tribe:  http://www.palmerchinchen.com/barefoot-tribe
-video
By Tamara Hartzell
(Author of Reimagining God and In the Name of Purpose)
"Thinking outside the box"

"Thy word is a lamp unto my feet, and a light unto my path." (Psalm 119:105)

"Then said Jesus to those Jews which believed on him, If ye continue in my word, then are ye my disciples indeed; and ye shall know the truth, and the truth shall make you free." (John 8:31-32)

"I charge thee therefore before God, and the Lord Jesus Christ, who shall judge the quick and the dead at his appearing and his kingdom; preach the word; be instant in season, out of season; reprove, rebuke, exhort with all longsuffering and doctrine. For the time will come when they will not endure sound doctrine; but after their own lusts shall they heap to themselves teachers, having itching ears; and they shall turn away their ears from the truth, and shall be turned unto fables." (2 Timothy 4:1-4)

"Take heed unto thyself, and unto the doctrine; continue in them: for in doing this thou shalt both save thyself, and them that hear thee." (1 Timothy 4:16)
The importance of the Word of God simply cannot be overstated. Without it, we do not have the truth, faith, or salvation of God. And without the truth, faith, and salvation of God, we do not have God. Scripture is replete with teachings and warnings that make this perfectly clear. One example of many is 2 John 1:9:
"Whosoever transgresseth, and abideth not in the doctrine of Christ, hath not God. He that abideth in the doctrine of Christ, he hath both the Father and the Son."
Where do we get the doctrine of Christ in which we are to abide to have God? From the Word of God.
"But continue thou in the things which thou hast learned and hast been assured of, knowing of whom thou hast learned them; and that from a child thou hast known the holy scriptures, which are able to make thee wise unto salvation through faith which is in Christ Jesus. All scripture is given by inspiration of God, and is profitable for doctrine, for reproof, for correction, for instruction in righteousness." (2 Timothy 3:14-16)

"Being born again, not of corruptible seed, but of incorruptible, by the word of God, which liveth and abideth for ever. For all flesh is as grass, and all the glory of man as the flower of grass. The grass withereth, and the flower thereof falleth away: But the word of the Lord endureth for ever. And this is the word which by the gospel is preached unto you." (1 Peter 1:23-25)

"So then faith cometh by hearing, and hearing by the word of God." (Romans 10:17)
It is the faith of God that comes by the Word of God. Not only does the Word of God give us the truth and faith we are to believe in order to have God, but it also gives us the truth and faith we are to obey in order to please and serve God. And yet people in today's Christianity are no longer willing to accept this faith as is. Rather than simply believe and obey, people want the freedom to "rethink" and "reimagine" God and His Word into a fashion that they are willing to accept and, incredibly, even go so far as to claim that God's own Word of truth puts God in a "box." In other words, they want the truth and faith of God set "free" from the Word of God. Thus, they do not see the Word of God as the truth but as merely a "story" with "changeable" and "debatable" "metaphor" that can be interpreted and retold however anyone chooses. This then gives people their desired freedom to "think outside the box" where they can conveniently "reimagine" their own "story" of who they "rethink" God to be.
Naturally, whether or not these stories line up with God's Word is irrelevant to those who prefer to "think outside the box" of God's Word. In fact, if they did line up with the Word of God, then it would defeat their purpose of "thinking outside the box." And since "rethinking" and "reimagining" God and His Word is what people today actually want, they are turning to fables for their faith and "truth." Fables are not the truth, and the truth is not a fable. This is why God's Word warns that people are turning away from the truth and unto fables. Nevertheless, more and more people are trying to turn fables into the truth—i.e., "reimaginings" into reality—and are dancing around in circles desperately trying to bring the two together as one in a harmonious relationship. This is, in essence, turning the light off to look for "truth" in the corner of a dark round room.
"The entrance of thy words giveth light; it giveth understanding unto the simple." (Psalm 119:130)

"But if thine eye be evil, thy whole body shall be full of darkness. If therefore the light that is in thee be darkness, how great is that darkness!" (Matthew 6:23)

"And this is the condemnation, that light is come into the world, and men loved darkness rather than light, because their deeds were evil. For every one that doeth evil hateth the light, neither cometh to the light, lest his deeds should be reproved. But he that doeth truth cometh to the light, that his deeds may be made manifest, that they are wrought in God." (John 3:19-21)
The light of God's Word is just too bright for today's light-intolerant eyes. More and more people are seeking relief outside the "box" and are intentionally turning away from the Word of God, away from the truth, away from the faith, trying to "find God" in the darkness. However, in the darkness people can no longer tell the difference between what is true and what is false, even when it is obvious. And as a result, they are blindly bearing with those who present them with "another Jesus," "another spirit," and "another gospel" that deceptively affirm their shift from light to darkness, and even lead them astray to another "God." But they don't see it that way. Since people imagine that God's Word of truth is just a manmade "box" from which God and His truth need to be set free, they see it as simply a matter of "finding God" wherever they choose to look. Sadly, this rapidly increasing deception is clearly seen in today's shifting Christianity.
"For if he that cometh preacheth another Jesus, whom we have not preached, or if ye receive another spirit, which ye have not received, or another gospel, which ye have not accepted, ye might well bear with him." (2 Corinthians 11:4)

"I marvel that ye are so soon removed from him that called you into the grace of Christ unto another gospel: which is not another; but there be some that trouble you, and would pervert the gospel of Christ.… But I certify you, brethren, that the gospel which was preached of me is not after man. For I neither received it of man, neither was I taught it, but by the revelation of Jesus Christ." (Galatians 1:6-7, 11-12)

"For this cause also thank we God without ceasing, because, when ye received the word of God which ye heard of us, ye received it not as the word of men, but as it is in truth, the word of God, which effectually worketh also in you that believe." (1 Thessalonians 2:13)
Since more and more people in today's shifting Christianity are rejecting the Word of God as the word of man, and even accepting the word of man as the word of God, one needn't go far to see the many counterfeits being sold to the eager buyers who see no need to beware. In fact, since people now imagine that outside the "box" of God's Word is the "genuine" and inside the "box" of God's Word is the "counterfeit" they will only see a need to beware of God's Word inside the "box." Thus, reviling those who believe the genuine is the genuine and the counterfeits are the counterfeit, they are heeding those who believe the counterfeits are the "genuine" and the genuine is the "counterfeit" because the counterfeits are the "genuine" they are willing to accept. But, naturally, those who prefer to "think outside the box" don't see it that way.
Many people are likewise choosing to see man's fables as the "truth" about God because man's fables are a "reimagined" "truth" they are willing to accept. Absurdly, those who seek to justify "reimagining" God and His Word even claim that Jesus taught parables in order to teach truth to the multitudes. This claim in itself "reimagines" God's Word in order to justify "reimagining" God's Word. Jesus Himself gave the reason for His parables, which is the opposite of man's imaginations in more ways than one. He spoke in parables to keep the truth away from those who did not have ears to hear and had already chosen to close their eyes and ears to the truth. Sadly, some things never change.
"And they shall turn away their ears from the truth, and shall be turned unto fables." (2 Timothy 4:4)

"Who hath ears to hear, let him hear. And the disciples came, and said unto him, Why speakest thou unto them in parables? He answered and said unto them, Because it is given unto you to know the mysteries of the kingdom of heaven, but to them it is not given. For whosoever hath, to him shall be given, and he shall have more abundance: but whosoever hath not, from him shall be taken away even that he hath. Therefore speak I to them in parables: because they seeing see not; and hearing they hear not, neither do they understand.… For this people's heart is waxed gross, and their ears are dull of hearing, and their eyes they have closed; lest at any time they should see with their eyes, and hear with their ears, and should understand with their heart, and should be converted, and I should heal them. But blessed are your eyes, for they see: and your ears, for they hear." (Matthew 13:9-13, 15-16)
If that isn't clear enough:
"And he said, Unto you it is given to know the mysteries of the kingdom of God: but to others in parables; that seeing they might not see, and hearing they might not understand.… Take heed therefore how ye hear: for whosoever hath, to him shall be given; and whosoever hath not, from him shall be taken even that which he seemeth to have." (Luke 8:10, 18)
Those who have chosen to turn their ears away from the truth and unto fables only seem to have the truth. The truth is "Thus saith God," "Thus saith the Lord," and "It is written." This is the settled truth of God, which He has recorded for us in His Word. God's truth is what it is and never changes despite man's never-ending vain attempts to "rethink" and "reimagine" God's Word for God. Truth tells us what is and what is right or wrong. Stories are the opposite. Stories are relativism and allow each person to decide for themselves what they want the meaning to be. This is exactly the freedom desired by those who are shifting from truth to fables. They want the freedom of uncertainty rather than the what is of certainty. Since having ears to hear the truth is necessary to be able to hear the certainty of its meaning, it was to His disciples and not to the multitudes that Jesus told the meaning of His parables:
"If any man have ears to hear, let him hear. And he said unto them, Take heed what ye hear: with what measure ye mete, it shall be measured to you: and unto you that hear shall more be given.… And with many such parables spake he the word unto them, as they were able to hear it. But without a parable spake he not unto them: and when they were alone, he expounded all things to his disciples." (Mark 4:23-24, 33-34)
Because the Lord Jesus Christ is God, even His parables to the multitudes are "Thus saith God" and "Thus saith the Lord." And since even the meaning of His parables has been recorded in God's Word of truth, for us the meaning is not relative as many now think, but rather, "It is written." On the other hand, man's imaginative fables are nothing more than "thus imagines man." Contrary to the popular opinion of those blinded in the darkness, they are not the truth and not the Word of God, and the Lord Jesus Christ and His teachings are not a "style" to emulate. He is the Lord, Whom we are to believe and obey.
"I will worship toward thy holy temple, and praise thy name for thy lovingkindness and for thy truth: for thou hast magnified thy word above all thy name." (Psalm 138:2)

"For this is good and acceptable in the sight of God our Saviour; Who will have all men to be saved, and to come unto the knowledge of the truth." (1 Timothy 2:3-4)

"Then said Jesus to those Jews which believed on him, If ye continue in my word, then are ye my disciples indeed; and ye shall know the truth, and the truth shall make you free." (John 8:31-32)

"It is the spirit that quickeneth; the flesh profiteth nothing: the words that I speak unto you, they are spirit, and they are life. But there are some of you that believe not. For Jesus knew from the beginning who they were that believed not, and who should betray him.… From that time many of his disciples went back, and walked no more with him. Then said Jesus unto the twelve, Will ye also go away? Then Simon Peter answered him, Lord, to whom shall we go? thou hast the words of eternal life." (John 6:63-64, 66-68)

"Enter ye in at the strait gate: for wide is the gate, and broad is the way, that leadeth to destruction, and many there be which go in thereat: Because strait is the gate, and narrow is the way, which leadeth unto life, and few there be that find it." (Matthew 7:13-14)
Too many people in today's shifting Christianity are seeking to set the truth of God free from the "box" of God's Word rather than seeking to be set free themselves by God's Word of truth. Instead of looking for "truth" in the corner of a dark round room they would be far better served looking for truth in a corner of the "box." But, sadly, those who are shifting from the light of the narrow way of absolute truth to the darkness of the broad way of relative "truth" are doing so on purpose, albeit blindly, along with their eyes closed and ears covered. They feel "boxed" in by the narrow way, and the broad way gives them the freedom outside the "box" to "rethink" and "reimagine" God and His narrow way into a broader "truth." With this freedom, people can have a relationship with God however they choose, right?
"He that rejecteth me, and receiveth not my words, hath one that judgeth him: the word that I have spoken, the same shall judge him in the last day." (John 12:48)
(This is an excerpt from Tamara Hartzell's book, Reimagining God: Turning the light off to look for "truth" in the corner of a dark round room; used with permission.)
According to an article in the Catholic Herald, Pope Francis has proposed six new beatitudes. The article states:
At the Mass, which took place at the conclusion of his ecumenical trip to the country, Pope Francis highlighted the lives of the Swedish saints Elizabeth Hesselblad and Bridget of Vadstena.  . . . New situations require new energy and a new commitment, he said, and then offered a new list of Beatitudes for modern Christians.
Four of the "new beatitudes" had to do with forgiving others, caring about the earth, and helping the poor and needy. One of them was ecumenical in nature: — Blessed are those who pray and work for full communion between Christians [meaning Christians and Catholics], and the second resonated with earlier comments Pope Francis has made to indicate that this pope is not only ecumenical, he is also interspiritual (all paths lead to God) and panentheistic (God is in all).
— Blessed are those who see God in every person and strive to make others also discover him.—Francis
Related Articles:
Pope Francis calls for intensified dialogue with Muslims – Everyone "a brother or sister."

According to a Christianity Today article, LifeWay Resources (the Southern Baptist Convention resource arm) has stopped selling products by Jen Hatmaker because of her promotion of same-sex marriage. The CT article stated:
Jen Hatmaker posted a 650-word response on her Facebook page Monday, saying she "wrestled with and through Scripture, not around it" before coming to a decision to affirm same-sex relationships, which recently led to LifeWay Christian Resources pulling her books from its stores.
Hatmaker has been the topic of Lighthouse Trails articles and Cedric Fisher's booklet called IF it is of God: Answering the Questions About IF: Gathering as she is part of the group of women who head up the women's movement called IF: Gathering. You can read that booklet by Fisher by clicking here. In Fisher's booklet, he says this about Jen Hatmaker:
In Jen Hatmaker's book, Interrupted: When Jesus Wreck Your Comfortable Christianity, she makes it clear that she is influenced by a number of New Age/New Spirituality individuals. She quotes Catholic priest and contemplative activist Richard Rohr and emergent leader Shane Claiborne. On her blog, she promotes the book, The Circle Maker, by Mark Batterson, a book that encourages readers to draw circles around specific things in order to have more answered prayers. Batterson was inspired with this idea by an ancient sage.

In Hatmaker's book, 7: An Experimental Mutiny Against Excess, she reveals that her family takes part in a Roman Catholic ritual with mystical origins, the "Seven Sacred Pauses." Hatmaker got her inspiration from Seven Sacred Pauses, a book by Macrina Wiederkehr who is a spiritual director in the contemplative prayer movement. In Wiederkehr's retreats, seekers are guided through experiences of silence, contemplation and lectio divina (a contemplative practice where words and phrases from the Bible are repeated in mantra-like fashion). The "seven sacred pauses" are seven times a day to pause and pray, which Wiederkehr describes as "breathing spells for the soul."

Consider Hatmaker's statement concerning the preaching of God's Word:

"I have spent half my life listening to someone else talk about God. Because of this history, I've developed something of an immunity to sermons."

This is eerily similar to the sentiment of Sue Monk Kidd (author of The Secret Life of Bees), who once, as a conservative Southern Baptist Sunday school teacher, expressed her dissatisfaction (and eventual rejection) of the preaching of God's Word. That led Monk Kidd down a path away from the Christian faith and straight into the New Age. Today, she worships the goddess Sophia.

This disgruntlement of God's Word is so prevalent among leaders of the emerging New Spirituality church. If not preaching, then what? Is it emotionally charged conventions and books with flowering, poetic phrases that open up to spit out a toxic drop of heresy? If Hatmaker is immune to preaching, she has rejected God's method in favor of her own. (source and footnotes)
While LifeWay did the right thing in dropping Hatmaker's products, they still do not see the big picture as they keep a tight grasp on numerous problematic authors such as Sarah Young (and her cash-cow Jesus Calling books and Bibles), Richard Foster, Dallas Willard, Gary Thomas, Ruth Haley Barton, and many more contemplative, emergent authors.
The fact that LifeWay will remove books by someone promoting same-sex marriage but not remove books by authors who promote a mystical, panentheistic interspiritual prayer shows once again that Christian leaders and ministries just don't get it. How is it that one is OK and the other is not? After all, they are both going in the same direction, and that is away from the Gospel and away from God's Word. Where are the overseers of LifeWay and the Southern Baptist Convention? Surely, they are learned men who should be able to figure this out.
By Warren B. Smith
Author of A "Wonderful" Deception
One of the many examples of the New Age implications of The Message ["Bible"]  is seen in Eugene Peterson's paraphrasing of the Lord's Prayer. Where most translations read "on [or in] earth, as it is in heaven," Peterson inserts the occult/New Age phrase "as above, so below." The significance of this mystical occult saying is seen clearly in As Above, So Below, a book published in 1992 by the editors of New Age Journal. Chief editor Ronald S. Miller describes how the occult/magical saying "as above, so below" conveys the "fundamental truth about the universe"—the teaching that "we are all one" because God is "immanent" or "within" everyone and everything. Miller writes:
Thousands of years ago in ancient Egypt, the great master alchemist Hermes Trismegistus, believed to be a contemporary of the Hebrew prophet Abraham, proclaimed this fundamental truth about the universe: "As above, so below; as below, so above." This maxim implies that the transcendent God beyond the physical universe and the immanent God within ourselves are one. Heaven and Earth, spirit and matter, the invisible and the visible worlds form a unity to which we are intimately linked.1
Miller continues describing the meaning of "as above, so below" by quoting Sufi scholar Reshad Field:
"'As above, so below' means that the two worlds are instantaneously seen to be one when we realize our essential unity with God. . . . The One and the many, time and eternity, are all One."2 (ellipsis in original)
In 2004 when I searched "as above, so below" on the Internet, the first entry listed further defined this "key" New Age term:
This phrase comes from the beginning of The Emerald Tablet and embraces the entire system of traditional and modern magic which was inscribed upon the tablet in cryptic wording by Hermes Trismegistus. The significance of this phrase is that it is believed to hold the key to all mysteries. All systems of magic are claimed to function by this formula. "'That which is above is the same as that which is below' . . . The universe is the same as God, God is the same as man."3
Most of the references, either on websites or in books and magazines containing the phrase "as above, so below" describe the term as having the same occult/mystical/New Age/esoteric/magical sources. One website states:
This ancient phrase, "As above, so below" describes the Oneness of All That Is.4
In Deceived on Purpose, I discuss my concerns over Rick Warren placing such great emphasis on Eugene Peterson's The Message. When I looked up Ephesians 4:6 in The Message,Peterson's paraphrase (like the New Century Version) also definitely lends itself to the New Age interpretation that God is present "in" everyone. In The Message, Peterson introduces his readers—with no parenthetical warnings or explanations—to the concept of  'Oneness':
You have one Master, one faith, one baptism, one God and Father of all, who rules over all, works through all, and is present in all. Everything you are and think and do is permeated with Oneness.5
The "as above, so below" God "in" everything "Oneness" message of Eugene Peterson's paraphrase The Message sounds strikingly similar to the same "as above, so below" God "in" everything "Oneness" message of the New Age/New Spirituality. Such a teaching is contrary to what the Bible teaches. We are only "one" in Christ Jesus when we repent of our sins and accept Him as our Lord and Savior. Galatians 3:26-28 states:
For ye are all the children of God by faith in Christ Jesus. For as many of you as have been baptized into Christ have put on Christ. There is neither Jew nor Greek, there is neither bond nor free, there is neither male nor female: for ye are all one in Christ Jesus. (emphasis added)
Notes:
1. Ronald S. Miller and the Editors of New Age Journal, As Above, So Below: Paths to Spiritual Renewal in Daily Life (Los Angeles, CA: Jeremy P. Tarcher, Inc., 1992), p. xi, quoted in Warren B. Smith, Deceived on Purpose,  op. cit., p. 32.
2. Ibid.
3. "As Above, So Below" (http://www.themystica.com/mystica/articles/a/below_above.html).
4. See: http://www.mothermaryspeaks.com/as_above_so_below.htm.
5. Eugene H. Peterson, The Message (Colorado Springs, CO: NavPress), Ephesians 4:6.
By Roger Oakland
Understand the Times
The commentary you are about to read has been written with much prayer and thought. I have not written it impulsively or with ill motive but rather believe God has compelled me to testify of things that have gone unspoken of and hidden in secret for too long. For the sake of the body of Christ and the furtherance of the Gospel, the secret things in darkness need to be exposed.
There are a number of low-profile Calvary Chapel pastors starting to ask questions. Chuck Smith, the founder of the movement, seemed to be biblically sound and determined to serve the Lord throughout his many years of ministry. Toward the end of his ministry, it appears there were strange bedfellows planted around him who in earlier years he would have avoided. So what happened? The purpose of this commentary will be to answer that question.
Chuck Smith attributed the growth and the strength of the Calvary Chapel movement to the Holy Spirit and not to man-designed gimmicks or human effort. He never wavered from that position until the day he died. He called Calvary Chapel "His Church." While there were those who had some questions about strange things going on behind the scenes, the Calvary ship sailed pretty well most of the time.
Those who were situated near the epicenter of this multimillion-dollar big business definitely knew about some major problems that were quietly concealed. A number have pointed out that the Achilles Heel of the Calvary machine was Chuck Smith's passion for the Moses Model. Ask anyone who ever bucked the system and dared challenge this style of leadership. The exit plan was the door, and they were given the left hand of fellowship without any alternative.
While the motto around Calvary made the claim that agape love was flowing over, many a disillusioned servant of God was buried in an unmarked grave throughout the network of Calvary Chapels. And what happened at Calvary Costa Mesa did not stay at Calvary Costa Mesa. An enormous machine of abuse was born, and many were maimed throughout the growing movement. Pastors cloned the model, and the spirit of heaviness was exported. Thousands were hurt and then shunned as happens in organizations that use cult-like control tactics.
I was introduced to Chuck Smith and Calvary Chapel in June of 1981 when I was part of a seminar team brought to Costa Mesa from Saskatchewan, Canada. This was over one decade after Calvary Chapel was founded and years after the Jesus Movement spread around the world. While I was not familiar with the actual first generation pastors while the movement was launching, later in my life as the Lord opened doors, I came to know many of the players. I also became friends with several members in the Smith family (including Chuck's brother, Paul, with whom I am still close friends).
In the spring of 1988, I was invited by Chuck Smith to move from Canada to California to join the staff of CCCM. At the time, as I still do, I felt this was the absolute will of God. My family moved from Canada to the USA leaving a small community of less than 1000 people and headed to southern California. We left family, friends, and farm behind and entered a world of mystery. After several months of boot camp, I felt I had missed the will of God. Like Jonah, I ran away back to Canada in the spring of 1989. Later I thought I heard the call of God and returned. Click here to continue reading.