Archive for the 'Concerns for Calvary Chapel' Category
LTRP Note: Since the passing of Calvary Chapel founder Chuck Smith last fall, Lighthouse Trails has received calls from a number of people who have expressed concern over the direction that Calvary Chapel has gone. To understand more about the commentary below by Roger Oakland, you can read a full account in Roger's book, Let There Be Light (a biography). You may also wish to read the following articles by Roger Oakland: "The Facts Behind My Departure from Calvary Chapel" – by Roger Oakland -Part One,  "The Facts Behind My Departure from Calvary Chapel" – by Roger Oakland – Part Two, (also see more related material below).
 By Roger Oakland
Several years ago, I wrote a commentary titled "Ichabod." As someone familiar with the workings of Calvary Chapel Costa Mesa for over twenty years, it became apparent to me that drastic measures were needed in order to correct the direction that the mother ship of the Calvary Chapel movement was headed. While many were upset with me at the time, suggesting that I was firing a missile over the bow of the ship, time has shown that the warning God placed upon my heart at that time was accurate and was for a reason.
While management has changed at CC Costa Mesa since that commentary was written, daily reports from the many now jumping off the ship verify the once mighty Titanic may be in trouble.  Many of the older and mature members who were pillars in the old Calvary Chapel regime have already left. They have found a new church home with a pastor who was fired by the new leadership at Costa Mesa who has planted his own church not far away. A drive by the Calvary Costa Mesa parking lot at service time is also very enlightening. No longer is the parking lot overflowing with cars.  Where have the people gone, and what is the reason? The answer – a number of churches in the area report their congregations are growing as former Calvary Chapel Costa Mesa church attendees are being added to their pews.
The message found in the "Ichabod" commentary written to warn Calvary Chapel several years ago remains the same, only it is more relevant today than it was when the commentary was written. Not a day goes by when I am not confronted or approached by someone or some group with eyes now opened to see what I saw in the past. While the "New Calvary Chapel leaders," as they call themselves, boast that their transition to power has been a total success and that great and wonderful things lie ahead, there are many voices from former staff and church members who have either been fired, insulted, or left on their own who would strongly disagree.
Apparently, those who have taken over the leadership of Calvary Chapel Costa Mesa believe that Costa Mesa will remain the mother of all churches in the future as it was in the past. While the Calvary Chapel Movement remained intact while Chuck Smith was alive, now that he has passed on there are rumblings that a major change is underway.  Based on conversations I have had with many Calvary pastors whom I have known for years spread throughout the United States, the consensus is that the movement is fragmenting and the chance of this happening is very slim. Of course, there are Calvary pastors who also see (just as God showed me) what lies ahead, and they are preparing for the future. Rather than following some man (or woman), they tell me they will follow Jesus and His Word instead. Click here to continue reading.

Related Material:
Calvary Chapel Rejects Contemplative and Emergent Spirituality!
Calvary Chapel Rejects Purpose Driven and Emerging Spirituality
Warren Smith addresses 800 Calvary Chapel pastors by invitation of Chuck Smith.
New Age Similarities, Popularity Continues, and Calvary Chapel Gives Official Statement
What Happened to the Calvary Chapel Book, When Storms Come?
SPECIAL REPORT: Calvary Chapel Termination Has Profound Implications
The Depths of Our Concerns for Calvary Chapel and Other Christian Organizations
LTRP NOTE:  If you have not read Larry DeBruyn's article "The Music and the Mystical," this would be a good time to do so.
By Roger Oakland
Understand the Times
Many who attended Calvary Chapel of Costa Mesa in the past under the leadership of Pastor Chuck Smith are wondering what changes to expect now that a new generation is at the helm. The following video clip of "worship" at the Cornwall, England Creationfest in the summer of 2013 sanctioned by the new leadership of CCCM should provide a clear answer to that question.
Amazing Grace – Like you've never dreamt of hearing it!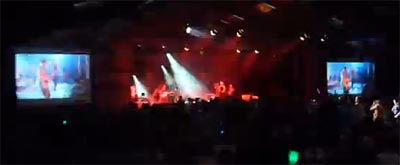 Disclaimer: As has been stated before, when UTT uses a video clip or article that has been produced or written by a source that may be religious or secular, we are not endorsing the producer or publisher. 
The link below is to an interview Stand Up For the Truth radio had this week with Calvary Chapel pastor Chris Quintana. The interview is addressing our recent posts about the Calvary Chapel bookstore carrying The Daniel Plan. During the interview, Chris relayed a situation that recently took place wherein the Calvary Chapel bookstore told Warren Smith (who had stopped in there with Chris and Ray Yungen during a recent conference at Chris' church) that they carried Jesus Calling but because it was controversial, they kept it in the back room.
http://standupforthetruth.com/files/2014/01/When-denominations-shift.mp3
Yesterday, we verified that the Calvary Chapel store is still selling the book from the back room. A woman who is an acquaintance of Warren Smith and had heard from Warren about the "back room" copies has given us permission to relay this to our readers. She entered the store, searched for Jesus Calling in the devotional section, and when not finding it, she approached a store clerk and asked if the store was carrying Jesus Calling. The clerk told her it was being kept in a back room. The clerk then disappeared and returned a few moments later with a copy. The woman purchased the book and left (she'll be using it for research purposes).
We find both the implications as well as the ramifications troubling with this kind of practice. The implication of keeping a particular book out of the public's view and hidden in the back room,  available only to those who request it, is that while they know the book is problematic, it is also a best seller, and because of it being in high demand, this takes more precedence over whether the book is trustworthy and biblically sound. Another implication is that there are supposedly some Christians who are behind the times (old-fashioned, if you will) and obviously won't accept a controversial book because they are stuck in the old ways; and methods must be implemented to bring forth the new way even if it means being sneaky about it (remember that interview called Tides of Change a number of years ago between Rick Warren and Leonard Sweet where they talk about "new frontiers," "changing times," and the "new spirituality"). It also implies that while a bookstore manager realizes a book is controversial, he must keep his promotion of it in secret because he lacks evidence to show the book is OK from a scriptural point of view (i.e., God's point of view).
The ramification of all this is that it is providing a further open door for spiritual deception to enter the Calvary Chapel movement.
Jesus said to let your yes be yes and your no be no. If a Christian bookstore believes a certain book is a valuable addition to the body of Christ, then that book should be put on a visible shelf for all to see, without shame or secrecy, and that bookstore manager should also be able to provide proof that the book is biblically sound. And, on the other hand, if a Christian bookstore believes a book is heretical, then that book should not be made available to the public at all because it puts the public in harm's way. Scripture admonishes us to live our lives in the light and not in darkness.
Lighthouse Trails is well acquainted with a number of Christian men and women who have tried to warn leaders of the Calvary Chapel movement for several years - Roger Oakland, Chris Lawson, and Mike Oppenheimer, all formerly part of Calvary Chapel, are three Lighthouse Trails authors who fall in this category. Eventually each of these three men left the movement when their warnings were not welcomed any longer.
It is not just Calvary Chapel that is struggling with spiritual deception – virtually every Christian denomination is going through the same battle as the Spiritual Formation (i.e. contemplative spirituality) movement and emerging church ideology are sweeping through like a plague in Egypt. How can a church or denomination protect itself against this overwhelming spiritual deception that is threatening all of Christianity today? By refusing to compromise even under the pressure of popular opinion and by staying true to the Gospel of Jesus Christ.
As Warren B. Smith's new book, "Another Jesus" Calling has shown, the "Jesus" of Jesus Calling contradicts the Jesus of the Bible. While we realize the "Jesus" of Jesus Calling makes people feel good about themselves (so we are told) and some say he comforts them, if he is a false Christ then he is seducing them and deceiving them.
But let your communication be, Yea, yea; Nay, nay: for whatsoever is more than these cometh of evil. Matthew 5:37

Be sober, be vigilant; because your adversary the devil, as a roaring lion, walketh about, seeking whom he may devour: whom resist stedfast in the faith, knowing that the same afflictions are accomplished in your brethren that are in the world.  But the God of all grace, who hath called us unto his eternal glory by Christ Jesus, after that ye have suffered a while, make you perfect, stablish, strengthen, settle you. 1 Peter 5:8-10

. . . that ye may be blameless and harmless, the sons of God, without rebuke, in the midst of a crooked and perverse nation, among whom ye shine as lights in the world. Philippians 2:15
How interesting that while Calvary Chapel Distribution seems to be biting at the bit to bring in books like Jesus Calling and The Daniel Plan (books that are clearly promoting the "new" spirituality), you won't find one book by a Lighthouse Trails author anywhere on their store site. Calvary Chapel pastors who want a book by Ray Yungen, Warren Smith, or Roger Oakland must buy their books elsewhere (and there are a number of them that do that – of this we can testify). But apparently, those who want books by Rick Warren, Sarah Young, Gary Thomas, Catholic convert J. Budziszewski, Philip Yancey and other contemplative proponents, if you can't find them on the store shelves, you need look no further than the Calvary Chapel back room.
Note: Calvary Chapel distribution was carrying several Lighthouse Trails books until 2009. Shortly afterward, we issued this article: "SPECIAL REPORT: Calvary Chapel Termination Has Profound Implications." 
Update: Shortly after we posted the article above, John Lanagan from My Word Like Fire ministries sent us a link to Calvary Distribution's store showing that they are presently carrying God Calling for Kids (for 3-7 year olds)! This edition is a remake of the New Age channeled book God Calling that inspired Sarah Young to write Jesus Calling. In "Another Jesus" Calling, Warren Smith quotes Harvest House's Encyclopedia of New Age Beliefs regarding God Calling:
The encyclopedia . . . explains that channeling is a form of mediumship and "is a practice forbidden (Deuteronomy 18:9-12)." This Scripture specifically warns that "a consulter with familiar spirits" is an abomination unto the Lord. Also in this encyclopedia, under the heading titled "Impersonations and Denials of Christianity," God Calling is cited as an example of a channeled New Age book "replete with denials of biblical teaching" as it "subtly encourages psychic development and spiritistic inspiration under the guise of Christ's personal guidance . . . and often misinterprets Scripture." (from pp. 25-26, "Another Jesus" Calling)
Folks, this is serious what is happening to Christianity today.

On January 7th, Lighthouse Trails posted a letter to the editor titled: "Main Calvary Chapel Bookstore Just Added Rick Warren's Daniel Plan Book." Today, we received e-mails from various Lighthouse Trails readers stating that they were told by the Calvary Chapel store that it decided to remove Rick Warren's Daniel Plan book after receiving a number of phone calls and complaints over the last two days. As of this writing, the link we had posted to the store where the book was made available is no longer available (see here), and it appears that The Daniel Plan is no longer for sale. The Daniel Plan, a dieting plan offered by Rick Warren and Saddleback church, is a creation of three doctors who advocate as part of good health New Age/eastern-style meditation.
To Lighthouse Trails:
Well now that Chuck [Smith] has passed away . . . I just noticed that the main Calvary Chapel bookstore has just recently listed Warrens Daniel Plan and Journal for sale.  (Click here.)
LTRP note: This is troublesome that the main Calvary Chapel bookstore has added The Daniel Plan. This will send out a message to Calvary Chapel pastors and congregants that Rick Warren's message is acceptable, when in fact, the Daniel Plan was created using three doctors who are all advocates of eastern-style meditation. The reason we believe the reader above said "now that Chuck has passed away" is because in 2006, Chuck Smith made a public announcement rejecting the Purpose Driven Movement.
Please refer to our recent article, Rick Warren's New Book, The Daniel Plan, Receives Media Blitz—But Book Does Double-Speak on Eastern-Style Meditation"  regarding the Daniel Plan book. Also check out some of our articles on The Daniel Plan's three meditation-promoting doctors:
Understanding the Occultic Nature of Tantric Sex (The Practice Promoted by Dr. Amen – Rick Warren's Daniel Plan Doctor)
Rick Warren's Daniel Plan Accelerates – Tells Followers to Practice 4-7-8 Hinduistic Meditation
NEW PRINT BOOKLET TRACT: Rick Warren's Daniel Plan – The New Age/Eastern Meditation Doctors Behind the Saddleback Health
Rick Warren's "Daniel Plan" currently recommends hypnosis, Eastern/new age meditation

Hello,
I enjoy listening to You Tube videos from conferences with several of discernment ministers that you promote and have gleaned excellent info from many of your publications as well.  I have seen what appear to be some connections with Calvary Chapel, but am wondering if you could tell me  what the nature of that relationship is.  I believe I read somewhere that Roger Oakland was a former Calvary pastor.  Are several of your writers former Calvary people?   Can you disclose which ones?
It seems that many discernment conferences are still held at Calvary Chapels, but I understand from reading some of your articles that Calvary is a mixed bag in so much as Chuck Smith was apparently good friends with Rick Warren . . .
I'm wondering how one searches out trustworthy and discerning pastors that actually have biblical apologetics on their radar screens.  Should I be looking harder at Calvary? 
I can sniff out a lot of stuff on various websites as I'm familiar with their icons and buzzwords, but wondering if someone would know which Calvary Chapels are non-emergent, non-PD, non NAR, etc.
I'm also wondering if you would consider yourselves to be mainly in the continuist or cessationist camp or either?   I discern the many issues in the charismatic/Pentecostal camp, AoG etc., but would consider myself a Bible-believing continuist.
MB
Hello MB,
Thank you for writing. In answer to your questions:
We at Lighthouse Trails are not connected to Calvary Chapel, but Roger Oakland was a Calvary Chapel teacher and evangelist/missionary for several years. He is no longer affiliated with the group. Chris Lawson, one of our other authors, was a Calvary Chapel pastor and missionary for several years. He too is no longer part of CC. Some of our authors do speak at times at Calvary Chapel churches, ones which seem to have a good understanding of the times in which we live from a biblical perspective. As with the other denominations we critique and challenge, we believe there are some Calvary Chapel churches that are not giving in to the contemplative/emerging agenda.
While we do not know whether Chuck Smith was "good friends" with Rick Warren or not, and we do know that Smith showed seeming support for Warren in the last few years of his life in at least two occasions (1, 2), we hope that his earlier rejection (see links below) of The Purpose Driven Movement, the emerging church, and contemplative spirituality will remain in people's minds and will be seen as a good reason to stay away from these extra/anti-biblical spiritual outlooks.
As far as finding pastors and churches that are staying on the biblical course, please read our recent article titled, "How Can I Find a Good Bible-Believing Church?"  This article gives some suggested questions to ask a potential church before attending and also a list of signs to watch out for.  As for Calvary Chapel, or any other church for that matter, it must be looked at on a case by case (church by church) basis.
In answer to your question about our views on the Holy Spirit, we do not put a label on ourselves. We seek to live by the things we are told in Scripture. Here are a few verses to illustrate our views:
Now we have received, not the spirit of the world, but the spirit which is of God; that we might know the things that are freely given to us of God. Which things also we speak, not in the words which man's wisdom teacheth, but which the Holy Ghost teacheth; comparing spiritual things with spiritual. But the natural man receiveth not the things of the Spirit of God: for they are foolishness unto him: neither can he know them, because they are spiritually discerned. But he that is spiritual judgeth all things, yet he himself is judged of no man.  For who hath known the mind of the Lord, that he may instruct him? But we have the mind of Christ. 1 Corinthians 2:12-16

But the Comforter, which is the Holy Ghost, whom the Father will send in my name, he shall teach you all things, and bring all things to your remembrance, whatsoever I have said unto you. John 14:26

I am the vine, ye are the branches: He that abideth in me, and I in him, the same bringeth forth much fruit: for without me ye can do nothing. John 15:5
Some of our other doctrinal beliefs can be found here.
Related Information:
Calvary Chapel Rejects Contemplative and Emergent Spirituality!
Calvary Chapel Rejects Purpose Driven and Emerging Spirituality
Warren Smith addresses 800 Calvary Chapel pastors by invitation of Chuck Smith.
New Age Similarities, Popularity Continues, and Calvary Chapel Gives Official Statement
Early this morning Chuck Smith, the founder of the Calvary Chapel movement, passed away. He was 86 years old and had been diagnosed with cancer in 2011. Below is a news story from WorldNetDaily, which talks about Chuck Smith's life and influence in the church. Between 2006 and 2007, Chuck spoke with Lighthouse Trails editors a number of times, sharing with us his support for our warning against contemplative spirituality, Purpose Driven, and the emerging church (see links below). He found the writings of Roger Oakland, Ray Yungen, and Warren B. Smith to be highly informative and revealing. In more than one e-mail to Lighthouse Trails editors, Chuck said he was grateful for the "important" and "needed" work at LT. He is the only Christian leader we know of who bravely pulled one of his own books from the market because he learned that it had, unbeknownst to him, been tainted by an editor with New Age promoting quotes. We've witnessed no other figure within Christianity who did something like this with such humility and sincerity. While Chuck said little about our warnings in the last few years of his life, he never publically recanted his support for them. We know that many will grieve over the passing of this highly influential Christian leader. It is our prayer that the man or men who will fill his shoes will walk in the kind of discernment that Chuck Smith showed the church in 2006 and 2007. We know there are some Calvary Chapel churches today that have carried on this discernment in warning the church about spiritual deception.
"Chuck Smith, 86, Dies After Cancer Battle"
Renowned California pastor founded Calvary Chapel movement.
By G. Jeffrey MacDonald (WorldNetDaily)
Chuck Smith, the evangelical pastor whose outreach to hippies in the 1960s helped transform worship styles in American Christianity and fueled the rise of the Calvary Chapel movement, died Thursday, Oct. 3, 2013, after a battle with lung cancer. He was 86.
Diagnosed in 2011, Smith continued to preach and oversee administration at Calvary Chapel Costa Mesa (California), where he'd been pastor since 1965. In 2012, he established a 21-member leadership council to oversee the Calvary Church Association, a fellowship of some 1,600 like-minded congregations in the United States and abroad.
Smith was known for expository preaching as he worked his way through the entire Bible, unpacking texts from Genesis through Revelation and offering commentary along the way.
Yet it was his openness to new cultural styles, including laid-back music and funky fashions of California's early surfer scene, that helped him reach young idealists and inspire a trend toward seeker-sensitive congregations.
"He led a movement that translated traditional conservative Bible-based Christianity to a large segment of the baby boom generation's counterculture," says Brad Christerson, a Biola University sociologist who studies charismatic churches in California. "His impact can be seen in every church service that has electric guitar-driven worship, hip casually-dressed pastors, and 40-minute sermons consisting of verse-by-verse Bible expositions peppered with pop-culture references and counterculture slang."
Born to a Bible-quoting mother and a salesman father who became a zealous convert in midlife, Smith grew up in Southern California, where he witnessed to the Gospel from a young age.
After Bible college training and a stint as a traveling evangelist, he sought a niche in Pentecostalism by pastoring several Church of the Foursquare Gospel congregations. But he confesses in Chuck Smith: A Memoir of Grace: "I just never succeeded" in that denominational environment. Click here to continue reading.
Related Links:
Calvary Chapel Rejects Contemplative and Emergent Spirituality!
Calvary Chapel Rejects Purpose Driven and Emerging Spirituality
Warren Smith addresses 800 Calvary Chapel pastors by invitation of Chuck Smith.
New Age Similarities, Popularity Continues, and Calvary Chapel Gives Official Statement