Archive for the 'Concerns for Calvary Chapel' Category
In case you still aren't sure about William Paul Young and his book The Shack—in case you still have some doubts as to whether Young is really of a New Age/New Spirituality persuasion—in case after reading articles at Lighthouse Trails revealing Young's anti-biblical views on atonement and the Cross—and in case after reading Warren B. Smith's booklet The Shack and Its New Age Leaven that documents Young's affinity with New Age thinking, then perhaps his recently posted "Twenty Books Everyone Should Read" list on Young's blog will convince you that The Shack or any of Young's writings should not be sitting on the shelves of Christian bookstores and North American pastors' offices and should never have become a New York Times best-seller having found itself there through primarily Christian readers (not to mention the big plug it received from endorsements by Eugene Peterson [The Message] and Calvary Chapel speaker Gayle Erwin. You can see the entire list of Young's recommended books by clicking here. Below we are giving you a partial list of the authors whom William P. Young recommends. After looking at this list, you decide for yourself.
1. Andrew Marin's book Love is an Orientation (foreword by atonement denier Brian McLaren): A treatise on how to fully integrate the practicing homosexual "community" into the Christian church.
2. The Shack Revisited by C Baxter Kruger, a book advertising the "virtues" of The Shack with a Suggestions for Further Study at the back that is a who's who of emerging authors.
3. Mystic Frederick Buechner's book The Yellow Leaves
4. Brian D. McLaren's, Why did Jesus, Moses, the Buddha, and Mohammed Cross the Road?: McLaren is one the foremost prolific leaders of the panentheistic, interspiritual emerging church, which is still very much active today, influencing vast numbers of young evangelicals.

5. Surprised by Hope: Rethinking Heaven, the Resurrection, and the Mission of the Church by emerging church hero N.T. Wright
6. Her Gates will Never be Shut: Hope, Hell, and the New Jerusalem by contemplative proponent Brad Jersak (author of Can You Hear Me?)
7. Jean Vanier's book Drawn into the Mystery of Jesus through the Gospel of John: Roger Oakland wrote about Jean Vanier in his article "Rick Warren, Jean Vanier, And The New Evangelization." Oakland's article states:
Vanier is a contemplative mystic who promotes interspiritual and interfaith beliefs, calling the Hindu Mahatma Gandhi "one of the greatest prophets of our times"[3] and "a man sent by God."[4] In the book Essential Writings, Vanier talks about "opening doors to other religions" and helping people develop their own faiths be it Hinduism, Christianity, or Islam.[5]  The book also describes how Vanier read Thomas Merton and practiced and was influenced by the spiritual exercises of the Jesuit founder and mystic St. Ignatius.
8. Henri Nouwen's book The Wounded Healer: As we have documented for over 13 years, Henri Nouwen was a Catholic contemplative  mystic and interspiritualist.

9.  William P. Young recommends reading material by the following three Catholic mystics and panentheists: Thomas Merton, Brennan Manning, and Richard Rohr.
One of the things that most of these authors have in common is their contemplative and interspiritual propensities. Given the fact that William P. Young, in the past, denied the substitutionary atonement, we can see why he is drawn to these authors. But what we can't understand is how so many professing Christians are drawn to him and The Shack and it's New Age spirituality.
On Friday, a long-time Lighthouse Trails reader contacted our office regarding the following situation. The person who called had attended Calvary Chapel Costa Mesa for several years but has not been attending for some time.
According to an article titled "Can I Attend My LGBT Friend's Wedding?" written by Calvary Chapel Costa Mesa's senior pastor Brian Brodersen, it is sometimes OK to attend a LTGB (Lesbian, Transgender, Gay, Bisexual) wedding. He says it's not OK to attend the wedding if the two people getting "married" proclaim to be believers in Christ, but if they don't claim to be believers then it may be OK. He says he bases his conclusions on 1 Corinthians 5:9-13, stating:
[If] the person is a rank-and-file unbeliever, perhaps a relative, an old friend, a work colleague, or whatever the case might be, and they invite you, this is where I would say pray about it and be open to the Lord having you there as part of the "bigger picture" work that He's doing in the lives of those who presently are lost but could one day be found.
Brodersen believes that to truly show the love of Christ to a homosexual, it may be necessary to attend a same-sex wedding. However, one commenter on the blog where the article was posted disputed this view stating:
A number of years ago, a Lighthouse Trails editor was talking on the phone to an Oregon Calvary Chapel pastor, attempting to warn the pastor about the contemplative prayer movement. Lighthouse Trails had learned that the church's web bookstore was filled with all kinds of contemplative and emerging books. The pastor chuckled and said, "Oh, I don't know about all those things. I am living in a bubble." The implication was that he was so isolated from things that would cause spiritual deception that he didn't need to learn about them.
Our editor replied to the pastor, "Pastor, you may be living in a bubble, but your congregation is not. They are going into Christian bookstores, listening to Christian radio, watching Christian television, and their children are going to Christian schools. They are going to run into contemplative spirituality sooner or later (out of respect, our editor didn't take the opportunity to remind him about his own church bookstore).
The conversation ended rather quickly after that, and needless to say, Lighthouse Trails editors weren't surprised a few months down the road to see a comment made by that same pastor on a once-popular anti-Lighthouse Trails blog. He said, "Lighthouse Trails is nothing more than a flea on the back of a dog."
It wasn't that the comment didn't hurt, but what really hurt is to have witnessed the indifference and later malice regarding the message of warning that Lighthouse Trails has attempted to give to the church for the past thirteen years, a message we believe is legitimate and biblical.
The reason we are writing this today is this: If you have a pastor who is not warning his congregation about specific spiritual deception, you might ask him why he doesn't. And if says that he is living in a bubble, gently tell him that this is no reason to keep from warning and teaching his flock.
LTRP Note: This short piece is not meant to be an indictment on all Calvary Chapel churches. We know there are some Calvary Chapel pastors who are warning their flocks of spiritual deception, and we are grateful for those pastors.If you are attending a Calvary Chapel church, we hope your pastor falls in that category.
By Roger Oakland
Understand the Times, International
Taking a stand from a biblical perspective with regard to purpose-driven-emerging Christianity is not very popular these days. Those working towards establishing the kingdom and "getting closer to Jesus" through contemplative practices rooted in eastern mysticism are very outspoken. If you are not in favor of what they are promoting, you are labeled a hater and against everything.
One pastor wrote me a letter and asked the following question: "Before you went public with your book Faith Undone did you contact everyone you wrote about in the book personally and discuss the issues? If not, shame on you and don't write me back."
Of course, I was shamed into writing him back. I recognize that I should always be open for correction. But "shame" is a pretty harsh term coming from one of the "brethren." Incidentally, this man was insinuating that I was violating Matthew 18 by writing about public figures in my book. But Matthew 18 is not about challenging leaders who are deceiving millions of people.
One pastor I tried to contact sent his bulldog after me who attacked me personally with slander. He didn't even address the facts. Should I be ashamed of myself for quoting someone who said what he said in a public forum? Does this really make me a "counter-cult-kook" as he said? Click here to continue reading.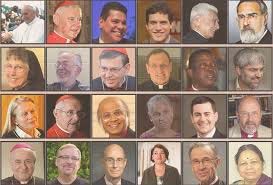 By Roger Oakland
Understand the Times, International
On November 17-19, 2014, an interreligious conference was hosted at the Vatican to discuss the sanctity of marriage under the definition that marriage is a relationship between a man and a woman. Beside numerous representatives of the Roman Catholic Church, the conference was attended and addressed by members of the Buddhist, Hindu, Muslim, Jewish, and Mormon faiths. Also, well-known Christian evangelical leaders from the United States—Pastor Rick Warren and Russel Moore—played a major role and were in attendance.
Warren's comments documented by the proceeding video clip are clear and require no explanation.
The purpose of posting Rick Warren's video statement is to appeal to Calvary Chapel pastors who have been persuaded by the new leadership at Calvary Chapel Costa Mesa that Warren's ecumenical direction is the "new" and enlightened pathway that Calvary Chapels of the future must choose in order to become relevant for the postmodern era that has reformed sound biblical teaching over the past decade. This is also an appeal to all evangelical pastors who have brought the Purpose Driven movement into their churches.
Further, this proclamation by Rick Warren is very similar to some of the ideas being presented by the "New Calvary Movement" promoted by Brian Brodersen and his cohorts. (Listen to a portion of Brodersen's September 7, 2014 message titled "Unity in the Spirit").
Click here to continue reading.
Dear Lighthouse Trails:
First of all, thank you for the continue steadfastness and faithfulness to God's Word while being under a lot of pressure to conform in these the last of the last days. I have been blessed time and time again by the articles, as well as the other resources available through Lighthouse Trails.
This morning I read the article-http://www.lighthousetrailsresearch.com/resistersdieorleave.htm. It was such an encouragement since I have recently gone through this at a local Christian school. Regardless, the Lord has used it for my good and I'm sure His glory. Anyway, at the end of the article it mentions in a special note the Calvary boycott of Purpose Driven and emergent focused materials as resources.
The question I have is would it possible, since that is no longer the case, to edit the special note section or add an addendum to it. I chose to post the article on FB this morning, but was hesitant because of the note at the end. Sadly, as you know better than most, many Calvarys have recently openly begun aligning themselves with Rick Warren's and other emergent leaders' message and materials. I'll be adding a comment under my FB explaining the change since 2006, however in an attempt to be as current and clear as possible, I wonder if editing the note in the article might be wise.
Again, thanks for your time and continued stand on the Word. "For we wrestle not against flesh and blood, but against principalities, against powers, against the rulers of the darkness of this world, against spiritual wickedness in high places.  Wherefore take unto you the whole armor of God, that you may be able to withstand in the evil day, and having done all, to stand." Ephesians 6:12-13
In Christ alone,
Richard (not real name)
Dear Richard:
Thank you for your note. We decided your advise was good so have added an updated note just under the 2006 (which we now dated).
Our Note (from 2006): Recently the Calvary Chapel movement (founded by Chuck Smith, Sr.) made a bold declaration when they decided to reject the emerging and contemplative prayer movements and to discontinue their support and use of all Purpose Driven materials. Many applaud this bold and sacrificial action. See our Special Report.
UPDATED NOTE ( 2014): Unfortunately, over the past 8 years since the above "Special Note" was posted, there have been many Calvary Chapel churches that have not heeded the 2006 warnings by the now-late Chuck Smith, Sr. but have rather accepted, promoted, and even embraced emerging/contemplative and/or Purpose Driven beliefs.
Related Information:
Calvary Chapel Bookstore on Jesus Calling: Hush!! It's Controversial – We Keep it in the Back Room
Greg Laurie Connects Purpose Driven to a Move of God – Gives Financial Support
California Church Disaffiliates With the Calvary Chapel Movement Over Heretical Connections
A Commentary: Why Are So Many Departing From Calvary Chapel Costa Mesa?
Letter to the Editor: Main Calvary Chapel Bookstore Just Added Rick Warren's Daniel Plan Book
Further Implications of Calvary Chapel North Coast Event – Lynne Hybels Presence Shows Serious Move Toward Apostasy
SPECIAL REPORT: Calvary Chapel Termination Has Profound Implications
LTRP Note: Lighthouse Trails has posted other articles in the past (see links below) about the "Christian" band called Gungor in connection with its contemplative/emerging beliefs and the appearances at some Calvary Chapel churches (including Greg Laurie's Harvest Crusade). For those who would like more information on the biblical account of creation, please watch Roger Oakland's lecture series, Searching for the Truth on Origins.1 Also, Larry DeBruyn's article "The Music and the Mystical" is very insightful regarding the "Christian" music being presented in many evangelical settings today.
By Heather Clark
Christian News Network
A Baptist church has canceled an upcoming concert with the worship band Gungor after learning that it no longer accepts the Genesis account of creation as literal, according to a new blog post from lead singer Michael Gungor.
As previously reported, Gungor and his wife Lisa, who in 2006 formed a congregation called "Bloom" in Denver, are known for their the Dove Award-winning and Grammy nominated worship music, such as Beautiful Things, Say So and Dry Bones. In 2013, they won an award from the Independent Music Awards for their live performance album A Creation Liturgy.
But in 2012, Michael Gungor, the son of pastor and author Ed Gungor, revealed in a blog post entitled A Worshiping Evolutionist? that he had concluded that the Genesis account is only figurative.
"I guess I'll have to come out of the closet and admit… I don't believe in a literal six-day creation," he wrote. "Genesis is a poem if I've ever seen one."
Earlier this year, Gungor revealed his thoughts even further, explaining in a blog post entitled What Do We Believe? that he "has no more ability to believe" in Genesis as being literal. Click here to continue reading.
Related Information:
Letter to the Editor: Tens of Thousands Introduced to Contemplative Advocates Gungor and David Crowder at Greg Laurie's Harvest Crusade
Another Calvary Chapel Hosts a Gungor Concert
Creating a New Society: Change Agents and Influence Peddlers