Archive for the 'Concerns for Calvary Chapel' Category
LTRP Note: Please see the video at the bottom of this letter from Chris Lawson.
By Chris Lawson
Spiritual Research Network
Filmed between a 45-minute break between down-pouring rain and a storm system approaching from the horizon, this unscripted, impromptu video expresses my heart and desire to see people in the Calvary Chapel movement (and other movements) helped and healed and strengthened in their faith in the Lord Jesus Christ in these last days.
I have no desire to divide the Body of Christ or needlessly offend anyone who is in Calvary Chapel movement and beyond. I am simply sharing my heart and God's truth in light of a number of observations I have seen growing for over 25 years now in the Calvary Chapel movement. Things now have become so blatant in the rising storm of ecumenical apostasy that only sincere prayer and publicly declared clarion calls for humility, truth, and repentance will make any difference at all. My prayer is that God Himself by His Spirit and His Word will raise up clarion voices around the globe in this late hour.
As a Christian missionary and as a former Calvary Chapel pastor for many years, I have been observing a growing trend of too many people remaining silent on far too many major ecumenical compromises. A host of other issues are also of concern.
Sadly, true biblical accountability is often sidestepped and leaders (and/or church elders) either remain silent in the face of evil—perhaps out of fear of ostracism or losing their livelihood—or they willfully choose to remain ignorant when presented with documented facts. For whatever reason, when leaders are passively silent, and even suppress the truth when godly action, righteousness, and truth should prevail, God is grieved, and the church sinks into malaise, confusion, and apostasy.
This video was not a "planned" event. I was actually standing on the beach alone, praying. As I was watching the rising storm clouds on the distant horizon and observing the turbulent waves, I was reminded of the flood of shameful compromise and storm of spiritual apostasy that is taking over churches and families worldwide. As I began to share my heart and thoughts in this video, some local bystanders slowed down to listen—perhaps you, like them, will seriously consider what I am saying.
Altogether, my heart is for pastors, for church leaders, and for fellow believers in Jesus Christ. My heartfelt exhortation is the same as Jude's in the early days of Christianity, and my sincere prayer is that all who have ears to hear, will hear—for God's glory—and that laymen and leaders alike, will take heed, "Beloved, when I gave all diligence to write unto you of the common salvation, it was needful for me to write unto you, and exhort you that ye should earnestly contend for the faith which was once delivered unto the saints" (Jude 3).
"And he gave some, apostles; and some, prophets; and some, evangelists; and some, pastors and teachers; For the perfecting of the saints, for the work of the ministry, for the edifying of the body of Christ: Till we all come in the unity of the faith, and of the knowledge of the Son of God, unto a perfect man, unto the measure of the stature of the fulness of Christ: That we henceforth be no more children, tossed to and fro, and carried about with every wind of doctrine, by the sleight of men, and cunning craftiness, whereby they lie in wait to deceive; But speaking the truth in love, may grow up into him in all things, which is the head, even Christ: From whom the whole body fitly joined together and compacted by that which every joint supplieth, according to the effectual working in the measure of every part, maketh increase of the body unto the edifying of itself in love." (Ephesians 4:11-16)
Contending for the truth, in the love and joy of the Lord,
Chris Lawson
Jude 3; Ephesians 4:11-16

THE RISING STORM and A CLARION CALL for HUMILITY, TRUTH and REPENTANCE: Observations for Calvary Chapel Leaders to Consider from Chris Lawson on Vimeo.
Important Related Information from Spiritual Research Network:
LOCATION #1 – CALVARY CHAPEL ALERT page
LOCATION #2 – SPIRITUAL RESEARCH NETWORK HOMEPAGE 
LOCATION #3 – CHRIS LAWSON VIMEO ARCHIVE
By Roger Oakland
Understand the Times, International
There may still be people on UTT's list who lack discernment and insist that Willow Creek theology is safe as mother's milk and harmless to anyone and everyone.
This commentary will be very short but also very important. It will help connect the dots.
Please open the following link and read: https://www.instagram.com/WillowCreekCC

Read the following: http://www.understandthetimes.org/commentary/c176pf.shtml

Please contact Calvary Chapel Association Council by going to their web site. This can be done by clicking on the following link: http://calvarychapelassociation.com/leadership-council/
After reading this material, you may want to contact your local church and pass on this commentary.
Paul stated: "God hath chosen the foolish things of the world to confound the wise; and God hath chosen the weak things of the world to confound the things which are mighty" (1 Corinthians 1:27).
Roger Oakland (source)

From Understand The Times, International
RE: Calvary Chapel Costa Mesa and the Alpha Course (April 18, 2016)
Recently, Brian Brodersen, senior pastor of Calvary Chapel Costa Mesa, sent out an endorsement of Nicky Gumbel's Holy Trinity Brompton Alpha Course program. While Alpha is very well known in North America and around the world, it seems that Brian Brodersen and many other pastors know very little about Alpha.
In order to bring awareness to Brian Brodersen and all other Calvary Chapels and evangelical churches choosing to go this direction, Understand The Times has made the decision to post several links from the web site of Take Heed Ministries based in Northern Ireland. The speaker of the messages and the author of the article that follows is my good friend Cecil Andrews from Northern Ireland.
Please take the time to listen to these two messages and to read one of his articles posted on his web site. His web site is very important. Please click on the link and add it to your favorites.
Christian pastors and leaders should be warning about Alpha, not promoting it. By doing so, these leaders are showing a lack of concern for those who are blindly following them and their man-made programs.
Here are two video links to research:
https://www.youtube.com/watch?v=n6DjxpYR7mk
https://www.youtube.com/watch?v=Ll0A00LqKeM
Here is the link to an excellent article:
http://www.takeheed.info/pdf/January-2014/Alpha-attend-or-avoid.pdf
By Roger Oakland
Understand the Times, International
On April 14, 2016, Calvary Chapel Costa Mesa's senior pastor Brian Brodersen made the following astonishing remarks on his Facebook page,[1] "What a fantastic introduction to the new Alpha film series! Good one @nickygumbel https://t.co/BvmvHbbZbL." That link Brodersen provided leads to Alpha Course leader Vicar Nicky Gumbel of the UK. As researcher and berean Mark Jeffries stated recently on Facebook, Brian has partnered with HTB [Holy Trinity Brompton] in the last few years in organizing his "Creation Fest"[2] [UK] – But this, this is an outright endorsement!!"[3]
There will be many who will not understand the significance of this post. We will help you connect the dots.
As we are living in a period of church history when many are straying away from sound biblical truth, we need to contend for the faith that was "once delivered to the saints."
The saints Jude was referring to are those who have embraced the gospel according to the Scriptures. As Paul told the church at Corinth, there is another gospel, another spirit, and another Jesus. The saints had been led astray by the serpent, and they did not know they had been deceived. Paul was trying to get them back on track. Some paid attention; most did not.
Ever since I wrote the book New Wine or Old Deception in 1996, I have had a serious concern about the direction evangelical Christianity has been heading. The book was written and then published by Chuck Smith's publishing ministry, the Word for Today. It was written as a warning to the church with regard to the "experience-based" Christianity that was happening at that time known as the "Toronto Blessing."
Without describing the entire Toronto Blessing phenomenon in this commentary, I will say this: The Toronto Blessing was triggered off when Vineyard pastor Randy Clarke came to the Toronto Airport Vineyard in January of 1994. He held several nights of meetings and then lit "the fire." Randy Clarke had received his "anointing" from the "Holy Spirit Bartender" from South Africa, Rodney Howard Brown.[4] For endnotes and to read this entire commentary, click here.
"According to the U.S. Patent and Trademark Office, the name "Calvary Chapel" is owned by Calvary Chapel Costa Mesa . . . This means that every church name that has the words "Calvary Chapel" in it belongs to Calvary Chapel Costa Mesa."—Roger Oakland, March 2016

By Roger Oakland
Understand the Times, International
A new symbol has appeared at Calvary Chapel Costa Mesa (CCCM). Some may be wondering if this new symbol will be replacing the Calvary "dove" that has symbolized Calvary Chapel for decades. For now, at least, the dove logo seems to have gone "undercover" on the back wall behind the podium at CCCM and replaced by another symbol projected on the wall. Those who attend Calvary Chapel Costa Mesa will have seen it and know what I mean. Or if you receive "tweets" via Twitter from Brian Brodersen, Chuck Smith's son-in-law, you will have seen the new symbol. Brodersen inherited the pulpit at Calvary Chapel Costa Mesa because of his marriage to Chuck Smith's daughter, Cheryl. Since Pastor Chuck passed away, many changes have occurred at CCCM as the "new Calvary" replaces the "old Calvary" under new leadership.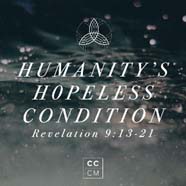 To the left here is the banner used to promote Brian Brodersen's Sunday morning study for Revelation 9:13-21 on March 6, 2016 that was sent out by Twitter.
On the picture below, note the symbol at the top center behind Brian as well as the absence of Chuck Smith's pulpit. This symbol is commonly used for the trinity in Catholic and some Protestant settings. Below, you can see an enlargement of the graphic. In a later commentary, I will present documentation to show the origin of this symbol. . . . Click here to continue reading and for more photos.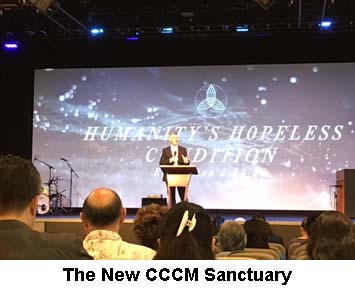 LTRP Note: The following two alerts are by Chris Lawson (director of Spiritual Research Network and a former Calvary Chapel pastor) and Roger Oakland (director of Understand the Times and former Calvary Chapel teacher and lecturer). These two men do not hate Calvary Chapel; rather they are deeply concerned and have been attempting to warn Calvary Chapel pastors and congregants of the dangerous direction that Calvary Chapel is heading.
ARTICLE #1:
By Chris Lawson
Spiritual Research Network
Dear Reader,
There are numerous sources online now that are reporting on the imbalanced Calvary Chapel leadership issues as well as the growing ecumenical compromises. Many Calvary Chapel pastors as well as the Calvary Chapel Association Leadership Council (formerly CCOF Ministry, Inc.) are aware of many of the growing problems, but sadly, little is being done to publicly expose and correct these things.
Please note that Spiritual Research Network (SRN) is not affiliated with Calvary Chapel or any other church or movement. SRN is an independent Christian ministry that seeks to proclaim the Gospel and warn and equip the body of Christ against the dangers of cults, mystical/occult practices, and ecumenical compromise. SRN also seeks to help people who have been abused in cults and by aberrant and abusive church leaders. . .
After personally spending many hours over the past twelve years helping hurting people who have been affected by growing problematic trends within many Calvary Chapel fellowships, it appears that the road ahead for the Calvary Chapel is a sad one.
When I personally contacted CCOF Ministry numerous times in 2011, and also Calvary Chapel (Komo Mai) in Honolulu, Hawaii, it became quickly obvious that CCOF Ministry and Calvary Chapel (Komo Mai) were above being corrected. I was not only yelled at through the telephone, one "pastor" told me that ministries such as Understand the Times International and Lighthouse Trails were not reliable. Incredibly, another "pastor" responded the same way and told me that ministries like Let Us Reason Ministries and Apologetics Coordination Team (and by implication our Spiritual Research Network), were like "cults."
Unfortunately, it appears now (from 2012 onward) that the Calvary Chapel Association is seriously struggling with what they are going to allow and not allow within the Calvary Chapel movement. The compromises continue and the confusion simply continues to grow. Sadly, if things do not change for the better, it is only a matter of time before the leaven of Emergent and Ecumenical apostasy infects the entire Calvary bChapel movement and numerous splits occur. In the mean time, many will continue to silently leave churches that are compromising. Many others who do have the courage to address issues head on within their fellowship will face resistance, and that most likely, at the highest levels.  To continue reading and for a list of documents posted by SRN for several years, click here.
ARTICLE #2:
By Roger Oakland
Understand the Times, International
The video link below goes to a video showing a panel discussion at the Calvary Chapel 2012 Pastor's Conference with Greg Laurie, Bob Coy and Brian Brodersen is a must watch. If you are wondering what has happened to many of the Calvary Chapels and where they are headed and why, this video will provide the answer.
Now that four years have passed and Chuck Smith has gone to be with the Lord (in 2013), like many other denominations, the Calvary Chapel association of churches has been influenced by the postmodern mindset in many ways and is on its way to becoming postmodern.
While those attending the 2012 conference were told there was no problem introducing the ideas of popular pastors known for their popular methods of reaching the postmodern generation, they were not told about the dangers. Four years later, many have found out where such reasoning leads.
While there are Calvary pastors who remain affiliated with Calvary Chapel who express their concerns, they remain silent for fear of rocking the boat or losing their position in the Calvary franchise.
https://www.youtube.com/watch?v=xygUvRX0MsQ
See information about Roger's upcoming book, a warning to the last-days church and leaders.
Related Information from Lighthouse Trails Research:
Click here to see the Lighthouse Trails archive of coverage on Calvary Chapel for over a decade.
By Roger Oakland
Understand the Times, International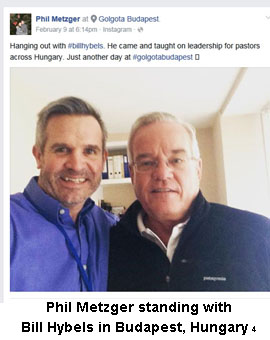 Recently, I was informed about a conference held this week in Budapest, Hungary where Willow Creek senior pastor Bill Hybels taught leaders. According to comments posted on Phil Metzger's Facebook page, the event was held at Calvary Chapel Golgota Budapest where Metzger is pastor. He is also the director of Calvary Chapel Bible College Europe (also located in Hungary). On Metzger's Facebook, Hybels was not only endorsed, he was praised. [3]
Perhaps most who read about this event will not be alarmed. But I was because I see the significance. I know that what Chuck Smith and Calvary Chapel once stood for is not at all what Hybels stands for. Bill Hybels was mentored by Peter Drucker along with Rick Warren to "reshape" Christianity for the 21st century. Hybels, from the famous Willow Creek Church located in South Barrington, Illinois, fathered the "seeker-friendly" movement.
When Hybels and his cohorts discovered that the seeker-friendly model produced spiritually illiterate believers, they said they "repented" [5] from this model of church; but in actuality, they delved right into teachings associated with the emergent church and contemplative mysticism, seeing those as the next "great" step. Interestingly, on Metzger's Facebook page, someone defending Metzger's promotion of Hybels said that it was irrelevant to talk about the emerging church because it was no longer an issue. But nothing could be further from the truth. While often called other names now, such as progressive, the ideologies of the emerging church are very much at work today. Click here to read this entire article and for endnotes.
Related Information
A Jesuit Pope? Understanding The Jesuit Agenda and the Evangelical/Protestant Church