Archive for the 'Concerns for Calvary Chapel' Category
LTRP Note: As many of you know, Roger Oakland, of Understand the Times, International, and Chris Lawson, of Spiritual Research Network, are former Calvary Chapel pastors/teachers, who both left the movement when their warnings about the infiltration of serious false teachings fell on deaf ears for several years and when they felt they could no longer, in good conscience, remain associated with the movement. Last week, Lighthouse Trails was informed of another Calvary Chapel pastor, Steve Shively of Refuge Church in Atascadero, California, who has made the decision (along with his church elders) to disaffiliate from the Calvary Chapel movement. The following letter was sent to the Calvary Chapel Association on June 29th, 2014. We are posting it with permission:
Dear Lighthouse Trails:
Can you recommend how to find a biblical teaching church that is not on the contemplative/emergent/Acts 29 path? My husband and I are feeling so unsettled about how these movement seem to be creeping in to all the churches in our area including the one that we are members at. Any suggestions would be greatly appreciated!
Lisa (from Illinois)
Our Comment (from our article "How Do I Find a Good Bible-Believing Church?"):
We have often been asked, "How do I find a good Bible-believing church?" There are many believers who are struggling to find one in their own communities. We usually recommend they make phone calls to potential churches and ask a few concise questions such as:
"Do you have a Spiritual Formation program at your church?" or "Has your church implemented aspects of the Purpose Driven Movement anytime in the past 10 years?."
Since thousands of churches would answer yes to both or at least one of these questions, they are worthwhile to ask, and it would certainly narrow down the scope of one's search. Here are a few other questions that could be asked:
1. Is the pastor using The Message "Bible" in his sermons and studies? Because this paraphrase is very often used by pastors and teachers who promote contemplative spirituality or emerging spirituality (as the language in The Message helps support these false teachings), it is another indicator that a church is going in the wrong direction.

2. Is the church affiliated in any way with the Willow Creek Association? Oftentimes, a church has not implemented the Purpose Driven Movement but is, rather, hooked up with Willow Creek. This is as problematic as Purpose Driven. See our article on our website titled, "No Repentance from Willow Creek—Only a Mystical Paradigm Shift."

3. Ask a potential church if it would mind mailing you a few recent Sunday programs. When you get them, look for some of the key terms used within the contemplative/emerging camp: missional, servant leader, soul-care, spiritual formation, transformation, transitioning, silence, organic, authentic, reinvent, spiritual disciplines, Christ follower (the term Christian isn't typically liked too well by contemplatives and emergent) Christian formation (or Christian spirituality) (a term often meaning the same as Spiritual Formation). Just using these terms alone doesn't suddenly make a church contemplative or emerging, but it does show that at least one person in leadership at that church is reading books of that persuasion, and eventually that person's influence will affect that church adversely.
In addition to those three questions, be sure and visit a church's website as there you may be able to find the answers to these questions without making the phone call. When on a website, see if there is more talk about "culture" and relevancy than about the Gospel of Jesus Christ. You can check out the doctrinal and mission statements but be on guard—a church can have a solid-sounding doctrinal statement and be actually going in an entirely different direction. Listen to our CD Beware the Bridgers for some information on that. And by the way, remember who some of the more popular "bridgers" are, closing the gap between "rightly dividing the Word" and spiritual deception in millions of people's lives: Beth Moore, Rick Warren, Bill Hybels, John Piper, etc.—those who claim to be orthodox biblical Christians but who promote contemplative spirituality and emerging figures.
Also, once your search for a new church has narrowed down to a few churches, a weekday visit to those churches' bookstores would be important. Look for books by Richard Foster, Gary Thomas, Henri Nouwen, Brennan Manning, and other authors discussed and critiqued on the LT website. Chris Lawson from Spiritual Research Network has an extensive "Master List" of authors who fall within the contemplative, emerging, hyper-charismatic, River, New Age, "Christian" homosexual, etc. camps. It's an excellent resource.
When all this has been done to find a Bible-believing church, if there are any in your community that have passed the contemplative/emerging/Purpose Driven test, maybe it's safe to take your family for a Sunday visit. Are many of the people walking in carrying Bibles? Seeker-friendly and church-growth churches discourage that because it might "offend" unbelievers (or as they say unchurched) coming to church. Does the pastor at some point in his sermon talk about the Cross (the atonement) and salvation (and mention of hell)? These are subjects that many churches avoid because of the "offensiveness" of that message. Better to offer an espresso drink and a little rock n roll music during the service and a psychology-based, feel good message that appeals to the carnal senses (sensual) rather than build up the spiritual man.
Once you have found a church that seems to be sound, you should not stop being discerning. That must be ongoing. That might seem like a "paranoid" or overly concerned attitude to have, but if we remember the many verses in Scripture that talk about spiritual deception (right from the Garden of Eden all the way to the Book of Revelation), we will realize it is the responsibility of the Christian to be discerning and watchful. And the Bible frequently talks about the latter days before Christ's return where deception will run more rampant than ever before. Roger Oakland gives a list of signs to look for to see if a church is becoming or has become contemplative/emerging. As you begin to attend a new church, this list may be helpful to you and your family:
Scripture is no longer the ultimate authority as the basis for the Christian faith.

The centrality of the Gospel of Jesus Christ is being replaced by humanistic methods promoting church growth and a social gospel.

More and more emphasis is being placed on building the kingdom of God now and less and less on the warnings of Scripture about the imminent return of Jesus Christ and a coming judgment in the future.

The teaching that Jesus Christ will rule and reign in a literal millennial period is considered unbiblical and heretical.

The teaching that the church has taken the place of Israel and Israel has no prophetic significance is often embraced.

The teaching that the Book of Revelation does not refer to the future, but instead has been already fulfilled in the past.

An experiential mystical form of Christianity begins to be promoted as a method to reach the postmodern generation.

Ideas are promoted teaching that Christianity needs to be re­invented in order to provide meaning for this generation.

The pastor may implement an idea called "ancient-future" or "vintage Christianity" claiming that in order to take the church forward, we need to go back in church history and find out what experiences were effective to get people to embrace Christianity.

While the authority of the Word of God is undermined, images and sensual experiences are promoted as the key to experiencing and knowing God.

These experiences include icons, candles, incense, liturgy, labyrinths, prayer stations, contemplative prayer, experiencing the sacraments, particularly the sacrament of the Eucharist.

There seems to be a strong emphasis on ecumenism indicating that a bridge is being established that leads in the direction of unity with the Roman Catholic Church.

Some evangelical Protestant leaders are saying that the Reformation went too far. They are reexamining the claims of the "church fathers" saying that communion is more than a symbol and that Jesus actually becomes present in the wafer at communion.

There will be a growing trend towards an ecumenical unity for the cause of world peace—claiming the validity of other religions and that there are many ways to God.

Members of churches who question or resist the new changes that the pastor is implementing are reprimanded and usually asked to leave.
Roger has these signs listed in his Booklet Tract How to Know When the Emerging Church Shows Signs of Emerging into Your Church. May God bless you in your search. It may seem like an insurmountable task, but we know there are still good churches out there because we often hear from pastors who are staying the course and are aware of the times in which we live. May God lead you to find one of these churches.
Now we have received, not the spirit of the world, but the spirit which is of God; that we might know the things that are freely given to us of God. Which things also we speak, not in the words which man's wisdom teacheth, but which the Holy Ghost teacheth; comparing spiritual things with spiritual. But the natural [carnal] man receiveth not the things of the Spirit of God: for they are foolishness unto him: neither can he know them, because they are spiritually discerned. . . . For who hath known the mind of the Lord, that he may instruct him? But we have the mind of Christ. (1 Corinthians 2:12-16)
To Lighthouse Trails:
Well, here we go again! I was surprised, though not shocked, to see Dr. Wood, our General Superintendent, endorsing "The Son of God," in one of the videos you mentioned in your latest e-newsletter.  Dr. Wood is showing a greater propensity toward ecumenism.  When I first learned of his appearance at BYU, I stated to my wife, I wonder if and when Dr. Wood would move toward embracing the Roman Catholic Church and lo, and behold, out comes his endorsement of "The Son of God" produced by a New Age Roman Catholic.  You have to wonder who else the A/G, with Dr. Wood's blessing, will come alongside of in the future – perhaps Muslims, or Hindus, or who knows.  This is getting embarrassing and heartbreaking to me as an ordained A/G minister in this fellowship for over 30 years.
We have seen in the past other A/G leaders endorsing such questionable things as "Evangelicals and Catholics Together," and "A Christian Response to 'A Common Word Between Us and You.'"  There is, within the A/G, what I perceive to be a subtle, but certain movement toward an ecumenical attitude.  Dr. Wood has stated that in this 100th year of the formation of the A/G, that our founding forefathers would be proud to see how far we have come and how well we are doing.  But my personal view is that our founding forefathers would "turn over in their graves" at what has happened.  It is becoming clearer to me that the A/G as well as Foursquare, Calvary Chapel, Nazarenes, et al are no longer being "led by the Spirit," but are being led with a faith in, to quote Samuel Chadwick,  "…. the world and the flesh than in the Holy Ghost, and things will get no better till we get back to His realized presence and power." To that I say a hearty, AMEN.
Once again, I want to thank you for your wonderful ministry of exposing the deception that is flooding the church world.  It's coming so fast that it's becoming more and more difficult to keep up.  But with ministries such as yours, we're keeping informed and warning this congregation to avoid "sticking their heads in the sand."  We must pray fervently for a sovereign move of the Holy Spirit in such a manner that it cannot be viewed as anything but the hand of God and not the hand of man.
A Disheartened Assemblies of God Pastor
LTRP Note: Since the passing of Calvary Chapel founder Chuck Smith last fall, Lighthouse Trails has received calls from a number of people who have expressed concern over the direction that Calvary Chapel has gone. To understand more about the commentary below by Roger Oakland, you can read a full account in Roger's book, Let There Be Light (a biography). You may also wish to read the following articles by Roger Oakland: "The Facts Behind My Departure from Calvary Chapel" – by Roger Oakland -Part One,  "The Facts Behind My Departure from Calvary Chapel" – by Roger Oakland – Part Two, (also see more related material below).
 By Roger Oakland
Several years ago, I wrote a commentary titled "Ichabod." As someone familiar with the workings of Calvary Chapel Costa Mesa for over twenty years, it became apparent to me that drastic measures were needed in order to correct the direction that the mother ship of the Calvary Chapel movement was headed. While many were upset with me at the time, suggesting that I was firing a missile over the bow of the ship, time has shown that the warning God placed upon my heart at that time was accurate and was for a reason.
While management has changed at CC Costa Mesa since that commentary was written, daily reports from the many now jumping off the ship verify the once mighty Titanic may be in trouble.  Many of the older and mature members who were pillars in the old Calvary Chapel regime have already left. They have found a new church home with a pastor who was fired by the new leadership at Costa Mesa who has planted his own church not far away. A drive by the Calvary Costa Mesa parking lot at service time is also very enlightening. No longer is the parking lot overflowing with cars.  Where have the people gone, and what is the reason? The answer – a number of churches in the area report their congregations are growing as former Calvary Chapel Costa Mesa church attendees are being added to their pews.
The message found in the "Ichabod" commentary written to warn Calvary Chapel several years ago remains the same, only it is more relevant today than it was when the commentary was written. Not a day goes by when I am not confronted or approached by someone or some group with eyes now opened to see what I saw in the past. While the "New Calvary Chapel leaders," as they call themselves, boast that their transition to power has been a total success and that great and wonderful things lie ahead, there are many voices from former staff and church members who have either been fired, insulted, or left on their own who would strongly disagree.
Apparently, those who have taken over the leadership of Calvary Chapel Costa Mesa believe that Costa Mesa will remain the mother of all churches in the future as it was in the past. While the Calvary Chapel Movement remained intact while Chuck Smith was alive, now that he has passed on there are rumblings that a major change is underway.  Based on conversations I have had with many Calvary pastors whom I have known for years spread throughout the United States, the consensus is that the movement is fragmenting and the chance of this happening is very slim. Of course, there are Calvary pastors who also see (just as God showed me) what lies ahead, and they are preparing for the future. Rather than following some man (or woman), they tell me they will follow Jesus and His Word instead. Click here to continue reading.

Related Material:
Calvary Chapel Rejects Contemplative and Emergent Spirituality!
Calvary Chapel Rejects Purpose Driven and Emerging Spirituality
Warren Smith addresses 800 Calvary Chapel pastors by invitation of Chuck Smith.
New Age Similarities, Popularity Continues, and Calvary Chapel Gives Official Statement
What Happened to the Calvary Chapel Book, When Storms Come?
SPECIAL REPORT: Calvary Chapel Termination Has Profound Implications
The Depths of Our Concerns for Calvary Chapel and Other Christian Organizations
We have to be prepared to take the security measures necessary for our immediate protection. . . .The answer is to promote views that are open-minded and tolerant towards those who are different, and to fight the formal, informal and internet propagation of closed-minded intolerance." – Tony Blair
The following article (below) written by Tony Blair illustrates further the world's efforts to bring about peace (without Christ) and its move toward a one-world religion, which will reject biblical Christians as extremists who are prone to terrorism. Of course, this is absurd as true born-again believers in Christ are not prone to violence. What Tony Blair and other leaders are really calling for is a world where those who say Jesus Christ is the
only way of salvation are silenced. If you don't believe that, consider what Blair's co-comrade Rick Warren said about Christian fundamentalists (meaning those who adhere to biblical doctrine):
Warren predicts that fundamentalism, of all varieties, will be 'one of the big enemies of the 21st century.' 'Muslim fundamentalism, Christian fundamentalism, Jewish fundamentalism, secular fundamentalism – they're all motivated by fear. Fear of each other.' (Rick Warren, from the Philadelphia Inquirer, 2006)
A false "Christ" is coming—the Bible predicts it—and he will hate Israel, the Jews, and Bible-believing Christians. While the world is going to do what it is going to do, how is that many of Christianity's main leaders are falling into step with this world system that will eventually bring about the Antichrist? And how is it that within most denominations (including Calvary Chapel, Southern Baptist, Assemblies of God, etc.) there are many pastors promoting this apostasy and going unchecked and unchallenged? Remember what Rick Warren said about the new reformation he is hoping to help bring about, that it can come not just through Christians but through Muslims as well. He calls it a reformation from God.
Who's the man of peace in any village – or it might be a woman of peace – who has the most respect, they're open and they're influential? They don't have to be a Christian. In fact, they could be a Muslim, but they're open and they're influential and you work with them to attack the five giants. And that's going to bring the second Reformation.—Rick Warren, May 2005, Pew Forum on Religion
By Tony Blair
UK Guardian
"Religious difference, not ideology, will fuel this century's epic battles"
The last weeks have seen a ghastly roll call of terror attacks in the obvious places: Syria, Libya, Iraq and Lebanon, as well as Egypt, Yemen, Tunisia and Pakistan. Also suffering are places where we have only in recent years seen such violence: Nigeria, and in many parts of central Africa, in Russia and across central Asia, and in Burma, Thailand and the Philippines. We can either see all of these acts of killing as separate – produced by various political contexts – or we can start to see the clear common theme and start to produce a genuine global strategy to deal with it.
The fact is that, though of course there are individual grievances or reasons for the violence in each country, there is one thing self-evidently in common: the acts of terrorism are perpetrated by people motivated by an abuse of religion. It is a perversion of faith. But there is no doubt that those who commit the violence often do so by reference to their faith and the sectarian nature of the conflict is a sectarianism based on religion. There is no doubt either that this phenomenon is growing, not abating. Click here to continue reading.
We have to be prepared to take the security measures necessary for our immediate protection. Since 9/11, the cost of those measures, and their burden, has been huge. However, security action alone, even military action, will not deal with the root cause. This extremism comes from a source. It is not innate. It is taught. It is taught sometimes in the formal education system; sometimes in the informal religious schools; sometimes in places of worship and it is promoted by a vast network of internet communications. Click here to continue reading.
Related:
Tony Blair and World Leaders Look for Answers to Terrorism – Missing the Only Answer

LTRP NOTE:  If you have not read Larry DeBruyn's article "The Music and the Mystical," this would be a good time to do so.
By Roger Oakland
Understand the Times
Many who attended Calvary Chapel of Costa Mesa in the past under the leadership of Pastor Chuck Smith are wondering what changes to expect now that a new generation is at the helm. The following video clip of "worship" at the Cornwall, England Creationfest in the summer of 2013 sanctioned by the new leadership of CCCM should provide a clear answer to that question.
Amazing Grace – Like you've never dreamt of hearing it!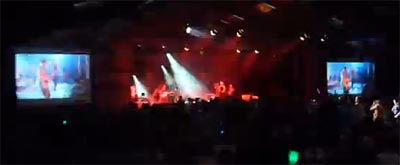 Disclaimer: As has been stated before, when UTT uses a video clip or article that has been produced or written by a source that may be religious or secular, we are not endorsing the producer or publisher. 
The link below is to an interview Stand Up For the Truth radio had this week with Calvary Chapel pastor Chris Quintana. The interview is addressing our recent posts about the Calvary Chapel bookstore carrying The Daniel Plan. During the interview, Chris relayed a situation that recently took place wherein the Calvary Chapel bookstore told Warren Smith (who had stopped in there with Chris and Ray Yungen during a recent conference at Chris' church) that they carried Jesus Calling but because it was controversial, they kept it in the back room.
http://standupforthetruth.com/files/2014/01/When-denominations-shift.mp3
Yesterday, we verified that the Calvary Chapel store is still selling the book from the back room. A woman who is an acquaintance of Warren Smith and had heard from Warren about the "back room" copies has given us permission to relay this to our readers. She entered the store, searched for Jesus Calling in the devotional section, and when not finding it, she approached a store clerk and asked if the store was carrying Jesus Calling. The clerk told her it was being kept in a back room. The clerk then disappeared and returned a few moments later with a copy. The woman purchased the book and left (she'll be using it for research purposes).
We find both the implications as well as the ramifications troubling with this kind of practice. The implication of keeping a particular book out of the public's view and hidden in the back room,  available only to those who request it, is that while they know the book is problematic, it is also a best seller, and because of it being in high demand, this takes more precedence over whether the book is trustworthy and biblically sound. Another implication is that there are supposedly some Christians who are behind the times (old-fashioned, if you will) and obviously won't accept a controversial book because they are stuck in the old ways; and methods must be implemented to bring forth the new way even if it means being sneaky about it (remember that interview called Tides of Change a number of years ago between Rick Warren and Leonard Sweet where they talk about "new frontiers," "changing times," and the "new spirituality"). It also implies that while a bookstore manager realizes a book is controversial, he must keep his promotion of it in secret because he lacks evidence to show the book is OK from a scriptural point of view (i.e., God's point of view).
The ramification of all this is that it is providing a further open door for spiritual deception to enter the Calvary Chapel movement.
Jesus said to let your yes be yes and your no be no. If a Christian bookstore believes a certain book is a valuable addition to the body of Christ, then that book should be put on a visible shelf for all to see, without shame or secrecy, and that bookstore manager should also be able to provide proof that the book is biblically sound. And, on the other hand, if a Christian bookstore believes a book is heretical, then that book should not be made available to the public at all because it puts the public in harm's way. Scripture admonishes us to live our lives in the light and not in darkness.
Lighthouse Trails is well acquainted with a number of Christian men and women who have tried to warn leaders of the Calvary Chapel movement for several years – Roger Oakland, Chris Lawson, and Mike Oppenheimer, all formerly part of Calvary Chapel, are three Lighthouse Trails authors who fall in this category. Eventually each of these three men left the movement when their warnings were not welcomed any longer.
It is not just Calvary Chapel that is struggling with spiritual deception – virtually every Christian denomination is going through the same battle as the Spiritual Formation (i.e. contemplative spirituality) movement and emerging church ideology are sweeping through like a plague in Egypt. How can a church or denomination protect itself against this overwhelming spiritual deception that is threatening all of Christianity today? By refusing to compromise even under the pressure of popular opinion and by staying true to the Gospel of Jesus Christ.
As Warren B. Smith's new book, "Another Jesus" Calling has shown, the "Jesus" of Jesus Calling contradicts the Jesus of the Bible. While we realize the "Jesus" of Jesus Calling makes people feel good about themselves (so we are told) and some say he comforts them, if he is a false Christ then he is seducing them and deceiving them.
But let your communication be, Yea, yea; Nay, nay: for whatsoever is more than these cometh of evil. Matthew 5:37

Be sober, be vigilant; because your adversary the devil, as a roaring lion, walketh about, seeking whom he may devour: whom resist stedfast in the faith, knowing that the same afflictions are accomplished in your brethren that are in the world.  But the God of all grace, who hath called us unto his eternal glory by Christ Jesus, after that ye have suffered a while, make you perfect, stablish, strengthen, settle you. 1 Peter 5:8-10

. . . that ye may be blameless and harmless, the sons of God, without rebuke, in the midst of a crooked and perverse nation, among whom ye shine as lights in the world. Philippians 2:15
How interesting that while Calvary Chapel Distribution seems to be biting at the bit to bring in books like Jesus Calling and The Daniel Plan (books that are clearly promoting the "new" spirituality), you won't find one book by a Lighthouse Trails author anywhere on their store site. Calvary Chapel pastors who want a book by Ray Yungen, Warren Smith, or Roger Oakland must buy their books elsewhere (and there are a number of them that do that – of this we can testify). But apparently, those who want books by Rick Warren, Sarah Young, Gary Thomas, Catholic convert J. Budziszewski, Philip Yancey and other contemplative proponents, if you can't find them on the store shelves, you need look no further than the Calvary Chapel back room.
Note: Calvary Chapel distribution was carrying several Lighthouse Trails books until 2009. Shortly afterward, we issued this article: "SPECIAL REPORT: Calvary Chapel Termination Has Profound Implications." 
Update: Shortly after we posted the article above, John Lanagan from My Word Like Fire ministries sent us a link to Calvary Distribution's store showing that they are presently carrying God Calling for Kids (for 3-7 year olds)! This edition is a remake of the New Age channeled book God Calling that inspired Sarah Young to write Jesus Calling. In "Another Jesus" Calling, Warren Smith quotes Harvest House's Encyclopedia of New Age Beliefs regarding God Calling:
The encyclopedia . . . explains that channeling is a form of mediumship and "is a practice forbidden (Deuteronomy 18:9-12)." This Scripture specifically warns that "a consulter with familiar spirits" is an abomination unto the Lord. Also in this encyclopedia, under the heading titled "Impersonations and Denials of Christianity," God Calling is cited as an example of a channeled New Age book "replete with denials of biblical teaching" as it "subtly encourages psychic development and spiritistic inspiration under the guise of Christ's personal guidance . . . and often misinterprets Scripture." (from pp. 25-26, "Another Jesus" Calling)
Folks, this is serious what is happening to Christianity today.