Archive for the 'Concerns for Calvary Chapel' Category
Dear Lighthouse Trails:
We are very thankful for Lighthouse Trails Publishing and Research, and for all the dedicated watchmen who warn and educate the sheep. We pray for continued wisdom, provision, and protection for everyone who is engaged in presenting and defending the simple and powerful Gospel of Jesus Christ.
We are especially concerned because our talented, zealous adult children are, to some degree or another, caught up in following Bethel and Hillsong worship and practices. So far as I know, none are practicing 'contemplative' prayer, but other occult practices are subtly mixed in with their schools of worship and 'supernatural' ministries. We prepared a notebook for each of our children and their spouses where we downloaded and printed Warren Smith's Reinventing Jesus Christ (now titled False Christ Coming: Does Anybody Care?) back in late 2006 or early 2007 – probably just before we discovered Lighthouse Trails. I think they mostly stuck the notebooks under the bed or somewhere obscure.
Since that time, some of them have expressed disappointment in us for backing off of all things Vineyard, hyper-charismatic, and the whole signs & wonders and healing ministries movements. So, we have the privilege of standing in the gap and praying God will reveal the Truth to them and expose all the error they are so vulnerable to. My husband says we really can't bring up these topics with them anymore, that we need to wait until they ask us what we think or believe because they already know. We find that we aren't comfortable going to their churches anymore.
At one of their churches, one big event featured a couple from Bethel (Redding) leadership – and Heidi Baker – 'ministering.' We watched some of it online . . . very distressing.
We actually have left our own Calvary Chapel fellowship this past year. They're still teaching the Word, chapter and verse, but are not willing to address apostasy issues. My husband wrote a letter to the pastor after Jesus Calling showed up in the bookstore – even some of the men in their Bible study were bringing it along and quoting it. No response, not even an acknowledgment of his letter was ever offered. The book disappeared from the bookstore, but they never addressed it from the podium, nor did they ever stock any books by discernment authors.
We have been blessed to be able to attend discernment conferences with Roger Oakland and Warren Smith speaking, as well as some local CC pastors who are good under-shepherds. We have gotten to meet and speak with them, as well as with Caryl Matriciana and Randolph and Johanna Michaelson. What is surprising to me is that these types of conferences don't seem to attract the thousands of Bible believers I thought would be lined up to participate, up in arms about false teaching and wolves in sheep's clothing as are we, like-minded.
May God give you good health and continue to provide for you and protect you as you continue to fight the good fight!
Yours warmly in Christ,
Mrs. S.
"How can we know if something is not a move of God? In today's church, there are two significant signs that can be looked at to answer this question."—Roger Oakland
By Roger Oakland
Understand the Times, International
Throughout my life, I have seen God work in many supernatural and natural ways. God is a God of wonders, and there are many times I wonder at the things He does to help me connect the dots in order so I can understand the times.
Someone once said that connecting dots in order to make a meaningful drawing or picture is easy. All one has to do is use a pencil or pen to join one number to another. Now, while this may sound easy, in the confusing world we presently live in, connecting dots is not so simple.
My calling has been to connect dots in order to help believers, and unbelievers, understand what the Bible has to say about the times in which we live. The Bible helps us to understand the past, the present, and the future and is of paramount importance as it is given to us by the inspiration of God for our benefit. For example, we read in 2 Timothy 3:16-17:
All scripture is given by inspiration of God, and is profitable for doctrine, for reproof, for correction, for instruction in righteousness: That the man of God may be perfect, thoroughly furnished unto all good works.
Now, for the point of this commentary. First, let me start with John 6. This is the story of where Jesus miraculously multiplied fish and bread to feed the multitude that had come to hear him preach. Afterward, the men whom he fed said, "This is of a truth that prophet that should come into the world" (vs. 14). The chapter goes on:
When Jesus therefore perceived that they would come and take him by force, to make him a king, he departed again into a mountain himself alone. (vs 15)
Later in the chapter, it explains that the multitude found him and began questioning him as to where he had gone. But rather than answering their question, He brought to their attention the motives of their hearts:
Jesus answered them and said, Verily, verily, I say unto you, Ye seek me, not because ye saw the miracles, but because ye did eat of the loaves, and were filled. (vs. 26)
Jesus had used the miracle of the loaves and fishes to show them that He was God. But they didn't see that—in essence, they only saw how they benefited from what He had done. They missed the entire point of what God was trying to show them and do in their lives. Click here to continue reading.
LTRP Note: Please see the video at the bottom of this letter from Chris Lawson.
By Chris Lawson
Spiritual Research Network
Filmed between a 45-minute break between down-pouring rain and a storm system approaching from the horizon, this unscripted, impromptu video expresses my heart and desire to see people in the Calvary Chapel movement (and other movements) helped and healed and strengthened in their faith in the Lord Jesus Christ in these last days.
I have no desire to divide the Body of Christ or needlessly offend anyone who is in Calvary Chapel movement and beyond. I am simply sharing my heart and God's truth in light of a number of observations I have seen growing for over 25 years now in the Calvary Chapel movement. Things now have become so blatant in the rising storm of ecumenical apostasy that only sincere prayer and publicly declared clarion calls for humility, truth, and repentance will make any difference at all. My prayer is that God Himself by His Spirit and His Word will raise up clarion voices around the globe in this late hour.
As a Christian missionary and as a former Calvary Chapel pastor for many years, I have been observing a growing trend of too many people remaining silent on far too many major ecumenical compromises. A host of other issues are also of concern.
Sadly, true biblical accountability is often sidestepped and leaders (and/or church elders) either remain silent in the face of evil—perhaps out of fear of ostracism or losing their livelihood—or they willfully choose to remain ignorant when presented with documented facts. For whatever reason, when leaders are passively silent, and even suppress the truth when godly action, righteousness, and truth should prevail, God is grieved, and the church sinks into malaise, confusion, and apostasy.
This video was not a "planned" event. I was actually standing on the beach alone, praying. As I was watching the rising storm clouds on the distant horizon and observing the turbulent waves, I was reminded of the flood of shameful compromise and storm of spiritual apostasy that is taking over churches and families worldwide. As I began to share my heart and thoughts in this video, some local bystanders slowed down to listen—perhaps you, like them, will seriously consider what I am saying.
Altogether, my heart is for pastors, for church leaders, and for fellow believers in Jesus Christ. My heartfelt exhortation is the same as Jude's in the early days of Christianity, and my sincere prayer is that all who have ears to hear, will hear—for God's glory—and that laymen and leaders alike, will take heed, "Beloved, when I gave all diligence to write unto you of the common salvation, it was needful for me to write unto you, and exhort you that ye should earnestly contend for the faith which was once delivered unto the saints" (Jude 3).
"And he gave some, apostles; and some, prophets; and some, evangelists; and some, pastors and teachers; For the perfecting of the saints, for the work of the ministry, for the edifying of the body of Christ: Till we all come in the unity of the faith, and of the knowledge of the Son of God, unto a perfect man, unto the measure of the stature of the fulness of Christ: That we henceforth be no more children, tossed to and fro, and carried about with every wind of doctrine, by the sleight of men, and cunning craftiness, whereby they lie in wait to deceive; But speaking the truth in love, may grow up into him in all things, which is the head, even Christ: From whom the whole body fitly joined together and compacted by that which every joint supplieth, according to the effectual working in the measure of every part, maketh increase of the body unto the edifying of itself in love." (Ephesians 4:11-16)
Contending for the truth, in the love and joy of the Lord,
Chris Lawson
Jude 3; Ephesians 4:11-16

THE RISING STORM and A CLARION CALL for HUMILITY, TRUTH and REPENTANCE: Observations for Calvary Chapel Leaders to Consider from Chris Lawson on Vimeo.
Important Related Information from Spiritual Research Network:
LOCATION #1 – CALVARY CHAPEL ALERT page
LOCATION #2 – SPIRITUAL RESEARCH NETWORK HOMEPAGE 
LOCATION #3 – CHRIS LAWSON VIMEO ARCHIVE
By Roger Oakland
Understand the Times, International
There may still be people on UTT's list who lack discernment and insist that Willow Creek theology is safe as mother's milk and harmless to anyone and everyone.
This commentary will be very short but also very important. It will help connect the dots.
Please open the following link and read: https://www.instagram.com/WillowCreekCC

Read the following: http://www.understandthetimes.org/commentary/c176pf.shtml

Please contact Calvary Chapel Association Council by going to their web site. This can be done by clicking on the following link: http://calvarychapelassociation.com/leadership-council/
After reading this material, you may want to contact your local church and pass on this commentary.
Paul stated: "God hath chosen the foolish things of the world to confound the wise; and God hath chosen the weak things of the world to confound the things which are mighty" (1 Corinthians 1:27).
Roger Oakland (source)

From Understand The Times, International
RE: Calvary Chapel Costa Mesa and the Alpha Course (April 18, 2016)
Recently, Brian Brodersen, senior pastor of Calvary Chapel Costa Mesa, sent out an endorsement of Nicky Gumbel's Holy Trinity Brompton Alpha Course program. While Alpha is very well known in North America and around the world, it seems that Brian Brodersen and many other pastors know very little about Alpha.
In order to bring awareness to Brian Brodersen and all other Calvary Chapels and evangelical churches choosing to go this direction, Understand The Times has made the decision to post several links from the web site of Take Heed Ministries based in Northern Ireland. The speaker of the messages and the author of the article that follows is my good friend Cecil Andrews from Northern Ireland.
Please take the time to listen to these two messages and to read one of his articles posted on his web site. His web site is very important. Please click on the link and add it to your favorites.
Christian pastors and leaders should be warning about Alpha, not promoting it. By doing so, these leaders are showing a lack of concern for those who are blindly following them and their man-made programs.
Here are two video links to research:
https://www.youtube.com/watch?v=n6DjxpYR7mk
https://www.youtube.com/watch?v=Ll0A00LqKeM
Here is the link to an excellent article:
http://www.takeheed.info/pdf/January-2014/Alpha-attend-or-avoid.pdf
By Roger Oakland
Understand the Times, International
On April 14, 2016, Calvary Chapel Costa Mesa's senior pastor Brian Brodersen made the following astonishing remarks on his Facebook page,[1] "What a fantastic introduction to the new Alpha film series! Good one @nickygumbel https://t.co/BvmvHbbZbL." That link Brodersen provided leads to Alpha Course leader Vicar Nicky Gumbel of the UK. As researcher and berean Mark Jeffries stated recently on Facebook, Brian has partnered with HTB [Holy Trinity Brompton] in the last few years in organizing his "Creation Fest"[2] [UK] – But this, this is an outright endorsement!!"[3]
There will be many who will not understand the significance of this post. We will help you connect the dots.
As we are living in a period of church history when many are straying away from sound biblical truth, we need to contend for the faith that was "once delivered to the saints."
The saints Jude was referring to are those who have embraced the gospel according to the Scriptures. As Paul told the church at Corinth, there is another gospel, another spirit, and another Jesus. The saints had been led astray by the serpent, and they did not know they had been deceived. Paul was trying to get them back on track. Some paid attention; most did not.
Ever since I wrote the book New Wine or Old Deception in 1996, I have had a serious concern about the direction evangelical Christianity has been heading. The book was written and then published by Chuck Smith's publishing ministry, the Word for Today. It was written as a warning to the church with regard to the "experience-based" Christianity that was happening at that time known as the "Toronto Blessing."
Without describing the entire Toronto Blessing phenomenon in this commentary, I will say this: The Toronto Blessing was triggered off when Vineyard pastor Randy Clarke came to the Toronto Airport Vineyard in January of 1994. He held several nights of meetings and then lit "the fire." Randy Clarke had received his "anointing" from the "Holy Spirit Bartender" from South Africa, Rodney Howard Brown.[4] For endnotes and to read this entire commentary, click here.
"According to the U.S. Patent and Trademark Office, the name "Calvary Chapel" is owned by Calvary Chapel Costa Mesa . . . This means that every church name that has the words "Calvary Chapel" in it belongs to Calvary Chapel Costa Mesa."—Roger Oakland, March 2016

By Roger Oakland
Understand the Times, International
A new symbol has appeared at Calvary Chapel Costa Mesa (CCCM). Some may be wondering if this new symbol will be replacing the Calvary "dove" that has symbolized Calvary Chapel for decades. For now, at least, the dove logo seems to have gone "undercover" on the back wall behind the podium at CCCM and replaced by another symbol projected on the wall. Those who attend Calvary Chapel Costa Mesa will have seen it and know what I mean. Or if you receive "tweets" via Twitter from Brian Brodersen, Chuck Smith's son-in-law, you will have seen the new symbol. Brodersen inherited the pulpit at Calvary Chapel Costa Mesa because of his marriage to Chuck Smith's daughter, Cheryl. Since Pastor Chuck passed away, many changes have occurred at CCCM as the "new Calvary" replaces the "old Calvary" under new leadership.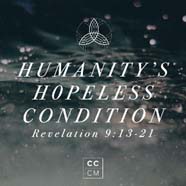 To the left here is the banner used to promote Brian Brodersen's Sunday morning study for Revelation 9:13-21 on March 6, 2016 that was sent out by Twitter.
On the picture below, note the symbol at the top center behind Brian as well as the absence of Chuck Smith's pulpit. This symbol is commonly used for the trinity in Catholic and some Protestant settings. Below, you can see an enlargement of the graphic. In a later commentary, I will present documentation to show the origin of this symbol. . . . Click here to continue reading and for more photos.