Archive for the 'Concerns for Calvary Chapel' Category
We have to be prepared to take the security measures necessary for our immediate protection. . . .The answer is to promote views that are open-minded and tolerant towards those who are different, and to fight the formal, informal and internet propagation of closed-minded intolerance." – Tony Blair
The following article (below) written by Tony Blair illustrates further the world's efforts to bring about peace (without Christ) and its move toward a one-world religion, which will reject biblical Christians as extremists who are prone to terrorism. Of course, this is absurd as true born-again believers in Christ are not prone to violence. What Tony Blair and other leaders are really calling for is a world where those who say Jesus Christ is the
only way of salvation are silenced. If you don't believe that, consider what Blair's co-comrade Rick Warren said about Christian fundamentalists (meaning those who adhere to biblical doctrine):
Warren predicts that fundamentalism, of all varieties, will be 'one of the big enemies of the 21st century.' 'Muslim fundamentalism, Christian fundamentalism, Jewish fundamentalism, secular fundamentalism – they're all motivated by fear. Fear of each other.' (Rick Warren, from the Philadelphia Inquirer, 2006)
A false "Christ" is coming—the Bible predicts it—and he will hate Israel, the Jews, and Bible-believing Christians. While the world is going to do what it is going to do, how is that many of Christianity's main leaders are falling into step with this world system that will eventually bring about the Antichrist? And how is it that within most denominations (including Calvary Chapel, Southern Baptist, Assemblies of God, etc.) there are many pastors promoting this apostasy and going unchecked and unchallenged? Remember what Rick Warren said about the new reformation he is hoping to help bring about, that it can come not just through Christians but through Muslims as well. He calls it a reformation from God.
Who's the man of peace in any village – or it might be a woman of peace – who has the most respect, they're open and they're influential? They don't have to be a Christian. In fact, they could be a Muslim, but they're open and they're influential and you work with them to attack the five giants. And that's going to bring the second Reformation.—Rick Warren, May 2005, Pew Forum on Religion
By Tony Blair
UK Guardian
"Religious difference, not ideology, will fuel this century's epic battles"
The last weeks have seen a ghastly roll call of terror attacks in the obvious places: Syria, Libya, Iraq and Lebanon, as well as Egypt, Yemen, Tunisia and Pakistan. Also suffering are places where we have only in recent years seen such violence: Nigeria, and in many parts of central Africa, in Russia and across central Asia, and in Burma, Thailand and the Philippines. We can either see all of these acts of killing as separate – produced by various political contexts – or we can start to see the clear common theme and start to produce a genuine global strategy to deal with it.
The fact is that, though of course there are individual grievances or reasons for the violence in each country, there is one thing self-evidently in common: the acts of terrorism are perpetrated by people motivated by an abuse of religion. It is a perversion of faith. But there is no doubt that those who commit the violence often do so by reference to their faith and the sectarian nature of the conflict is a sectarianism based on religion. There is no doubt either that this phenomenon is growing, not abating. Click here to continue reading.
We have to be prepared to take the security measures necessary for our immediate protection. Since 9/11, the cost of those measures, and their burden, has been huge. However, security action alone, even military action, will not deal with the root cause. This extremism comes from a source. It is not innate. It is taught. It is taught sometimes in the formal education system; sometimes in the informal religious schools; sometimes in places of worship and it is promoted by a vast network of internet communications. Click here to continue reading.
Related:
Tony Blair and World Leaders Look for Answers to Terrorism – Missing the Only Answer

LTRP NOTE:  If you have not read Larry DeBruyn's article "The Music and the Mystical," this would be a good time to do so.
By Roger Oakland
Understand the Times
Many who attended Calvary Chapel of Costa Mesa in the past under the leadership of Pastor Chuck Smith are wondering what changes to expect now that a new generation is at the helm. The following video clip of "worship" at the Cornwall, England Creationfest in the summer of 2013 sanctioned by the new leadership of CCCM should provide a clear answer to that question.
Amazing Grace – Like you've never dreamt of hearing it!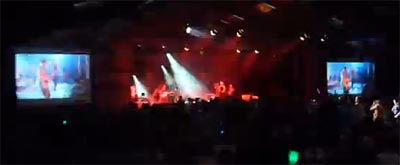 Disclaimer: As has been stated before, when UTT uses a video clip or article that has been produced or written by a source that may be religious or secular, we are not endorsing the producer or publisher. 
The link below is to an interview Stand Up For the Truth radio had this week with Calvary Chapel pastor Chris Quintana. The interview is addressing our recent posts about the Calvary Chapel bookstore carrying The Daniel Plan. During the interview, Chris relayed a situation that recently took place wherein the Calvary Chapel bookstore told Warren Smith (who had stopped in there with Chris and Ray Yungen during a recent conference at Chris' church) that they carried Jesus Calling but because it was controversial, they kept it in the back room.
http://standupforthetruth.com/files/2014/01/When-denominations-shift.mp3
Yesterday, we verified that the Calvary Chapel store is still selling the book from the back room. A woman who is an acquaintance of Warren Smith and had heard from Warren about the "back room" copies has given us permission to relay this to our readers. She entered the store, searched for Jesus Calling in the devotional section, and when not finding it, she approached a store clerk and asked if the store was carrying Jesus Calling. The clerk told her it was being kept in a back room. The clerk then disappeared and returned a few moments later with a copy. The woman purchased the book and left (she'll be using it for research purposes).
We find both the implications as well as the ramifications troubling with this kind of practice. The implication of keeping a particular book out of the public's view and hidden in the back room,  available only to those who request it, is that while they know the book is problematic, it is also a best seller, and because of it being in high demand, this takes more precedence over whether the book is trustworthy and biblically sound. Another implication is that there are supposedly some Christians who are behind the times (old-fashioned, if you will) and obviously won't accept a controversial book because they are stuck in the old ways; and methods must be implemented to bring forth the new way even if it means being sneaky about it (remember that interview called Tides of Change a number of years ago between Rick Warren and Leonard Sweet where they talk about "new frontiers," "changing times," and the "new spirituality"). It also implies that while a bookstore manager realizes a book is controversial, he must keep his promotion of it in secret because he lacks evidence to show the book is OK from a scriptural point of view (i.e., God's point of view).
The ramification of all this is that it is providing a further open door for spiritual deception to enter the Calvary Chapel movement.
Jesus said to let your yes be yes and your no be no. If a Christian bookstore believes a certain book is a valuable addition to the body of Christ, then that book should be put on a visible shelf for all to see, without shame or secrecy, and that bookstore manager should also be able to provide proof that the book is biblically sound. And, on the other hand, if a Christian bookstore believes a book is heretical, then that book should not be made available to the public at all because it puts the public in harm's way. Scripture admonishes us to live our lives in the light and not in darkness.
Lighthouse Trails is well acquainted with a number of Christian men and women who have tried to warn leaders of the Calvary Chapel movement for several years – Roger Oakland, Chris Lawson, and Mike Oppenheimer, all formerly part of Calvary Chapel, are three Lighthouse Trails authors who fall in this category. Eventually each of these three men left the movement when their warnings were not welcomed any longer.
It is not just Calvary Chapel that is struggling with spiritual deception – virtually every Christian denomination is going through the same battle as the Spiritual Formation (i.e. contemplative spirituality) movement and emerging church ideology are sweeping through like a plague in Egypt. How can a church or denomination protect itself against this overwhelming spiritual deception that is threatening all of Christianity today? By refusing to compromise even under the pressure of popular opinion and by staying true to the Gospel of Jesus Christ.
As Warren B. Smith's new book, "Another Jesus" Calling has shown, the "Jesus" of Jesus Calling contradicts the Jesus of the Bible. While we realize the "Jesus" of Jesus Calling makes people feel good about themselves (so we are told) and some say he comforts them, if he is a false Christ then he is seducing them and deceiving them.
But let your communication be, Yea, yea; Nay, nay: for whatsoever is more than these cometh of evil. Matthew 5:37

Be sober, be vigilant; because your adversary the devil, as a roaring lion, walketh about, seeking whom he may devour: whom resist stedfast in the faith, knowing that the same afflictions are accomplished in your brethren that are in the world.  But the God of all grace, who hath called us unto his eternal glory by Christ Jesus, after that ye have suffered a while, make you perfect, stablish, strengthen, settle you. 1 Peter 5:8-10

. . . that ye may be blameless and harmless, the sons of God, without rebuke, in the midst of a crooked and perverse nation, among whom ye shine as lights in the world. Philippians 2:15
How interesting that while Calvary Chapel Distribution seems to be biting at the bit to bring in books like Jesus Calling and The Daniel Plan (books that are clearly promoting the "new" spirituality), you won't find one book by a Lighthouse Trails author anywhere on their store site. Calvary Chapel pastors who want a book by Ray Yungen, Warren Smith, or Roger Oakland must buy their books elsewhere (and there are a number of them that do that – of this we can testify). But apparently, those who want books by Rick Warren, Sarah Young, Gary Thomas, Catholic convert J. Budziszewski, Philip Yancey and other contemplative proponents, if you can't find them on the store shelves, you need look no further than the Calvary Chapel back room.
Note: Calvary Chapel distribution was carrying several Lighthouse Trails books until 2009. Shortly afterward, we issued this article: "SPECIAL REPORT: Calvary Chapel Termination Has Profound Implications." 
Update: Shortly after we posted the article above, John Lanagan from My Word Like Fire ministries sent us a link to Calvary Distribution's store showing that they are presently carrying God Calling for Kids (for 3-7 year olds)! This edition is a remake of the New Age channeled book God Calling that inspired Sarah Young to write Jesus Calling. In "Another Jesus" Calling, Warren Smith quotes Harvest House's Encyclopedia of New Age Beliefs regarding God Calling:
The encyclopedia . . . explains that channeling is a form of mediumship and "is a practice forbidden (Deuteronomy 18:9-12)." This Scripture specifically warns that "a consulter with familiar spirits" is an abomination unto the Lord. Also in this encyclopedia, under the heading titled "Impersonations and Denials of Christianity," God Calling is cited as an example of a channeled New Age book "replete with denials of biblical teaching" as it "subtly encourages psychic development and spiritistic inspiration under the guise of Christ's personal guidance . . . and often misinterprets Scripture." (from pp. 25-26, "Another Jesus" Calling)
Folks, this is serious what is happening to Christianity today.

On January 7th, Lighthouse Trails posted a letter to the editor titled: "Main Calvary Chapel Bookstore Just Added Rick Warren's Daniel Plan Book." Today, we received e-mails from various Lighthouse Trails readers stating that they were told by the Calvary Chapel store that it decided to remove Rick Warren's Daniel Plan book after receiving a number of phone calls and complaints over the last two days. As of this writing, the link we had posted to the store where the book was made available is no longer available (see here), and it appears that The Daniel Plan is no longer for sale. The Daniel Plan, a dieting plan offered by Rick Warren and Saddleback church, is a creation of three doctors who advocate as part of good health New Age/eastern-style meditation.
To Lighthouse Trails:
Well now that Chuck [Smith] has passed away . . . I just noticed that the main Calvary Chapel bookstore has just recently listed Warrens Daniel Plan and Journal for sale.  (Click here.)
LTRP note: This is troublesome that the main Calvary Chapel bookstore has added The Daniel Plan. This will send out a message to Calvary Chapel pastors and congregants that Rick Warren's message is acceptable, when in fact, the Daniel Plan was created using three doctors who are all advocates of eastern-style meditation. The reason we believe the reader above said "now that Chuck has passed away" is because in 2006, Chuck Smith made a public announcement rejecting the Purpose Driven Movement.
Please refer to our recent article, Rick Warren's New Book, The Daniel Plan, Receives Media Blitz—But Book Does Double-Speak on Eastern-Style Meditation"  regarding the Daniel Plan book. Also check out some of our articles on The Daniel Plan's three meditation-promoting doctors:
Understanding the Occultic Nature of Tantric Sex (The Practice Promoted by Dr. Amen – Rick Warren's Daniel Plan Doctor)
Rick Warren's Daniel Plan Accelerates – Tells Followers to Practice 4-7-8 Hinduistic Meditation
NEW PRINT BOOKLET TRACT: Rick Warren's Daniel Plan – The New Age/Eastern Meditation Doctors Behind the Saddleback Health
Rick Warren's "Daniel Plan" currently recommends hypnosis, Eastern/new age meditation

 Not only are there political quests being achieved through the indoctrination of these young people, but these young followers are becoming convinced that a socialistic religion-killing society is the only solution for man.
Jeff Bethke, the 24-year-old man who did the anti-religion YouTube video in 2012, is back in the news again. This time, he has a book about his subject matter. His video, Why I Hate Religion, went viral and to date over 26 million people have viewed it. That video is partially responsible for our writing the Booklet Tract They Hate Christianity But Love (Another) Jesus – How Conservative Christians Are Being Manipulated and Ridiculed, Especially During Election Years (yes, Bethke's video came out not too long before the nation voted for Obama). You can read our full booklet tract by clicking here, and we hope you do. It may give you a different perspective than what seems to meet the eye. Kind of like when George Barna and Frank Viola came out with their book Pagan Christianity, and untold numbers thought their book was fantastic, when in reality, it was more of a smoke screen to what was REALLY happening in Christianity today (see our article, "Pagan Christianity by Viola and Barna – A Perfect Example of 'Missing the Point.'" They said a big pagan problem with Christians was that they sat in pews, went to Sunday School, and listened to sermons. But sadly, no mention of the REAL problems happening in the church today (contemplative spirituality, for example).
Here is a portion of our They Hate Christianity But Love (Another) Jesus that gives some background information on Jeff Bethke:
In January of 2012, another election year, a young man, Jefferson (Jeff) Bethke, who attends contemplative advocate Mark Driscoll's church, Mars Hill in Washington state, posted a video on YouTube called "Why I Hate Religion, But Love Jesus." Within hours, the video had over 100,000 hits. Soon it reached over 14 million hits, according to the Washington Post, one of the major media that has spotlighted the Bethke video (hits as of May 2013 are over 25 million).

The Bethke video is a poem Bethke wrote and recites in a rap-like fashion his thoughts and beliefs about the pitfalls of what he calls "religion" but what is indicated to be Christianity. While we are not saying at this time that Bethke is an emerging figure, and while some of the lyrics in his poem are true statements, it is interesting that emerging spirituality figures seem to be resonating with Bethke's message. They are looking for anything that will give them ammunition against traditional biblical Christianity. They have found some in Bethke's poem. Like so many in the emerging camp say, Bethke's poem suggests that Christians don't take care of the poor and needy. While believers in Christ have been caring for the needy for centuries, emerging figures use this ploy to win conservative Christians (through guilt) over to a liberal social justice "gospel." Emerging church journalist Jim Wallis (founder of Sojourners) is one who picked up on Bethke's video. In an article on Wallis' blog, it states:

"Bethke's work challenges his listeners to second guess their preconceived notions about what it means to be a Christian. He challenges us to turn away from the superficial trappings of "religion," and instead lead a missional life in Christ."
Back when we wrote that article, we went pretty easy on Bethke, almost giving him the benefit of the doubt. But Bethke's new book, Jesus > Religion: Why He Is So Much Better Than Trying Harder, Doing More, and Being Good Enough (Thomas Nelson, 2013) presents Bethke's views more clearly. For one, he has a  recommended reading list at the back of the book that contains a number of contemplative and emerging advocates such as Mark Driscoll, Brennan Manning, John Piper, Timothy Keller, Brother Lawrence, and John Ortberg. Also on the list are emerging "progressives" like Andy Stanley and N.T. Wright (a figure touted by the emerging church extensively). On a website, Bethke is quoted as saying that Wright is one of his "heroes."
Interestingly, one of the books Bethke recommends is Beth Moore's When Godly People Do Ungodly Things. That book is Moore's declarative statement promoting Brennan Manning, saying that his contribution to "our generation of believers may be a gift without parallel" (p. 72) and that  his book Ragamuffin Gospel is "one of the most remarkable books" (p. 290) she has ever read (Bethke obviously thinks so too – Ragamuffin Gospel is one of his recommended books too). But in the back of Ragamuffin Gospel, Manning makes reference to panentheist mystic Basil Pennington saying that Pennington's methods will provide us with "a way of praying that leads to a deep living relationship with God." However, Pennington's methods of prayer draw from Eastern religions as you can see by this statement by Pennington:
We should not hesitate to take the fruit of the age-old wisdom of the East and "capture" it for Christ. Indeed, those of us who are in ministry should make the necessary effort to acquaint ourselves with as many of these Eastern techniques as possible. Many Christians who take their prayer life seriously have been greatly helped by Yoga, Zen, TM and similar practices. (from A Time of Departing, 2nd ed., p.64)
Manning also cites Carl Jung in Ragamuffin Gospel as well as interspiritualists and contemplatives, Anthony De Mello, Marcus Borg (who denies the virgin birth and deity of Christ), Morton Kelsey, Gerald May, Henri Nouwen, Alan Jones (who calls the atonement vile), Eugene Peterson, and Sue Monk Kidd (who says God is in everything, even human waste and believes in the goddess who offers us the "holiness of everything"). All of these names in Ragamuffin Gospel. It is more than safe to assume that both Moore and Bethke have read (and resonate with) Ragamuffin Gospel. And we know from years of research that Manning was trying to set up the church to become what Karl Rahner "prophesied": "The Christian of the future will be a mystic or he or she will not exist at all."
 We were surprised to see the name Bede Griffith in Bethke's new book in the endnote section (p. 208). He didn't necessarily reference him favorably (or unfavorably, for that matter) but the fact that someone like Griffith would be benignly mentioned in a "Jesus" loving book is hard to ignore. The Catholic monk and mystic Bede Griffith, like Thomas Merton, "explored ways in which Eastern religions could deepen his prayer." (Credence Cassettes, Winter/Lent 1985 Catalog, p. 14, cited in ATOD) Griffith also saw the "growing importance of Eastern religions . . . bringing the church to a new vitality."(Ibid.) Griffith's autobiography, The Golden String, expresses his belief that God (the golden string) flows through all things.
In reading Bethke's book, one can see that Mark Driscoll may have rubbed off on him. And one of Bethke's recommended books is Driscoll's Vintage Jesus. We wrote a little about that book a number of years ago; we even contacted the late Chuck Smith (founder of Calvary Chapel) and warned him about Driscoll's book because some Calvary Chapel pastors were trying to bring it in to CC; in Vintage Jesus, Driscoll calls homeschooling "dumb," mocks the rapture and Armageddon, and says Christians are "little Christs." Bethke echoes Driscoll's distain, like in his chapter titled "Religion Points to a Dim Future/Jesus Points to a Bright Future."  He puts down the kind of believers who see a dismal future for earth (according to Scripture) and says things like:
"God actually cares about the earth, but we seem to think it's going to burn. God actually cares about creating good art, but we seem to think it's reserved for salvation messages." (Kindle Locations 2107-2109, Thomas Nelson).
 And just to prove that when Bethke says "religion," he means biblical Christianity, what other religion is there that "points to a dim future" for planet earth and its inhabitants? Biblical Christianity is the only one that says that the world is heading for judgement because of man's rebellion against God and because of God's plan to destroy the devil and his minions. Jesus does point to a "bright future," but the Bible is very clear that this will not come before He returns; rather He promises a blessed eternal life to "whosoever" believeth on Him. The Jesus Christ of the Bible did not promise a bright future for those who reject Him (and even says that the road to destruction is broad – Matthew 7:13); in fact, Scripture says Jesus Himself was a man of sorrows rejected and despised (Isaiah 53:3). He knew what awaited Him, and He knew what was in the heart of man. But across the board, emergents reject such a message of doom, and teach that the kingdom of God will be established as humanity realizes its oneness and its divinity. And they will accomplish this through meditation. In Brennan Manning's book The Signature of Jesus, he said that "the first step in faith is to stop thinking about God at the time of prayer" (p. 212).  Then the next step, he says, is to choose a sacred word and "repeat the sacred word [or phrase] inwardly, slowly, and often" (p. 218).
Bethke's book goes after the usual suspects. For instance, he belittles street preachers sharing the Gospel in  his chapter called "Fundies, Fakes, and Other So-Called Christians." He says:
Whenever I walk by the street preachers, I laugh under my breath, picturing just how uncomfortable they are going to be in heaven when everyone else is partying it up. (p. 43)
Many of those street preachers are the ones responsible for untold numbers ending up in heaven and "partying it up." It is faithful preachers and evangelists of the Gospel who have tirelessly cried out repent and be saved that will be the reason why some make it to heaven. But it is very typical for emergents to mock and condemn such evangelistic efforts. And if they are reading Ragamuffin Gospel, it's no wonder they have  a strong aversion to evangelism and a call to repentance. For example, in Ragamuffin Gospel, Manning says that God understands a woman having to become a prostitute in order to support her two- year old son, and He will not condemn her. So, in other words, it really doesn't matter what we do, as long as we have a good reason for doing it. A relaxed view of sin and a harsh view of evangelism go hand in hand in the emerging church.
And like just about every other emergent-type book, Bethke's gives a good scolding to Christians who reject our present society's embracing of homosexuality. He says he believes homosexuality is not God's perfect plan for man, but can't we all just have meaningful conversations and get along with each other and stop talking about homosexuality? (pp. 63-69) He actually compares the apostle Paul's "thorn in the flesh" to being "gay" (p. 69)!
Bethke's book reminds us somewhat of Mike Erre's book Death by Church or Dan Kimball's book, They Like Jesus But Not the Church in the scorning way it portrays conservative Bible-believing Christians and in the way it twists and manipulates Scriptures and biblical ideas, equating them with sinister and evil actions. Like this quote from Bethke:
When people come to us in the midst of their pain, how dare we flippantly quote some Bible verses as if that alone would help? How dare we think we can just send them some balloons? How dare we overspiritualize or be like the mom who told her daughter the rape was her fault? (p. 125)
What he just did there was equate sharing Bible verses with a hurting person to a mom telling her daughter it was her fault she got raped. This constant barrage of attack against biblical Christianity never seems to relent. Remember when Brennan Manning and J.P. Moreland1 used the term "bibliolatry" to say that Christians who put too much focus on the Bible are committing idolatry. And remember when Rick Warren twisted Scripture to tell his readers (in The Purpose Driven Life) that those who think too much about Bible prophecy and the Lord's return were "not fit for the kingdom of God."2  We could give example after example of this attack on believers in Christian faith by those who profess to be Christian from one side of their mouth but seek to destroy it from the other side. Erwin McManus is another example: He said that it was his "goal to destroy Christianity":
My goal is to destroy Christianity as a world religion and be a recatalyst for the movement of Jesus Christ. . . . Some people are upset with me because it sounds like I'm anti-Christian. I think they might be right.3
And on and on it goes. Christians who adhere to biblical beliefs are being beat down and made to look like there is something really wrong with them and they better get with the program.
It's interesting that in Bethke's new book, he quotes Rob Bell talking about "the cross" (p. 125).  Interesting because Rob Bell doesn't believe in the biblical atonement through the Cross. He believes that everyone is going to be saved regardless of their acceptance or rejection of the Cross. So it seems like a strange choice from Bethke; his book just came out this year – surely he has heard of Rob Bell's beliefs on hell and salvation.
 The "new" Christianity that is being propagated by Bethke, Bell, and countless other voices is not going away. Rather, it is helping to bring about strong delusion and a great falling away. Millions of young people, both Christian and non-Christian, are listening to these voices and following the beat of this drum. They are throwing out the faith of their youth and exchanging it for a "new" spirituality that will produce within them a mindset that rejects the message of the Cross. Not only are there political quests being achieved through the indoctrination of these young people, but these young followers are becoming convinced that a socialistic religion-killing society is the only solution for man. (Remember, Karl Marx said, "religion is the opiate of the masses" and John Lennon of  The Beatles said, imagine no religion).  And, tragically, the masses will continue to race down a broad road to deception through the multitude of false teachers.
Let us remember that before Jesus departed to heaven He commissioned His followers to proclaim the Gospel. The proclamation of the Cross is God's hope for mankind.The Word of God has been likened to a blacksmith's anvil; though many a hammer may be broken over the years pounding on that anvil, the anvil will hold its strength and integrity. It is ironic that emergents find comfort in attacking the Gospel and Bible-believing Christians. They say they love Jesus instead. What makes this so very ironic is that the apostle John is referred to in Scripture as "the disciple whom Jesus loved" (John 21:20). Perhaps it would do emergents good to listen to some of the things John had to say – as it seems like his  first epistle was written especially for them. Addressing the idea of loving Jesus (or God) but hating Christianity, John had this to say:
If a man say, I love God, and hateth his brother, he is a liar: for he that loveth not his brother whom he hath seen, how can he love God whom he hath not seen? And this commandment have we from him, That he who loveth God love his brother also. (1 John 4: 20-21)
Now, if we look at the context of the chapter from which these verses were taken, it becomes evident that John is writing about solid doctrinal Christianity. And he is saying that when we hate and reject these things, and the people who adhere to them, we are hating and rejecting God. When they say they love Jesus but hate the church (i.e., Christianity), they aren't talking about hating buildings; they are talking about hating people. As for the teaching of the Cross, John makes it exceptionally clear in this epistle that "he is the propitiation for our sins" (1 John 2:2):
In this was manifested the love of God toward us, because that God sent his only begotten Son into the world, that we might live through him. Herein is love, not that we loved God, but that he loved us, and sent his Son to be the propitiation for our sins. (1 John 4:9-10)
 When we talk about love, we should really be talking about the Cross as this was and is God's ultimate expression of His love toward us that makes it possible to spend eternity with Him when we receive this gift of love, by faith.
As we look into John's life more carefully, it becomes apparent that he was not like an emergent at all. While the emergent figures of today seek to be hip and popular and mimic what each other has to say, John stood for the truth regardless of what the masses were saying or wanted to hear. Foxe's Book of Martyrs records that even though he was the only apostle to escape a violent death, he was cast into a cauldron of boiling oil. And though he escaped miraculously, he was afterward banished to the Isle of Patmos (p. 27, LT edition).
If you are a young person reading this, remember that popularity in the world's eyes is not a sign of being in God's favor but is rather an indicator that something may be wrong (see 1 John 4: 5-6). Nor does partying with friends, even if they call themselves lovers of Jesus, offer assurance of eternal life. No, it is through the Cross alone that the offer of eternal life has been extended. And that is the truth!
Good morning:
About two weeks ago, I received my monthly copy of IN TOUCH magazine.  Lately the magazine has seemed "off" to me, but when I read the article on L'arche — even knowing nothing about them at that time — I literally said out loud (to no one as I was home alone) "Are you kidding me??"  . . .
I had decided to write to Dr. Stanley when I received the monthly Lighthouse Trails [e-newsletter] and was shocked and amazed to see you had written about this very story in IT!  So thank you for confirming to me what the Spirit of God had already revealed.  I am so thankful for your site.  I have not "liked" Rick Warren for years but never knew why until I came upon Lighthouse Trails when looking for information on Calvary Chapel which I still attend here on the east coast.  (So far, contemplative has not reached the CC's I know of in the lower New York area.)
The world grows darker day-by day — we desperately need Watchmen on the Wall! Stay strong and stand firm in the Truth of our Lord and Savior Jesus Christ.
Grace and peace to you,
 _________________