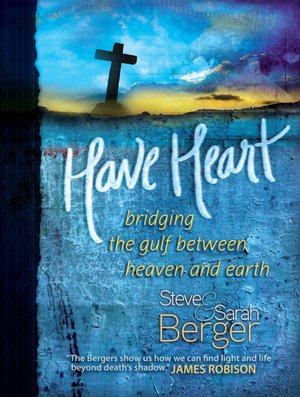 LTRP Note: The following book review on Steve Berger's new book, Have Heart, was difficult for Larry DeBruyn to write because Have Heart talks about the death of Berger's son. But because the book is endorsed by two top-name trusted evangelical leaders – Calvary Chapel Greg Laurie and Koinonia House Chuck Missler – and because the book normalizes having communication with the dead, we believe DeBruyn's succinct, and yet sensitive, book review is needed. In a day when New Age ideas, panentheism, universalism, and  mysticism have  become accepted ideologies by countless Christians, the message in Have Heart – that we can have communication with our passed away loved ones – will not give biblical understanding to grieving parents and other readers but rather will further fuel the fires of deception so prevelant in today's church.
This book review will be done in five parts. Below is the beginning of the first part:
"Do the Dead Communicate with the Living?"
"Normalizing Necromancy"
Part 1 by Larry DeBruyn
"The authors believe that breaking away from traditional "in box thinking" about the afterlife gives God an opportunity "to maximize our view of Heaven." (HH, xxii) But in breaking out of the box, Christian readers must beware lest they will also break away from the Bible."
"[T]here are matters in Have Heart that do not line up with Scripture. In brief, I do not see that the Word of God supports the notion that postmortem, persons in heaven come back—whether in the body or out of the body, no one really knows—to visit loved ones and friends on earth."
The story of Have Heart was born out of immense personal and family tragedy. In August of 2009, weeks before he was to matriculate at the University of Tennessee, Pastor Steve and Sarah Berger's nineteen-year old son Josiah was fatally injured in a one car accident. Have Heart relates how the parents, family and friends are coping with his death, an ongoing story intended to comfort others who have or are facing similar life tragedies. As the book's subtitle indicates, one aspect of "bridging the gulf between heaven and earth" involves reports that after he died, Josiah communicated with family and friends from Heaven.
This book is one of the latest among popular books being published for evangelical audiences on the subject of the afterlife involving visitations to and from Heaven and the connection between the living and the dead. Of this genre, this book is one of the most emotionally charged books, and exemplifies how gut-wrenching stories can shut down rational thinking. As the high-intensity story captivates the reader into a feelings-driven state, the book's contents subtly facilitate a change in worldview as it suggests novel interpretations of Scripture.
Previously, I reviewed a book in this same genre, The Shack by Wm. Paul Young, which evoked similarly strong emotions with its storyline, subtly disarming readers, thereby enabling the author to introduce new concepts about the nature of God, the Trinity, salvation, spirituality and the cosmic reality in which we live, move and have our being. Click here to continue reading.