Posts Tagged 'bill hybels'
Dear Lighthouse Trails:
A while back I alerted you to the fact that Awana was joining forces with Josh Griffin who was the youth pastor for Rick Warren's Saddleback Church. Josh Griffin is also associated with Youth Specialties, an organization that promotes occult [contemplative] practices to youth.
Unfortunately, Awana is continuing down the emergent road. Here are some examples:
1. On February 22, 2017, Steve Kozak, the executive director of Awana YM, (Youth Ministries) wrote a blog post encouraging youth leaders to promote Lent. Lent is very popular among those in the emerging church. Wikipedia says "The purpose of Lent is the preparation of the believer through prayer, doing penance, mortifying the flesh, repentance of sins, and self-denial."(1) Kozak in his blog said, "Teach your students to go without, so that they can experience an overflowing of Christ."(2) Nowhere in the Bible is the practice of Lent mentioned.
2. On April 6, 2017, Awana YM held a youth leaders round table event at Bill Hybels' Willow Creek Community Church. Participants were Josh Griffin, Sean McDowell, Dr. Larry Acosta, Elizabeth Bjorling Prest, Steve Kozak, (Director of Awana Youth Ministries) and Ryan Guard, (Director of Student Impact at Willow Creek Community Church.)(3)
3. Awana is promoting several books that they feel youth group leaders should be reading. The following books are a compilation from two different blog posts. I am not familiar with all the authors, but I know many of these authors to be troubling.
The Return of the Prodigal Son by Henri Nouwen [recommended by Sean McDowell]
The Celtic Way of Evangelism by George G. Hunter
The Divine Conspiracy by Dallas Willard
Bloom Where You're Planted by H.B. London
Purpose Driven Youth Ministry by Doug Fields with a forward by Rick Warren, published by Youth Specialties/Zondervan
Your First Two Years In Youth Ministry By Doug Fields, published by Youth Specialties/Zondervan
Sustainable Youth Ministry by Mark Devries
Sticky Faith by Kara E. Powell, (Who spoke at the Youth Specialties National Convention) and co-authored by Chap Clark
Growing Young by Kara E. Powell, Jake Mulder and Brad Griffin
Leading With a Limp by Dan Allender
St. Augustine's City of God (St. Augustine is very popular in the Emerging Church Movement)
Christian Origins of the Question of God (4 Volumes by N.T. Wright
The Holy Wild by Mark Buchanan(4)
Sincerely, L.F.
Footnotes:
1. Lent- Wikipedia: https://en.m.wikipedia.org/wiki/Lent
2. Awana YM Lent: More Than Giving Up by Steve Kozak, February 22,2017 https://awanaym.org/blog/lent-more-than-giving-up
3. Awana YM
https://awanaym.org/events/youth-leaders-round-table-4-6-2017
4. Awana YM
(1)Books Youth Leaders Should Be Reading
April 7,2017; https://awanaym.org/blog/5-books-youth-leaders-should-be-reading
(2)Must Have Books For Every Youth Leader by Steve Kozak July 20,1017
https://awanaym.org/blog/6-must-have-books-for-every-youth-leader
Related Information:
Letter to the Editor: AWANA Now Teaching Children to Hear the Voice of God
A History of AWANA's Contemplative Track Record and the Implications of Their New CEO
Revisting Awana's Move Toward Contemplative – And Another Look at "Perspectives on Children's Spiritual Formation
We have often been asked, "How do I find a good Bible-believing church?" There are many believers who are struggling to find one in their own communities. To start with, we usually recommend they make phone calls to potential churches and ask a few concise questions such as:
"Do you have a Spiritual Formation program at your church?" or "Has your church implemented aspects of the Purpose Driven Movement anytime in the past 10 years?."
Since thousands of churches would answer yes to both or at least one of these questions, they are worthwhile to ask, and it would certainly narrow down the scope of one's search. Here are a few other questions that could be asked:
1. Is the pastor using The Message "Bible" in his sermons and studies? Because this paraphrase is very often used by pastors and teachers who promote contemplative spirituality or emerging spirituality (as the language in The Message helps support these false teachings), it is another indicator that a church is going in the wrong direction.

2. Is the church affiliated in any way with the Willow Creek Association? Oftentimes, a church has not implemented the Purpose Driven Movement but is, rather, hooked up with Willow Creek. This is as problematic as Purpose Driven. See our article on our website titled, "No Repentance from Willow Creek—Only a Mystical Paradigm Shift."

3. Is the church connected at all with Bethel Church of Redding, California? Bethel's hyper-charismatic influence is huge today, and many churches are getting on board with the Bethel craze. That would include Jesus Culture too, which is an offshoot of Bethel. Before starting your search for a church, make sure you understand what the Word of Faith/NAR, hyper-charismatic movement is. Lighthouse Trails has several trustworthy authors who write about these issues. You'd be surprised to learn how extensive this influence has been in North American churches, even in ones that do not consider themselves charismatic.

3. Ask a potential church if it would mind mailing you a few recent Sunday programs. When you get them, look for some of the key terms used within the contemplative/emerging camp: missional, servant leader, soul-care, spiritual formation, transformation, transitioning, silence, organic, authentic, reinvent, spiritual disciplines, Christ follower (the term Christian isn't typically liked too well by contemplatives and emergent) Christian formation (or Christian spirituality) (a term often meaning the same as Spiritual Formation). Just using these terms alone doesn't suddenly make a church contemplative or emerging, but it does show that at least one person in leadership at that church is reading books of that persuasion, and eventually that person's influence will affect that church adversely.
In addition to those three questions, be sure and visit a church's website as there you may be able to find the answers to these questions without making the phone call. When on a website, see if there is more talk about unity, "culture," social justice, and relevancy than about the Gospel of Jesus Christ. You can check out the doctrinal and mission statements but be on guard—a church can have a solid-sounding doctrinal statement and be actually going in an entirely different direction. Listen to an interview called Beware the Bridgers for some information on that. And by the way, remember who some of the more popular "bridgers" are, closing the gap between "rightly dividing the Word" and spiritual deception in millions of people's lives: Beth Moore, Rick Warren, Bill Hybels, Tim Keller, John Piper, etc.—those who claim to be orthodox biblical Christians but who promote contemplative spirituality and/or emerging spirituality.
When on a church's website, you can usually find out which conferences the church is involved with or recommending to their church members. The IF: Gathering conferences are growing tremendously in popularity all across North America, but as Cedric Fisher has documented in his booklet IF It is of God—Answering the Questions About IF: Gathering,  IF is an avenue through which emergent theology is entering the church. There are many other conferences and events, usually with high attendance, taking place yearly that are pumping up Christians with heretical ideas and "theologies." If you find out a church you've been researching is involved in any of these, that is a big warning sign.
Also, once your search for a new church has narrowed down to a few churches, a weekday visit to those churches' bookstores would be important. Look for books by Richard Foster, Gary Thomas, Henri Nouwen, Brennan Manning, and other authors discussed and critiqued on the LT website. Chris Lawson from Spiritual Research Network has a booklet that provides an extensive list of authors who fall within the contemplative, emerging camps. It's an excellent resource.
While searching for a good church, it would be important to find out where a particular church is at in relation Jesus Calling and The Shack. Many churches have been allowing New Age ideas into their congregations through such books. Be sure to read former New Age follower Warren B. Smith's materials which will help you identify what the New Age is and how it can disguise itself as a better, newer "Christianity."  You might ask about women's and men's Bible study groups and which books are being used at these meetings. That will tell you a lot.
When all this has been done to find a Bible-believing church, if there are any in your community that have passed the contemplative/emerging/seeker-friendly/hyper-charismatic test, maybe it's safe to take your family for a Sunday visit. Are many of the people walking in carrying Bibles? Seeker-friendly and church-growth churches discourage that because it might "offend" unbelievers (or as they say unchurched) coming to church. Does the pastor at some point in his sermon talk about the Cross (the atonement) and salvation (and mention of hell)? These are subjects that many churches avoid because of the "offensiveness" of that message. Better to offer an espresso drink and a little rock n roll music during the service and a psychology-based, feel-good message that appeals to the carnal senses (sensual) rather than build up the spiritual man.
Once you have found a church that seems to be sound, you should not stop being discerning. That must be ongoing. That might seem like a "paranoid" or overly concerned attitude to have, but if we remember the many verses in Scripture that talk about spiritual deception (right from the Garden of Eden all the way to the Book of Revelation), we will realize it is the responsibility of the Christian to be discerning and watchful. And the Bible frequently talks about the latter days before Christ's return where deception will run more rampant than ever before. Roger Oakland gives a list of signs to look for to see if a church is becoming or has become contemplative/emerging. As you begin to attend a new church, this list may be helpful to you and your family:
Scripture is no longer the ultimate authority as the basis for the Christian faith.

The centrality of the Gospel of Jesus Christ is being replaced by humanistic methods promoting church growth and a social gospel.

More and more emphasis is being placed on building the kingdom of God now and less and less on the warnings of Scripture about the imminent return of Jesus Christ and a coming judgment in the future.

The teaching that the church has taken the place of Israel and Israel has no prophetic significance is often embraced.

The teaching that the Book of Revelation does not refer to the future, but instead has been already fulfilled in the past.

An experiential mystical form of Christianity begins to be promoted as a method to reach the postmodern generation.

Ideas are promoted teaching that Christianity needs to be re­invented in order to provide meaning for this generation.

The pastor may implement an idea called "ancient-future" or "vintage Christianity" claiming that in order to take the church forward, we need to go back in church history and find out what experiences were effective to get people to embrace Christianity.

While the authority of the Word of God is undermined, images and sensual experiences are promoted as the key to experiencing and knowing God.

These experiences include icons, candles, incense, liturgy, labyrinths, prayer stations, contemplative prayer, experiencing the sacraments, particularly the sacrament of the Eucharist.

There seems to be a strong emphasis on ecumenism indicating that a bridge is being established that leads in the direction of unity with the Roman Catholic Church.

Some evangelical Protestant leaders are saying that the Reformation went too far. They are reexamining the claims of the "church fathers" saying that communion is more than a symbol and that Jesus actually becomes present in the wafer at communion.

There will be a growing trend towards an ecumenical unity for the cause of world peace—claiming the validity of other religions and that there are many ways to God.

Members of churches who question or resist the new changes that the pastor is implementing are reprimanded and usually asked to leave.
Roger has these signs listed in his booklet/article How to Know When the Emerging Church Shows Signs of Emerging into Your Church.
May God bless you and guide you in your search. It may seem like an insurmountable task, but we know there are still good churches out there because we often hear from pastors who are staying the course and are aware of the times in which we live. May God lead you to find one of these churches.
Now we have received, not the spirit of the world, but the spirit which is of God; that we might know the things that are freely given to us of God. Which things also we speak, not in the words which man's wisdom teacheth, but which the Holy Ghost teacheth; comparing spiritual things with spiritual. But the natural [carnal] man receiveth not the things of the Spirit of God: for they are foolishness unto him: neither can he know them, because they are spiritually discerned. . . . For who hath known the mind of the Lord, that he may instruct him? But we have the mind of Christ. (1 Corinthians 2:12-16)
By Jim Fletcher
Used with permission.
(Jim Fletcher is a writer, researcher, speaker and director of Prophecy Matters (prophecymatters.com).  He writes online for WorldNetDaily; Beliefnet; American Family Association; the Jerusalem Post; and Rapture Ready. He can be reached at jim@prophecymatters.com.)
Almost 20 years ago, Andy Stanley—the son of Southern Baptist legend Charles Stanley—emerged as a new generation pastor, a man of rare gifts when it comes to communicating. He eschewed jackets and ties and the more formal trappings of traditional church.
In about 2000, he was instrumental in helping develop a leadership entity known as Catalyst.
In the midst of all this, Stanley the Younger was in a feud of sorts with Stanley the Elder over the latter's separation from his wife (Andy's mother).
Over time, the son's church eclipsed the father's church in terms of attendees, and today Andy Stanley is one-third of what I call the Evangelical Trifecta: Rick Warren, Bill Hybels, and Stanley. Quite interestingly, Warren is based on the west coast; Hybels holds down the Midwest from Chicago, and Stanley is entrenched on the east coast. In more ways than one, they blanket the country and absolutely control the evangelical narrative. Their books and methologies totally dominate evangelicalism and their church growth techniques are now American dogma.
In recent years, Andy Stanley has made waves with his brand of what I'd call Progressive Evangelicalism. His prayers at Obama's inaugurations,1 and his willingness to allow Michelle Obama to speak at his North Point Church are part of a troubling trend. He also has absolutely helped mainstream homosexuality within the evangelical church.
What gives?
Stanley, who comes across as a winsome, easy-going fellow, is really a major change agent. His podcasts, messages, and books are absorbed by many tens of thousands of U.S. pastors.
I will tell you clearly that I believe he is described in the book of Jude. Men like Stanley have crept in unawares.
In our time.
What does this have to do with Israel?
Stanley's rise, and that of his fellow change agents, coincides with a sharp downturn of support for Israel in the churches. It's one element in an overall larger story, but the bottom line is this: Stanley's watering-down of Christianity runs parallel to the rise of the so-called Christian Palestinianists. While Stanley himself rarely speaks of Israel, many of his friends and associations are anti-Israel.
Often, people answer me by saying: "But Charles Stanley supports Israel!"
He does so far as I know, but you do see that's irrelevant in the context of what Andy Stanley is doing . . . don't you?
Overall, Andy Stanley wants to fundamentally change what the Evangelical Church is. He, like Warren and Hybels, wants conformity and group-think. He wants you to think as he thinks.
And he thinks in dangerous ways.
Late last month, the Southern Baptist Convention's "Ethics and Religious Liberty Commission" (ERLC) hosted another self-serving conference in Nashville, titled "Onward" (shockingly, the same title as that of the ERLC chief's new book; it's about the marketing, stupid). Stanley was invited to speak.
Boy, did he.
While ERLC President Russell Moore looked on grinning, Andy Stanley said the following:
"I would ask preachers and pastors and student pastors in their communications to get the spotlight off the Bible and back on the resurrection."
Get the spotlight off the Bible!
Welcome to the Age of Apostasy.
Did you hear what he said? Andy Stanley speaks blasphemy and nonsense . . . and no national leader says a word.
Just for a moment, think about the illogical nature of Stanley's statement: how do we know about the resurrection? Through Scripture.
Does anybody call him on this nonsense? No. He grows stronger.
Several years ago, Stanley gave an interview in which he openly said that as a college freshman, he embraced his professor's contention that Genesis 1-11 is a fairy tale.
You need to understand this one bit of information undergirds everything he does. It is foundational to his thinking and "ministry."
He is arrogant and powerful.
When you have famous national evangelicals with this kind of worldview, you will see a downturn in support for Israel. Stanley has made several outrageous statements about the Bible in the past three years; in short, he wants people to get their focus off the Bible. Can you imagine such?
Andy Stanley's so-called ministry is an outrage. Would that he was held accountable. But he won't be.
This is a key reason (though largely unknown by the rank-and-file) why Israel has fallen out of favor. If you relegate the Bible to myth, why pay attention? Why would Israel's historical claims to the land be more valid than anyone else's?
Stanley is helping destroy the American Church. In my opinion, he will be a major reason the American Church morphs into the State Church before too many more years pass.
And remember: my views of Stanley aren't the story here. The story is the unconscionable violence he is willingly doing to Scripture and to the evangelical community.
Related Information:
BOOK REVIEW ON ANDY STANLEY'S BOOK, DEEP AND WIDE by Gary Gilley
By Roger Oakland
Understand the Times, International
There may still be people on UTT's list who lack discernment and insist that Willow Creek theology is safe as mother's milk and harmless to anyone and everyone.
This commentary will be very short but also very important. It will help connect the dots.
Please open the following link and read: https://www.instagram.com/WillowCreekCC

Read the following: http://www.understandthetimes.org/commentary/c176pf.shtml

Please contact Calvary Chapel Association Council by going to their web site. This can be done by clicking on the following link: http://calvarychapelassociation.com/leadership-council/
After reading this material, you may want to contact your local church and pass on this commentary.
Paul stated: "God hath chosen the foolish things of the world to confound the wise; and God hath chosen the weak things of the world to confound the things which are mighty" (1 Corinthians 1:27).
Roger Oakland (source)

By Roger Oakland
Understand the Times, International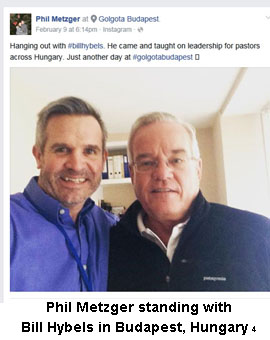 Recently, I was informed about a conference held this week in Budapest, Hungary where Willow Creek senior pastor Bill Hybels taught leaders. According to comments posted on Phil Metzger's Facebook page, the event was held at Calvary Chapel Golgota Budapest where Metzger is pastor. He is also the director of Calvary Chapel Bible College Europe (also located in Hungary). On Metzger's Facebook, Hybels was not only endorsed, he was praised. [3]
Perhaps most who read about this event will not be alarmed. But I was because I see the significance. I know that what Chuck Smith and Calvary Chapel once stood for is not at all what Hybels stands for. Bill Hybels was mentored by Peter Drucker along with Rick Warren to "reshape" Christianity for the 21st century. Hybels, from the famous Willow Creek Church located in South Barrington, Illinois, fathered the "seeker-friendly" movement.
When Hybels and his cohorts discovered that the seeker-friendly model produced spiritually illiterate believers, they said they "repented" [5] from this model of church; but in actuality, they delved right into teachings associated with the emergent church and contemplative mysticism, seeing those as the next "great" step. Interestingly, on Metzger's Facebook page, someone defending Metzger's promotion of Hybels said that it was irrelevant to talk about the emerging church because it was no longer an issue. But nothing could be further from the truth. While often called other names now, such as progressive, the ideologies of the emerging church are very much at work today. Click here to read this entire article and for endnotes.
Related Information
A Jesuit Pope? Understanding The Jesuit Agenda and the Evangelical/Protestant Church
By Roger Oakland Understand the Times International The seeker-friendly model was the brainchild of Peter Drucker. The concept of finding out what a consumer would like in a church has been a very successful way to get people to come to a church. At least for a while! This consumer-friendly model worked as long as sinners were not faced with the message of the cross, hell, and other convicting things the Bible teaches.
However, as everyone knows, trends come and go like waves on the ocean. The seeker-friendly wave will not last forever. This, of course, is predictable. Fallen man has had a spiritual void since the fall of man. Satan is more than happy to fill that void and has always had a deceptive plan to do so. This is why I was not surprised when Pastor Bill Hybels, founder of the Willow Creek church-growth model, announced that their church had repented from their seeker-friendly ways and was now moving towards a method that would transform Christianity by introducing spirituality. Here's how one Christian reporter explained the transition:
Willow Creek has released the results of a multi-year study on the effectiveness of their programs and philosophy of ministry. The study's findings are in a new book titled Reveal: Where Are You? co-authored by Cally Parkinson and Greg Hawkins, executive pastor of Willow Creek Community Church. Hybels himself called the findings "earth shaking," "ground breaking," and "mind blowing." And no wonder: it seems that the "experts" were wrong. [1] Click here to continue reading.
By Jim Fletcher
Prophecy Matters
Lynne Hybels is a woman of vast influence in the evangelical world. She and her husband, Bill, founded Willow Creek Community Church in 1975; today the Willow Creek Association (9,000 member churches worldwide) is one of the most influential groups in Christendom. Willow Creek's annual "Leadership Summit" often hosts speakers well outside of evangelicalism's mainstream. Even a cursory examination of the Hybels' worldview reveals a strong lean toward so-called "Progressive Christianity" (example: hosting speakers like Bill Clinton and Tony Campolo).
In the past few years, Lynne Hybels has become an activist for all sorts of causes, including the crisis in Congo, Christian persecution in the Middle East, and the Arab-Israeli conflict. . . .
Since the '70s, Lynne Hybels and her husband have been mentored by people sympathetic to the Palestinian Narrative, including Dr. Gilbert Bilezikian. In October 2008 she attended a conference in Amman, Jordan, led by Arab Christians from "Jordan, Lebanon, Egypt, Iraq and the West Bank."
Since that time, Lynne Hybels has been very active in promoting the so-called "Palestinian Narrative," which points to Israel as an occupier of Arabs. The narrative is classic PLO (Palestine Liberation Organization) propaganda, but Hybels' networks allow her the luxury of promoting this worldview—couched in the language of "non-violent resistance"—which is also shared by Millennial influencers such as Donald Miller and Cameron Strang.
(Both Miller and Strang have accused Israel, in print, of virtual war-crimes, including the harvesting of organs from Palestinians, and outright murder of Palestinian women and children by the IDF. To date, Miller in particular offers no documentation for his allegations.)  Click here to continue reading.