Posts Tagged 'brother lawrence'
Dear Lighthouse Trails:
When I met my husband in 2005, I was attending a nondenominational church while he attended a local megachurch. During our attendance at his church, it was discovered that sexual sin was being allowed by the leadership among servers in the children's ministry, so we went back to what had been my home church. What happened there turned out to be the test of our Christian lives.
My nondenominational home church started making changes, mostly subtle, a tad unusual, but nothing overtly alarming or distressing. For example, they started reading from The Book of Common Prayers. Popular authors like John Ortberg and Gary Thomas were taught, and since they sounded good and got the stamp of approval from our leaders, we followed along. Here's a surprising change, coming from a nondenominational church with Missionary denominational roots: they started practicing Lent and even had an Ash Wednesday service. My mother was raised Roman Catholic and hates that religion (not Catholics). I was raised to avoid any and all things Catholic (except Catholics!) So I listened intently when a pastor informed us about the Ash Wednesday service. It was justified with "our church fathers did it, so we will." Naively, a friend and I decided that reasoning was fine. I was heavily pregnant with my second child that evening. As they were calling people up to get ashes on their forehead, pew by pew, I was having contractions. When they were just a few pews away, we had to leave due to my contractions. The Lord was working to reveal something to my heart, something about WHY He would prevent me from participating in this ceremony, but I couldn't connect the dots at the time.
Sometime soon after our second child was born, my mom became practically unhinged with concern. She was listening to radio teaching while she was driving, and someone reported that Lynne Hybels said she had no problem with referring to Mary as "Queen of Heaven." Ma pulled over to the side of the road, the sensation being like a punch in the stomach. See, this title is given by Catholics to Mary and is unabashedly heretical. Lynne Hybels, however, is the wife of Bill Hybels, the pastor of Willow Creek Community Church.
The broadcast recommended a book for understanding this movement within Christendom: Faith Undone by Roger Oakland. She was truly alarmed as she finished this book. She begged George (my husband) and I to read it. Quite honestly, we made excuses and dragged our feet about reading it because we knew there was something seriously wrong. When I finally read just the first chapter, the awful feeling in my gut gave way to tears: I could see my beloved home church in just the first few pages. Faith Undone (and then A Time of Departing by Ray Yungen) gave us the worldview "lens" through which we will view Christianity and these times in which we live until the day we see Jesus.
Sober and grieving, we had to address the issues at my church. We penned a letter to all the pastors, buying and sharing informational books on this movement, and asking for answers. We were ignored. A year later, a respected person there raised concerns about us, and then we were called. That meeting with the senior and another pastor revealed that the senior pastor did breath prayers (mystical prayer), and their pride was palpable. It was our second blow dealt by leaders we had loved and trusted.
Then we tried a small satellite campus church of a large, local Missionary church. This time we had books ready and interviewed the pastor. He assured us he wouldn't do anything to bring in bad teaching or hurt the church, being dismissive of our concerns. That church lasted a few months until, and this was after our thorough warning of this apostasy was given to the pastor, he allowed blatant Catholic imagery during the worship time. We got up and left.
Ma had found our next church home. Life was good at this new Missionary church. Then came the new, permanent pastor. Dutifully, we met with him, explaining this heretical movement, offering books, discussing as much as we could. We had three meetings with him and various church leaders. We gave lists of compromised teachers, too. We were assured—again—that our church body wouldn't be led astray. Soon thereafter, our pastor unashamedly started teaching Rick Warren material. He made it clear that he admired that original megachurch we had attended and wanted our current Missionary church to be like theirs. We were told privately in a meeting with him and his wife that a church like that megachurch could reach many more people than George and I ever could.
Ma had left before us and had found what would turn out to be our last home church, a fundamental Bible church north of town. Ma pointedly asked this new pastor about the Emergent Church movement. Essentially, he said it was wrong and wouldn't allow it, so we headed there next.
We cautiously considered membership after truly getting to know the pastor and doctrines. We did become members, which was no small decision for a family having been repeatedly betrayed by several churches in the recent past. We were absolutely serious about this new fundamental Bible church being our church home and fighting this apostasy as much as possible. It was even agreed upon by the pastor that me and Ma, knowledgeable about the Emergent movement, would be "watchmen on the wall" for our leaders. Then came Priscilla Shirer's third book study in January. This started a whole domino effect in our household. We all three researched her. Shirer is definitely contemplative. We all agreed that none of us could sit under her teaching.
Ma compiled her evidence for the leaders, but they decided her warning was unfounded. The Lord has since made it clear that the elders did not have unity about allowing Shirer's material. We wondered how the numerous articles warning against Shirer would give them peace about allowing her material.
As we researched Shirer, we discovered trouble with Nancy DeMoss Wolgemuth, who is the popular teacher/author of Revive Our Hearts, a sub-organization under Life Action Ministries. She promoted circle-making prayer, and she favorably quoted Richard Foster and Brother Lawrence. Those men are/were mystics, and circle-making prayer echoes the pagan, occultic practice of circle-making/power circles.
"Either make the tree good, and his fruit good; or else make the tree corrupt, and his fruit corrupt: for the tree is known by his fruit" (Matthew 12:33). Also, "Doth a fountain send forth at the same place sweet water and bitter?" (James 3:11). If we see this rotten fruit and taste the bitter water of this apostasy, we cannot sit under that authority any longer.
George's and my decision to leave our last church home came down to 1) the leadership was acting in disunity, which is sin, and 2) compromised, heretical teaching was coming in to our church through Life Action Ministries.
We fully believe that if you are wondering for yourself if you are being called to take a stand against this apostasy, just humbly ask the Lord for wisdom. Humility is essential here. Yet this stand we are proposing is no small task. In Matthew 10, the Lord warns that He did not come to bring peace but a sword, dividing people from those whom they love most dearly for His namesake. Everything and everyone must be laid down at the altar; we can hold nothing back. Personally, we cannot count the relationships that have been lost or damaged due to our stand, nor can we express the personal toll this has taken on us. But by God's grace, we endeavor to surrender all. Jesus is worth it!
Our last pastor looked us straight in the eye and said he was not willing to consider that Life Action Ministries is compromised; he "knows their heart," that they are good. We said we will come back in a heartbeat if/when he is willing to objectively research them. Until then, we cannot submit to his (or by association, their) authority. It's just that simple for us.
We contend that this is THE end times' apostasy that Jesus warned of in Mark 13:22, where, if possible, even the very elect will be led astray. How in the world could we knowingly participate in this?
B.J.
Sometimes we think of spiritual formation as formation by the Holy Spirit. Once again. That's essential. . . . But now I have to say something that may be challenging for you to think about: Spiritual formation is not all by the Holy Spirit. . . . We have to recognize that spiritual formation in us is something that is also done to us by those around us, by ourselves, and by activities which we voluntarily undertake . . .There has to be method.1—Dallas Willard
Aside from the fact that Spiritual Formation incorporates mystical practices into its infrastructure (remove the contemplative aspect and you don't have "Spiritual Formation" anymore), Spiritual Formation is a works-based substitute for biblical Christianity. Let us explain.
When one becomes born again ("that if thou shalt confess with thy mouth the Lord Jesus, and shalt believe in thine heart that God hath raised him from the dead, thou shalt be saved" (Romans 10:9-10), having given his or her life and heart over to Christ as Savior and Lord, Jesus Christ says He will come in and live in that surrendered heart:
Behold, I stand at the door, and knock: if any man hear my voice, and open the door, I will come in to him, and will sup with him, and he with me. (Revelation 3:20)

Jesus answered and said unto him, If a man love me, he will keep my words: and my Father will love him, and we will come unto him, and make our abode with him. (John 14:23)

To whom God would make known what is the riches of the glory of this mystery among the Gentiles; which is Christ in you, the hope of glory: (Colossians 1:27)

[I]f the Spirit of him that raised up Jesus from the dead dwell in you, he that raised up Christ from the dead shall also quicken your mortal bodies by his Spirit that dwelleth in you. (Romans 8:11; emphasis added)
When God, through Jesus Christ, is living in us, He begins to do a transforming work in our hearts (2 Corinthians 3:18). Not only does He change us, He also communes with us. In other words, we have fellowship with Him, and He promises never to leave or forsake us (Hebrews 13:5).
This life of God in the believer's heart is not something we need to conjure up through meditative practices. But if a person does not have this relationship with the Lord, he may seek out ways to feel close to God. This is where Spiritual Formation comes into play. Rather than a surrendered life to Christ, the seeking person begins practicing the spiritual disciplines (e.g., prayer, fasting, good works, etc.) with the promise that if he practices these disciplines, he will become more Christ-like.
But merely doing these acts fails to make one feel close to God—something is still missing. And thus, he begins practicing the discipline of silence (or solitude), and now in these altered states of silence, he finally feels connected to God. He now feels complete. What he does not understand is that he has substituted the indwelling of Christ in his heart for a works-based methodology that endangers his spiritual life. Dangerous because these mystical experiences he now engages in appear to be good because they make him feel close to God, but in reality he is being drawn into demonic realms no different than what happens to someone who is practicing transcendental meditation or eastern meditation. Even mystics themselves acknowledge that the contemplative realm is no different than the realm reached by occultists. To understand this more fully, please read Ray Yungen's book A Time of Departing.
Bottom line, it is not possible to be truly Christ-like without having Christ inside of us because it is He who is able to change our hearts—we cannot do it without Him.
It is interesting to note that virtually every contemplative teacher has a common theme—they feel dry and empty and want to go "deeper" with God or "become more intimate" with God. But if we have Christ living in us, how can we go any deeper than that? How can we become more intimate than that? And if going deeper and becoming intimate were so important, why is it that none of the disciples or Jesus Himself ever told us to do this? As Larry DeBruyn states:
Why are Christians seeking a divine presence that Jesus promised would abundantly flow in them? . . . Why do they need another voice, another visitation, or another vision? Why are some people unthankfully desirous of "something more" than what God has already given to us? Why is it that some Christians, in the depth of their souls, are not seemingly at rest?2
Is There a "Good" Spiritual Formation?
One of the most common arguments we hear defending Spiritual Formation is that there is a "good" Spiritual Formation done without contemplative prayer. To that we say, we have never yet seen a Spiritual Formation program in a school or a church that doesn't in some way point people to the contemplative mystics. It might be indirectly, but in every case, if you follow the trail, it will lead you right into the arms of Richard Foster, Dallas Willard, and other contemplative teachers.
Think about this common scenario: A Christian college decides to begin a Spiritual Formation course. The instructor has heard some negative things about Richard Foster, Henri Nouwen, and Brennan Manning, and he figures he will teach the class good Spiritual Formation and leave those teachers completely out. But he's going to need a textbook. He turns to a respected institution, Dallas Theological Seminary, and finds a book written by Paul Pettit, Professor in Pastoral and Education Ministries. The book is titled Foundations of Spiritual Formation. The instructor who has found this book to use in his own class may never mention Richard Foster or Dallas Willard, but the textbook he is using does. Within the pages of Pettit's book is Richard Foster, Philip Yancey, N.T. Wright, Dallas Willard, Thomas Aquinas, Lectio Divina, Ayn Rand, Parker Palmer, Eugene Peterson, J.P. Moreland, Klaus Issler, Bruce Dermerst, Jim Burns, Kenneth Boa and Brother Lawrence's "practicing God's presence." You may not have heard of all these names, but they are all associated with the contemplative prayer movement and the emerging church.
Another example of this is Donald Whitney's book Spiritual Disciplines for the Christian Life. Whitney is Associate Professor of Biblical Spirituality at The Southern Baptist Theological Seminary in Louisville, Kentucky. While his book does not promote contemplative mysticism, he says that Richard Foster has "done much good"3 in the area of Christian spirituality.
Our point is that even if there is a sincere attempt to teach Spiritual Formation and stay away from the mystical side, we contend that it cannot be successfully accomplished because it will always lead back to the ones who have brought it to the church in the first place.
Spiritual formation is sweeping quickly throughout Christianity today. It's no wonder when the majority of Christian leaders have either endorsed the movement or given it a silent pass. For instance, in Chuck Swindoll's book So You Want to Be Like Christ: 8 Essential Disciplines to Get Your There, Swindoll favorably quotes Richard Foster and Dallas Willard. Swindoll calls Celebration of Discipline a "meaningful work"4 and Willard's book The Spirit of the Disciplines "excellent work."5 In chapter three,"Silence and Solitude," Swindoll talks about "digging for secrets . . . that will deepen our intimacy with God."6 Quoting the contemplative poster-verse Psalm 46:10, "Be still, and know that I am God," Swindoll says the verse is a call to the "discipline of silence."7 As other contemplative proponents have done, he has taken this verse very much out of context.
Roger Oakland sums it up:
The Spiritual Formation movement . . . teaches people that this is how they can become more intimate with God and truly hear His voice. Even Christian leaders with longstanding reputations of teaching God's word seem to be succumbing. . . .

We are reconciled to God only through his "death" (the atonement for sin), and we are presented "holy and unblameable and unreproveable" when we belong to Him through rebirth. It has nothing to do with works, rituals, or mystical experiences. It is Christ's life in the converted believer that transforms him.8
What Christians need is not a method or program or ritual or practice  that will supposedly connect them to God. What we need is to be "in Christ" (1 Corinthians 1:30) and Christ in us. And He has promised His Spirit "will guide [us] into all truth" (John 16:13).
In Colossians 1:9, the apostle Paul tells the saints that he was praying for them that they "might be filled with the knowledge of his will in all wisdom and spiritual understanding." He was praying that they would have discernment ("spiritual understanding"). He said that God, the Father, has made us "partakers of the inheritance of the saints in light" (vs 12) and had "delivered us from the power of darkness [i.e., power of deception]" (vs. 13). But what was the key to having this wisdom and spiritual understanding and being delivered from the power of darkness? Paul tells us in that same chapter. He calls it "the mystery which hath been hid from ages and from generations, but now is made manifest to his saints" (vs. 26). What is that mystery? Verse 27 says: "To whom God would make known what is the riches of the glory of this mystery among the Gentiles; which is Christ in you, the hope of glory."
For those wanting to get involved with the Spiritual Formation movement (i.e., contemplative, spiritual direction), consider the "direction" you will actually be going.
And you, that were sometime alienated and enemies in your mind by wicked works, yet now hath he reconciled in the body of his flesh through death, to present you holy and unblameable and unreproveable in his sight: If ye continue in the faith grounded and settled, and be not moved away from the hope of the gospel. (Colossians 1:21-23)

Beware lest any man spoil you through philosophy and vain deceit, after the tradition of men, after the rudiments of the world, and not after Christ. For in him dwelleth all the fullness of the Godhead bodily. And ye are complete in him, which is the head of all principality and power. (Colossians 2: 8-10)
To order copies of Is Your Church Doing Spiritual Formation? (Important Reasons Why They Shouldn't), click here.
Endnotes:
1. Dallas Willard, "Spiritual Formation: What it is, and How it is Done" (http://www.dwillard.org/articles/artview.asp?artID=58).
2. Larry DeBruyn, "The Practice of His Presence" (http://herescope.blogspot.com/2013/12/the-present-of-his-presence.html).
3. Donald Whitney, "Doctrine and Devotion: A Reunion Devoutly to be Desired" (http://web.archive.org/web/20080828052145/http://biblicalspirituality.org/devotion.html).
4. Chuck Swindoll, So You Want to Be Like Christ: 8 Essential Disciplines to Get You There (Nashville, TN:W Publishing Group, a div. of Thomas Nelson, 2005), p. 15.
5. Ibid., p. 13.
6. Ibid., p. 55.
7. Ibid.
8. Roger Oakland, Faith Undone, op. cit., pp. 91-92.
This has been an extract from our booklet Is Your Church Doing Spiritual Formation? (Important Reasons Why They Shouldn't). To order this booklet, click here.
 Why are Christians seeking a divine presence that Jesus promised would abundantly flow in them? . . . Why do they need another voice, another visitation, or another vision? Why are some people unthankfully desirous of "something more" than what God has already given to us? Why is it that some Christians, in the depth of their souls, are not seemingly at rest? – Larry DeBruyn
By Larry DeBruyn
Guarding His Flock Ministries and Herescope Blog
Among evangelicals there's a lot of chatter and publicity about seeking "the manifest presence of God." For example, some musicians, singers and worship leaders boldly claim that their music can escort listeners "through the door of worship, right into the heart and presence of God."[1]  Christian
worshippers are classified as "inner court, outer court, or holy of holies Christians, each one needing a certain period of time to come into the manifest presence of God."[2]  So it becomes incumbent upon the worship team to lead congregants into the divine dimension.
Other evangelicals talk about "practicing the presence," perhaps by employing mood music, cultivating solitude and silence, or practicing other spiritual disciplines to experience it. Often spelled with an upper case "P," masses of evangelical Christians are desiring to experience a divine presence in which Jesus might speak to them in an exciting new way. In his newly published book, "Another Jesus" Calling: How False Christs Are Entering the Church Through Contemplative Prayer,[3]  Warren B. Smith points out that, in her best-selling evangelical book Jesus Calling (Thomas Nelson, 2004 ),[4]  Sarah Young uses "The word 'Presence'… more than 365 times…." He notes further that, "the term [Presence] is also commonly used in New Age/New Spirituality."[5]  In light of all the talk going on about contemplating or experiencing God's presence, biblical Christians ought to know something of what Scripture teaches about God's presence so that His Word can inform us regarding seeking after God's presence, whether the experience(s) of it ought to be embraced or shunned, whether they are authentic or synthetic, or worse, demonic.
The Bible and the Presence 
The subject of the presence of God in heaven with people on earth is the storyline of the Bible from Genesis thru Revelation. The holy, transcendent and infinite God of the universe desires to become known by and to fellowship with finite and sinful people on earth. As recorded in Scripture, the first mention of His stated presence commences with Adam and Eve in the first book of the Bible, when after they had sinned and heard God walking in the garden, they "hid themselves from the presence of the Lord God amongst the trees of the garden" (Genesis 3:8), and consummates in the last book when a voice declares: "Behold, the tabernacle of God is among men, and He shall dwell among them, and they shall be His people, and God Himself shall be among them" (Revelation 21:3). So in defining God's presence, the Bible must be our guide.
God's Presence—He's Far and Near 
In knowing about God's presence, both His transcendence and immanence must be understood with both of the divine attributes being held in tension with each other. The tension, like a rubber band, can be stretched but it must not break. By God's transcendence it is meant that He is distant, "that God is separate from and independent of nature and humanity."[6]  In other words, He is not present. By God's immanence it is meant that He is near, that God is present and active "within nature, human nature, and history."[7]  In other words, He is present.
In his dedicatory prayer for the Temple, Solomon exclaimed, "But will God indeed dwell on the earth? Behold, heaven and the highest heaven cannot contain Thee, how much less this house which I have built!" (1 Kings 8:27) In his prayer Solomon pleads with God from earth that He "would hear in heaven" (1 Kings 8:30, 32, 34, 36, 39, 43, 45, 49). In heaven, God is transcendent. Yet, upon that prayer's completion, the cloud of the glory of the Lord's presence came to fill the Temple (2 Chronicles 7:1-3; Compare 1 Kings 8:11.). As the occasion of Solomon's dedicatory prayer indicates, God's farness and nearness were balanced. Yet some would break the band.
For example, exaggeration of God's farness ends in deism, the view of God which distances Him so far from history that there arises the perception that He doesn't care about what happens on earth, that He may not be good and loving. On earth, we're left to go it alone. Amidst life's trials, conflicts, pain and vicissitudes, we can expect no help from heaven. God is too far removed to care, let alone help. God is an outsider. He's not a prayer away!  Click here for footnote material and to continue reading this article.
By Menno-lite
This March, Frank Viola interviewed the author of a new book called Sacred Pauses: Spiritual Practices for Personal Renewal published by Herald Press(1). In the interview, April Yamasaki, lead pastor of Emmanuel Mennonite Church (B.C., Canada), indicated that her views of finding God's presence are drawn from sources like Mother Teresa(2), Henri Nouwen, and the 14th century Cloud of Unknowing.
She also draws from and the spiritual exercises of St. Ignatius of Loyola, even recommending a helpful introduction to Ignatian Spirituality(3), although Yamasaki's book is more like a new kind of consumer friendly Jesuit spirituality.
"One of the classic models for retreat is The Spiritual Exercises of St. Ignatius of Loyola, which is organized into four weeks to be completed along with a spiritual director. But even Saint Ignatius seemed to realize that was not possible or practical for everyone."
– page 21, Chapter 1, Sacred Pauses
Sacred Pauses unfolds to give readers an easier, do it yourself at home recipe for part time retreat, Brother Lawrence style (page 22). Yamasaki draws from many other extra biblical sources to find ways of making sacred pauses with God, from recommending icons to "allow God to create that sacred space in you" (p 24), to Thomas Merton and Richard Foster (p 180). Click here to continue reading.
Other Articles From Menno-lite:
Mennonites and Sustainable Development
On Rob Bell, Hell, and Mennonites
Disappointment in the MB Herald – Mennonites Going Contemplative
The reason Christian leaders aren't taking the New Age more seriously is because figures, like [Rick] Warren, are not ringing out a warning and are themselves being influenced and deceived by the New Age. – Warren B. Smith
Ten years after the first edition of Rick Warren's The Purpose Driven Life was released, Zondervan has now released
a new 2012 "Expanded Edition" of the New York Times best seller geared for a "new generation." As the cover of the new edition reads, over 32 million copies of The Purpose Driven Life have been sold. This special Lighthouse Trails report will examine how the new edition has retained Rick Warren's unbiblical position.
FIRST SOME BACKGROUND
It was Fall of 2002, and the fledgling Lighthouse Trails Publishing was just about to release its first book, A Time of Departing, written by a fairly unknown author, Ray Yungen. At the same time, unbeknownst to us, another book was hitting the bookstores but this one by a fairly well-known author, Rick Warren with his book, The Purpose Driven Life.  Some knew Warren from his first book in the 90s called The Purpose Driven Church. But his name was about to become a virtual household name in the Western world with The Purpose Driven Life. As time wore on and the book climbed the charts, many, including Rick Warren himself, said it must be from God or there wouldn't be this much success. Rick Warren came to believe that the Purpose Driven movement was the most important contribution being made to the 21st century church:
Personal computers have brand names. But inside every pc is an Intel chip and an operating system, Windows," Warren says. "The Purpose Driven paradigm is the Intel chip for the 21st-century church and the Windows system of the 21st-century church—Rick Warren, Christianity Today, Oct. 2005
Lighthouse Trails sent a copy of A Time of Departing to Rick Warren in early 2003, hoping to warn this influential pastor of the contemplative prayer and spiritual formation movement. Warren sent a personal note thanking Lighthouse Trails for the book and admitted it was a "hot topic."
The following year, Lighthouse Trails editors heard about a book that was suggesting The Purpose Driven movement had leanings toward the New Age. LT editors purchased a copy of the book, which had been written by Warren B. Smith. The book, titled Deceived on Purpose: the New Age implications of the Purpose Driven movement, was the first book on the market that challenged Rick Warren and the Purpose Driven movement. Since then, Warren Smith has written a follow-up book titled A "Wonderful" Deception, Ray Yungen has added an entire chapter on Rick Warren in a 2nd edition of A Time of Departing (showing Rick Warren's propensities toward and promotion of contemplative spirituality), and Lighthouse Trails author Roger Oakland included Rick Warren in his expose book on the emerging church, Faith Undone.
Needless to say, Lighthouse Trails was very interested to know if Rick Warren has corrected the things that Warren Smith, Ray Yungen, and Roger Oakland challenged him on (from a biblical point of view) in their books.  This report will examine these very things.
I. DECEIVED ON PURPOSE & A "WONDERFUL" DECEPTION VS THE NEW EDITION OF THE PURPOSE DRIVEN LIFE
1. In Deceived on Purpose, Warren Smith contended that Rick Warren's use of Eugene Peterson's The Message compromised his book significantly.
Anyone reading The Message should be able to quickly see how verses from Scripture often had their otherwise clear meanings obscured or even altered. Important details were sometimes omitted, while misleading words and phrases were often added. (DOP, p. 24)
Since the release of The Purpose Driven Life in 2002, there has been ample documentation proving that The Message paraphrase is not trustworthy, and in fact, is quite misleading. But did this cause Rick Warren to reconsider? No, the new expanded Purpose Driven Life still contains quotes from Eugene Peterson's The Message (Day 2, Day 8, Day 32).
One of the most disturbing things that Warren Smith unveiled about The Message was the New Age maxim substituted into the Lord's Prayer, "as above, so below."
This phrase [as above, so below] comes from the beginning of The Emerald Tablet and embraces the entire system of traditional and modern magic which was inscribed upon the tablet in cryptic wording by Hermes Trismegistus. The significance of this phrase is that it is believed to hold the key to all mysteries. All systems of magic are claimed to function by this formula. "'That which is above is the same as that which is below'….The universe is the same as God, God is the same as man." (DOP, p. 33)
Even though Peterson's "As above, so below" revision was brought to Rick Warren's attention by at least one person who sent him a copy of Deceived on Purpose, that didn't stop Rick Warren from including The Message in his new 2012 edition of The Purpose Driven Life.
2. In the 2002 edition of The Purpose Driven Life, Rick Warren quoted a man named Bernie Siegel.  Warren Smith addresses this in Deceived on Purpose and later again in his book, A "Wonderful" Deception:
In The Purpose Driven Life, Rick Warren introduces his main themes of "hope" and "purpose." Inexplicably, Warren chooses to introduce "hope" and "purpose" in his book by citing Dr. Bernie Siegel—a veteran New Age leader who claims to have a spirit-guide named George.Somehow, readers of The Purpose Driven Life are expected to believe that God inspired Warren to introduce the themes of hope and purpose by referencing the "wisdom" of Bernie Siegel, an author and leader in the New Age movement.(AWD, p. 16)
Once again, Rick Warren dismisses legitimate concerns and includes the Bernie Siegel reference in the new 2012 expanded edition of The Purpose Driven Life.
3. In the 2002 edition of PDL, Rick Warren twists Scripture and says, "The Bible says, 'He rules everything and is everywhere and is in everything." Warren Smith responded saying:
Out of the fifteen different Bible versions Rick Warren uses in The Purpose Driven Life, he chooses to cite Ephesians 4:6 from a new translation that erroneously conveys the panentheistic New Age teaching that God is "in" everything. According to New Age leaders, this teaching is foundational to the New Age/New Spirituality. Yet of these fifteen Bible versions Warren uses in his book, he chooses the New Century Version that has potentially misled millions of Purpose Driven readers to believe this key New Age doctrine that God is "in" everything. (AWD, p. 16)
What does Rick Warren do with this misuse of Scripture? You will find the very same misuse in the new 2012 edition of PDL.
4.  In the 2002 edition of PDL, Rick Warren distorts the words of Jesus regarding His second coming.
In The Purpose Driven Life, Rick Warren strongly discourages the study of prophecy. He states that "in essence" Jesus told his disciples: "The details of my return are none of your business." Contrary to what Warren writes, in Jesus' discussion on the Mount of Olives, He tells His disciples that an understanding of the details of His return is very important. He provides much needed prophetic information so that His followers will not be deceived about the details of His return at the end of time. (AWD, pp. 20-21)
In the 2012 expanded edition of PDL, Rick Warren says the exact same thing again.
5. In the 2002 edition of PDL, echoing Robert Schuller, Rick Warren writes, "It helps to know that Satan is entirely predictable." In Deceived on Purpose, Warren Smith refutes this highly irresponsible remark by Rick Warren that unfortunately millions of people have now heard:
Because Rick Warren and other church leaders don't seem to discern the deception, they are unfortunately becoming a part of the deceptive process. Perhaps deceived into thinking that they can't be deceived, their inability to spiritually discern what is happening is placing the Church in grave danger. (DOP, p. 131)
In the 2012 expanded edition of PDL, Rick Warren repeats:  "It helps to know that Satan is entirely predictable," once again underestimating the wiles of the devil and ignoring the many Scriptures that warn us about spiritual deception.
6. In the 2002 edition of The Purpose Driven Life, Rick Warren quotes occultist and New Ager Aldous Huxley (is it any wonder that former New Age follower Warren Smith wrote two books on the Purpose Driven movement!).
After incorrectly diagnosing the Apostle Paul as suffering from "doubt" and "depression" rather than persecution, Rick Warren emphasized the importance of "shared experiences" by quoting Huxley. . .

Rick Warren's citing of the metaphysical Huxley in discussing the importance of "shared experiences" seemed as inappropriate as his referencing New Age leader Bernie Siegel in introducing "hope" and "purpose." Randomly quoting influential New Age figures with no introduction or explanation as to who these people are is not exactly what you expect from a shepherd who is supposed to be protecting his flock. (DOP, pp. 96-97)
 II. A TIME OF DEPARTING VS THE NEW EDITION OF THE PURPOSE DRIVEN LIFE
1. In the 2002 edition of PDL, Rick Warren references Brother Lawrence (Practicing the Presence of God) several times and tells readers to practice "breath prayers." Ray Yungen challenges this:
Brother Lawrence is often quoted by contemplative authors for his habit of what he called "practicing the presence of God." But what was the actual nature of this presence? Was it something that would reflect the true character of God? I find the following account from a devout advocate of Brother Lawrence both questionable and disturbing:

"It is said of Brother Lawrence that when something had taken his mind away from love's presence he would receive "a reminder from God" that so moved his soul that he "cried out, singing and dancing violently like a mad man." You will note that the reminders came from God and were not his own doing." (Gerald May, The Awakened Heart, First HarperCollins Paperback Edition, 1993) p. 87, citing from The Practice of the Presence of God by Brother Lawrence, translated)

Brother Lawrence says that secret phrases must be "repeat[ed] often in the day," and "for the right practice of it, the heart must be empty of all other things." He speaks of the trouble of wandering thoughts and says that the habit of practicing the presence of God is the "one remedy" and the "best and easiest method" he knows to dissolve distractions. (ATOD, p. 147)
Rick Warren received a copy of A Time of Departing in 2003 and yet, in the 2012 expanded edition of PDL, Warren once again references Brother Lawrence and tells his readers to practice "breath prayers."
2. In the 2002 edition of PDL, Warren advises readers to use visual reminders throughout the day and gives an example of others who practice breath prayers—Benedictine monks, known for their contemplative spirituality and interspirituality.
In the 2012 expanded edition of PDL, Rick Warren again tells readers to consider the example that the contemplative Benedictine monks have set before us.
3. Regarding the 2002 edition of PDL, Ray Yungen points out in A Time of Departing: "Warren not only promotes breath prayers on Day 11 in The Purpose Driven Life but also on Day 38, where he tells readers how to become "world-class Christian[s]" through the "practice [of]. . . breath prayers."
In the 2012 expanded edition of The Purpose Driven Life, Rick Warren repeats this second instruction on using breath prayers.
4. In A Time of Departing, Ray Yungen documents how Rick and Kay Warren find great affinity with  Catholic contemplative mystic Henri Nouwen. In both the 2002 and the new 2012 expanded edition of PDL, Warren quotes Henri Nouwen twice. One of the quotes directly follows Warren's quote of St. John of the Cross where Warren likens the panentheist St. John's "dark night of the soul" to Henri Nouwen's "ministry of absence." If Rick Warren had read A Time of Departing when it was sent to him in 2003, he would have known that Nouwen practiced eastern style meditation; and he would have known that Nouwen had a propensity toward universalism, as demonstrated in Nouwen's words:
Today I personally believe that while Jesus came to open the door to God's house, all human beings can walk through that door, whether they know about Jesus or not. Today I see it as my call to help every person claim his or her own way to God. (Sabbatical Journey, p. 51)
III. FAITH UNDONE VS. THE NEW EDITION OF THE PURPOSE DRIVEN LIFE
1. In Faith Undone, Roger Oakland shows Rick Warren's distortion of biblical prophecy and the return of Jesus Christ in the 2002 edition of The Purpose Driven Life.
In The Purpose Driven Life, Warren was actually laying ground-work for the emerging church's new reformation, a reformation that rejects thinking about the return of Christ and works more at convincing the multitudes that Christ is already in them as a global christ-consciousness. As you will see in the following documentation, Warren has a low regard for Bible prophecy. Perhaps this helps explain why so many who once were anticipating the return of the Lord have become occupied with worldly ambitions. Warren writes:

"When the disciples wanted to talk about prophecy, Jesus quickly switched the conversation to evangelism. He wanted them to concentrate on their mission in the world. He said in essence, 'The details of my return are none of your business. What is your business is the mission I have given you. Focus on that'"

I find it simply astounding that a statement of this sort would be in a New York Times best-seller in the present-day Christian book market. Jesus was telling the disciples they could not know the day or the hour, but nowhere does Jesus ever indicate that "the details of my return are none of your business." Rather than quickly changing the subject, we find in Matthew 24 and Luke 21 two of the longest passages in Scripture quoting Jesus' own words, as He details the signs of His coming. (FA, pp. 154-15)
As this report stated earlier, the new edition of The Purpose Driven Life also takes Jesus' words out of context regarding Bible prophecy and His return.
2. In the 2002 edition of PDL, Rick Warren takes Christ's words out of context when he tells readers that those who think about Bible prophecy  (i.e., the Lord's return) are  "not fit for the kingdom of God." Roger Oakland shows how he did this distortion in Faith Undone.
In the 2012 edition of PDL, Warrenagain tells readers that they are "not fit for the kingdom of God" if they think about Bible prophecy too much.
CONCLUSION: So What IS Different About the new 2012 edition? In a Zondervan promotional video, Rick Warren says that he has learned a lot of things in the past decade about hindrances that keep people from finding their true purpose, and he has put this information in two new chapters: "The Envy Trap" and "the People Pleaser Trap." He has also added links to both video and audio teachings by himself. While Lighthouse Trails editors have strong concerns about what these teachings will introduce to readers (such as the audio for Day 11, where Rick and Kay Warren talk about how to "connect" with God through "the stillness," via monks, monasteries, and Henri Nouwen), this report is not on what Rick Warren has added to PDL but rather what he has not removed. Thus, the following can be stated with certainty: the new edition of The Purpose Driven Life is as problematic as the first edition was and could potentially lead a whole "new generation" astray. One only needs to look at the declining condition of America over the past 10 years to see that The Purpose Driven Life (where 60 million people have read it, Warren said recently on a Fox News interview ) has not helped the country or the church get on track. On the Zondervan website, it states: "The Purpose Driven Life is far more than just a book; it is a guide to a spiritual journey that has transformed millions of lives. Once you take this journey, you'll never be the same again" (emphasis added).
As Lighthouse Trails has stated for over 10 years, the Purpose Driven "spiritual journey" is one that should be avoided.  Hopefully, this report has shown some of the reasons. While this Special Report does not address issues such as Rick Warren's P.E.A.C.E. Plan and the Daniel Plan, please refer to the "Related Articles" section below for further documentation on the Purpose Driven movement.
---
NOTE: Books by Ray Yungen, Roger Oakland, and Warren B. Smith are available through the Lighthouse Trails store or most other online bookstores. If you have not read all three of these books – A Time of Departing, Faith Undone, and A "Wonderful" Deception (which summarizes Deceived on Purpose in chapter 1), we highly recommend you do. If you cannot afford the books, please write to us at P.O. Box 908, Eureka, MT 59917, and we will send you a free copy of one of them. Or you can visit our research site where we have extensive free information and many excerpts from these books. Also we have a list of free chapter excerpts that you can access.
Related Articles:
Rick Warren Makes Bold Move Unveiling Centering Prayer Devotion
Rick Warren "Annoyed" with Those Who Challenge Him – Serving Two Masters Not Working
The Purpose Driven Inclusive Church  by Roger Oakland
The Angel of Light's "Plan" for World Peace  by Tamara Hartzell (from In the Name of Purpose)
Creating a New Society: Change Agents and Influence Peddlers  by Carl Teichrib
Rick Warren Plays "Catch Me if You Can" While Promoting Mysticism
Saddleback's Response to Criticism Over Daniel Plan – An Unscriptural Paradox!
Emanuel Swedenborg's Occultic Beliefs Influence Rick Warren's Health Advisor and Now the Christian Church  by John Lanagan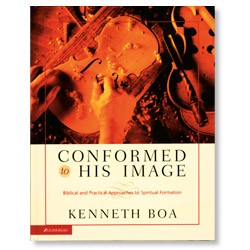 The title of Ken Boa's book, Conformed to His Image, is taken from the Scripture Romans 8:29: "For whom he did foreknow, he also did predestinate to be conformed to the image of his Son, that he might be the firstborn among many brethren." However, before believers delve into this book with the hope it will show them how to be conformed into the image of Jesus Christ, an examination of this book is needed.
In Boa's book, in a section on lectio divina, Boa recommends turning to Richard Foster for further guidance. He suggests readers use Foster's book Devotional Classics, which is a collection of 52 writers (more than half of them mystics). Boa quotes Foster throughout the book, and he quotes several other contemplative promoting authors too. While Boa gives a limited warning about heavy duty mystics/panentheists like Matthew Fox and Meister Eckhart, his promotion of Richard Foster and other contemplatives makes those warnings rather innocuous. It's kind of like telling a teen to stay away from heroin but go ahead and use cocaine. And in some ways it is even more dangerous because the one (Eckhart and Fox) is so obvious to many, but the other (Foster) appears to be completely harmless because it is enveloped in Christian veneer.
Boa references mystic Jean Pierre de Caussade's book Abandonment to Divine Providence, referring to the "sacrament of the present moment", a concept often used to encourage people to enter the silence.
In addition to referencing Richard Foster several times, Boa also favorably references: Gary Thomas (Sacred Pathways), Brother Lawrence, Bill Hull, Larry Crabb, and Ignatius of Loyola. Of the latter, Boa says: "The spiritual exercises of Ignatius of Loyola incorporate these and other meditative techniques."
The book also favorably refers to and/or quotes Julian of Norwich, Thomas Kelly, Thomas Merton and Thomas Keating, all of which had or have panentheistic views. Of Keating and Merton, Boa says that thanks to them the "ancient practice" of lectio divina has been reintroduced to both Catholics and now Protestants. Merton is referred to several times in the book.
For those who wish to become "conformed to the image" of Jesus Christ, Ken Boa's book is not a good place in which to turn. By reading and following the advice of his book, one could end up being more conformed to the image and spirituality of Thomas Merton, who said he wanted to become the best Buddhist he could be and said he was impregnated with Sufism (Islamic mysticism).
Over the years, many of our readers have asked for a list of authors who are promoting contemplative prayer. Well here is a list we have compiled.  This is from 10 years of research at Lighthouse Trails.  The list includes those authors who directly teach contemplative prayer as well as those who have consistently promoted contemplative prayer teachers. All of the names below are in one of these two categories. If you are a skeptic, this is not guilt by association, but is rather guilt by promotion or proxy. It is not possible to list every single contemplative prayer advocate, as the number of those in this category increases weekly with new book releases. Some of these names are not "evangelical" Christians but are to be found in either the Catholic camp or the New Age camp. We include those in this list because they are names that are being recommended or referenced by evangelical/Protestant leaders. We have found these names below to be the most influential in this area. At times, we will replace names with others as they come to our attention. If you need information on any of these names below, you can find most of them using our blog search engine or our research site Topical Index.
(updated 2/9/12)
1. Adele Alhberg Calhoun
2. Agnes Sanford
3. Alan Jones
4. Anne Lamott
5. Anthony de Mello
6. Basil Pennington
7. Beatrice Bruteau
8. Bernard of Clairvaux
9. Beth Moore
10. Bill Hybels
11. Brennan Manning
12. Brian McLaren
13. Brother Lawrence
14. Calvin Miller
15. Carl McColman
16. Chuck Smith, Jr.
17. Dallas Willard
18. Dan Kimball
19. Daniel Goleman
20. David Benner
21. David Crowder
22. David Steindl-Rast
23. Desert Fathers
24. Doug Pagitt
25. Emilie Griffin
26. Eugene Peterson
27. Evelyn Underhill
28. Gary Thomas
29. Gerald May
30. Gerald Sittser
31. Henri Nouwen
32. Hildegard of Bingen
33. J.P. Moreland
34. Jack Canfield
35. James Goll
36. Jan Johnson
37. Jean-Nicholas Gru
38. John Coe
39. John Michael Talbot
40. John Ortberg
41. Jonathan Wilson-Hartgrove
42. Julian of Norwich
43. Karl Rahner
44. Keith Drury
45. Ken Blanchard
46. Ken Boa
47. Keri Wyatt Kent
48. Kurt Bjorklund
49. Kyle Strobel
50. Larry Crabb
51. Laurie Beth Jones
52. Leighton Ford
53. Leonard Sweet
54. Liz Babbs
55. Madame Guyon
56. Maggie & Duffy Robbins
57. Marcus Borg
58. Marjorie Thompson
59. Mark Driscoll
60. Mark Virkler
61. Mark Yaconelli
62. Max Lucado
63. Meister Eckhart
64. Michael Card
65. Mike Bickle
66. Mindy Caliguire
67. Morton Kelsey
68. Pete Greig
69. Pete Scazzero
70. Peter Senge
71. Philip St. Romain
72. Phillip Yancey
73. Phyllis Tickle
74. Pierre Teilhard de Chardin
75. Pope Benedict XVI
76. Richard Foster
77. Richard Peace
78. Richard Rohr
79. Richard Rolle
80. Rick Warren
81. Rob Bell
82. Robert Webber
83. Ruth Haley Barton
84. St Anthony
85. St. Catherine of Siena
86. St. Ignatius Loyola
87. St. John of the Cross
88. St. Teresa of Avila
89. Sue Monk Kidd
90. The Cloud of Unknowing by an Anonymous Monk
91. Thomas Aquinas
92. Thomas Keating
93. Thomas Merton
94. Tilden Edwards
95. Todd Bentley
96. Tony Campolo
97. Tony Jones
98. Tricia Rhodes
99. William Paul Young
100. William Shannon