Posts Tagged 'Catholicism'
LTRP Note: The following is from chapter one of Carolyn A. Greene's book Dangerous Illusions (the sequel to Castles in the Sand). As far as we know, these are the only two novels ever published that delve into the evilness of the contemplative prayer/emerging church movement. The setting for Castles in the Sand is a Christian college where a young naive girl becomes deeply involved in mystical practices that her Spiritual Formation professor has introduced her to. In Dangerous Illusions, the story continues but is now taking place in a small mountain town in the U.S. where an unsuspecting church becomes victim to a dangerous deception that is masqueraded as a better more progressive Christianity. Every college-age young person (and their parents) should read these two important (and suspenseful!) books.
Dangerous Illusions—Chapter 1 by Carolyn A. Greene and Zach Taylor

It was nothing like he'd thought it would be. Rob Carlton walked the narrow brick and mortar path following close behind the robed monk. Hands in his jacket pockets, his neck enveloped by his upturned corduroy collar, and his knitted cap pulled low over his ears, Rob looked up as they passed an old brick office building belonging to the monastery. A certain sacred ambience lingered in the air.
The mountain wind buffeted Rob's back, and the low-lying cloud cover obscuring the knife-edged peaks disseminated late spring snow on both him and the monk. Rob was cold, but he fought the urge to make haste, and in lockstep, paced himself with that of his companion while listening politely to quiet explanations. Rob asked the occasional question while half-wishing he'd never come, yet at the same time, strangely glad he did.
It had been a long one-hundred miles from Birch Valley, and he had plenty of time to think. All week long Stephanie had been insistent that he go, and on the Saturday morning that was his usual day to sleep in late, he found himself packing a small suitcase, listening in veiled irritation as she chattered away while preparing his favorite hotcakes-and-sausage breakfast. After twenty years of marriage, she was an impossible woman to refuse, for she knew all the right buttons to push. And one morning along the way, he awoke, struck with the startling realization that she had evolved into the kind of woman who could make his life quietly miserable while smiling to herself, convinced that whatever she required of him was in his best interest. It was she who was into this monastic mystical stuff, not him. Her quirky yet altogether feel-good theology had lately taken a dramatic turn.
At first, when she had begun traversing what he considered a slippery slope, Stephanie was content to leave him be with his old-time Baptist tradition. She, on the other hand, voraciously read books by obscure authors (ones he'd never heard of anyway) and engaged herself in a wide variety of spiritual exercises.
It was when she began watching the videos that she turned a corner, urging and, of late, demanding he become involved. His joking rebuffs were increasingly met with a self-righteous hostility. "You're an elder of a failing church," she snipped, "and you're not even interested in giving the congregation the shot in the arm it needs."
So he gave in and agreed to meet with the monk. Rob had fumed his first hour behind the wheel, but the more he thought about it, the more he felt she might have a point. His traditionalist mentality was getting Sheep Gate Lane Church, or Sheep Gate as the members called it, nowhere—and fast. To be sure, the old ways were comfortable and doctrinally sound, but the atmosphere of the church was now dry and devitalized. He really did care about the spiritual life of folks he had loved and fellowshipped with for the past decade; he just didn't know what to do to get them interested anymore—or to renew his own interest, for that matter. Lately it seemed as if the entire concept and reality of church life was lacking a certain vitality.
But worst of all, the congregation was thinning out, and it was no longer the life-changing experience it used to be for those who remained. One thing he knew for sure—account books don't lie. Offerings had dropped significantly over the past few months, and at the current drop-out rate, the church would close its doors before the new year began. Given his position as a salaried staff member, he was at risk. The imminent doom of surrendering a comfortable lifestyle for a spot in the unemployment line did not sit well with Rob at all.
And now here he was, following some robed monk down an ancient-looking stone path far removed from anything he'd ever known. He glanced backward periodically, half-expecting to see a reporter from the Birch Barker Weekly snapping his photo for the newspaper's next exposé. Rob had the feeling that everybody in Birch Valley knew precisely what he was up to. Yet it was supposed to be done in secret. "Remember, don't tell anyone you are going up there," Stephanie had reminded him. She had even suggested he not take his iPhone with him at all.
"Tell me again why no one can know," Rob had asked as he zipped his suitcase closed and grabbed his jacket.
"There are people—like Jacob Brown—who would resist changes—the kind of changes I'm thinking about—if he got wind of it. I can just hear him now at some emergency-called, all-church meeting saying, 'This kind of thing is going against the Gospel,'" Stephanie mocked. "How many times have I heard Jacob say something like that! Sometimes I can't help wish Jacob Brown would just . . ."
"Stephanie! Don't even say such a thing!"
"Well, after all, he is getting up there in years."
Rob had left the house with Stephanie still going on. She followed him to the car and continued talking to him through the open car window as he backed down the driveway to the road. After he had gotten out of town and was heading up toward the monastery, he had realized how he hated this cloak-and-dagger stuff. He had wished the weekend was already over and done with just so he could report back to Stephanie that he had given it his best shot and found her ideas to be anything but feasible or doable.
Now, as Rob walked with the monk, he took a closer look at the young bearded man. His rough, brown hood was drawn across his face, and each hand poked into the warm and spacious robe sleeves. A gentleness and serenity emulated from him. Serenity—oh how Rob longed just for some peace.
As the monk's robes whipped every which way in the wind, he led the way to the small tiled courtyard. They paused at an overlook at the edge of the gray stone wall that encircled the area. Speaking in a soft tone, the monk said, "As you can see, it's a most idyllic setting for a retreat. It's early yet, of course, and officially, we don't house people until May, but your wife was so . . . insistent that you needed, well . . . some guidance, and she seemed familiar with our ways. She did say you might have some personal obstacles to overcome regarding some of our teachings, but we understand that not everyone who comes here for refreshing subscribes to our faith. We're very aware, understanding, and accommodating when it comes to such matters. It's the personal journey, not indoctrination, that we're interested in."
"So it doesn't matter that I'm not Catholic?" Rob probed.
The young monk smiled warmly. "Not at all. We welcome people of all faiths here. We've had Protestants, Buddhists, even agnostics …"
Rob's eyes widened. "Buddhists?"
The monk chuckled. "We often get that reaction from those involved in mainline religion or Christian fundamentalism. But on a more serious note, we believe we—that is, you, me, everybody—can learn from all spiritual paths, regardless of our upbringing or current faith. Up here, amidst this unspoiled solitude, we provide a place of refuge for all who come. We exist primarily to help facilitate an authentic spiritual journey for the seeking soul. Some of our most influential Catholic teachers of the past were involved with Zen teaching. While we don't incorporate everything pertaining to that particular pathway into our spiritual disciplines here, we still believe much of it to be compatible with Christian theology."
Rob leaned against the waist-high wall as he perused the gray, hand-fitted rock giving the impression of a medieval castle, a symbol of both comfort and fortification. The monastery proper included a chapel and connecting monks' cells all built of the same locally quarried stone, giving an appearance simultaneously imposing and retiring—a monument, perhaps, to a bygone yet intensely spiritual era. Rob had to admit it was a pretty place. A blue-green sea of spruce, fir, and pine cascaded downward from the aerie; and the air was rich with the scent of residual winter snow that remained at this altitude. It had taken some fancy footwork, driving wise, for him to get there; and the switchback climb through pockets of mud and dingy snow had afforded him a few moments of high tension. But standing on the edge of the monastery's overlook and drinking in the quiet, Rob reluctantly admitted to himself that it had been worth it. There was something about the place he couldn't quite put his finger on—a prevailing, transcendent, "a way backward is a way forward" kind of atmosphere that brought back fond, childhood memories like fishing for lake trout or experiencing that ecstatic, full of hope and promise feeling so part and parcel of young love. Feeling a twinge of regret, he couldn't remember if he'd kissed Stephanie goodbye before he rushed out the door and sped away. He'd have to make that up to her when he got home.
"Come," the monk urged. "There's something else I'd like to show you." They left the courtyard and walked along a meandering flagstone pathway through what was more than likely a spectacular flower garden during the summer. Next, they passed by thickets of brown stems poking up through patches of snow until they came to a large, circular, cement pattern, roughly thirty feet around and built into the ground. Rob stared. He recognized it from the cover of one of Stephanie's books. The book's title came rushing to the forefront of his memory—The Labyrinth: Old and New.
It was an odd thing to see this maze-like structure in real life sitting in the heavily wooded grounds of the monastery. With its circles within circles, it had the distinct look and feel of something ancient. "This is a …" the monk began.
"Yes, I know," Rob interrupted. "It's a labyrinth." He stared long and hard at it, thinking.
The monk regarded him with respectful silence then asked, "Would you like to . . . ?
Rob shook his head. "Not just yet," he said somewhat sheepishly. "This is all so new and …" He shrugged. "You know."
The monk placed a gentle hand on Rob's shoulder. "Would you like to see one of our prayer huts?"
Rob nodded, and they made their way back to the courtyard and to a small wooden A-framed building. Inside the prayer hut, as it was called, it was warm and cozy, out of the wind, and heated by a small propane stove. Rob looked around in nervousness and wonder, shifting his gaze from a tall, stained-glass window that nearly filled one side of the front entrance wall to the triple-tiered racks of lighted votive candles in the front to the plain wood altar gussied up with a brace of gilt candlesticks. Behind the altar was a large cathedral window, which unveiled a not-too-distant view of fir and pine trees leading up a mountainside. The two A-frame walls were decorated with murals; and one Rob recognized—an ecstatic monk on his knees with his arms outstretched and his hands, feet, and side pierced in accordance with one of his visions. Francis of Assisi. What was it they called it? Stigmata. The actual wounds of Christ, they said. Rob looked up at the center of the wall to the hand-carved crucifix. The figure of the suffering Jesus overlooked the room from its placement above the altar. Rob stared upward, feeling strangely drawn. Despite the modern décor, the room exuded a kind of antiquity reminiscent of another place and time—perhaps dating as far back as a thousand years.
Rob sat down on a large cushion situated on one of the wooden benches that lined the walls. He sighed and gazed out the window. The monk sat next to Rob and said, "Many monasteries that act as retreat centers are more modern than ours. But as a community we felt much could be gained by keeping the atmosphere like it was for the original brothers who established the Order. Don't you agree?" Rob nodded but said nothing. His countenance exemplified the struggle he was going through to rely on logic and reason. For a time, the monk sat quietly, hands folded in his lap, gazing alternately at the crucifix and then at Rob. Finally, he took a deep breath and asked, "Mr. Carlton, what is it you're looking for? Your wife was not very specific, and though we don't normally make it a habit to pry, I'm sensing a feeling of desperation in you that I'd like to help you through. That is, if you'll let me."
Rob studied the face of the young gentle man for a prolonged moment then let out a weary sigh. "I've got trouble, and I don't know what to do." No sooner had the words left his mouth than all he had been feeling came bubbling to the surface with such intensity, he couldn't suppress it: the dying church, his wife's nagging, his own helplessness and uncertainty, and the fear of losing his position. A hundred other things came forth too, all jumbled together. And although he wasn't completely coherent, the young monk seemed to understand.
"It's obvious what you and your people need," he said in a comforting voice. "Renewal. You've languished in dead traditionalism for so long you don't know how to "do church" any other way. Mr. Carlton, that's why we've opened our doors to the public for the retreat. We, that is, the Catholic church at large and our little community specifically, have rediscovered the old ways, the paths that the ancient Christians took in their spiritual walk. It's like I told you. It's the journey that's important. How we get there is personal, and what may look to some as, oh, heretical …" he said the word with a derisive smile, "is for another a valid tool for finding God. You understand?" Rob nodded.
"I think so," he conceded. "But, again, I'm no Catholic . . ." The monk looked on patiently and spoke as if to a child. How funny it was—Rob was old enough to be his father, but here the "son" was comforting and mentoring the "father."
"Like I said, you don't have to be. The ways in which we teach here, as well as the practices and spiritual disciplines we teach, you can take back to your own church and incorporate. At least try it and see. What have you got to lose? We have many success stories, and most of them began similar to yours." Rob pondered, and the monk stood. "Look," he said, "why don't you just sit here awhile and meditate. It'll come to you, what you should do. I'll pray for you. Come to the main office when you're ready to go to your cell." He turned to leave but stopped and looked down at Rob. "I should tell you though, that by accepting these teachings and putting them into practice, two things will happen: first, your life will go through some dramatic changes, and second, you will face opposition back home. Some won't understand, and others will simply refuse to embrace a liberating spirituality. It's largely out of fear this happens—fear of change—fear of others who are different. You have to prepare yourself for that." He reached down and touched Rob's shoulder once again then took a few steps and went out through the antiquated looking oak door.
Silence engulfed the room, and Rob sat with his head down and hands between his knees. Opposition, he thought. "Yeah," he muttered. "Like Jacob Brown. There's no way he'll stand for this. And yet if I decline, Stephanie will make my life insufferable. The house won't be fit to live in."
Rob's mind drifted to the monk. He had such a kind demeanor, so gentle and even . . . well, even soothing. Jacob is always emphasizing doctrine, Rob pondered. Talk about fear—Jacob is afraid to try anything new. But what about charity? Look at this monk. He is kind and seems to have so much peace about him. Just because his beliefs are different than ours, does that make them wrong?
Then it hit Rob that maybe Stephanie was right. Maybe there was something they were missing. Maybe, just maybe . . . He shook his head and with gritted teeth said, "Man, I don't need this."
Out of the corner of his eye, he spotted a worn, little book within arm's reach on a small shelf built into the wall. He leaned over and took hold of it while at the same time reading the title: The Cloud of Unknowing. In parentheses, it said, "Written by an anonymous monk in the fourteenth century." Hey, I remember seeing that book on Stephanie's desk, Rob mused. As he opened the book, a cloth bookmark fell out. He let the book fall open to the marked page. Underlined in pencil were the words: "take thee but a little word of one syllable: for so it is better than of two . . . fasten this word to thine heart . . . With this word, thou shalt beat on this cloud and this darkness above thee. With this word, thou shall smite down all manner of thought under the cloud of forgetting." Take this word, a word with one syllable, Rob pondered. Stephanie was always talking about her prayer word and how repeating it and meditating on it brought her into the presence of God where she could hear his voice.
Raising his face again to the crucifix, Rob studied the figure there—the crown of thorns, the bleeding wounds on the hands, feet, and side. As he shifted his attention to the wall murals, he found himself drawn again to the painting of Francis of Assisi. "Yes," he said aloud. Rob stood, hurried over to the door, paused, and walked back to the cushion. He reached down and grabbed the Cloud book, briefly eyeing it again, then tucked it under his arm. I have a feeling I am going to need this little book. Out the door into the fresh air he went. He was anxious to speak more with the monk. And when he had a chance, he had to call Stephanie. Something told him it was going to be an exhilarating weekend.
This is from Chapter 1 of Dangerous Illusions by Carolyn A. Greene and Zach Taylor.
According to a news article earlier this year in the UK newspaper The Telegraph, the "surprise election of Pope Francis came about because of a series of supernatural 'signs,' one of the leading Cardinals in the Roman Catholic Church has claimed."  The article also stated:
Cardinal Christoph Schönborn, the Archbishop of Vienna, who was himself widely tipped as a possible successor to Pope Benedict, said he had personally had two "strong signs" that Cardinal Jorge Mario Bergoglio was "the chosen one" in the run up to vote.
He said only divine intervention could explain the speed with which the Argentine Cardinal – who did not feature on any of the main lists of likely candidates compiled by Vatican experts – was elected.1
If this is true, that Pope Francis was elected through supernatural means, the question must be posed, from which side did this supernatural, "divine" intervention come? If it is indeed supernatural, it had to be either from God or from Satan (the two opposing forces). Because we know that the Catholic church is a false heretical church that believes salvation is justification through works and not the sole work of Christ on the Cross, that Mary is a co-redeemer who did not sin, and that Jesus Christ is found in the Eucharist and the Catholic Mass, we must conclude that this supernatural intervention that brought Jorge Mario Bergoglio to the station of Pope of the Roman Catholic Church is not from God.
How is this relevant to the evangelical/Protestant church today? As Lighthouse Trails and Understand the Times have reported since Pope Francis began his reign as Pope, evangelical leaders are racing to the Pope's side like never before in the history of the evangelical/Protestant church. Some of these who are rallying with the Pope are Rick Warren, Kenneth Copeland, Joel Osteen, and James Robison, while other Christian leaders, such as Beth Moore, are coming out with statements that are giving strong credibility to the Catholic church.
It is a known fact that Pope Francis is a Jesuit. And as Lighthouse Trails has reported on a number of occasions, he is also a contemplative advocate. See our article Pope Francis – Spiritually "Founded" on a Contemplative Tradition. As research analyst Ray Yungen has documented, the Catholic Church is using contemplative prayer as a means of expanding her borders. Roger Oakland, founder of Understand the Times, has linked the mystical practice of the Eucharist to the Papacy's New Evangelization program to bring the "lost brethren" back to the "Mother Church." And as one can see, these efforts are having tremendous results. Ray Yungen states:
I had always been confused as to the real nature of this advance in the Catholic church. Was this just the work of a few mavericks and renegades, or did the church hierarchy sanction this practice? My concerns were affirmed when I read in an interview that the mystical prayer movement not only had the approval of the highest echelons of Catholicism but also was, in fact, the source of its expansion. (A Time of Departing, by Ray Yungen)
For thirteen years, Lighthouse Trails has been warning that when people get involved with contemplative meditation practices, they are putting themselves under demonic influence. In time, the spiritual outlook of contemplatives moves away from the Cross and the Gospel and moves toward panentheism and interspirituality.
How does all this tie together? The cover story in Christianity Today's December 2014 issue proclaims: "Why Everyone is Flocking to Francis." CT has its own idea of why "everyone" is drawn to the Pope. But if Lighthouse Trails is correct in our conclusions about contemplative spirituality and its outcome, then what is happening here is a "supernatural" occurrence in the lives of millions of people, both Catholic and non-Catholic, who are finding themselves dramatically affected by this Pope.
While we will not try to speculate what the possible role of this Pope could be in relation to Bible prophecy and the endtimes, we will say this with surety: between the New Age and the Catholic Church, the world is being drawn deeper and deeper into darkness and closer and closer to a false christ whom the Bible says is coming.
In closing, we'll leave you with these words from Warren B. Smith:
The Catholic Church today [is] linked to the foundational New Age/New Spirituality teaching that God is "in" everyone.
The 1994 Catechism of the Catholic Church, which is the official source for all Roman Catholic doctrine today, states:

"Let us rejoice then and give thanks that we have become not only Christians, but Christ himself. Do you understand and grasp, brethren, God's grace toward us? Marvel and rejoice: we have become Christ." (#795)

"For the Son of God became man so that we might become God." (#460) (cited from "Another Jesus" Calling by Warren B. Smith)
LTRP Note: This is perhaps one of the most significant letters we have ever received, not just because it exposes more of Focus on the Family's contemplative propensities, but because it  shows the results (i.e., the "fruit") of practicing contemplative prayer. This "fruit" is precisely why Lighthouse Trails has been crying out a warning for nearly 13 years.
We are grateful to this reader for sending us this letter describing his experience as a contemplative practitioner. We are thankful to the Lord for opening his eyes to the great deception he was in.
As for Focus on the Family, it has been promoting contemplative spirituality for several years (see below this letter for article links). Parents and grandparents, if your children and grandchildren are listening to the Focus on the Family drama CDs, including Adventures in Odyssey, they are being exposed to a dangerous spiritual view. We can't emphasize that enough. As you read the following letter, realize that what happened to our reader because of his involvement in the "spiritual disciplines" of contemplative spirituality (i.e., Spiritual Formation), is happening to thousands and thousands of Christians today (a number that will eventually hit the millions, changing the entire face of Christianity as researcher Ray Yungen has so often said).

Dear Lighthouse Trails:
Recently, I was given the Father Gilbert Mysteries CD set (by Focus on the Family) from a friend to borrow. The following is a followup letter I sent to my friend regarding these CDs. I thought this letter might be useful to you and anyone else who might not be aware of the contemplative connections to this mystery series.
Hi XXXXXXXXX (names withheld for privacy),

Thanks for lending me the Father Gilbert Mysteries CDs. I listened to the first CD on the way home from your house. I found the story to be gripping, and it definitely held my interest. What especially caught my attention though, was what was said in the intro. to the second CD. In it, the narrator stated that Father Gilbert [an Anglican priest] had joined a monastery. While there, he studied "the classic spiritual disciplines of prayer and meditation." At this point, I had to stop listening to the CD.

As you probably know, I was, for the first 25 years of my Christian life, deeply involved in the spiritual discipline of contemplative prayer that promised to help me become more "Christlike." According to one web site, "Christian contemplative prayer or contemplation, which was practiced by innumerable monks and nuns (and now laypeople) from the times of the Desert Fathers to the present, goes deep within the heart to meet God, ever-present within, though without thoughts, words, or images, because he is beyond them."

For me, this basically involved stilling my mind throughout the day and focusing on my moment by moment connection with Christ. Toward the last part of this period in my life, I even had a little hand counter, which I kept with me and which I would keep track of each time, through out the day, when I focused on God. This led me into times of deeper meditation where my mind would become increasingly still and quiet, to the point where my thoughts seemed to be vacuumed out of my mind, leaving me in a kind of raptured stillness.

During these experiences, I had what I believed at the time to be an actual physical sensation of God's Presence. It was like I didn't need to focus so much on the Bible anymore to know God because I was actually experiencing Him directly in these moments of contemplation. And in this experience, I felt God as a force or power that was flowing through all things.

It was then that I noticed a subtle change was beginning to take place in my concept of God. I began to feel deeply that God's Presence was everywhere and in everything. And if God was in everything and as a result, in everyone, then the important thing was not what a person thought about God or believed about Him, but rather that they stilled their thoughts so they too could experience Him in the present moment, beyond thoughts. This began to trouble me though, because I began to realize that this was what I had once believed as a follower and practicer of New Age Eastern beliefs prior to becoming a Christian.

This led me to do some research online. There, I found that this new way of perceiving God which I was developing through my "spiritual discipline" actually had a name. It was called, panentheism—that God is in all things and all things are in God. I also found that this concept does not appear to line up with God's Word… "But ye are not in the flesh, but in the Spirit, if so be that the Spirit of God dwell in you. Now if any man have not the Spirit of Christ, he is none of His." Romans 8:9.

Needless to say, about five years ago, I discontinued this spiritual practice and began to rest in the finished work of Christ which He accomplished at the Cross (Hebrews 10:10). I can't begin to tell you how incredibly freeing and restful it has become to be able to say, with Paul, "I am crucified with Christ, nevertheless I live. Yet not I, but Christ lives in me." Gal. 2:20. And "But if the Spirit of Him that raised up Jesus from the dead dwell in you, He that raised up Christ from the dead shall also quicken your mortal bodies by His Spirit that dwelleth in you." Romans 8:11
Paul (not real name)
Related Articles (most recent ones at top, older ones dating back to 2007 at bottom):
Letter From Focus on the Family Confirms Past Reports – They DO Promote Contemplative Spirituality
Focus on the Family Gives Bono a Platform – Another Example Where 2 +2 Don't Add Up
Letter to the Editor: Saddened and Alarmed at Focus on the Family's Promoting Contemplative Spirituality
Focus on the Family's Adventures of Odyssey Has "Eugene" Going to a Monastery – Moody Radio Broadcasts Program
Letter from Focus on the Family: Takes Lighthouse Trails with a "healthy dose of salt" & defends contemplative Gary Thomas
Will Focus on the Family and The Truth Project Warn About "Unio Mystica," "Oneness," and Contemplative Prayer?
List of 50 Top Contemplative-Promoting Organizations Adds 8 Runner Ups
Focus on the Family: Helping to Bring About a Generation of Parent Mystics?
James Dobson Rightly Defends the Unborn, Challenges Obama – But Focus on the Family Still Defends Contemplative – "Please, Dr. Dobson, read this."
Serious Concerns for Focus on the Family Marriage Conference
Why Focus on the Family Should Not Promote and Sell Gary Thomas' Books
Focus on the Family's Adventures in Odyssey – Promoting Contemplative?
Focus on the Family Once Again Says OK to Contemplative Prayer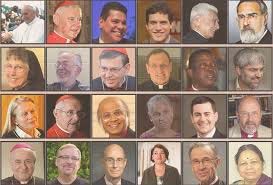 By Roger Oakland
Understand the Times, International
On November 17-19, 2014, an interreligious conference was hosted at the Vatican to discuss the sanctity of marriage under the definition that marriage is a relationship between a man and a woman. Beside numerous representatives of the Roman Catholic Church, the conference was attended and addressed by members of the Buddhist, Hindu, Muslim, Jewish, and Mormon faiths. Also, well-known Christian evangelical leaders from the United States—Pastor Rick Warren and Russel Moore—played a major role and were in attendance.
Warren's comments documented by the proceeding video clip are clear and require no explanation.
The purpose of posting Rick Warren's video statement is to appeal to Calvary Chapel pastors who have been persuaded by the new leadership at Calvary Chapel Costa Mesa that Warren's ecumenical direction is the "new" and enlightened pathway that Calvary Chapels of the future must choose in order to become relevant for the postmodern era that has reformed sound biblical teaching over the past decade. This is also an appeal to all evangelical pastors who have brought the Purpose Driven movement into their churches.
Further, this proclamation by Rick Warren is very similar to some of the ideas being presented by the "New Calvary Movement" promoted by Brian Brodersen and his cohorts. (Listen to a portion of Brodersen's September 7, 2014 message titled "Unity in the Spirit").
Click here to continue reading.
LTRP Note: Posted for informational and research purposes. Interesting to note that the announcement was made during an "interreligious Vatican conference on traditional family values," in which Rick Warren participated.  Question to think about: Did Rick Warren play a role in getting the Pope to the US, and will Rick Warren play a role in the Pope's visit to the US. in 2015? Perhaps the Pope will make a stop at Saddleback. After all, as we reported earlier this year, a delegation of Catholic bishops visited Rick Warren and Saddleback to gain some "wisdom" on how to accelerate the Catholic New Evangelization program using Purpose Driven methods.
By Kathy Matheson
Associated Press
"Pope confirms Philly trip for families conference"
PHILADELPHIA (AP) — Organizers of the World Meeting of Families for months were coy when asked if Pope Francis would come to Philadelphia for the massive Roman Catholic-sponsored gathering.
It turns out that when the pontiff finally confirmed his attendance Monday, organizers already had gotten inside information from an unimpeachable source: Francis told Gov. Tom Corbett during a Vatican meeting in March that he would make the journey, his first papal visit to the United States.
"The Holy Father answered our invitation by whispering three words in Tom's ear: 'I will come,'" said Susan Corbett, Pennsylvania's first lady.
Protocol kept them from saying anything publicly until now, she said at a news conference hours after the pope's statement.
Still, the timing of Francis' announcement — made during an interreligious Vatican conference on traditional family values — came as a bit of a surprise and set cellphones abuzz in Philadelphia around 3:30 a.m. EST. Organizers had not expected official word until later next year. Click here to continue reading.
Related Information:
Courtesy Understand the Times
Written by Heather Clark
Christian News Network
Russell Moore, the president of the Ethics and Religious Liberty Commission of the Southern Baptist Convention, and Saddleback megachurch leader Rick Warren will team up with Roman Catholic Pontiff Francis later this month for an interfaith Vatican conference on marriage and family.
"Complementarity of Man and Woman," will be held Nov. 17-19 at the Vatican, and is expected to feature more than 30 speakers from over 20 countries. According to the Catholic News Service, those of the Jewish, Islamic, Buddhist, Hindu, Jaina Shasana, Taoist and Sikh religions will be present, as well as Roman Catholics and professing Christians.
The event is sponsored by the Pontifical Council for the Family, the Pontifical Council for Interreligious Dialogue, and the Pontifical Council for Promoting Christian Unity. "I hope that this gathering of religious leaders can stand in solidarity on the common grace, creational mandate of marriage and family as necessary for human flourishing and social good," Moore wrote in a blog post this week entitled "Why I'm Going to the Vatican." "I also hope that we can learn from one another about where these matters stand around the world."
Rick Warren, the author of "The Purpose Driven Life," has spoken glowingly of Pope Francis during several public interviews about the pontiff and the Roman Catholic religion.
"[Pope Francis] is doing everything right. You see, people will listen to what we say if they like what they see," Warren stated on Catholic television network EWTN earlier this year. "His kissing of this deformed man, his loving the children, this authenticity, this humility, the caring for the poor; this is what the whole world expects Christians to do. And when they go, 'Oh, that's what a Christian does.'—In fact, there was a headline here in Orange County—and I loved the headline—I saved it. It said, 'If you love Pope Francis, you'll love Jesus.'" Click here to continue reading.