Posts Tagged 'emergent church'
By David Dombrowski
Editor at Lighthouse Trails
A number of years ago, there was a knock at the office door, and when I answered it, I was greeted by a lady with a cheery face telling me of a most significant event coming to the community – and I was invited. She then handed me a brochure that was to clue me in on what the event was all about. I thanked her and closed the door.
On the front page, there was a picture of Jesus crowned as King along with some questions asking, basically, is Jesus a man who attempted to die for the sins of all mankind – in weakness and humility, or is He the victorious King soon to return. It was an either/or question implying that Jesus was either a pathetically weak individual, or He is a victorious King soon to return, swiftly conquering all the forces of evil. Then when I flipped the brochure open, it greeted me with the bold statement – He is the coming King. All the while, a sickening feeling came over me – the kind of feeling I get when I hear someone blaspheming God. Yet, whoever wrote the brochure was trying to depict Jesus as good – Jesus as powerful. The author was suggesting that we need to do away with the idea of a weak Jesus who would stoop so low as to die for sins.
It's a funny thing, but from my earliest youth – before I ever became a born-again Christian – I knew that Jesus came to die for mankind's sins. I knew in my heart that He is our Redeemer. Then in my early twenties when I accepted Him as my Savior and Lord and made a life-long commitment to serve Him, I remember pondering the overwhelming significance of Jesus dying on the Cross. It was the most significant event in history only to be equaled in any fashion by His resurrection. I remember thinking then, as a new believer, that Jesus' death on the Cross to atone for sin is so fundamental to the Christian faith that this doctrine and teaching could never possibly be questioned by the church at large. While I knew that a mass deception would sweep the entire world before Jesus returns – when the Antichrist will come to power – but nullifying teaching on the atonement and the Cross did not seem to enter the equation.
But, what is wrong with seeing Jesus as a victorious, powerful king and forgetting that weak moment in time when He was nailed to a Cross? (This is a rhetorical question and not a serious one.) After all, is it not true that in chapters 17 and 19 of Revelation He is referred to as Lord of lords and King of kings? We should look at one of those passages; it concerns a time when the rulers of the earth will be paying homage to the Beast:
These have one mind, and shall give their power and strength unto the beast. These shall make war with the Lamb, and the Lamb shall overcome them: for he is Lord of lords and King of kings: and they that are with him are called, and chosen, and faithful. (Revelation 17:13-14)
Upon reading this, I decided to look up the word "Lamb" found in these verses in Strong's Concordance, for somehow the word "Lamb" does not fit the idea of a conquering King, being known as an animal that is both meek and lowly. Checking the Concordance, sure enough, the word literally means "lamb" but this derivative more aptly means a lambkin – which according to Webster's Dictionary means a little lamb. My word pursuit only led me to the ultimate in weakness – a helpless little lamb.
Yet, something very significant about all of this also blazes throughout the pages of both the Old and New Testaments. For it was the sacrificial lamb of the Old Testament, without spot or blemish, that foretold as a type and shadow of things to come, the coming of a sinless Redeemer. Isaiah wrote of Him saying, "he was wounded for our transgressions, he was bruised for our iniquities . . . and the Lord hath laid on him the iniquity of us all" (Isaiah 53:5-6). When John the Baptist saw Jesus coming, he said, "Behold the Lamb of God, which taketh away the sin of the world" (John 1:29). Jesus, indeed, was the sacrificial Lamb who became the perfect substitute and one true offering for Abraham and Isaac at the altar, for the Israelites at their first Passover in Egypt, for Moses and Aaron and the temple priests and their many offerings; and He is the substitute for "whosoever believeth in Him" (John 3:15 & 16, Acts 10:43, Romans 10:11) – Jesus, the Son of God, who died on the Cross for our sins.
I find it very puzzling how supposed Bible scholars can spend vast amounts of time dissecting the Scriptures and yet not seem to be able to come up with a single reference to Jesus dying as an atonement for sin. If the Old Testament had taught that we are saved by our own good works, then why were the chosen people of that day instructed to, year after year, offer sacrificial animals for sin? It is because salvation never was and never will be earned (based on works); it is the "gift of God: Not of works" (Ephesians 2:8-9). And a gift necessitates a giver, and that Giver is Jesus Christ, the one perfect Lamb without blemish.
Going back to Revelation 17, where we see Jesus portrayed as both Lamb and King, I ask the question, what would it be like to forget Jesus as the Lamb and portray Him only as King? The answer to this question can be readily found in the New Testament because this is precisely the kind of Messiah the Jews were looking for at that time – who would be a political figure, rather than a personal savior and save the Jews from the oppressive despotic government of the Romans. Time and again, the Jewish masses wanted to make Him King, and the disciples sometimes pondered as to why Jesus did not usurp the power of government held by the Romans.
The fact of the matter is that the Jewish population was not as concerned about personal salvation as they were concerned about the oppression they encountered in the here and now. It is the same today. Increasingly, we are hearing that the era of the personal (single) savior is over, and the term "redeeming cultures" is prevalent. In fact, emergent leaders indicate that those who seek after personal salvation rather than corporate redemption of cultures are merely "self-centered." In other words, personal salvation is no longer an issue, nor is it even relevant, but what counts is saving our planet.
But Jesus said, "My kingdom is not of this world" (John 18:36). Jesus never attempted to operate as a political figure or to redeem cultures as many are attempting to do today. It seems so much nobler and politically correct to save our culture or our world than to "selfishly" seek personal salvation. But personal salvation is specifically what Jesus came for. He knew that we can never have a better world if individual hearts are not changed. Furthermore, Jesus was concerned about our individual souls from the perspective of where we will spend eternity.  In fact, as the disciples were admiring the beauty of the temple, Jesus rightfully predicted that it would all be torn down, for He knew the immediate future was bleak for the nation of Israel.
Even Judas was hoping for a political king. He often dipped into the treasury for himself and wondered what political gain he might enjoy by following Jesus. Then when Jesus disappointed his hope for temporal gain, Judas betrayed him.
In view of these facts, I find it very disconcerting that people who call themselves Christians today would strip Jesus of His true purpose to be that sacrificial Lamb while crowning him as King. This is what Judas attempted to do. It is also what the Roman soldiers did when they dressed Him in a robe and set a crown of thorns on His head. But, truthfully, what many Christians are doing today is much worse because when we rob Jesus of His title as the sacrificial Lamb, we are making a mockery of Jesus' death on the Cross and of the deity of the sinless Son of God. If Jesus did not die for the sins of mankind, neither was He the unique and sinless One whom Isaiah refers to as, "Wonderful, Counsellor, The mighty God, The everlasting Father, The Prince of Peace" (Isaiah 9:6). To rob Jesus of His role as our Redeemer is to rob His place as God who became flesh and dwelt among us – because there would be no more Gospel. Suffice to say, crowning Jesus as King alone while denying His intended and rightful place as our Redeemer is nothing short of blasphemous.
Jesus indeed is risen, and He will come back as King. But remember, for Him to have risen, He had to have died first. The glory of the resurrection is that Jesus is Victor in conquering both sin and death at the Cross. Through that cruel death, He purchased us and has gone to prepare a place for us to spend with Him for all eternity.
I have blotted out, as a thick cloud, thy transgressions, and, as a cloud, thy sins: return unto me; for I have redeemed thee. (Isaiah 44:22)

In whom we have redemption through his blood, the forgiveness of sins, according to the riches of his grace. (Ephesians 1:7)

For he hath made him to be sin for us, who knew no sin; that we might be made the righteousness of God in him. (2 Corinthians 5:21)
Related:
ATONEMENT REJECTED! How the Emerging Church Views Christ's Death on the Cross
On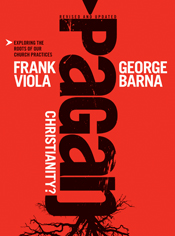 December 7th, author Frank Viola reposted an interview he did with co-author George Barna on their book Pagan Christianity. http://www.patheos.com/blogs/frankviola/georgebarnainterviews. Therefore, Lighthouse Trails is reposting the critique on that book written by our  free-lance writer Philip Gray. Viola and Barna believe that book will help bring about a new reformation to the church. Unfortunately, the reformation the emergents are bringing about is not a reformation from God. This book is a perfect example of that.
"Lighthouse Trails Book Review: Pagan Christianity by Viola and Barna – A Perfect Example of 'Missing the Point'"
In Pagan Christianity, Frank Viola and George Barna tell readers "Reading this book takes courage." We couldn't agree more, but not for the same reasons that Viola and Barna warn their readers. They tell us that it takes courage, not because of what the books says but because of what a Christian must do after he or she reads it (p. 253). We say it takes courage because of the misrepresentation the authors have given to Christianity and because the book is a smoke screen for the "new" spirituality.
Basically, according to Pagan Christianity,  if you are a Christian and you have been participating in any of the following activities, you have been practicing paganism:
1. Meeting in a building for church
2. Listening to a sermon
3. Having a pastor
4. Paying that pastor a salary
5. Sunday School lessons
6. Sitting in a pew (or balcony)
7. Using a pulpit
8. Using some sort of order to the church service, which includes taking an offering, having communion, giving announcements, and singing songs of worship.
9. Dressing up for church
10. Having a choir
11. Altar call
12. Evangelized to save a soul
After reading this list, how did you rate on that? How many of these activities are you guilty of? Did you go to church last Sunday? Did you put on your best outfit? Did you listen to a choir sing? Did that neighbor you bring respond to an altar call to give his life to Jesus Christ? Did you sit and listen to your pastor teach or preach the Word? Well, according to Pagan Christianity, if you did, you are more like a pagan than a Christian. Of these activities, Barna and Viola say: "Such practices are foreign elements that God's people picked up from their pagan neighbors" (p. xx).
The point of this review is not to defend all of these practices in and of themselves. The point is to show that this book is another subtle stab at traditional Christianity, a stab that attempts to make Christians feel guilty for just about everything they do that has to do with going to church . . . everything that is, that is external. This book has absolutely nothing to do with the heart condition of man, nothing to do with sin and repentance, but is merely a smoke screen to cover up the real issues that are plaguing the church today. For whether one dresses up for church or not, whether one gives a sermon or not, whether one sings or not, whether one gives an offering or not, and whether one sits in a pew or not, the issue that God looks at is the condition of the heart and not the outward appearances. One can sit in a pew and have evil intent in his heart; another can sit in a pew and be a godly humble man of God. It's not the pew that makes him one or the other.
Judge not according to the appearance, but judge righteous judgment. John 7:24

[F]or the LORD seeth not as man seeth; for man looketh on the outward appearance, but the LORD looketh on the heart. 1 Samuel 16:7
Pagan Christianitysays that "the great bulk of first-century practices have been removed from the Christian landscape." The book tells readers that "such practices are presently being restored on a small scale by those daring souls who have taken the terrifying step of leaving the safe camp of institutional Christianity" (p. xviii). But the book never really tells us what those practices are, except to continually say it is something spectacular that excludes the above activities and includes small groups of people who stand around in circles, embracing, and sharing with one another their various thoughts, feelings, songs, prayers, and ideas – according to Viola and Barna, that is what makes a person a good New Testament Christian.
While there is certainly nothing wrong, in and of itself, for a group of people to stand in a circle and share with one another, it is not a guarantee that the group of people will be abiding in God's will in their lives. And, in fact, if Viola's and Barna's recipe for proper Christian living is acted upon, that group of people in the circle is probably going to be in trouble because rather than having the Word of God taught to them or preached to them by those who are called into the office of teacher or pastor, they will be "dialoguing" with one another, asking a lot of questions, and never coming up with any answers (because the postmodern isn't supposed to have any actual answers – having answers offends).
What is the real agenda of Pagan Christianity? Well, this much we can say, it sure isn't to warn believers against true pagan practices and beliefs such as eastern-style meditation, walking through labyrinths, doing yoga, focusing on the breath, rejecting the atonement, and so forth. In a day when spiritual deception is at an all time high, when growing numbers of Christian leaders, churches, schools, and organizations are falling into the trap of practicing, promoting, and embracing mysticism and other New Age practices (disguised with Christian terminology, by the way), it hardly seems appropriate and wise to tell Christians to stop sitting in pews, stop having sermons (and pastors for that matter), stop meeting in buildings, end all Sunday School lessons, and by all means stop dressing up on Sundays.
Perhaps what is most distressing about this book is that there is an underlying sentiment that the "preaching" and teaching of God's Word is not a New Testament practice and should be done away with. Perhaps this is the real message of Pagan Christianity. Rather than have the Word presented and preached as if it is an authoritative source for believers, get rid of all the venues in which it is presented (church buildings, sermons, pastors, pews,pulpits, etc.) as such and turn it into something we can all debate, dispute, question, challenge and reinvent.
What we would call Pagan Christianity is a perfect example of "missing the point." But with Frank Viola co-authoring a book with New Age sympathizer Leonard Sweet and George Barna, a Rick Warren look alike with a dominionist agenda, is that really any wonder that they have missed the point?
I have preached righteousness in the great congregation: lo, I have not refrained my lips, O LORD, thou knowest. Psalm 40:9

The Spirit of the Lord GOD is upon me; because the LORD hath anointed me to preach good tidings unto the meek; he hath sent me to bind up the brokenhearted, to proclaim liberty to the captives, and the opening of the prison to them that are bound. Isaiah 61:1

Arise, go unto Nineveh, that great city, and preach unto it the preaching that I bid thee. Jonah 3:2

From that time Jesus began to preach, and to say, Repent: for the kingdom of heaven is at hand. Matthew 4:17

Notwithstanding the Lord stood with me, and strengthened me; that by me the preaching might be fully known, and that all the Gentiles might hear: 2 Timothy 4:17

Preach the word; be instant in season, out of season; reprove, rebuke, exhort with all long suffering and doctrine. 2 Timothy 4:2
Related Articles:
  Leonard Sweet—A More Magnificent Way of Seeing Christ? by Warren B. Smith
Anti-Religion Jeff Bethke Hits the News Again – New Book, Same Message: "Imagine No Religion"
Understanding the Times – "Men Love Darkness Rather Than Light" by Maria Kneas
InterVarsity Christian Fellowship has come under public heat because it recently announced they were giving an ultimatum to employees who saw nothing wrong with same-sex (homosexual) marriage. In a Charisma magazine article (we are not endorsing Charisma), the author states:
InterVarsity Christian Fellowship is one of the leading campus ministries, and its publishing arm, InterVarsity Press, is one of the top Christian publishers. But this fine ministry is learning the hard way that, when it comes to homosexuality, you cannot straddle the fence.1
The reason the Charisma writer says "straddle the fence" is because InterVarsity Press has been publishing emergent, contemplative, New Age/New Spirituality authors for a long time, and mixing truth with error has finally caught up with them. The Charisma article reveals more:
As Jonathan Merritt reports on the Religion News Service, "40 authors in InterVarsity's publishing house stable including Shane Claiborne, David Dark, Christena Cleveland, Ian Morgan Cron, and Chris Heuertz are calling on IVCF head Tom Lin to immediately replace the policy with one that makes space for opposing views. The letter indicates that the signers 'do not all share the same theological or political views' but 'are united in our concern for the dignity and care of our fellow Christians whose jobs are threatened by your policy.'"
You may recall articles Lighthouse Trails has written about Shane Claiborne and Ian Morgan Cron. Both very emergent, to say the least. Just to give you a little sampling of the beliefs of authors InterVarsity has been publishing, read this quote by Ian Morgan Cron:
I grew up a Roman Catholic and later became an Anglican priest (it was the closest I could get to being a Catholic priest without having to "swim the Tiber") so there's definitely a weird brew of influences floating around the community. I'm presently studying spiritual direction and contemplative spirituality at the Shalem Institute and beginning next year in a doctoral program at Fordham University (The Jesuit University of New York) so the voices of Merton, Rahner, Ignatius, St Francis, Teresa of Avila, Evelyn Underhill and other contemplatives find their way into our ministries and preaching as well. (source)

If you have been reading Lighthouse Trails for any amount of time, you will probably be familiar with the interspiritual Shalem Institute and that list of names mentioned above by Morgan Cron. That quote by him was said in an online interview as you can read about in a Lighthouse Trails 2013 article where we discussed our concerns about Ian Morgan Cron speaking at a Nazarene university. We stated in that article:
Lest one think that the Nazarenes stand alone in embracing Cron, just take a look at Cron's speaking schedule [link no longer available]. Places he will be speaking (or has spoken) at include: World Vision, Willow Creek, Denver Seminary, Family Fest with the Gaithers, the Dove Awards, Renovare, C3 Conference with Philip Yancey, the Calvinist Crossroads Community Church in MD, Texas Christian University,  Catalyst Conference with Andy Stanley, and Worship Leaders Conference with James McDonald and Saddleback pastor Buddy Owens.
Ian Morgan Cron is a New Age/New Spirituality "Christian" as his writings clearly prove. Shane Claiborne, mentored by socialist liberal evangelical Tony Campolo, is in the same camp. A few other InterVarsity New Spirituality (contemplative, interspiritual, ecumenical, and emergent) authors are Dan Allender (a favorite for Moody Radio), Fil Anderson (Running on Empty), Lynne Babb,  Ruth Haley Barton, Richard Foster's colleague (part of Renovare) Gayle Beebe, Catholic Peter Kreeft, Calvin Miller (who admires Virgin-birth and Son of God denier Marcus Borg), Kenneth Boa, Gregory Boyd, and a name just as disconcerting as Ian Morgan Cron, Adele Ahlberg Calhoun (promotes all kinds of mystical practices and people in her book Spiritual Disciplines Handbook), and Julie Cameron (author of The Artist's Way discussed in A Time of Departing by Ray Yungen because of her mystical propensities). Frankly, this list would have to go on for several more paragraphs just to name all the InterVarsity authors who fall in a similar category as Ian Morgan Cron.
No wonder so many within the ranks of the InterVarsity author-machine are speaking against their homosexual ultimatum. (For the purposes of this article, remember the connection there is between emergent/contemplative thinking and a laxed view on homosexuality.) The Trojan horse has entered Christian publishing, and the enemy is now within the walls. Maybe it's time that InterVarsity wakes up, repents, and starts seeking after biblical integrity in what they are publishing and promoting. It's a little ludicrous for them to think they can spend years publishing liberal, socialistic, New Age, mystical contemplative authors and then scratch their heads in wonder when these same authors challenge them for trying to be biblical when it comes to issues such as homosexuality. As we've said so many times before, straddling the fence is not an easy thing to do, and in today's mixed up immoral society—a society which is going after Christians who try to stand for what is right—straddling the fence for Christians is almost impossible to maintain. Hopefully, InterVarsity Press will figure this out before they lose altogether under the pressure. It will be interesting to see what their next move is. One thing is for sure, they won't be alone. Countless Christian publishers, ministries, churches, and leaders are straddling the same fence, and their day of reckoning is coming too.
Related Articles:
Bible society debates exhibit ban for InterVarsity Press
Top Evangelical College Group to Dismiss Employees Who Support Gay Marriage
Dear Lighthouse Trails:
I am nearly 60 years old and until now have NEVER read Foxe's Book of Martyrs. Shame on me! I am nearly finished with it. All I can say is, I never knew!
All I could think about during the course of my reading was the existing Pope's words about how happy he is to know that the Christians are coming back to the Mother Church. (Those are probably not his words verbatim, but certainly that is his mindset.) I never realized, until this book, that the Martyrs of old actually accused the Pope and RC's of being Antichrist . . . openly and without shame or terror.
Now, with the newest Pope's sentiments regarding the "Church," and the "Emergent" Church rising so rapidly, one (or, at least, THIS one) has to wonder! And, in light of all of the above, I thought about Lighthouse Trails and your book reviews! [see note from Publisher below]
I am not trying to stir the pot, HOWEVER, again, I am nearly 60 and until now had never read Foxe's Book of Martyrs. I can pretty well guarantee you that I am not alone in the not reading of the book.
There is soon coming a day when we existing Christians will have to make a choice; take a solid stand. Will we accept the mark of the beast (God forbid), or will we trust God? These men of old are wonderful examples for us. Their deaths were grisly and beyond cruel. But they did not waver where their faith in The Lord was concerned.
Just a thought and a concern.
Be blessed and keep up the good fight of faith!
R.B.
Articles from the Lighthouse Trails edition of Foxe's Book of Martyrs:
The Persecution of John Huss, Brave Defender of the Christian Faith
"And They Loved Not Their Lives Unto the Death"
1560 – The Martyrdom of Nicholas Burton, an English Merchant in Spain
Mrs. Prest – She Said No to Apostasy and Became a Martyr
Note From Publisher
Foxe's Book of Martyrs was first published five hundred years ago. Today, there are many editions of this book available. When Lighthouse Trails decided to start offering this book to our readers, we began our search for a suitable edition. Much to our dismay, we discovered that many of the current editions were compromised in one form or another. For example, in one edition by a Christian publisher, front page endorsements included the names of those who promote contemplative spirituality and/or the emerging church. This same edition also removed accounts of the Catholic papacy persecution against Christians. When one realizes that contemplative/emerging spirituality embraces some of the very same beliefs that Foxe's martyrs opposed to the point of suffering cruel persecution and death, it is most troubling and misleading to see these names in the cover of an edition of Foxe's Book of Martyrs.
In another edition we reviewed, the book was among a special set of "Christian classics." We were once again perplexed to see that some of the other books in that series were written by contemplative mystics. And yet another edition, published by a secular publisher, advertised mystical and occult practices on the back cover. Finally, after an unsuccessful search, Lighthouse Trails decided to publish our own edition of this truly incredible and unforgettable account.
And whatsoever ye do in word or deed, do all in the name of the Lord Jesus, giving thanks to God and the Father by him. Colossians 3: 17
Hitler used the same tactic when organizing the German church into an arm of the state. Quelling dissent among Christians and using pastors to bring their congregations into line with Third Reich policies actually enabled the Holocaust.
by Mike Oppenheimer
Let Us Reason Ministries
Used with permission.
Christians should be more aware than other people because we have the Word; we are told what will take place in the last days (2 Tim. 3:1), and we are instructed on how to resist it. The majority of people have been dumbed-down and made lazy by our culture. In this void, the government comes to the rescue. The church has the same problem at work; people rely on big church to come to the rescue when they should be doing the work. This is because of our lack of Bible knowledge and lack of being equipped to evangelize and fulfill Jesus' commission.
A Dark Age has descended upon science, politics, and religion. Despite the advances of technology, we are living in the bleakest period of mankind's history. It may yet put the Middle Ages to shame. The main difference then was that the Bible was unable to be read and withheld from the masses by the Roman Catholic hierarchy. Today, we have more Bibles than ever before but they are still not read, even inside the church. Worse, the Word is not understood. The Bible is not consulted when a challenge to our faith appears. The predictable result is massive deception.
If you are following the news, it seems everything is unraveling. Those who have been following politics and the news are aware that the US of As administration has been filled by anti-constitutionalists. The prophets prophesied transformation for years, and we now have it; only it's not exactly what they thought it would be.
If you are wondering what is taking place in America, and trying to pin down the activity, it's simple to understand. The government is in the hands of 60s radicals that understood that in order to transform the country, they would have to join the "establishment." Therefore, they forged their plan.
In our Global warming DVD, I quote from The Aquarian Conspiracy, a book by Marilyn Ferguson: "A leaderless but powerful network is working to bring about radical change in the United States. Its members have broken with certain key elements of Western thought…. This network is the Aquarian Conspiracy…. The Aquarian Conspirators are "World changers,"   spiritual conspirators for social revolution-  they are "schoolteachers – office workers, scientists, government officials – lawmakers -artists – celebrities, leaders in medicine, education, law, psychology…. they are found incorporations, universities, hospitals, faculties of public schools,  factories, doctors' offices, in state and federal agencies, in state legislatures and the White House staff, in virtually all arenas of policy-making in the country." (pp. 23-25)
New Ager Dick Sutphen, echoing Ferguson's Aquarian transformation, explains further; "One of the biggest advantages we have as new Agers is, once the occult, metaphysical, and New Age terminology is removed, we have concepts and techniques that are very acceptable to the general public. So we can change the names and demonstrate the power. In so doing, we open the New Age door to millions who normally would not be receptive." (Sutphen, "Infiltrating the New Age into Society")
He notes that "the Born-Again Christians are their most vocal antagonists…But our momentum will become so great that the combined efforts of all antagonists can't stop us unless they do so politically." He also encourages people to network with family, friends, and associates, to infuse New Age concepts into every area of their personal world, such as the office and the schoolroom.
This is what is taking place. As New Age proponents recommend, change the names and terms, and people will not recognize what they are accepting. Yes, things are being redefined. While I make a correlation in the DVD for this being used to promote the environmental movement, through political and social means, we should not overlook the most important part – which is the spiritual. This can be applied to everything we are seeing today, from the grassroots level to the White House. We have socialists, Marxists, and New Agers who are all working toward the same goal. This transformation is changing our country through environmental issues from the 60s generation, who are now in the universities and in politics. We are under siege by the Aquarian Conspiracy!
And we are feeling it…Fatigue, discouragement, even a feeling of helplessness surface from the continual resistance needed to be kept toward the transformation of the country, and the church is not exempt. We have reached the crescendo — like being in an opera with the high note held.
In 1989, I took a police course on cult mentality and occult offenses where we learned that cults are not limited to religion – there are social cults, music cults, and political cults etc. A cult often has a leader that is not questioned, either because of fear or out of loyalty. He convinces people to follow him willingly, if within his power, or through intimidation. In politics, they are called dictators. In religion, they are called holy men, revelators, prophets, and apostles. They promise freedom but deliver bondage.
Political changes–
The majority of Congress does not read the bills they pass, not because they cannot read but because they do not care for the will of the people they are elected to represent. They think they know better. In the church, we have pastors who do not care to shepherd the flock over which they have charge, and many have become cult-like leaders over the sheep, using coercion and control. There is an assault on both fronts and it is increasing.
America breaks ties with Israel
As the administration practices Chicago politics on a worldwide scale, there is a price to pay on both sides. Mr. Obama was said to be livid when such an announcement derailed the visit to Israel by Vice-President Joe Biden this month, and his anger toward Israel does not appear to have cooled.
Challenging Netanyahu's leadership, Biden told Israel to stop building on their land, while at the same time he is silent on Iran, which is funding Hamas and Hezbollah, two Muslim terrorist groups fighting American soldiers on the battlefield and threatening Israel with annihilation. How can our long-time allies trust us with such a lack of common sense as a principle for our foreign policy? Our reputation is being stained by such inane actions.
Members of Congress from both sides of the aisle have called on the Obama Administration to defuse tension between Washington and Jerusalem, and to reinforce the U.S.-Israel relationship. Rep. Gary Peters (D-MI) said, "I hope that the Administration will end its unnecessary denunciations of Israel and will instead turn its focus to working with Congress to finally enact strong sanctions on Iran."
The situation has only worsened. Obama insists on a freeze of Jewish settlement growth on land that Israel owns and has developed since 1993.
According to the New York Times recently, our president declined to have dinner with Netanyahu and instead dined in private. This act was viewed in Jerusalem as a humiliation. "The Prime Minister leaves America disgraced, isolated, and altogether weaker than when he came," the Israeli daily newspaper Haaretz stated.
No new concessions on settlements were produced, Obama walked out of his meeting with Mr. Netanyahu but invited him to stay at the White House, consult with advisers, and "let me know if there is anything new."
One Israeli newspaper called the meeting "a hazing in stages," poisoned by such mistrust that the Israeli delegation eventually left rather than risk being monitored on a White House telephone line. Another said that the Prime Minister had received "the treatment reserved for the President of Equatorial Guinea" (The Times, March 26, 2010).
The Palestinian leadership has been corrupt for years, from Arafat on, and to expect anything different from what we have already seen is purposely stupid.
It is becoming apparent that our eschatology (our view of the end times) must include Israel and the Tribulation or nothing in the world will make sense. Replacement Theology and Preterism is void of any reference to the world we live in today, and the end-time Scripture references to the nation of Israel's return to the land and the subsequent future Tribulation are being solidified each day.
Culture Wars
We are watching the fabric of our culture being destroyed from people's decisions that have no rhyme or reason. The NYC mayor hands out brochures on how to use heroin correctly but wants to control people's salt intake for health reasons. The Obama administration captures our enemies on the battlefield and gives them US citizen rights and makes what they do a crime instead of treating them as prisoners of war. This clearly is an agenda to change the way we treat Islamic terrorism. It's hard to find any logic being practiced in our government when it is practicing a new set of laws, legislation separated from its original structure in the Constitution.
Recently a three-judge panel of the appeals court decided in favor to uphold the inscription of the national motto "In God, We Trust" on coins and currency, saying that the phrase is ceremonial and patriotic, not religious. While this is apparently a victory, we need to pause and ask—Is this what America really believes anymore?
While Christmas is being obscured and diminished in schools, we now have a reversal, as the New Jersey Board of Education voted to approve a list of religious holidays for the 2010-2011 school year. The list included eight pagan/Wiccan holidays, or sabbats.
http://www.examiner.com/x-26373-Domestic-Witchery-Examiner~y2010m3d17-New-Jersey-State-Board-of-Education-approves-PaganWiccan-holidays-for-the-20102011-school-year
Judeo/ Christian values are being diminished and other religious practices are more accepted in this new age of tolerance.
Church changes continue
No one thought such a radical change could happen here in America, but it did! The church did not believe it would happen, but when false prophets like Rick Joyner, Mike Bickle and others said the church would be transformed, it was.
"What is about to come upon the earth is not just a revival, or another awakening; it is a veritable revolution. The vision was given in order to begin to awaken those who are destined to radically change the course, and even the very definition of Christianity. …A great company of prophets, teachers, pastors and apostles will be raised up with the spirit of Phineas…"( Rick Joyner, The Harvest, "Joel's Army") Joyner is now the main promoter of the unashamed Todd Bentley.
"… and they (apostles, prophets) do things that you have no frame of reference for understanding because, believe me, what's going to be coming down in the next twenty years you and I have no frame of reference for understanding. It is going to be so unusual you are not going to be able to look at the Word for every manifestation and find one there because the Spirit of the Lord has so many manifestations that you and I know nothing about." (Divine Appointment [Introduction],Mike Bickle, 3/29/89, cassette tape)
We have watched over the years the fires of revival burn up the church's protection. The church that is supposed to be the pillar and ground of the truth allowed experiential lies inside its walls. From Rodney Browne's laughing, to Toronto's shaking, to Todd Bentley's ascensions to heaven; and the hits keep coming. Put your armor on, as it is only going to escalate. Is the emergent church the next wave?
We have warned of the emerging church movement for over 4 years. This news item is disturbing but needs to be heard. I have enjoyed Skip Heitzig's teaching over the years. Calvary chapel of Albuquerque announced it is hosting The National Worship Leaders Conference, June 15-17. On their website, it says:
Join with others like you, learn from the experience of influential worship leaders and thinkers, and challenge one another to delve deeper into the art of leading worship. In the process, we will discover a new energy and passion for the ministry of leading the musical prayers of our communities."
I have a problem with the concept of musical prayers of our communities– what exactly does this mean? When did leading worship become an art? Along with Skip Heitzig and other guest speakers (some which also need to be reviewed) is emerging church leader Leonard Sweet, whom some considered the intelligentsia of the movement.
Leonard Sweet is also Rick Warren's companion in the emergent movement and is making inroads into churches that were once known to withstand error like this. To have a main Calvary Chapel hosting a worship conference that includes Sweet is to leap off a cliff hoping to fly. As Lighthouse trails ministry notes: Leonard Sweet is sharing platforms with many popular evangelical leaders. We can expect others to do the same.
Warren's new reformation is no different from the  transformation taking place in politics and religion. God is trying to position us for true revival; Satan is maneuvering us to unite with other religions so that Christianity will be changed.
There are those who describe a "new Christianity" emerging. Sweet calls it New Light (reminiscent of Jehovah Witnesses?) Emergent church leader Brian McLaren is wanting to transform the church as well, as he takes apart every known doctrine possible like any loyal liberal would.
Sweet states, "I am grateful to David Spangler for his help in formulating this 'new cell' understanding of New Light leadership."
Sweet writes that he is part of a "New Light movement" and in his book Quantum Spirituality he speaks of "New Light leaders." Sweet accepts other religions practices to produce his theological basis for new light teaching. Sweet speaks of his book as "In one sense the whole of this book is an extended meditation on the nature of true New Light leadership and on how more of these voices of the third millennium might emanate from America's churches and synagogues."(Quantum Spirituality, p. 46)
Sweet believes, "The church must provide Postmoderns with an alterity of rituals by which they can turn and tune to one another and feel connected to the cosmos" (Quantum Spirituality, p. 137).
This is not Christianity as was delivered. He has a fundamental misunderstanding of what the gospel is, as shown in the following quote: "the gospel interconnects and interacts with all life-and landforms." (p.168). Sweet speaks of Christ consciousness, which is New Age terminology, and calls the church the "cosmic body of Christ" (QS p.164). He uses words and concepts foreign to scripture but not to New Age metaphysics. He favorably quotes New Agers, mystics like Matthew Fox., and Teilhard de Chardin, who believed in "a 'religion of the future' as a new mysticism" Sweet in his book Quantum Spirituality" quotes Karl Rahner, "stating: "The Christian of tomorrow will be a mystic, one who has experienced something, or he will be nothing."
Warren Smith notes that Rick Warren said:"I think this is part of this New Spirituality that we are seeing birthed around us" (Rick Warren and Leonard Sweet, The Tides of Change, op. cit, introductory information sheet.)
This is what the emergent church is about! It is the new spirituality.
Warren Smith states: "What is more, concerning "Speaking of spiritual "channels," Sweet expresses his personal gratitude in Quantum Spirituality to channeler and veteran New Age leader, David Spangler. . . . A pioneering spokesperson for the New Age, Spangler has written numerous books over the years that include Emergence: The Rebirth of the Sacred; Revelation: The Birth of a New Age; and Reimagination of the World: A Critique of the New Age, Science, and Popular Culture. His book Revelation: The Birth of a New Age is a compilation of channeled transmissions he received from his disembodied spirit-guide "John." At one point in Revelation, Spangler documents what "John" prophesied about "the energies of the Cosmic Christ" and "Oneness": (From A "Wonderful" Deception by Warren Smith, Lighthouse newsletter March 2010).
The New Age movement is also grateful to Spangler who writes, "As the energies of the Cosmic Christ become increasingly manifest …many individuals will begin to respond with the realization that the Christ dwells within them. …and will begin to awaken to their heritage of Christhood and Oneness with God, the Beloved." (The Revelation, p. 177)
Sweet's involvement with a top New Age leader, a channeler of spirits, does not seem to bother him, nor others. That's how far we have come down this broad way of heresy. Never mind that Spangler wrote the way to Christ is through Lucifer. Yes we should learn to love all God's creatures, both good or bad, and swallow your medicine of tolerance so you can be part of the new globalism in religion.
Sweet further writes "New Light leaders are bearers of the divine fire, connectors of the divine energy; "New Light believers are a possessed people: Possessed by a higher power, possessed by a Christ consciousness";"New Lights are force fields of meaning through which the flow of energy takes the form of the love and grace of God. New Light leaders are energy connectors, open systems, transformational vortices who allow themselves first to receive, then channel the highest energies of love and truth coming into the planet." He also includes the idea that "New Light embodiment means to be "in connection" and "information" with other faiths….", further explaining, and most disturbing, that "One can be a faithful disciple of Jesus Christ without denying the flickers of the sacred in followers of Yahweh, or Kali, or Krishna." (p.130)
What does this "New Christianity" look like?  The emergent church is an accurate reflection of the transformation already taken place, as even some of the missionary organizations have used other religion's practices as bridges to reach the lost, ignoring that bridges go both ways.
Consider the story of Rev. Ann Holmes, an Episcopal priest for about 21 years, who decided in 2006 that she was also a Muslim. She says both Islam and Christianity are compatible at the most basic level. http://seattletimes.nwsource.com/html/localnews/2003751274_redding17m.html
Or Ann Holmes Redding, who was director of faith formation at St. Mark's Episcopal Cathedral, who has been a priest since being ordained in 1984. She was drawn to the Muslim faith after an introduction to Islamic prayers by a Muslim left her profoundly moved. Redding graduated from Brown University, earned masters' degrees from two seminaries, and received her Ph.D. in New Testament from Union Theological Seminary in New York City.
It was at St. Mark's that she first became drawn to Islam as a local Muslim leader gave a talk at the cathedral in 2005, then prayed before those attending. Redding was moved. As he dropped to his knees and stretched forward against the floor, it seemed to her that his whole body was involved in surrendering to God. http://seattletimes.nwsource.com/ABPub/zoom/html/2003751283.html
Like Yoga, this has made its influence into the church by women. We have emergent church leaders with interfaith promoters teaching prayer with body postures and without using the mind. Well, they are certainly out of their minds with this argument.
How extensive are these inroads into the church? Emergent church leader Doug Pagitt, pastor of Solomon's Porch, has endorsed this practice in his book, Body Prayer. In it he promotes yoga, and states, "Head-oriented prayer can focus on getting the words just right, while leaving out the rest of who you are. Body Prayer helps you become fully engaged in prayer as you connect with God using more than mere words. "
He called this "breathless praying", stating that 'Talking to God can seem to be such an abstraction, Don't use words – use your body."
In other words, abandon thinking.
Yoga teacher Susan Bordenkircher's webpage linked to Thomas Ryan, a certified Kripalu yoga instructor, who states, "Imagine what it would feel like to pray with your whole body––how powerful your prayer could become." Thomas Ryan, author of Interreligious Prayer, A Christian Guide, says that we have prayed "from the shoulders up—never through their whole person." Implicit in the title of his book is the inclusion of the practices of other religions into our own Christian experience.
Unless a church is active in its discernment, aware of the new intrusion, and committed to be resistant to these changes, the pastor and congregation will succumb to the transformative spirit that is spreading itself over the world as a blanket.
If you are not practicing a constant vigilance, aware of the things that want to intrude, you will yield to it, either by compromise or by its finding a way in through others who have accepted it, and are teaching it. This has all come about from neglect, a neglect of judging. If we had been paying attention and equipped ourselves through prayer and the Scriptures, these winds of doctrine would not be in the church.  If the church took the time to educate herself on the new spiritual movements, she would not be influenced by them. We are not to have a cult mentality, accepting teachings without first looking into them to see if they are correct, but if the shoe fits we will walk in it.
Politics and Religion beached on the same shore
If people actually paid attention to the politicians' words and took the time to understand what they meant, many would not have voted them in (year after year).
Obama the TRANSFORMATIVE president for the new America sat under social activist Jeremiah Wright for 20 years, and now he has found a new spiritual advisor, Jim Wallis, who fits well in his administration. Reported to be an admitted Socialist and Communist.  Wallis was a part of the radical Students for a Democratic Society (SDS) in the 1960s. He believes the gospel is about the redistribution of wealth.
Emergent Brian McLaren is a regular columnist for Jim Wallis' Sojourners. This tells you what is really taking place. David Noebel has written a brilliant article about Jim Wallis in WorldNetDaily. He states, "Wallis and his Sojourners' community of fellow travelers believe Fidel Castro, Hugo Chavez, Daniel Ortega, and the other revolutionary forces are the Communist paradises the U.S. needs to emulate in order to establish 'social justice.'"
America is becoming more religious but not as one would think. When President Obama was campaigning for his health care package he wanted it heard at your church or synagogue. Yes, social justice is coming to a church near you! This absolutely affects the gospel.
Thousands of religious leaders got a call urging them to push health care reform from the pulpit. Obama spoke to about 140,000 people of faith in a conference call and webcast. He and a White House official discussed the moral dimension of health care, telling the mostly Christian audience that "this debate over health care goes to the heart of who we are as a people." (Editor's Note: Don't forget the Bush administration's plan for "Clergy Response Teams," groups of pastors that would assist the federal government—notably FEMA—in maintaining order among congregations and encouraging their flocks to "obey the government" by relocating, evacuating, surrendering firearms, etc. This is nothing new. Hitler used the same tactic when organizing the German church into an arm of the state. Quelling dissent among Christians and using pastors to bring their congregations into line with Third Reich policies actually enabled the Holocaust.)
Obama asked about 1,000 rabbis to preach his political agenda in their sermons on Rosh Hashanah, the Jewish New Year — one of the holiest days of the Jewish year. Obama told the rabbis that "we are God's partners in matters of life and death" and asked them to "tell the stories of health care dilemmas to illustrate what is a stake" in their sermons, Rabbi Jack Moline of Virginia wrote. (Abrams, Fox News)
What happened to the separation of church and state? It seems it only matters when the ACLU and the government think it is challenging their agendas.
This is a health bill that Obama has stated is about abortion, so how does the church entertain this? Instead of health, it is really "death." Can a man honestly lecture us on health when he is willing to let pre-born children die in abortions? This is not about health care but about abortion being funded and  by the government. Even though he has signed an executive order that abortions are not to be funded by this bill, there are so many loopholes abortion advocates can work their way around anything written like this. The law becomes like putty in their hands, as they already circumvented it to come up with this "health bill." Besides what congress is doing is unconstitutional, it is showing what progressives are really about. Fairness, the will of the people is not part of the program. Instead, the Hegelian dialectic that was used in communism is being used on a massive scale to persuade public opinion.  You become changed and you "be the change" for others, like a chemical reaction of assimilation.
Some have stated there are those in the current administration who have read Saul Alinsky's book Rules for Radicals. It has been said Obama taught from this book as a lecturer. This is no ordinary book—it is a guide on methodologies for socialist change. Whom Alinsky dedicated this book to should be shouted from the rooftops. Knowing this helps us understand exactly what is going on in America and even in some churches. Alinsky wrote, "Lest we forget at least an over-the-shoulder acknowledgement to the very first radical: from all our legends, mythology, and history (and who is to know where mythology leaves off and history begins—or which is which), the first radical known to man who rebelled against the establishment and did it so effectively that he at least won his own kingdom — Lucifer."
In the purpose chapter in the beginning of the book, he quotes Job 7:1 "the life of man upon earth is a warfare." This is not a good translation from the Douay-Rheims Bible; it actually means hardship, which of course would not be as effective a word for the promotion of socialism. Right from the beginning Alinsky cites history incorrectly, saying it was early idealistic Christians who urged to violence and burned the system down. And he then speaks as a surviving communist of the McCarthy era.
Alinsky does not understand anything spiritual because he has sided with the Devil, he revises history and twists the truth. Satan fosters war and he comes to deceive people in following his continued rebellion against God. When one makes the first rebel in the universe a hero this becomes a very different situation than promoting the socialism of the past.
This reminds me of David Spangler's shocking statement "Christ is the same force as Lucifer… Lucifer prepares man for the experience of Christhood. (He is) the great initiator" (From Reflections on the Christ, p. 140) Lucifer is Satan coming to deceive, as an angel of light. Whether it's in politics or religion it is all the same result – devastation.
Paul recognized us as "church of the living God, the pillar and ground of the truth (1 Tim. 3:15). Many churches are damaged; some can be repaired, some cannot. It is up to the leadership what direction they will take. To do nothing is not an option. We must be pro -active.
Just as progressives in government ignore the Constitution, we have leaders in the church that ignore the Bible and want to change it as well. The only way the church is prevented from going into error is by people standing firm on the Word and speaking out. Unfortunately, many churches are not listening to those doing the research; this is becoming an emergency situation. If you care for the church, inform the pastors and give them information on these movements, since they are supposed to be watching over the sheep to protect them from error and wolves. Unfortunately, many are not, as I have experienced firsthand.
It's easy to have a type of peace in life, have no involvement, say nothing, and be left out of any conflict. That time is over. All of us need to be involved. Send to your pastors the articles or portions of them from apologetic sites that are watching on these matters. I recommend you also write letters to ministries involved in promotion of these teachings. In a good manner, tell them from the Word of God what it is they are doing wrong.
Our country is being transformed from the inside out. The America we once knew is vanishing. Unfortunately, the very same thing is happening to historic Christianity.
Until we become more serious about the enemy inside the church and the real spiritual warfare that is taking place, the church will continue to deteriorate in its influence until what is left are mere traditions. Fortunately, reality has slapped Americans in the face and many have awakened. Americans see the deception working in politics but generally, we have a blind eye to seeing it inside the church. It's real and it is happening to churches all across the land[s]. And people are being confused and hurt.
Become Aware -Awake and Alive
Rom 13:11-12: "And do this, knowing the time, that now it is high time to awake out of sleep; for now our salvation is nearer than when we first believed. The night is far spent, the day is at hand. Therefore let us cast off the works of darkness, and let us put on the armor of light."
Eph 5:11-17: "And have no fellowship with the unfruitful works of darkness, but rather expose them. For it is shameful even to speak of those things which are done by them in secret. But all things that are exposed are made manifest by the light, for whatever makes manifest is light. Therefore He says: 'Awake, you who sleep, arise from the dead, and Christ will give you light.' See then that you walk circumspectly, not as fools but as wise, redeeming the time, because the days are evil. Therefore do not be unwise, but understand what the will of the Lord is. (from Let Us Reason Ministries at: www.letusreason.org – used with permission.)
by Robert Huff
American Thinker (out of house news source)
We live in an age of scientific hegemony (if I may borrow a term from the Marxists and feminists), where access to intellectual power and influence is granted to those who demonstrate their loyalty to the approved theories of the ruling elite. Scientists who refuse to bow at the altar of uniformity are labeled heretics and cast out of the intelligentsia, condemned to lives of unfunded grant proposals, tenure denials, and ruined reputations.
The scientific theories to which we must pledge allegiance are not threats in and of themselves. For example, global warming, which used to be known as global cooling and is now called global climate disruption, attempts to explain changes in the weather by assuming that global temperature increases (or decreases) are primarily caused by human activity. Of course, it requires more than a little faith to take short-term measurements and extrapolate to an apocalyptic assumption about the ultimate fate of the earth. Hence, it should not at all be surprising that many successful challenges to man-made global __________ (fill in the blank) have been made over the years. What is surprising, even distressing, is the systematic effort by the scientific community to denigrate the talented men and women who have exposed serious flaws in this theory. Ironically, the end result is that our secular institutions of science often expel those committed to objective inquiry while rewarding those committed to upholding dogma.
As a mathematician and a conservative at a small, Christian liberal arts university, I have a keen interest in the extent to which the hegemony of secular science has worked its way into evangelical academia. When it comes to man-made global warming, most Christian universities are too small to support a faculty of climate researchers.
Click here to continue reading.
Related Articles:
Technocracy and Transformation by Carl Teichrib
Quantum Lie – Preview Video #4 with Bob DeWaay
From Understand the Times – A Serious Warning by Roger Oakland
On April 19-22, in Orlando Florida, Exponential 2010 will present a large number of speakers, many of whom are proponents of the New Spirituality. Just another effort to build momentum for what has become obvious to many discerning believers – an apostate leadership racing toward a "New Christianity" for millions of unsuspecting proclaiming Christians.
This year's speaker list:
Obe Arellano

Hugh Halter

Kem Meyer

Mark Batterson

Bob Harrington

Brian Mosley

Joe Beam

Sarah Hatfield

Mary Nelson

Rick Bezet

Alan Hirsch

Dave Olson

Marcus Bigelow

Scott Hodge

Larry Osborne

Ken Blanchard (

check LT

)

Chris Hodges

Darrin Patrick

Brian Bloye

Billy Hornsby

Vanessa Pugh

Matt Carter

Rick Howerton

David Putman

Noel Castellanos

Troy Jackson

Lloyd Reeb

Francis Chan

Galen Jones

Dino Rizzo

Matt Chandler

Lisa Jones

Rick Rusaw

Steve Childers

James King, Jr.

Matt Smay

Shane Claiborne

George Klippenes

Dan & Shannon Smith

Neil Cole

Charles Lee

Efrem Smith

Caleb Crider

Brad Leeper

Wayne Smith

Mark DeYmaz

Shawn Lovejoy

Ed Stetzer

Bill Easum

Will Mancini

Tim Stevens

Dave Ferguson

Marc McCartney

Kirsten Strand

Sue Ferguson

Larry McCrary

Greg Surratt

Dave Gibbons

Mel McGowan

Ron Sylvia

Louie Giglio

Janet McMahon

Scott Thomas

Rich and Dori Gorman

Reggie McNeal

James Wafford III

Larry Grays

Brenda Salter McNeil

Scott Williams

Mike Hall
Related Information:
Cedarville University Cancels Shane Claiborne Event
Research on Ken Blanchard's Promotion of New Age meditation/Buddhism and his connections with Rick Warren.