Posts Tagged 'Eschatology'
Courtesy and Comments by Understand the Times, International
When it comes to rulings promoted by the United Nations against Israel, there is only one way to make sense of the nonsense. Israel is despised by the nations of the world just as the Bible predicted that it would be in the last days. The God of Israel is the God of the Bible and will not be mocked. It is only a matter of time until Bible prophecy will be fulfilled and the nations that come against Israel will be judged. – Understand the Times.
From CBN (Posted for informational and research purposes):
May 3 – UN's 'Absurd' Birthday Present to Israel: Resolution Brands Them 'Occupiers'
On the same day Israel celebrated its 69th birthday, the United Nations Educational, Scientific and Cultural Organization, better known as UNESCO, passed a resolution declaring Israel an "occupying power" in Jerusalem.   "All legislative and administrative measures and actions taken by Israel, the occupying power, which have altered or purport to alter the character and status of the Holy City of Jerusalem, and in particular the "basic law" on Jerusalem, are null and void and must be rescinded forthwith," the resolution stated. Last October, UNESCO passed a similar resolution denying Jewish ties to the Temple Mount and Western Wall in Jerusalem's Old City, declaring them Muslim "holy sites." The resolution also passed a day before President Trump is due to meet with Palestinian Authority President Mahmoud Abbas.  Read Full Article
"This discovery is important because it proves the existence of a Jewish community in the region from ancient times–something which the Palestinian Authority continually denies."
From The Berean Call
Archaeologists in Israel have uncovered ancient epitaphs in both Greek and Aramaic that date back to the first century.
[It was reported] that the inscriptions were found in a cemetery that is located in the ancient Galilean capital city of Zippori.
"Zippori was the first capital of Galilee from the time of the Hasmonean dynasty until the establishment of Tiberias in the first century CE. The city continued to be central and important later on," researchers explained in a press release announcing the discovery.
Four words which are part of the inscriptions were thus far able to be decoded. One word, in Greek, means "Jose," a common Jewish name during the period, the three other words are Aramaic for "the Tiberian," "forever," and "rabbi." Click here to continue reading.
Related Information
DVD Exposes "Christian Palestinianism" and the Evangelical Leaders Promoting It
The Berean Call Conference: Israel in the Line of Fire
By Jan Markell
Used with permission | www.olivetreeviews.org
A ministry supporter in Washington State sent me a flyer that was handed out in his church recently. It is more mocking. The flyer asks if folks have met "End-Times Eddie" in the church. It denigrates "Eddie" and suggests he is so focused on end-times that he has missed all the present opportunities and people in front of him.
"Eddie" is gloom and doom. Why isn't he looking for Jesus to bring Heaven to earth right now?
Then the flyer suggests some questions for the church's small groups. Here are a few samples:
What are your emotions when you encounter "End-Times Eddie"?
Is the end-time message one of hope or fear?
Jesus told us to pray for "your will to be done on earth as it is in Heaven." What does Heaven on earth look like today?
Who in your life needs Heaven to come to earth right now?
Two things stand out to me:
1) Here is just one more church preaching, "Come, Lord Jesus, but not too soon."

 2) They have embraced the false teaching promoted heavily by the New Apostolic Reformation (NAR) that we can have Heaven on earth now. This is called Kingdom Now or Dominion Theology.
Show me just one square mile of this planet that can demonstrate a Garden of Eden-like Heaven on earth. You will find only chaos. And the church trying to perfect the world for the next one million years won't fix it.
Those of us who have promoted the important message that the King is coming are painfully aware that young believers no longer uphold Bible prophecy as a key component of the faith. They would rather focus on social justice, the green agenda, and Christian Palestinianism.
When I was a teenager in my church, we had regular prophecy conferences and I never once heard that Israel was "occupying" her God-given country. I never would have heard the denigrating title of "End-Times Eddie." I was never taught that we had to "save the planet" because I learned that it was hopelessly lost until Christ's return. I was never given the delusional teaching that in time my church would be able to "save the planet" by seizing the Genesis mandate of dominion — which is about dominion over animals and not mankind.
Kingdom Now or Dominion Theology tries to humanize God and deify man. Sadly, the world will continue to deteriorate and spiral into chaos, forcing man to consider the hope of Heaven and abandon thoughts of a glorified earth. Only when Jesus Christ returns at the Second Coming will all things be made new!
Dominionist proponent Cindy Jacobs suggests that God showed her that the Lord's Prayer is a prayer of intercession that will help bring into manifestation the original Genesis Mandate to fill, subdue, multiply and have dominion in the earth. Cindy, sin didn't come into the world because we didn't understand our mandate! 
As I wrote in a previous article exposing the theology of Dominionism, "The church is not in the business of taking anything away from Satan but the souls of men. The world is a sinking Titanic ripe for judgment, not Garden of Eden perfection. Jesus will take dominion of the cleansed earth. For men to speak of doing that before the judgment of this earth is spiritually arrogant."
Yet "End-Times Eddie" is the one with unsound theology according to the Washington church, not those preaching this unsound theology that the church can perfect the world.
One of my conference attendees wrote me in 2014. He had been tagged an "End-Times Eddie." He writes, "I no longer feel safe talking about the issues you deal with in your ministry. I am scorned and ridiculed by friends, family, and co-workers if I talk about the Lord's imminent return or any headline that is prominent. To suggest that life as we know it may end soon is simply the ultimate in lunacy to all of these folks. I feel so alone."
I so agree with Pastor David Barnhart, "For most Christians, the major strategy in dealing with the doctrine of Christ's return is to ignore it. For others, the solution is to opt for some kind of socialist utopia here on earth and call it the 'kingdom of God.'"
He continues, "By His coming, Jesus will bring God's promise of redemption into complete and total fulfillment. We'll no longer just talk of streets of gold, we'll walk on them. We will no longer simply talk about Jesus, we'll talk with Him face to face and His own hand will gently wipe every tear from our eye. We'll not only talk about seeing our loved ones who have gone on before, we'll be together with them for eternity without ever again experiencing a single moment of separation."
Barnhart says, "God's prophetic clock is counting down to the appointed hour. If you don't believe it, listen to the latest news reports or read the paper. Scriptures are replete with signs, prophecies and promises of Christ's return. The signs are everywhere, yet the silence of the churches is deafening when it comes to proclaiming this vital truth of Scripture. Slumbering preachers and sleeping saints need to wake up to the reality that the King is coming and His coming may be sooner than any of us realize.
"In the meantime, millions are perishing without the knowledge of the gospel or the hope of His coming offers. How it must grieve the heart of God to look at a sleeping church in a hell-bound world."1
Bible prophecy is given as a light shining in a dark place (2 Peter 1:19). Talking about it should not instill fear in the Christian; rather, it should provide confirmation that the "blessed hope" is ever nearer and the time ever shorter to snatch people from the fire.
There are many "End-Time Eddies" around. May their numbers increase. May our pulpits grow bolder and talk about things that really matter. Our message is hardly doom and gloom. It may be about the only good news left. The supposed 'good news' that we're taking the planet back to the Garden of Eden isn't the truth — it's end-time delusion.
I'm honored to be among the "End-Times Eddie" crowd. I've got the best news there is.  This world isn't it. God believed the topic of eschatology was so important that He devoted one book exclusively to it: Revelation. Almost 30% of the Bible is prophecy-focused.
This message, when coupled with warnings, encourages evangelism and repentance like no other.
To better understand the issues surrounding the theology of the New Apostolic Reformation, the Third Wave, Manifest Sons of God, Latter Rain, Kingdom Now/Dominionism, Fresh Fire, and much more, get this newest DVD from Caryl Matrisciana: Wide is the Gate: The Emerging New Christianity – Volume 3 here. It is two discs and 5 hours in length. She will be our radio guest June 27-28.
Used with permission | www.olivetreeviews.org
Related Articles:
The "Kingdom of God" in the Emerging Church: A Theology of Despair and Hopelessness
Hostile Sentiment Toward "End-Time" Believing Christians Increasing
COMPARISON: "New Spirituality" Leaders Reject and Ridicule the Second Coming of the Lord VERSUS Bible Prophecies Standing in Stark Contrast
By Dr. Harry Ironside
In the eighth chapter of the Epistle of the Romans, reading from verse 18, we have the words:
"For I reckon that the sufferings of this present time are not worthy to be compared with the glory which shall be revealed in us. For the earnest expectation of the creature waiteth for the manifestation of the sons of God. For the creature was made subject to vanity, not willingly, but by reason of him who hath subjected the same in hope, Because the creature itself also shall be delivered from the bondage of corruption into the glorious liberty of the children of God. For we know that the whole creation groaneth and travaileth in pain together until now. And not only they, but ourselves also, which have the firstfruits of the Spirit, even we ourselves groan within ourselves, waiting for the adoption, to wit, the redemption of our body" (18-23)
Then if you will also turn to Philippians, chapter 1, verses 20 and 21:
"According to my earnest expectation and my hope, that in nothing I shall be ashamed, but that with all boldness, as always, so now also Christ shall be magnified in my body, whether it be by life, or by death. For to me to live is Christ, and to die is gain."
The Christian has a wonderful expectation. Our Lord Jesus Christ, while He was here on earth, had a great deal to say about His second coming. I have never been able to understand why some persons who profess to be Christians (and I would not dare doubt in some instances but they are really such) seem to have no interest whatsoever in the truth of the return of our blessed Savior. I have often heard people say, "I am not interested in the second coming of Christ. The only thing that concerns me is to be ready when He comes."
Of course, it is very important that we should be ready when He comes, but to say, "The only thing that concerns me is to be ready for that event," seems to me to be the quintessence of selfishness. Am I only concerned about my personal readiness? Do I not have a deep, warm expectation in my soul, looking forward to that glorious day when the Saviour shall return? Am I not longing to see Him?
He has said that He is coming back, and He told us to watch and to wait for His coming, to be like men that wait for their Lord when He will return from the wedding. And surely, if we have learned to love Him, if we know Him as the One who died for us and washed away our sins in His precious blood, we certainly ought to be looking eagerly for His return.
EXPECTATION IS NOT FEAR
Some people think of the second coming of the Lord as though it were a dreadful event, an event from which we might well shrink, because they confound the second coming of Christ for His people with the day of judgment for a godless world; but these are two very distinct events. When He said, "If I go and prepare a place for you, I will come again, and receive you unto myself; that where I am, there ye may be also," He was not referring to the final day of judgment. He was speaking of the time when He will come back and raise the dead and change the living, those of His own redeemed people, and take them up to be with Him in the Father's house. Surely, there is nothing to dread about that. It is no fearful portent, the thought of the Lord's coming.
On one occasion, I was asked in a certain Canadian city to give an address to the ministerial union on the second coming of the Lord Jesus, and so I went down with a heart and mind full of the subject, and found nearly seventy of the city's preachers gathered together. It was my privilege to talk to them for about forty minutes on what I believe the Word of God teaches concerning this great expectation of the Church. When I had finished, the moderator of the meeting, who was a Presbyterian minister, rose and said, "My friends, I want to give my personal testimony concerning this subject. I was a minister for a great many years before I ever took the time to study what the Bible has to say about the second coming of the Lord, but some years back I became deeply interested, and I searched the Scriptures for all references to the subject. You know, as that truth opened up to me, I got a new Bible. It just seemed as though my Bible was entirely different. So many things were plain that had been dark before." Then he said, "Now I would like to have you tell us how this subject appeals to you."
There happened to be present a very venerable old gentleman, an Anglican clergyman, who had received a great many honors because of his scholarship and ability. He had written a great many books, and I had read all of them, so I was quite interested when he was pointed out to me. The moderator knew he was in the audience that day, and because he seemed in a certain sense to be a dean of them all, he turned to him and said, "Doctor, wouldn't you like to speak to us on the subject?" The dear old gentleman stood up and in that fine, cultured way that is so characteristic of Anglican clergyman, said something like this:
"Well, my dear brother, I am really sorry that you referred to me at all, because I never like to take issue was a visiting speaker. I would far rather have just said to our brother at the close, 'Thank you,' and left it at that; but since you put me on the spot, it is necessary for me to express myself, and I regret to have to say that I do not find myself at all in agreement with the speaker who has addressed us today. Of course, I think there is something in the Bible about the second coming of the Lord, but just what it is I do not know and I do not think anyone else does. I have listened carefully to what he has presented and I have been thinking that if his presentation of the subject is the correct one, it must be an awful thing to believe, as he says he believes that Christ may come back at any moment. Why, if one believed that, it would unnerve him completely. Suppose I were out making pastoral calls and the awful thought came to me that Christ might come today! I would not be able to continue my work but would want to get back to my study and read the prayer book and try to get ready for that awful event."
Well, you know it was a little difficult for me. I was much younger than he, and I did not want to be discourteous, but I said to him, "Doctor, I hope that you do not mean us to infer that one could have been a member of the great church to which you belong and have taken all the ecclesiastical and academical honors that you have and yet never have been washed from his sins in the precious blood of Christ! For Doctor, if you have been saved through what the Lord Jesus did when He was here the first time, whether you realize it or not, you will be ready when He comes the second time." Because it is not our understanding of the doctrines of the Lord's return that makes us ready to meet Him or our growth in holiness but the fact that Another has, in the blessed will of God, shed His blood and died for us, cleansing us from all sin.
THE FOCUS OF OUR EXPECTATION
To me the expectation of the Lord's imminent return is one of the most precious hopes that I have, 'According to my earnest expectation and my hope.' He was looking for the coming of the Savior, and he said, "I do not want to be ashamed. I want to be found, while I am watching for him, laboring always for His glory, endeavoring to bring others to Him, and seeking to manifest Christ in my daily life so that I can always say, 'For to me to live is Christ, and to die is gain.'"
This poor world needs the coming Savior. Suppose our Lord had come ten years ago. Then the world would never have known the dire conflict that is prevailing at the present time. Why do we see the nations engaged in bloody conflict one with the other? It is because when the Prince of Peace came here to dwell amongst men in lowly grace, He was not recognized. He was rejected. He came to bring peace but men said, "We will not have this man to reign over us"; and so, according to Hosea He said, "I will go and return to my place, till they acknowledge their offence, and seek my face: in their affliction they will seek me early." He has gone back to the Father's right hand and is there preparing a place for His redeemed. Some day He is coming again, and His coming is going to mean the rapture of His Church and our presentation before the Father in fullness of joy.
This is one aspect of it, but the other aspect is this: He is coming back to this poor world and He is going to reign in righteousness for a thousand wonderful years, and then will be fulfilled the prophecy, "They shall beat their swords into plowshares, and their spears into pruninghooks: nation shall not lift up sword against nation, neither shall they learn war any more" (Micah 4:3). Oh, how the world needs Christ, who is that "blessed and only Potentate, the King of kings, and Lord of lords!"
THE EXPECTATION OF ALL CREATION
That is what the apostle is referring to, especially in the eighth chapter of the Book of Romans, when he says that "the earnest expectation of the creature waiteth for the manifestation of the sons of God." And we know by the context of this passage that this expectation is shared by the entire creation, for creation's blessing will come with that manifestation. And when will the sons of God be manifested? The sons of God are already in the world at this time, but their manifestation has not come yet. They are in the world but the world knows them not, even as it knew Him not; but we read that when He is manifested, then shall we be manifested. When He reigns, then we will appear with Him in glory! That will be the time when earth's blessing will come, when creation will be liberated from the bondage of the curse.
Look at John's Gospel, chapter 14, the passage we all love and the portion which I think fits in so well at every Christian funeral. I do not know that I have ever been called upon to say a few words at the burial of a saint of God but that I have felt I must read these words: "Ye believe in God, believe also in me." That is, Christ is saying in effect, "I am going away from you, so you won't be able to see Me; but you believe in God the Father, though you cannot see Him. Now I want you to believe in Me, God the Son, when you cannot see Me." And so He has gone back to the Father. We cannot see Him, but we love Him, and we love to serve Him; and we wait for His return.
"In my Father's house are many mansions," many resting places, many abodes. It is the same word as the one translated " abode" a little farther down in the chapter: "We will come unto him, and make our abode with him" (verse 23). So He says, "In my Father's house are many abodes, many places of rest." Many of God's dear children know very little of rest here, but they will rest there in the presence of God and His Son when they put on their resurrection bodies.
"If it were not so, I would have told you." There are so many things that the saint of God longs for that perhaps are not based upon positive Scripture, but He says, "If this were not a fact, if this hope, this expectation were not based on truth, I would have told you. I would not want you to be deluded; I would not want you to be deceived." When we look forward to resting in His presence, when we think of Heaven as the Father's house, it is not just a lovely dream, it is not mere imagination. It is a blessed, precious truth vouched for by our Lord Jesus Himself. He came from the Father and went to the Cross for our redemption. He has gone back to the Father to prepare a place for us.
THE EXPECTATION OF GOING HOME
I love to think of Heaven as a home. Some of us have not known very much of a home here on earth. It is said of the one who wrote that most beautiful of all songs about home, that he was a wanderer all his life. I refer, of course, to John Howard Payne who wrote, "Home, Sweet Home." Some of us have not enjoyed much of the comforts of home down here on earth, but oh, what a home He is preparing for us up yonder!
At death, the believer goes home, but that is not the final thing, that is not the fullness of our expectation, for the Lord Jesus says, "If I go and prepare a place for you, I will come again, and receive you unto myself; that where I am, there ye may be also." Dear Christian, do get hold of this truth in the early days of your Christian life. The Lord Jesus says, "I will come again." How can anybody say he doesn't believe in the second coming of Christ in view of a promise like that? It is amazing how people twist those words to try to make them say anything but what they really say.
FALSE VIEWS OF OUR EXPECTATION
Some people tell us that He simply meant that He was coming to individual souls when they were converted, to dwell in their hearts. That is not what He is talking about. He says, 'I am going "to receive [them] unto myself, that where I am there [they] may be also." There are other folk who think that when the Lord said those words He was referring to the descent of the Holy Spirit on the day of Pentecost, that the Holy Spirit, being Jesus' other self, came down to make good this promise. But I think that when people talk like that, they forget that the great bulk of the promises of the second coming in the New Testament were given after the Holy Spirit came at Pentecost. It was after the Holy Spirit fulfilled the Lord's words and came as the Comforter that He moved the hearts of saints to cry, "Even so, come, Lord Jesus," and to look on with eager, glad expectation to His personal return.
Then some people say, "Well, it just means that He is coming in the hour of death. When the believer comes down to death, the Lord will be there to take him home to Heaven." And yet, if it is just as true now as it was before the Cross that angels transport ransomed souls to Heaven, it is a very different thing from the personal coming of Christ. The beggar Lazarus died and was carried by angels to Abraham's bosom, and I suppose that angels take the saints now into the presence of the Lord. "Are they not all ministering spirits, sent forth to minister for them who shall be heirs of salvation?" (Hebrews 1:14). But Jesus speaks of a personal coming. That is not death; it is the destruction of death for the believer.
There are some people who confound the Lord's return with the judgment day of all of the unsaved. There is nothing about that judgment here. "If I go and prepare a place for you, I will come again, and receive you unto myself; that where I am, there ye may be also." There is no hint of a judgment of the lost there. It is the returning bridegroom coming for His bride and taking her with Him into the Father's house to share the rest and the glory of the blessed place. The manner of it is described for us in the fourth chapter of the First Epistle to the Thessalonians, a passage with which we are all familiar, unless it be those to whom these things are new and strange. Beginning with verse 13, we read:
"But I would not have you to be ignorant, brethren, concerning them which are asleep, that ye sorrow not, even as others which have no hope. For if we believe that Jesus died and rose again, even so them also which sleep in Jesus will God bring with him. For this we say unto you by the word of the Lord, that we which are alive and remain unto the coming of the Lord shall not prevent (or precede them) them which are asleep. For the Lord himself (Notice how distinctly personal that is!) shall descend from heaven with a shout, with the voice of the archangel, and with the trump of God: and the dead in Christ shall rise first" (vss. 13-16).

See the contrast between the Lord's coming and death. Death is not the Savior's return, but when the Savior returns, death is destroyed for the believer.

"The dead in Christ shall rise first: then we which are alive and remain shall be caught up together with them in the clouds, to meet the Lord in the air" (v. 16-17).
THE TWO GROUPS OF BELIEVERS
You see, there will be the two classes of believers who will have part in the glorious event of the Lord's return. There will be those who are asleep, that is the saints who have died. The bodies of many of them have gone back to the dust from which they came, but they will be raised and those bodies tenanted again by the glorified soul and spirit of the believers. But then there is another group—the believers actually living in this world when Christ returns.
"Then we which are alive and remain shall be caught up together with them in the clouds, to meet the Lord in the air: and so shall we ever be with the Lord" (v. 17).
Would it not be a wonderful thing if we Christians who are living today should be among that number! If, before death claims our bodies, the Savior should return and we would be caught up together with the resurrected saints in clouds to meet the Lord in the air! Of course, these bodies of ours will have to undergo a great change in order that that may be, but in Philippians 3 we read of that change:
"For our conversation [or citizenship] is in heaven; from whence also we look for the Saviour, the Lord Jesus Christ: who shall change our vile body" (3:20-21), or literally, "transform the body of our humiliation." This body, you see, is called the body of our humiliation. You know how often you are humiliated in your body, don't you? It is such a drag on the spirit at times. Well, when the Savior comes, He will change the body of our humiliation "that it may be fashioned like unto his glorious body, according to the working whereby he is able even to subdue all things unto himself" (vv. 20-21).
We read of this more particularly in the First Epistle to the Corinthians, chapter 15, beginning with verse 51. There the apostle says:
"Behold, I shew you a mystery [I tell you a secret, something nobody knew anything of until is was revealed]; We shall not all sleep [that is, we shall not all die], but we shall all be changed [whether living or dead, we shall all be changed], In a moment, in the twinkling of an eye, at the last trump (the trump that ends this dispensation of grace): for the trumpet shall sound, and the dead shall be raised incorruptible, and we shall be changed. For this corruptible must put on incorruption (that is, the dead, the corrupted bodies of the dead will be raised in incorruption), and this mortal (that is, the living) must put on immortality" (vss. 51-53).
Those who are now living in mortal bodies will suddenly be given immortal bodies when Jesus comes back again, and in those bodies will live forever.
"So when this corruptible shall have put on incorruption, and this mortal shall have put on immortality, then shall be brought to pass the saying that is written, Death is swallowed up in victory" (vs. 54). No wonder the apostle can exult in triumph:
"O death, where is thy sting? O grave, where is thy victory?" (vs. 55). He says:

"The sting of death is sin; and the strength of sin is the law. But thanks be to God, which giveth us the victory through our Lord Jesus Christ" (vss. 56-57).
THIS IS OUR HOPE!
This, then, is our expectation; this is our hope! And the Lord would have us living day by day in view of the possible fulfillment of the promise of His coming again. When you get up in the morning, cultivate the attitude of soul that leads you to say, "Christ may come today; and if He were to come today, I want Him to find me walking in obedience to His holy Word." And when you go to sleep at night say, "Christ Jesus may come tonight, and I can rest in perfect peace, knowing that when He comes I shall be caught up to meet Him."
Lighthouse Trails authors Warren B. Smith and Ray Yungen were speakers at this year's Berean Call Conference along with UK Paul Wilkinson. Below are two videos of Paul's talk, "Israel in the Line of Fire."
Part 1

Part 2
Related Resource:
Exposing Christian Palestinianism by Caryl Productions
For we have not followed cunningly devised fables, when we made known unto you the power and coming of our Lord Jesus Christ, but were eyewitnesses of his majesty.—2 Peter 1:16
Self-described "futurist" and "conscious evolutionist" Barbara Marx Hubbard writes that in 1966 she heard an "inner voice" that came in response to a question she had asked aloud and directed to God—"What is our story? What in our age is comparable to the birth of Christ?" After asking the question she said she fell into a dreamlike state and was given an intense vision of the future.1
In the vision, Hubbard saw the earth from a distance. She was made to understand that the earth was a living body and that she was a cell in its body. Feeling her "oneness" with the earth, she experienced its pain and confusion. When her vision abruptly fast-forwarded into the future, she could see the earth and its people were now surrounded by a radiant light. She watched as the whole planet was "aligned" in "a magnetic field of love" and lifted up by the brilliant light. Widespread healings took place as individuals experienced the merging of their own "inner light" with the bright light that was surrounding them. A tremendous "force" emanating from the light sent powerful currents of joyful energy "rippling" through the body of humanity. The world celebrated as all the earth was "born again." The pain and confusion were gone. Love had prevailed. The "inner voice" told her to spread the message of the vision. It said:
Our story is a birth. It is the birth of humankind as one body. What Christ and all great beings came to Earth to reveal is true. We are one body, born into this universe. GO TELL THE STORY OF OUR BIRTH. . . Barbara!2
In 1977 Hubbard began to hear this "inner voice" regularly. At one point she was told:
Have utter faith in my design. Achieve deep peace. Be prepared for a great force to enter your life to do this work. It cannot enter till you have achieved deep peace. Your reward for peace, which can only be achieved by faith, is contact with the great force and the other forces waiting in the wings.3
On Christmas Day in 1979, she had a revelation that the presence in her 1966 vision had been "Christ."4 Then in February of 1980, at an Episcopalian monastery in Santa Barbara, California, she describes how in the midst of "an electrifying presence of light" her higher self "voice" transformed into the "Christ voice."5 Over the coming months the "Christ voice" gave her more information and insight about the vision she had in 1966 and more first-hand detail about what will one day be taking place in the world. Hubbard understood that it was her mission to continue telling the story of humanity's "birth."
Since 1966, Hubbard has fulfilled her commission from "Christ" to tell his New Age/New Gospel story. From NASA to the former USSR, from the Georgia State Legislature to the United Nations, she has spoken to thousands of people and hundreds of groups and organizations about the "planetary birth experience" she had been shown in her vision. In the process, she has become a respected "world citizen," known and loved by many for her insights about "God" and "Christ" and the future of humanity.
Hubbard is a co-founding board member of the World Future Society.6 In 1976 she seriously contemplated a run for the U.S. presidency.7 In 1984, her name was placed in nomination for Vice-President at the Democratic National Convention in San Francisco.8 Her speech, based on her "Campaign for a Positive Future," was carried live on C-Span.9 Today she is on a first name basis with many world leaders and proudly describes herself as part of the "New Order of the Future."10 At least three of her books were funded by her benefactor, the late Laurance S. Rockefeller, through his Fund for the Enhancement of the Human Spirit. She thanks Rockefeller in her books for his generous support over the years. And she specifically thanks him for his "intuition about the 'Christ of the 21st Century.'"11
The Alternative to Armageddon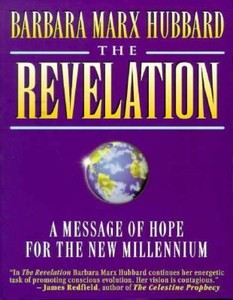 Through the years Hubbard has received voluminous information from her "Christ." In her 1993 book, The Revelation: Our Crisis Is a Birth (later renamed The Revelation: A Message of Hope for the New Millennium), Hubbard and "Christ" "rewrite" the Bible's Book of Revelation. In The Revelation, Hubbard's "Christ" provides specific instructions on how a united humanity, purposefully partnering with God, can literally re-create the future. This "Christ" teaches that the "violent" Armageddon script described in the Bible does not have to happen, that it is only a "possible" future, emphasizing that a more "positive" future can and will manifest when humanity—without exception—openly declares its "oneness" with him and all creation. This positive scenario and the means to attaining it is called "the alternative to Armageddon."12
Hubbard's "Christ" describes how planet earth is at an evolutionary crossroads. He states that the world is about to make an evolutionary leap that will take all creation to a new level. Those who awaken to their own divinity, by aligning themselves as one with God and one with each other, will evolve. Those who continue to believe in "fear" and "separation," rather than in "love" and "oneness," will not evolve. Hubbard's "Christ" claims that with his help most of mankind will choose to evolve, calling this evolutionary leap "the Planetary Birth Experience."13 He refers to it as the coming time of "Planetary Pentecost."14 The "birth experience" is a shared event in the future, an "Instant of Co-operation,"15 when everyone on the planet will be mysteriously changed in "the twinkling of an eye," as humanity is collectively born again into a new creation. Those who evolve will actually become a new species as Homo sapiens is collectively transformed into Homo universalis, or the "Universal Humanity."16 The "Universal Humanity" will live together as a community of "natural Christs" in the "New Heaven" on the "New Earth" that is the "New Jerusalem."17
The "Selection Process"
But Hubbard's "Christ," while describing the "birth experience" and professing his love for all mankind, nevertheless warns that there will be no place in the "New Jerusalem" for those who refuse to see themselves and others as a part of God. He describes, therefore, the necessity of a "selection process" that will select out resistant individuals who "choose" not to evolve. This "selection process" is a "purification" that will be accomplished through "the shock of a fire."18
"Christ" states that those who see themselves as "separate" and not "divine" hinder humanity's ability to spiritually evolve. Those who deny their own "divinity" are "cancer cells" in the body of God.19 "Christ" warns that a healthy body must have no cancer cells. Cancer cells must be healed or completely removed from the body. He describes the means of removal as the "selection process." The "selection process" results in the deaths of those who refuse to see themselves as a part of God.
After the "selection process," the spirit bodies of the departed individuals will continue to be "purified" in the spirit realm. Hubbard's "Christ" emphasizes that they will not be given another physical body and they will not be able to rejoin humanity until they rid themselves of all "self-centeredness." He defines "self-centeredness" as "the illusion" that one is "separate" from God. The self-centered temptation to see oneself as "separate," and not as a part of God, is "evil" and must be "overcome." He also refers to self-centeredness, or this illusion of separateness, as "Satan."
In this future described by Hubbard's "Christ," anyone who refuses to see themselves and others as "God" and "Christ" will be removed by the "selection process." Those professing Jesus Christ as their Lord and Savior would be subject to this process.
Direct quotes from Hubbard's "Christ" in The RevelationAbout the Selection Process

Dearly beloved, I approached the crucifixion far more easily than I approach the selection. The crucifixion was done unto my body. The selection will be done unto yours. (p. 197)

The decisive moment of selection has almost come. The judgment of the quick and the dead is about to be made. The end of this phase of evolution is nearly complete. (p. 189)

By your acts you shall be judged as to whether you can evolve, or must be "cast into the lake of fire," which is the second death. (p. 254)

The "second death" is for those of you who cannot evolve by choice, due to some deeply seated error in your understanding of the nature of reality. (p. 267)

It is to open your mind that you will undergo the second death. (p. 267)

[T]he fundamental regression is self-centeredness, or the illusion that you are separate from God. I "make war" on self-centeredness. It shall surely be overcome. The child must become the adult. Human must become Divine. That is the law. (p. 233)

At the co-creative stage of evolution, one self-centered soul is like a lethal cancer cell in a body: deadly to itself and to the whole. (p. 255)

The surgeon dare leave no cancer in the body when he closes up the wound after a delicate operation. We dare leave no self-centeredness on Earth after the selection process. For when we complete the process of the transformation, all who live on will be empowered to be godlike. (p. 240)

The selection process will exclude all who are exclusive. The selection process assures that only the loving will evolve to the stage of co-creator. (p. 303)

After the selection process, you will be born to the next stage of  evolution. There will be a New Heaven, a New Earth, a new body and a new consciousness for all who survive. (p. 261)

Your triumph over Satan, that is, over the illusion of separation, will be a victory for the universal community. (p. 193)

If you do not choose to have a new body to co-create with me, you will not have one. You may choose an impersonal future rather than the transpersonal future. The impersonal future is bodiless. You divest yourself of your personal memory and your DNA, and become an undifferentiated aspect of God.
(p. 196)

Cynics, disbelievers, those who fear and cannot love: know that the mercy of God almighty is with you now. The second death, for you, is a purification, an erasing of the memory of fear, through the shock of a fire. It will burn out the imprint upon your soul that is blocking you from seeing the glory which shall be revealed in you. (p. 267)

Those who are not sufficiently educated to align with the design, experience God's purification process as long as necessary, until they learn how to know God or the Intention of Creation experientially. They cannot return to the new Earth or the new Heaven, in a self-centered state. (p. 255)

Remember, Satan is either consumed by fire or by love. In the New Jerusalem, there is no illusion of separation. (p. 297)

The end is near. The old play is almost over. Suffice it to say, that if you do not choose to evolve into a wholesome, co-creative human, then you shall not. (p. 195)

The only punishment is your self-exclusion from the joy of new life. The only pity is that you are missing the mark and choosing to die unfulfilled.
(p. 195)

There need be no greater punishment. There need be no threats. There is only choice. That is the purpose of freedom. Only those who choose to evolve, do.
(p. 195)

The stakes are high, dearly beloved. Choose well.
(p. 290)
(This article is an excerpt from Warren B. Smith's book, False Christ Coming: Does Anybody Care?)
Endnotes:
1. Barbara Marx Hubbard, The Revelation: A Message of Hope for the New Millennium (Novato, CA: Nataraj Publishing, 1995), pp. 40–43; Hubbard, The Hunger of Eve: One Woman's Odyssey toward the Future (Eastsound, WA: Island Pacific NW, 1989), pp. 66–68.
2. Ibid., p. 42.
3. Ibid., p. 55.
4. Ibid., p. 59.
5. Ibid., p. 64.
6. Barbara Marx Hubbard, Conscious Evolution: Awakening the Power of Our Social Potential (Novato, CA: New World Library, 1998), p. 279.
7. Hubbard, The Hunger of Eve, p. 150.
8. Ibid., p. 196.
9. Hubbard, Conscious Evolution, op. cit. p. 116.
10. Hubbard, The Revelation, op. cit., pp. 67–69.
11. Ibid., p. 350.
12. Ibid., pp. 264–265.
13. Ibid., p. 298.
14. Ibid., p. 157.
15. Ibid., pp. 243–245.
16. Ibid., pp. 44 and 78–79.
17. Ibid., p. 258.
18. Ibid., pp. 240 and 267.
19. Ibid., p. 255.
Many people feared that the world would come to an end on December 21, 2012 because of Mayan calendar "prophecies." Many New Agers believed that the 21st would be significant in seeing a global wide spiritual epiphany. In the midst of all this, there is the issue of the return of Jesus Christ. What do New Spirituality " leaders have to say about the end-times and the return of Jesus Christ versus what does the Bible have to say? There is a vast difference in the two.  The Bible tells us that in the last days men will be scoff and scorn the idea of Jesus Christ returning. Former New Age follower, Warren B. Smith, had this to say:
Coming out of New Age teachings, I had learned in a very personal way that the details of Jesus' return are definitely our business. Understanding the events surrounding His return was critical to understanding how badly I had been deceived by my New Age teachings. I had learned from reading the Bible that there is a false Christ on the horizon and that for a number of years I had unknowingly been one of his followers. Because the Bible's clear authoritative teachings about the real Jesus and His true return had been brought to my attention, I was able to see how deceived I was. By understanding that there is a false Christ trying to counterfeit the true Christ's return, I was able to renounce the false Christ I had been following and commit my life to the true Jesus Christ. (from Deceived on Purpose, p. 147)
The Bible states: "But ye, brethren, are not in darkness, that that day should overtake you as a thief. Ye are all the children of light, and the children of the day: we are not of the night, nor of darkness. Therefore let us not sleep, as do others; but let us watch and be sober." (I Thessalonians 5:1-6) Of that verse, research analyst, Ray Yungen, states:
Paul is saying the end of the age will come upon the world like a thief in the night. In other words, it will actually sneak up on people. Then interestingly, the apostle contrasts two groups: "But ye, brethren [followers of Christ] are not in darkness [people of ignorance], that that day should overtake you as a thief. [unaware]" (v.4). Here, Paul is saying believers in Christ will have the information (Scripture) available to them to prepare for "that day."

Those who walk in the light can see both where they are going and what is coming up ahead. Paul then warns against spiritual slumber and drunkenness, which could lead to a person being overtaken by that day, unaware: "Therefore let us not sleep, as do others; but let us watch and be sober" (v. 6). The word sober means be alert or aware. If we are instructed to watch and be aware, there must be something to watch for—otherwise, Paul's admonition would be useless. (from A Time of Departing, pp. 111-112)
And now, let's look at the comparisons. First, the emergent progressives:
Mark Driscoll – The Rapture is Dumb: "One of the most astonishing things about Jesus is that as God he actually chose to come into our fallen, sick, twisted, unjust, evil, cruel, painful world and be with us to suffer like us and for us. Meanwhile, we spend most of our time trying to figure out how to avoid the pain and evil of this world while reading dumb books about the rapture just hoping to get out." (Vintage Jesus, p. 44).
Rick Warren – The details of Jesus' return are none of our business – "When the disciples wanted to talk about prophecy, Jesus quickly switched the conversation to evangelism. He wanted them to concentrate on their mission in the world. He said in essence, "The details of my return are none of your business. What is your business is the mission I have given you. Focus on that!" (PDL, p. 285)
Rick Warren – Don't think about Bible prophecy:  "Rick Warren tells readers to think about something other than Bible prophecy: 'If you want Jesus to come back sooner, focus on fulfilling your mission, not figuring out prophecy.' . . .   "Warren ends this section of his book by stating that Satan would have you 'sidetracked from your mission' and by quoting Jesus out of context, saying, 'Anyone who lets himself be distracted [by studying Bible prophecy] from the work I plan for him is not fit for the kingdom of God' (Living Bible). But Jesus was not referring to His return when He made that statement, which in the King James Version says: 'No man, having put his hand to the plough, and looking back, is fit for the kingdom of God' (Luke 9:62). The Purpose Driven kingdom of God leaves no room for Bible prophecy, and in fact, condemns those who study it."  (Roger Oakland quoting Rick Warren in Faith Undone (pp. 154-157) from The Purpose Driven Life (pp. 285-286).
Tony Campolo – End-time Christians cause of  world's woes: "Tony Campolo says that Christians who 'make a big thing of their claim that we are now living in the final stage of church history prior to the second coming of Christ' have been the cause of 'extremely detrimental' consequences. They 'discount the Sermon on the Mount,' they don't care about the needy, and they have had such a negative 'impact on geopolitics,' which Campolo says 'can lead only to war.' Basically, according to Campolo they are the reason the world is in such a mess, and they are holding back progress of a more emerging spirituality. (Faith Undone, p. 160, quoting Campolo, Speaking My Mind, pp. 209-217).
Brian McLaren – Don't take the Book of Revelation serious: "Since Jewish apocalyptic was a popular genre in Jesus' day, we would expect him to be influenced by it and use its language and metaphors.… against the backdrop of Jewish apocalyptic, we discover that phrases that sound like they're about the destruction of the world—like "the moon will turn to blood" or "the stars will fall from the sky"—are actually rather typical stock phrases in Jewish apocalyptic. They are no more to be taken literally than phrases we might read in the paper today."  (McLaren, The Secret Message of Jesus, pp. 177-178; for a more detailed account of McLaren's views on end time Bible prophecies, read chapter 9 of Faith Undone by Roger Oakland.)
Occultist Alice Bailey -No interest in Heaven or Hell: "It is time that the church woke up to its true mission, which is to materialize the kingdom of God on earth, today, here and now…. People are no longer interested in a possible heavenly state or a probable hell. They need to learn that the kingdom is here, and must express itself on earth … The way into that kingdom is the way that Christ trod. It involves the sacrifice of the personal self for the good of the world, and the service of humanity …(Alice Bailey, From Bethlehem to Calvary (http://web.archive.org/web/20070219003459/http://laluni.helloyou.ws/netnews/bk/bethlehem/beth1063.html), chapter 5.)
Robert Schuller – Don't let eschatology stifle you: Robert Schuller's advice to young church leaders would seem to apply to new apostolic Christians: "Don't let eschatology stifle your long-term thinking." ( Robert Schuller, interview with Leadership Journal, April 1, 1997, http://www.ctlibrary.com/le/1997/spring/7l2114.html.
C. P. Wagner – "Shifting from escapist eschatology to victorious eschatology. This most recent paradigm shift was a long time coming. . . . The idea was that the world would get worse and worse and at just the right time, we would be raptured out and the Antichrist would take over. I didn't think I really believed that, but I simply put the issue on the back burner for decades. However, when I started understanding the Dominion Mandate, it became clear that I needed a better view of the end times. The light came on when I read Harold Eberle and Martin Trench's Victorious Eschatology, and their partial preterist view is what I now believe." (C. P. Wagner, Wrestling With Alligators, Prophets, and Theologians, 2012 e-book edition,  kindle location 4865)
Wagner, C. Peter (2011-09-01). Wrestling with Alligators, Prophets, and Theologians: Lessons from a Lifetime in the Church- A Memoir (Kindle Locations 4865-4871). Baker Publishing Group. Kindle Edition.
Barbara Marx Hubbard – Brink of destruction or humanity participating in evolution to godliness: "Here we are, now poised either on the brink of destruction greater than the world has ever seen —a destruction which will cripple planet Earth forever and release only the few to go on—or on the threshold of global co-creation wherein each person on Earth will be attracted to participate in his or her own evolution to godliness." (Hubbard, The Revelation, p. 134, as quoted from Faith Undone.)
AND NOW, WHAT DOES THE BIBLE SAY:
"Prophecies of the second coming of Messiah."
by Tony Pearce
(author of The Messiah Factor)
A time of unparalleled trouble to precede the Day of the Lord:
At that time Michael shall stand up, the great prince who stands watch over the sons of your people; and there shall be a time of trouble, such as never was since there was a nation even to that time. Daniel 12.1
New Testament parallel:
For then there will be great tribulation such as has never been since the beginning of the world until this time, no nor ever shall be.  Matthew 24.21
Focal point of this time of trouble to be Jerusalem:
And it shall happen in that day that I will make Jerusalem a very heavy stone for all peoples; all who would heave it away will surely be cut in pieces though all nations of the earth are gathered against it. Zechariah 12.3
New Testament parallel:
But when you see Jerusalem surrounded by armies then know that its desolation is near. … Jerusalem will be trodden down of the Gentiles until the times of the Gentiles are fulfilled. Luke 21.20-24
All nations to be gathered for the final battle:
Assemble and come all you nations, and gather together all around. Cause your mighty ones to come down there, O Lord. Let the nations be wakened and come up to the valley of Jehoshaphat (Hebrew word means 'The Lord judges'). Joel 3.11-16
New Testament parallel:
For they are spirits of demons, performing signs, which go out to the kings of the earth and of the whole world, to gather them to battle of that great day of God Almighty. … And they gathered them together in the place called in Hebrew Armageddon. Revelation 16.14-16
Messiah to come in the clouds of heaven:
I was watching in the night visions, and behold one like the Son of Man coming with the clouds of heaven! Daniel 7.13
New Testament parallel:
Then the sign of the Son of Man will appear in heaven, and the tribes of the earth will mourn, and they will see the Son of Man coming in the clouds of heaven with power and great glory. Matthew 24.30
Messiah to be visible as one who has been pierced:
And I will pour on the inhabitants of Jerusalem the spirit of grace and supplication; then they will look on me whom they pierced and mourn for Him as one mourns for His only son and grieve for Him as one grieves for a first born. Zechariah 12.10
New Testament parallel:
Behold He is coming with the clouds and every eye will see Him, even they who pierced Him. And all the tribes of the earth will mourn because of Him. Revelation 1.7
Messiah to come to the Mount of Olives:
Then the Lord will go forth and fight against those nations as He fights in the day of battle. And His feet will stand on the Mount of Olives which faces Jerusalem on the east. Zechariah 14.2-3
New Testament parallel:
"Men of Galilee why do you stand gazing up into heaven? This same Jesus who was taken up from you into heaven will so come in like manner as you saw Him go into heaven." Then they returned to Jerusalem from the Mount called Olivet. Acts 1.11-12
Messiah to come with the saints:
Thus the Lord my God will come and all the saints with you. Zechariah 14.5
New Testament parallel:
Behold the Lord comes with ten thousands of His saints. Jude 14. ('Saints' in the Bible means all who truly believe in the Lord).
The wicked to flee from the coming of the Lord:
In that day a man will cast away his idols … to go into the clefts of the rocks and into the crags of the rugged rocks from the terror of the Lord and the glory of His majesty, when He arises to shake the earth mightily. Isaiah 2.20-21
New Testament parallel:
And the kings of the earth, the great men, the rich men, the commanders, the mighty men, every slave and every free man hid themselves in the caves and in the rocks of the mountains and said to the mountains and rocks, "Fall on us and hide us from the face of Him who sits on the throne and from the wrath of the Lamb." Revelation 6.15-6
The Lord to establish righteousness and peace on the earth. Satan to be unable to deceive the nations:
'Now it shall come to pass in the latter days that the mountain of the Lord's house shall be established on the top of the mountains, and shall be exalted above the hills; and all nations shall flow to it. Many people shall come and say, "Come, and let us go up to the mountain of the Lord, to the house of the God of Jacob; He will teach us His ways, and we shall walk in His paths." For out of Zion shall go forth the law, and the word of the Lord from Jerusalem. He shall judge between the nations, and rebuke many people. They shall beat their swords into ploughshares, and their spears into pruning hooks. Nation shall not lift up sword against nation, neither shall they learn war anymore (Isaiah 2.2-4).'
New Testament parallel:
Then I saw an angel coming down from heaven, having the key of the bottomless pit and a great chain in his hand. He laid hold of the dragon, that serpent of old, who is the Devil and Satan, and bound him for a thousand years … so that he should deceive the nations no more … Blessed and holy is he who has part in the first resurrection. Over such the second death has no power, but they shall be priests of God and of Messiah and shall reign with Him a thousand years. Revelation 20.1-6 (extracts)
Following the Millennial reign of Messiah on earth, God to create new heavens and a new earth:
For as the new heavens and the new earth which I will make shall remain before me,' says the Lord so shall your descendants and your name remain. Isaiah 66.22
New Testament parallel:
Now I saw a new heaven and a new earth for the first heaven and the first earth had passed away. … And I heard a voice from heaven saying, "Behold the tabernacle of God is with men, and He will dwell with them, and they will be His people. God Himself will be with them and be their God." Revelation 21.1-4 (extracts).
(Taken from the Appendix of The Messiah Factor by Tony Pearce, used with permission.)