Posts Tagged 'Gary Thomas'
To Lighthouse Trails:
I have been studying Bill Mounce's "Basics of Biblical Greek" textbook. It is an excellent course of study, but Mr. Mounce puts a plug for his website biblicaltraining.org. Though they are a Calvinist-based ministry, there are some good apologetic things and history things that I've looked at. I was shocked though when in their Foundations area (designed for new or young Christians) they have an entire course on Spiritual Formation. I thought it might just be a bad choice of words so I checked the syllabus. It turns out the instructor quotes Richard Foster, Dallas Willard, and references the "Nine Sacred Pathways." I have e-mailed Bill Mounce twice to see if he is aware of it (because he is the head of it, I believe) and have yet to receive a response. I included some links to Lighthouse Trails articles on Richard Foster and Spiritual Formation. Pending Mr. Mounce's response, is there any way you could see if Lighthouse Trails could add the BiblicalTraining.org website to its list of schools that teach contemplative practices and spiritual formation? It concerns me because of the influence that Mr. Mounce has. He was on the NIV committee and the ESV committee, and I believe his Greek grammar is one of the most used in the country in seminaries. The website does not have an e-mail that I've found to reach the teacher who is teaching it directly. His name is Gary Thomas. He apparently wrote a book called, Sacred Pathways: Discover your soul's path to God. I honestly can't tell if he really understands what the terms "spiritual formation," "spiritual disciplines," and so forth really mean. In Lecture 8: Spiritual Formation: Three Pathways to Grow Part 2, time marker 32:41, he makes a plug for Richard Foster's Celebration of Discipline, and Dallas Willard's book also, and also a Donald Whitney (who I'm not familiar with).
J.L.
Editor's Comments:
Dear J.L.
Thank you for your e-mail. It seems that we do need to add the school to our list of schools that promote contemplative prayer, ie.,spiritual formation. We are very familiar with Gary Thomas and had correspondence with him several years ago. He very much understands the term spiritual formation, and he is a strong advocate of contemplative prayer. We would say that the school is in big trouble. We would like to post your e-mail to give a heads up to our readers, but we will refrain until you give us permission. We don't want to hurt any of your efforts. But from our experience, it is most likely Bill Mounce is fully aware of what is going on there at that school.
(Lighthouse Trails did receive permission to post this e-mail; we have also added Biblical Training to our list of Christian colleges and seminaries that promote/teach Spiritual Formation (i.e., contemplative spirituality.)
Related Articles:
Why Focus on the Family Should Not Promote and Sell Gary Thomas' Books
A Vital Question: Is There a "Good" Spiritual Formation?
The Bible says we live in a "crooked and perverse" world and that as believers we are to "shine as lights in the world" (Philippians 2:15). The closer we move toward the "end of the age" (Matthew 24), the darker and more perverse the world becomes. Global peace plans, inter-faith movements, emergent spiritualities, and other carnal-induced plots will not help the world's woes. Jesus said, "I am come a light into the world, that whosoever believeth on me should not abide in darkness." (John 12:46). As the world moves further away from Jesus Christ, the darkness only grows. A person can never escape that darkness without Jesus Christ living in him or her … all these other attempts are futile.
The New Age movement has now permeated all areas of our society: the business world, healthcare, education, religion, and entertainment. Virtually nothing has been untouched by the tentacles of this occultic, meditation-driven spirituality, and it has entered the Christian church through contemplative prayer (i.e., spiritual formation). But there is another area that mysticism has united with … and that is the sexual realm. The marriage of the two is referred to as tantra (or tantric sex), and before you stop reading this article, thinking "What has sex got to do with exposing contemplative and the New Age?" we must tell you will all soberness, this mystical sexuality is growing faster by the day, and it may ultimately affect the lives of countless Christians. Why? Because Christianity at large is going in a mystical direction, thanks to countless Christian leaders and authors, and within the realms of these mystical states, many will be introduced to tantra.
We decided to write this article on tantra after a Christian woman contacted us and told us (after seeing tantra mentioned in a description of For Many Shall Come in My Name) that her Christian husband (who is in leadership in a large Christian movement) was being enticed with tantric sex.
Ray Yungen explains about tantra and its relevance today:
Tantra is the name of the ancient Hindu sacred texts that contain certain rituals and secrets. Some deal with taking the energies brought forth in meditation through the chakras and combining them with love-making to enhance sexual experiences.

Once completely off-limits to the masses of humanity, tantra, like all other New Age methodologies, is now starting to gain increasing popularity. A google search on the Internet shows 6,600,000 entries for the word tantra! This union of sexuality and Eastern spirituality is a perfect example to illustrate just how much the New Age has permeated our society as it has affected even the most intimate areas of people's lives.

The potential to impact a very great number of people, especially men, was brought out in an article by a sex worker who incorporates "Tantric Bodywork" into her services. She paints a very sad portrait of the dynamics of the "enormous sex industry" in which millions of stressed and unhappy men seek out "erotic release" from women who are just as unhappy and stressed as their clients. She observes that there is a "culturally rampant phenomenon that spouses are disconnected from each other."

To remedy this tragic interplay of exploitation, she has turned to Tantric Union to give her clients what she feels is not just sex but "union with the divine." After she read a book called Women of the Light: The New Sacred Prostitute, she turned her erotic business
into a "temple." Of this temple, she says it is:

…dedicated to being a haven of the sacred, a home for the embodiment of spirit, filled with altars, sacred objects, plants, art, dreamy sensual music, blissful scents. My space is home to Quan Yin [a Buddhist goddess], crystals blessed by the Entities of John of God [a Brazilian spirit channeler].

Now the "multitudes of men" who come to her get much more than they bargained for. In the past, wives and girlfriends needed only to worry about sexually transmitted diseases from cheating husbands and boyfriends, but now their men may instead bring home spiritual entities!

Most readers might think that tantra is something exceedingly obscure that would never attract average people. But the movie industry thinks otherwise. In a 2003 movie, Hollywood Homicide (starring Harrison Ford, one of the industry's leading men), viewers were presented with a brief snippet of tantric sex in one scene where fellow police officers opened the locker of Ford's rookie detective partner and out falls a book (which the camera focuses on) about tantra, revealing the side-kick's spiritual/sexual affinities (incidentally, he also teaches yoga in the film). (For Many Shall Come in My Name, 2nd ed., pp. 115-116)
If Christians begin to incorporate their contemplative proclivities with their sexual lives (a Christian version of tantric sex), the results will be devastating to the church, and we predict sexual perversion will be more rampant than ever. Why? Because if the altered states of consciousness are truly demonic realms (as we believe they are) then tantric sex is another venue of the hidden darkness that Jesus spoke of.
These assertions may sound absurd and far-fetched to some readers, but evidence of the truth of this does exist. For instance, Henri Nouwen (who along with Thomas Merton is one of the top icons of the contemplative prayer movement), in his last book The Sabbatical Journey, favorably revealed how he listened to audio tapes on the seven chakras which is the basis for tantric sex (p. 20). Also in Nouwen's book, he makes mention of his encounter with a homosexual mystic named Andrew Harvey, whom Nouwen referred to as his soul friend (spiritual mentor) and how much Harvey's mysticism had touched him (p. 149). And yet Harvey's mysticism includes the tantric element. In a 2007 conference (The International Conference on Sacred Sexuality), Harvey led a workshop called "Sexual Liberation, Tantra, and Sacred Activism" in which Harvey:
… show[s] that sexual liberation and Tantra are vital parts of the Divine Mother's plan for the birth of a new humanity, since they make possible a profound and ecstatic contact with what Andrew calls Divine Eros – a tender passionate dynamic love-connection. True Tantric sexuality gives its' practitioners access to extraordinary and unified energies which will form the base of a commitment to Sacred Activism.
Most Christians would have a hard time believing that tantric sex could enter the church. But it's "closer to home" than most think. One of the most popular evangelical authors is promoting an author who wrote a book on tantric sex. Gary Thomas is a contemplative advocate. In his book, Sacred Pathways, Gary Thomas instructs readers:
It is particularly difficult to describe this type of prayer in writing, as it is best taught in person. In general however, centering prayer works like this: Choose a word (Jesus or Father, for example) as a focus for contemplative prayer. Repeat the word silently in your mind for a set amount of time (say, twenty minutes) until your heart seems to be repeating the word by itself, just as naturally and involuntarily as breathing. (p. 185)
In Thomas' book Sacred Marriage, Thomas introduces readers to a woman named Mary Anne McPherson Oliver and to her book Conjugal Spirituality. Thomas favorably references or quotes Oliver several times throughout Sacred Marriage. Who is Mary Anne McPherson Oliver and why should Christians be concerned about Gary Thomas' promotion of this woman's book, Conjugal Spirituality?
On the back of Oliver's book, it states that "[r]eligious practice as we know it today remains, in effect, 'celibate.' Mary Anne Oliver proposes an alternative … she examines the spiritual dynamics of long-term relationship."
You may be wondering, "What does that all mean?" To put it simply, Oliver believes that sexuality and spirituality go together and that couples are missing out because they have not incorporated the two but rather have practiced what she calls a celibate spirituality. But she is not just talking about spirituality – she is talking about mystical spirituality!
Oliver received her doctorate in mystical theology at the Graduate Theological Union in Berkeley, California, and her book permeates with her mystical persuasions. She describes her "discomfort" regarding present views on sexuality and religion and says she hunted for answers by talking to monks, going on retreats and even spending an entire ("liturgical") year at Taize, an ecumenical, meditation-promoting community in France. Eventually, she came to identify what she termed "conjugal spirituality" (p. 1).
Oliver says that "negative attitudes" and "walls" toward sex have inhibited people and says: "Although the walls are coming down, the separation of sex and spirituality which has been operative since the 4th century has yet to be completely eliminated" (p. 16).
What exactly is Oliver proposing couples do to remove these "walls"? Very clearly, her message to couples is to turn to mysticism. In dismay, she says that "spiritual counsellors and writers" have not begun to teach the "Upanishads [Hindu scriptures] and Tantric writings as the basis for moral theology for couples" and that "[s]ome still refuse to grant that mystical experience can be associated with erotic love" (p. 18). Oliver says that changes in mainstream theology have prepared the way for "the emergence of conjugal spirituality." She adds: "An upsurge of interest in the spiritual life and a renaissance in mystical studies have widened the domain of spirituality" (p. 27).
This mysticism that Oliver encourages is experienced through "bodily exercises" that the couple practice together, "creating one's spiritual space." Listen to some of her instructions in what she describes as "intercourse on all levels of consciousness":
1. "Center 'that whole human reality which some people are beginning to call bodymind'" (p.85).
2. "Two basic movements in which each can contact the core energy of the other and experience the enlarging of the oval inhabited by the divine presence" (p. 91).
3. Yin and Yang movements
4. "Concentrate in the stillness and silence" (p. 93).
5. "Center yourselves."
6. "Meditate using the five senses. Experience the circuit of energy circling slowly through the joined bodies" (p. 93).
7. "Focus a few minutes on the breath as a sign of the Spirit's activity within yourself" (p.102).
8. "Repeat name or "I love you" as a mantra" (p. 102).
In Conjugal Spirituality, Oliver talks favorably about mystic Teilhard de Chardin's Omega Point and the "Indian Tantric Yoga tradition … spoken of as kundalini potential energy" (p. 97). She describes public sexual ceremonies in which couples practice "Taoist visualizations and meditations, accompanied by breathing exercises" and talks of "[i]nvoking the gods and goddesses." Oliver says that society may frown on such public displays of sexual mysticism at this time and couples may have to improvise until restrictions are lifted. She says that "sexual union celebrated [is] an eschatological sign of God's kingdom where all will be one" (p. 101).
When Gary Thomas read Oliver's book, he must have resonated with it. Otherwise he would not have referred to or quoted from it so many times (over a dozen times) in Sacred Marriage. This is not guilt by association, but rather guilt by promotion. Sacred Marriage has sold over 500,000 copies according to Gary Thomas' website. This means that countless readers have been introduced to a tantric sex advocate!  This is a primary example of how tantric sex is coming into the church.
As believers who are to "shine as lights in the world," we must flee the deeds of darkness and "become blameless and harmless, children of God without fault in the midst of a crooked and perverse generation." We cannot do this in our own strength, but Jesus Christ living inside us will enable us through His mercy and grace: "For it is God who works in you both to will and to do for His good pleasure" (Philippians 2:13). (this article originally from our 2007 newsletter archive)
Further information on this topic:
Hindus critical & dismayed of "Hollywood types" describing Tantra as just sex
Trinity Western University Professor Promotes Tantric-like Spirituality – Serious Implications for Christianity
A Pastor Speaks Up: Mark Driscoll and the New "Sexual Spirituality"
LTRP Note: This is perhaps one of the most significant letters we have ever received, not just because it exposes more of Focus on the Family's contemplative propensities, but because it  shows the results (i.e., the "fruit") of practicing contemplative prayer. This "fruit" is precisely why Lighthouse Trails has been crying out a warning for nearly 13 years.
We are grateful to this reader for sending us this letter describing his experience as a contemplative practitioner. We are thankful to the Lord for opening his eyes to the great deception he was in.
As for Focus on the Family, it has been promoting contemplative spirituality for several years (see below this letter for article links). Parents and grandparents, if your children and grandchildren are listening to the Focus on the Family drama CDs, including Adventures in Odyssey, they are being exposed to a dangerous spiritual view. We can't emphasize that enough. As you read the following letter, realize that what happened to our reader because of his involvement in the "spiritual disciplines" of contemplative spirituality (i.e., Spiritual Formation), is happening to thousands and thousands of Christians today (a number that will eventually hit the millions, changing the entire face of Christianity as researcher Ray Yungen has so often said).

Dear Lighthouse Trails:
Recently, I was given the Father Gilbert Mysteries CD set (by Focus on the Family) from a friend to borrow. The following is a followup letter I sent to my friend regarding these CDs. I thought this letter might be useful to you and anyone else who might not be aware of the contemplative connections to this mystery series.
Hi XXXXXXXXX (names withheld for privacy),

Thanks for lending me the Father Gilbert Mysteries CDs. I listened to the first CD on the way home from your house. I found the story to be gripping, and it definitely held my interest. What especially caught my attention though, was what was said in the intro. to the second CD. In it, the narrator stated that Father Gilbert [an Anglican priest] had joined a monastery. While there, he studied "the classic spiritual disciplines of prayer and meditation." At this point, I had to stop listening to the CD.

As you probably know, I was, for the first 25 years of my Christian life, deeply involved in the spiritual discipline of contemplative prayer that promised to help me become more "Christlike." According to one web site, "Christian contemplative prayer or contemplation, which was practiced by innumerable monks and nuns (and now laypeople) from the times of the Desert Fathers to the present, goes deep within the heart to meet God, ever-present within, though without thoughts, words, or images, because he is beyond them."

For me, this basically involved stilling my mind throughout the day and focusing on my moment by moment connection with Christ. Toward the last part of this period in my life, I even had a little hand counter, which I kept with me and which I would keep track of each time, through out the day, when I focused on God. This led me into times of deeper meditation where my mind would become increasingly still and quiet, to the point where my thoughts seemed to be vacuumed out of my mind, leaving me in a kind of raptured stillness.

During these experiences, I had what I believed at the time to be an actual physical sensation of God's Presence. It was like I didn't need to focus so much on the Bible anymore to know God because I was actually experiencing Him directly in these moments of contemplation. And in this experience, I felt God as a force or power that was flowing through all things.

It was then that I noticed a subtle change was beginning to take place in my concept of God. I began to feel deeply that God's Presence was everywhere and in everything. And if God was in everything and as a result, in everyone, then the important thing was not what a person thought about God or believed about Him, but rather that they stilled their thoughts so they too could experience Him in the present moment, beyond thoughts. This began to trouble me though, because I began to realize that this was what I had once believed as a follower and practicer of New Age Eastern beliefs prior to becoming a Christian.

This led me to do some research online. There, I found that this new way of perceiving God which I was developing through my "spiritual discipline" actually had a name. It was called, panentheism—that God is in all things and all things are in God. I also found that this concept does not appear to line up with God's Word… "But ye are not in the flesh, but in the Spirit, if so be that the Spirit of God dwell in you. Now if any man have not the Spirit of Christ, he is none of His." Romans 8:9.

Needless to say, about five years ago, I discontinued this spiritual practice and began to rest in the finished work of Christ which He accomplished at the Cross (Hebrews 10:10). I can't begin to tell you how incredibly freeing and restful it has become to be able to say, with Paul, "I am crucified with Christ, nevertheless I live. Yet not I, but Christ lives in me." Gal. 2:20. And "But if the Spirit of Him that raised up Jesus from the dead dwell in you, He that raised up Christ from the dead shall also quicken your mortal bodies by His Spirit that dwelleth in you." Romans 8:11
Paul (not real name)
Related Articles (most recent ones at top, older ones dating back to 2007 at bottom):
Letter From Focus on the Family Confirms Past Reports – They DO Promote Contemplative Spirituality
Focus on the Family Gives Bono a Platform – Another Example Where 2 +2 Don't Add Up
Letter to the Editor: Saddened and Alarmed at Focus on the Family's Promoting Contemplative Spirituality
Focus on the Family's Adventures of Odyssey Has "Eugene" Going to a Monastery – Moody Radio Broadcasts Program
Letter from Focus on the Family: Takes Lighthouse Trails with a "healthy dose of salt" & defends contemplative Gary Thomas
Will Focus on the Family and The Truth Project Warn About "Unio Mystica," "Oneness," and Contemplative Prayer?
List of 50 Top Contemplative-Promoting Organizations Adds 8 Runner Ups
Focus on the Family: Helping to Bring About a Generation of Parent Mystics?
James Dobson Rightly Defends the Unborn, Challenges Obama – But Focus on the Family Still Defends Contemplative – "Please, Dr. Dobson, read this."
Serious Concerns for Focus on the Family Marriage Conference
Why Focus on the Family Should Not Promote and Sell Gary Thomas' Books
Focus on the Family's Adventures in Odyssey – Promoting Contemplative?
Focus on the Family Once Again Says OK to Contemplative Prayer
On October 14, 2014, Mark Driscoll, the senior pastor of Mars Hill Church in Seattle, Washington for the past 18 years, formally resigned from his position after numerous accusations came against him from former members and others. As is the case with most mega-church pastors these days when they do just about anything different than usual, Driscoll's resignation received widespread attention from both Christian and secular news media. Unsurprisingly, none of these news stories are talking about Driscoll's unbiblical and faulty doctrinal beliefs but are rather reporting primarily on his moral and social failures, minimizing these failures and emphasizing his apologies.
According to one media source:
Controversial Seattle megachurch founder Mark Driscoll has resigned from Mars Hill Church, stating that he does not wish to continue to be a distraction to the ministry although a six-week review of charges lodged by others within the church cleared him of moral wrongdoing.1
Charges include plagiarism, misuse of church funds, authority abuse against other members, "creating a climate of fear,"2 derogatory remarks made in the past about women, and rude, angry, and unkind behavior toward others who were in submission to him. Driscoll had temporarily stepped down in August for a six-week period while an investigation by Mars Hill board members took place. These events led to his resignation where Driscoll apologized for his past sins.
According to the Christian Post:
Driscoll made headlines earlier this week when he publicly released his resignation letter from Mars Hill, a church he founded in Seattle, Washington, in 1996 and has served as lead pastor since then.

His decision comes shortly after a letter from some Mars Hill Church elders was issued asking Driscoll to step down from leadership. These elders were later fired. . . .

Driscoll grew a small Bible study to a 13,000-member campus with 15 other locations in five states. Mars Hill was recognized as the third fastest growing and 28th largest church in the country by Outreach magazine in 2012.3
CNN stated:
In a statement, Mars Hills' board of overseers said Driscoll hadn't committed any acts of "immorality, illegality or heresy" — sins that have felled many a powerful pastor.4
Religious News Service's report stated:
Driscoll, who came into evangelical prominence as multisite churches and podcasts rose in popularity, found a niche within a largely secular Northwest culture. Though he has been controversial for years for statements on women and sexuality, several tipping points likely led up to Driscoll's resignation.5
In addition to the reports above, other media outlets that reported on Driscoll's resignation include: Huffington Post, Washington Post, Christianity Today, Fox News, ABC News, New York Observer, and numerous television stations.
Doctrinal Deficiencies Ignored
But in all of these reports, not one that we are aware of has addressed Driscoll's serious doctrinal deficiencies. What the media, both Christian and secular, has failed to report is that Driscoll has many beliefs and affinities that are contrary to the Word of God. However, neither Christian leaders nor Christian media seem the least bit concerned about that.
To begin with, one of the most serious doctrinal deficiencies is that Mark Driscoll is a proponent of contemplative spirituality and has been for many years. For example, in an article written by Driscoll, ironically titled "Obedience," Driscoll tells readers to turn to contemplative advocates Richard Foster and Gary Thomas. Driscoll states: "If you would like to study the spiritual disciplines in greater detail … helpful are Celebration of Discipline, by Richard Foster, and Sacred Pathways, by Gary Thomas." But these two books that Driscoll has recommended are two of the most damaging books within Christianity today!  In Celebration of Discipline, Foster says that everyone "should enroll in the school of contemplative prayer (p. 13, 1978 ed.), and in Sacred Pathways, Thomas tells readers to repeat a sacred word for 20 minutes in order to hear God. Another article written by Mark Driscoll on the Mars Hill Resurgence site is titled "Spiritual Disciplines: Worship." For those who do not understand the underlying nature of contemplative prayer (and the spiritual disciplines), read this article, "5 Things You Should Know About Contemplative Prayer." The roots behind the contemplative prayer movement are panentheism (God in all) and interspirituality (all paths lead to God).
In addition to Driscoll's contemplative leanings, Driscoll publicly mocks and derides Christians who believe in the biblical account of the end times, who homeschool, who believe in a rapture, and who talk about an antichrist coming on the scene one day.

Mark Driscoll's 2008 book, Vintage Jesus, has some noteworthy quotes that further illustrate Driscoll's faulty beliefs. When that book came out, we contacted the late Chuck Smith (founder of Calvary Chapel) and warned him about Driscoll's book because some Calvary Chapel pastors were trying to bring Driscoll's teachings into the Calvary Chapel movement (which has been successfully done in some CC churches).
Calls Christians Little Christs –  (page 120):
"To be a Christian is to be a 'little Christ.'"—Mark Driscoll
Mocks Homeschooling and Armageddon: –  (page 157):
"Unlike today where Christians have largely fled the cities in favor of homeschooling about the rapture amidst large stacks of canned goods readied for a hunkering down at the unleashing of Armageddon, Christianity has historically been an urban religion. A reading of the history book of early Christianity, Acts, reveals that Christianity began as an urban movement led by Paul, whose itinerant church planting ministry was almost exclusively urban as he moved from city to city and bypassed the rural areas."—Mark Driscoll
The Rapture is Dumb –  (page 44):
"One of the most astonishing things about Jesus is that as God he actually chose to come into our fallen, sick, twisted, unjust, evil, cruel, painful world and be with us to suffer like us and for us. Meanwhile, we spend most of our time trying to figure out how to avoid the pain and evil of this world while reading dumb books about the rapture just hoping to get out."—Mark Driscoll
(LT Note: In Vintage Jesus, Driscoll favorably quotes Walter Wink, whom Driscoll refers to as "insightful." But Wink was a liberal theologian who would fall in the emergent camp because of his anti-biblical beliefs. For instance, in Wink's 1998 book The Powers That Be, Wink denies a "violent" atonement, which is the emerging way of saying that he rejects the idea that God, the Father would send His Son to a violent death as a substitute for the sins of man. This is the exact same thing that Brian McLaren, Harry Fosdick, and other atonement deniers have said, and Wink is in this same category (see our article "A Slaughterhouse Religion.)" We are not saying that Driscoll is denying the atonement, but his favorable reference to an atonement denier shows a serious lack of discernment, at best.)
In addition, Driscoll has promoted what we term "the new sexuality." Please refer to our 2009 article "A Pastor Speaks Up: Mark Driscoll and the New 'Sexual Spirituality'"and this Baptist Press article titled "Driscoll's vulgarity draws media attention."  Radio host Ingrid Schleuter (formally of VCY America) documents Driscoll's "new sexuality" in her article "Sexpert Pastor Mark Driscoll is Told, 'Enough is Enough.'"
The "fruit" of Mark Driscoll's teaching can also be seen in one of Mars Hills' congregants, a young author named Jeff Bethke, who shares Driscoll's sentiment regarding Christians who believe the Bible about the last days.
Bethke echoes Driscoll's distain in his book Jesus > Religion: Why He Is So Much Better Than Trying Harder, Doing More, and Being Good Enough (Thomas Nelson, 2013) in a chapter titled "Religion Points to a Dim Future/Jesus Points to a Bright Future."  Bethke puts down the kind of believers who see a dismal future for earth (according to Scripture) and says things like:
"God actually cares about the earth, but we seem to think it's going to burn. God actually cares about creating good art, but we seem to think it's reserved for salvation messages." (Kindle Locations 2107-2109, Thomas Nelson).
And just to prove that when Bethke says "religion," he means biblical Christianity, what other religion is there that "points to a dim future" for planet earth and its inhabitants? Biblical Christianity is the only one that says that the world is heading for judgement because of man's rebellion against God and because of God's plan to destroy the devil and his minions. Jesus does point to a "bright future," but the Bible is very clear that this will not come before He returns; rather He promises a blessed eternal life to "whosoever" believeth on Him. The Jesus Christ of the Bible did not promise a bright future for those who reject Him (and even says that the road to destruction is broad – Matthew 7:13); in fact, Scripture says Jesus Himself was a man of sorrows rejected and despised (Isaiah 53:3). He knew what awaited Him, and He knew what was in the heart of man. But across the board, emergents reject such a message of doom and teach that the kingdom of God will be established as humanity realizes its oneness and its divinity (this realization will be accomplished through practicing meditation—enter contemplative prayer in the Christian church to help bring about a great falling away).
While Mark Driscoll has resigned because of social and moral failures, there is absolute silence coming from Christian leaders, Christian media, and secular media on the real heart of Driscoll's problems—his beliefs. Perhaps nothing illustrates the  nature of Driscoll's beliefs more than his recent comments about the 2014 Hollywood movie, Noah. A Lighthouse Trails article titled "Mark Driscoll's Distorted View on Noah and Salvation . . . (And How Some People Have a Very Strange Idea as to the Meaning of God's Salvation)," shows Driscoll's very distorted view of salvation (the Gospel). In Driscoll's so-called defense of the biblical account of Noah, he says that the Noah account was an example of God's grace and that it had nothing to do with Noah's righteousness or even Noah's faith in God. And in fact, in a sermon by Mark Driscoll (see video clip below), he says that Noah was "bad all of the time." This is a commonly believed and twisted view of God and salvation that says God loves and chooses some and hates and rejects others based on nothing more than God's own personal whim rather than on one's  faith or trust in God ("without faith it is impossible to please [God]"—Hebrews 11:6). Could it be that Driscoll's view of salvation and of a God who does not love all of mankind is at least in part the reason for his social and moral failures (e.g., anger, abuse, ridicule, and mockery)? In actuality, the story of Noah is about God saving the one man on the earth who had faith in God.
Noah was a just man and perfect in his generations, and Noah walked with God. (Genesis 6:9)

Thus did Noah; according to all that God commanded him, so did he. (Genesis 6:22)

And the Lord said unto Noah, Come thou and all thy house into the ark; for thee have I seen righteous before me in this generation. (Genesis 7:1)

By faith Noah, being warned of God of things not seen as yet, moved with fear, prepared an ark to the saving of his house; by the which he condemned the world, and became heir of the righteousness which is by faith. (Hebrews 11:7)
You can click here to read a short piece by Dr. Harry Ironside on Noah that will help dispel the confusion that Mark Driscoll has brought.
The accusations of plagiarism, misuse of church funds to manipulate one of his books to get on the New York Times best-seller list, authority abuse, and crude and demeaning talk about women certainly is enough reason for Driscoll to resign from the pulpit; however his beliefs and "doctrines" are being completely ignored, and it is our guess that in time (and probably not too much of it) Driscoll will resurface with a new ministry or a "restoration" to his old ministry, and this contemplative, emerging pastor will not have changed at all in the areas most important. He has publicly apologized for getting angry and being mean to people, and that's all people seem to care about. And why not? Many of today's Christian leaders share Driscoll's contemplative, emerging propensities. They'll be the last ones to speak up.
In short, the saddest thing of all is the lack of discernment and integrity of the church at large to stem the tide of apostasy that has already flooded our midst.
Save
Hi Lighthouse Trails!
Thank you so much for your ministry! My family has been learning about apostasy for a little while now, and we stumbled across your website recently. . . We read your article about VOM and Michael Wurmbrand and were deeply saddened by it.  We have supported VOM for many years so it made us do even more research on it.  I e-mailed Michael, and he responded very kindly; and my family has decided not to support VOM anymore.  Thank you for the information that you have provided.
I have a question about Compassion International now.  I am truly concerned that Compassion lists Doug Pagitt as one of their speakers.  I also read about an upcoming event in which some Compassion Advocacy Coaches will be able to learn how to do contemplative prayer at a retreat  in Nebraska.  You can read about it here:
http://gravitycenter.com/event/compassion-international-contemplative-retreat-in-schuyler-nebraska/
I sponsor a child from  _________, and I received a letter today from their Child Development Center and they mentioned that the teenage students study themes that require "a deeper reflection, self-discipline and formation…" (underline mine).  I have learned enough lately to know that spiritual formation is another term for contemplative prayer.  I was not sure if that is exactly what they meant by formation, but I definitely want to know.  I called Compassion today and the person did not really answer my question very well, I don't think they really knew what contemplative prayer was.  I want to continue supporting my child since I truly care for him, but I do not want to support a ministry that will teach him New Age spirituality!!!!!!  I was wondering if you could give me more information on Compassion, and what should I do about sponsoring my child?
My family is having trouble finding ministries to support since we stopped supporting Samaritan's Purse, VOM, and others due to their teachings.  We are looking for similar ministries to support.  We love Ray Comfort and Living Waters; we also love Ken Ham and AIG.  Do you have a list of similar ministries to VOM/Samaritan's Purse that we could support?  Michael Wurmbrand told us about a ministry he started in the 70s called Help for Refugees that we are thinking about supporting.
Thanks again for your ministry and all that you do!
R.
LTRP Comment:
While Lighthouse Trails does not make recommendations for churches and organizations (largely because we do not have the manpower to follow up on such recommendations to confirm whether a particular church or organization is still biblically based), we do bring warnings to the body of Christ about groups that have strayed from a biblical viewpoint and become ecumenical, contemplative, emerging, and a part of the liberal social justice movement. Tragically, most of the larger, more known organizations have already taken this spiritual plunge. While we realize that these organizations do help with the physical needs of many around the world, they have come to misrepresent true Christianity and have set aside the Gospel (all together in some cases) in exchange for a powerless substitute. So while they are conduits for helping with poverty, they have become neglectful in the most important thing any human being needs – rich or poor – and that is to have the chance to hear the Gospel of Jesus Christ and be given the opportunity to receive Jesus as Lord and Savior. And as long as Bible-believing Christians continue financially supporting such groups, the groups will see no need to change (not that they will change – but at least if support is withdrawn and explanation is given as to why, then the organizations will know why they are losing support and some, perhaps, may examine the issues and have their eyes opened).
While we know there are no perfect churches and organizations (because imperfect humans operate them), we do know by Scripture that the gauge which we can set for ourselves while living in this world is the Gospel (that man is sinful and in need of a Savior and that Jesus Christ died to pay the price for our sins and rose taking victory over death and that God so loved the world that He gave His only begotten Son that whosoever believeth on Him shall not perish but have everlasting life). The contemplative/emerging belief system rejects this. The contemplative/emerging view is that God is in all people (regardless of acceptance of and belief in Jesus Christ as Savior), that man can save himself and the earth by his own means (bringing about the Kingdom of God), and that Jesus was a good role model and example but did not suffer a painful death for the purpose of atonement (a loving God would never do that, they say). This is why Lighthouse Trails is so determined to warn about the contemplative prayer movement and the "new" emerging spirituality. Where contemplative prayer comes in is as a vehicle. As Ray Yungen has shown in his book A Time of Departing, when a person begins practicing contemplative meditation, over time, his or her spiritual outlook changes (just as Thomas Merton's and Henri Nouwen's did), and it begins to resemble one that looks more Buddhist or Hindu than Christian.
When we consider that Doug Pagitt is listed on the Compassion International website as one of their regular speakers (see link above), it is difficult to fathom how Compassion can say on their website that "God's Word must have the final authority in regulating compassionate treatment of every human being, including children."  Doug Pagitt, who is one of the founders of the new Brian McLaren CANA Initiative—a liberal, emerging think-tank—has consistently promoted contemplative spirituality and the emerging church for many years. Compassion also lists Tony and Bart Campolo (Tony is a leader in the Christian Palestinianism movement), Mark Scandrette (An Emergent Manifesto of Hope), mantra-meditation advocate Gary Thomas, emergent writer Ann VosKamp (One Thousand Gifts), and a number of other emergent-type figures. Their speaker list is actually transforming into a contemplative/emergent who's who. In our minds, Compassion's partnering with Doug Pagitt and other emergents sends a loud message that they do NOT consider God's Word as a final authority. How could they and still lock arms with emergent leaders?
In Doug Pagitt's book A Christianity Worth Believing, Pagitt denounces the idea that the Bible is our final authority. The following is a short book review on Pagitt's book done by one of our free-lance writers. Please read this as it will help show where the "new" emerging "Christianity" is going (and sadly, taking lots of Christian organizations, like Compassion, VOM, and World Vision, with it):
"Doug Pagitt's New Book – A Christianity Worth Believing – NOT Worth Believing"
by Ezra McGill
Free-lance writer
In his book, A Christianity Worth Believing, emergent leader Doug Pagitt presents a theology that is worth exposing, because it is neither biblical nor Christian. This is the unfortunate power of media-savvy emergent leaders–errant theology is couched in Christian terms, and the undiscerning are drawn in.
As others have noted, Doug Pagitt undoubtedly cares about his flock, the homeless, coffee farmers in Guatemala, and the environment. Yet, if the emergent movement could be summed up in one phrase, perhaps it is this: "Tiny men shaking tiny fists at the biblical God."
The Bible tells us, "The kings of the earth set themselves, and the rulers take counsel together, against the LORD, and against his anointed, saying, Let us break their bands asunder, and cast away their cords from us. He that sitteth in the heavens shall laugh: the LORD shall have them in derision.(Psalm 2: 2-4)
The author of A Christianity Worth Believing vigorously disputes the authority of the Word of God. He writes, "The inerrancy debate is based on the belief that the Bible is the word of God, that the Bible is true because God made it and gave it to us as a guide to truth. But that's not what the Bible says" (p. 65).
He further explains, "This is how it works. We are characters in the stories we hear. The living Bible invites us to step into the stories, not as observers, but as participants in the faith that is alive and well and still being created" (p.67).
That's right. Pagitt believes Christianity is still in the process of being created. Obviously, this theology that is being created is in total opposition to biblical Truth. Like the author of The Shack, Pagitt categorically denies the substitutionary atonement of Jesus Christ.
He states, "the early evangelists recognized they could help the Jesus story make sense if Jesus was seen as someone who was chosen to appease the wrath of God—hence, the 'anointed one' who could do what no one else could do" (p. 181).
So, minus our Savior, how does this emergent leader view receiving forgiveness for sins? Before we get to this, let us understand that he spends a good deal of time making the artificial distinction between Christians' alleged Greco-Roman understanding of God (Pagitt sees this as a distant God), and the Old Testament Hebrew God (always present, understanding, and intimate).
Incredibly, the author presents the Old Testament as his "proof" that there has always been accessible forgiveness for sin. He notes that his wife was raised in a Jewish family, and she "tells [the congregation] each year that the Jews would celebrate the Day of Atonement by gathering lint from their pockets, every little corner of them. She invites us to do the same. Then we write confessions on pieces of paper or pick up leaves to represent each sin and walk to the edge of a stream. As we drop our leaves and papers into the stream, we read from the Psalms" (pp.163-164).
Psalm 103:11-13 is then read to Pagitt's congregation: "For as the heaven is high above the earth, so great is his mercy toward them that fear him. As far as the east is from the west, so far hath he removed our transgressions from us. Like as a father pitieth his children, so the LORD pitieth them that fear him."
Following this, he writes, his wife, "reminds us that just as the water carries our words away, God takes our sins from us. As far as can be, sin is removed, taken, gone. Yes, sin exists, and when we find it, we should get rid of it" (p. 164).
But what defines "sin" if the Bible is not really the authoritative Word of God? If Christ is not Savior? Pagitt never really gives a satisfactory answer to this.
"Thy prophets have seen vain and foolish things for thee: and they have not discovered thine iniquity, to turn away thy captivity; but have seen for thee false burdens and causes of banishment"(Lamentations 2:14). Pagitt assures us he understands this new theology can be upsetting. "This can come as a shock to those Christians who are so used to hearing that Jesus is the solution to sin that they assume that the remedy started with the death of Jesus. The Jewish Tradition tells us otherwise" (p. 163).
A Christianity Worth Believing is the presentation of a distorted version of our faith. It is the tepid celebration of a powerless, false "christ." It is textbook emergent heresy. Those reading this book who do know and love Christ may feel disgust, disbelief, even scorn. Well and good. But may we also be very afraid for those who are exposed to such teaching.
"But the natural man receiveth not the things of the Spirit of God: for they are foolishness unto him: neither can he know them, because they are spiritually discerned" (1 Corinthians 2:14).
One gets the sense that Doug Pagitt seems compelled to deny the Truth–he simply cannot see it. He is the angry blind man striking out with his cane. He swings, he slashes; he jabs and stabs. Unfortunately, that sharpened cane has poked out many an eye.
And seems poised to pierce many, many more.
"And he spake a parable unto them, Can the blind lead the blind? shall they not both fall into the ditch?'" (Luke 6:39)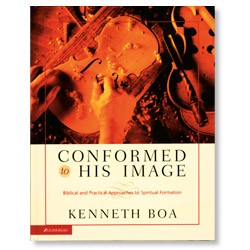 The title of Ken Boa's book, Conformed to His Image, is taken from the Scripture Romans 8:29: "For whom he did foreknow, he also did predestinate to be conformed to the image of his Son, that he might be the firstborn among many brethren." However, before believers delve into this book with the hope it will show them how to be conformed into the image of Jesus Christ, an examination of this book is needed.
In Boa's book, in a section on lectio divina, Boa recommends turning to Richard Foster for further guidance. He suggests readers use Foster's book Devotional Classics, which is a collection of 52 writers (more than half of them mystics). Boa quotes Foster throughout the book, and he quotes several other contemplative promoting authors too. While Boa gives a limited warning about heavy duty mystics/panentheists like Matthew Fox and Meister Eckhart, his promotion of Richard Foster and other contemplatives makes those warnings rather innocuous. It's kind of like telling a teen to stay away from heroin but go ahead and use cocaine. And in some ways it is even more dangerous because the one (Eckhart and Fox) is so obvious to many, but the other (Foster) appears to be completely harmless because it is enveloped in Christian veneer.
Boa references mystic Jean Pierre de Caussade's book Abandonment to Divine Providence, referring to the "sacrament of the present moment", a concept often used to encourage people to enter the silence.
In addition to referencing Richard Foster several times, Boa also favorably references: Gary Thomas (Sacred Pathways), Brother Lawrence, Bill Hull, Larry Crabb, and Ignatius of Loyola. Of the latter, Boa says: "The spiritual exercises of Ignatius of Loyola incorporate these and other meditative techniques."
The book also favorably refers to and/or quotes Julian of Norwich, Thomas Kelly, Thomas Merton and Thomas Keating, all of which had or have panentheistic views. Of Keating and Merton, Boa says that thanks to them the "ancient practice" of lectio divina has been reintroduced to both Catholics and now Protestants. Merton is referred to several times in the book.
For those who wish to become "conformed to the image" of Jesus Christ, Ken Boa's book is not a good place in which to turn. By reading and following the advice of his book, one could end up being more conformed to the image and spirituality of Thomas Merton, who said he wanted to become the best Buddhist he could be and said he was impregnated with Sufism (Islamic mysticism).
LTRP Note: The following letter to the LT editor and the response this person received from Focus on the Family is used with permission from our reader. Important to note that FOF's response is similar to the response FOF was giving back in 2006 (when we received a letter from them) when asked why they were promoting Richard Foster and Gary Thomas and where they stood regarding contemplative spirituality in general. In comparison, the 2011 response from FOF is more detailed than the 2006 letter from the same FOF staff member (Tim Masters from the Executive Office) but is essentially saying the same thing. Worth noting, the arguments that Masters gives in defense of contemplative prayer have been scripturally refuted by Lighthouse Trails authors, showing how contemplative advocates have taken Bible verses and used them out of context. We have given references to a number of those refutations below.
Dear Lighthouse Trails:
I just wanted to thank you for all the work you put into getting the truth out.  I look forward to every single newsletter and have learned so much from you all – and continue to!  Without you I'm afraid I'd be as misguided about contemplative prayer as most christians are.
Also I'd like to thank you for your alert about Focus on the Family.  After reading in the newsletter about their attempt to sell this lie to kids I promptly quit giving financially to them and explained to them why.  I'd like to forward you the email response I received from them.  It saddened and alarmed me.  More and more well known names in christianity are promoting this lie  – many actually claiming that they're not doing it!  Please read this email I received from FOF.
Thank you again and I join with you in praying against this lie.  (name withheld)
Letter from Focus on the Family –
Dear Friend: Thank you for writing to Focus on the Family.  It was good of you to contact us with your candid concerns about our ministry's involvement with what has sometimes been called "contemplative prayer."  Thoughtful, honest feedback like yours is always welcome here at Focus headquarters.  We're happy to have this opportunity to respond to the thoughts you've shared.
While we appreciate your input, we also feel bound to inform you that you are mistaken on a couple of different fronts.  To begin with, your assertion that Focus on the Family is "promoting" contemplative prayer and spirituality is neither fair nor accurate.  Yes, we have occasionally referenced speakers and authors who deal with subjects of this nature – individuals such as Richard Foster, Larry Crabb, and Beth Moore.  But none of this, in our opinion, amounts to "promoting" contemplative prayer.  The truth of the matter is that we have far too much else on our plate to become involved in any such activity.  The heart of our outreach is practical family ministry.
That said, we also find it hard to understand why any particular method of prayer should be regarded as "a dangerous deviation from sound Bible practices."  After all, there are probably as many different ways of praying as there are people offering prayers.  Besides, there is nothing unbiblical or anti-Christian about solitude, silence, and contemplation.  Far from it!  After all, it was not in the wind, the earthquake, or the fire that the Lord spoke to Elijah, but rather in the "still, small voice" of intimate, personal communion (1 Kings 19:12) [see our note below on 1 Kings 19:12*].  David highlights the value of this type of spiritual discipline in Psalm 4:4, where he writes, "Meditate within your heart on your bed, and be still."  Another Psalmist similarly represents the Lord as exhorting His people to "be still and know that I am God" (Psalm 46:10).  And Jesus Himself, who lived and breathed the Old Testament Scriptures, often retired to quiet, secluded spots in the wilderness or on the mountain where He could converse with His Father apart from the noise and distraction of the crowd (see Mark 1:35).  In time, His disciples learned to follow His example in this regard.
On the basis of this firm biblical foundation, a strong tradition of Christian contemplation and mysticism has grown up within the church over the past 2,000 years – a tradition that has nothing whatsoever to do with "dangerous" New Age spirituality.  Many of the early church fathers of the first three centuries of the Christian era – men like Gregory of Nyssa, Gregory Nazianzus, Basil of Caesarea, John Chrysostom, and Anthony of Egypt – were contemplatives who had mystical experiences in prayer.  It is even possible to trace this strain of spirituality to the apostles themselves:  Peter, for example, who saw visions on the roof of the house of Simon the Tanner (Acts 10:9-16), or Paul, who speaks of having been "caught up to the third heaven" where he "heard inexpressible words which it is not lawful for a man to utter" (2 Corinthians 12:2-4), or John, whose encounter with the risen Christ while "in the Spirit on the Lord's Day" gave us the Book of Revelation (Revelation 1:9).[see "Does God Sanction Mystical Experiences?"]  In our view, it's not the form or style of such experiences, nor the methods or techniques of prayer that precede them, that should determine their legitimacy, but rather their content and the degree to which they either do or do not bring glory to the Lord Jesus Christ. [See our article on Intent.]
We hope this reply has clarified our perspective for you.  Thanks again for caring enough to contact us.  Don't hesitate to let us know if we can be of any further assistance.  God bless you.
 Timothy Masters
Focus on the Family
LTRP Notes:
* The following explanation about I Kings 19:12 is from Ray Yungen's book, A Time of Departing.
Question: Isn't I Kings 19:12 an example of when contemplative prayer is condoned in Scripture? Elijah heard a "still, small voice." Isn't that referring to the silence?
Answer:This passage in no way indicates that Elijah was practicing a mantra exercise. On the contrary, it was the prophets of Baal who "called on the name of Baal from morning even till noon, saying, 'O Baal, hear us!" (I Kings 18:26). Now Elijah was in a cave, not to practice contemplative prayer, but to hide from Jezebel's threat to take his life. Also, his encounter with God was something he did not initiate but God initiated Himself, thereby emphasizing that Elijah was not practicing a mantra. If anything, from his conversation with God, we might conclude that he was also hiding from his ministry and God Himself, as he was feeling hopeless.
Related Stories:
Letter from Focus on the Family: Takes Lighthouse Trails with a "healthy dose of salt" & defends contemplative Gary Thomas
Letter to Editor: Does Beth Moore Still Promote Contemplative Prayer?
Serious Concerns for Focus on the Family Marriage Conference