Inviting students to Sabeel is one way to get more people in the movement. This is why the BDS campaign targets university campuses. How alarming that all these movements are backed by Christian organizations.—Menno-Lite
By Menno-Lite
This week, Menno-lite has been exploring the link between the Mennonites and the anti-Israel agenda. Much of the information on this topic applies to other church denominations and Christian organizations, like the following ministry which is not Mennonite per se, but does have Mennonite project leaders.
Bartimaeus Cooperative Ministries is a Christian revisionist group that was founded in 1998 as 'an ecumenical experiment.'BCM works towards justice and discipleship in communities, and currently has several project areas headed up by Mennonites. One of those is Ched Myers, an ecumenical Mennonite activist specializing in theologically educating churches and faith-based movements towards peace, justice and radical discipleship.[1]
On the BCM blog, Ched Meyers recently made a posting called Sabeel Global Young Adult Festival:
"Imagine rebuilding a family's demolished home in one week. Or replanting a burned down olive grove in a day. Or challenging discrimination with the mischievous fun of a solidarity flash mob.

"These are the sorts of things you could be doing in Palestine and Israel this summer."
- Sabeel's Festival Invitation

Dear colleagues: 
In spring of 2011 and 2012 I traveled to Palestine/Israel to learn about the painful, but also inspiring, realities of this troubled place. Both times I was hosted by colleagues at the Jerusalem-based Sabeel Ecumenical Liberation Theology Center, an organization that I believe is the best "midwife" for faith-based international visitors to the Holy Land.  Click here to continue reading.
Related Material:
The Anti-Israel Movement – Part 1 – What's it all about?
LTRP Note: While the following article by Menno-Lite is concerning Mennonites in particularly, Menno-Lite explains that this anti-Israel movement is happening with other Christian groups too. There are several parts to this series, which can be accessed from Menno-Lite's website. This is a serious issue that believers in Christ need to understand. Menno-Lite has done an excellent job explaining it.
By Menno-Lite
"The Anti-Israel Movement – Part 1 – What's it all about?"
[T]he heart of this campaign is the elimination of Israel. . . . Even so, these anti-Israel campaigns have been coming to our cities and campuses. Only a brave minority dare to speak out publicly and make a difference.
The recent Mennonite involvement with anti-Israel movements has not gone unnoticed. Some of these include the BDS campaigns, the Israel Apartheid movement and Christ at the Checkpoint. The Mennonites are not the only Christians to come along side the various anti-Israel events and organizations. For those who don't know what this is all about, here is a bit of background information. Before explaining the Mennonite ties to this movement, it is essential to examine the following questions:
What does BDS mean?
* BDS (boycotts, divestment and sanctions) have been used to target Israel for decades by pro-Palestinian groups.
Definition

Boycotts of products, culture, and academics – BDS activists lobby stores not to carry Israeli products and encourage others not to purchase them. They send letters to artists, musicians, authors, and academics, imploring them not to perform and appear in Israel or cooperate with Israeli institutions. Boycotts undermine liberal values, such as academic freedom and freedom of expression, by restricting openness and tolerance. They represent the immoral collective punishment of Israelis and those who associate with them.

Divestment from companies that do business with Israel – Distorting the concept of ethical investing, NGOs accuse companies that conduct business in Israel of involvement in war crimes and violations of international law. The NGOs approach investors, primarily large banks and pension funds, and push for the exclusion of these companies. When Israeli corporations were removed from funds devoted to developing countries, due to Israel's stable and advanced economy, divestment proponents falsely proclaimed victory. Click here to continue reading.
Related Material:
"Christian Palestinianism" & Emergents Lynn Hybels and Jim Wallis Come to Multnomah University For "Justice" Conference
Letter to the Editor: What Does Lighthouse Trails Believe About Israel
Below is the trailer for the new documentary DVD Exposing Christian Palestinianism:
What you will hear will be empathy for Islamists and rhetoric about pacifism. There will be endless calls for peace at the CATC conferences but no acknowledgment that Israel has negotiated for peace for decades.—Jan Markell
By Menno-Lite
A conference was recently held called Impact Holy Land which was attended by well meaning Mennonites. It came into being because of the Christ at the Checkpoint conferences in 2010 and 2012 that were supposedly formed to allow conversations between Christians and Messianic Jews. Impact Holy Land was meant to continue the conversation in the U.S. Because of their partnership with Bethlehem Bible College, representatives from the MCC participated in the conference, enlisting the Mennonite Church USA (Peace and Justice Support Network), to help recruit pastors and leaders to attend.
The following is how the article in the February issue of the MB Herald[1] called Anabaptists join conversation to Impact Holy Land[2] begins.
Shireen Awwad Hilal, a Palestinian Christian, has hope for Israel-Palestine.

"Few people view our situation with hope, and the concept of reconciliation is controversial," she said at the Impact Holy Land conference Dec. 4–6. "Let us commit to see hope where others see hopelessness."

Hilal teaches and is assistant dean of students at Bethlehem Bible College, a partner of Mennonite Central Committee. She believes in the power of relationships, which she sees in her role as the women's minister for Musalaha (Reconciliation), an organization developing relationships between Palestinian and Israeli believers. Click here to continue reading.
Related Material:
"Christian Palestinianism" & Emergents Lynn Hybels and Jim Wallis Come to Multnomah University For "Justice" Conference
NEW PRINT BOOKLET TRACT: Chrislam – The Blending Together of Islam & Christianity
On February 21st and 22nd, Multnomah University (formerly called Multnomah School of the Bible) in Portland, Oregon, once considered a biblically-based evangelical school, will be hosting the simulcast Justice Conference with speakers Lynn Hybels and Jim Wallis (both emergent leaders who are part of the "Christian Palestinian" movement). Other emergents such as N.T. Wright will also be at the Justice Conference.
Multnomah has been making a steady decline toward all things emergent for some time. Lighthouse Trails has included Multnomah in a number of reports over the last few years dealing with the contemplative prayer issue, including this one from 2012: "Multnomah University Teaches Lectio Divina in Chapel Throughout 2012."
But as is always the case, when an organization goes contemplative, the next step is the embracing of emerging theology (which Roger Oakland shows in Faith Undone), one of which is taking an anti-Israel approach. This is why Lighthouse Trails recently decided to carry Caryl Matrisciana's powerful and courageous new documentary Exposing Christian Palestinianism (see trailer directly below).
When you consider how leaders throughout the world are beginning to call out for the boycott of Israeli goods and services, accusing Israel of committing atrocities against mankind coupled with the memory of Adolph Hitler doing virtually the same thing to the Jews in Germany, one cannot help but realize the dire situation the world is in today.
You can order this DVD by clicking here.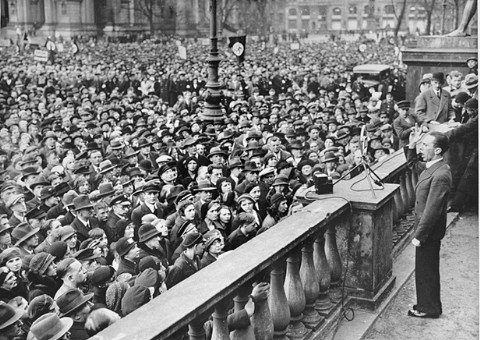 Nazi Propaganda Minister Joseph Goebbels delivers a speech to a crowd in the Berlin Lustgarten urging Germans to boycott Jewish-owned businesses. He defends the boycott as a legitimate response to the anti-German "atrocity propaganda" being spread abroad by "international Jewry." Below: Nazi storm troopers block the entrance to a Jewish-owned store. Their signs read: "Germans, defend yourselves against the Jewish atrocity propaganda, buy only at German shops!" and "Germans, defend yourselves, buy only at German shops!"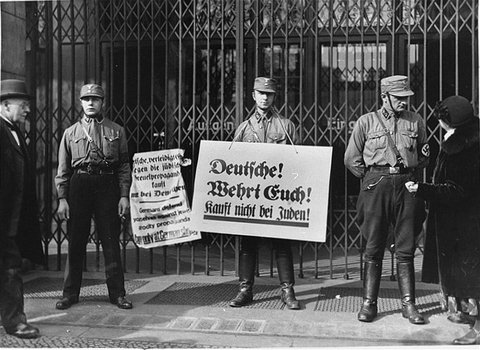 On April 1, 1933, a week after Hitler became dictator of Germany, he ordered a boycott of Jewish shops, banks, offices and department stores. But the boycott was mostly ignored by German shoppers and was called off after three days. However, the unsuccessful boycott was followed by a rapid series of laws which robbed the Jews of many rights.
On April 7, "The Law of the Restoration of the Civil Service" was introduced which made 'Aryanism' a necessary requirement in order to hold a civil service position. All Jews holding such positions were dismissed or forced into retirement.
On April 22, Jews were prohibited from serving as patent lawyers and from serving as doctors in state-run insurance institutions.
On April 25, a law against the overcrowding of German schools placed severe limits on the number of young Jews allowed to enroll in public schools.
On June 2, a law prohibited Jewish dentists and dental technicians from working with state-run insurance institutions.
On May 6, the Civil Service law was amended to close loopholes in order to keep out honorary university professors, lecturers and notaries.
On September 28, all non-Aryans and their spouses were prohibited from government employment.
On September 29, Jews were banned from all cultural and entertainment activities including literature, art, film and theater.
In early October 1933, Jews were prohibited from being journalists and all newspapers were placed under Nazi control. (source-The History Place)
Some Various Out of House Articles on the Boycotting of Israel:
Berlin film festival to honor director who backs Israel boycott
Bill to block federal funding to universities that boycott Israel
Is the Obama Administration Condoning Sanctions and Boycotts Against Israel
Kerry 'coordinating boycott blackmail against Israel'
Also see:
"Propaganda Wins" on Israel  by Jim Fletcher
Two Related Booklet Tracts:
When Hitler Was in Power by Anita Dittman
Christians in Holland in 1941: "Should We Help Save the Jews?" by Diet Eman
Lighthouse Trails is now carrying Caryl Matrisciana's extraordinary new DVD titled Exposing Christian Palestinianism. Lighthouse Trails editors have
reviewed this powerful film, which explains what "Christian Palestinianism" is and identifies key Christian leaders who are strongly promoting this anti-Semitic, anti-biblical movement that is gaining fast ground within the evangelical church. We do not have the trailer for this film yet, but the video below from a Berean Call conference presents Paul Wilkinson who is one of the speakers on the Exposing Christian Palestinianism DVD (Dave Hunt is another).
This 3-part DVD is 104 minutes long and sells for $22.95. It is worth every penny. After watching this film, you will realize how frighteningly similar the world stage is today to how it was in the 1930s with regard to the attitude against the Jews and Israel. With propaganda films such as With God on Our Side, Israel is becoming more and more marginalized while Islam (entering the church through Chrislam) is becoming more and more accepted. While we know that the Bible says the day will come when the world will turn against Israel, woe to those Christians who join with the world in doing so. But that is what is happening today.
Related Articles:
Hostile Sentiment Toward "End-Time" Believing Christians Increasing
Letter to the Editor: What Does Lighthouse Trails Believe About Israel?
The green areas are predominately Muslim countries. Israel is in red.
Note: While the camera quality of this video is not up to the standards we normally present, Mike's material is essential thus we are presenting a preview of this lecture.
To purchase this entire lecture in DVD format, click here.
We have to be prepared to take the security measures necessary for our immediate protection. . . .The answer is to promote views that are open-minded and tolerant towards those who are different, and to fight the formal, informal and internet propagation of closed-minded intolerance." – Tony Blair
The following article (below) written by Tony Blair illustrates further the world's efforts to bring about peace (without Christ) and its move toward a one-world religion, which will reject biblical Christians as extremists who are prone to terrorism. Of course, this is absurd as true born-again believers in Christ are not prone to violence. What Tony Blair and other leaders are really calling for is a world where those who say Jesus Christ is the
only way of salvation are silenced. If you don't believe that, consider what Blair's co-comrade Rick Warren said about Christian fundamentalists (meaning those who adhere to biblical doctrine):
Warren predicts that fundamentalism, of all varieties, will be 'one of the big enemies of the 21st century.' 'Muslim fundamentalism, Christian fundamentalism, Jewish fundamentalism, secular fundamentalism – they're all motivated by fear. Fear of each other.' (Rick Warren, from the Philadelphia Inquirer, 2006)
A false "Christ" is coming—the Bible predicts it—and he will hate Israel, the Jews, and Bible-believing Christians. While the world is going to do what it is going to do, how is that many of Christianity's main leaders are falling into step with this world system that will eventually bring about the Antichrist? And how is it that within most denominations (including Calvary Chapel, Southern Baptist, Assemblies of God, etc.) there are many pastors promoting this apostasy and going unchecked and unchallenged? Remember what Rick Warren said about the new reformation he is hoping to help bring about, that it can come not just through Christians but through Muslims as well. He calls it a reformation from God.
Who's the man of peace in any village – or it might be a woman of peace – who has the most respect, they're open and they're influential? They don't have to be a Christian. In fact, they could be a Muslim, but they're open and they're influential and you work with them to attack the five giants. And that's going to bring the second Reformation.—Rick Warren, May 2005, Pew Forum on Religion
By Tony Blair
UK Guardian
"Religious difference, not ideology, will fuel this century's epic battles"
The last weeks have seen a ghastly roll call of terror attacks in the obvious places: Syria, Libya, Iraq and Lebanon, as well as Egypt, Yemen, Tunisia and Pakistan. Also suffering are places where we have only in recent years seen such violence: Nigeria, and in many parts of central Africa, in Russia and across central Asia, and in Burma, Thailand and the Philippines. We can either see all of these acts of killing as separate – produced by various political contexts – or we can start to see the clear common theme and start to produce a genuine global strategy to deal with it.
The fact is that, though of course there are individual grievances or reasons for the violence in each country, there is one thing self-evidently in common: the acts of terrorism are perpetrated by people motivated by an abuse of religion. It is a perversion of faith. But there is no doubt that those who commit the violence often do so by reference to their faith and the sectarian nature of the conflict is a sectarianism based on religion. There is no doubt either that this phenomenon is growing, not abating. Click here to continue reading.
We have to be prepared to take the security measures necessary for our immediate protection. Since 9/11, the cost of those measures, and their burden, has been huge. However, security action alone, even military action, will not deal with the root cause. This extremism comes from a source. It is not innate. It is taught. It is taught sometimes in the formal education system; sometimes in the informal religious schools; sometimes in places of worship and it is promoted by a vast network of internet communications. Click here to continue reading.
Related:
Tony Blair and World Leaders Look for Answers to Terrorism – Missing the Only Answer