Posts Tagged 'Leonard Sweet'
To Lighthouse Trails:
What is "The Voice" translation of the Bible and what do you think of it?
Our Comments:
Our answer (from a 2007 LT article):
According to an article in Christian Today, "New Bible Project for Young Generation Launched", Thomas Nelson's 2006 "Bible" project called
The Voice is going full speed ahead. The project, announced by TN last spring, is a "re-telling of the Bible that consists of creative voices from historians to poets, storytellers to songwriters," and is for young people who are "searching for new ways to explore the Bible, or who are seeking to read it for the first time." The project will be a combination of books, music CDs, artwork and an interactive website. With the largest Christian publisher backing the project, there is little doubt that The Voice will reach countless young people and have a significant impact in many lives.
Unfortunately, the project turns out to be an emerging church creation, thus the foundation of it is marred from the beginning. Because mysticism, New Age ideology, and a return to Rome, are the building blocks of the emerging church, The Voice is going to be a spiritually dangerous conduit for adherents. Some of the emergent leaders involved in the project are Chris Seay (project founder), Brian McLaren, Lauren Winner, Leonard Sweet, and Blue Like Jazz author, Donald Miller. In last year's press release by Thomas Nelson, Erwin McManus was also listed.
This month's new release (the third book in the project) is called The Voice of Matthew, written by emergent/contemplative Lauren Winner (Girl Meets God and Mudhouse Sabbath).
Chris Seay, the founder of The Voice, is pastor of Ecclesia Church in Houston, Texas. A mission statement on the website illustrates the theology of the emerging church:
We believe that the Gospel impacts every area of a person's life and culture. We reject unfounded categories that divide the world into uniquely sacred or purely secular. God is redeeming all of creation through Jesus.

We believe that the church exists for the world and not for herself – she is to introduce and usher in the Kingdom of God into every part of this world.
Saying that all of creation (e.g., all humanity) is redeemed is in direct opposition of the teachings of Jesus who said "strait is the gate, and narrow is the way, which leadeth unto life, and few there be that find it" (Matthew 7:14). And the belief that the church will usher in the Kingdom of God as opposed to Jesus Christ ushering it in with his literal return to the earth is indicative of the contemplative/emerging mindset. (It is also classic dominionism.)
The contemplative affinities of the contributors of The Voice will assure that mysticism will be an integral part of this project. This new version of the Bible has the potential to lead thousands, and possibly millions, of young people away from the words of Jesus Christ who said:
Verily, verily, I say unto you, He that entereth not by the door into the sheepfold, but climbeth up some other way, the same is a thief and a robber. But he that entereth in by the door is the shepherd of the sheep. To him the porter openeth; and the sheep hear his voice: and he calleth his own sheep by name, and leadeth them out. And when he putteth forth his own sheep, he goeth before them, and the sheep follow him: for they know his voice. (John 10: 1-4)
We contend that The Voice is not the voice of the Good Shepherd, nor is it the Word of God that says:
He that hath the Son hath life; and he that hath not the Son of God hath not life. These things have I written unto you that believe on the name of the Son of God; that ye may know that ye have eternal life, and that ye may believe on the name of the Son of God." (I John 5:12-13)
To understand more about the emerging church and the new missiology, read Roger Oakland's book Faith Undone.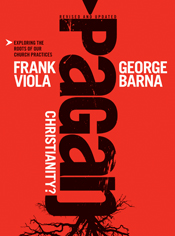 By Philip Gray
Free Lance Writer for Lighthouse Trails
In Pagan Christianity, Frank Viola and George Barna tell readers "Reading this book takes courage." We couldn't agree more, but not for the same reasons that Viola and Barna warn their readers. They tell us that it takes courage, not because of what the books says but because of what a Christian must do after he or she reads it (p. 253). We say it takes courage because of the misrepresentation the authors have given to Christianity and because the book is a smoke screen for the "new" spirituality.
Basically, according to Pagan Christianity, if you are a Christian and you have been participating in any of the following activities, you have been practicing paganism:
1. Meeting in a building for church
2. Listening to a sermon
3. Having a pastor
4. Paying that pastor a salary
5. Sunday School lessons
6. Sitting in a pew (or balcony)
7. Using a pulpit
8. Using some sort of order to the church service, which includes taking an offering, having communion, giving announcements, and singing songs of worship.
9. Dressing up for church
10. Having a choir
11. Altar call
12. Evangelized to save a soul
After reading this list, how did you rate on that? How many of these activities are you guilty of? Did you go to church last Sunday? Did you put on your best outfit? Did you listen to a choir sing? Did that neighbor you bring respond to an altar call to give his life to Jesus Christ? Did you sit and listen to your pastor teach or preach the Word? Well, according to Pagan Christianity, if you did, you are more like a pagan than like a Christian. Of these activities, Barna and Viola say: "Such practices are foreign elements that God's people picked up from their pagan neighbors" (p. xx).
The point of this review is not to defend all of these practices in and of themselves. The point is to show that this book is another subtle stab at traditional Christianity, a stab that attempts to make Christians feel guilty for just about everything they do that has to do with going to church . . . everything that is, that is external. This book has absolutely nothing to do with the heart condition of man, nothing to do with sin and repentance but is merely a smoke screen to cover up the real issues that are plaguing the church today. For whether one dresses up for church or not, whether one gives a sermon or not, whether one sings or not, whether one gives an offering or not, and whether one sits in a pew or not, the issue that God looks at is the condition of the heart and not the outward appearances. One can sit in a pew and have evil intent in his heart; another can sit in a pew and be a godly humble man of God. It's not the pew that makes him one or the other.
Judge not according to the appearance, but judge righteous judgment. John 7:24

[F]or the LORD seeth not as man seeth; for man looketh on the outward appearance, but the LORD looketh on the heart. 1 Samuel 16:7
Pagan Christianity says that "the great bulk of first-century practices have been removed from the Christian landscape." The book tells readers that "such practices are presently being restored on a small scale by those daring souls who have taken the terrifying step of leaving the safe camp of institutional Christianity" (p. xviii). But the book never really tells us what those practices are, except to continually say it is something spectacular that excludes the above activities and includes small groups of people who stand around in circles, embracing, and sharing with one another their various thoughts, feelings, songs, prayers, and ideas – according to Viola and Barna, that is what makes a person a good New Testament Christian (i.e., nobody's wrong, everybody's right, all opinions are good, and we don't need pastors or teachers).
While there is certainly nothing wrong, in and of itself, for a group of people to stand in a circle and share with one another, it is not a guarantee that the group of people will be abiding in God's will in their lives. And, in fact, if Viola's and Barna's recipe for proper Christian living is acted upon, that group of people in the circle is probably going to be in trouble because rather than having the Word of God taught to them or preached to them by those who are called into the office of teacher or pastor, they will be "dialoguing" with one another, asking a lot of questions, and never coming up with any answers (because the postmodern isn't supposed to have any actual answers – having answers offends).
What is the real agenda of Pagan Christianity? Well, this much we can say, it sure isn't to warn believers against true pagan practices and beliefs such as eastern-style meditation, walking through labyrinths, doing Yoga, focusing on the breath, rejecting the atonement, and so forth. In a day when spiritual deception is at an all time high, when growing numbers of Christian leaders, churches, schools, and organizations are falling into the trap of practicing, promoting, and embracing mysticism and other New Age practices (disguised with Christian terminology, by the way), it hardly seems appropriate and wise to tell Christians to stop sitting in pews, stop having sermons (and pastors for that matter), stop meeting in buildings, end all Sunday School lessons, and by all means stop dressing up on Sundays.
Perhaps what is most distressing about this book is that there is an underlying sentiment that the "preaching" and teaching of God's Word is not a New Testament practice and should be done away with. Perhaps this is the real message of Pagan Christianity. Rather than have the Word presented and preached as if it is an authoritative source for believers, get rid of all the venues in which it is presented (church buildings, sermons, pastors, pews,pulpits, etc.) as such and turn it into something we can all debate, dispute, question, challenge and reinvent.
What we would call Pagan Christianity is a perfect example of "missing the point." But with Frank Viola co-authoring a book with New Age sympathizer Leonard Sweet and George Barna, a Rick Warren look alike with a dominionist agenda, is that really any wonder that they have missed the point?
I have preached righteousness in the great congregation: lo, I have not refrained my lips, O LORD, thou knowest. Psalm 40:9

The Spirit of the Lord GOD is upon me; because the LORD hath anointed me to preach good tidings unto the meek; he hath sent me to bind up the brokenhearted, to proclaim liberty to the captives, and the opening of the prison to them that are bound. Isaiah 61:1

Arise, go unto Nineveh, that great city, and preach unto it the preaching that I bid thee. Jonah 3:2

From that time Jesus began to preach, and to say, Repent: for the kingdom of heaven is at hand. Matthew 4:17

Notwithstanding the Lord stood with me, and strengthened me; that by me the preaching might be fully known, and that all the Gentiles might hear: 2 Timothy 4:17

Preach the word; be instant in season, out of season; reprove, rebuke, exhort with all long suffering and doctrine. 2 Timothy 4:2
Dear Editors at Lighthouse Trails:
I stumbled onto your website while looking for a video from this year's Alliance Council featuring John Stumbo. In your writings, you largely promote the idea the C&MA is espousing the emergent church, contemplative prayer, spiritual formation blather.
I have never, ever heard this in my church. EVER. So, for you to paint the C&MA with such a wide brush is sensationalistic, to say the least. Perhaps occasionally a misled pastor will go down that road. Such a pastor needs to be brought into line, in my opinion. The colleges that "teach" these courses—are they teaching them to promote them, or are they teaching these classes in a effort to enlighten students as to the evils that can weave their way into ministry? You don't say which in your writings which I find, again, sensationalistic.
Never once have I heard or read anything from John Stumbo promoting any of this emergent church 'trend'.
Defend yourself. I'll be waiting for a reply.
SN
Dear SN:
We wish we were being sensationalistic and exaggerating the issue. Unfortunately (and sadly), Christian and Missionary Alliance (and most other evangelical denominations) have been embracing contemplative prayer, Spiritual Formation, and the emerging "new" spirituality for quite some time, and we see no signs of this letting up. A few denominations are just dabbling in it, but most, including C&MA, are well immersed as Lighthouse Trails has been documenting for over 13 years. Does this mean that every church in each of these denominations is involved in this? No, and Lighthouse Trails has always maintained that. But in virtually every case where a denomination is moving in this direction, there is evidence that it is existent in upper leadership.A case in point is C&MA. Just visit the main C&MA website, search through their magazine archives, books they are selling, and so forth, and you will find numerous contemplative/emergent references, such as an article written by the late (d. 2011) C&MA Senior Pastor from Salem, Oregon Donald Bubna titled "The Journey" where Bubna states:
To learn from others on the spiritual journey, I have discovered and devoured the writings of Henri Nouwen, Philip Yancey and Thomas Merton on the issue of full surrender to the deeper life.
Nouwen and Merton were both interspiritual Catholic mystics. Yancey is an evangelical contemplative advocate. Bubna was not an "occasional" example of a C&MA pastor who has had such persuasions. And in fact, the Salem C&MA church has been a contemplative influence for many years on Alliance members.
Another example: In a 2013 C&MA magazine article titled "The Lord's Dream," the author explains how a C&MA church in Philadelphia, PA is in close relationship with emergent author Shane Claiborne's church, and on at least one occasion, Claiborne spoke at the C&MA church, filling in for the pastor one Sunday. Claiborne was mentored by and resonates with emergent leader Tony Campolo.
And a third example, Richard Bush, superintendent of the New England District of the U.S. C&MA, wrote an article titled "Transformed," in which he favorably quotes heavy-weight contemplative leader Ruth Haley Barton. Barton was trained at the New Age sympathizing interspiritual Shalem Prayer Institute in Washington, DC, and she has an organization that teaches thousands of pastors contemplative practices and Spiritual Formation. Clearly, Bush resonates with Barton for him to use her as an example of Christians being "transformed."
One last example, at the 2013 C&MA Council conference, one of the seminars was presented by a woman who  taught the class in the contemplative practice of "lectio divina."
These examples are coming from C&MA leadership. With 500,000 members in 2000 churches, the C&MA is a strong force within evangelical Christianity, and if they end up in the wrong place, they'll be taking a lot of people with them.
In reference to your comment about C&MA president John Stumbo, Lighthouse Trails has only mentioned him in one article and that was one this past summer where we stated that Stumbo will be sharing a platform with New Age sympathizer Leonard Sweet at the Christian Missionary Alliance Mahaffey Family Camp. Please refer to that article for information about the beliefs of Leonard Sweet. Incidentally, John Stumbo was the senior pastor of Salem Missionary Alliance prior to becoming C&MA president. During those years, Salem C&MA was promoting contemplative spirituality (in fact, Ray Yungen talks about this church in his book A Time of Departing).
Listed below are several articles (which all have documentation) regarding Christian & Missionary Alliance that we have posted over the years. Please take the time to study this information, and in so doing, you will see that C&MA has indeed gone down the contemplative/emergent path. As for the college situation, after 13 years of tracking the evangelical colleges and seminaries, over 90% of them are now promoting this same path, and we have documented this time and again as well.  As a matter of fact, we have learned that all C&MA colleges and seminaries are promoting this.
While we acknowledge that it is difficult to hear these things about one's own denomination, for the sake of truth, we hope Christians reading Lighthouse Trails material will take it to heart, do their homework, and see if these things we say are not true.
C&MA Research Articles:
The Christian and Missionary Alliance Hooks Up with the IAHR (International Association of Healing Rooms)
Letter to the Editor: Christian & Missionary Alliance (Canada) Promoting Interspiritual, Panentheist Monk, Basil Pennington
Christian Missionary Alliance (CMA) Mahaffey Family Camp Brings in New Age Sympathizer Leonard Sweet as Camp Speaker
Christian & Missionary Alliance Rob Reimer Loses His Way in "Pathways to the King:" A Review
Letter to the Editor: Saddened by Christian & Missionary Alliance and Ambrose University Continuing Plunge into Contemplative
Letter to the Editor: Christian & Missionary Alliance OK With Ruth Haley Barton and Other Contemplatives
Alliance Theological Seminary Dean Ron Walborn Recommends NAR Bill Johnson (and more!) for Pastors
COLLEGE ALERT: CMA Simpson University Students Seek Contemplative Chapel Experience
Ambrose University (CMA & Nazarene) Full Speed into Contemplative/Emergent
Dear Lighthouse Trails:
I thought you might want to know that Ravi Zacharias is speaking at the 2016 "SYNERGIZE" Conference in Orlando, FL, sharing the platform with New Age sympathizer Leonard Sweet.
Ravi Zacharias' scheduled appearance at this January 2016 conference is reminiscent of your posting in Jan.2008 expressing great concern over Ravi Zacharias' anticipated participation in Robert Schuller's "Rethink 2009 Conference" at Crystal Cathedral: See link: http://www.lighthousetrailsresearch.com/blog/?p=1440.
Now, in 2015, why is Ravi Zacharias speaking alongside Leonard Sweet?
Ravi Zacharias was general editor of Walter Martin's 2003 revised,updated, and expanded edition of Martin's classic reference book originally published in 1965: "The Kingdom of the Cults." In the "General Editor's Introduction" of that 2003 edition, Ravi Zacharias  credits Martin as contributing to his own thinking on the task of apologetics and says he considers it a "distinct honor" to have been asked by Walter Martin's family to become general editor of the updated edition of Martin's classic reference book. Ravi Zacharias also says in that General Editor's Preface (2003): "Of one thing we can be sure: Where we find truth, often in close proximity we also find a way that distorts and faults . . . the power to deceive is enormous."
How can Ravi Zacharias have written that in 2003 and be willing to speak at a conference with Leonard Sweet?
Over the years, I am so glad Lighthouse Trails has posted many articles alerting readers of Leonard Sweet's New Age sympathies and propagation of contemplative/mystical and panentheistic heresies. See Lighthouse link:
http://www.lighthousetrailsresearch.com/blog/?s=leonard+sweet&search=Search.
See also this link to a  2010 article by Ingrid Schlueter (former CrossTalk Radio host): http://www.lighthousetrailsresearch.com/blog/?p=4948.
Is Ravi Zacharias aware that Leonard Sweet thanks occultist David Spangler for his spiritual influence and considers Pierre Teilhard De Chardin one of the greatest thinkers of the 20th century? Warren B. Smith documents Sweet's "New Light" heroes in Chapter 10 of his book: A "Wonderful" Deception.
Has Ravi Zacharias read Leonard Sweet's book Quantum Spirituality in which he says on p.125: "Quantum spirituality bonds us to all creation as well as to other members of the human family. . . . This entails a radical doctrine of embodiment of God in the very substance of creation [panentheism]"?
In Christ,
CONCERNED IN CALIFORNIA
Related Information:
Alistair Begg Withdraws from Reimagine Conference with Leonard Sweet
Rick Warren and Leonard Sweet Riding the "Tides of Change" on the Heels of Mysticism
Calvary Chapel Albuquerque States: Leonard Sweet Will Not Be Speaking at Conference – Lighthouse Trails Calls For Answers
Ravi Zacharias on Henri Nouwen – "I regret having said that" "Henri Nouwen Was One of the Greatest Saints In Our Time"
Save
Save
Be Still and Know That You are Not God!—God is Not "in" Everyone and Everything by Warren B. Smith is our newest Lighthouse Trails Booklet Tract. The Booklet Tract is 16 pages long and sells for $1.95 for single copies. Quantity discounts are as much as 50% off retail. Our Booklet Tracts are designed to give away to others or for your own personal use.  Below is the content of the booklet. To order copies of Be Still and Know That You are Not God!—God is Not "in" Everyone and Everything," click here.
Be Still and Know That You are Not God!—God is Not "in" Everyone and Everything
Our Spiritual Adversary would have everyone believe that we are all "one" because God is "in" everyone and everything. Using every promotional means possible—including a creative and ingenious perversion of quantum physics—he is attempting to convince the world and the church that while Jesus was Christ, so is everyone. And while Jesus was God, so is everyone else. To underscore this heretical New Age doctrine of God and Christ "in" everyone, he would have us further believe that nothing of any significance happened on the Cross of Calvary. However, the Bible makes it very clear that something extremely wonderful and overwhelmingly significant did happen on the Cross of Calvary. For it was on that Cross that Jesus Christ died to save the world as He defeated sin (1 John 2:2), death (2 Timothy 1:10), and the Devil himself (Hebrews 2:14). As the one and only Christ, He is our Rock (1 Corinthians 10:1-4), He is our Foundation (1 Corinthians 3:11), and in every sense of the word He is the Saviour of the world (1 John 4:14).
Christ Our Savior
The apostle Paul proclaimed that all he needed to know was Christ and Christ crucified:
For I determined not to know any thing among you, save Jesus Christ, and him crucified. (1 Corinthians 2:2)
Yet Paul also said we should not be "ignorant" of Satan's "devices" (2 Corinthians 2:11).
Paul further stated it is "a shame" we have to talk about "the unfruitful works of darkness," but we must "reprove" them—expose them—by bringing them into the "light":
And have no fellowship with the unfruitful works of darkness, but rather reprove them. For it is a shame even to speak of those things which are done of them in secret. But all things that are reproved are made manifest by the light: for whatsoever doth make manifest is light. (Ephesians 5:11-13)
At the same time, Paul reminds us that there is a "simplicity" in Christ:
But I fear, lest by any means, as the serpent beguiled Eve through his subtlety, so your minds should be corrupted from the simplicity that is in Christ. (2 Corinthians 11:3)
Just as there is a "simplicity" in Christ, there is a simplicity in the deception. Satan's deceptive scenario presents a false "God" and a false "Christ" who are allegedly "in" everyone and everything—thus providing the false foundation of a false one-world religion.
And Jesus answered and said unto them, Take heed that no man deceive you. For many shall come in my name, saying, I am Christ; and shall deceive many. (Matthew 24:4-5)

For if he that cometh preacheth another Jesus, whom we have not preached, or if ye receive another spirit, which ye have not received, or another gospel, which ye have not accepted, ye might well bear with him. (2 Corinthians 11:4)
But what if the true foundations are destroyed by a New Worldview that presents itself as a New Spirituality for a New Age?
If the foundations be destroyed, what can the righteous do? (Psalm 11:3)
For biblical Christians, the true foundations can never be destroyed because we have "a sure foundation":
Therefore thus saith the Lord God, Behold, I lay in Zion for a foundation a stone, a tried stone, a precious corner stone, a sure foundation: he that believeth shall not make haste. (Isaiah 28:16)
And that foundation is our Rock—Jesus Christ:
For other foundation can no man lay than that is laid, which is Jesus Christ. (1 Corinthians 3:11)

Moreover, brethren, I would not that ye should be ignorant, how that all our fathers were under the cloud, and all passed through the sea; And were all baptized unto Moses in the cloud and in the sea; And did all eat the same spiritual meat; And did all drink the same spiritual drink: for they drank of that spiritual Rock that followed them: and that Rock was Christ. (1 Corinthians 10:1-4)
While many in this world build upon foundations that crumble, we, as believers in Christ, have built upon a foundation that will never falter:
And why call ye me, Lord, Lord, and do not the things which I say? Whosoever cometh to me, and heareth my sayings, and doeth them, I will show you to whom he is like: He is like a man which built an house, and digged deep, and laid the foundation on a rock: and when the flood arose, the stream beat vehemently upon that house, and could not shake it: for it was founded upon a rock. (Luke 6:46-48)
These other foundations bring ruin:
But he that heareth, and doeth not, is like a man that without a foundation built an house upon the earth; against which the stream did beat vehemently, and immediately it fell; and the ruin of that house was great. (Luke 6:49)
"Oneness" is the foundational lie of the New Age/New Spirituality. New Age leader Neale Donald Walsch claims to have had literal "conversations" with "God." He says God told him that "Oneness"—"God" in everyone and everything—is the "Foundational Truth" of a New Spirituality that can save the world. In regards to this "immanent," "panentheistic," and heretical worldview, Walsch writes:
[W]e see God in everyone and everything. Including our divine selves.1

Oneness is the message.2

It is the Foundational Truth of the New Spirituality.3
The following chronologically selected quotes are just some of the many ways this false foundational principle of "Oneness"—God "in" everything—has gradually worked its way into the world—and into the church—over the last sixty to seventy years.
The God "in" Everything Lie Through the Years
(1935) The Two Listeners in God Calling—Two anonymous English women claimed to receive special messages from "The Living Christ" in the 1930s. Their messages were first released in 1935 and were later turned into a best-selling book that is still popular today. Their "Christ" delivered new revelation that included the new "truth" that God is "in" everyone:
Wherever the soul is, I am. Man has rarely understood this. I am actually at the centre of every man's being.4

I see as no man can see the God in you.5
(1948) Alice Bailey in The Reappearance of the Christ—New Age matriarch Alice Bailey and her spirit guide Djwhal Khul describe how the path to God will be based on an "immanent" God that is "within every form of life":
. . . a fresh orientation to divinity and to the acceptance of the fact of God Transcendent and of God Immanent within every form of life. These are the foundational truths upon which the world religion of the future will rest.6
(1952) Norman Vincent Peale in The Power of Positive Thinking—In his mega best-selling book, Peale teaches the foundational belief of the New Age/New Spirituality that God is "in" everyone. On page 40, Peale tells his millions of readers:
God is in you.7
(1971) Pierre Teilhard de Chardin in Christianity and Evolution—Teilhard de Chardin, the "Father" of the New Age Movement and frequently quoted by undiscerning Christian leaders, wrote:
I can be saved only by becoming one with the universe.8

What I am proposing to do is to narrow the gap between Pantheism and Christianity by bringing out what one might call the Christian soul of pantheism or the pantheistic aspect of Christianity.9
(1975) The Channeled "Jesus" in A Course in Miracles—Oprah Winfrey stated that the New Age teachings of A Course in Miracles—allegedly new revelation from Jesus Christ—could "change the world." The Course's "Jesus" teaches that "God" is in everyone and everything—therefore all is "one":
The recognition of God is the recognition of yourself.10

The oneness of the Creator and the creation is your wholeness, your sanity and your limitless power.11
(1978) M. Scott Peck in The Road Less Traveled—The late mystical, pre-emergent, best-selling author and professing "Christian" wrote:
If you want to know the closest place to look for grace, it is within yourself. If you desire wisdom greater than your own, you can find it inside you. To put it plainly, our unconscious is God. God within us. We were part of God all the time.12
(1980) Marilyn Ferguson in The Aquarian Conspiracy—The late New Age author wrote that God was within everyone and everything. God was described as the universal "ground of being." What heretofore had been perceived as heresy—the "immanent" notion of God "in" everything—was presented by Ferguson as new truth. She introduced this as "a great heretical idea"13 that could save mankind:
GOD WITHIN: THE OLDEST SPIRITUAL HERESY—In the emergent spiritual tradition God is not the personage of our Sunday-school mentality. God is experienced as flow, wholeness . . . the ground of being.14
(1980) Maitreya in Messages from Maitreya the Christ—On page 88 in this channeled New Age book, false New Age Christ Maitreya states he is the Christ and is already here on earth waiting for humanity to call him forth. He teaches that "God" is "within" every person:
My friends. God is nearer to you than you can imagine. God is yourself. God is within you and all around you.15
(1980) Benjamin Creme in The Reappearance of the Christ and the Masters of Wisdom—New Age channeler Benjamin Creme—still speaking today on behalf of Maitreya—states on page 88 of his book that the New-World Religion will be based on the proposition that "Christ" is "immanent"—"in man and all creation":
But eventually a new world religion will be inaugurated which will be a fusion and synthesis of the approach of the East and the approach of the West. The Christ will bring together, not simply Christianity and Buddhism, but the concept of God transcendent—outside of His creation—and also the concept of God immanent in all creation—in man and all creation.16
(1983) Shirley MacLaine in Out on a Limb—Using her celebrity status, MacLaine was one of the first people to bring occult/New Age teachings out of the closet into mainstream society. In her best-selling book Out on a Limb, she and her friend David converse about the idea that everyone is God:
"The simple truth," he said, "of knowing yourself. And to know yourself is to know God."

"You mean that is the Big Truth?"

"That's it. The point, Shirley, is that it is simple."17
(1987) The Oprah Winfrey Show—On a September 18, 1987 program titled "The New Age Movement," Winfrey praised New Age minister Eric Butterworth's book Discover the Power Within You. This New Age book mentions the divinity of man over one hundred times in its pages. On this particular Oprah program about the New Age Movement, Winfrey used Butterworth to present her own New Age belief in the divinity of man. She stated:
One of the most important books I think I've read in my life was a book by Eric Butterworth. . . . Discover the Power Within You. And what Eric Butterworth said in that book is that Jesus didn't come to teach us how divine he was, but came to teach that there is divinity within us.18
(1991) David Spangler in Reimagination of the World—Pioneering New Age leader David Spangler introduced the idea of "God within" as a "universal presence" and as the "ground of all being." He wrote:
There is nothing new about saying "I am God." . . . However, in the Judeo-Christian-Moslem world, God is usually not popularly understood as a universal presence, the ground of all being.19
(1991) Leonard Sweet in Quantum Spirituality—Sweet, like other New Age sympathizers in the emergent church, tries to use quantum physics to demonstrate that God is "in" everything. He makes his quantum meaning clear when he introduces the "radical" and heretical "God within" doctrine by stating that God is embodied in the "substance of creation."
Quantum Spirituality bonds us to all creation as well as to other members of the human family. . . . This entails a radical doctrine of embodiment of God in the very substance of creation.20
(1992) Betty Eadie in Embraced by the Light—Mormon/New Age author Betty Eadie's best-selling book was extremely popular with countless undiscerning Christian readers. In describing a part of her alleged near-death experience, she writes:
I felt God in the plant, in me, his love pouring into us. We were all one.21
(1992) Sue Monk Kidd in The Dance of the Dissident Daughter: A Woman's Journey from Christian Tradition to the Sacred Feminine—Kidd, a former Southern Baptist Sunday School teacher and now a best-selling New Age mystic, falsely teaches the "immanence" of "God" in everything:
Restoring the feminine symbol of Deity means that divinity will no longer be only heavenly, other, out there, up there, beyond time and space, beyond body and death. It will also be right here, right now, in me, in the earth, in this river and this rock, in excrement and roses alike.22
(1992) New Age Journal Editors in As Above, So Below—In this New Age book written by the editors of the New Age Journal, the authors discuss "transcendence" and "immanence" in regard to "oneness" and the idea of God being "in" everyone:
Thousands of years ago in ancient Egypt, the great master alchemist Hermes Trismegistus, believed to be a contemporary of the Hebrew prophet Abraham, proclaimed this fundamental truth about the universe: "As above, so below: as below, so above." This maxim implies that the transcendent God beyond the physical universe and the immanent God within ourselves are one. Heaven and Earth, spirit and matter, the invisible and the visible worlds form a unity to which we are intimately linked.23
(1993) Eugene Peterson in The Message—Eugene Peterson not only uses the occult phrase "as above, so below," but he puts these New Age words in the mouth of our Lord and Savior Jesus Christ. Instead of "in earth as it is in heaven," Peterson has Jesus proclaiming this mystical, magical, New Age phrase right in the middle of the Lord's Prayer. Also, in his Message "translation" of Ephesians 4:6, after erroneously translating that God is "present in all," he introduces "Oneness":
You have one Master, one faith, one baptism, one God and Father of all, who rules over all, works through all, and is present in all. Everything you are and think and do is permeated with Oneness.24
(1993) Jack Canfield and Mark Victor Hansen in Chicken Soup for the Soul—On page 69 of the very first Chicken Soup for the Soul book, in his personally penned story titled "The Golden Buddha," New Age author/leader Jack Canfield writes:
. . . underneath each of us is a "golden Buddha," a "golden Christ" or "a golden essence," which is our real self.25
(1994) Catechism of the Catholic Church—The 1994 Catechism is the official source for Roman Catholic doctrine. The following quotes are taken straight from the Catechism:
Let us rejoice then and give thanks that we have become not only Christians, but Christ himself. Do you understand and grasp, brethren, God's grace toward us? Marvel and rejoice: we have become Christ. (#795)26

For the Son of God became man so that we might become God. (#460)27

The only-begotten Son of God, wanting to make us sharers in his divinity, assumed our nature, so that he, made man, might make men gods. (#460)28
(1996) Neale Donald Walsch in Conversations with God: Book 1—The New Age "God," speaking through Walsch, tells everyone:
You are already a God. You simply don't know it.29
(1997) Henri Nouwen in Here and Now—Henri Nouwen, the late Catholic mystic, is frequently quoted by undiscerning pastors and Christian leaders. In his book, Here and Now, Nouwen writes:
The God who dwells in our inner sanctuary is also the God who dwells in the inner sanctuary of every human being.30
(1999) Leonard Sweet in SoulTsunami—With a front cover endorsement by Rick Warren, New Age sympathizer/church figure Leonard Sweet introduces the New Age concept of "immanence" after suggesting that Christians "learn to speak out of both sides of the mouth":
To survive in the postmodern culture, one has to learn to speak out of both sides of the mouth . . . Biblical theological is not circular with a fixed center, but elliptical, revolving around the double foci of God's immanence and God's transcendence.31
(2002) Rick Warren in The Purpose-Driven Life—On page 88 of The Purpose Driven Life, Rick Warren quotes Ephesians 4:6 from a New Century Bible translation, which erroneously states that God is "in" everything:
Because God is with you all the time, no place is any closer to God than the place where you are right now. The Bible says, "He rules everything and is everywhere and is in everything."32
(2003) Robert Schuller in an Hour of Power Sermon—On November 9, 2003, using the same overlapping New Age term of "immanence," Robert Schuller told his international television audience that God was an "immanent God" because he was "in every single human being":
The immanence of God means here, in me, around me, in society, in the world, this God here, in the humanities, in the science, in the arts, sociology, in politics—the immanence of God. . . . Yes, God is alive and he is in every single human being.33
(2003) Tom Holliday and Kay Warren in their Saddleback Church Foundations Participants Guide—Invoking the same overlapping concept of "immanence," the Foundations Participants Guide states:
The fact that God stands above and beyond his creation does not mean he stands outside his creation. He is both transcendent (above and beyond his creation) and immanent (within and throughout his creation).34
(2004) Sarah Young in Jesus Calling—The July 8th message on page 199 that Sarah Young says she received from "Jesus" states that He is "in" everything:
I am above all as well as in all.35
(2006) Rhonda Byrne in The Secret—This New Age author prominently features the occult/New Age phrase "as above, so below" at the front of her book. On page 164, she later defines what she means by the term:
You are God in a physical body.36
(2006) What the Bleep Do We Know!?—This popular New Age movie featured in theaters across the country, tried to use quantum physics to convince people that God is "in" everyone and everything. New Age channeler J.Z. Knight appears in the film and channels an ancient "spirit guide" named Ramtha. This spirit guide proclaims that quantum physics proves that we are all "God."
We have the epitome of a great science . . . quantum physics . . . Everyone is God.37
(2006) Elizabeth Gilbert in Eat, Pray, Love—In this best-selling New Age book, Gilbert frequently references the idea that God is "in" everyone:
God dwells within you as yourself, exactly the way you are. . . . To know God, you need only to renounce one thing—your sense of division from God.38
(2007) William Paul Young in The Shack—Like many New Age proponents, author Paul Young uses the term ground of being. In this book that was enthusiastically read by millions of Christians, Young's "Jesus" uses the phrase to underline his heretical statement that God is "in all things":
"God" who is the ground of all being, dwells in, around, and through all things."39
(2011) Glenn Beck in The Seven Wonders That Will Change Your Life—Mormon author and radio personality Glenn Beck openly acknowledges his New Age sympathies in this book. He writes:
If God is everything and everywhere and inside everyone, then I figured He had to be inside me, too.40

I wasn't here by accident. I was part of God's plan and I had to respect that plan, or at least not resent it. I had to respect myself, as part of Him.41

My father's granola-hippie-New Age spirituality (which I actually really agree with) . . .42
Scripture makes it clear that God is not an immanent/quantum/panentheistic force or "ground of all being" that interpenetrates His creation. Scripture exhorts believers to lay up "a good foundation"—the true Jesus Christ—for the challenging days ahead. It also warns us to beware of a false foundation that purports to be scientifically proven—like the quantum/New Age/New Spirituality. God is our creator, but He is not "quantum-ly" embedded in His creation. He is not "in" everyone and everything.
Laying up in store for themselves a good foundation against the time to come, that they may lay hold on eternal life. O Timothy, keep that which is committed to thy trust, avoiding profane and vain babblings, and oppositions of science falsely so called: Which some professing have erred concerning the faith. Grace be with thee. Amen. (1Timothy 6:19-21)
Scriptural References to Show God is Not "in" Man
Thou shalt have none other gods before me. (Deuteronomy 5:7)
Put them in fear, O LORD: that the nations may know themselves to be but men. (Psalm 9:20)
. . . verily every man at his best state is altogether vanity. (Psalm 39:5)
I am the Lord: that is my name: and my glory will I not give to another. (Isaiah 42:8)
I am the LORD, and there is none else, there is no God beside me: I girded thee, though thou hast not known me: That they may know from the rising of the sun, and from the west, that there is none beside me. I am the LORD, and there is none else. (Isaiah 45:5-6)
Shall a man make gods unto himself, and they are no gods? (Jeremiah 16:20)
Son of man, say unto the prince of Tyrus, Thus saith the Lord God; Because thine heart is lifted up, and thou hast said, I am a God, I sit in the seat of God, in the midst of the seas; yet thou art a man, and not God, though thou set thine heart as the heart of God. (Ezekiel 28:2)
I will not execute the fierceness of mine anger, I will not return to destroy Ephraim: for I am God, and not man; the Holy One in the midst of thee: and I will not enter into the city. (Hosea 11:9)
And whosoever shall exalt himself shall be abased; and he that shall humble himself shall be exalted. (Matthew 23:12)
But Jesus did not commit himself unto them, because he knew all men, And needed not that any should testify of man: for he knew what was in man. (John 2:24-25)
Because that, when they knew God, they glorified him not as God, neither were thankful; but became vain in their imaginations, and their foolish heart was darkened. Professing themselves to be wise, they became fools, And changed the glory of the uncorruptible God into an image made like to corruptible man, and to birds, and fourfooted beasts, and creeping things . . . .Who changed the truth of God into a lie, and worshipped and served the creature more than the Creator, who is blessed for ever. (Romans 1:21-23, 25)
And again, The Lord knoweth the thoughts of the wise, that they are vain. Therefore let no man glory in men. (1 Corinthians 3:20-21)
. . . that ye might learn in us not to think of men above that which is written, that no one of you be puffed up for one against another. (1 Corinthians 4:6)
For we preach not ourselves, but Christ Jesus the Lord; and ourselves your servants for Jesus' sake. (2 Corinthians 4:5)
Final Thoughts
It has been rightly said that God is God and we are not. However, tremendous pressure is being continually mounted to convince everyone there is a New Age/New Spirituality/New Worldview that can save the world from its present problems. We are being told that if we accept the new revelation that "we are all one" because "God is in everyone and everything" then world peace can happen. But we know from Scripture that a false Christ—Antichrist—"shall destroy wonderfully, and shall prosper, and practice" and "by peace shall destroy many" (Daniel 8:25). The Bible warns that what will appear to be a wonderful "peace and safety" will suddenly turn into terrible "destruction" (1 Thessalonians 5:3).
Universal "oneness"—God "in" everyone and everything—is obviously a broad way. The true Christ—Jesus Christ—warns that "broad is the way, that leadeth to destruction" (Matthew 7:13). He also warns that "narrow is the way that leadeth to life, and few there be that find it" (Matthew 7:14). He later states there will come a time when Satan, working through Antichrist, will deceive "the whole world" (Revelation 12:9). Jesus explained that "because iniquity shall abound, the love of many shall wax cold" (Matthew 24:12).
Describing the coming apostasy, the apostle Paul said that people "received not the love of the truth that they might be saved" and "believed not the truth" (2 Thessalonians 2:10-12). Thus, with "itching ears," humanity will "turn away their ears from the truth" as they turn toward things like a New Age/New Spirituality that teaches we are all "one" because God is "in" everyone and everything.
God is not impressed with deceptive devices like worldly "oneness" and neither should anyone who reads and believes the Bible. Genesis 11:6 records what the Lord has to say about worldly "oneness":
Behold, the people is one, and they have all one language; and this they begin to do: and now nothing will be restrained from them, which they have imagined to do.
Scripture records that God was so displeased with their contrived "oneness" that He confounded their language and scattered them all over the face of the Earth (Genesis 11:7-8). Contrast this with Galatians 3:26-28 where the apostle Paul says to those who are actual believers, "Ye are all one in Christ Jesus." He does not say that Christ is "in" everyone. Rather, He says that everyone who believes in Christ is "one" in Christ. In Ephesians 4:6, Paul tells believers at the church in Ephesus and the "faithful in Christ Jesus" that God is in "you all" solely by virtue of their belief. God does not naturally reside in everyone and everything. Thus, there is a big difference between the mistaken notion of universal worldly "oneness" and believers who become "one" in Christ through their belief in the true Jesus Christ.
Acts 17:26 affirms that all of humanity is "one blood" because we come from an original set of parents—Adam and Eve. But "that which is born of the flesh is flesh; and that which is born of the Spirit is spirit" (John 3:6). That is why Jesus said—"Ye must be born again" (John 3:7). It is only after conversion to the true Jesus Christ that the Holy Spirit is sent to believers. As a result of that commitment and conversion, it can be said that God is now "in" those believers. But those believers are not God. And most certainly, God is not "in" everyone and everything. Years ago, people claiming to be God were considered delusional. The way things are going, it may not be long before those who deny they are God will be the ones who are considered to be delusional.
It has been said that when a big lie is told often enough and convincingly enough over time, it will eventually be perceived as truth. Because most Christians are not contending for the faith, the big lie that "God is in everyone and everything" is fast becoming the new spiritual norm. Consequently, it is easy to see how evil may soon rule the world—just as the Bible said it would one day. And the way things are going it may be sooner than most people would ever imagine.
So may God have mercy on us all as we race with ever increasing speed toward this inevitable prophesied conclusion. Ironically, in humanity's effort to avoid this, they actually bring it on with "new truths" that are no truths at all—like God "in" everyone and everything. In the meantime, we rest in our relationship with the Lord, knowing that these things must come to pass at such a time as this.
And as he sat upon the mount of Olives, the disciples came unto him privately, saying, Tell us, when shall these things be? and what shall be the sign of thy coming, and of the end of the world? And Jesus answered and said unto them, Take heed that no man deceive you. For many shall come in my name, saying, I am Christ and shall deceive many. (Matthew 24:3-5)
To order copies of Be Still and Know That You are Not God!—God is Not "in" Everyone and Everything," click here.
Endnotes
1. Neale Donald Walsch, Happier than God: Turn Ordinary Life into an Extraordinary Experience (Ashland, OR: Emnin Books, 2008), p. 207.
2. Neale Donald Walsch, Tomorrow's God: Our Greatest Spiritual Challenge (New York, NY: Atria Books, 2004), p. 167.
3. Ibid., p. 167.
4. Two Listeners, Edited by A. J. Russell, God Calling (Grand Rapids, MI: A Spire Book published by Jove Publications Inc., for Fleming H. Revell, 2005), p. 55.
5. Ibid., p. 88.
6. Alice A, Bailey, The Reappearance of the Christ (New York, NY: Lucis Publishing Company, Lucis Press, Ltd., 1948), 1996, p. 150.
7. Norman Vincent Peale, The Power of Positive Thinking (New York, NY, Prentice-Hall, Inc., Sixteenth Printing, 1955), p. 40.
8. Pierre Teilhard de Chardin, Christianity and Evolution (New York, NY, Harcourt Brace Jovanovich, Inc., 1971), p. 128.
9. Ibid., p. 56.
10. A Course in Miracles: Combined Volume (Glen Ellen, California: Foundation for Inner Peace, 1975), (Text), p. 147.
11. Ibid., p. 125.
12. M. Scott Peck, The Road Less Traveled: A New Psychology of Love, Traditional Values and Spiritual Growth (New York, NY: Simon & Schuster, 1978), p. 281.
13. Marilyn Ferguson, The Aquarian Conspiracy: Personal and Social Transformation in the 1970s (Los Angeles, CA: J.P. Tarcher, Inc., 1980), p. 27.
14. Ibid., p. 382.
15. Messages from Maitreya the Christ: One Hundred Forty Messages (Los Angeles, CA: Share International Foundation, 1980), p. 88.
16. Benjamin Creme, The Reappearance of the Christ and the Masters of Wisdom (London, England; The Tara Press, 1980), p. 88.
17. Shirley MacLaine, Out on a Limb (New York, NY: Bantam Books, 1983), p. 317.
18. The Oprah Winfrey Show # W265, "The New Age Movement," Air Date: September 18, 1987.
19. David Spangler and William Irwin Thompson, Reimagination of the World: A Critique of the New Age, Science, and Popular Culture (Santa Fe, NM: Bear & Company Publishing, 1991), p. 148.
20. Leonard Sweet, Quantum Spirituality: A Postmodern Apologetic (Dayton, OH: Whaleprints for SpiritVenture Ministries, Inc., 1991, 1994), p. 125.
21. Betty J. Eadie, Embraced by the Light (Placerville, CA: Gold Leaf Press, 1992), p. 81.
22. Sue Monk Kidd, The Dance of the Dissident Daughter: A Woman's Journey from Christian Tradition to the Sacred Feminine (New York, NY: Harper Collins Publishers Inc.,1992), p. 160.
23. Ronald S. Miller and the Editors of New Age Journal, As Above, So Below: Paths to Spiritual Renewal in Daily Life (Los Angeles, CA: Jeremy P. Tarcher Inc., 1992), p. xi.
24. Eugene Peterson, The Message: The New Testament in Contemporary Language (Colorado Springs, Colorado: Nav Press, 1993, 2003), p. 21-22.
25. Jack Canfield and Mark Victor Hansen, Chicken Soup for the Soul: 101 Stories to Open the Heart and Rekindle the Spirit (Deerfield Beach, FL: Health Communications, Inc., 1993), p. 69.
26. Catechism of the Catholic Church (New York, NY: Doubleday, 1995), p. 228.
27. Ibid., p. 129.
28. Ibid.
29. Neale Donald Walsch, Conversations with God an uncommon dialogue Book 1 (New York: NY: G.P. Putnam's Sons, Hardcover Edition, 1996), p. 202.
30. Henri Nouwen, Here and Now (New York, NY: The Crossroad Publishing Company, 1997 edition), p. 22.
31. Leonard Sweet, SoulTsunami: Sink or Swim in the New Millennium Culture (Grand Rapids, Michigan: Zondervan, 1999), p. 28.
32. Rick Warren, The Purpose-Driven Life: What on Earth am I Here For? (Grand Rapids, Michigan: Zondervan, 2002), p. 88.
33. Hour of Power, Robert H. Schuller, Program # 1762, "God's Word: Rebuild, Renew, Restore," November 9, 2003, (http://www.hourofpower.org/bookletdetail.cfm?ArticleID=2107), p. 5.
34. Tom Holliday and Kay Warren, Foundations Participant's Guide: 11 Core Truths To Build Your Life On (Grand Rapids, Michigan: Zondervan, 2003), p. 46.
35. Sarah Young, Jesus Calling (Nashville, TN: Thomas Nelson, 2004), p. 199.
36. Rhonda Byrne, The Secret (New York, NY: Atria Books, 2006), p. 164.
37. What the Bleep Do We know!? (20th Century Fox, 2004, http://www.whatthebleep.com) transcribed by author.
38. Elizabeth Gilbert, Eat, Pray, Love: One Woman's Search for Everything Across Italy, India and Indonesia (New York, NY: Penguin Books, 2006), p. 192.
39. William P. Young, The Shack: Where Tragedy Confronts Eternity (Newbury Park, CA: Windblown Media, 2007), p. 112.
40. Glenn Beck and Dr. Keith Ablow, The Seven Wonders That Will Change Your Life (New York, NY: Threshold Editions-Mercury Radio Arts, A division of Simon & Schuster, Inc., 2011) p. 58.
41. Ibid.
42. Ibid., p. 24.
To order copies of Be Still and Know That You are Not God!—God is Not "in" Everyone and Everything," click here.
Ten Questions for Those Who Claim the "Supreme Beings" of the Nations are the True God by  Sandy Simpson is our newest Lighthouse Trails Booklet. The Booklet is 16 pages long and sells for $1.95 for single copies. Quantity discounts are as much as 50% off retail. Our Booklets are designed to give away to others or for your own personal use.  Below is the content of the booklet. To order copies of Ten Questions for Those Who Claim the "Supreme Beings" of the Nations are the True God, click here.
Ten Questions for Those Who Claim the "Supreme Beings" of the Nations are the True God
When did ANY of the Patriarchs and Prophets in the Old Testament and the apostles or Jesus Christ in the New Testament ever claim that the "supreme beings" of the nations were Elohim/YHWH, the one True God? And yet, this very thing is being taught by popular figures within the Christian church today.
I have ten questions for the World Christian Gathering of Indigenous People (WCGIP) adherents such as Don Richardson, Daniel Kikawa, the late Richard Twiss, Terry LeBlanc, Danny Lehman, Aloha Ke Akua, YWAM as well as many in the Emergent Church (EC). The questions arise from their claim that the "supreme beings" of the nations are all the True God, YHWH, the God of Abraham, Isaac, and Jacob. I have included Scripture verses with each of the following questions, and the footnotes provide further documentation.
 10 Questions with Scriptural Answers
1. Did Abraham claim that the God who called him from Haran was the same as the god Baal of the Canaanites?
So Abram departed, as the LORD had spoken unto him; and Lot went with him: and Abram was seventy and five years old when he departed out of Haran. (Genesis 12:4; emphasis added)
The word for "LORD" in the above verse is YHWH, the name of God, the I Am. Baal was a false god of the Caananites, not YHWH. The "supreme beings" of Canaan were actually a polytheistic couple, Baal and Asherah, as in all ancient cultures modeled after the false religion of Nimrod and Semiramis at Babel.1
2. Did Joseph, upon being taken to Egypt, tell the Pharaoh they had always been worshipping the true God by the name of Amen (Amon)?
The LORD of hosts, the God of Israel, saith; Behold, I will punish the multitude of No, and Pharaoh, and Egypt, with their gods, and their kings; even Pharaoh, and all them that trust in him. (Jeremiah 46:25)
The God of Israel, thus the God of Joseph, said He would bring punishment on the false "supreme being" of the Egyptians and the leaders who worshipped it. The "supreme beings" of Egypt were Amen and Mut.2
3. Did Moses, after going up to the mountain of God, come down and tell Israel their worship of the Golden Calf was good because it was the same as the worship of YHWH?
[T]hey have turned aside quickly out of the way which I commanded them: they have made them a molten calf, and have worshipped it, and have sacrificed thereunto, and said, These be thy gods, O Israel, which have brought thee up out of the land of Egypt. (Exodus 32:8)
The golden calf is contrasted against the true God of Israel by Moses. Interestingly, the golden calf was not only an idol meant to take the place of YHWH, but it was a symbol of the Pharaoh who was considered a "god" by the Egyptians.
I have established that the only god specifically called a "Golden Calf" by the ancient Egyptians in their writings is Pharaoh in the Old Kingdom Pyramid Texts (these texts exist into later New Kingdom times in reworked formats). In these texts, Pharaoh calls himself a "Golden Calf," born of heaven, who wishes to be allowed to board the sacred solar bark or boat, which carries the Sun god each day across the heavens. Pharaoh was called "Son of the Sun" and in New Kingdom times "the Sun," in letters from Canaanite princes addressed to Pharaoh Akhenaten (reigned ca. 1350-1334 BCE).3
So Israel wanted to go back to Egypt and back under the rule of Pharaoh who was to be worshipped as a "god."
4. Did Joshua, in conquering the nations in Canaan, claim that Baal was the True God?
And Joshua the son of Nun, the servant of the LORD, died, being an hundred and ten years old. And they buried him in the border of his inheritance in Timnath-heres, in the mount of Ephraim, on the north side of the hill Gaash. And also all that generation were gathered unto their fathers: and there arose another generation after them, which knew not the LORD, nor yet the works which he had done for Israel. And the children of Israel did evil in the sight of the LORD, and served Baalim: and they forsook the LORD God of their fathers, which brought them out of the land of Egypt, and followed other gods, of the gods of the people that were round about them, and bowed themselves unto them, and provoked the LORD to anger. And they forsook the LORD, and served Baal and Ashtaroth. (Judges 2:8-13)
During the time of Joshua, the people of Israel worshipped the true God, by in large. But a generation after Joshua died turned away from YHWH to the worship of Baal & Ashtoreth. The "supreme beings" of Canaan were the Baals and Asherahs.4
5. Did Elijah test the prophets of Baal on Mt. Carmel just for a good laugh because Baal was really the True God?
And Elijah came unto all the people, and said, How long halt ye between two opinions? if the LORD be God, follow him: but if Baal, then follow him. And the people answered him not a word. (1 Kings 18:21)
The whole conflict was between the false god Baal and the true God, YHWH. Postmodern "progressive" inclusivists of today would have never had this showdown. It would have shown that inclusivism is garbage. The "supreme beings" of Canaan were the Baals and Asherahs.5
6. Did Jonah tell the people of Nineveh to repent to their god el, who was not Elohim but the consort of Athirat?
Now the word of the LORD came unto Jonah the son of Amittai, saying, Arise, go to Nineveh, that great city, and cry against it; for their wickedness is come up before me. (Jonah 1:1-2)

And the word of the LORD came unto Jonah the second time, saying, Arise, go unto Nineveh, that great city, and preach unto it the preaching that I bid thee. So Jonah arose, and went unto Nineveh, according to the word of the LORD. Now Nineveh was an exceeding great city of three days' journey. And Jonah began to enter into the city a day's journey, and he cried, and said, Yet forty days, and Nineveh shall be overthrown. So the people of Nineveh believed God, and proclaimed a fast, and put on sackcloth, from the greatest of them even to the least of them. (Jonah 3:1-5)
Anytime you see the word "LORD" in capitals in English Bibles, it is the word "YHWH." YHWH sent Jonah to Nineveh, and when they heard that God was going to judge them, they repented. Jonah then got angry because they were Gentiles who worshipped false gods.
The origin of the name Nineveh is obscure. Possibly it meant originally the seat of Ishtar, since Nina was one of the Babylonian names of that goddess.6
El and Athirat were the "supreme beings" of Ninevah.7 They were not worshipping the "El" Who is YHWH but a generic singular El which means "god." They were continuing in the polytheistic worship of Babel which was the worship of a male and female supreme beings.
7. Did David tell the Philistines to continue to worship the god Dagon because he was the same as YHWH?
And when the men of Ashdod saw that it was so, they said, The ark of the God of Israel shall not abide with us: for his hand is sore upon us, and upon Dagon our god. (1 Samuel 5:7)
The statue of Dagon fell twice in the presence of the Ark of the Covenant, and the men of Ashdod admitted that their god was different from the God of Israel. The "supreme beings" of the Philistines were Dagon and Derceto.8 Emergent inclusivists of today would say that since Dagon was a "supreme being," he was the true God, and they would get Bible translation societies to include his name in the Ashdod Bible.9
8. Did Daniel tell king Nebuchadnezzar to continue the worship of Marduk as the One True God?
The same hour was the thing fulfilled upon Nebuchadnezzar: and he was driven from men, and did eat grass as oxen, and his body was wet with the dew of heaven, till his hairs were grown like eagles' feathers, and his nails like birds' claws. And at the end of the days I Nebuchadnezzar lifted up mine eyes unto heaven, and mine understanding returned unto me, and I blessed the most High, and I praised and honoured him that liveth for ever, whose dominion is an everlasting dominion, and his kingdom is from generation to generation: and all the inhabitants of the earth are reputed as nothing: and he doeth according to his will in the army of heaven, and among the inhabitants of the earth: and none can stay his hand, or say unto him, What doest thou? At the same time my reason returned unto me; and for the glory of my kingdom, mine honour and brightness returned unto me; and my counsellors and my lords sought unto me; and I was established in my kingdom, and excellent majesty was added unto me. Now I Nebuchadnezzar praise and extol and honour the King of heaven, all whose works are truth, and his ways judgment: and those that walk in pride he is able to abase. (Daniel 4:33-37)
Nebuchadnezzar had to be taught a lesson by the LORD (YHWH) so he would be humbled and recognize who the True God was. He had built a ninety foot statue either of himself, Nimrod, or Marduk since Marduk is a direct link to the worship of Nimrod. The "supreme beings" of Babylon were Marduk and Astarte (continued worship of Nimrod and Semiramis).10
9. Did Ezra and Nehemiah ask the Persians if they could rebuild the Temple as a tribute to the Persian god Ahura Mazda?
The vessels also that are given thee for the service of the house of thy God, those deliver thou before the God of Jerusalem. (Ezra 7:19)
The king Artaxerxes ordered that the temple implements be returned so they could eventually rebuild the temple of the "God of Jerusalem." This was not for the Persian gods but for the True God. The gods of the Persians were Ahura Mazda and Spenta Armaiti.11
10. Did Paul use a clever missiological technique by telling the Greeks that God is Zeus, or the Romans that He is Jupiter or the Ephesians that He is embodied in Artemis?
And when the people saw what Paul had done, they lifted up their voices, saying in the speech of Lycaonia, The gods are come down to us in the likeness of men. And they called Barnabas, Jupiter; and Paul, Mercurius, because he was the chief speaker. Then the priest of Jupiter, which was before their city, brought oxen and garlands unto the gates, and would have done sacrifice with the people. Which when the apostles, Barnabas and Paul, heard of, they rent their clothes, and ran in among the people, crying out, and saying, Sirs, why do ye these things? We also are men of like passions with you, and preach unto you that ye should turn from these vanities unto the living God, which made heaven, and earth, and the sea, and all things that are therein: who in times past suffered all nations to walk in their own ways. Nevertheless he left not himself without witness, in that he did good, and gave us rain from heaven, and fruitful seasons, filling our hearts with food and gladness. And with these sayings scarce restrained they the people, that they had not done sacrifice unto them. (Acts 14:11-18)
This situation is entirely consistent with Paul teaching over and over again that the Gentiles "do not know God." Paul was there to bring them the Gospel, not to syncretize their own god with the God of the Bible. This is exactly what he did in Aereopogus also when he explained to them Who the "Unknown God" was, and most of them did not want to hear the truth.
Howbeit then, when ye knew not God, ye did service unto them which by nature are no gods. (Galatians 4:8)

For after that in the wisdom of God the world by wisdom knew not God, it pleased God by the foolishness of preaching to save them that believe. (1 Corinthians. 1:21)

Behold, what manner of love the Father hath bestowed upon us, that we should be called the sons of God: therefore the world knoweth us not, because it knew him not. (1 John 3:1)

And even as they did not like to retain God in their knowledge, God gave them over to a reprobate mind, to do those things which are not convenient. (Romans 1:28)

[N]ot in the lust of concupiscence, even as the Gentiles which know not God. (1 Thessalonians 4:5)

. . . that at that time ye were without Christ, being aliens from the commonwealth of Israel, and strangers from the covenants of promise, having no hope, and without God in the world: but now in Christ Jesus ye who sometimes were far off are made nigh by the blood of Christ. (Ephesians 2:12-13)

[I]n flaming fire taking vengeance on them that know not God, and that obey not the gospel of our Lord Jesus Christ. (2 Thessalonians 1:8)
The "supreme beings" of the Greeks were Zeus and Hera, though Zeus had a number of other consorts spawning a pantheon of gods.12 Jupiter and Juno were the "supreme beings" of Rome, again spawning a pantheon of other gods.13 Artemis was a virgin goddess, never married, but was the daughter of Zeus and Leto.14
IN CONCLUSION
The obvious answer to the questions above, both from the Bible and historical records, is a resounding "No."
. . . that ye come not among these nations, these that remain among you; neither make mention of the name of their gods, nor cause to swear by them, neither serve them, nor bow yourselves unto them. (Joshua 23:7)

For all the gods of the nations are idols: but the LORD made the heavens. (Psalm 96:5)

For all people will walk every one in the name of his god, and we will walk in the name of the LORD our God for ever and ever. (Micah 4:5)

The LORD will be terrible unto them: for he will famish all the gods of the earth; and men shall worship him, every one from his place, even all the isles of the heathen. (Zephaniah 2:11)
There is only one Name (Jesus Christ) under heaven by which men may be saved.
Neither is there salvation in any other: for there is none other name under heaven given among men, whereby we must be saved. (Acts 4:12)
And yet present-day false teachers claim a person can be saved by "general revelation" of "God" without the revelation of Jesus Christ. Please read the book that Mike Oppenheimer and I wrote about this titled Idolatry in Their Hearts where we concisely document this situation.
Jesus saith unto him, I am the way, the truth, and the life: no man cometh unto the Father, but by me. (John 14:6)
This is abundantly clear in the books, messages, and DVDs put out by such teachers on this subject and now in the book by Don Richardson called Heaven Wins. The WCGIP and EC false teachers also cannot answer the many verses in the Bible, which state that the Gentiles "did not know God." This type of teaching constitutes a grand delusion in the last-days apostasy and a new radical Replacement Theology where the one True God of the Bible is replaced with "supreme beings" from all cultures and Israel is replaced by all the nations. This heresy has even helped Bible translation societies to put the names of the false gods of the nations into the Bible! That's how dangerous such teaching is. It undermines the very Gospel of Jesus Christ itself and puts at risk the eternity of millions of souls.
Endnotes:
1. See http://home.comcast.net/~chris.s/canaanite-faq.html.
2. See http://socsci.colorado.edu/LAB/GODS.
3. See http://www.bibleorigins.net/EgyptianOriginsGoldenCalf.html.
4. See http://home.comcast.net/~chris.s/canaanite-faq.html.
5. See http://home.comcast.net/~chris.s/canaanite-faq.html.
6. See http://en.wikipedia.org/wiki/Nineveh.
7. See http://ancienthistory.about.com/library/weekly/aa102197.htm.
8. See http://voices.yahoo.com/biblical-overview-history-philistines-1952417.html.
9. See http://www.deceptioninthechurch.com/GenericandSpecific and also http://www.lighthousetrailsresearch.com/blog/?p=8655.
10. See http://home.comcast.net/~chris.s/assyrbabyl-faq.html.
11. Sarah Iles Johnston, Ancient Religions (Harvard University Press, 2009), p. 199.
12. See http://www.csun.edu/~hcfll004/zeusgirl.html.
13. See http://gwydir.demon.co.uk/jo/roman.
14. See http://www.theoi.com/Olympios/Artemis.html.
Note: For more information on the false polytheistic gods of ancient times, read my article "Monotheism in Ancient Cultures is Virtually Nonexistent" at: http://www.deceptioninthechurch.com/monotheisminancientcultures.html. It is important to note that in virtually every culture from Babel on, the "supreme beings" were not monotheistic gods but rather male/female pairings patterned on the worship of Nimrod and Semiramis of Babel. Also note that every one of these "supreme beings" spawned a pantheon of other false gods to be worshipped.
APPENDIX
"His Name, the only one"
By Sandy Simpson
And the Lord shall be king over all the earth: in that day shall there be one Lord, and his name one. (Zechariah 14:9; emphasis added)

And the Lord will be king over all the earth; in that day the Lord will be the only one, and His name the only one. (Zechariah 14:9; NASB; emphasis added)
Many self-proclaiming Christians who are influential in the churches are promoting the worship of God in the names of other gods. Here are just a few examples:
There is an unwarranted skepticism towards the heathens' possession, if at all, of a very limited and low knowledge of the divine from the so-called "natural/native religion." The adoption of a local name for the universal God will facilitate mutual transformation of both Christianity and the native religion and culture.1—Society of Biblical Literature (Bible Translation Society)

I love all religions. . . . If people become better Hindus, better Muslims, better Buddhists by our acts of love, then there is something else growing there.2—Mother Teresa
Richard Twiss was on the 700 Club show with Gordon Robertson (Pat Robertson's son) and in an interview he told Gordon that the Great Spirit of the Indians is the same as the Holy Spirit. Robertson heartily agreed.
So by finding the native name of God which in, in Japan we found that name Ameno mi-naka-nushi which means the God in the glorious center of heaven and he is their creator God who created everything. And so we found this name of this creator God there, and it immediately says he's a Japanese God and he loves them.3—Daniel Kikawa (WCGIP leader)

You can keep your own religion—Buddhism, Islam, Hinduism, Mormonism—you just need to add Jesus to the equation. Then you become complete. You become a Buddhist with Jesus, a Hindu with Jesus, a Muslim with Jesus and so on. You can throw out the term Christianity and still be a follower of Jesus. In fact, you can throw out the term Christian too. In some countries, you could be persecuted for calling yourself a Christian, and there is no need for that. Just ask Jesus into your heart, you don't have to identify yourself as a Christian.4—Rick Warren (pastor of Saddleback Church)

New Light embodiment means to be 'in connection' and 'information' with other faiths. To be in-formation means to know each other's songs almost as well as one knows them oneself, and to enlarge the community to include those whose conceptions of God differ from ours in form. . . . . One can be a faithful disciple of Jesus Christ without denying the flickers of the sacred in followers of Yahweh, or Kali, or Krishna. A globalization of evangelism 'in connection' with others, and a globally 'in-formed' gospel, is capable of talking across the fence with Hindu, Buddhist, Sikh, Muslim—people from other so called 'new' religious traditions ('new' only to us)—without assumption of superiority and power.5—New Age sympathizer, Leonard Sweet (emerging church author)

Today I personally believe that while Jesus came to open the door to God's house, all human beings can walk through that door, whether they know about Jesus or not. Today I see it as my call to help every person claim his or her own way to God.6—Henri Nouwen (Catholic mystic)
From a YWAM Foundation magazine article:
The Charisma article noted: "Messianic Muslims, who continue to read the Koran, visit the mosque and say their daily prayers but accept Christ as their Savior, are the products of the strategy which is being tried in several countries." A YWAM staff writer wrote: "They continue a life of following the Islamic requirements, including mosque attendance, fasting and Koranic reading, besides getting together as a fellowship of Muslims who acknowledge Christ as the source of God's mercy for them. . . . YWAM is also adopting this approach in India, where a team is working with a Hindu holy man.7—YWAM

We walk side by side, fellow travelers on life's pathways. I speak of being awakened to the wonder and mystery of the world, using words that reflect my window to the divine, the one whom I call my Lord and my God, Jesus, the Risen Christ. You, too, speak of being awakened to the wonder and mystery of the world, using words that reflect your window, to the divine through the teachings of the Buddha, of Baha'u'llah, of Lord Mahavir, of Muhammad, teachings from the Torah, the Guru Granth Sahib and the Vedas. As I hear you speak and as I look into your eyes, I see God. I feel God. I experience God in you, not just a partial reflection of my Christian God, but the creator, the divine spirit in whom we all live and move and have our being. How magnificent is this divine force that it should appear across the Earth like the flowers of a garden in so many different shapes and hues. . . . There is no place for religious exclusivism in Christianity. It has been arguably the single greatest source of human misery during the past two millenniums. It must be replaced by an understanding of the interwovenness of all life, of all religious traditions.8— Victor Kazaniian, JR. (an Episcopal priest)

Allah is not another God. . . . we worship the same God. . . . We can and should investigate and learn from the wisdom in other religions.9—Peter Kreeft (professor and author, often quoted in evangelical books)

We know the things the major faiths can agree on. We try to focus on those without offending those with different viewpoints, or without compromising the integrity of my own Christian commitment.10—Robert Schuller (Crystal Cathedral)

Standing before a crowd of devout Muslims with the Grand Mufti, I know that we're all doing God's work together. Standing on the edge of a new millennium, we're laboring hand in hand to repair the breach.11—Schuller

The Christ Spirit dwells in every human being, whether the person knows it or not.12—Schuller

It may be advisable in many (not all!) circumstances to help people become followers of Jesus and remain within their Buddhist, Hindu, or Jewish context. . . . Is our religion the only one that understands the true meaning of life? Or does God place his truth in others too? . . . The gospel is not our gospel, but the gospel of the kingdom of God, and what belongs to the kingdom of God cannot be hijacked by Christianity.13—Brian McLaren (emerging church leader)
Summation
For those who are His true worshippers, Zechariah 14:9 is a wonderful hope; and for those who claim that God can be worshipped in the names of the supreme beings of the nations, the verse is a dire prediction. Those deceived ones have forgotten that there is only One Name under heaven by which men may be saved.
In his name (Jesus Christ) the nations will put their hope. (Matthew 12:21)
Not in other names like Allah, Baal, and I'o.
[A]nd repentance for the forgiveness of sins will be preached in his name to all nations, beginning at Jerusalem. (Luke 24:47)
The true proclamation of the Gospel must be done in Jesus' name, not in the name of the false demonic "supreme beings" of the nations.
Yet to all who did receive him, to those who believed in his name, he gave the right to become children of God. (John 1:12)
Only those who have believed in the name of Jesus Christ, Yeshua Ha-Mashiach (Jesus the Messiah), become the children of God. All men are the creation of God but only through the Son can anyone become a child of God.
But these are written that you may believe that Jesus is the Messiah, the Son of God, and that by believing you may have life in his name.
Only those who believe in the name of Jesus Christ will have eternal life. (John 20:31)

All the prophets testify about him that everyone who believes in him receives forgiveness of sins through his name. (Acts 10:43)
The whole Bible testifies of the salvation in the name of Jesus Christ.
And this is his command: to believe in the name of his Son, Jesus Christ, and to love one another as he commanded us. (1 John 3:23)

There is only One God, YHWH, and always has been. The angels are not gods, humans are not gods, the demons are not gods. There is only One God eternally existing in Three Persons, Father, Son and Holy Spirit.

"Well said, teacher," the man replied. "You are right in saying that God is one and there is no other but him. (Mark 12:32)
There is no other God and no other Name.
[Y]et for us there is but one God, the Father, from whom all things came and for whom we live; and there is but one Lord, Jesus Christ, through whom all things came and through whom we live. (1 Corinthians 8:6)
To order copies of Ten Questions for Those Who Claim the "Supreme Beings" of the Nations are the True God, click here.
 Endnotes
1. Archie C. C. Lee, " God's Asian Names: Rendering the Biblical God in Chinese" (SBL Forum, n.p. [cited Oct 2005]. Online: http://sbl-site.org/Article.aspx?ArticleID=456).
2. Edward W. Desmond, "Interview with Mother Teresa: A Pencil in the Hand Of God" (Time Magazine, December 4, 1989), pp. 11, 13.
3. "Word to the World interview with Daniel Kikawa" (February 16, 2006, #9). He has also promoted that the name of God in Hawaii is I'o.
4. Rick Warren at the 2005 United Nations Prayer Breakfast, September 2005. Quote is from transcript of Warren's talk that was provided to Lighthouse Trails Publishing. See also: "Rick Warren Speaks about Purpose at United Nations" by Rhonda Tse (Christian Post, September 14, 2005, http://www.christianpost.com/article/20050914/21340_ Rick_ Warren_Speaks_about_ Purpose_at_ United_ Nations.htm);
5. Leonard Sweet, Quantum Spirituality (Whaleprints, United Theological Seminary, 1991), pp. 129-130.
6. Henri Nouwen, Sabbatical Journey (New York, NY: Crossroad Publishing Co., 1998), p.51, as cited in A Time of Departing by Ray Yungen.
7. Foundation magazine (a YWAM publication), May/June 2000, p. 39.
8. Victor Kazaniian, JR, Episcopal Life Forum, June 1998, p. 20.
9. Peter Kreeft, Ecumenical Jihad (San Francisco, CA: Ignatius Press, 1996), pp. 30, 79.
10. Graham Jefferson, "Hour of Power; Program is a platform we use to help people" (USA Today, March 23, 1989), citing Robert Schuller.
11. Robert Schuller, My Journey (San Francisco, CA: HarperCollins, 2001), p. 501.
12. Robert Schuller (Possibilities Magazine, Summer 1986), p.12.
13. Brian McLaren, A Generous Orthodoxy (Grand Rapids, MI: Zondervan, 2004), p. 293.
A Lighthouse Trails concerned reader has informed us that this month the Christian Missionary Alliance Mahaffey Family Camp has invited New Age sympathizer Leonard Sweet as a camp speaker. CMA has been going down the contemplative/emerging path for a long time. In fact, CMA is listed on the Lighthouse Trails 50 Top Contemplative-Promoting Organizations. Also speaking at the camp this summer will be CMA president John Stumbo. (See below for links to previous news stories on CMA.)
For those who are not familiar with the teachings and beliefs of Leonard Sweet, the article "The Quantum Christ: Entering the World AND the Church Through Popular New Age & Christian Leaders" written by Warren B. Smith is a good starting point. Also "Why We Should Be Very Concerned About Leonard Sweet and Rick Warren … and Their Plans for the Future" will help.  The following quotes are from Leonard Sweet's book Quantum Spirituality, an older book but one he still carries and promotes on his website. After reading these quotes, ask yourself if these are the kind of ideas that belong at a Christian Family Camp. As you read these, keep in mind that in Quantum Spirituality, Sweet  lists several New Agers and mystics as his "New Light" heroes and leaders including Matthew Fox, Morton Kelsey, M. Scott Peck, Willis Harman, and Ken Wilber.
Quotes by Sweet:
"The first of these five untheorized observations is that New Light embodiment means to be "in connection" and 'in-formation' with other Christians. Deeper feeling and higher relating go together. The church is fundamentally one being, one person, a comm-union whose cells are connected to one another within the information network called the Christ consciousness." — P. 122

"Energy-fire experiences take us into ourselves only that we might reach outside of ourselves. Metanoia is a de-centering experience of connected-ness and community. It is not an exercise in reciting what Jesus has done for me lately. Energy-fire ecstasy, more a buzz than a binge, takes us out of ourselves, literally. That is the meaning of the word 'ecstatic.'" — P. 93

Note: This ecstasy Sweet speaks refers to the New Age ecstasy that occurs in an altered state of consciousness.

The power of small groups is in their ability to develop the discipline to get people "in-phase" with the Christ consciousness and connected with one another. P. 147

New Lights offer up themselves as the cosmions of a mind-of-Christ consciousness. As a cosmion incarnating the cells of a new body, New Lights will function as transitional vessels through which transforming energy can renew the divine image in the world, moving postmoderns from one state of embodiment to another. P. 48

A surprisingly central feature of all the world's religions is the language of light in communicating the divine and symbolizing the union of the human with the divine: Muhammed's light-filled cave, Moses' burning bush, Paul's blinding light, Fox's "inner light," Krishna's Lord of Light, Bohme's light-filled cobbler shop, Plotinus' fire experiences, Bodhisattvas with the flow of Kundalini's fire erupting from their fontanelles, and so on." P. 235
To show that Sweet still adheres to the beliefs he wrote about in Quantum Spirituality, may we draw your attention to Sweet's 2010 book, Nudge. Sweet subtitles the book "Awakening Each Other to the God Who's Already There." This is taken from Thomas Merton who believed that God was in every human being and they just need to realize He is already there. Sweet quoted Merton in Quantum Spirituality saying "We are already one. But we imagine that we are not" (p. 13). This is where Sweet was talking about the TOE (the Theory of Everything, meaning the God in all things). It would make perfect sense that he would end that section of his book with that quote by Merton because Merton believed that God was indeed in all things. Listen to this quote by Merton:
It is a glorious destiny to be a member of the human race, … now I realize what we all are.… If only they [people] could all see themselves as they really are … I suppose the big problem would be that we would fall down and worship each other.… At the center of our being is a point of nothingness which is untouched by sin and by illusions, a point of pure truth.… This little point … is the pure glory of God in us. It is in everybody. (Conjectures of a Guilty Bystander, pp. 157-158, taken from A Time of Departing by Ray Yungen)
Related Information:
Letter to the Editor: Saddened by Christian & Missionary Alliance and Ambrose University Continuing Plunge into Contemplative
Christian & Missionary Alliance Rob Reimer Loses His Way in "Pathways to the King:" A Review
Letter to the Editor: Christian & Missionary Alliance OK With Ruth Haley Barton and Other Contemplatives