Posts Tagged 'pope francis'
According to a news article earlier this year in the UK newspaper The Telegraph, the "surprise election of Pope Francis came about because of a series of supernatural 'signs,' one of the leading Cardinals in the Roman Catholic Church has claimed."  The article also stated:
Cardinal Christoph Schönborn, the Archbishop of Vienna, who was himself widely tipped as a possible successor to Pope Benedict, said he had personally had two "strong signs" that Cardinal Jorge Mario Bergoglio was "the chosen one" in the run up to vote.
He said only divine intervention could explain the speed with which the Argentine Cardinal – who did not feature on any of the main lists of likely candidates compiled by Vatican experts – was elected.1
If this is true, that Pope Francis was elected through supernatural means, the question must be posed, from which side did this supernatural, "divine" intervention come? If it is indeed supernatural, it had to be either from God or from Satan (the two opposing forces). Because we know that the Catholic church is a false heretical church that believes salvation is justification through works and not the sole work of Christ on the Cross, that Mary is a co-redeemer who did not sin, and that Jesus Christ is found in the Eucharist and the Catholic Mass, we must conclude that this supernatural intervention that brought Jorge Mario Bergoglio to the station of Pope of the Roman Catholic Church is not from God.
How is this relevant to the evangelical/Protestant church today? As Lighthouse Trails and Understand the Times have reported since Pope Francis began his reign as Pope, evangelical leaders are racing to the Pope's side like never before in the history of the evangelical/Protestant church. Some of these who are rallying with the Pope are Rick Warren, Kenneth Copeland, Joel Osteen, and James Robison, while other Christian leaders, such as Beth Moore, are coming out with statements that are giving strong credibility to the Catholic church.
It is a known fact that Pope Francis is a Jesuit. And as Lighthouse Trails has reported on a number of occasions, he is also a contemplative advocate. See our article Pope Francis – Spiritually "Founded" on a Contemplative Tradition. As research analyst Ray Yungen has documented, the Catholic Church is using contemplative prayer as a means of expanding her borders. Roger Oakland, founder of Understand the Times, has linked the mystical practice of the Eucharist to the Papacy's New Evangelization program to bring the "lost brethren" back to the "Mother Church." And as one can see, these efforts are having tremendous results. Ray Yungen states:
I had always been confused as to the real nature of this advance in the Catholic church. Was this just the work of a few mavericks and renegades, or did the church hierarchy sanction this practice? My concerns were affirmed when I read in an interview that the mystical prayer movement not only had the approval of the highest echelons of Catholicism but also was, in fact, the source of its expansion. (A Time of Departing, by Ray Yungen)
For thirteen years, Lighthouse Trails has been warning that when people get involved with contemplative meditation practices, they are putting themselves under demonic influence. In time, the spiritual outlook of contemplatives moves away from the Cross and the Gospel and moves toward panentheism and interspirituality.
How does all this tie together? The cover story in Christianity Today's December 2014 issue proclaims: "Why Everyone is Flocking to Francis." CT has its own idea of why "everyone" is drawn to the Pope. But if Lighthouse Trails is correct in our conclusions about contemplative spirituality and its outcome, then what is happening here is a "supernatural" occurrence in the lives of millions of people, both Catholic and non-Catholic, who are finding themselves dramatically affected by this Pope.
While we will not try to speculate what the possible role of this Pope could be in relation to Bible prophecy and the endtimes, we will say this with surety: between the New Age and the Catholic Church, the world is being drawn deeper and deeper into darkness and closer and closer to a false christ whom the Bible says is coming.
In closing, we'll leave you with these words from Warren B. Smith:
The Catholic Church today [is] linked to the foundational New Age/New Spirituality teaching that God is "in" everyone.
The 1994 Catechism of the Catholic Church, which is the official source for all Roman Catholic doctrine today, states:

"Let us rejoice then and give thanks that we have become not only Christians, but Christ himself. Do you understand and grasp, brethren, God's grace toward us? Marvel and rejoice: we have become Christ." (#795)

"For the Son of God became man so that we might become God." (#460) (cited from "Another Jesus" Calling by Warren B. Smith)
By Heather Clark
Christian News Network
ISTANBUL, Turkey – In a move that drew some concerns from onlookers worldwide, the Roman Catholic pontiff known as Francis visited Turkey's Blue Mosque on Saturday, expressing reverence during a moment of prayer observed by the nation's grand mufti, who led him on a tour of the Islamic facility.
According to reports, Francis took off his shoes, folded his hands and bowed his head, standing silently next to Rahmi Yaran, who serves as the nation's highest Islamic leader as grand mufti. The two faced Mecca as Yaran prayed with his palms raised.
The Vatican described the gesture as a "moment of silent adoration" during the Roman Catholic leader's visit to the 17th century Sultan Ahmet mosque. Other descriptions of the visit state that it is meant to show "mutual respect" for each other's religion. Francis' predecessor Benedict XVI also visited the facility during his tenure.
"May Allah accept it," Yaran said following the time of prayer. Click here to continue reading.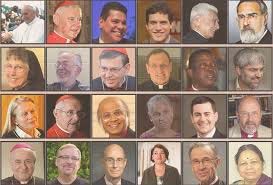 By Roger Oakland
Understand the Times, International
On November 17-19, 2014, an interreligious conference was hosted at the Vatican to discuss the sanctity of marriage under the definition that marriage is a relationship between a man and a woman. Beside numerous representatives of the Roman Catholic Church, the conference was attended and addressed by members of the Buddhist, Hindu, Muslim, Jewish, and Mormon faiths. Also, well-known Christian evangelical leaders from the United States—Pastor Rick Warren and Russel Moore—played a major role and were in attendance.
Warren's comments documented by the proceeding video clip are clear and require no explanation.
The purpose of posting Rick Warren's video statement is to appeal to Calvary Chapel pastors who have been persuaded by the new leadership at Calvary Chapel Costa Mesa that Warren's ecumenical direction is the "new" and enlightened pathway that Calvary Chapels of the future must choose in order to become relevant for the postmodern era that has reformed sound biblical teaching over the past decade. This is also an appeal to all evangelical pastors who have brought the Purpose Driven movement into their churches.
Further, this proclamation by Rick Warren is very similar to some of the ideas being presented by the "New Calvary Movement" promoted by Brian Brodersen and his cohorts. (Listen to a portion of Brodersen's September 7, 2014 message titled "Unity in the Spirit").
Click here to continue reading.
LTRP Note: Posted for informational and research purposes. Interesting to note that the announcement was made during an "interreligious Vatican conference on traditional family values," in which Rick Warren participated.  Question to think about: Did Rick Warren play a role in getting the Pope to the US, and will Rick Warren play a role in the Pope's visit to the US. in 2015? Perhaps the Pope will make a stop at Saddleback. After all, as we reported earlier this year, a delegation of Catholic bishops visited Rick Warren and Saddleback to gain some "wisdom" on how to accelerate the Catholic New Evangelization program using Purpose Driven methods.
By Kathy Matheson
Associated Press
"Pope confirms Philly trip for families conference"
PHILADELPHIA (AP) — Organizers of the World Meeting of Families for months were coy when asked if Pope Francis would come to Philadelphia for the massive Roman Catholic-sponsored gathering.
It turns out that when the pontiff finally confirmed his attendance Monday, organizers already had gotten inside information from an unimpeachable source: Francis told Gov. Tom Corbett during a Vatican meeting in March that he would make the journey, his first papal visit to the United States.
"The Holy Father answered our invitation by whispering three words in Tom's ear: 'I will come,'" said Susan Corbett, Pennsylvania's first lady.
Protocol kept them from saying anything publicly until now, she said at a news conference hours after the pope's statement.
Still, the timing of Francis' announcement — made during an interreligious Vatican conference on traditional family values — came as a bit of a surprise and set cellphones abuzz in Philadelphia around 3:30 a.m. EST. Organizers had not expected official word until later next year. Click here to continue reading.
Related Information:
Courtesy Understand the Times
Written by Heather Clark
Christian News Network
Russell Moore, the president of the Ethics and Religious Liberty Commission of the Southern Baptist Convention, and Saddleback megachurch leader Rick Warren will team up with Roman Catholic Pontiff Francis later this month for an interfaith Vatican conference on marriage and family.
"Complementarity of Man and Woman," will be held Nov. 17-19 at the Vatican, and is expected to feature more than 30 speakers from over 20 countries. According to the Catholic News Service, those of the Jewish, Islamic, Buddhist, Hindu, Jaina Shasana, Taoist and Sikh religions will be present, as well as Roman Catholics and professing Christians.
The event is sponsored by the Pontifical Council for the Family, the Pontifical Council for Interreligious Dialogue, and the Pontifical Council for Promoting Christian Unity. "I hope that this gathering of religious leaders can stand in solidarity on the common grace, creational mandate of marriage and family as necessary for human flourishing and social good," Moore wrote in a blog post this week entitled "Why I'm Going to the Vatican." "I also hope that we can learn from one another about where these matters stand around the world."
Rick Warren, the author of "The Purpose Driven Life," has spoken glowingly of Pope Francis during several public interviews about the pontiff and the Roman Catholic religion.
"[Pope Francis] is doing everything right. You see, people will listen to what we say if they like what they see," Warren stated on Catholic television network EWTN earlier this year. "His kissing of this deformed man, his loving the children, this authenticity, this humility, the caring for the poor; this is what the whole world expects Christians to do. And when they go, 'Oh, that's what a Christian does.'—In fact, there was a headline here in Orange County—and I loved the headline—I saved it. It said, 'If you love Pope Francis, you'll love Jesus.'" Click here to continue reading.
Editor's Note: As we continue on with our coverage regarding evangelical leaders and their ecumenical moves toward Roman Catholicism, we once again wish to state that we bear no animosity toward individual Catholics, but we are compelled to challenge these leaders on their compromise of the Christian faith according to Scripture.
---
As Lighthouse Trails has been reporting on over the past number of months, evangelical church leaders are coming out of the woodwork like never before in showing their willingness to unite with and give credibility to the Catholic Church.
In March of this year, we posted Roger Oakland's report on charismatic leader Kenneth Copeland's open embracing of the Roman Catholic church (see "The Unification of Hyper-Charismatics and the Catholic Church"). In that article, Oakland stated:
[H]ow close we are to the unification of Rome with "Charismatic evangelicals" and eventually all religions. This is something that Understand The Times has been predicting for some years as the present Pope Francis and the last two Popes, Pope Benedict and Pope John Paul, have been active in promoting the New Evangelization.

The purpose of the New Evangelization is to promote the Roman Catholic gospel by reaching out to all religions as well as the separated brethren and introducing them to the Eucharistic Christ.
Oakland's report includes a video clip of Kenneth Copeland and Tony Palmer (an evangelical "evangelist" for the Catholic Church who was recently killed in a motorcycle accident). This video is worth watching and will help show how far the evangelical church has gone on the road to Rome. In the video, Palmer who was speaking at Copeland's church told the congregation that he was coming in "the spirit of Elijah" similar to that of John the Baptist. As you watch this video, you will see that the "spirit" in which Palmer was coming was what he called "reconciliation" (meaning Protestants reconciling with the "Mother" church). Incidentally, Catholic priest Henri Nouwen put much emphasis on this type of "reconciliation," and as Ray Yungen showed in A Time of Departing, Nouwen used the means of contemplative mysticism to remove the walls between biblical Christianity and Roman Catholicism.
Also in March, we posted a short piece titled "A Picture Says a Thousand Words," which showed a banner from Ambrose University that stated "Catholics and Evangelicals in God's Mission Together" (just one of many examples where Christian colleges are showing an affinity with Roman Catholicism.
Back in February of this year, we posted "A Word of Caution: Ecumenical-Backed Movie, "Son of God," May Send Subtle New Age/Roman Catholic Messages."  We issued this warning about the Son of God movie because of the New Age/Roman Catholic influence that the producers Mark Burnett and Roma Downey would have on the making of the film. In fact, Downey stated clearly that her intention in making the movie was to "bring people together."1 We know that means to break down the barriers between Christianity and Catholicism. And yet, many popular evangelical leaders gave raving endorsements of the film (e.g., Max Lucado, Bill Hybels, Rick Warren, Erwin McManus, Pat Robertson, Luis Palau, and others).
Last December, Moody Bible Institute showed its favor toward Rome, which you can read about in our article "Embracing Contemplative Shows Ill Effects at Moody Bible Institute in Ecumenical "Road to Rome" Event." This photo to the left shows some of those who were involved with the event. While it was a student-led event, a professor from Moody helped to moderate it (interesting because he is a convert from Catholicism to Protestantism).
Then in May of this year, we posted Roger Oakland's 5-part series on Rick Warren's interview on a Catholic television network where Warren admitted: he is influenced by Catholic mystics, calls Pope Francis "our Pope," and tells how he and his wife Kay turn to Catholic ceremonies for comfort and encouragement.
Most recently, in August of this year, we posted "Is Beth Moore's "Spiritual Awakening" Taking the Evangelical Church Toward Rome?" making a number of different points to show that Beth Moore is showing more and more signs of heading toward Rome including a video where she illustrates on stage that she considers Roman Catholicism on par with Protestant Christianity. That article also showed James Robison's strong propensity toward Roman Catholicism.
FRANKLIN GRAHAM
Now, Lighthouse Trails has learned that at the August 15-17 2014  gathering called "Three Rivers Festival of Hope" in Pittsburgh, PA, Franklin Graham (who led and organized the event) brought in Catholic Bishop David Zubik to give the opening prayer on stage with the large audience. During the bishop's prayer, he acknowledged his belief that Protestants and Catholics are all part of the same church. While Graham's public stand against homosexual marriage and his work to help the poor and needy is commendable, his giving a thumbs up to Roman Catholicism is moving the church closer and closer to complete apostasy. While we know that Graham's father, Billy Graham, allowed Catholic counselors at his own crusade meetings (which sadly set a precedent), it's a big jump to give a Catholic priest the platform at an evangelical event to lead in an ecumenical prayer that puts Catholicism on par with Protestant Christianity.
In a newspaper article advertising the Franklin Graham event, it states:
Bishop David Zubik said the festival dovetails with calls by recent popes to a "new evangelization," bringing back cradle Catholics who drifted or became estranged from the faith.

"We felt as long as there was a Catholic component to this particular crusade, we wanted to be a part of it," Bishop Zubik said.

Those who respond to Rev. Graham's invitation to make a decision for Christ, and who identify as Catholic, will be given the opportunity to go to Epiphany Church — adjacent to the Consol Energy Center — for the sacrament of reconciliation, or confession.

"We're right next door," Bishop Zubik said.

Bishop Zubik said Catholics don't share all of Rev. Graham's controversial political statements but added: "That's not what this is all about. The whole point is to bring people back to Jesus." (source)

The question we have at Lighthouse Trails is, which Jesus is Franklin Graham sending these people to when he sends them to the Catholic Church for the sacrament? We believe the answer to that is "another" Jesus as the Bible warns will happen (2 Corinthians 11:4).

According to one article, nearly 26,000 people showed up to the Graham revival meeting with around 1700 coming forth to commit or recommit their lives to Jesus.
In an article written by Bishop Zubik titled "The Church Evangelizing!," Zubik expresses his support for the papacy's "New Evangelization" program that Roger Oakland has warned about in his books Another Jesus: the new evangelization and the eucharist christ and Faith Undone. In the article by Zubik, he states: "As Catholics, we invite others 'to come to Jesus' not only at events in stadiums, but to come to Him in the sacraments, most especially the Eucharist" (p. 8). Ironically, the Catholic Church as a whole holds the official position of "closed communion," which means that only converts to Catholicism can legitimately partake in the sacrament of the Eucharist. Many evangelicals do not understand what the Catholic church teaches about the "sacraments" and the "Eucharist." They do not realize that the Catholic belief is that Jesus Christ is actually in the wafer and his blood in the wine, and this "transubstantiation" takes place only when a Catholic priest prays over the bread and the wine. This continual re-crucifying of Christ is the benchmark of Catholic Church doctrine to the point of martyring those who would not accept that Jesus Christ was in a wafer (see Foxe's story about a woman who was burned at the stake for refusing to accept the Catholic belief on the Eucharist.)
This woman, Mrs. Prest, gave up her life because she understood that the Catholic "Gospel" is a religion of works based on participation in the Eucharist and the other sacraments. According to Catholic doctrine, salvation is never certain because it is based on earning something that was meant to be free as opposed to the clear statement of the Bible that we can have full assurance of salvation in that it is based on grace through faith alone in the perfect, one-time sacrifice of Jesus on the Cross. The Christian Gospel cannot be reconciled with the Sacrament of the Eucharist, but many are deceived into thinking they are one and the same thing merely because they are both focused on the Cross. But a gift that is earned is no longer a gift; in short, the free gift of salvation has been rendered useless by turning it back into a system of works. If you have not read Roger Oakland's article and booklet The New Evangelization From Rome: Finding the True Jesus Christ, we urge you to do so as it lays out the Bible Gospel versus the Catholic "Gospel."
Another aspect of the Catholic "Gospel" that shouldn't be ignored can be seen on an interesting video (see video) on YouTube of a man who is being interviewed who tried to go into the Franklin Graham meeting but was denied access because he was carrying a statue of Mary, and security guards would not allow him to bring the statue in. What is worth noting is that this Catholic man states that the way to truly know God or Jesus is through Mary and that she will actually even usher in world peace and the second coming of Christ.
Frankly, what is the point of keeping a statue of Mary out of the Graham crusade but allowing a Catholic bishop to give the opening prayer? Perhaps Franklin Graham does not realize that embracing Catholicism cannot be a smorgasbord where you pick and choose which elements you want. Catholicism has a whole plethora of anathemas for those who differ on various  unscriptural doctrinal points.
Lest you think that the Catholic Church's "New Evangelization" program is only trying to reach "backslidden" Catholics, we need to ask the question, Who is the Catholic Church's "New Evangelization" program trying to reach? The answer: Everyone! As Bishop Zubik states in his article: "Pope Francis has made it clear that our witness [for the Catholic Church] must be to and for everyone—to each other as fellow Catholics, active or not, as well as to other Christians, to non-Christians and to nonbelievers."
CONCLUSION
While we believe that at least part of the motivation for these evangelical leaders to join forces with the Catholic church is politically and morally motivated to "help bring America back to God," we believe this unifying for the sake of political and moral issues is going to backfire on the evangelical church as the Catholic papacy and leadership (including the Jesuits) are using these issues to "bring back the lost brethren to the Mother Church." And the question that must be asked is, if this united ecumenical body of evangelicals and Catholics is successful in bringing in a new White House administration that holds to traditional moral values, will the compromise of Christian faith by evangelicals be able to be reversed and separation of the two different belief systems be restored? Not likely considering the level of spiritual deception the evangelical church is at today. In essence, a paradigm shift has already taken place. And what will happen if the ecumenical evangelical/Catholic effort is unsuccessful in bringing in a morally conservative White House administration in the next election in 2016? We can be sure that the now-very-blurred lines that have in the past distinguished evangelical Christianity from other belief systems will erode all together because unrepentant compromise never produces good fruit but only leads to further compromise. Rather, the foothold that Satan presently has will throw the door wide open for the making of a totally corrupt and apostate church.
For those evangelical/Protestants who believe we have much in common with the Catholic Church and can unify with it, consider these statements, which Warren B. Smith cited in his book "Another Jesus" Calling. They are taken from the 1994 Catechism of the Catholic Church, which is the official source for all Roman Catholic doctrine today. After reading these quotes, can any Bible-believing Christian say they share the same faith as Roman Catholicism?:
"Let us rejoice then and give thanks that we have become not only Christians, but Christ himself. Do you understand and grasp, brethren, God's grace toward us? Marvel and rejoice: we have become Christ." (#795)

"For the Son of God became man so that we might become God." (#460)

"The only-begotten Son of God, wanting to make us sharers in his divinity, assumed our nature, so that he, made man, might make men gods." (#460)
Finally, what is it that we as Christians should hope for? For those who hope to see the church at large turn around from the apostasy that is upon her, there will be great disappointment. The Bible indicates such a falling away is going to happen. Our purpose should not be to hope that all of this will turn around but rather that those who have ears to hear and eyes to see will comprehend the times in which we live and remain steadfast in the faith and to the truth of the Gospel, which God has committed to us.
For biblical believers in Jesus Christ who see this taking place and refuse to become part of this apostasy, they will find themselves on the outside looking in, but when that day comes (and it's not far off), it will be the safest place to be.
Therefore, my beloved brethren, be ye stedfast, unmoveable, always abounding in the work of the Lord, forasmuch as ye know that your labour is not in vain in the Lord.(1 Corinthians 15:58)