Posts Tagged 'pope francis'
LTRP Note: On the morning of September 24th, Lighthouse Trails posted an article by Ray Yungen titled "Contemplative Spirituality – the Source of the Catholic Church's Expansion"  "Coincidentally," one hour later, Lighthouse Trails was contacted and told that the Catholic Church's Jesuit Pope Francis  talked about Thomas Merton (using the term contemplative to describe him) when he addressed Congress. Shortly later, Lighthouse Trails received this letter to the editor below.
The fact that Pope Francis referred to Merton (and his "contemplative style") when talking to Congress and our nation is probably one of the heaviest things we have encountered since beginning Lighthouse Trails 13 years ago. We have suspected but now believe that Pope Francis has the capability of orchestrating a one-world religion. As one Merton scholar explained: "The God [Merton] knew in prayer was the same experience that Buddhists describe in their enlightenment."1 In other words, Merton found Buddhist enlightenment in contemplative prayer.2 Merton's view that God was in every person is summed up in this statement:
During a conference on contemplative prayer, the question was put to Thomas Merton: "How can we best help people to attain union with God?" His answer was very clear: We must tell them that they are already united with God. "Contemplative prayer is nothing other than 'coming into consciousness' of what is already there."3
This is panentheism Merton is describing above. We took the quote from one of Brennan Manning's books. Remember the booklet we just released earlier this week about Beth Moore and her contemplative propensities where we quoted her saying that Brennan Manning's contribution to "our generation of believers may be a gift without parallel."4 But Manning resonates with Merton!  Please see what is happening here. It was no coincidence that we just released Ray Yungen's booklet on Richard Foster and John Lanagan's booklet on Beth Moore (both showing the interspiritual "fruit" of contemplative prayer), and then posting the article on the Catholic Church's Expansion this morning. We did not know the pope was going to be exalting Thomas Merton today. Surely, God is trying to send out a warning. We just fear that few will hear it.
In Yungen's booklet on Foster, he presents some new information about Merton that we never had before. It's vital, especially now that the pope has used Merton as an example of who the American people are (please read an excerpt from Yungen's booklet below the letter to the editor to better understand what we are trying to say).
Dear Lighthouse Trails:
I am writing to you today hoping to pass some information onto Ray Yungen.
Today, I was led by the Lord to watch Pope Francis' speech to Congress, I was curious as to what "interesting" things he was going to have to say. As I was watching the speech I heard him mention "Thomas Merton" which caught me off guard. I remember Ray and Warren Smith talking about him and how much he has been influenced by the New Age Movement. In his speech, he mentioned how "Merton was above all a man of prayer, a thinker who challenged the certitudes of his time and opened new horizons for souls and for the Church. He was also a man of dialogue, a promoter of peace between people and religions." He also said "Thomas Merton had the capacity for dialogue and openness to God" [contemplative]. He mentioned three other people in his speech, one of them being Dorothy Day [a radical feminist, social activist, and journalist], saying that these four people,4 including Thomas Merton, are "four representatives of the American people."
After watching the speech, I felt I needed to pass this information onto Warren Smith, so I e-mailed him; I'm hoping he gets the e-mail. I really feel that this is just another connection of how the New Spirituality/Contemplative Prayer is invading the Body of Christ, and this nation!
After I e-mailed Warren, I was led to Lighthouse Trails Research website to try and see if there was any other contact information there. As I was there, I looked at the "blog" section page. To my absolute surprise, I saw an article written by Ray Yungen called "Contemplative Spirituality – the Source of the Catholic Church's Expansion." It was posted on the EXACT same day as the Pope speaking to Congress. And what is one of the things the Pope talks about in his speech to congress? Thomas Merton!
Here is the actual video of his speech at Congress:
http://youtu.be/4rKi6ctW46A
Here is the written transcript of the speech:
http://www.sunherald.com/2015/09/24/6431313/text-of-pope-francis-address-to.html
I hope that you will be able to pass this information onto Ray, and hopefully even Warren Smith as well! It's just more information that can be used to connect the dots.
Endnotes:
Brian C. Taylor, Setting the Gospel Free (New York, NY: Continuum Publishing , 1996), p. 76.
Explained byhttp://www.atimeofdeparting.com Ray Yungen in A Time of Departing.
Brennan Manning,  The Signature of Jesus, p. 211,citing Merton's biographer, William Shannon
The other two were Abraham Lincoln and Martin Luther King, Jr.
Excerpt from Ray Yungen's booklet, A Serious Look at Richard Foster's "School" of Contemplative Prayer
Thomas Merton, a Catholic monk, is the most widely recognized of the modern-day contemplative writers. His influence is enormous in the contemplative field. Richard Foster quotes Merton over a dozen times in Celebration of Discipline and in other books as well, and many other evangelicals also quote Merton. The following entry from Merton's published work, The Asian Journal of Thomas Merton (written during his last trip to Asia*) speaks volumes as to Merton's spiritual sympathies:
We went looking first for Chatral Rimpoche [a Tibetan holy man] at his hermitage above Ghoom. . . . We were told he was at an ani gompa, a nunnery, down the road. . . . So off we went toward Bagdogra and with some difficulty found the tiny nunnery . . . and there was Chatral, the greatest rimpoche [a Buddhist teacher] I have met so far and a very impressive person.

. . . We started talking about dzogchen and Nyingmapa meditation and "direct realization" and soon saw that we agreed very well. . . . The unspoken or half-spoken message of the talk was our complete understanding of each other as people who were somehow on the edge of great realization . . . and that it was a grace for us to meet one another. I wish I could see more of Chatral. He burst out and called me a rangjung Sangay (which apparently means a "natural Buddha") . . . He told me, seriously, that perhaps he and I would attain to complete Buddhahood in our next lives, perhaps even in this life, and the parting note was a kind of compact that we would both do our best to make it in this life. I was profoundly moved, because he is so obviously a great man, the true practitioner of dzogchen, the best of the Nyingmapa lamas, marked by complete simplicity and freedom. He was surprised at getting on so well with a Christian and at one point laughed and said, "There must be something wrong here!" If I were going to settle down with a Tibetan guru, I think Chatral would be the one I'd choose.5 (emphasis added)
An equally revealing aspect of Merton's Asian trip is what he experienced at a Buddhist shrine in Ceylon:
. . . an inner clearness, clarity, as if exploding from the rocks themselves, became evident and obvious. . . . All problems are resolved and everything is clear, simply because what matters is clear. The rock, all matter, all life, is charged with dharmakaya [the unity of all things and all people]. . . I don't know when in my life I have ever had such a sense of beauty and spiritual validity running together in one aesthetic illumination. Surely . . . my Asian pilgrimage has come clear and purified itself. I . . . have seen what I was obscurely looking for. I don't know what else remains.6 (emphasis added)
Why would someone who was so heavily involved in "Christian" mysticism be so entwined in and enthusiastically embracing of Buddhist mysticism? I considered titling this booklet Something's Wrong Here because even though Chatral meant it in a positive way, when he said those words to Merton, he himself was shocked that Merton, a professing Christian, was basically on the same page as him and that they were able to fellowship.
One of Merton's biographers, William Shannon, made this very clear when he explained:
If one wants to understand Merton's going to the East it is important to understand that it was his rootedness in his own faith tradition [Catholicism] that gave him the spiritual equipment [contemplative prayer] he needed to grasp the way of wisdom that is proper to the East.7
What Merton meant by "dharmakaya" is actually what the New Age and eastern religions call cosmic consciousness (i.e., God is in everything and everybody.) But Foster, in his book Celebration of Discipline, guarantees the reader that what he's promoting will not lead to cosmic consciousness. He states, "It involves no hidden mysteries, no secret mantras, no mental gymnastics, no esoteric flights into the cosmic consciousness."8 (An excerpt from Ray Yungen's booklet, A Serious Look at Richard Foster's "School" of Contemplative Prayer)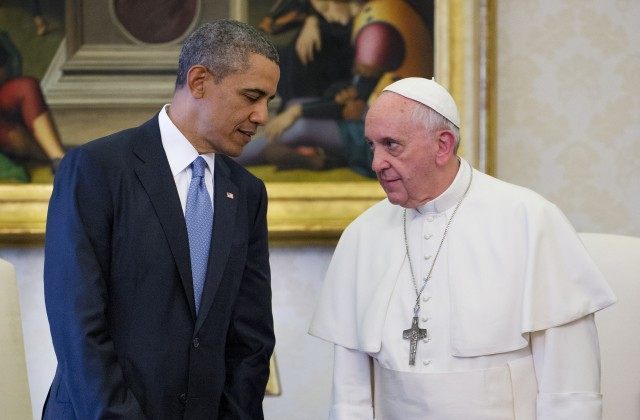 By Bill Randles
But be not ye called Rabbi: for one is your Master, even Christ; and all ye are brethren. And call no man your father upon the earth: for one is your Father, which is in heaven. Neither be ye called masters: for one is your Master, even Christ. ( Matthew 23:8-10)
Isn't it interesting that the man who is hailed as the very "Vicar of Christ" and who in the name of the Church of Christ recently signed a peace treaty with the so-called "Palestinian State" has come to America to meet with the man who virtually gave the terrorist state of Iran a nuclear program and 150 billion dollars, in the face of the fact that Iran considers the obliteration of Israel a "non negotiable" fact?
The irony is that the two Gentile rulers are having their unprecedented meeting on the Jewish High Holy Day of Yom Kippur, the day of national fasting, mourning, and repentance of sin.
The One who is the "head" of the Roman Catholic church, the so-called "Holy Father," will also meet with the U.N. and will hoist the Vatican flag over the U.N. alongside the "Palestinian" flag, representing the solidarity of the "Holy See" with the Arab claim on land that God gave to the seed of Abraham, Isaac, and Jacob as an unconditional covenant forever. See article, The Vatican Switch, will Join Palestine in flying flag .
And the Lord said unto Abram, after that Lot was separated from him, Lift up now thine eyes, and look from the place where thou art northward, and southward, and eastward, and westward:  For all the land which thou seest, to thee will I give it, and to thy seed for ever. And I will make thy seed as the dust of the earth: so that if a man can number the dust of the earth, then shall thy seed also be numbered.  Arise, walk through the land in the length of it and in the breadth of it; for I will give it unto thee. (Genesis 13:14-17—bold added)
Obama, the president of the United States and one of the Gentile kings of the earth, is the most hostile president to the state of Israel we have ever seen in the USA. He is a consistent supporter of Islam, having empowered ISIS, and disrupted the entire Middle East, turning it over to Muslim Brotherhood operatives, not to mention his unprecedented support for the Shia Iranian regime, an inveterate foe of the USA (the great Satan) and Israel (the little Satan), which it vows to wipe off the face of the earth.
The "Holy Father" is also a Gentile "King of the earth and their rulers."  He is head of the world's 1.2 billion Roman Catholics.
The Pope has called Palestinian leader Mahmoud Abbas, the terrorist who planned the 1972 Munich Slaughter of the Israeli Olympic team, a "man of peace" and gave him an "Angel of Peace Medallion." Abbas recently is quoted as saying that, "…we welcome every drop of Blood spilled in Jerusalem …"
Yom Kippur is on the Levitical calendar of "Appointments" Israel has with God. Israel's God appointed holidays are appointments in the year and in history. The Spring appointments have already been kept, for the feast of unleavened Bread, the feast of Passover and the feast of First fruits are all realized in the Death of Jesus , the removal of sin by His death and the resurrection of Jesus three days later.
The Summer feast/appointment has also been kept in history, for it was on the feast of Pentecost that the most high poured out of His Spirit upon all flesh, starting in Jerusalem.
What remains are the fall feasts of Israel, Trumpets, Yom Kippur and the feast of Tabernacles. Trumpets ( i.e. Rosh Hoshanna) is a call to Israel to re-gather. We believe that since the re-birth of the nation of Israel in 1948, the trumpets have been sounding.
Yom Kippur is not a feast but a fast and a time of deep repentance for Israel. It corresponds to the Great Tribulation and the coming "time of Jacob's trouble" spoken of in Jeremiah 30. It is observed as "ten days of awe," soul-searching, repentance, repudiation of all foreign gods, and great trial.
Therefore also now, saith the Lord, turn ye even to me with all your heart, and with fasting, and with weeping, and with mourning:  And rend your heart, and not your garments, and turn unto the Lord your God: for he is gracious and merciful, slow to anger, and of great kindness, and repenteth him of the evil. Who knoweth if he will return and repent, and leave a blessing behind him; even a meat offering and a drink offering unto the Lord your God?

Blow the trumpet in Zion, sanctify a fast, call a solemn assembly:  Gather the people, sanctify the congregation, assemble the elders, gather the children, and those that suck the breasts: let the bridegroom go forth of his chamber, and the bride out of her closet. Let the priests, the ministers of the Lord, weep between the porch and the altar, and let them say, Spare thy people, O Lord, and give not thine heritage to reproach, that the heathen should rule over them: wherefore should they say among the people, Where is their God? Then will the Lord be jealous for his land, and pity his people. ( Joel 2:12-18)
I believe that the meeting of these two powerful Gentile leaders on this the one Jewish feast that is a fast, and a call to repentance and soul-searching, is of deep spiritual significance. Surely, the real "Day of Atonement" is coming soon, as all nations turn away from Israel, and Jerusalem is increasingly becoming a "cup of trembling" to all of the nations round about and a "Burdensome stone" in the road, an impediment to the "New World Order" in which both Obama and the "Holy Father" are heavily invested.
Used with permission from Bill Randles.
In May of 2014, Roger Oakland wrote a five-part series addressing Rick Warren's television interview with Catholic TV host Raymond Arroyo. The facts that Roger uncovered should have sent shock waves throughout the evangelical church . . . but they didn't. In fact, leaders and most pastors in the Christian church didn't seem to care at all. And now, Rick Warren will be joining Pope Francis (at the Papacy's invitation) when the Catholic pope comes to the United States this month. Warren is scheduled to be a keynote speaker at one of the events. For discerning Christians who do care about what is happening to the church, including the current ecumenical move to bring the "lost brethren" back to the Mother Church (and ultimately form a unified global religious body as the Bible states will happen), we'd like to bring to your attention these five articles by Roger Oakland and ask that you pray that many eyes will be opened to what is happening. And much of this taking place within evangelicalism, if not most of it, can be attributed to the actions of leaders such as Rick Warren, Beth Moore, the late Chuck Colson, and many others, who have escalated this dangerous ecumenism that is changing the face of mainstream Christianity today.
Here are the links to those five articles from the special 2014 series written by Roger Oakland of Understand The Times, with some brief notes on each. There are also links to the actual interview between Warren and Arroyo.
1. Part 1 of Special Coverage: Rick Warren's Ecumenical Pathway to Rome Continues
a. Rick talks about the expansion of his ministry abroad, the Vatican delegation that recently came to Orange County to study his church's style of evangelization, and which television channel he finds himself watching most often and the show that draws him.

b. Rick Warren starts the Purpose Driven Catholics program in 2005

c. Rick Warren admits he is in favor of the Roman Catholic New Evangelization program (set up to win the "lost brethren" back to the Mother Church).
2. Rick Warren, Roman Catholic Mystics and Pope Francis
a. There is no room for doubt: Warren's march towards ecumenical unity with Rome is becoming clearer and bolder as time passes.
b.  His own words confirm that Roman Catholic mystics and their writings have been a strong influence on him personally and his ministry.
c.  The authors and the books mentioned by Warren are more than revealing. They clearly show where his theology is founded.
(See part 1 and 2 of the interview between Rick Warren and Raymond Arroyo, click here.)
3. Rick Warren, Religious Liberty, and Catholics and Evangelicals Together
a. Rick Warren may have a plan laid away for the future of promoting a "religious liberty movement" that will be the equivalent of the "civil liberties movement" of the past.

b. It is possible that a so-called "religious liberty" movement championed by America's Pastor, who is willing to go to jail for standing up for the religious rights of all religions,  could be a stepping-stone to something else. Especially when it is so obvious this would be another important way to join evangelicals and Catholics together, a common trend of our day.

c. Warren could be a major spokesperson for persuading evangelicals to join together with Roman Catholics.
(See part 3 of the interview between Rick Warren and Raymond Arroyo, click here.)
4. Rick Warren, Jean Vanier, And The New Evangelization
a. If Rick Warren and his followers represent the direction many former "Protestants" are headed, it is only a matter of time for the coming One World Ecumenical Religion to be established. The Jesuit plan to bring the "separated brethren Home to Rome" will have been accomplished.

b. Warren admits that he has a "spiritual director" at the retreat center at Saddleback who was trained by the Catholic contemplative figure Jean Vanier.

c.  Vanier is a contemplative mystic who promotes interspiritual and interfaith beliefs, calling the Hindu Mahatma Gandhi "one of the greatest prophets of our times"[3] and "a man sent by God."[4] In the book Essential Writings, Vanier talks about "opening doors to other religions" and helping people develop their own faiths be it Hinduism, Christianity, or Islam.[5]  The book also describes how Vanier read Thomas Merton and practiced and was influenced by the spiritual exercises of the Jesuit founder and mystic St. Ignatius.
(See part 4 of the interview between Rick Warren and Raymond Arroyo, click here.)
5. Rick Warren and the Chaplet of Divine Mercy – "One of my favorite shows"
a. When a Christian leader publically makes statements or endorsements by saying or doing things that contradict the Bible, the leader needs to be addressed in a public manner so those who have been influenced can be put back on track.

b. Warren's main reason for watching the Roman Catholic Eternal Word Television Network is to gain a knowledge and understanding of Christian history, then there is no question he is getting a biased one-sided view.

c. In Warren's own words: "One of my favorite shows, which you repeat often is the Chaplet of Divine Mercy, which I love. And when I've had a very stressful day, I'll come home, I've got it taped and Kay and I will both, we'll listen. We'll put it on and just sit back, relax and worship. And in the time of reflection, meditation and quietness I find myself renewed and restored. So thank you for continuing to play the Chaplet of Divine Mercy."

d. "The Chaplet of the Divine Mercy is . . .  based on the visions of Jesus reported by Saint Mary Faustina Kowalska (1905-1938), known as 'the Apostle of Mercy.' . . . Faustina stated that she received the prayer through visions and conversations with Jesus, who made specific promises regarding the recitation of the prayers. . . .  the chaplet is often said as a rosary-based prayer with the same set of rosary beads used for reciting the Holy Rosary or the Chaplet of Holy Wounds, in the Roman Catholic Church.  . . .  The chaplet may also be said without beads, usually by counting prayers on the fingertips, and may be accompanied by the veneration of the Divine Mercy image."
(See part 5 of the interview between Rick Warren and Raymond Arroyo, click here.)
LTRP Note: Posted for informational and research purposes.
Courtesy Understand the Times
By Leah Marieann Klett
The Gospel Herald Ministries
Rick Warren, senior pastor of Saddleback Church, has announced he will be speaking in Philadelphia later this month at the World Meeting of Families event to commence Pope Francis' highly anticipated visit to the United States. Warren announced his plans to attend the event during the Sunday morning worship service at the Lake Forest, CA church.
"Next month, Pope Francis is coming to America for a world gathering on families," he told the congregation."I'm not a Catholic, and we have many differences with Catholics. But they love the Lord and we have much in common with that – we believe in the Bible, and the Trinity, and in Jesus and the resurrection." "There are probably going to be a million people in Philadelphia at this final event with Pope Francis, and he's asked me to be the final speaker," the Purpose Driven Life author continued amid cheering and applause. Click here to continue reading.
Related Information:
Rick Warren, Jean Vanier, And The New Evangelization
RICK WARREN AND THE CHAPLET OF DIVINE MERCY – "One of my favorite shows"
TV Preachers [Copeland, Robison] Glowingly Describe Meeting with Pope to Tear Down 'Walls of Division'
From Pew Forum on Religion
45% of Americans Are Catholic or Connected to Catholicism
When Pope Francis arrives in the U.S. for the World Meeting of Families later this month, he will find a Catholic public that is remarkably accepting of a variety of non-traditional families, according to a new Pew Research Center survey that provides an in-depth look at American Catholics' views on family life, sexuality and Catholic identity.
Nine-in-ten U.S. Catholics say a household headed by a married mother and father is an ideal situation for bringing up children. But the survey shows that large majorities think other kinds of families – those headed by parents who are single, divorced, unmarried or gay – are OK for raising children, too.
This may be in part because Francis' American flock is experiencing life in all its modern complexity. According to the survey, one-in-four Catholics have gone through a divorce. One-in-ten have not only divorced but also remarried. One-in-ten are living with a romantic partner, sans wedding, and more than four-in-ten have done so at some point in their lives. Click here to continue reading.
By The Berean Call
CHRISTIAN SONGWRITER DARLENE ZSCHECH IS SINGING FOR POPE FRANCIS IN ST PETER'S SQUARE
She will appear alongside fellow worship leader Don Moen and classical tenor Andrea Bocelli at the "Voices in Prayer" event held by Catholic charismatic group 'Renewal in the Spirit'.
Thousands are expected to gather in St Peter's Square for the event, which will include prayer for persecuted Christians. . . .
"This is a celebration of unity and peace in the Renewal of the Holy Spirit. Amazing days for the Body of Christ", she wrote.
Speaking before the event, Don Moen said, 'This ecumenical event brings Protestants, Catholics, and Jews together as we pray for our brothers and sisters in Christ who are being martyred and persecuted all over the world today. Although there are many denominational differences throughout the church worldwide, I have seen firsthand how coming together in worship and prayer promotes unity. Join me as we pray for those who are being jailed, beaten, and killed for professing their belief in Jesus Christ."
The news was controversial in some quarters, with one person commenting on Darlene Zschech's facebook page, 'It is always good to take every opportunity to share music with the world that honours God; however I have a hard time to understand how you can be united in seeking the "renewal in the Holy Spirit" with religious leaders who are worshippers of idols and Mary. Unity can happen only when unity is based on the Truth, what the Scriptures says." Click here to continue reading.
 By Jan Markell
Olive Tree Ministries
I am cautious about "pinning the tail" on the Antichrist and the False Prophet.  We cannot know ahead of time who these personalities are; however, Pope Francis comes close to "filling the bill" on the False Prophet. Or he may be but a "type" of that man just like there are many "types" of the Antichrist throughout history. I think the devil has always had a candidate for the Antichrist waiting in the wings as he doesn't know when the final generation is.
The False Prophet is described in Revelation 13:11-15. He is also referred to as the "second beast" (Revelation 16:13, 19:20, 20:10). Together with the Antichrist and Satan, who empowers both of them, the False Prophet is the third party in the unholy trinity.
Pope Francis is revealing himself to be a blatant Marxist. He has also pulled back from issues Catholics have considered sacred. He apparently has replaced abortion with social justice and environmentalism. Most troubling, however, is his call for a "new world order" and that there be a global constitution, a global court and a one-world government. Scripture is clear that the Antichrist will be the head of a one-world government (Revelation 13).
Even conservative Catholics are sounding a warning that Pope Francis–the first Jesuit Pope–may be the most troubling Pope ever. He is raising apocalyptic concerns and some in the eschatological community feel that he, indeed, has gotten the nod to be the False Prophet.
 Roger Oakland, an apologist on Catholic doctrine, writes, "According to Bible prophecy, a one-world religion that will offer the promise of peace throughout the world is going to commence prior to Christ's return. To most, this global body will seem like a wonderful thing and very possibly will be a pseudo-Christianity (coming in the Name of Christ); however, contrary to how the masses will view it, it will actually help establish and set up the Antichrist and his one-world government."
He continues, "In order for this to happen, all religions must come together in an ecumenical plan. Today, as part of this Satanic scheme, the evangelical/Protestant church is being drawn seductively into the Roman Catholic Church, largely through what we call 'the Jesuit agenda.' Incredibly, while the evidence is obvious to some, the majority of proclaiming Christians are not at all aware it is happening."
Oakland concludes, "So what should we expect if we are in the time when such a system unfolds? First, many who once were Protestant and Evangelical will become ecumenical. Second, all religions will unite in solidarity of purpose. Understanding the Jesuit agenda is essential if we are to understand how this worldwide deception will come about."
Jan Markell is the founder and director of Olive Tree Ministries. Her radio program airs on 700 radio stations across America. She is the co-author of Trapped in Hitler's Hell.