Posts Tagged 'roman catholic church'
LTRP Note: Please refer to our previous post titled "Rick Warren: Protestants, Catholics Must Unite to Defend Life, Sex, Marriage – 'We're on the Same Team'"  to understand what we mean by the title of this article.
"An Account of the Persecutions in Italy Under the Papacy"
By John Foxe
(author of Foxe's Book of Martrys – * please read our note at the bottom of this post.)
We shall now enter an account of the persecutions in Italy, a country which has been, and still is, the center of popery. Italy is also the source of various errors which have spread themselves over other countries, deluded the minds of thousands, and diffused the clouds of superstition and bigotry over human understanding. In pursuing our narrative we shall include the most remarkable persecutions which have happened and the cruelties which have been practiced by the immediate power of the pope through the power of the Inquisition.
In the twelfth century, the first persecutions under the papacy began in Italy at the time that Adrian, an Englishman, was pope, being occasioned by the following circumstances:
A learned man and an excellent orator of Brescia, named Arnold, came to Rome and boldly preached against the corruptions and innovations which had crept into the church. His discourses were so clear, consistent, and breathed forth such a pure spirit of piety, that the senators and many of the people highly admired his doctrines.
This so greatly enraged Adrian that he commanded Arnold instantly to leave the city as a heretic. Arnold, however, did not comply, for the senators and some of the principal people took his part and resisted the authority of the pope.
Adrian now laid the city of Rome under an ecclesiastical censure, which caused the whole body of clergy to interfere; and at length he persuaded the senators and people to give up the point and allow Arnold to be banished. This being agreed to, he received the sentence of exile, and retired to Germany where he continued to preach against the pope and to expose the gross errors of the Church of Rome.
Adrian still thirsted for his blood and made several attempts to get him into his hands; but Arnold  avoided every snare laid for him. At length, Frederic Barbarossa requested that the pope would crown him king of Germany with his own hand. This Adrian complied with and at the same time asked a favor of the emperor, which was to put Arnold into his hands. The emperor very readily delivered up the unfortunate preacher, who soon fell as martyr to Adrian's vengeance, being hanged and his body burnt to ashes at Apulia. The same fate attended several of his old friends and companions.
Encenas, a Spaniard, was sent to Rome, to be brought up in the Roman Catholic faith; but having conversed with some of the reformed and reading several treatises which they put into his hands, he became a Protestant. When this became known, one of his own relations informed against him. He was burnt by order of the pope and a conclave of cardinals. The brother of Encenas had been taken up about the same time for having a New Testament in the Spanish language in his possession; but before the time appointed for his execution, he found means to escape out of prison and retired to Germany.
Faninus, a learned layman, by reading controversial books became of the reformed religion. An information being exhibited against him to the pope, he was apprehended and cast into prison. His wife, children, relations, and friends visited him in his confinement and persuaded him to renounce his faith. This obtained his release. But he was no sooner free from confinement than his mind felt the heaviest of chains—the weight of a guilty conscience. His horrors were so great that he found them insupportable, until he had returned from his apostasy and declared himself fully convinced of the errors of the Church of Rome. To make amends for his falling off, he now openly and strenuously did all he could to make converts to Protestantism and was pretty successful in his endeavors. These proceedings occasioned his second imprisonment, but he had his life offered him if he would recant again. This proposal he rejected with disdain, saying that he scorned life upon such terms. Being asked why he would obstinately persist in his opinions and leave his wife and children in distress, he replied, "I shall not leave them in distress; I have recommended them to the care of an excellent trustee." "What trustee?" said the person who had asked the question. Faninus answered, "Jesus Christ is the trustee I mean, and I think I could not commit them to the care of a better."
On the day of execution he appeared remarkably cheerful. An observer said, "It is strange you should appear so merry upon such an occasion, when Jesus Christ Himself, just before His death, was in such agonies, that He sweated blood and water." To which Faninus replied:
Christ sustained all manner of pangs and conflicts with hell and death on our account; and thus, by His sufferings, freed those who really believe in Him from the fear of them.
He was then strangled, his body was burnt to ashes and then scattered about by the wind.
Dominicus, a learned soldier, having read several controversial writings, became a zealous Protestant, and retiring to Placentia, he preached the gospel in its utmost purity to a very considerable congregation. One day, at the conclusion of his sermon, he said, "If the congregation will attend tomorrow, I will give them a description of Antichrist and paint him out in his proper colors."
A vast concourse of people attended the next day, but just as Dominicus was beginning his sermon, a civil magistrate went up to the pulpit and took him into custody. When he was brought to examination this question was put to him: "Will you renounce your doctrines?" To which he replied: "My doctrines? I maintain no doctrines of my own; what I preach are the doctrines of Christ, and for those I will forfeit my blood, and even think myself happy to suffer for the sake of my Redeemer." Every method was taken to make him recant for his faith and embrace the errors of the Church of Rome; but when persuasions and menaces were found ineffectual, he was sentenced to death, and hanged in the marketplace.
Galeacius, a Protestant gentleman, who resided near the castle of St. Angelo, was apprehended on account of his faith. Great endeavors being used by his friends he recanted and subscribed to several of the superstitious doctrines propagated by the Church of Rome.
Becoming, however, sensible of his error, he publicly renounced his recantation. Being apprehended for this, he was condemned to be burnt. He was chained to a stake, where he was left several hours before the fire was put to the fagots, in order that his wife, relations, and friends, who surrounded him, might induce him to give up his opinions. Galeacius, however, retained his constancy of mind and entreated the executioner to put fire to the wood that was to burn him. This he did, and Galeacius was soon consumed in the flames which burnt with amazing rapidity and deprived him of sensation in a few minutes.
Soon after this gentleman's death, a great number of Protestants were put to death on account of their faith in various parts of Italy,  giving a sure proof of their sincerity in their martyrdoms.
End
* A note from Lighthouse Trails: Foxe's Book of Martyrs was first published five hundred years ago. Today, there are many editions of this book available. When Lighthouse Trails decided to start offering this book to our readers, we began our search for a suitable edition. Much to our dismay, we discovered that many of the current editions were compromised in one form or another. For example, in one edition by a Christian publisher, front page endorsements included the names of those who promote contemplative spirituality and/or the emerging church. When one realizes that contemplative/emerging spirituality embraces some of the very same beliefs that Foxe's martyrs opposed to the point of suffering cruel persecution and death, it is most troubling and misleading to see these names in the cover of an edition of Foxe's Book of Martyrs.
In another edition we reviewed, the book was among a special set of "Christian classics." We were once again perplexed to see that some of the other books in that series were written by contemplative mystics.
And yet another edition, published by a secular publisher, advertised mystical and occult practices on the back cover.
Still another edition removed most of the section (like the section above) in Foxe's Book of Martyrs about persecution by the Roman Catholic papacy.
Finally, after an unsuccessful search, Lighthouse Trails decided to publish our own edition of this truly incredible and unforgettable account.
And whatsoever ye do in word or deed, do all in the name of the Lord Jesus, giving thanks to God and the Father by him. Colossians 3: 17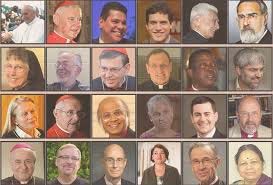 By Roger Oakland
Understand the Times, International
On November 17-19, 2014, an interreligious conference was hosted at the Vatican to discuss the sanctity of marriage under the definition that marriage is a relationship between a man and a woman. Beside numerous representatives of the Roman Catholic Church, the conference was attended and addressed by members of the Buddhist, Hindu, Muslim, Jewish, and Mormon faiths. Also, well-known Christian evangelical leaders from the United States—Pastor Rick Warren and Russel Moore—played a major role and were in attendance.
Warren's comments documented by the proceeding video clip are clear and require no explanation.
The purpose of posting Rick Warren's video statement is to appeal to Calvary Chapel pastors who have been persuaded by the new leadership at Calvary Chapel Costa Mesa that Warren's ecumenical direction is the "new" and enlightened pathway that Calvary Chapels of the future must choose in order to become relevant for the postmodern era that has reformed sound biblical teaching over the past decade. This is also an appeal to all evangelical pastors who have brought the Purpose Driven movement into their churches.
Further, this proclamation by Rick Warren is very similar to some of the ideas being presented by the "New Calvary Movement" promoted by Brian Brodersen and his cohorts. (Listen to a portion of Brodersen's September 7, 2014 message titled "Unity in the Spirit").
Click here to continue reading.
By Roger Oakland
The Catholic Church teaches that once a Catholic priest  has consecrated the wafer of bread during Communion, the wafer turns into the literal and real body, blood, soul, and divinity of Jesus Christ.1 Therefore, the Communion Host is no longer bread but Jesus, under the appearance of bread and is therefore worthy of adoration and worship. The Catholic Catechism states succinctly:
In the most blessed sacrament of the Eucharist "the body and blood, together with the soul and divinity, of our Lord Jesus Christ and, therefore, the whole Christ is truly, really, and substantially contained."2

The Church and the world have a great need for Eucharistic worship. Jesus awaits us in this sacrament of love. Let us not refuse the time to go to meet him in adoration, in contemplation full of faith, and open to making amends for the serious offenses and crimes of the world. Let our adoration never cease.3
What Does the Bible Teach About the Lord's Supper?
We have documented [in Another Jesus] what the Catholic Church teaches concerning the Eucharist. But what does the Bible teach? The Bible encourages believers to study "all the counsel of God"(Acts 20:27) and to "[p]rove all things; hold fast that which is good" (I Thessalonians 5:21). And as believers, we are admonished to:
 Study to shew thyself approved unto God, a workman that needeth not to be ashamed, rightly dividing the word of truth. (II Timothy 2:15)
With these instructions in mind, let us search the Scriptures to determine what the Bible teaches concerning the Lord's supper.
The Last Supper was celebrated by first century Christians in obedience to Jesus' words "this do in remembrance of me" (Luke 22:19). This observance was established by the Lord at the Last Supper when He symbolically offered Himself as the Paschal Lamb of atonement. His actual death the next day fulfilled the prophecy. Only Paul uses the phrase "Lord's supper" (I Corinthians 11:20), while the Church fathers began to call the occasion the Eucharist meaning thanksgiving from the blessing pronounced over the bread and wine after about A.D. 100. Christians have celebrated the Lord's Supper regularly as a sign of the new covenant sealed by Christ's death and resurrection.4 Today, the Eucharist means far more than simply thanksgiving.
This is My Body
To what exactly did Jesus ordain during the Last Supper? The Bible states:
 [Jesus] took bread, and gave thanks, and brake it, and gave unto them, saying, This is my body which is given for you: this do in remembrance of me. Likewise also the cup after supper, saying, This cup is the new testament in my blood, which is shed for you. (Luke 22: 19-20)
Proponents of the Catholic Eucharist point to Jesus' words recorded in John 6. Though this chapter does not deal with the Last Supper, Jesus' words, which are taken to relate to the Communion meal, are as follows:
I am the living bread which came down from heaven: if any man eat of this bread, he shall live for ever: and the bread that I will give is my flesh, which I will give for the life of the world. The Jews therefore strove among themselves, saying, How can this man give us his flesh to eat? Then Jesus said unto them, Verily, verily, I say unto you, Except ye eat the flesh of the Son of man, and drink his blood, ye have no life in you. Whoso eateth my flesh, and drinketh my blood, hath eternal life; and I will raise him up at the last day. For my flesh is meat indeed, and my blood is drink indeed. (John 6:51-55)
 Just what do these Scriptures mean? The answer to that can be found in our examination of the Word of God itself.5
Metaphors and Similes
Throughout the Bible, context determines meaning. Bible-believing Christians know to take the Bible literally, unless the context demands a figurative or symbolic interpretation. Before exploring Jesus' words in John chapter 6 and elsewhere, let's review a few examples of symbolism in the Scriptures. All scholars would agree that the following verses are metaphorical. An explanation follows each verse:
 O taste and see that the LORD is good. (Psalm 34:8; Try to experience God's promises to find if they are true.)

But whosoever drinketh of the water that I shall give him shall never thirst; but the water that I shall give him shall be in him a well of water springing up into everlasting life. (John 4:14; For those who receive the gift of salvation, Christ's Spirit shall dwell in their souls assuring them of everlasting life.)

 Moreover he said unto me, Son of man, eat that thou findest; eat this roll, and go speak unto the house of Israel. So I opened my mouth, and he caused me to eat that roll. (Ezekiel 3:1, 2; Receive into your heart, internalize, and obey God's Word.)
And I could go on and on with one example after the next. At one point Jesus said, "Destroy this temple, and in three days I will raise it up" (John 2:19). The Jews thought He spoke of the literal temple in Jerusalem, but if we keep reading, we find that Jesus was referring to His body (John 2:20-21). On another occasion, Jesus said, "I am the true vine" (John 15:1). Of course, we know that Jesus did not mean that He was a literal grape vine twisting around a post. When the Bible says God hides us under His wings (Psalm 91:4), we know that God is not a bird with feathers. God is the source of all life and our provider and protector, and these figures vividly illustrate this.
Throughout the Bible, figurative language is used to compare one thing to another so that the listeners can easily understand. In fact, the Bible tells us that Jesus regularly used parables to figuratively describe one thing as something else (Matthew 13:34).Jesus Himself stated, "These things have I spoken unto you in proverbs" (John 16:25). The Bible should always be interpreted literally unless the context demands a symbolic explanation. So what does the context of John's Gospel and the other Gospels demand?
John Chapter 6: The Bread of Heaven
If we read the entire sixth chapter of John's Gospel, we not only get the context, but also some startling insights into what Jesus meant when He said we must eat His flesh and drink His blood. John 6 begins with the account of Jesus feeding five thousand, followed by the account of Jesus walking on water. On the following day, people were seeking Jesus for the wrong reasons, which we understand from Jesus' words in verses 26 and 27:
 Ye seek me, not because ye saw the miracles, but because ye did eat of the loaves, and were filled. Labour not for the meat which perisheth, but for that meat which endureth unto everlasting life.
 These verses begin to frame the context of the verses that follow, specifically, that Jesus emphasized the need for them to seek eternal life. Jesus goes on to explain to them how to obtain eternal life. And in verse 28, when the people ask Jesus, "What shall we do, that we might work the works of God?" Jesus replies, "This is the work of God, that ye believe on him whom he hath sent" (vs. 29).
Here Jesus specifies only one work that pleases God, namely, belief in Jesus. Jesus reemphasizes this in verse 35 when he states: "I am the bread of life: he that cometh to me shall never hunger; and he that believeth on me shall never thirst."Notice the imperative is to "cometh to me" and "believeth on me." Jesus repeats the thrust of His message in verse 40 where He states:
 And this is the will of him that sent me, that every one which seeth the Son, and believeth on him, may have everlasting life: and I will raise him up at the last day.
Jesus could not be clearer—by coming to Him and trusting in Him, we will receive eternal life. At this point in the narrative, the Jews complained about Him because He said: "I am the bread which came down from heaven" (vs. 41). Jesus responds to their murmuring when He states that He is indeed the "living bread" and that they must eat His flesh and drink His blood to obtain eternal life (vs. 42-58). However, let's remember the context of this statement. First, Jesus contrasts Himself with the manna that rained down on their fathers and sustained them for their journey. But their fathers have since died. But Jesus now offers Himself as the living, heavenly bread, causing those who eat of Him to live forever.
Jesus is not the perishable manna that their descendants ate in the wilderness—He is the eternal bread of life that lives forever. Only by partaking in His everlasting life can we hope to live with Him forever. This contrast strengthens His main message, where Jesus says, "Verily, verily, I say unto you, He that believeth on me hath everlasting life" (vs. 47). Notice, Jesus said that as soon as we believe in Him we have—present tense—eternal life. It is not something we aim at or hope we might attain in the future, but rather, something we receive immediately upon accepting Him by faith.
When Jesus said these words, He was in the synagogue in Capernaum, and He had neither bread nor wine. Therefore Jesus was either commanding cannibalism, or He was speaking figuratively. If He was speaking literally, then He would be directly contradicting God the Father: "But flesh with the life thereof, which is the blood thereof, shall ye not eat"(Genesis 9:4). Therefore, because Jesus Himself said, "[T]he scripture cannot be broken"(John 10:35), He must be speaking metaphorically. And that is exactly how He explains His own words in the subsequent verses.
The Flesh Profits Nothing
After this, in verse 60 (of John 6), we find that many of His disciples said: "This is an hard saying; who can hear it?" Jesus was aware of their complaints and He responded saying:
Doth this offend you? What and if ye shall see the Son of man ascend up where he was before? It is the spirit that quickeneth; the flesh profiteth nothing: the words that I speak unto you, they are spirit, and they are life. But there are some of you that believe not. (vs. 61-64)
Wait a minute, the flesh profits nothing! I thought Jesus said we must eat His flesh? Yet, if the flesh profits nothing, Jesus must be speaking in spiritual terms. And that is what He says: "[T]he words that I speak unto you, they are spirit."
Jesus uses the exact same Greek word for flesh (sarx) as He did in the preceding verses. Therefore, He is emphatically stating that eating His literal flesh profits nothing! If the Lord Himself sets the context of the dialogue, we would do well to hear Him. He said that the words He speaks are spirit and that the flesh profits nothing. In other words, Jesus has just told us He has spoken in a metaphor, so we need not guess at it.
If that isn't clear enough, Peter's words add further clarity. Immediately following the dialogue with the Jews, in which some disciples left, Jesus said to the remaining twelve apostles, "Will ye also go away? " (vs. 67). Peter's response is profound:
 Lord, to whom shall we go? thou hast the words of eternal life. And we believe and are sure that thou art that Christ, the Son of the living God. (vs. 68-69)
Amazing! Peter did not say we have come to believe that we must eat Your flesh to live. He said that we know You are the Christ, and we have come to believe in You as the Christ. This is the confession of faith that leads to eternal life, not eating Jesus' flesh and drinking His blood. It also agrees with the totality of Scripture.
 That if thou shalt confess with thy mouth the Lord Jesus, and shalt believe in thine heart that God hath raised him from the dead, thou shalt be saved. (Romans 10:9)

 [W]hat must I do to be saved? And they said, Believe on the Lord Jesus Christ, and thou shalt be saved. (Acts 16:30, 31)

He that believeth on the Son hath everlasting life. (John 3:36)
To understand more fully the Catholic Eucharist versus biblical communion and salvation, read Roger Oakland's book, Another Jesus.
Related Articles:
The Missionary Goal of the Catholic Church
Mrs. Prest – She Said No to Apostasy and Became a Martyr
The New Evangelization and the Coming Reign of the Eucharist Christ
By Steve Blackwell
Indywatchman Blog
Some things are worth repeating. Dave Hunt wrote a book twenty years ago called A Woman Rides the Beast that needs to be revisited. I have friends who have joined the Catholic Church because they were seeking religion, and they have, without a doubt, found the ultimate religion. In Dave's book he shows accurately with very much Biblical documentation that this ultimate religion, the Catholic Church, is in fact the woman who rides the beast, a whore who has committed fornication with the kings of the earth.
In 1993 Dave recorded a pre-book video lecture which I have embedded. Take a look at the video and I believe you will find it very, very hard to argue with Dave's interpretation of Revelation 17:7. Click here for the source of this posting.
By Roger Oakland
Understand the Times, International
In February of 2013, Understand The Times published a commentary on our website titled "What is Next For Rick Warren."
In this commentary, we provided evidence to show that Warren and Tony Blair were partnering together with the Roman Catholic Church in the formation of a P.E.A.C.E. Plan that leads towards the formation of a global religion in the name of Christ for the cause of peace. Documentation for this premise can be supported by numerous statements that both Warren and Blair have made publicly from messages they have given or articles that have been written explaining their ideas.
While many who read that commentary doubted or denied such a Warren-Rome connection, a new YouTube interview with Rick Warren and Raymond Arroyo of EWTN (published and posted on Apr 11, 2014), reveals the statements we made about the Warren-Rome partnership were accurate prophetic warnings with regard to what would happen in the future.
The YouTube description of the interview with Warren and Arroyo states:
"Part II of our exclusive interview RICK WARREN, pastor of Saddleback Church in Southern California. Rick talks about the expansion of his ministry abroad, the Vatican delegation that recently came to Orange County to study his church's style of evangelization, and which television channel he finds himself watching most often and the show that draws him."
The interview can be viewed by clicking on the following link: https://www.youtube.com/watch?v=dVCY8pW-ACs
We highly recommend you watch the entire 30-minute interview, which was done at Saddleback Church at some date previous to the publishing date of April 11, 2-14. The interview is loaded with information that provides further insight into Rick Warren's pathway to Rome that he has actually been supporting for quite some time. For instance, in 2005, Warren created the Purpose Driven Life Catholics program as you can see from the image below (which is taken from Rick Warren's website).
And in his best-selling book, The Purpose Driven Life (released in 2002), Rick Warren makes several favorable references to well-known Catholics: page 88 (Brother Lawrence, a Catholic mystic), page 108 (he mentions Catholic priest, Henri Nouwen and Catholic panentheist St. John of the Cross), and twice he mentions Mother Theresa (pages 125 and 231).
But in this EWTN interview, Warren takes his views of the Catholic Church to even "greater" heights and admits he is in favor of the Roman Catholic New Evangelization program (set up to win the "lost brethren" back to the Mother Church).
In the near future, we will be breaking the interview down into smaller segments, providing written transcripts and comment based on the words contained in these shorter segments.
.
By Roger Oakland
While I am sometimes accused of being a "Catholic-basher," this is not my desire, nor my intention. I have a number of Roman Catholic acquaintances, and I care for them very much. I also have a number of Evangelical and Protestant acquaintances, and I care about them equally as well. However, in both cases, if a true understanding of the Gospel according to the Scriptures is not present in their lives, then their views will not be biblical—it won't matter what they call themselves. For the record, my desire is to follow Jesus Christ and His Word and no man, no matter who he is. Likewise, I desire my acquaintances to do the same. It is love, not hate, that motivates me to share the Gospel with them, for there is only one Gospel that truly saves.
Here is the view I promote. Saving faith hinges entirely on a personal relationship with Jesus Christ, not on an affiliation with a church body. To be born again is to die to the old life of living for self and sin and to be reborn of the Spirit of God when one acknowledges his inability to save himself but rather trusts in Christ alone and His death on the Cross to purchase our salvation.
Many Catholics do not realize that official Catholic teaching does not recognize the biblical Gospel of salvation by grace alone but adds to it the appendage of our merit and participation in the sacraments. By the same token, many Protestants do not realize the biblical faith that martyrs (the disciples, the reformers, etc.) lived and died for. Our hope of an eternal home in Heaven rests in Christ and Christ alone and is offered to all, who in child-like faith, receive Him.
I am not certain when I first realized that the Roman Catholic Church, particularly the Jesuits, were the root force behind the coming one-world religion. If I were pressed to come up with an original time, it would be difficult. Coming to this realization was more of a process for me. The Bible foretells the coming of the Harlot. G.S. McLean always instilled in me that the harlot was apostate Christianity. This I still believe is the proper definition.
Through writing New Wine and the Babylonian Vine, I could see that the final one-world religion will be a mix of all religions for the cause of peace. This will include a revival of ancient Babylonianism that will be rooted in the worship of creation, based on Darwinian evolution that is rooted in Hinduism and Buddhism.
[T]he Roman Catholic "Mary" and the Roman Catholic "Jesus" will play [a major role] in the final delusion to prepare the world for the Antichrist. …
It was about 2000, the year before Bryce, my son, died, that I came across Pope John Paul's agenda to promote the "New Evangelization." This is an organized agenda to point the "faithful" and the "separated brethren" to realize that Jesus Christ is truly present in the Eucharist. This program, coupled with so-called apparitions from a woman claiming to be "Mary" the mother of Jesus, seems to be the impetus behind the coming one-world religion for peace that would be headquartered in Rome.
As you will recall, I had already come to the conclusion that there is a Jesuit plan to bring the separated brethren back to the "Mother of all Churches" in other ways, particularly their "dove" (signs and wonders) plan.
Following my miraculous come-back to ministry after Bryce died, I not only finished New Wine and the Babylonian Vine but started writing the outline and then the book Another Jesus: The Eucharistic Christ and the New Evangelization to continue the warning during 2004. While I was writing this book, Mel Gibson suddenly became a Calvary Chapel-proclaimed saint with his Passion of the Christ. Chuck Smith viewed a portion of the film before it was released and endorsed the film. The Calvary Chapel movement jumped on the bandwagon. As would be expected, they followed "Pastor Chuck's" leading. There were few voices against the movie. Understand The Times was one of those voices who dared speak up.
While I don't intend to name the pastors who called me to task over my position on The Passion, let me say there were many who wanted me to keep silent. Support for the ministry of UTT dwindled. There are pastors who even part ways to this day over my stand. Mel Gibson's Hollywood film with the Eucharistic Jesus and the evangelism that it contained became a sacred cow for Calvary Chapel. If someone spoke against it, he came under zealous attack, as if speaking against Mel Gibson's movie was speaking against Jesus Christ Himself.
Nevertheless, the book was completed. Jim Tetlow helped me by writing an appendix, which explains that a wafer is a wafer and not literally Jesus' flesh under the "appearance of bread" and that the Roman Catholic view of transubstantiation is not scriptural.
The book also warns about the coming lying signs and wonders that will occur associated with false appearances of the Eucharistic Jesus that are already underway. Coupled together with further lying signs and wonders, there will be appearances of an apparitional woman claiming to be "Mary" the mother of Jesus. We predicted that lying signs and wonders would impress Muslims because they have a special love for Mary—there is an entire chapter on Mary in the Koran. Most people don't realize that.
In June of 2005, Paul Smith recommended that Another Jesus: The Eucharistic Christ and the New Evangelization be given out to the Calvary pastors at the annual senior pastors conference at Murrieta. As UTT did with New Wine and the Babylonian Vine, the books were donated through Calvary Distribution and handed out. In the back of the book is a commentary called "Passion Evangelism" that exposes Mel Gibson's plan to win the world to the Eucharistic Christ.
By many accounts, the conference was deemed to be a watershed. A panel discussion one afternoon about Calvary basics ended up in a free-for-all. Greg Laurie led the way with Bob Coy in stand-up comedy. Things got serious when Greg Laurie chastised pastors for not participating in Harvest Crusades just because of his desire to be linked with Purpose Driven globalist pastor, Rick Warren. The only pastor who seemed to be in favor of studying the Bible instead of someone's book was Mike Macintosh.
Many pastors left the meeting with a heavy heart. Mine was so heavy I decided to pack up my book table one afternoon and stay at my hotel. Later that evening while at the hotel, my cell phone started to ring. The messages were all the same sentiment: "You cannot believe what just happened!" one pastor from South Carolina cried out.
"This is heresy!" said another in an excited voice.
"What has happened to Calvary? Have we been seduced by the Jesuits?" asked another who called me. All this commotion was because [a] Calvary Chapel pastor, who was to perform the communion service at the end of the meeting, turned it into a Eucharistic-style service. …
After the conference, I wrote a letter from my heart to Chuck Smith. I expressed my deep love for him and for Calvary Chapel but also told him of my strong concerns. Here is some of what I said in that letter:
It is with a heavy heart that I must communicate to you that over the past several years, because of many firsthand encounters and experiences in various places with numerous Calvary Chapel pastors, that I have observed a change in the Calvary Chapel movement that deeply concerns me. Perhaps some of my concerns have filtered back to you through others. Until writing this letter, I have not formally contacted you with these concerns. I regret now that I have waited so long. After leaving the Pastors Conference in Murrieta this past week, I laid awake several nights contemplating what I should do or say. This letter is the result.
I explained to Chuck that while I knew there were Calvary Chapel churches that were staying true to God's Word, there were many that were being influenced by another gospel. I gave him six points where serious error could be found. I want to list them here because every Christian denomination is being affected in these areas to one degree or another:
* Ecumenical and unbiblical teachings are being endorsed for the cause of unity and church growth. The Gospel of Jesus Christ is being disguised to make it less offensive and more acceptable.

* Churches that once taught the Bible faithfully verse by verse preparing the flock for the imminent return of Jesus Christ, now are looking for ways to make their services more seeker-friendly and are less concerned about the prophetic signs we are living in the last days.
Pastors and churches that once believed church growth was dependent on feeding the sheep and equipping the saved to share the Gospel, now promote humanistic means to draw in the masses based on a consumer style of evangelism focused on "finding out what people want" to "get them in the door."

* Churches once led by pastors committed to biblical truth, now are employing experts who use worldly principles borrowed from secular corporations with material goals for success. Rather than following Jesus and His Word, pastors and church leaders are looking to successful men and their methods so they can become part of a movement that is based on principles foreign to the Scriptures.

* When church leaders promoting strategies to establish the Kingdom of God here on earth by humanistic methods are challenged by concerned believers warning about the dangers, the leaders label these believers as divisive. Contending for the faith is no longer considered biblical. A person taking a position for biblical truth is now accused of being critical of what others believe.

* Bible-believing pastors who once taught the Bible are now looking for ways to attract people to their congregations by providing extra-biblical experiences [e.g. contemplative] and an atmosphere that includes candles, icons, incense, and the introduction of Roman Catholic sacraments. When concerned observers suggest this appears to be leading to a partnership with Roman Catholicism, they are considered to be negative opponents of the "new thing" God is doing to reach our generation.
I told Chuck that it was apparent to some that we are at another crossroads in church history, a fork in the road. I asked him if pastors were going to stand up and make their voices known if they have concerns about the direction current trends are leading. I reminded him, "While some say, don't be negative—just be known for what you believe, not what you are against—the Old Testament prophets were outspoken when followers of God strayed away from the truths of God and never allowed the sheep to feel comfortable in their sin."  (This is an excerpt from Let There Be Light by Roger Oakland.)