Posts Tagged 'roman catholic church'
As groups around the world celebrate the 500th anniversary of the Reformation with highly ecumenical events and speeches, Brian McLaren, once likened to Luther,1 has outlined his view of what the next reformation will look like in an article he wrote on November 1, 2017 titled, "The Last Reformation … and the Next Reformation."  A disgruntled former evangelical Christian, McLaren says that the first reformation was led by white European men whose belief of an inerrant Bible was "papal authority with paper authority." In contrast, McLaren says the next reformation will be much different:
The last reformation is associated with one "great man"–Martin Luther. He was joined by other "great men" – all white and European. The next reformation will be associated not with one "great man" but with many diverse people–especially women and people of color. The contribution of Liberation Theology, Black Theology, Feminist/Eco-Feminist/Womanist/Queer and related theologies will be as central to the next reformation as white European theology was to the last reformation.2
This, of course, is what McLaren has been hoping would occur for a very long time.
McLaren's public beginnings on this emergent "progressive" anti-Christianity path began back in the late 90s when men Bob Buford, Peter Drucker, Rick Warren, and Bill Hybels put their heads together and came up with a way to raise up a group of young men, get them into the lime light, and bring the new spirituality into the church through them. They succeeded, and most don't even realize they were the initial driving force. What brilliance! If you have never read about this time period, it's worth doing so. We've put together a PDF of chapter 2 of Roger Oakland's book Faith Undone, which describes the early days of the emerging church and McLaren's role in that.
Rick Warren has his own ideas and hopes for a new reformation. He's been talking about it for years. The following quotes illustrate some similarities between Brian McLaren's new reformation and Rick Warren's:
Who's the man of peace in any village—or it might be a woman of peace—who has the most respect, they're open and they're influential? They don't have to be a Christian. In fact, they could be a Muslim, but they're open and they're influential and you work with them to attack the five giants. And that's going to bring the second Reformation.3

Warren predicts that fundamentalism, of all varieties, will be "one of the big enemies of the 21st century." "Muslim fundamentalism, Christian fundamentalism, Jewish fundamentalism, secular fundamentalism – they're all motivated by fear. Fear of each other."4

Today there really aren't that many Fundamentalists left; I don't know if you know that or not, but they are such a minority; there aren't that many Fundamentalists left in America … Now the word "fundamentalist" actually comes from a document in the 1920s called the Five Fundamentals of the Faith. And it is a very legalistic, narrow view of Christianity.5
As for Brian McLaren, he is convinced that it is white European Christian men who are the source of corruption in the church, and even in the world. In his article, he uses the term "white Christian supremacy" to refer to white Christian men saying they "naturally led" the "genocide" of the Holocaust and the nuclear war. He believes if there can just be a reformation that is made of everyone else (no matter what their beliefs are), then we will have a truly pure reformation that will change the entire world and make "Christianity" what it should be. But, like other emergent teachers, McLaren threw out the Bible as the actual Word of God, and in so doing, has embraced and clung for dear life to ideologies that try to explain why there is evil in the world. The only thing McLaren can come up with is it must be white Christian European males. McLaren has become so deceived in his rejection of biblical truth that he actually believes this, and with a passion. He rejects Christianity now because he believes it is a "white man's religion." He cannot see that man's heart is sinful and full of deceit, and it has nothing to do with color or status. While we know there have been great atrocities and abuses done at the hands of white men, there have also been great atrocities and abuses done at the hands of non-white men. McLaren believes the problems and sufferings of this world are because men of one color – white – are more wicked than any other race of people. Tragically, many will believe his new reformation theology and will turn against the God of the Bible altogether and join forces with an all-inclusive god of this world. That god, however, cannot save one single soul. He cannot give lasting peace, and he cannot give eternal life. McLaren hates the fact that the Jesus Christ of the Bible says, "no man cometh unto the Father, but by me" (John 14:6) and "narrow is the way" that leads to life (Matthew 7:14).
The reformation leaders from over 500 years ago tried to separate themselves from what they saw as a false corrupted Christianity (Roman Catholicism). And that was a good thing. Many of them paid a high price to stand for truth; for many, even their lives. But there were groups that formed after the reformation that created their own forms of "Christianity," and many of those groups became corrupt as well. But that is not the church (the body of Christ). The church is made up of people, starting with the very first Christians described in the New Testament, who name the name of Jesus Christ as their Lord and Savior, who become born again through His Spirit, and who have the mind of Christ because they are born again in Him. While some of them may belong to different groups and denominations, they know in their hearts that their first allegiance is to God. This body of Christ has been in existence since the beginning of the church after Jesus Christ was crucified and rose from the dead. It consists of both men and women, rich and poor, and of many different skin colors and from many different nations. Those distinctions merely describe the outer shell of these believers. The important distinction that separates them from the entire world is that they are sealed through the Holy Spirit in Christ (Ephesians 1:13; Ephesians 4:30). They have been translated from the kingdom of darkness (sin) into the kingdom of light (Jesus Christ) (Colossians 1:13). Because they have the Spirit of God living in them, they do not hate, they do not despise someone because of the color of his skin, and they pray for the lost knowing that God loves them and wishes for all to come to repentance and the knowledge of Him; and while they may attend various denominations, they first are Christians, born again and sanctified through Jesus Christ. Though not perfect by any means and can succumb to their flesh and sin, they are indwelt by the Holy Spirit who convicts them of sin, gives them power from on high to walk righteously, and cleanses them from all sin. After reading this article by Brian McLaren, we must seriously doubt that he has ever seen or entered this Kingdom of Jesus Christ (who said, "Except a man be born again, he cannot see the kingdom of God" (John 3:3).
Tragically, Brian McLaren and those like him have missed the boat and are sinking in a mire of lostness, always seeking, but never finding, and taking anyone with them who will follow. Equally tragic are the many Christian leaders and pastors who somewhere along the line jumped into that quagmire of deception because they were tempted by that evil one who offered them popularity, wealth, and lust in exchange for a truth and discipleship that costs dearly.
Brian McLaren, truth isn't about white men or black men. Yes, there are racists, and people of color have often been victim to them. But that is because of sin, sin in the hearts of men who became cold, callous, and wicked from the hardness of their hearts. But you Brian McLaren have chosen to walk on a path that is also cold, callous, and wicked. You have been kept from truth because your eyes have been on this world rather than on an invisible world that is far above anything you can imagine. You think your neo-political, anti-Christian, pro-gay, environmental, anti-Bible rhetoric is going to save the world. You are wrong, dear sir. Truth does not lie on the path you are venturing on. Nor does it lie in any man-made institution. It is found in the pages of a book that God gave us, along with His Spirit, to show us the way to One Man Who has invited all to come unto Him and believe on Him. You think that your "progressive" relevant, emergent talk is so far above those who simply believe in a simple Gospel. You have swung to the other side of the pendulum, and you are just as off as those on the opposite side.
Endnotes:
http://www.lighthousetrailsresearch.com/blog/?p=3665.
Brian McLaren, "The Last Reformation  . . . and the Next Reformation" (Patheos, November 1, 2017, http://www.patheos.com/blogs/brianmclaren/2017/11/last-reformation-next-reformation/#o77FxR1O0HGLI2ws.99)
Rick Warren quoted in "Myths of the Modern Megachurch" (Pew Forum on Religion, 2005, http://www.pewforum.org/2005/05/23/myths-of-the-modern-megachurch/).
Rick Warren quoted in "The Purpose Driven Pastor" (Philadelphia Inquirer, 2006, http://web.archive.org/web/20060116060443/http://www.philly.com/mld/inquirer/living/religion/13573441.htm)
Rick Warren speaking at the Pew Forum on Religion, 2005, http://www.lighthousetrailsresearch.com/pewreligion.htm).
NEW BOOKLET: Teresa of Avila – An Ancient Mystic Who Helped Shape Today's Spiritual Formation Movement by Carolyn A. Greene is our newest Lighthouse Trails Booklet. The Booklet is 18 pages long and sells for $1.95 for single copies. Quantity discounts are as much as 50% off retail. Our Booklets are designed to give away to others or for your own personal use. Below is the content of the booklet. To order copies of Teresa of Avila – An Ancient Mystic Who Helped Shape Today's Spiritual Formation Movement, click here.
Teresa of Avila – An Ancient Mystic Who Helped Shape Today's Spiritual Formation Movement
By Carolyn A. Greene
Editor's Note: Today, it is not uncommon for Christian leaders and teachers to recommend the writings of Teresa of Avila. For instance, the late theologian Dallas Willard encouraged his followers to read Teresa's Interior Castle saying Teresa is "an example to follow."1 Christian publishers like Bethany House, Thomas Nelson, and Multnomah Press have published books by Teresa of Avila. Rick Warren, author of the highly popular Purpose Driven Life, says her writings are among "great, classic devotional works."2 Pete Scazzero, author of the popular book Emotionally Healthy Spirituality, lists Teresa of Avila's book, Interior Castle as one of his "top ten books."3 Gary Thomas, author of Sacred Pathways and Sacred Marriage, favorably references Teresa of Avila numerous times in his book, Thirsting for God. And not surprisingly, contemplative authors such as Richard Foster and Henry Nouwen see her as a fellow mystic.
In 2009, Lighthouse Trails published Castles in the Sand, a story involving a young troubled girl who begins attending a Christian college where she is introduced in her Spiritual Formation class to the writings of an ancient mystic, Teresa of Avila. The following booklet is taken from Castles in the Sand narrating Teresa's life. While Castles in the Sand is a work of fiction, Teresa of Avila is a real, historical figure (1515-1582). The depiction of her life in this booklet is based on historical records (see bibliography at end of booklet). Quotes and paraphrases of her writings are taken from her actual written works. The lives of other characters portrayed in this booklet are created from composites of true stories.
While some readers may find some of Teresa's mystical experiences (that at times included involuntary levitating) troubling to read, it is important to understand that the "spiritual ecstasies" Teresa of Avila encountered were the result of her practicing a meditative prayer, much like one that is being practiced by countless Christians today through the Spiritual Formation (i.e., contemplative prayer) movement. We pray this booklet will illustrate how mystical prayer methods are dangerous and introduce the practitioner to occultism and its tormenting "fruit," something you will not be warned about by those who recommend you study the ancient mystics. And now, the story of Teresa of Avila.
________________________
And still they told me my visions were the work of evil spirits! For six years, I was on trial . . . six years! So many prayers and masses said, I grew weary of them all! Yet still the trances and favors have become more violent and frequent . . . oh, I am in distress, such great distress. I am weary, and so tired . . . so very, very tired.—Teresa of Avila
Teresa of Avila was a Carmelite nun who was born in Spain in 1515. As a young girl with an active imagination and great love for books, she was profoundly affected by her mother's death, which left her emotionally empty. In despair, she threw herself before an image of the Virgin Mary and begged her to be her new mother. This extreme devotion to the Mother Mary soon gave way to an interest in fashion as her beauty blossomed. With it, the passion for reading, writing, and romance was rekindled. Teresa's concerned father sent her away to boarding school at an Augustinian convent. However, when Teresa fell dreadfully ill with malaria, the nuns sent for her father who came to take her home.Recuperating from the serious illness and suffering from headaches, Teresa read a book given to her from her uncle called The Third Spiritual Alphabet by Francisco de Osuna, from which she learned the practice of the prayer of recollection.* Though previously not interested in reading about such things, her illness had transformed her into a more serious kind of girl. She soon learned to practice "the prayer of quiet,"** a state where the soul is completely absorbed.
Weary of the worldly things that had once given her pleasure, she made secret plans to escape to the Carmelite Monastery without consent from her father and pursue a serious life of prayer, as her uncle had been urging her to do. Teresa later wrote about receiving "favors" that the Lord granted her as she continued to practice her "mental prayer" and the prayer of quiet, two stages of mystical prayer.
"It used to happen, when I represented Christ within me in order to place myself in His presence, or even while reading, that a feeling of the presence of God would come upon me unexpectedly so that I could in no way doubt He was within me or I totally immersed in Him. This did not occur after the manner of a vision. I believe they call the experience 'mystical theology.' The soul is suspended in such a way that it seems to be completely outside itself. The will loves; the memory, it seems to me, is almost lost. For, as I say, the intellect does not work, but it is as though amazed by all it understands because God desires that it understands, with regard to the things His majesty represents to it, that it understands nothing."
The practice of the prayer of quiet continued to bring Teresa into what she called the state of union, the place where intellect and will cease to function over which she soon had no control. As the years passed, Teresa's headaches and visions began to take their toll. She was counseled by the Jesuit Fathers to give up her "interior" prayer, but that didn't help.
One day, she cried out, "Oh these visions! What tortures I have endured . . . how can I bear it?" she wailed. "I even gave up mental prayer. I . . . I gave it up. I did! First I waited to be free of sin, but they found no fault in me. Not a fault! Yet I was visited again, more visions . . . more revelations . . . to this most miserable sinner as I."
Behind her, she could hear the group of nuns that stopped a short distance away, pausing for a moment before turning and walking in the other direction.
"Indeed, I have dreaded the time of prayer," she whispered now, lest the others murmur about her even more. "Even Father Francis became afraid of my graces . . . in great distress they insisted I had been deceived by Satan. So I . . . I punished myself, oh I did, I did, in order to resist the effects! To no avail! Father Alvarez said . . . he said it was friendships I must give up, but that changed nothing. Then he told me I must recite a hymn, and I did. That was when the angel came . . . the angel . . . oh, how it pierced me! They told me . . . they said my visions were illusions of Satan and told me to point my finger in scorn at another. I tried to obey them, to no avail, so ridiculous they all are, so now I hold this crucifix in my hand at all times . . ."
She wiped her face with her wet sleeve and held up the wooden crucifix.
"And still they told me my visions were the work of evil spirits! For six years, I was on trial . . . six years! So many prayers and masses said, I grew weary of them all! Yet still the trances and favors have become more violent and frequent . . . oh, I am in distress, such great distress. I am weary, and so tired . . . so very, very tired . . ."
Her voice was weaker now as she shifted her weight from one aching knee to another on the cold, stone floor. "Yet I fear there is more sorrow ahead . . . I fear delusions . . . already they are calling for me . . . more inquiries to tell me I am deluded. How can they be sure they aren't deluded and deceived as well? Every one of my examiners tells me something different! Oh! My soul is plunged into darkness! How I long to be alone . . . oh, when will this life ever become more than a never-ending dark night for my soul! I hear them coming even now demanding answers to unanswerable questions. How can I bear it? I want only to be alone. I just want to be . . . oh, please let me be . . ."
Gradually the pitiful sounds of her whimpering subsided as the dreadful footsteps that echoed from the far end of the corridor grew closer and then stopped. She straightened the folds of her habit, held her head high, and with a faraway look in her eyes, turned to face her visitors.
"Sister Teresa," a man's voice said. "Come now, we must ask you more questions."
 Teresa referred to these favors, or trance states of mystical ecstasy, as "true union." Some of her contemporaries who observed these experiences were concerned about Teresa.
"Where is she anyway?" said Sister Catherine, who had just come in with a basket full of freshly picked tomatoes.
"Maybe she is in a trance," joked Sister Maria. Just last week they had all watched as Teresa had gone into another trance in the kitchen while holding a hot pan of oil. Now accustomed to her trances, their greater concern was the possibility of Teresa spilling the little, precious oil they had left.
"The priests have advised her that the visions are of the devil, and to make the sign of the cross whenever she has one," said Catherine, the youngest nun among them. "She won't be coming into the kitchen for a few weeks. She is fasting and doing penance."
"So that's why she wears a cilice!" chimed in Maria.
"A cilice. What's that?" asked Catherine.
"It's an undergarment made of coarse animal hair. It scratches terribly and makes you very itchy. Pray to Our Lady that you will never be ordered to do mortification and be told to wear one," said Carmelita. "I think slicing onions in this kitchen is torture enough."
The sisters giggled.
"I think it's a terrible thing," said Rosa, a serious-minded nun and the oldest among them all. "Poor Teresa. We must not talk about our dear sister in this manner. If one decides to practice penance, it is only to share the sufferings of the Lord as His bride to be one flesh with Him."
Rosa had personally witnessed Teresa's private confusion over the priests' accusations that her visions were from Satan. Those accusations were the reason Teresa had taken to inflicting tortures and mortifications upon herself. Teresa was just one of many nuns who drew blood in self-flagellation. (The monks did it too, so they were told.) Perhaps she thought that wearing a prickly shirt over her wounds would make her ecstasies disappear. The purpose of such self-inflicted trials was to attain self-detachment, something of which Teresa often talked. Surely, she reaped the benefits of such disciplines, having much more tranquility and self-mastery than the rest of them. "Mortify the flesh and share in Christ's sufferings" was the directive. Teresa's favorite motto was "Lord, either let me suffer or let me die."
Teresa eventually began to write about her spiritual experiences, which included hearing voices and experiencing visions during ecstatic states of rapture in which she felt herself being lifted from the ground by a powerful force outside of her control.
QUESTIONED FOR HERESY
The cell was cold. There was no table or chair. Only a rough, straw mattress in the corner provided any reprieve for the room's sole occupant. A barefoot nun in a clean but worn habit of coarse serge knelt near the window. The last glimmer of evening light softened the lines on her aging face. Her sparse ink supply allowed no rewriting, but there was no need to reread the lines she had already written. Having commanded her to record her experiences, her confessors would weigh her story on the Inquisition's scale of heresy.
Some said the voices she heard in her head were of the devil. But Teresa was desperate to explain that these revelations she received were from the Lord! It was the Lord who granted her these great favors and visions which she called ecstasy. They humble the soul, thought Teresa, strengthening and helping it to despise this life.
During these experiences, she seemed to receive a clearer understanding of the Lord's rewards. Yet, she struggled with the fear these visitations also brought. She could no longer resist them or keep them a secret. Not only were the revelations themselves frightening, but visionaries like herself were often burned at the stake. Since her writings would remain in the hands of her Inquisitors for some time, she must choose her words carefully, yet tell the truth.
Dipping her quill in the inkstand, she continued to write about her life, pausing only to rub her arthritic shoulder now and then. This was to be her final writing. She was working on chapter twenty, trying to explain the difference between union and rapture and their effects.
"It seemed to me, when I tried to make some resistance, it was as if a great force beneath my feet lifted me up. I know of nothing with which to compare it; but it was much more violent than the other spiritual visitations, and I was therefore as one ground to pieces; for it is a great struggle, and, in short, of little use, whenever our Lord so wills it. There is no power against His power."
As Teresa wrote, the light grew dim. She lit her candle, then continued to write on the parchment set on the window ledge:
"Further, I confess it threw me into great fear, very great indeed at first; for when I saw my body thus lifted up from the earth, how could I help it? Though the spirit draws the body upward after itself and that with great sweetness, if unresisted, the senses are not lost; at least, I was so much myself as to be able to see I was being lifted up. The majesty of Him who can effect this so manifests itself, that the hairs of my head stand upright."
Deep in thought, she gazed at the candle's flame. How could she possibly describe rapture and detachment with pen and paper? Mere words were not enough to explain the spiritual marriage she had experienced. How could she even speak of the intense pain that accompanied the sweetness of her visions and revelations, the great shocks she would feel when her Lord threw her into a trance, or the indescribable desire, which pierced her soul until it rose above itself. The days that followed such ecstasy never failed to make her feel as if all her bones had been pulled out of joint.
"I have to say that when the rapture was over, my body seemed frequently to be buoyant, as if all weight had departed from it; so much so that now and then I scarcely knew that my feet touched the ground. Yet during the rapture itself, the body is very often as if it were dead, perfectly powerless. It continues in the position it was in when the rapture came upon it—if sitting, sitting; if the hands were open, or if they were shut, they will remain open or shut."
But she wasn't the only one. There were others, even in this place, to whom her Lord was granting the same special graces as the ones He had granted her. Others too had experienced raptures so deep that they would appear as though dead or in a trance, sometimes for days.
As she continued to recall her own experiences, she wrote about the priest who told her God had sent her so much sickness because she did no penance, and he had ordered her to practice acts of mortification. During one such time of obedience, her spirit was carried out of her body in such a state of ecstasy that she heard words instructing her not to have conversations with men, but with angels.
She described the angel she had seen in bodily form . . .
"He was not large, but small of stature, and most beautiful—his face burning, as if he were one of the highest angels, who seem to be all of fire: they must be those whom we call cherubim. I saw in his hand a long spear of gold, and at the iron's point, there seemed to be a little fire. He appeared to me to be thrusting it at times into my heart and to pierce my very entrails; when he drew it out, he seemed to draw them out also, and to leave me all on fire with a great love of God. The pain was so great, it made me moan; and yet so surpassing was the sweetness of this excessive pain, that I could not wish to be rid of it. The soul is satisfied now with nothing less than God. The pain is not bodily, but spiritual; though the body has its share in it, even a large one."
The famous marble statue called "Ecstasy of Saint Teresa" by Gianlorenzo Bernini depicts the sensual scene of the mystical experience described by Teresa of her encounter with an angel. She is reclined on a cloud with her head thrown back awaiting the thrust of the angel's golden spear.
In the quietness of her room, Teresa had often found herself falling into a deep trance, later pondering the exquisite state of bliss she experienced during these mysterious episodes. However, lately, she found herself losing control. For example, she could no longer prevent them, even when she was in the company of others. They all knew. Some were even sworn to secrecy. But did they know how she had recently grown to fear these times? Increasingly, she struggled to resist these frightening instances when her body was raised from the ground as she prayed. Yet it was no use. She was helpless to stop it.
Teresa slowly straightened and rubbed her stiff joints. She turned to gaze at the crucifix hanging on the wall of her cell as it reflected the candlelight. Her pen rolled across the ledge of the window where she had laid it and dropped onto the stone floor as she grabbed her rosary and began counting the beads, repeating the evening prayer. Immediately, a familiar burning sensation began to grow deep within her, welling upward in surges. It was happening again . . . She grabbed hold of the ledge and began frantically to pray that no one would come through the door and restrain her again.
She recalled other times these involuntary levitations occurred. One of the eye witnesses of the favors and levitations of Teresa of Avila was said to be Sister Anne of the Incarnation.
One young nun was well acquainted with Teresa's trances, which she referred to as the "transport of the soul." She had witnessed some of the most disturbing occurrences in Sister Teresa's life but had been vowed to secrecy. She hadn't been the only one in the choir loft that unforgettable day, waiting for the bell to ring, when they saw Teresa's body rise inexplicably about half a meter off the ground. She'd actually been off the ground! Sister Teresa's body had hung in mid-air, as Sister Anne had later recounted with fresh incredulity! This incident had quite terrified some of them. Since Sister Teresa's body had been trembling as well, Sister Anne had cautiously held her hands under the raised feet of Sister Teresa for the duration of the ecstasy. It had lasted nearly half an hour before she'd sunk to the floor and then stood among them, lucid once again. Teresa had turned to her calmly and quietly and asked how long she had been there, watching. It was then that Sister Anne had been sworn to secrecy, but that kind of secret wasn't the kind that could be kept quiet for very long.
There had been other incidents as well. Teresa's friend, a bishop, once saw her grab the bars of an altar grill during communion to prevent herself from rising into the air, as she cried out to be delivered from her ecstasy. Numerous times, and on different occasions, many others had also seen her raised from the ground. Sister Teresa had always called these experiences "Favors of His Majesty."
As instructed by her advisors, Teresa wrote everything she knew about entering what she called the interior castle or inner rooms of the soul. She believed the key to achieving union with Christ in the center room was by way of prayer.
"As you wished, I have written everything I know." Teresa nervously set her papers on the table before her confessors. The religious directors had ordered her to write about her method of mental prayer—her interior castle—as a book of instruction for her nuns. She had been careful to refer to herself in the third person throughout the book, as she was always under the watchful stare of her superiors. It had been a difficult task.
"But it has only been two months! You have completed it already?" the priest said, staring in amazement at the pile of papers stacked neatly before him.
"I have not only described how the soul is a castle, but also how a journey into the soul is a series of seven interior rooms, or inner courts, within the castle that one must pass through by way of prayer. Each chamber is a different stage of the journey. Read it and you shall see."
The priest browsed through the first pages while Teresa rubbed the back of her neck. Her joints ached, her head hurt, and she was exhausted after finally completing the most important portion of her written work, so far. It had been an extremely troubling time in her life. During the last two months, her superiors had required this writing, yet she had also been expected to fulfill her regular duties, despite severe weakness. Added to that was the torment of living in fear of the next revelation or rapture that would come upon her without warning.
"So tell me, these first three rooms, or mansions, as you call them," asked the priest, with undisguised fascination, "what stage of the journey do they symbolize?"
"The first three mansions are for those who are just beginning to learn the practice of mental prayer."
"And the next ones?"
Weak from exhaustion, Teresa did not wish to explain. It had been difficult enough writing about these things with the turbulent noise that throbbed in her head: the roaring sound of rushing rivers and oddly, the whistling of birds pulsated continually in her mind. It was most disturbing when she was conscious of her faculties and her soul was not suspended in ecstasy. Whenever an ecstatic experience occurred, she believed it was from the top of her head that her spirit was released and moved out at great speed.
"The last four," she began slowly, trying to shut out the roar of a waterfall in her head, "are for those who have begun to experience the indwelling after having entered the spiritual realm. It is the fourth dwelling that is the turning point, and the one most souls enter. This is where one moves from mere meditation to contemplation. It is an interior awareness when God suspends the soul in prayer with rapture or ecstasy or transport."
"I see," said the priest, stroking his chin. "Here I see you have written about water and worms."
Must they keep prodding? She had done as they had asked, and there were chores to be done.
"Yes, like the spring that wells up filling every crevice, so is God's presence to one who reaches spiritual union. But one must be dead to the outward senses and alive to His Majesty, like a silkworm that dies to produce a little white butterfly. So is Divine union in the center of the castle."
How could she explain that although she had only mentioned seven inner mansions, there were many more rooms contained in each one, and courtyards with fountains, gardens, and labyrinths in which one could be consumed?
Teresa grew increasingly uncomfortable and longed to leave. Unaware of her misery, the priest abruptly rose to his feet.
"This will take some time to read," he said hastily, and escorted Teresa to the door.
"I pray it is satisfactory," she said humbly, trying not to reveal the tremendous pain in her head. "It is my strong desire to aid you in serving His Majesty. If the theologians examine my writings and find any error, it is only because of my ignorance. Perhaps I shall be in purgatory for writing this book, but I pray He shall free me from this and pardon my sins."
The priest nodded. "We will examine the work and speak to you soon."
The door closed behind Teresa. Her rough wool habit scraped her bare ankles with each step as she walked quickly down the dim hallway. Pausing before a statue of St. Joseph, she knelt and prayed, "I submit to the teachings of the Holy Catholic Roman Church, may the sovereign Master be praised."
Tired and aching, she made the sign of the cross and hurried back to the convent. Perhaps she could distract herself from the inner turmoil by spinning more wool.
Teresa referred to the final stage of her "spiritual betrothal" prayer process as "rapture." In this deepest trance state, she experienced "delectable pain" that penetrated the bowels of the soul.
In her latter years, Teresa seemed to be increasingly fearful of these favors, or painful bouts of spiritual ecstasy and levitation which she could no longer control.
"Whenever I have tried to resist the onset of a rapture, it has felt like a powerful force was lifting me from the soles of my feet. I don't know what to compare this force to. It is far more cataclysmic than anything I've experienced in the previous stages of prayer. The struggle is so ferocious that it utterly wears me out. But in the end, fighting is futile. If this is the Beloved's desire, there is no power equal to his . . .
"Still, I confess that this particular favor terrified me. If you don't resist, the same force that carries your soul away in rapture will elevate your body with equal gentleness. Yet when you see yourself lifted off the ground and remain conscious enough to witness the event, the majesty of the One who can cause such a thing is enough to make your hair stand on end."
Teresa often used erotic metaphors to describe these violent mystical experiences that overpowered her. She also wrote that it felt like she was being torn apart, and the aftermath of the detachment was so severe that at times she lost consciousness, being racked with torment and her bones disjointed.
CONCLUSION
The Bible teaches us that the believer who is born of the Spirit is still in control of his senses or as Paul puts it, "the spirit of the prophets are subject to the prophets. For God is not the author of confusion, but of peace, as in all the churches of the saints" (1 Corinthians 14: 32-33; emphasis added).A Christian is not taken over by the Holy Spirit like a demonically possessed person. While God often works in ways we can't understand, we will not experience weird things like levitation and psychic detachment that knocks us out and leaves us feeling physically sore. Anyone who practices the contemplative prayer techniques of mystics like Teresa of Avila is stepping into dangerous spiritual territory.After founding the Discalced Carmelites (barefoot nuns), Teresa of Avila fell ill and died at the age of sixty-seven. Even though her writings were controversial and she was interrogated during the Inquisition for heresy, she was later declared a Doctor of the Roman Catholic Church for her teaching on prayer and today, she is often looked to as a viable resource on prayer.
_________________________
* Teresa describes this prayer of recollection as to "withdraw from those things by which your external senses are distracted." It is a method of contemplative prayer wherein  one puts a deep mental focus on one thought thereby entering an altered state. See her book St. Teresa's Own Words: Or, Instructions on the Prayer of Recollection. Teresa says practicing this method will more quickly lead "to the prayer of quiet" that she is so well know for.
** In Teresa's book Interior Castle, she says the "prayer of quiet" is the entering into the "fourth mansion" (i.e., fourth stage) of meditative prayer calling it the "supernatural element of the mystical life."
To order copies of Teresa of Avila – An Ancient Mystic Who Helped Shape Today's Spiritual Formation Movement,
click here.
Endnotes
1. http://www.dwillard.org/resources/RecReading.asp.
2. The interview where Rick Warren said this can be viewed at: https://www.youtube.com/watch?v=dVCY8pW-ACs.)
3. Peter Scazerro, "My Top 10 Books: Spring/Summer 2013" (http://www.emotionallyhealthy.org/2013-books-i-am-reading/).
Photo Credits
Cover: Painting by Baron François Gérard (French, 1770-1837), 1827, "Saint Theresa." The photo used is a reproduction of a work that is in the public domain; taken from Wikipedia.
Page 4: Paul Hill, "St. Theresa of the Child Jesus," used with permission from istockphoto.com.
Page 16: Painting by Peter Paul Reubens in 1615. The photo used is a reproduction of a work that is in the public domain; taken from Wikipedia.
Back cover: From fotosearch.com; used with permission.
To order copies of Teresa of Avila – An Ancient Mystic Who Helped Shape Today's Spiritual Formation Movement,
click here.
Bibliography
Note: The books listed in this bibliography should not be considered a recommendation. The author of Castles in the Sand and this booklet has used these books for research as well as for citing.
Teresa of Avila; The Interior Castle.
Hodder & Stroughton Christian Classics
Edited by Halcyon Backhouse, 1988
Teresa of Avila; Selections from the Interior Castle.
Harper Collins Spiritual Classics, 2004
Teresa of Avila; St. Teresa's Own Words, Or, Instructions on the Prayer of Recollection. Waxkeep Publishing, Kindle Version (not dated)
Malone, Mary T; Women and Christianity.
Orbis Books Volume III, 2003
Teresa of Avila; The Collected Works of St. Teresa of Avila: Volume 1 and Volume 2
ICS Publications, 1976; http://books.google.ca/books?id=lpo1vV1kXDUC&printsec=frontcover#v=onepage&q&f=false.
Teresa of Avila; Teresa of Avila: The Book of My Life; translated by Mirabai Starr. http://books.google.ca/books?id=wVLtJ-JFVcQC&printsec=frontcover#v=onepage&q&f=false.
Osuna, Francisco de; The Third Spiritual Alphabet.
Paulist Press, Translated by M.E. Giles.
The Classics of Western Spirituality, 1981.
Dalton, Rev. John; The Letters of St. Teresa.
London: Thomas Baker, I, Soho Square. Translated from the Spanish, 1902, http://digital.library.upenn.edu/women/teresa/letters/letters.html.
Teresa of Avila; Life of St. Teresa of Jesus of the Order of Our Lady of Carmel. Translated from the Spanish by David Lewis; Third Edition Enlarged
With Additional Notes and an Introduction by Rev. Fr. Benedict Zimmerman, O.C.D.; http://www.ccel.org/ccel/teresa/life.html.
Foster, Richard; Prayer, Finding the Heart's True Home.
HarperCollins, 1992, First Edition.
St. Teresa of Avila; The Complete Works of St. Teresa of Avila: Volume 1 and 2; translated and edited by E. Allison Peers; London: Burns& Oates; 2002 edition.
To order copies of Teresa of Avila – An Ancient Mystic Who Helped Shape Today's Spiritual Formation Movement,
click here.
Dr. George Wood, General Superintendent of the Assemblies of God denomination,  is scheduled to share the platform with New Age sympathizer Leonard Sweet next year in Berlin, Germany at an event called Luther 2017.
Dr. Wood was the subject of several Lighthouse Trails articles in 2013 for his promotion of contemplative teacher Ruth Haley Barton and the invitation by AOG to have Barton speak at a women's gathering during the AOG General Conference held that year. See our special report "Assemblies of God "Believe" Conference Makes Bold Move – Brings in Contemplative Key Player Ruth Haley Barton" for background on this story. We also did a follow up story to show when Assemblies of God issued a response defending the Barton invitation: Lighthouse Trails Statement to Assemblies of God Response Regarding Invitation of Ruth Haley Barton."
Leonard Sweet is actually a co-host for Luther 2017. Given his propensities toward New Age/New Spirituality thinking, his organizing participation will no doubt bring this thinking to the Luther 2017.
The implications of this are far deeper than what appears on the surface. This is not just a case of a major Christian leader—Dr. Wood—sharing a platform form with a leader in the emerging church/New Spirituality movement. There is currently a powerful effort behind the scenes to remove the barrier between the Roman Catholic Church and the evangelical and Protestant church and basically get people to acknowledge that the reformation from 500 years ago is over (i.e., it's not needed anymore).
If you recall, in 2014, Lighthouse Trails reported on Anglican priest Tony Palmer, who had become a go-between for the Catholic Church and the evangelical (and Pentecostal) church. When he spoke at Ken Copeland's church, he told the enthusiastic congregation that the reformation was over as there was no longer a need for it. He said it was time to unite. Shortly later, Palmer was killed in a motorcycle accident, but the work he was involved with continues on. Luther 2017 is part of that work as is Together 2016, which took place this summer, and The Gathering 2016, which takes place in September with major Christian figures such as Kay Arthur, Greg Laurie, Anne Graham Lotz, and several others.
Lighthouse Trails will be posting more information on Luther 2017, Leonard Sweet, Christian leaders, and the road to Rome. If you question our deep concerns about what is happening, please read the documentation that Lighthouse Trails has been providing for over 14 years.
Incidentally, also joining Sweet and Wood is Dr. Jo Anne Lyon, General Superintendent of the Wesleyan Church.
As for Dr. George Wood, does he not realize that the first major step back to Rome is the embracing of contemplative prayer? When he made the decision to dig in his heels and accept Ruth Haley Barton no matter what evidence was provided to him, did he not realize he was plunging headlong into deception? As we have warned so many times (to the deaf ears of Christian leaders), once someone starts down the contemplative path, their viewpoint on spiritual matters begins to change leading to the eventual rejection of biblical Christianity and the Gospel. It appears that Dr. Wood has made his decision. How many will follow him?
Related Information:
LTRP Note: Please refer to our previous post titled "Rick Warren: Protestants, Catholics Must Unite to Defend Life, Sex, Marriage – 'We're on the Same Team'"  to understand what we mean by the title of this article.
"An Account of the Persecutions in Italy Under the Papacy"
By John Foxe
(author of Foxe's Book of Martrys – * please read our note at the bottom of this post.)
We shall now enter an account of the persecutions in Italy, a country which has been, and still is, the center of popery. Italy is also the source of various errors which have spread themselves over other countries, deluded the minds of thousands, and diffused the clouds of superstition and bigotry over human understanding. In pursuing our narrative we shall include the most remarkable persecutions which have happened and the cruelties which have been practiced by the immediate power of the pope through the power of the Inquisition.
In the twelfth century, the first persecutions under the papacy began in Italy at the time that Adrian, an Englishman, was pope, being occasioned by the following circumstances:
A learned man and an excellent orator of Brescia, named Arnold, came to Rome and boldly preached against the corruptions and innovations which had crept into the church. His discourses were so clear, consistent, and breathed forth such a pure spirit of piety, that the senators and many of the people highly admired his doctrines.
This so greatly enraged Adrian that he commanded Arnold instantly to leave the city as a heretic. Arnold, however, did not comply, for the senators and some of the principal people took his part and resisted the authority of the pope.
Adrian now laid the city of Rome under an ecclesiastical censure, which caused the whole body of clergy to interfere; and at length he persuaded the senators and people to give up the point and allow Arnold to be banished. This being agreed to, he received the sentence of exile, and retired to Germany where he continued to preach against the pope and to expose the gross errors of the Church of Rome.
Adrian still thirsted for his blood and made several attempts to get him into his hands; but Arnold  avoided every snare laid for him. At length, Frederic Barbarossa requested that the pope would crown him king of Germany with his own hand. This Adrian complied with and at the same time asked a favor of the emperor, which was to put Arnold into his hands. The emperor very readily delivered up the unfortunate preacher, who soon fell as martyr to Adrian's vengeance, being hanged and his body burnt to ashes at Apulia. The same fate attended several of his old friends and companions.
Encenas, a Spaniard, was sent to Rome, to be brought up in the Roman Catholic faith; but having conversed with some of the reformed and reading several treatises which they put into his hands, he became a Protestant. When this became known, one of his own relations informed against him. He was burnt by order of the pope and a conclave of cardinals. The brother of Encenas had been taken up about the same time for having a New Testament in the Spanish language in his possession; but before the time appointed for his execution, he found means to escape out of prison and retired to Germany.
Faninus, a learned layman, by reading controversial books became of the reformed religion. An information being exhibited against him to the pope, he was apprehended and cast into prison. His wife, children, relations, and friends visited him in his confinement and persuaded him to renounce his faith. This obtained his release. But he was no sooner free from confinement than his mind felt the heaviest of chains—the weight of a guilty conscience. His horrors were so great that he found them insupportable, until he had returned from his apostasy and declared himself fully convinced of the errors of the Church of Rome. To make amends for his falling off, he now openly and strenuously did all he could to make converts to Protestantism and was pretty successful in his endeavors. These proceedings occasioned his second imprisonment, but he had his life offered him if he would recant again. This proposal he rejected with disdain, saying that he scorned life upon such terms. Being asked why he would obstinately persist in his opinions and leave his wife and children in distress, he replied, "I shall not leave them in distress; I have recommended them to the care of an excellent trustee." "What trustee?" said the person who had asked the question. Faninus answered, "Jesus Christ is the trustee I mean, and I think I could not commit them to the care of a better."
On the day of execution he appeared remarkably cheerful. An observer said, "It is strange you should appear so merry upon such an occasion, when Jesus Christ Himself, just before His death, was in such agonies, that He sweated blood and water." To which Faninus replied:
Christ sustained all manner of pangs and conflicts with hell and death on our account; and thus, by His sufferings, freed those who really believe in Him from the fear of them.
He was then strangled, his body was burnt to ashes and then scattered about by the wind.
Dominicus, a learned soldier, having read several controversial writings, became a zealous Protestant, and retiring to Placentia, he preached the gospel in its utmost purity to a very considerable congregation. One day, at the conclusion of his sermon, he said, "If the congregation will attend tomorrow, I will give them a description of Antichrist and paint him out in his proper colors."
A vast concourse of people attended the next day, but just as Dominicus was beginning his sermon, a civil magistrate went up to the pulpit and took him into custody. When he was brought to examination this question was put to him: "Will you renounce your doctrines?" To which he replied: "My doctrines? I maintain no doctrines of my own; what I preach are the doctrines of Christ, and for those I will forfeit my blood, and even think myself happy to suffer for the sake of my Redeemer." Every method was taken to make him recant for his faith and embrace the errors of the Church of Rome; but when persuasions and menaces were found ineffectual, he was sentenced to death, and hanged in the marketplace.
Galeacius, a Protestant gentleman, who resided near the castle of St. Angelo, was apprehended on account of his faith. Great endeavors being used by his friends he recanted and subscribed to several of the superstitious doctrines propagated by the Church of Rome.
Becoming, however, sensible of his error, he publicly renounced his recantation. Being apprehended for this, he was condemned to be burnt. He was chained to a stake, where he was left several hours before the fire was put to the fagots, in order that his wife, relations, and friends, who surrounded him, might induce him to give up his opinions. Galeacius, however, retained his constancy of mind and entreated the executioner to put fire to the wood that was to burn him. This he did, and Galeacius was soon consumed in the flames which burnt with amazing rapidity and deprived him of sensation in a few minutes.
Soon after this gentleman's death, a great number of Protestants were put to death on account of their faith in various parts of Italy,  giving a sure proof of their sincerity in their martyrdoms.
End
* A note from Lighthouse Trails: Foxe's Book of Martyrs was first published five hundred years ago. Today, there are many editions of this book available. When Lighthouse Trails decided to start offering this book to our readers, we began our search for a suitable edition. Much to our dismay, we discovered that many of the current editions were compromised in one form or another. For example, in one edition by a Christian publisher, front page endorsements included the names of those who promote contemplative spirituality and/or the emerging church. When one realizes that contemplative/emerging spirituality embraces some of the very same beliefs that Foxe's martyrs opposed to the point of suffering cruel persecution and death, it is most troubling and misleading to see these names in the cover of an edition of Foxe's Book of Martyrs.
In another edition we reviewed, the book was among a special set of "Christian classics." We were once again perplexed to see that some of the other books in that series were written by contemplative mystics.
And yet another edition, published by a secular publisher, advertised mystical and occult practices on the back cover.
Still another edition removed most of the section (like the section above) in Foxe's Book of Martyrs about persecution by the Roman Catholic papacy.
Finally, after an unsuccessful search, Lighthouse Trails decided to publish our own edition of this truly incredible and unforgettable account.
And whatsoever ye do in word or deed, do all in the name of the Lord Jesus, giving thanks to God and the Father by him. Colossians 3: 17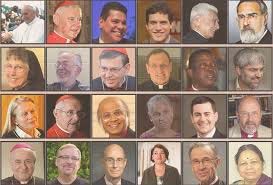 By Roger Oakland
Understand the Times, International
On November 17-19, 2014, an interreligious conference was hosted at the Vatican to discuss the sanctity of marriage under the definition that marriage is a relationship between a man and a woman. Beside numerous representatives of the Roman Catholic Church, the conference was attended and addressed by members of the Buddhist, Hindu, Muslim, Jewish, and Mormon faiths. Also, well-known Christian evangelical leaders from the United States—Pastor Rick Warren and Russel Moore—played a major role and were in attendance.
Warren's comments documented by the proceeding video clip are clear and require no explanation.
The purpose of posting Rick Warren's video statement is to appeal to Calvary Chapel pastors who have been persuaded by the new leadership at Calvary Chapel Costa Mesa that Warren's ecumenical direction is the "new" and enlightened pathway that Calvary Chapels of the future must choose in order to become relevant for the postmodern era that has reformed sound biblical teaching over the past decade. This is also an appeal to all evangelical pastors who have brought the Purpose Driven movement into their churches.
Further, this proclamation by Rick Warren is very similar to some of the ideas being presented by the "New Calvary Movement" promoted by Brian Brodersen and his cohorts. (Listen to a portion of Brodersen's September 7, 2014 message titled "Unity in the Spirit").
Click here to continue reading.
By Roger Oakland
The Catholic Church teaches that once a Catholic priest  has consecrated the wafer of bread during Communion, the wafer turns into the literal and real body, blood, soul, and divinity of Jesus Christ.1 Therefore, the Communion Host is no longer bread but Jesus, under the appearance of bread and is therefore worthy of adoration and worship. The Catholic Catechism states succinctly:
In the most blessed sacrament of the Eucharist "the body and blood, together with the soul and divinity, of our Lord Jesus Christ and, therefore, the whole Christ is truly, really, and substantially contained."2

The Church and the world have a great need for Eucharistic worship. Jesus awaits us in this sacrament of love. Let us not refuse the time to go to meet him in adoration, in contemplation full of faith, and open to making amends for the serious offenses and crimes of the world. Let our adoration never cease.3
What Does the Bible Teach About the Lord's Supper?
We have documented [in Another Jesus] what the Catholic Church teaches concerning the Eucharist. But what does the Bible teach? The Bible encourages believers to study "all the counsel of God"(Acts 20:27) and to "[p]rove all things; hold fast that which is good" (I Thessalonians 5:21). And as believers, we are admonished to:
 Study to shew thyself approved unto God, a workman that needeth not to be ashamed, rightly dividing the word of truth. (II Timothy 2:15)
With these instructions in mind, let us search the Scriptures to determine what the Bible teaches concerning the Lord's supper.
The Last Supper was celebrated by first century Christians in obedience to Jesus' words "this do in remembrance of me" (Luke 22:19). This observance was established by the Lord at the Last Supper when He symbolically offered Himself as the Paschal Lamb of atonement. His actual death the next day fulfilled the prophecy. Only Paul uses the phrase "Lord's supper" (I Corinthians 11:20), while the Church fathers began to call the occasion the Eucharist meaning thanksgiving from the blessing pronounced over the bread and wine after about A.D. 100. Christians have celebrated the Lord's Supper regularly as a sign of the new covenant sealed by Christ's death and resurrection.4 Today, the Eucharist means far more than simply thanksgiving.
This is My Body
To what exactly did Jesus ordain during the Last Supper? The Bible states:
 [Jesus] took bread, and gave thanks, and brake it, and gave unto them, saying, This is my body which is given for you: this do in remembrance of me. Likewise also the cup after supper, saying, This cup is the new testament in my blood, which is shed for you. (Luke 22: 19-20)
Proponents of the Catholic Eucharist point to Jesus' words recorded in John 6. Though this chapter does not deal with the Last Supper, Jesus' words, which are taken to relate to the Communion meal, are as follows:
I am the living bread which came down from heaven: if any man eat of this bread, he shall live for ever: and the bread that I will give is my flesh, which I will give for the life of the world. The Jews therefore strove among themselves, saying, How can this man give us his flesh to eat? Then Jesus said unto them, Verily, verily, I say unto you, Except ye eat the flesh of the Son of man, and drink his blood, ye have no life in you. Whoso eateth my flesh, and drinketh my blood, hath eternal life; and I will raise him up at the last day. For my flesh is meat indeed, and my blood is drink indeed. (John 6:51-55)
 Just what do these Scriptures mean? The answer to that can be found in our examination of the Word of God itself.5
Metaphors and Similes
Throughout the Bible, context determines meaning. Bible-believing Christians know to take the Bible literally, unless the context demands a figurative or symbolic interpretation. Before exploring Jesus' words in John chapter 6 and elsewhere, let's review a few examples of symbolism in the Scriptures. All scholars would agree that the following verses are metaphorical. An explanation follows each verse:
 O taste and see that the LORD is good. (Psalm 34:8; Try to experience God's promises to find if they are true.)

But whosoever drinketh of the water that I shall give him shall never thirst; but the water that I shall give him shall be in him a well of water springing up into everlasting life. (John 4:14; For those who receive the gift of salvation, Christ's Spirit shall dwell in their souls assuring them of everlasting life.)

 Moreover he said unto me, Son of man, eat that thou findest; eat this roll, and go speak unto the house of Israel. So I opened my mouth, and he caused me to eat that roll. (Ezekiel 3:1, 2; Receive into your heart, internalize, and obey God's Word.)
And I could go on and on with one example after the next. At one point Jesus said, "Destroy this temple, and in three days I will raise it up" (John 2:19). The Jews thought He spoke of the literal temple in Jerusalem, but if we keep reading, we find that Jesus was referring to His body (John 2:20-21). On another occasion, Jesus said, "I am the true vine" (John 15:1). Of course, we know that Jesus did not mean that He was a literal grape vine twisting around a post. When the Bible says God hides us under His wings (Psalm 91:4), we know that God is not a bird with feathers. God is the source of all life and our provider and protector, and these figures vividly illustrate this.
Throughout the Bible, figurative language is used to compare one thing to another so that the listeners can easily understand. In fact, the Bible tells us that Jesus regularly used parables to figuratively describe one thing as something else (Matthew 13:34).Jesus Himself stated, "These things have I spoken unto you in proverbs" (John 16:25). The Bible should always be interpreted literally unless the context demands a symbolic explanation. So what does the context of John's Gospel and the other Gospels demand?
John Chapter 6: The Bread of Heaven
If we read the entire sixth chapter of John's Gospel, we not only get the context, but also some startling insights into what Jesus meant when He said we must eat His flesh and drink His blood. John 6 begins with the account of Jesus feeding five thousand, followed by the account of Jesus walking on water. On the following day, people were seeking Jesus for the wrong reasons, which we understand from Jesus' words in verses 26 and 27:
 Ye seek me, not because ye saw the miracles, but because ye did eat of the loaves, and were filled. Labour not for the meat which perisheth, but for that meat which endureth unto everlasting life.
 These verses begin to frame the context of the verses that follow, specifically, that Jesus emphasized the need for them to seek eternal life. Jesus goes on to explain to them how to obtain eternal life. And in verse 28, when the people ask Jesus, "What shall we do, that we might work the works of God?" Jesus replies, "This is the work of God, that ye believe on him whom he hath sent" (vs. 29).
Here Jesus specifies only one work that pleases God, namely, belief in Jesus. Jesus reemphasizes this in verse 35 when he states: "I am the bread of life: he that cometh to me shall never hunger; and he that believeth on me shall never thirst."Notice the imperative is to "cometh to me" and "believeth on me." Jesus repeats the thrust of His message in verse 40 where He states:
 And this is the will of him that sent me, that every one which seeth the Son, and believeth on him, may have everlasting life: and I will raise him up at the last day.
Jesus could not be clearer—by coming to Him and trusting in Him, we will receive eternal life. At this point in the narrative, the Jews complained about Him because He said: "I am the bread which came down from heaven" (vs. 41). Jesus responds to their murmuring when He states that He is indeed the "living bread" and that they must eat His flesh and drink His blood to obtain eternal life (vs. 42-58). However, let's remember the context of this statement. First, Jesus contrasts Himself with the manna that rained down on their fathers and sustained them for their journey. But their fathers have since died. But Jesus now offers Himself as the living, heavenly bread, causing those who eat of Him to live forever.
Jesus is not the perishable manna that their descendants ate in the wilderness—He is the eternal bread of life that lives forever. Only by partaking in His everlasting life can we hope to live with Him forever. This contrast strengthens His main message, where Jesus says, "Verily, verily, I say unto you, He that believeth on me hath everlasting life" (vs. 47). Notice, Jesus said that as soon as we believe in Him we have—present tense—eternal life. It is not something we aim at or hope we might attain in the future, but rather, something we receive immediately upon accepting Him by faith.
When Jesus said these words, He was in the synagogue in Capernaum, and He had neither bread nor wine. Therefore Jesus was either commanding cannibalism, or He was speaking figuratively. If He was speaking literally, then He would be directly contradicting God the Father: "But flesh with the life thereof, which is the blood thereof, shall ye not eat"(Genesis 9:4). Therefore, because Jesus Himself said, "[T]he scripture cannot be broken"(John 10:35), He must be speaking metaphorically. And that is exactly how He explains His own words in the subsequent verses.
The Flesh Profits Nothing
After this, in verse 60 (of John 6), we find that many of His disciples said: "This is an hard saying; who can hear it?" Jesus was aware of their complaints and He responded saying:
Doth this offend you? What and if ye shall see the Son of man ascend up where he was before? It is the spirit that quickeneth; the flesh profiteth nothing: the words that I speak unto you, they are spirit, and they are life. But there are some of you that believe not. (vs. 61-64)
Wait a minute, the flesh profits nothing! I thought Jesus said we must eat His flesh? Yet, if the flesh profits nothing, Jesus must be speaking in spiritual terms. And that is what He says: "[T]he words that I speak unto you, they are spirit."
Jesus uses the exact same Greek word for flesh (sarx) as He did in the preceding verses. Therefore, He is emphatically stating that eating His literal flesh profits nothing! If the Lord Himself sets the context of the dialogue, we would do well to hear Him. He said that the words He speaks are spirit and that the flesh profits nothing. In other words, Jesus has just told us He has spoken in a metaphor, so we need not guess at it.
If that isn't clear enough, Peter's words add further clarity. Immediately following the dialogue with the Jews, in which some disciples left, Jesus said to the remaining twelve apostles, "Will ye also go away? " (vs. 67). Peter's response is profound:
 Lord, to whom shall we go? thou hast the words of eternal life. And we believe and are sure that thou art that Christ, the Son of the living God. (vs. 68-69)
Amazing! Peter did not say we have come to believe that we must eat Your flesh to live. He said that we know You are the Christ, and we have come to believe in You as the Christ. This is the confession of faith that leads to eternal life, not eating Jesus' flesh and drinking His blood. It also agrees with the totality of Scripture.
 That if thou shalt confess with thy mouth the Lord Jesus, and shalt believe in thine heart that God hath raised him from the dead, thou shalt be saved. (Romans 10:9)

 [W]hat must I do to be saved? And they said, Believe on the Lord Jesus Christ, and thou shalt be saved. (Acts 16:30, 31)

He that believeth on the Son hath everlasting life. (John 3:36)
To understand more fully the Catholic Eucharist versus biblical communion and salvation, read Roger Oakland's book, Another Jesus.
Related Articles:
The Missionary Goal of the Catholic Church
Mrs. Prest – She Said No to Apostasy and Became a Martyr
The New Evangelization and the Coming Reign of the Eucharist Christ
By Steve Blackwell
Indywatchman Blog
Some things are worth repeating. Dave Hunt wrote a book twenty years ago called A Woman Rides the Beast that needs to be revisited. I have friends who have joined the Catholic Church because they were seeking religion, and they have, without a doubt, found the ultimate religion. In Dave's book he shows accurately with very much Biblical documentation that this ultimate religion, the Catholic Church, is in fact the woman who rides the beast, a whore who has committed fornication with the kings of the earth.
In 1993 Dave recorded a pre-book video lecture which I have embedded. Take a look at the video and I believe you will find it very, very hard to argue with Dave's interpretation of Revelation 17:7. Click here for the source of this posting.