Posts Tagged 'seeker-friendly'
By Mike Oppenheimer
Let Us Reason Ministries
For though I be free from all men, yet have I made myself servant unto all, that I might gain the more. And unto the Jews I became as a Jew, that I might gain the Jews; to them that are under the law, as under the law, that I might gain them that are under the law; To them that are without law, as without law, (being not without law to God, but under the law to Christ,) that I might gain them that are without law. To the weak became I as weak, that I might gain the weak: I am made all things to all men, that I might by all means save some. And this I do for the gospel's sake, that I might be partaker thereof with you. (1 Corinthians 9:19-23)
What did the apostle Paul mean that he became all things to all men for evangelism? This is his summation after he describes his goal and those people whom he wanted to reach. He adapted his teaching to their thought in their culture to reach them. He divides the world into the religious with the law (Jews), and the Gentiles, without the law.
According to 1 Corinthians 9:20, Paul was emancipated from the law as a means of salvation, yet he knew how to speak to them because of his former beliefs and life with them (Galatians 4:21). He knew how to put the Gospel to them without compromise and without offence.1
To the Jews, he would observe the Mosaic customs as long as it did not affect his duty to Christ. There was no compromise of principles or the law though Paul was a Jew among Jews. He did not act as a person obligated to the law with the Jews, nor as a lawless person to the Gentiles, but always made it evident he was serving them under the law of Christ.
In Acts 17, Paul showed the philosophers they were wrong from logic, their own history, and the Bible and explained to them what is right. He used what the Athenians did not know, an altar to an unknown god, to make known to them what he knew. Paul was not complimenting their religious worship as they were idolaters. These religious men of prestige were offended as he told them they would be judged by a man who came back to life. Yet, Paul's continual quest was to persuade men to turn "to God from idols to serve the living and true God" (1 Thessalonians 1:9).
Paul certainly made a distinction (as did Jesus) between those who knew what God required and those in ignorance. Paul even pitted the Gentiles against the Jews to humble them from pride. Romans 2:14-16:
[F]or when Gentiles, who do not have the law, by nature do the things in the law, these, although not having the law, are a law to themselves, who show the work of the law written in their hearts, their conscience also bearing witness, and between themselves their thoughts accusing or else excusing them) in the day when God will judge the secrets of men by Jesus Christ, according to my gospel" (giving the same summation as he did in Acts 17).
In 1 Corinthians 9:22, Paul said, by inspiration of the Holy Spirit: "To the weak became I as weak, that I might gain the weak: I am made all things to all men, that I might by all means save some."
If this statement by Paul were isolated from the rest of Scripture, one could assume Paul was willing to do anything to reach the lost, including adopting their lifestyle and compromise his ethics, morals, and beliefs. This is a doctrine that is popularized among the seeker-friendly, emerging church evangelism crowd today. If we use this logic, then for one to reach a drug addict, he must become one; one cannot reach a drunk unless he becomes a drunk, etc.
When we compare Scripture with Scripture, we find that Paul did not mean this. In order for a doctrine to be biblically sound, it cannot contradict other verses. Paul taught that believers are to "abstain from all appearance of evil" (1 Thessalonians 5:22). Paul would not have done anything contrary to Christ and His ways in his own life and ministry. Remember he rebuked Peter for compromising of the Gospel when Jewish brethren came to visit him in Antioch. Galatians 2:11-13, speaking of the Judaizers: "for before certain men came from James, he would eat with the Gentiles; but when they came, he withdrew and separated himself, fearing those who were of the circumcision." Saying to Peter in Galatians 2:14: "If thou, being a Jew, livest after the manner of Gentiles, and not as do the Jews, why compellest thou the Gentiles to live as do the Jews?"
So Paul did not mean that we can act one way with one group of people and another way with another group to win them.
We have good examples that Paul did not act lawlessly among the pagans who were outside the Mosaic law: Romans 2:14, 1 Timothy 1:9-10. Paul simplified the message, knowing his audience, so they could understand and receive.
Paul explains that he is always under the law to Christ, and he is never free to do things that would be contrary to the new covenant. And in Galatians 5:13, he says, "For, brethren, ye have been called unto liberty; only use not liberty for an occasion to the flesh, but by love serve one another."
Paul's liberty in his evangelism was not a freedom to sin or to serve the flesh in any way. Paul was always strict in regard to sin, and he did not allow anything in his life that would bring the result of sin by spiritual carelessness.
Notes:
1. From Robertson's Word Pictures in the New Testament.
Dear Lighthouse Trails:
I have just read the excellent booklet that you generously provided in your recent newsletter by Carl Teichrib; FREEMASONRY: A Revealing Look at the Spiritual Side.
Back in the early 1990s, my family was able to relocate to a small town in the beautiful mountains of North Carolina. We had previously been members of an independent Bible church in Florida. Among our first priorities after settling in was to find a similar church that preached the Word and was focused on missions. We found a very small Christian and Missionary Alliance Church that at the time had only about 30 members with a very young pastor that had just graduated from seminary. This was a wonderful answer to prayer. The church was already starting to sponsor several missionaries, and the pastor and I began a close friendship. Soon after the pastor asked me if I would consider being an elder. I had been a deacon at the church in Florida, and having been a Christian for only 5 years at this point, I really thought I might not qualify to be an elder. After much prayer about this, I humbly accepted the position. Part of my decision was based on the certainty that the Lord had given me the gift of discernment soon after I was born again . . . (but that is a whole other story).
The building we rented for our services was very small, seating maybe 35-40. Soon we began to look for a larger building to suit our growing congregation. We found a beautiful piece of land just on the edge of town that had previously been occupied by a Jehovah's Witness group. After praying that the Lord would cleanse the building, we started much needed work on the sanctuary and the small other building that would be for a nursery.
At this time, a man suddenly started coming to our church and put himself right away to the business of woodworking and painting. He had skills in construction that none of us possessed so his help was greatly appreciated. I soon found out that he was a Freemason. Of the 5 elders in the congregation, only I and one other (that had left masonry after becoming a Christian) knew the ramifications of this man's intention of becoming a member of the congregation. I looked at our By-Laws and could not find anything prohibiting a member of a secret society from becoming a member. So I got busy getting together materials to discuss with the pastor and elders that dealt with Freemasonry. At the time, I had a book by John Ankerberg that I used to highlight all the reasons a Freemason could not be a true Christian (or at the very least, would be a compromising one) being that he would be serving two masters.
Since this man had asked to be a member, we elders had a meeting with him after the elders had educated themselves about the serious spiritual ramifications of his joining the membership. We gently but firmly talked to this man about the biblical reasons that this secret society could not coexist with Christianity. He claimed he went to a "Christian Lodge," and he did not seem to understand what we were talking about. The man and his wife met with the pastor and said he was offended by what we were implying. It was his view that we were saying he was not a Christian, which we had never said in the first meeting. The next few weeks the man did not come to church. I had the church vote on a by-law that would not allow a member of a secret society to become a member of the church. Several weeks later the man called the pastor and told him that he owned a parcel of land adjoining our small plot of land. He said he would sell it to us if only he could become a member of the church and that if the elders and especially me would apologize to him and his wife based on Matthew 18:15 where a brother sins against another brother!
Much to my surprise (and horror), the pastor (and my friend) wanted me to ignore the new by-law and personally apologize to this man solely for the reason of obtaining this parcel of land from him that he was offering at a great discount!
This was a very agonizing time for me and my wife. We earnestly prayed about what to do. I could not in good faith apologize to this man when I had only tried to show him the errors of his way using Scripture and resources to back up what I was saying. I felt betrayed by the pastor. Some of the elders (except for one) did not even know what all the fuss was about! For these reasons, we reluctantly left that church that we had so dearly come to love. My wife had started a Pioneer Club for the children and I had taught adult Sunday school there.
Soon afterwards, a CMA higher up came and discussed church growth, and the man in question sold the parcel to the church.
This is an example of how Satan ruins a good thing when discernment is nearly absent from a local congregation.
By the way, the other elder that was a mason before he became saved also left that CMA church soon after I did based on his convictions that very few of the elders and pastor had any discernment and also because of the new blueprints that the CMA leader had come up with for church growth. Basically, that plan was to be a seeker-friendly church that added members that wanted to join whomever they may be (saved or unsaved).
After we left the CMA church, we looked for a new church and settled on the big First Baptist church in town (Southern Baptist). My youngest son accepted Christ as his Savior there and was baptized, and we were happy they had a nice youth group. About two years later, the youth pastor left, and they replaced him with a Rick Warren fan. Several of the parents wanted to have a meeting with him and the deacons to discuss our concerns. It was not only the fact that all he talked about was Rick Warren, but my son said that unlike with the previous youth pastor, this young man was teaching them things that had nothing to do about the Bible. My son showed me his notes: it was all man's wisdom and philosophies that he was espousing. The meeting was very tense. The youth pastor again accused us of not coming to him in private first and citing . . . you guessed it: Matthew 18 again! The deacons were all Masons, and they were not sympathetic to our concerns.
Before moving back to Florida, we started up a small congregation of about 12 families; most of them the parents of the youth group at the big Baptist church. About this same time, I was reading a book by a former Mason-turned-Christian that mentioned that a tactic that the local lodges used was infiltrating the local churches and reporting back to their lodge on the church's activities. That really creeped me out.
Maranatha!
A believer in Florida
By Roger Oakland
Understand the Times, International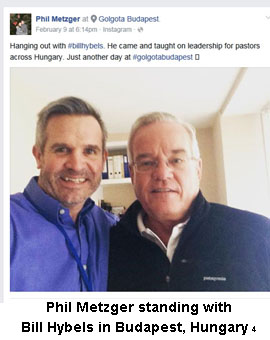 Recently, I was informed about a conference held this week in Budapest, Hungary where Willow Creek senior pastor Bill Hybels taught leaders. According to comments posted on Phil Metzger's Facebook page, the event was held at Calvary Chapel Golgota Budapest where Metzger is pastor. He is also the director of Calvary Chapel Bible College Europe (also located in Hungary). On Metzger's Facebook, Hybels was not only endorsed, he was praised. [3]
Perhaps most who read about this event will not be alarmed. But I was because I see the significance. I know that what Chuck Smith and Calvary Chapel once stood for is not at all what Hybels stands for. Bill Hybels was mentored by Peter Drucker along with Rick Warren to "reshape" Christianity for the 21st century. Hybels, from the famous Willow Creek Church located in South Barrington, Illinois, fathered the "seeker-friendly" movement.
When Hybels and his cohorts discovered that the seeker-friendly model produced spiritually illiterate believers, they said they "repented" [5] from this model of church; but in actuality, they delved right into teachings associated with the emergent church and contemplative mysticism, seeing those as the next "great" step. Interestingly, on Metzger's Facebook page, someone defending Metzger's promotion of Hybels said that it was irrelevant to talk about the emerging church because it was no longer an issue. But nothing could be further from the truth. While often called other names now, such as progressive, the ideologies of the emerging church are very much at work today. Click here to read this entire article and for endnotes.
Related Information
A Jesuit Pope? Understanding The Jesuit Agenda and the Evangelical/Protestant Church
By Roger Oakland
Understand the Times, International

Recently, I was contacted by a friend and colleague who also has a discernment ministry. He was surveying other discernment ministries in order to come up with a list of the top ten subtle ways the body of Christ is presently being led astray. As I was busy speaking at a conference at the time I received his e-mail, I wrote him back and told him I would get back to him in a few days.
While flying back to my home after the conference, I took out my computer and responded to my friend's request. The topics I had presented at the conference were still fresh in my mind. Following are the first ten trends I have personally encountered. While I am certain there are many more, the following ten trends provide a good overview of what is taking place in the church today:
1. Ecumenical unity at any cost yet completely void of any connection to the message that Jesus died on the Cross.
2. The church-growth movement, which is focused on a market-driven seeker-friendly Christianity emphasizing a megachurch mentality.
3. A Christianity focused on following men, their methods, and their movements.
4. A Jesuit agenda promoted by publishers and pastors proclaiming the teachings and ideas of Roman Catholic church fathers and Roman Catholic mystics.
5. The rejection of biblical creation and the acceptance of theistic evolution and progressive creation.
6. The acceptance of New Age ancient Babylonian practices such as yoga and contemplative prayer as a means of "getting closer to Jesus." Click here to continue reading.
By Roger Oakland Understand the Times International The seeker-friendly model was the brainchild of Peter Drucker. The concept of finding out what a consumer would like in a church has been a very successful way to get people to come to a church. At least for a while! This consumer-friendly model worked as long as sinners were not faced with the message of the cross, hell, and other convicting things the Bible teaches.
However, as everyone knows, trends come and go like waves on the ocean. The seeker-friendly wave will not last forever. This, of course, is predictable. Fallen man has had a spiritual void since the fall of man. Satan is more than happy to fill that void and has always had a deceptive plan to do so. This is why I was not surprised when Pastor Bill Hybels, founder of the Willow Creek church-growth model, announced that their church had repented from their seeker-friendly ways and was now moving towards a method that would transform Christianity by introducing spirituality. Here's how one Christian reporter explained the transition:
Willow Creek has released the results of a multi-year study on the effectiveness of their programs and philosophy of ministry. The study's findings are in a new book titled Reveal: Where Are You? co-authored by Cally Parkinson and Greg Hawkins, executive pastor of Willow Creek Community Church. Hybels himself called the findings "earth shaking," "ground breaking," and "mind blowing." And no wonder: it seems that the "experts" were wrong. [1] Click here to continue reading.
LTRP Note: For a number of years, Lighthouse Trails has identified Andy Stanley as part of the emerging church and has considered him to be a bridger (bridging the gap between the emerging church and evangelical Christianity). This excellent book review by Gary Gilley shows an example of the (sometimes subtle) deception that occurs in many of the books being written today by prolific and popular Christian figures.
By Gary Gilley
Pastor and apologist
Endorsed by everyone from Rick Warren and Bill Hybels to Dave Ramsey, Steven Furtick and Jeff Foxworthy, Deep and Wide reveals Andy Stanley's "secret sauce" (p. 17) which he believes makes his church not only great but a model others should adopt. Stanley's goal has been to create a church that unchurched men, women and children love to attend (p. 11) and by all accounts he has succeeded. The first of five sections tells the story of the birth of North Point Community Church in Alpharetta, Georgia, first as an extension of his father's (Charles) church, then as a split, in which several thousand people eventually left the mother church to join Andy's. Andy knows this is not the best way to start a church, but is honest and transparent enough to admit that this is what happened. Conflicts with his famous father were inevitable and Andy chronicles those as well.
Deep and Wide promotes the seeker-sensitive, market-driven approach of "doing church." There is virtually nothing in the book that hasn't been said or done by his "hero" Bill Hybels and others that teach the paradigm. From basing North Point's programming on surveys and secular management (p. 14), to seeing people as consumers (p. 16) and a target audience that must be attracted and pleased (p. 15), to erroneously believing that the unbeliever should like us because they liked Jesus (pp. 12-13), to virtually every aspect of what they do, Stanley is parroting the philosophy of Hybels. Ironically this model is the same one that Hybels and Willow Creek recently admitted did not accomplish their goal of making followers of Christ (see my book This Little Church Had None, pp. 23-35).
Of course, the real issue is not whether something works, but if it is biblical. Therefore, in section two, Stanley attempts a scriptural justification for his church model. This is easily the most disappointing aspect of the book as Stanley, who has a master's degree from Dallas Seminary, makes no attempt to engage the key Scriptures dealing with the doctrine of the church. His only venture into biblical exegesis is a feeble, terribly flawed and out of context examination of the counsel at Jerusalem in Acts 15 (pp. 85-91). Stanley comes up with a strained interpretation of the text because he uses what some call rhetorical hermeneutics in which Scripture should be interpreted based upon the characters actions, not their words (pp. 86, 90-92, 298-299). Using this interpretative method, Stanley believes, "Everything [Paul] taught should be defined within the context of what takes place in Acts 15." And since the conclusion drawn by the council was minimalistic: "You are to abstain from food sacrificed to idols, from blood, from meat of strangled animals and from sexual immorality. You will do well to avoid these things. Farewell" (p. 91), the church today should require very little as well (p. 92). Wrapping (or, better, ignoring) everything else in the New Testament pertaining to the church around this concept, Stanley offers this strained understanding as the biblical foundation for the local church. Click here to continue reading this book review.
by Paul Proctor
Free-lance writer
Have you ever tried to reason with a religious agenda? It's hard to do, isn't it? You can quote God's Word until you're blue in the face, but those who have fully invested themselves into it will not be easily swayed even when it doesn't square with scripture.
Often, what comes into play is a mystical mindset and performance-based pride involving a "passion" or "vision." Persuaded with sentimental stories, tender tears, and a charming demeanor, a misguided group can, over time, become spiritually deaf, dumb, and blind to anyone and anything outside that vision, including God's Word – following along with a misplaced faith in someone's persona, position, or personal experience.
This happens in the Church today because Christians have largely relegated all things scriptural over to leaders for interpretation having made ministers into magistrates and pastors into priests – relying on professionals to perceive God's Will for their lives rather than prayerfully reading and studying His Word for themselves like the Bereans of Acts 17 who "received the word with all readiness of mind, and searched the scriptures daily, whether those things were so."
Having now put so great an emphasis on our relationships with one another and the results we covet, no longer do we turn to the Bible for answers to the issues of life, instead, allowing the counsel of the compromised to compel us along with their practical advise and benevolent ventures, assuming they are anointed and appointed by God to do so. It is a sweet seduction with eternal consequences and a spiritual short cut for the shortsighted and undisciplined.
Of course, we're all in need of good relationships and good counsel; but when we rely on "smooth words" instead of God's Word to direct us, we set ourselves up for deception, disobedience, and disaster. And, when we eventually fall and fail, how quickly we offload the blame onto those who misled us rather than taking responsibility for our own neglect – cleaning up the embarrassing mess left behind only to search yet again for another to lead in like manner – never repenting but always repeating the same ecclesiastical error over and over. This is what happens when we think and act relationally and experientially rather than biblically.
God gave us His Word for a reason, not as an option or a last resort. He does not yield to cultures and trends, as do we in the Church today. Nor does He need to try this or that to see what works and experiment with the things of this world to bring about His eternal ends. He who called creation into being with His Word need not alter it to accommodate the flesh and bring rebellion into repentance and faith.
It is only men who change, adjust, and experiment – leaning on their own understanding to try and help the One who needs no help – all the while bringing glory to self.
As it was in the Garden of Eden, so it is today; we continue to set aside the Word of God in the interest of Results and Relationships, forgetting that forsaking our way of doing things for His and learning obedience by faith was the point all along.
"Trust in the LORD with all thine heart; and lean not unto thine own understanding." – Proverbs 3:5
Used with permission. Copyright Paul Proctor