NEW BOOKLET: God's Help and Comfort Through It All by Warren B. Smith is our newest Lighthouse Trails Booklet. The Booklet is 14 pages long and sells for $1.95 for single copies. Quantity discounts are as much as 50% off retail. Our Booklets are designed to give away to others or for your own personal use. Below is the content of the booklet. To order copies of God's Help and Comfort Through It All, click here.
God's Help and Comfort Through It All
B
y Warren B. Smith
I will lift up mine eyes unto the hills, from whence cometh my help. My help cometh from the LORD, which made heaven and earth. (Psalm 121:1-2)

For the Lord GOD will help me; therefore shall I not be confounded: therefore have I set my face like a flint, and I know that I shall not be ashamed. (Isaiah 50:7)

For I the LORD thy God will hold thy right hand, saying unto thee, Fear not; I will help thee. (Isaiah 41:13)
Henry Francis Lyte completed the lyrics of his hymn Abide With Me shortly before his passing in 1847. Aware that death was near, he directed his hymn to God who he described as the "Help of the helpless."
Abide with me! Fast falls the eventide;
The darkness deepens; Lord with me abide.
When other helpers fail and comforts flee,
Help of the helpless, O abide with me!
The 1719 hymn O God, Our Help in Ages Past by Isaac Watts and William Croft, reminds us that God has been our help in the past and will continue to be our hope in the years to come:
O God, our help in ages past, Our hope for years to come; Be Thou our guide while life shall last, And our eternal home.
The following Scriptures refer directly to the help and comfort God brings to those who put their faith and trust in Him:
God's Help
God is Our Helper
Behold, God is mine helper. (Psalm 54:4)
So that we may boldly say, The Lord is my helper, and I will not fear what man shall do unto me. (Hebrews 13:6)
God Helps Us
Fear thou not; for I am with thee: be not dismayed; for I am thy God: I will strengthen thee; yea, I will help thee; yea, I will uphold thee with the right hand of my righteousness. (Isaiah 41:10)
For the Lord GOD will help me; therefore shall I not be confounded: therefore have I set my face like a flint, and I know that I shall not be ashamed. (Isaiah 50:7)
God is Our Help and Our Shield
Our soul waiteth for the LORD: he is our help and our shield. (Psalm 33:20)
The LORD is my strength and my shield; my heart trusted in him, and I am helped: therefore my heart greatly rejoiceth; and with my song will I praise him. (Psalm 28:7)
God is Our Help and Our Deliverer
But I am poor and needy; yet the Lord thinketh upon me: thou art my help and my deliverer; make no tarrying, O my God. (Psalm 40:17)
But I am poor and needy: make haste unto me, O God: thou art my help and my deliverer; O LORD, make no tarrying. (Psalm 70:5)
God Helps Deliver Us From the Wicked
And the LORD shall help them, and deliver them: he shall deliver them from the wicked, and save them, because they trust in him. (Psalm 37:40)
Who will rise up for me against the evildoers? or who will stand up for me against the workers of iniquity? Unless the LORD had been my help, my soul had almost dwelt in silence. (Psalm 94:16-17)
We Pray to God for Help
Give us help from trouble: for vain is the help of man. (Psalm 108:12)
Help me, O LORD my God: O save me according to thy mercy: That they may know that this is thy hand; that thou, LORD, hast done it. (Psalm 109:26-27)
Help, LORD; for the godly man ceaseth; for the faithful fail from among the children of men. (Psalm 12:1)
O God, be not far from me: O my God, make haste for my help. (Psalm 71:12)
Forsake me not, O LORD: O my God, be not far from me. Make haste to help me, O Lord my salvation. (Psalm 38:21-22)
Be pleased, O LORD, to deliver me: O LORD, make haste to help me. (Psalm 40:13)
Deliver me from the workers of iniquity, and save me from bloody men. For, lo, they lie in wait for my soul: the mighty are gathered against me; not for my transgression, nor for my sin, O LORD. They run and prepare themselves without my fault: awake to help me, and behold. (Psalm 59:2-4)
God is Our Help in Times of Trouble
God is our refuge and strength, a very present help in trouble. (Psalm 46:1)
Let us therefore come boldly unto the throne of grace, that we may obtain mercy, and find grace to help in time of need. (Hebrews 4:16)
Give us help from trouble: for vain is the help of man. (Psalm 60:11)
Gracious is the LORD, and righteous; yea, our God is merciful. The LORD preserveth the simple: I was brought low, and he helped me. (Psalm 116:5-6)
We Rejoice in God's Help
Because thou hast been my help, therefore in the shadow of thy wings will I rejoice. (Psalm 63:7)
God Helps With Our Infirmities
Likewise the Spirit also helpeth our infirmities: for we know not what we should pray for as we ought: but the Spirit itself maketh intercession for us with groanings which cannot be uttered. (Romans 8:26)
Our Help is in the Name of the Lord
Blessed be the LORD, who hath not given us as a prey to their teeth. Our soul is escaped as a bird out of the snare of the fowlers: the snare is broken, and we are escaped. Our help is in the name of the LORD, who made heaven and earth. (Psalm 124:6-8)
God's Comfort
God is the God of All Comfort
Blessed be God, even the Father of our Lord Jesus Christ, the Father of mercies, and the God of all comfort. (2 Corinthians 1:3)
God Comforts His People
I, even I, am he that comforteth you: who art thou, that thou shouldest be afraid of a man that shall die, and of the son of man which shall be made as grass. (Isaiah 51:12)
Sing, O heavens; and be joyful, O earth; and break forth into singing, O mountains: for the LORD hath comforted his people, and will have mercy upon his afflicted. (Isaiah 49:13)
God's Holy Spirit is Our Comforter
But the Comforter, which is the Holy Ghost, whom the Father will send in my name, he shall teach you all things, and bring all things to your remembrance, whatsoever I have said unto you. (John 14:26)
God's Holy Spirit Abides with Believers Forever
And I will pray the Father, and he shall give you another Comforter, that he may abide with you for ever; Even the Spirit of truth; whom the world cannot receive, because it seeth him not, neither knoweth him: but ye know him; for he dwelleth with you, and shall be in you. (John 14:16-17)
God Comforts with His Word
For whatsoever things were written aforetime were written for our learning, that we through patience and comfort of the scriptures might have hope. (Romans 15:4)
God Comforts Those Who Are Cast Down
Nevertheless God, that comforteth those that are cast down, comforted us by the coming of Titus. (2 Corinthians 7:6)
God Comforts in Our Tribulation
Who comforteth us in all our tribulation, that we may be able to comfort them which are in any trouble, by the comfort wherewith we ourselves are comforted of God. (2 Corinthians 1:4)
God Comforts in Times of Despair
Yea, though I walk through the valley of the shadow of death, I will fear no evil: for thou art with me; thy rod and thy staff they comfort me. (Psalm 23:4)
God Comforts on Every Side
Thy righteousness also, O God, is very high, who hast done great things: O God, who is like unto thee! Thou, which hast showed me great and sore troubles, shalt quicken me again, and shalt bring me up again from the depths of the earth. Thou shalt increase my greatness, and comfort me on every side. (Psalm 71:19-21)
God Comforts Those Who Mourn
The spirit of the Lord GOD is upon me; because the LORD hath anointed me to preach good tidings unto the meek; he hath sent me to bind up the brokenhearted, to proclaim liberty to the captives, and the opening of the prison to them that are bound . . . to comfort all that mourn. (Isaiah 61:1-2)
Blessed are they that mourn: for they shall be comforted. (Matthew 5:4)
God's Comfort Can be Maternal
For thus saith the LORD, Behold, I will extend peace to her like a river, and the glory of the Gentiles like a flowing stream: then shall ye suck, ye shall be borne upon her sides, and be dandled upon her knees. As one whom his mother comforteth, so will I comfort you; and ye shall be comforted in Jerusalem. (Isaiah 66:12-13)
God Comforts us With the Promise of His Return
. . . we which are alive and remain unto the coming of the Lord shall not prevent them which are asleep. For the Lord himself shall descend from heaven with a shout, with the voice of the archangel, and with the trump of God: and the dead in Christ shall rise first: Then we which are alive and remain shall be caught up together with them in the clouds, to meet the Lord in the air: and so shall we ever be with the Lord. Wherefore comfort one another with these words. (1 Thessalonians 4:15-18)
Forty Helpful and Comforting Verses
The Lord is Around His People
As the mountains are round about Jerusalem, so the LORD is round about his people from henceforth even for ever. (Psalm 25:2)
He Goes Before Us
Be strong and of a good courage, fear not, nor be afraid of them: for the LORD thy God, he it is that doth go with thee; he will not fail thee, nor forsake thee. (Deuteronomy 31:6)
He Never Leaves Us or Forsakes Us
Let your conversation be without covetousness; and be content with such things as ye have: for he hath said, I will never leave thee, nor forsake thee. (Hebrews 13:5)
Nothing Can Separate Us From the Love of God
Who shall separate us from the love of Christ? shall tribulation, or distress, or persecution, or famine, or nakedness, or peril, or sword? As it is written, For thy sake we are killed all the day long; we are accounted as sheep for the slaughter. Nay, in all these things we are more than conquerors through him that loved us. For I am persuaded, that neither death, nor life, nor angels, nor principalities, nor powers, nor things present, nor things to come, Nor height, nor depth, nor any other creature, shall be able to separate us from the love of God, which is in Christ Jesus our Lord. (Romans 8:35-39)
He Has Given Us His Word
All scripture is given by inspiration of God, and is profitable for doctrine, for reproof, for correction, for instruction in righteousness: That the man of God may be perfect, thoroughly furnished unto all good works. (2 Timothy 3:16-17)
His Word is Quick and Powerful
For the word of God is quick, and powerful, and sharper than any twoedged sword, piercing even to the dividing asunder of soul and spirit, and of the joints and marrow, and is a discerner of the thoughts and intents of the heart. (Hebrews 4:12)
His Word Never Passes Away
Heaven and earth shall pass away, but my words shall not pass away. (Matthew 24:35)
He Gives Us Wisdom
If any of you lack wisdom, let him ask of God, that giveth to all men liberally, and upbraideth not; and it shall be given him. (James 1:5)
He Will Guide Us Continually
And the LORD shall guide thee continually, and satisfy thy soul in drought, and make fat thy bones: and thou shalt be like a watered garden, and like a spring of water, whose waters fail not. (Isaiah 58:11)
He Will Direct Our Paths
Trust in the LORD with all thine heart; and lean not unto thine own understanding. In all thy ways acknowledge him, and he shall direct thy paths. (Proverbs 3:5-6)
He Supplies all our Needs
But my God shall supply all your need according to his riches in glory by Christ Jesus. (Philippians 4:19)
The Lord's Compassion Never Fails
It is of the LORD'S mercies that we are not consumed, because his compassions fail not. They are new every morning: great is thy faithfulness. (Lamentations 3:22-23)
He Gives Strength to the Weary
Hast thou not known? hast thou not heard, that the everlasting God, the LORD, the Creator of the ends of the earth, fainteth not, neither is weary? there is no searching of his understanding. He giveth power to the faint; and to them that have no might he increaseth strength. Even the youths shall faint and be weary, and the young men shall utterly fall: But they that wait upon the LORD shall renew their strength; they shall mount up with wings as eagles; they shall run, and not be weary; and they shall walk, and not faint. (Isaiah 40:28-31)
He Gives Us His Peace
Peace I leave with you, my peace I give unto you: not as the world giveth, give I unto you. Let not your heart be troubled, neither let it be afraid. (John 14:27)
He Keeps Us in His Peace
Thou wilt keep him in perfect peace, whose mind is stayed on thee: because he trusteth in thee. (Isaiah 26:3)
His Peace Keeps our Hearts and Minds
Be careful for nothing; but in every thing by prayer and supplication with thanksgiving let your requests be made known unto God. And the peace of God, which passeth all understanding, shall keep your hearts and minds through Christ Jesus. (Philippians 4:6-7)
He is Our Refuge
The LORD also will be a refuge for the oppressed, a refuge in times of trouble. (Psalm 9:9)
He Delivers Us From Affliction
Many are the afflictions of the righteous: but the LORD delivereth him out of them all. (Psalm 34:19)
He Gives Us Rest
Come unto me, all ye that labour and are heavy laden, and I will give you rest. Take my yoke upon you, and learn of me; for I am meek and lowly in heart: and ye shall find rest unto your souls. For my yoke is easy, and my burden is light. (Matthew 11:28-30)
He Perfects His Strength in Our Weakness
And he said unto me, My grace is sufficient for thee: for my strength is made perfect in weakness. (2 Corinthians 12:9)
We Can Do All Things Through Christ Who Strengthens Us
I can do all things through Christ which strengtheneth me. (Philippians 4:13)
He Works All Things For Good For Those Who Love Him
And we know that all things work together for good to them that love God, to them who are the called according to his purpose. (Romans 8:28)
He is Able to Keep Us From Falling
Now unto him that is able to keep you from falling, and to present you faultless before the presence of his glory with exceeding joy. (Jude 1:24)
He Protects Us
When thou passest through the waters, I will be with thee; and through the rivers, they shall not overflow thee: when thou walkest through the fire, thou shalt not be burned; neither shall the flame kindle upon thee. (Isaiah 43:2)
He Lifts Up a Standard Against the Enemy
When the enemy shall come in like a flood, the Spirit of the LORD shall lift up a standard against him. (Isaiah 59:19)
No Weapon Shall Prosper Against Us
No weapon that is formed against thee shall prosper. (Isaiah 54:17)
He Gives Us the Victory Through Jesus Christ
But thanks be to God, which giveth us the victory through our Lord Jesus Christ. (1 Corinthians 15:57)
He is Faithful to Complete His Work in Us
Being confident of this very thing, that he which hath begun a good work in you will perform it until the day of Jesus Christ. (Philippians 1:6)
He is Our Guide Unto Death
For this God is our God for ever and ever: he will be our guide even unto death. (Psalm 48:14)
He Gives Us Eternal Life
For God so loved the world, that he gave his only begotten Son, that whosoever believeth in him should not perish, but have everlasting life. (John 3:16)
Eternal Life is a Gift from God
For the wages of sin is death; but the gift of God is eternal life through Jesus Christ our Lord. (Romans 6:23)
God Sent His Son to be the Propitiation for Our Sins
Herein is love, not that we loved God, but that he loved us, and sent his Son to be the propitiation for our sins. (1 John 4:10)
If We Confess Our Sins He Forgives Us
If we confess our sins, he is faithful and just to forgive us our sins, and to cleanse us from all unrighteousness. (1 John 1:9)
Whoever Calls Upon the Lord's Name Shall be Saved
For whosoever shall call upon the name of the Lord shall be saved. (Romans 10:13)
By Grace We Are Saved Through Faith
For by grace are ye saved through faith; and that not of yourselves: it is the gift of God: Not of works, lest any man should boast. (Ephesians 2:8-9)
He Has Prepared a Place for Us
Let not your heart be troubled: ye believe in God, believe also in me. In my Father's house are many mansions: if it were not so, I would have told you. I go to prepare a place for you. And if I go and prepare a place for you, I will come again, and receive you unto myself; that where I am, there ye may be also. (John 14:1-3)
He Will Raise Us Up
Knowing that he which raised up the Lord Jesus shall raise up us also by Jesus, and shall present us with you. (2 Corinthians 4:14)
His Glory Will be Revealed in Us
For I reckon that the sufferings of this present time are not worthy to be compared with the glory which shall be revealed in us. (Romans 8:18)
He Will Wipe Away All Tears
And God shall wipe away all tears from their eyes; and there shall be no more death, neither sorrow, nor crying, neither shall there be any more pain: for the former things are passed away. (Revelation 21:4)
What God Has Prepared For Those Who Love Him
But as it is written, Eye hath not seen, nor ear heard, neither have entered into the heart of man, the things which God hath prepared for them that love him. (1 Corinthians 2:9)
Our Helper and Our Comforter
Lines from the following two hymns echo what the Bible makes very clear. God is our rock, our hiding place, our refuge and defense—our helper ever near. He is our shelter in the time of storm, our wonderful Savior and comfort sweet. In good times and in bad, He is our Helper and our Comforter through it all.
The Lord's our Rock, in Him we hide, A Shelter in the time of storm;
Secure whatever ill betide, A Shelter in the time of storm.

A shade by day, defense by night, A Shelter in the time of storm;
No fears alarm, no foes afright, A Shelter in the time of storm.

The raging storms may round us beat, A Shelter in the time of storm;
We'll never leave our safe Retreat, A Shelter in the time of storm.

O Rock divine, O Refuge dear, A Shelter in the time of storm;
Be thou our helper ever near, A Shelter in the time of storm.
 Shelter in the Time of Storm
Vernon J. Charlesworth (1878)
There is a place of comfort sweet,
Near to the heart of God.
A place where we our Savior meet,
Near to the heart of God.
Near to the Heart of God
Cleland B. McAfee (1903)
To order copies of God's Help and Comfort Through It All, click here.
LTRP Note: Let us pray for the London families who have been affected by this horrific fire that ripped through a 27-story apartment building early this morning. We are reminded daily through world events of how much trouble the world is in.
BBC News
Six people have died in the blaze, according to police, with the number of fatalities expected to rise.
Seventy-four people have been treated in hospital, according to the London Ambulance Service. Six hospitals – St Mary's, Chelsea and Westminster, Royal Free, St Thomas', Charing Cross Hospital and King's College Hospital – have received patients. . . . Eyewitnesses have said some people may still be trapped in the building.
The tower block contains about 120 flats and there would have been "several hundred" people in the block when the fire broke out, according to the leader of Kensington and Chelsea Borough, Nick Paget-Brown.
Notting Dale ward councillor Judith Blakeman, who lives across the road from the block, said that between 400 and 600 people live in the building. Click here to continue.
Always bearing about in the body the dying of the Lord Jesus, that the life also of Jesus might be made manifest in our body. For we which live are alway delivered unto death for Jesus' sake,  that the life also of Jesus might be made manifest in our mortal flesh. (2 Corinthians 4:10,11)
This fourth chapter of 2 Corinthians is the apostle Paul's statement of power for ministry. He  shows us in these stirring verses that God is not looking for brilliant men, is not depending upon eloquent men, is not shut up to the use of talented men in sending His Gospel out in the world.
God is looking for broken men, for men who have judged themselves in the light of the cross of Christ. When He wants anything done, He takes up men who have come to an end of  themselves, and whose trust and confidence is not in themselves but in God.
There were those who were calling in to question the apostleship of Paul himself, for he did not  seem to them to be what an apostle, according to their estimation of the office, ought to be. There was not the pomp nor the dignity they would expect; he did not come to them with great  swelling words, there was no making anything of what he was after the flesh, no drawing attention to his natural ability or education; and in this the method of the apostle Paul was in  very vivid contrast to the method pursued by many today who pose as servants of our Lord Jesus Christ. This man went through the world a broken man, a lowly man, a man seeking only  the glory of the Lord Jesus Christ and the blessing of souls, a man who might have occupied a very high place among the great and distinguished of earth. But he was a man who for Jesus'  sake had turned his back upon all that, and could say:
God forbid that I should glory, save in the cross of our Lord Jesus Christ, by whom the world is crucified unto me, and I unto the  world. (Galatians 6:14)
That Cross spoke of the deepest shame and ignominy, and Paul gloried in it because through the work that took place upon it, his soul had been saved, and he had learned that the preaching of the Cross, while it is "to them that perish foolishness," is "unto us which are saved . . .  the power of God" (1 Corinthians 1:18). And so he went forth, content to be broken in order that the light of the grace of God might shine out.
You will notice in verse 6 that . . .
God, who commanded the light to shine out of darkness, hath shined in our hearts, to give the light of the knowledge of the glory of God in the face of Jesus Christ. But we have this treasure in earthen vessels, that the excellency of the power may be of God, and not of us. (2 Corinthians 4:6,7)
It is easy to see what he has in mind. He is thinking  undoubtedly of that very striking incident of which we read in Judges, when Gideon and his three hundred men took their lives in their hands, were delivered unto death, as it were, and  went forth against the vast armies of the Midianites. Surely, no other army was accoutered [equipped] as this one. They carried in one hand a trumpet and in the other a pitcher, and in this pitcher was a lamp. The light of the lamp was not seen though it was already lit. It was not seen as long as it was in the earthen jar. They surrounded the army of the Midianites in the middle of the night, and suddenly at the command of their leader, the jars were crashed to earth, and the light shone out, and the Midianites sprang up startled. They heard the crash and saw the light, and thought that they were surrounded by a tremendous army, and they turned their swords upon one another. It was God through Gideon that led the army to victory. A broken pitcher in order that light might shine out! The apostle says, as it were, "That is it! If you want to be a light for God in a world like this, be content to be broken, to have your hopes, your ambitions, all dashed to pieces, and then God can take you up and use you in order to carry the light of Christ to darkened hearts."
How are we broken? By affliction, by trouble, by the discipline of the Lord, sometimes by sickness, by pain and anguish. All these are the divine methods for breaking God's pitchers in order that the light may shine out to His praise and glory. Men may misjudge us, misrepresent us, persecute us bitterly; we may not have enough food to eat or water to drink; we may be cast down; we may suffer all kinds of sorrows; but it is all right if it breaks us in order that God may be able the better to use us. And so he says, "We are troubled on every side, yet not distressed; we are perplexed, but not in despair; Persecuted, but not forsaken; cast down, but not destroyed" (2 Corinthians 4:8,9); for in all these experiences, we are simply "bearing about in the body the dying of the Lord Jesus, that the life also of Jesus may be made manifest in our body." He "came from Godhead's fullest glory down to Calvary's depth of woe." We sometimes sing a little hymn that always stirs the heart. I remember hearing Dr. Torrey say  he believed of all the hymns that were used in his meetings around the world, it was the one that seemed to be most blessed of God to the people. It is:
"I surrender all,
I surrender all,
All to Thee, my blessed Savior,
I surrender all."
But that hymn never had the appeal it ought to have for my own heart until one day I found myself changing that chorus. I was thinking of Him who though He was . . .
in the form of God, thought it not robbery to be equal with God: But made himself of no reputation, and took upon him the form of a servant, and was made in the likeness of men: And being found in fashion as a man, he humbled himself, and became obedient unto death, even the death of the cross. (Philippians 2:6-8)
He surrendered all,
He surrendered all,
All for me, my blessed Savior,
He surrendered all.
And then my heart said, "O Lord, it will be easy to sing it the other way now, for what have I to give up, to surrender, in comparison with what Thou didst give up in order to redeem my guilty soul from going down to the pit?" It is as you and I realize from day to day what it all meant to Him that we can bear about in the body the dying of the Lord Jesus. Dying day by day to our own hopes and ambitions, dying to the good opinion of people, dying to human praise and adulation, to everything that the natural heart grasps, dying in the death of Jesus to it all,  because He died for us in order that "the life of Jesus may be made manifest in our body."
You will notice that verses 10 and 11 are very much alike, and yet the great difference is this:  verse 10 suggests something that we do deliberately, consciously, whereas verse 11 is something that God does for us. What is it we are called upon to do? "Always bearing about in the body the dying of the Lord Jesus"—reminding ourselves every day that Jesus died for us, "bearing about in the body" and because He died for us, we are gladly to put ourselves in the place of death for Him.
Looking back to the Cross, the apostle Paul could say:
I am crucified with Christ: nevertheless I live; yet not I, but Christ liveth in me: and the life which I now live in the flesh, I live by the faith of the Son of God, who loved me, and gave Himself for me. (Galatians 2:20)
But this has to be put into practice daily by putting my tastes and ambitions in the place of death. That is my part. But here is God's part:
We which live are always delivered unto death for Jesus' sake, that the life also of Jesus might be made manifest in our mortal flesh. (2 Corinthians 4:11)
You tell God that you are willing to take the place of death with Christ, and He will see that it is made good; you tell God you are going to trust Him, and He will test your faith and show you what it means to trust Him; you tell Him that you are ready to surrender everything to Him, and He will put you in the place where you will begin to find out what full surrender really means. I do not know of anything that it seems should have such an appeal to the Christian heart along this line as the frequent remembrance of our Lord Jesus Christ in His death, and I think it is because He realized it is so easy for us to forget, that He said to His disciples when He gave them this memorial feast,
This do in remembrance of me. (Luke 22:19)
And the Holy Spirit said:
As  often as ye eat this bread, and drink this cup, ye do shew the Lord's death till He come. (1 Corinthians 11:26)
Every time we are called upon thus to remember the Lord, it is a new challenge to ask  ourselves, "Am I simply remembering Him in a cold, formal, intellectual way because it is customary, or am I truly in my heart remembering the One who went down beneath the dark waters of death for me, and am I truly ready now to always bear about in the body the dying of the Lord Jesus?"
What a poor thing it is to come together in assemblies to participate in the communion of the Lord's Supper and then go out from the building and forget what it all really means, forget that our Savior died, that we are linked up with the One who died, and that He has left us an example that we should follow His steps—that is, we should always bear about in the body the dying of the Lord Jesus. This seems to me to be linked very intimately with several Old Testament references to which our attention is drawn in Hebrews 11. We read:
By faith Joseph, when he died, made mention of the departing of the children of Israel; and gave commandment concerning his bones. (Hebrews 11:22)
Did you ever stop and ask why the Holy Spirit selected that particular incident to dwell upon? He has instanced something that you and I would probably have passed over altogether. What did Joseph do? "Gave commandment concerning his bones." In Genesis 50:25, we read where Joseph, talking to the children of Israel, says:
God will surely visit you, and ye shall carry up my bones from hence. So Joseph died, being an hundred and ten years old: and they embalmed him, and he was put in a coffin in Egypt.
That is the close of Genesis. What an odd way to close the book! But God wants us to think about the bones of Joseph. They are there in a coffin in Egypt, but they are to be carried to Canaan.
In Exodus 13, we find that the children of Israel who have been sheltered by the blood of the Passover lamb are starting out for Canaan, and we read:
Moses took the bones of Joseph with him: for he had straitly sworn the children of Israel, saying, God will surely visit you; and ye shall carry up my bones away hence with you. (Exodus 13:19)
Who was Joseph? He was the savior of Israel. If it had not been for him, they had all been destroyed in the famine, but he was their savior, and now he says, "When you leave Egypt to go to Canaan, you carry my bones with you." When they left, they were very careful to do as they were told, and all the way across the sands of the desert wherever that great caravan went, they were always bearing about in the body the dying of Joseph.
I think I see that great procession winding its way up over the hills; and the Amalekites and the Midianites looking at them in wonder say, "What is that strange dark casket?" Presently, they call an Israelite and ask him, and he says, "We were once in greatest distress; if God had not had mercy upon us we would have been left to die, but He raised up a savior for us, one of our own people; his name was Joseph and he delivered us; Joseph saved us. But our savior died, and we are marching on to the land that our God has given us, and until we get there, we carry with us the memorial of death, the bones of Joseph. We can never forget him; he died, but we have the memorials still." And by-and-by when they reached the land, when they arrived at the place that God Himself had selected for them, we are told that after everything else was properly attended to,
The bones of Joseph, which the children of Israel brought out of Egypt, buried they in Shechem, in a parcel of ground which Jacob bought of the sons of Hamor, the father of Shechem for an hundred pieces of silver: and it became the inheritance of the children of Joseph. (Joshua 24:32)
There was no need to carry the bones of Joseph through the wilderness any more, for they were at home now. And, beloved, you and I are passing on through the wilderness of this world, we will soon be at Home, but until we reach there we are called upon to bear about in the body the dying of Jesus, and as we remember Him in the breaking of bread and the drinking of the cup, we should challenge our own hearts: Are we simply looking objectively toward that Cross and saying, "There our Savior died," or are we seeking day by day to practically make it manifest that His death means more to us than all that this world glories in?
NEW BOOKLET: FAITH UNDER FIRE—Are You Growing in It or Fleeing From It? by Cedric H. Fisher is our newest Lighthouse Trails Booklet.  The Booklet is 10 pages long and sells for $1.95 for single copies. Quantity discounts are as much as 50% off retail. Our Booklets are designed to give away to others or for your own personal use. Below is the content of the booklet.  To order copies of FAITH UNDER FIRE—Are You Growing in It or Fleeing From It?, click here. 
FAITH UNDER FIRE—Are You Growing in It or Fleeing From It?
By Cedric H. Fisher
God's Word gives us examples of faith in the fire, faith in the flood, faith when outnumbered by the enemy, faith when facing an indomitable foe, faith in prison, faith during torture, faith when destitute, hungry, and thirsty, faith on stormy seas, faith to lose everything and faith to receive it all back again, faith to procreate though infertile, and faith to die. Every instance of faith thus described is manifested in adversity or great need. To find examples in Scripture of faith operating in a peaceful and bountiful climate would be a difficult task. I'm not sure there are any at all.
The Bible likens God's way of purifying the faith of a believer to the refining process of gold. Peter writes:
. . . that the trial of your faith, being much more precious than of gold that perisheth, though it be tried with fire, might be found unto praise and honour and glory at the appearing of Jesus Christ. (1 Peter 1:7)
The refining process of gold requires that it be heated to a molten condition whereby the impurities (dross) float to the top and are skimmed off. The prophet Malachi describes this process as an illustration of how God purifies the believer:
[A]nd he shall sit as a refiner and purifier of silver: and he shall purify the sons of Levi, and purge them as gold and silver, that they may offer unto the Lord an offering in righteousness. (Malachi 3:3)
Some might contend that the peaceful climate is the result of faith. That may be true, but it is not faith in operation. Good health is the result of exercise, but it is not exercise. If our comfortable status is faith, then the testings of faith would not require adversity. Further, there would be no biblical examples of godly men and women exercising faith to overcome adversity.
The obvious truth is that the appearance of faith tends to be relatively dormant in times of peace. We are sustained by the benefits of our relationship with God. However, when a true Christian believes he can go through life without any adversity, such a person is being set up to be "channeled." Now, what I am referring to by "channeled" is this: when someone tries to avoid adversity, he is actually setting himself up to be manipulated and channeled by Satan who is always at work to make it difficult and painful for devoted believers to obey God's will.
Let me elaborate on this line of thought. If a Christian believer intends to be a light that shines in darkness, he becomes a target of evil entities. If he stands up for and speaks the truth, he will suffer. If he accepts, assimilates, and defends the values of godliness, he will suffer. If he refuses to go with the flow of nominal Christianity or worse, apostasy, he will suffer. If he refuses to deviate from God's Word in a time of great compromise, he will suffer. If he has a prophetic calling, he might even lose his life for Christ's sake.
Consider this scenario: A professing Christian has witnessed the suffering of a fellow believer who is being a true witness for Jesus Christ. The professing Christian has tried to do the same and experiences similar sufferings and consequences. As a result, he decides to avoid manifesting any fruit of Christianity that causes contention, rejection, or persecution. He is considered one of the nicest, most gregarious, kindly, friendly, and positive people. Everyone loves him and speaks well of him. What's more, he is flexible and capable of mingling with any belief system. Nearly everyone enjoys associating with him, and he has excellent rapport with all of them. Secular and religious people of all stripes laud him as an example of a true Christian. And he does not want to lose that status, so he makes every attempt to make sure he doesn't end up suffering again.
However, such a Christian does not match the examples of what the Bible describes as true Christianity, nor does he match the example of Christ Himself. In reality, such professing Christians, in their efforts to avoid the consequences and sufferings of true Christianity, are being "channeled" by Satan and his imps. Upon seeing this compromising attitude, these adversaries of our souls can re-circumvent lives (i.e., change the direction one is going) by causing situations that re-direct that person in his walk because he wants to avoid suffering, ridicule, and rejection for standing in and defending the faith.
These re-directed channeled Christians have, in effect, turned down their light to a non-offensive level. In fact, they are not actually lights at all, but shadows; they lie somewhere between light and darkness. The path they walk weaves around every uncomfortable and inconvenient situation; they walk in a state of delusion because deceit has become the norm for them. Christ warned about this type of fruitless follower.
Woe unto you, when all men shall speak well of you! for so did their fathers to the false prophets. (Luke 6:26)
The apostle Paul described what would befall the ones who truly desire to live godly in Christ. "Yea, and all that will live godly in Christ Jesus shall suffer persecution" (2 Timothy 3:12). Peter also wrote about the suffering of true followers of Christ. He mentioned the suffering of believers eighteen times in his first letter.
Beloved, think it not strange concerning the fiery trial which is to try you, as though some strange thing happened unto you: But rejoice, inasmuch as ye are partakers of Christ's sufferings; that, when his glory shall be revealed, ye may be glad also with exceeding joy. (1 Peter 4:12-13)
Isn't it interesting (and tragic) that so many modern-day Christians believe it is strange to suffer and that it is not God's will. They believe they are supposed to be constantly happy, blessed, healthy, wealthy, and peaceful, while enjoying life in this temporal realm. The terms "happy," "blessed," "peaceful," etc, are relative. Those emotions are based on a life ordered by them, not by God. They avoid all negativity. They have no productivity because it is inconvenient.
Heretics find a willing audience in these individuals because they never resist darkness. To do so would be too uncomfortable and painful. Their lives are empty, swept, and ordered (Matthew 12:44).  They've maintained a shiny neon shell of godliness, but there is no substance inside. The will of God is not included in their order. Standing up for truth, being a true light that exposes evil, obeying God when the price is rejection, or worse, harsh persecution, are not in their order of things to do.
The focus of that type of professing Christian is on milking God's Word and kingdom of all the benefits without incurring the costs of genuine relationship. They are "professors," but not possessors. They never exercise faith because they avoid the situations where faith is needed. There is no sense of true victory in them. There must be constant stimulation from a source other than God and His Word.
I think of the so-called present-day "Christian" music and how so much of it lacks the substance to build one's faith. This faith-less music does not exhort people to repent, fully surrender to God, pray, and refrain from lifestyles that caused their defeat. Instead, the great majority of the songs put the entire responsibility of ones deliverance from sin on God; and while it is true that only God can break the bondage to sin, it is also true that "without faith it is impossible to please [God]" (Hebrews 11:6). The backslider and hypocrite are treated as helpless victims instead of rebels who need to acknowledge their sin and repent. We certainly need His forgiveness, but He has made it clear that repentance, denouncing our sin, and surrendering to His will is our responsibility. (Remember the old hymn, "Kneel at the Cross"?) And you sure won't hear too many songs in today's churches that talk about the sufferings of Christ that we must also be prepared to endure. In the apostle Paul's letter to the Philippians, he so eloquently describes the role and the results of our willingness to suffer for Christ's sake:
But what things were gain to me, those I counted loss for Christ. Yea doubtless, and I count all things but loss for the excellency of the knowledge of Christ Jesus my Lord: for whom I have suffered the loss of all things, and do count them but dung, that I may win Christ, And be found in him, not having mine own righteousness, which is of the law, but that which is through the faith of Christ, the righteousness which is of God by faith: That I may know him, and the power of his resurrection, and the fellowship of his sufferings. (Philippians 3:7-10)

Christians who do not exercise their faith but rather run from it end up in a miserable and decrepit spiritual condition. And allowing such a thing to happen does not honor God at all. For one thing, it ignores and rejects all He has given us for victory, the "precious promises" He gives us for living godly lives consecrated to Him. To such people, the substance of faith is more a happy thought or luck charm than it is a supernatural infusion of iron will to fight the good fight and win:

[W]hereby are given unto us exceeding great and precious promises: that by these ye might be partakers of the divine nature, having escaped the corruption that is in the world through lust. And beside this, giving all diligence, add to your faith virtue; and to virtue knowledge; and to knowledge temperance; and to temperance patience; and to patience godliness; and to godliness brotherly kindness; and to brotherly kindness charity. For if these things be in you, and abound, they make you that ye shall neither be barren nor unfruitful in the knowledge of our Lord Jesus Christ. (2 Peter 1:4-8)
The damage of the so-called "positive confession" aka "Word of Faith" heresy has been to strip out the heart of a warrior and replace it with the heart of entitlement-mindedness. Even committed followers of Jesus Christ can be affected by this fallacy if they are not watchful. When they suffer and feel alone and rejected, they wonder if God has abandoned them. That is actually an opportunity for faith to go from embers to blazing brilliance.
As long as we are humans and children of God, we need the trials. When distraction and disfocus dim our view of God's glory or our humanity incrementally cools us to a temperature less than hot, we need the fiery trials. In essence, we must embrace them. Paul said he actually took pleasure in them (because he knew the benefits of them):
And he said unto me, My grace is sufficient for thee: for my strength is made perfect in weakness. Most gladly therefore will I rather glory in my infirmities, that the power of Christ may rest upon me. Therefore I take pleasure in infirmities, in reproaches, in necessities, in persecutions, in distresses for Christ's sake: for when I am weak, then am I strong. (2 Corinthians 12:9-10)
From my own experiences during fiery trials, I can testify that the pain, the angst, and other suffering are conquered the instant I surrender to the flames. It is like falling backwards off a steep cliff into the hands of God. There is no parachute and no stopping halfway. If He doesn't catch you, then you will hit the bottom and die. That is literally the goal of faith—to trust God with your life and everything in it. All that is not put into His hands is unprotected and causes us angst and suffering. However, when all is surrendered, we receive a deep serenity that the fire will not burn anything except what needs to be consumed. That's when the gold shines.
Wherein ye greatly rejoice, though now for a season, if need be, ye are in heaviness through manifold temptations: That the trial of your faith, being much more precious than of gold that perisheth, though it be tried with fire, might be found unto praise and honour and glory at the appearing of Jesus Christ: Whom having not seen, ye love; in whom, though now ye see him not, yet believing, ye rejoice with joy unspeakable and full of glory: Receiving the end of your faith, even the salvation of your souls. (1 Peter 1:6-9; emphasis added)
Remember, the destiny of Christ was a cross. Our destiny is also a cross. Only when we accept that destiny, will we understand. Newness of life has its birth and growing pains. But the heart of a believer in Jesus Christ holds this proverb by its roots:
For I reckon that the sufferings of this present time are not worthy to be compared with the glory which shall be revealed in us. (Romans 8:18; emphasis added)
In the meantime, let us not grow weary of the trials and tribulations of this life, knowing that God is doing His work within us for His glory:
But he knoweth the way that I take: when he hath tried me, I shall come forth as gold. (Job 23:10)
Below is the content of the booklet.  To order copies of FAITH UNDER FIRE—Are You Growing in It or Fleeing From It?, click here. 
For more by Cedric Fisher, click here.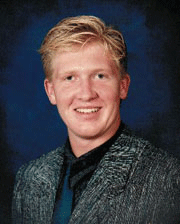 By Roger Oakland
Understand the Times, International
June 23 is always a bitter-sweet day for our family. Our son Bryce was born 39 years ago today. This reminds us of his life and how much we miss him. He was only 27 years old when his life was suddenly taken in a car accident in Saskatchewan, Canada. The pain that remains, because of this loss, never goes away. As parents, who have also lost a child, will understand, memories of things he did constantly remind us of his life. While we know we will be reunited in the future, there are certain days, like his birthday, that are especially important to us now.
Those who visit our Understand The Times web site (understandthetimes.org) will understand Bryce's life and death have made a great difference to many children around the world. He was the inspiration for the origin and development of the Bryce Homes Program in Myanmar, South Africa, Kenya, and the Philippines, which now supports 38 separate homes. There are over 200 children in these homes (plus the adults who provide the on-hands care and spiritual leadership in these countries).
Each year, I personally visit each country to see how the programs are functioning and look for ways that we can improve, expand, and meet more needs. Financial provision for these programs has come from Christian brothers and sisters who have generously contributed from around the world through online donations or by check to our two non-profit organizations, one based in Canada and the other in the USA. Our publisher, Lighthouse Trails, has graciously helped us by informing the readers of their newsletter list about the Bryce Homes Widows and Orphans Program in Kenya, which has now expanded to 20 separate homes. Click here to continue reading.
LTRP Note: One week ago, Lighthouse Trails chief editor, David Dombrowski, wrote the following article. After reviewing it, our editors decided to hold it until the end of the year for posting. However, in view of the tragic shooting that took place in the United States on Friday, December 14th, we feel this article is timely.
"Psalm 23 – The Faithfulness of God"
By David Dombrowski
The Lord is my shepherd; I shall not want.
When David penned the words to Psalm 23, he attested in unquestioning words to the faithfulness of God. Verse 1 is one of the boldest statements found in Scripture because it testifies to the faithfulness of God from a man who had a unique relationship with the Lord. Here was a man after God's own heart, a man who grew to believe that God is always faithful no matter what our position in life may be. God is glorious and never can too much be said to the glory and majesty of God. Or as Jeremiah so aptly put it, "This I recall to my mind, therefore have I hope. It is of the Lord's mercies that we are not consumed, because his compassions fail not. They are new every morning: great is thy faithfulness" (Lamentations 3:21-23). God's mercies are enduring.
So let us listen as David takes up his melodic harp. In verse 1, with song unwavering, David proclaims his trust and enduring assurance to the faithfulness of God. David had been a meek shepherd who watched his flocks day after day, caring for them. He knew that God is a shepherd too, looking after His own. What a wonderful God we have. And just as he cared for all of the needs of his flock, David looked to his Lord to be the provider for all of his needs. Verse 1, "The Lord is my shepherd; I shall not want," is a summation statement of all that follows
in this psalm; yet this verse comes at the beginning rather than the end because each succeeding verse carries with it his resolute declaration to the faithfulness of God as the loving Shepherd who attends to all of the needs of His flock throughout our entire lifespan. Psalm 23 takes us through the sojourn the shepherd takes with his sheep to the mountain pastures and then back home again. I hope to describe the tone and testament to God's character presented in this psalm.
He maketh me to lie down in green pastures: he leadeth me beside the still waters.
Verse 2 then carries the message of God's faithfulness found in verse 1 and renders it like the softer cords of a melody, alluding to the quiet love of the shepherd as he leads his sheep to green pastures bathed in the beauty of gently warming sunlight and soft breezes like a hand brushing over the tops of these slender grasses. To such a place, the shepherd brings his sheep to lay down if but for a little while to be renewed in the quiet confidence that gives strength – not so much in the physical event itself as in knowing and believing that the shepherd is there to sustain them. The shepherd then bids his sheep to come to the still waters; but more so than a bidding, he literally leads them to the still waters, which remind me so much of the living water
Jesus offered to the woman He met at the well. The Word of God is life giving, like water to one who thirsts, in that it brings us to Jesus who is in the truest sense that living water springing up to eternal life. Notice again it says that the shepherd "leads." The great wonder of the Christian faith is that it brings us to the Shepherd of our souls whose purpose is to guide us every step along our life-long journey. There can be no greater and truer comfort than knowing that Jesus is there guiding us. This quiet confidence is available to all who would be so bold as to yield their lives to Jesus by faith – trusting not in their ability to follow
Him but in His ability to lead us. As the Scriptures say both implicitly and literally throughout the Bible, "the just shall live by faith" (Romans 1:17), so too it is by faith that the Lord leads us. This is one of the great proclamations of this psalm – the Lord leads me; and He does so as we put our confidence in Him (not in ourselves) to do so.
He restoreth my soul: he leadeth me in the paths of righteousness for his name's sake.
Like the strummings of a melodic harp, we can hear the chords of restoration. Yes, there is nothing like spending the day under the watchful eye of the Shepherd of our souls. When we come to Him, He renews us and strengthens us. Nothing can really be compared to the work of regeneration God performs in us when we come to Jesus the first time; we are truly born from above at that time. Yet, Jesus then abides in us to continually renew and strengthen us. If you are a Christian who is feeling weary from the testings and trials of life, be assured that Jesus is knocking at your heart's door to speak words of hope and comfort. Our journey may be difficult at times, but Jesus is there to renew us and bid
us to go on. And on we go, from the pasture lands that feed us and the waters that restore our thirsty souls, on we go up into the hills. As Christians, no matter what station of life we are in, God has a call on each of our lives, and simply put, that call is to follow Him. And it is on the paths of righteousness that He leads us. Too often, we as Christians would want to get what we can out of life. There is the temptation to be selfish and self-centered. But God leads us on the paths of righteousness for His name's sake. Our very lives should be a testament to the goodness and faithfulness of God. Today, there is much sin within God's own flock. Let us remember that even though we are justified by the shed
blood of Jesus alone, by faith alone, the fruit of our salvation should reflect the nature of God in our own character. That is why Paul said that the sins of immorality and ungodliness should not be named among us (Ephesians 5:3). All of us are being refined
and renewed by the Holy Spirit. As Jesus said, we must be holy for God is holy. Like beholding God in a mirror, we are being transformed from glory to glory.
 Yea, though I walk through the valley of the shadow of death, I will fear no evil: for thou art with me; thy rod and thy staff they comfort me.
Verse 4 proclaims the secret for knowing God's peace. One of the ironies of life is that those who have known suffering are oftentimes the very ones who have found the lasting peace that can only come from Christ alone. Here the psalmist declares his abiding faith, refined
by God's testings, by saying that he will not fear even under the shadow of death. David's melodic harp continues on, and though the word "death" would ordinarily strike fear in the heart, somehow the music continues with beautiful cords beckoning our hearts to be still and witness the beauty of the Lord in the more trying moments of life. Up through the shadowy crags, the shepherd leads his sheep where predators often hide awaiting the moment when they can spring upon their victims. Yet, we learn here the secret of perfect peace in knowing that though danger may be near, and only God knows the outcome, we have hope and assurance that God is with us. The sheep know no fear when they know the shepherd is near; their hope and trust is that explicit. Is there any reason why we should not trust our Lord that fully? And, if there is a reason, what would that reason be?
His rod and staff, which are symbols of both his authority and ownership of the sheep, are also weapons of warfare, and hence bring a deep sense of comfort especially in this place of danger. Isn't it true that God, who is mighty to correct
and reprove His children, can by that same attribute bring comfort and peace as we know that no real harm can ever come to God's people who put their trust in Him? Remember Jesus said: "Be not afraid of them that kill the body, and after that have no more that they can do. But I will forewarn you whom ye shall fear: Fear him, which after he hath killed hath power to cast into hell; yea, I say unto you, Fear him" (Luke 12:4-5). Unfortunately, the fear of the Lord is being robbed from our present generation of young people. Emerging leaders have converged on them like wolves in sheep's clothing encouraging them to break away from the moral restraints presented in Scripture as well as teachings on the atonement – namely the teaching that we are justified by faith through sacrificial death of Jesus on the Cross – which teaching they find repulsive. The negative result from all of this is that our young people are being scattered from the watchful care of the true Shepherd only to have these false teachers spring on them with all of their mortally toxic teachings. One of the leaders being promoted today by those purporting to be officiating the way for our young people – to include Bill Hybels, Brian McLaren, Rick Warren, and Rob Bell – is "Christian" Rock star Bono of U2, whom many emergents view as their "prophet" and the main icon of their movement. In Bono's rendition of Psalm 23, he alters the entire thrust and message of this beautiful psalm to something that sounds nothing less than blasphemous. For example, in the verse we are currently looking at, he alters the wording to say "I have cursed thy rod and staff, They no longer comfort me."
I am so grateful that David, who was a good shepherd to his flock, became a shepherd to his people and pointed the way for us to see the true Shepherd of our souls. And here, there is great comfort in knowing God as He really is and trusting Him fully.
Thou preparest a table before me in the presence of mine enemies: thou anointest my head with oil; my cup runneth over.
The melodic music continues from the harp, not halting or wavering from its beautiful tones, as the psalm continues in its stirring message. The shepherd has now brought his sheep up through the cliffs and crags of the mountainside to a "table" where the sheep can stop again and feed on the gentle grasses. Though the enemy yet lurks on the fringes of this plateau, the shepherd's watchful eye keeps them safe. They proceed to graze again while the shepherd tends to the sheep individually, bearing his horn filled with healing oil. What a blessing it is to know the care of the shepherd, anointing his sheep with healing oil. I also appreciate the fact that, while the last verse speaks of "the shadow of death," this one speaks of renewal. We all face the prospect of something negative happening to us or those we care for, whether it be death itself or some kind of loss that makes our hopes and dreams seem unreachable and brings them to a grinding halt. But this verse demonstrates that we can go through the valley and come through on the other side. The strings of the harp now plucked to their most vibrant sound speak of those moments in life where perhaps all seems lost but then renewed hope rings out with a new beginning or a way to go on. It is the most joyous sound that speaks of God's ability to take a difficult situation and bring light
out of darkness and joy out of sorrow.
Surely goodness and mercy shall follow me all the days of my life: and I will dwell in the house of the Lord for ever.
Now we come to the sweet refrain upon the harp. We return to the familiar pastures that we call home. As if boasting before all who will hear, the sheep testify to the goodness and mercy of the Lord – whose mercies are new every morning; but also in their yearly transhumance, the sheep return to winter in their pastoral home on the valley below. If we boast, let us boast in the Lord, and this psalm is a vibrant proclamation to the faithful care of our Good Shepherd throughout the days of our lives. Surely, the joy in life is in knowing that we will dwell in the house of the Lord forever, and we can know the joy of salvation even now.
The music has now ended as the tone of the vibrating harp-strings fades away. No doubt, this was a song of rare beauty as we have as our witness words unrivaled by songwriter or poet. Yet, there is something even more precious to behold than mere words and melody in that this psalm is a testament to the relationship David had with his Lord that would be difficult for a commentator or theologian to adequately describe. And that is the matter that David was a man after God's own heart; yet in this psalm, David invites us to enter into that same relationship with our Lord; there is no formula or code here, no ten-step plan – but an abiding relationship that comes from having a heart after God.
I should note here that God uses the difficulties that come our way in life to shape our character, but most importantly, He wants us to draw close to Him. Consider, for example, that when a shepherd finds that he has an unmanageable sheep, he will take desperate measures even so far as breaking a leg of his sheep. He then carries the sheep on his shoulders until it is healed. The result of such a seemingly unreasonable act is that an emotional bond occurs whereby the sheep may become the most devoted and loyal, never straying far from his master. By modern standards, this may sound cruel, but at the same time, I find that much of the easy-going pop-Christianity we see today – where anything goes – is quite detestable and surely must be an abomination to God. On the opposite pole, nothing can truly compare with drawing near to God. None of the spiritual disciplines and contemplative prayer can do this, but God draws us unto Himself in His own way. And the fruit of staying near to the Shepherd, if we allow Him to do His work in us, is that we have a heart after God. This is a place of staying close to Him, of being led by God on a daily basis. Are you aware of God orchestrating your life? By faith, you can trust Him to lead you on a daily basis, for the Word of God says "the just shall live by faith" (Romans 1:17). That means we can and should be trusting Him to lead us by the power of the Holy Spirit on a daily basis. It is a journey on the paths of righteousness, past the meadows and quiet streams of renewal through reading His Word, up through the valleys of difficulties, to the table of restoration for summer feeding, then back to winter pastures in the valley below. God should be involved in the details of our lives throughout the year. For the Christian, there is no vacation from God, but at the same time, there is no better, no safer place, than to be near to God. Do you have a thirst for God? Seek after Him, with the Bible daily in your hands, and ask the Lord to lead you. The Holy Spirit is given to believers to be our Shepherd and guide through life with all its dangers and challenges. And as we come to trust Him more and more, drawing near to Him with every challenge we face, we will find that we too have a heart after God like David did.
Related:
Video of one of the victim's, Ana Marquez Greene, bringing glory to God
Their crime? They were Christians who refused to compromise or recant. They would rather die than deny their faith and betray the Lord they loved!
The seven men and five women were brought before the Roman proconsul Saturninus in Carthage, North Africa (Tunisia) on July 17, 180AD. He gave them an opportunity to recant:
"You can win the indulgence of our lord the Emperor, if you return to a sound mind."[1] [See The UN Plan for your mental health]
Speratus, the apparent leader of the small group of faithful disciples, answered,
'We have never done ill, we have not lent ourselves to wrong, we have never spoken ill, but when ill-treated we have given thanks…."
"We too are religious," answered the proconsul, "and our religion is simple, and we swear by the genius of our lord the Emperor, and pray for his welfare, as you also ought to do."
"The empire of this world I know not," explained Speratus, "but rather I serve that God, whom no man has seen, nor with these eyes can see. I have committed no theft; but if I have bought anything, I pay the tax; because I know my Lord, the King of kings and Emperor of all nations."
"Be not partakers of this folly," said the proconsul.
Cittinus, one of the faithful, said, "We have none other to fear, save only our Lord God, who is in heaven."…
"Do you persist in being a Christian?" asked the proconsul.
"I am a Christian," he answered. All the others agreed….
The proconsul Saturninus then read the decree [their sentence] from a tablet:
"Speratus, Nartzalus, Cittinus, Donata, Vestia, Secunda and the rest having confessed that they live according to the Christian rite, since after opportunity offered them of returning to the custom of the Romans they have obstinately persisted, it is determined that they be put to the sword."
"We give thanks to God," said Speratus.
"Today we are martyrs in heaven; thanks be to God," added Nartzalus.
The proconsul then gave the order that their sentence be publicly announced by the herald: "Speratus, Nartzalus, Cittinus, Veturius, Felix, Aquilinus, Lætantius, Januaria, Generosa, Vestia, Donata and Secunda, I have ordered to be executed."
They all said: "Thanks be to God."
"And so they all together were crowned with martyrdom; and they reign with the Father and the Son and the Holy Ghost, for ever and ever. Amen."
——————————————————————————–
According to the Christian History Magazine, Issue 27,
"The account of these martyrs from Scilli, a village near Carthage, is the earliest document demonstrating the existence of Christianity in North Africa. It shows what was at stake between Rome and the church: two opposing ways of life. When these African Christians refused to return to 'the usage [custom] of the Romans,' the Roman authorities recognized there was a profound danger to the Empire.
"The story of these seven men and five women is also important for the development of the canon of Scripture. When the Christians were arrested, they were carrying 'the sacred books, and the letters of Paul, a just man.' 'The sacred books' may mean the Hebrew Scriptures, thus making this an early indication that Paul's letters were treated as Scripture. Or 'the books' may refer to the Gospels, which would likewise give insight into the history of the New Testament's formation."[2]
The intensity of persecution in the Roman Empire rose and fell with the temperaments and circumstances of the various emperors. Of course, that's not unique in the historical record. Through the centuries of time, everything keeps changing — including churches and values — except God and His eternal Kingdom. In the last few decades, we have seen masses of so-called Christians ready and willing to compromise Truth and conform to an increasingly corrupt world. Like in Old Testament days, it no longer seems wrong to "love evil more than good." (Psalm 52:3) Almost "anything goes" except "intolerance" toward popular evil.
Genuine, uncompromising Christians will be despised by tomorrow's leaders and global managers. We don't fit their vision of unity, solidarity and upside-down tolerance. Like the ancient rulers who demanded conformity with "the custom of the Romans," a new breed of rulers — like those in ancient Rome — are beginning to trumpet the "profound danger" of Christian resistance to their rising global empire. (See The emerging New World Order ) [2]
The times ahead will surely bring a time of purification to the Church — a separation of what the Bible calls wheat and tares: a division between those who truly belong to God and those who prefer to identify with today's adaptable, emerging church.
source.