Posts Tagged 'Warren B. Smith'
(author of the new release "Another Jesus" Calling: How False Christs Are Entering the Church Through Contemplative Prayer)
One of the many spin-off products from Sarah Young's best-selling book, Jesus Calling, is the Jesus Calling Devotional Bible. It is a New King James Bible filled with "messages" Young claims to have "received" from Jesus Christ. In the original Introduction to her book, Jesus Calling, Young describes the nature of these messages:
 My journaling had changed from monologue to dialogue. Soon, messages began to flow more freely, and I bought a special notebook to record these words. 1

I have continued to receive personal messages from God as I meditate on Him. 2

This practice of listening to God has increased my intimacy with Him more than any other spiritual discipline, so I want to share some of the messages I have received. 3
In the Introduction to Young's Jesus Calling Devotional Bible, she describes the "joy of listening to Jesus with pen in hand":
 After many years of writing in prayer journals—and then discovering the joy of listening to Jesus with "pen in hand" — I believe all of this more than ever today. 4
She describes the difference that this "listening to Jesus" has made in her life. She writes:
What has made the difference? The practice of listening to Jesus and letting Him speak to me. This practice has done more to increase my intimacy with Him than any other spiritual discipline. And the words of assurance and instruction that He has "spoken" to me over the years are what I have shared in my devotional books. 5
 Young Believes that her "Messages" from "Jesus" Belong in the Bible?
Young's personal "messages" from "Jesus" occupy some 250 separate full pages of her Jesus Calling Devotional Bible. Young claims that the placement of her messages and writings alongside Scripture is a "natural place" for them — and that she feels honored to have them there.
Since my writings are rooted in the infallible, unchanging Word of God, having them appear alongside the biblical text would seem to be a natural place for them. It is an honor to have devotionals from two of my books, Jesus Calling and Jesus Lives, included in this volume. 6
However, as I pointed out in "Another Jesus" Calling, many of Sarah Young's "messages" in Jesus Calling are clearly not rooted in the "infallible, unchanging Word of God." And now, a number of these problematic "messages" have been placed throughout the pages of her Jesus Calling Devotional Bible.
Take, for example, the bizarre account she reputedly received from Jesus regarding Abraham and Isaac. This "message" has been placed "alongside" the actual Genesis 22 account, with her "Jesus" purportedly describing Abraham as an idolater and son-worshiper:
Remember the extreme measures I used with Abraham and Isaac. I took Isaac to the very point of death to free Abraham from son-worship. Both Abraham and Isaac suffered terribly because of the father's undisciplined emotions. I detest idolatry even in the form of parental love. 7
But this extrabiblical "message" from Young's "Jesus" is blatantly unbiblical. In fact, her publisher, Thomas Nelson, has removed it from some recent printings of Jesus Calling and related products.  The original Abraham and Isaac August 23rd "devotion" has been cut and pasted and toned down to now read Jacob and Joseph rather than Abraham and Isaac. As mentioned in a previous Lighthouse Trails post, Sarah Young and her Thomas Nelson editors have removed controversial materials from recently printed Jesus Calling items with no explanation, apology, or repentance to Young's millions of readers.  However—at least as of today—this original Abraham and Isaac account can still be found—unbelievably—in Young's Jesus Calling Devotional Bible.
Ironically, the Jesus Calling: 365 Devotional For Kids also keeps Abraham and Isaac in the August 23rd account. However, Young—with help from others—has cleaned up the original account to make it more biblical. The new sanitized version, according to the book's title page, originated with Sarah Young. It was adapted by a woman named Tama Fortner and then further edited by another woman named Kris Bears. And now gone is Abraham's idolatry. Gone are his undisciplined emotions. And instead of having been a son-worshiper, now he is only in danger of worshiping his son. This carefully paraphrased, adapted, and further edited version of "Jesus'" original "message" now reads:
Abraham had waited so long for a son. When Isaac finally came, Abraham was in danger of worshipping his son. I tested Abraham, and—as hard as it was—Abraham trusted Me to take care of Isaac. And I did.8
With all of this cutting, pasting, adapting, and editing away of problematic words and passages—all in the name of "Jesus"—one cannot help wonder if this is Thomas Nelson's attempt to stay one step ahead of unsuspecting readers and legitimate criticism. Responding truthfully and forthrightly about the many controversial questions surrounding Sarah Young's inconsistent "Jesus" appear to be less important than preserving her #1 best-selling book Jesus Calling and its many related products—like the Jesus Calling Devotional Bible.
Other Problems with the Jesus Calling Devotional Bible
Other problematic "messages" contained in the original, unedited Jesus Calling can also be found in Young's Jesus Calling Devotional Bible. Perhaps the most obviously unscriptural is how Young's "Jesus" contradicts the Bible's Jesus in regards to the last words Jesus spoke before ascending into heaven. In the Jesus Calling Devotional Bible, with Matthew 28:20 cited at the bottom of the page, Young's "Jesus" states:
My final statement just before I ascended into heaven was: Surely I am with you always. That promise was for all my followers, without exception.
But these were not Jesus Christ's last words. This Matthew 28:20 passage was uttered on a mount in Galilee (Matthew 28:16) while His last words were actually spoken later in Acts 1:7-9 on the Mount of Olives (Acts 1:12):
And he said unto them, It is not for you to know the times or the seasons, which the Father hath put in his own power. But ye shall receive power, after that the Holy Ghost is come upon you: and ye shall be witnesses unto me both in Jerusalem, and in all Judea, and in Samaria, and unto the uttermost part of the earth.  And when he had spoken these things, while they beheld, he was taken up; and a cloud received him out of their sight.
Jesus is the way, the truth, and the life (John 14:6), and the true Jesus does not contradict Himself regarding His last words before ascending into heaven or any other matter. Nor does He put forth untrue, disparaging remarks about Abraham and Isaac. While it is not the purpose of this article to catalog all the concerns that arise when reading Sarah Young's Jesus Calling Devotional Bible, these two examples alone should be enough to keep any sincere believer far away from the Jesus Calling Devotional Bible.
Bible Warnings
For if he that cometh preacheth another Jesus, whom we have not preached, or if ye receive another spirit, which ye have not received, or another gospel, which ye have not accepted, ye might well bear with him. (2 Corinthians 11:4)

For the time will come when they will not endure sound doctrine; but after their own lusts shall they heap to themselves teachers, having itching ears; And they shall turn away their ears from the truth, and shall be turned unto fables. (2 Timothy 4:3-4)

Ye did run well; who did hinder you that ye should not obey the truth? This persuasion cometh not of him that calleth you. A little leaven leaveneth the whole lump. (Galatians 5:7-9)

For many shall come in my name, saying I am Christ, and shall deceive many. (Matthew 24:5)
Endnotes
Sarah Young, Jesus Calling: Enjoying Peace in His Presence (Nashville, TN: Thomas Nelson, 2004), p.XII in the original Introduction.
Ibid.
Ibid., p.XIII in the original Introduction.
Sarah Young (General Editor), Jesus Calling Devotional Bible: Enjoying Peace in His Presence (Nashville, TN: Thomas Nelson Inc., 2011), p.V
Ibid.
Ibid., p.VI.
Ibid., p.37.
Sarah Young, Jesus Calling: 365 Devotions For Kids (Nashville, TN: Tommy Nelson, 2010), p.246
Sarah Young, Jesus Calling Devotional Bible, p.1237.
To Lighthouse Trails:
We would like to assist in continuing to illustrate that RBC [Radio Bible Class] has yet to cease from "going contemplative" – regardless of their statements to the contrary. We offer two recent examples from their Our Daily Bread (ODB) product.
While searching your web presence on this topic, the most recent article I found was from Jan 31, 2013, which calls out Phillip Yancey's contributions to ODB.
From the January 2014 ODB, specifically the January 9 entry, RBC sites that the article was excerpted and adapted from The Jesus I Never Knew, by Philip Yancey, 1995 Zondervan. The title of the RBC ODB article is "As Below, So Above."1 Yancey does point out that "As Above, So Below"2 is an ancient pagan formula. We have many comments about the motivation behind introducing and "sensitizing or socializing" people to these words, – as well as associating it loosely with the Messiah; but, we suggest that you read it for yourselves (btw, Yancey is also in the February 2014 ODB).
Our second example is from the February ODB, specifically the February 26 entry. Here, the author (David McCasland) recommends Henri Nouwen's book In the Name of Jesus: Reflections on Christian Leadership. Of course, anyone who frequents your ministry's web presence should be acquainted with the name of Henri Nouwen.3 Again, we have many comments/questions as to the motivation of using a Roman Catholic, panentheistic, mystic who advocates that anyone (regardless of belief) who practices "the silence" can be in the presence of God.
In our opinion, the editors – or whoever approved these articles for final print – are at best spiritually ignorant, resulting in negligence; or informed enough to be practicing spiritual malfeasance (completely wrongful), resulting in leading people into the cruelness of deception.
Based on this year's ODB so far, RBC appears to be compromised and continuing to go contemplative.
In Messiah,
M & N
Endnotes:
1. According to a website that has done partial translations of  the Emerald Tablets of Hermes, "As Below, So Above" is basically synonymous with "As Above, So Below."
2. Please refer to Warren B. Smith's article The New Age Implications of The Message "Bible's" "As Above, So Below."
3.  Henri Nouwen's Affinity Toward Eastern Mysticism – A Valid Reason Why Christian Teachers and Leaders Should Not Promote Him

LTRP Note: While most evangelical pastors and virtually all Christian leaders have ignored or stayed away from the controversy of Jesus Calling, the secular publication, The Daily Beast, dares to ask questions that take a deeper look into this book, while pointing readers to Warren B. Smith's "Another Jesus" Calling.
"The Strange Saga of 'Jesus Calling,' The Evangelical Bestseller You've Never Heard Of"
By Daily Beast Columnist Ruth Graham
A ten-year-old devotional written in the voice of God suddenly became a commercial juggernaut. Now, its publisher is trying to reconcile its New Age origins with evangelical orthodoxy.
The seventh-best selling book in America last year was a 10-year-old Christian devotional written by a woman who claims to have written down the words of God. Jesus Calling: Enjoying Peace in His Presence sold more copies in 2013 than the much more buzzed-about titles Lean In, the latest Stephen King book, and 50 Shades of Grey, according to Nielsen BookScan. Overall, more than 10 million copies in 26 languages have been sold since the book's inauspicious debut in 2004.Jesus Calling is a devotional, a mainstay genre in Christian publishing and in the daily lives of many Christians. Best-selling devotionals like Our Daily Bread, My Utmost for His Highest, and The Purpose-Driven Life consist of short sections that are meant to be read each day for encouragement and contemplation. Christians who value the idea of nurturing a personal relationship with Jesus—or of the idea of spending time each day in quiet contemplation—often use devotionals as a tool to accompany prayer and Bible-reading. Click here to continue reading.
By Chris Lawson
Spiritual Research Network
Is Jesus really "calling" to us through Sarah Young and her contemplative prayer journaling technique, or is the "Jesus" of Sarah Young's Jesus Calling a counterfeit Jesus, equal to, if not greater than, the deceptions that Paul the Apostle warned about nearly 2000 years ago? Paul the Apostle warned:
For if he that cometh preacheth another Jesus, whom we have not preached, or if ye receive another spirit, which ye have not received, or another gospel, which ye have not accepted, ye might well  bear with him [put up with false teachers]. (2 Corinthians 11:4)
Messiah Jesus Himself warned:
And Jesus answered and said unto them, Take heed that no man deceive you. For many shall come in my name, saying, I am Christ; and shall deceive many. (Matthew 24:1-5)
Considerations for parents and children
Here is something to seriously consider for parents and children who are reading Jesus Calling, and the kids devotional too. Parents and kids who are being influenced by the kids version of Jesus Calling, titled Jesus Calling: 365 Day Devotional for Kids, are getting much more than they bargained for. They are also getting a lot more than the straight words of Jesus of Nazareth as are found in the Bible. Sarah Young's mystical New Age rendition of "Jesus Calling" us has been "adapted" by Tama Fortner. In the Jesus Calling devotional versions, "special thanks" is given to Kris Bearss "for her work on the "journaling prompts." Three ladies and a New Age book!
Reading the kids version of Jesus Calling (or any version for that matter) and then trying to "journal" and feel "The Presence" of Sarah Young's "Jesus," through utilizing the "journaling" versions of Jesus Calling, is a recipe for spiritual disaster. This type of spiritual practice can induct one very quickly into Gnostic perversions of Scripture and/or direct spirit contact with entities that are not, shall we say, human-friendly (i.e., demons).
Contemplative prayer and romantic mystic impressions
Sarah Young's Jesus Calling material appears to be the fruit of contemplative prayer mixed with romantic mystic impressions, creatively written as if from God. Mixed with New Age "Consciousness"/"Oneness" philosophy (which apparently is coming from her "Jesus"), this alleged "Presence" of God/Jesus expresses itself in Young's book as "My Presence." Vast volumes of Jesus Calling literature in the marketplace today reads much like  "channeled" literature in occult bookstores. Both are sprinkled with the name "Jesus" and both include many Bible verses. It is not hard to find this material at all if one knows what to look for and where to find it.
Before reading further, please carefully note the following. Irrefutable evidence proving that there are New Age teachings in Sarah Young's book can be thoroughly examined in Warren B. Smith's excellent work titled "Another Jesus" Calling: How False Christs are Entering the Church through Contemplative Prayer. One can also read the Critical Issues Commentary, Issue Number 125, online. This issue titled Toxic Devotion: A Review of Sarah Young's – Jesus Calling is a thoroughly scriptural and concisely written refutation of Jesus Calling. There is also an extensive list of articles at the end of this article you are now reading. Click here to continue reading.
In what appears to be an effort to make controversial elements disappear, significant portions of material from the original Introduction to Sarah Young's #1 best-selling book Jesus Calling have been removed. With no apparent explanation regarding the changes, Sarah Young's publisher, Thomas Nelson, seems to be flooding  the market with the new version.
Key words, phrases, and whole paragraphs have been vastly altered and/or eliminated all together. The most notable deletion is the removal of Sarah Young's enthusiastic endorsement of God Calling—the channeled New Age book she described in her original Introduction as a "treasure to me." It was God Calling that inspired her to begin receiving the personal "messages" from "Jesus" that comprise her devotional Jesus Calling:
During that same year, I began reading God Calling, a devotional book written by two anonymous "listeners." These women practiced waiting quietly in God's Presence, pencils and paper in hand, recording the messages they received from Him. The messages are written in first person, with "I" designating God. While I was living in Japan, someone had mailed this book to me from the U.S. I had not read it at that time, but I had held onto the book through two international moves. Six or seven years later, this little paperback became a treasure to me. It dovetailed remarkably well with my longing to live in Jesus' Presence.1
The above paragraph regarding God Calling has been completely removed from the newer Introduction to Jesus Calling: The first sentence of the original paragraph that followed this now-deleted paragraph continued to make reference to the "Two Listeners" and God Calling.
 The following year, I began to wonder if I, too, could receive messages during my times of communing with God.2
With some not so subtle editing, this sentence in the new Introduction now reads:
 The following year, I began to wonder if I could change my prayer times from monologue to dialogue.3
The "too" in the original "I, too" phrase refers to the "Two Listeners" of God Calling. As you can see, this reference to the "Two Listeners" has now been omitted from the newer Introduction. Her reference to receiving messages has also been deleted. In fact, there are now no references to God Calling at all in this newer scrubbed version of the original Jesus Calling. They have been completely edited away by either Sarah Young or her editors or both.
When Lighthouse Trails editors learned of these changes, they e-mailed Thomas Nelson and questioned them about the alterations. After three weeks, Lighthouse Trails has still received no reply concerning these changes—other than an acknowledgement e-mail to say that Thomas Nelson received their e-mail.
If Sarah Young is repenting from having written a book that was inspired by a New Age channeled book, then  a public statement by Sarah Young and Thomas Nelson needs to be issued recanting their devotion and adherence to God Calling, and the production of Jesus Calling needs to cease. There are currently over nine million copies of Jesus Calling sold (it is unknown how many had the original Introduction, but since the new Introduction version is relatively recent somewhere in the last couple of years, it is reasonable to say that the majority of the 9 million contains the recommendation of God Calling and other material now omitted). There is no way to rectify all the damage that has been done because of Jesus Calling, but zealous efforts need to be made.
As Warren B. Smith has shown in his new book "Another Jesus" Calling, Jesus Calling is significantly flawed from a biblical point of view. And it has the earmarks of being inspired by a false Christ. That means that even if Thomas Nelson scrubs certain words, phrases, and paragraphs from the book, the bottom line is that it was flawed from the beginning and will always be that way. Nothing can turn Jesus Calling into a good book. The best thing Sarah Young can do is write another book, showing her humility and sorrow for misleading so many people. Sarah Young may be very sincere and probably did not mean to cause anyone any harm, but her book is teaching people to listen to and look for something Jesus warned strongly about: "Take heed that ye be not deceived: for many shall come in my name, saying, I am Christ; and the time draweth near: go ye not therefore after them" (Luke 21:8).
P.S. According to the editors at Lighthouse Trails, bookstores, outlets, and the market in general are still saturated with the edition of Jesus Calling which as the original Introduction with God Calling.
Notes:
1. Sarah Young, Jesus Calling: Enjoying Peace in His Presence (Nashville, TN: Thomas Nelson, 2004, ISBN 978-1-5914-5188-4, hardcover with original Introduction), p. XI
2. Ibid., pp. XI-XII.
3. Sarah Young, Jesus Calling: Enjoying Peace in His Presence (Nashville, TN: Thomas Nelson, 2004, ISBN 978-1-5914, hardcover with newer Introduction), p. XII.
 I went to a John Wimber workshop…. He said he sees the next 20 to 30 years as the time when more signs and wonders will be done than ever in history and when the secular media will be overwhelmed and have to report it every day as great revival spreads.  – John Piper[1]
By Herescope
IHOP In An Era of Celebrity-Driven Christianity 
Evangelical leaders are currently rushing to associate themselves with major youth events that are becoming increasingly popular in the Christian world. These mass youth rallies were developed over the course of several decades by Mike Bickle's IHOP (International House of Prayer) movement, which is interconnected to the New Apostolic Reformation (NAR). IHOP and the NAR share both personnel and doctrine, with roots that go back into the Latter Rain/Manifest Sons of God cult.[4] Previously we have extensively documented the history of the camaraderie of IHOP and NAR.[5]
This rapidly rising youth movement in evangelicaldom is characterized by its emphasis on generating fervent passion. Why are evangelical leaders rushing onto this bandwagon? Why are Francis Chan, John Piper, [both contemplative advocates] . . . and other prominent teachers placing themselves on center stage (literally) of these IHOP-orchestrated mass rallies?[6]
Superficially, one might assume that it is merely for the immediate stardom and pizzazz that comes with such celebrity status in a youth event rocking with fervor, bright lighting, and loud acclamations.[7] . . . But is it conceivable that these leaders also happen to agree with some of the IHOP doctrine? After all, it is impossible to separate the activities at these youth events without encountering the foundational beliefs that give rise to them.
Of course, it can be argued that just because an esteemed evangelical leader shares the stage with adherents and promoters of these IHOP/NAR doctrines doesn't mean he/she agrees with their teaching. However, it is important to note that an evangelical leader's very appearance at these events lends legitimacy and credibility to this movement – a movement that has been aggressively attempting to distance itself from its former cult status, remake its image and become respectable.
The doctrine of the IHOP believes that these mass youth stadium rallies are for the "purpose" of invoking the "presence" of God through generated "passion." These three terms – passion, presence and purpose – are derived from some very strange esoteric doctrines that originated in the Latter Rain/Manifest Sons of God cult.
"Presence" is popular. Recently Warren Smith published a book in which he made us aware of an increasingly popular belief that Christians can invoke the "presence" of "God" (or "Jesus") by their contemplative activities. For endnote material and to read this entire article, click here.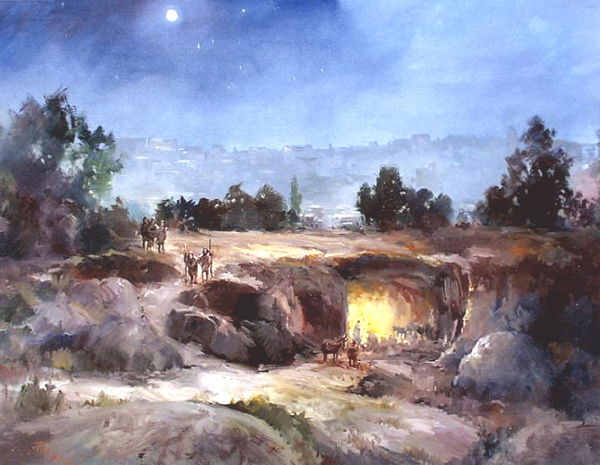 By Warren Smith
In Jesus Calling, "Jesus" states that he was born in a "filthy stable" "under the most appalling conditions." He says that the night of his birth was a "dark night" for him.
In what can only be described as the ultimate revisionist description of the night of Jesus' birth, Sarah Young's "Jesus" openly bemoans what he describes as that "dark night for Me." He states in Jesus Calling:
Try to imagine what I gave up when I came into your world as a baby. I set aside My Glory, so that I could identify with mankind. I accepted the limitations of infancy under the most appalling conditions—a filthy stable. That was a dark night for Me, even though angels lit up the sky proclaiming "Glory!" to awe-struck shepherds.1 (emphasis added)
This doesn't sound like the voice of our Savior—it sounds instead like the voice of a stranger (John 10:5). And when you really think about it, wouldn't it be more likely that Satan himself would be the one to describe the night of Jesus' birth as that "dark night for me"?
As to the bemoaning of this "Jesus," Scripture tells us to be content in whatever circumstances we find ourselves:
 Not that I speak in respect of want: for I have learned, in whatsoever state I am, therewith to be content. (Philippians 4:11)
In whatever way this devotion in Jesus Calling is looked at, it is a very unbiblical message. The conditions of His birth were not "appalling" but, rather, God's "sign" to the shepherds, and then they, after seeing "the babe lying in a manger," glorified and praised God for "all" they had "seen":
For unto you is born this day in the city of David a Saviour, which is Christ the Lord. And this shall be a sign unto you; Ye shall find the babe wrapped in swaddling clothes, lying in a manger. . . .  And it came to pass, as the angels were gone away from them into heaven, the shepherds said one to another, Let us now go even unto Bethlehem, and see this thing which is come to pass, which the Lord hath made known unto us. And they came with haste, and found Mary, and Joseph, and the babe lying in a manger. . . . And the shepherds returned, glorifying and praising God for all the things that they had heard and seen, as it was told unto them. (Luke 2:11-20) (emphasis added)
(From Part II, chapter 9 of "Another Jesus" Calling)