Posts Tagged 'Willow Creek'
By Roger Oakland
Understand the Times, International
There may still be people on UTT's list who lack discernment and insist that Willow Creek theology is safe as mother's milk and harmless to anyone and everyone.
This commentary will be very short but also very important. It will help connect the dots.
Please open the following link and read: https://www.instagram.com/WillowCreekCC

Read the following: http://www.understandthetimes.org/commentary/c176pf.shtml

Please contact Calvary Chapel Association Council by going to their web site. This can be done by clicking on the following link: http://calvarychapelassociation.com/leadership-council/
After reading this material, you may want to contact your local church and pass on this commentary.
Paul stated: "God hath chosen the foolish things of the world to confound the wise; and God hath chosen the weak things of the world to confound the things which are mighty" (1 Corinthians 1:27).
Roger Oakland (source)

By Roger Oakland
Understand the Times, International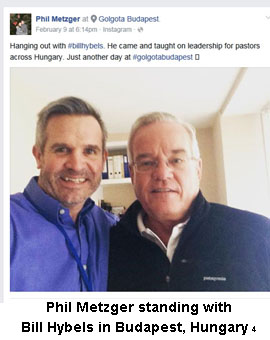 Recently, I was informed about a conference held this week in Budapest, Hungary where Willow Creek senior pastor Bill Hybels taught leaders. According to comments posted on Phil Metzger's Facebook page, the event was held at Calvary Chapel Golgota Budapest where Metzger is pastor. He is also the director of Calvary Chapel Bible College Europe (also located in Hungary). On Metzger's Facebook, Hybels was not only endorsed, he was praised. [3]
Perhaps most who read about this event will not be alarmed. But I was because I see the significance. I know that what Chuck Smith and Calvary Chapel once stood for is not at all what Hybels stands for. Bill Hybels was mentored by Peter Drucker along with Rick Warren to "reshape" Christianity for the 21st century. Hybels, from the famous Willow Creek Church located in South Barrington, Illinois, fathered the "seeker-friendly" movement.
When Hybels and his cohorts discovered that the seeker-friendly model produced spiritually illiterate believers, they said they "repented" [5] from this model of church; but in actuality, they delved right into teachings associated with the emergent church and contemplative mysticism, seeing those as the next "great" step. Interestingly, on Metzger's Facebook page, someone defending Metzger's promotion of Hybels said that it was irrelevant to talk about the emerging church because it was no longer an issue. But nothing could be further from the truth. While often called other names now, such as progressive, the ideologies of the emerging church are very much at work today. Click here to read this entire article and for endnotes.
Related Information
A Jesuit Pope? Understanding The Jesuit Agenda and the Evangelical/Protestant Church
By Roger Oakland Understand the Times International The seeker-friendly model was the brainchild of Peter Drucker. The concept of finding out what a consumer would like in a church has been a very successful way to get people to come to a church. At least for a while! This consumer-friendly model worked as long as sinners were not faced with the message of the cross, hell, and other convicting things the Bible teaches.
However, as everyone knows, trends come and go like waves on the ocean. The seeker-friendly wave will not last forever. This, of course, is predictable. Fallen man has had a spiritual void since the fall of man. Satan is more than happy to fill that void and has always had a deceptive plan to do so. This is why I was not surprised when Pastor Bill Hybels, founder of the Willow Creek church-growth model, announced that their church had repented from their seeker-friendly ways and was now moving towards a method that would transform Christianity by introducing spirituality. Here's how one Christian reporter explained the transition:
Willow Creek has released the results of a multi-year study on the effectiveness of their programs and philosophy of ministry. The study's findings are in a new book titled Reveal: Where Are You? co-authored by Cally Parkinson and Greg Hawkins, executive pastor of Willow Creek Community Church. Hybels himself called the findings "earth shaking," "ground breaking," and "mind blowing." And no wonder: it seems that the "experts" were wrong. [1] Click here to continue reading.
By Jim Fletcher
Prophecy Matters
Lynne Hybels is a woman of vast influence in the evangelical world. She and her husband, Bill, founded Willow Creek Community Church in 1975; today the Willow Creek Association (9,000 member churches worldwide) is one of the most influential groups in Christendom. Willow Creek's annual "Leadership Summit" often hosts speakers well outside of evangelicalism's mainstream. Even a cursory examination of the Hybels' worldview reveals a strong lean toward so-called "Progressive Christianity" (example: hosting speakers like Bill Clinton and Tony Campolo).
In the past few years, Lynne Hybels has become an activist for all sorts of causes, including the crisis in Congo, Christian persecution in the Middle East, and the Arab-Israeli conflict. . . .
Since the '70s, Lynne Hybels and her husband have been mentored by people sympathetic to the Palestinian Narrative, including Dr. Gilbert Bilezikian. In October 2008 she attended a conference in Amman, Jordan, led by Arab Christians from "Jordan, Lebanon, Egypt, Iraq and the West Bank."
Since that time, Lynne Hybels has been very active in promoting the so-called "Palestinian Narrative," which points to Israel as an occupier of Arabs. The narrative is classic PLO (Palestine Liberation Organization) propaganda, but Hybels' networks allow her the luxury of promoting this worldview—couched in the language of "non-violent resistance"—which is also shared by Millennial influencers such as Donald Miller and Cameron Strang.
(Both Miller and Strang have accused Israel, in print, of virtual war-crimes, including the harvesting of organs from Palestinians, and outright murder of Palestinian women and children by the IDF. To date, Miller in particular offers no documentation for his allegations.)  Click here to continue reading.
LTRP Note: For a number of years, Lighthouse Trails has identified Andy Stanley as part of the emerging church and has considered him to be a bridger (bridging the gap between the emerging church and evangelical Christianity). This excellent book review by Gary Gilley shows an example of the (sometimes subtle) deception that occurs in many of the books being written today by prolific and popular Christian figures.
By Gary Gilley
Pastor and apologist
Endorsed by everyone from Rick Warren and Bill Hybels to Dave Ramsey, Steven Furtick and Jeff Foxworthy, Deep and Wide reveals Andy Stanley's "secret sauce" (p. 17) which he believes makes his church not only great but a model others should adopt. Stanley's goal has been to create a church that unchurched men, women and children love to attend (p. 11) and by all accounts he has succeeded. The first of five sections tells the story of the birth of North Point Community Church in Alpharetta, Georgia, first as an extension of his father's (Charles) church, then as a split, in which several thousand people eventually left the mother church to join Andy's. Andy knows this is not the best way to start a church, but is honest and transparent enough to admit that this is what happened. Conflicts with his famous father were inevitable and Andy chronicles those as well.
Deep and Wide promotes the seeker-sensitive, market-driven approach of "doing church." There is virtually nothing in the book that hasn't been said or done by his "hero" Bill Hybels and others that teach the paradigm. From basing North Point's programming on surveys and secular management (p. 14), to seeing people as consumers (p. 16) and a target audience that must be attracted and pleased (p. 15), to erroneously believing that the unbeliever should like us because they liked Jesus (pp. 12-13), to virtually every aspect of what they do, Stanley is parroting the philosophy of Hybels. Ironically this model is the same one that Hybels and Willow Creek recently admitted did not accomplish their goal of making followers of Christ (see my book This Little Church Had None, pp. 23-35).
Of course, the real issue is not whether something works, but if it is biblical. Therefore, in section two, Stanley attempts a scriptural justification for his church model. This is easily the most disappointing aspect of the book as Stanley, who has a master's degree from Dallas Seminary, makes no attempt to engage the key Scriptures dealing with the doctrine of the church. His only venture into biblical exegesis is a feeble, terribly flawed and out of context examination of the counsel at Jerusalem in Acts 15 (pp. 85-91). Stanley comes up with a strained interpretation of the text because he uses what some call rhetorical hermeneutics in which Scripture should be interpreted based upon the characters actions, not their words (pp. 86, 90-92, 298-299). Using this interpretative method, Stanley believes, "Everything [Paul] taught should be defined within the context of what takes place in Acts 15." And since the conclusion drawn by the council was minimalistic: "You are to abstain from food sacrificed to idols, from blood, from meat of strangled animals and from sexual immorality. You will do well to avoid these things. Farewell" (p. 91), the church today should require very little as well (p. 92). Wrapping (or, better, ignoring) everything else in the New Testament pertaining to the church around this concept, Stanley offers this strained understanding as the biblical foundation for the local church. Click here to continue reading this book review.
By Chris Lawson
Spiritual Research Network
Each of the following authors professes to be Christian and/or uses biblical terminology in his or her writing, yet promotes at least one of the following serious false teachings: contemplative spirituality (i.e., Spiritual Formation), the emergent, progressive "new" spirituality, the seeker-friendly, church-growth movement (e.g., Willow Creek, Purpose Driven) and/or Yoga. This list is taken from Chris Lawson's Booklet, A Directory of Authors (Three NOT Recommended Lists)
A
Abbott, David L.
Adams, James Rowe
Allender, Dan
Arico, Carl J.
Armstrong, Karen
Artress, Lauren
Assagioli, Roberto
B
Babbs, Liz
Bakker, Jay
Barton, Ruth Haley
Bass, Diana Butler
Batterson, Mark
Baxter, Mary
Bell, Rob
Benner, David
Bennison, John
Bentley, Todd
Bickle, Mike
Bjorklund, Kurt
Blanchard, Ken
Boa, Kenneth
Bolger, Ryan
Bolz-Weber, Nadia
Bono
Bordenkircher, Susan
Borg, Marcus
Bourgeault, Cynthia
Bronsink, Troy
Brother Lawrence
Brueggemann, Walter
Bruteau, Beatrice
Buchanan, John M.
Budziszewski, J.
Buford, Bob
Burke, Spencer
C
Calhoun, Adele Ahlberg
Caliguire, Mindy
Campbell, Joseph
Campolo, Bart
Campolo, Tony
Canfield, Jack
Card, Michael
Carroll, L. Patrick
Chalke, Steve
Chalmers, Joseph
Chinmoy, Sri
Chittister, Joan
Claiborne, Shane
Coe, John
Coffin, William Sloane
Collins, Jim
Crabb, Larry
Cron, Ian
Crossan, John Dominic
Crowder, David
D
De Mello, Anthony De Waal, Esther
Demarest, Bruce
Dillard, Annie
Dowd, Michael
Dykes, David R
Driscoll, Mark
Drury, Keith
Dyckman, Katherine Marie
E
Edwards, Gene
Edwards, Tilden
Egan, Harvey
Epperly, Bruce
Evans, Rachel Held
F
Felten, David
Fleming, Dave
Flowers, Betty Sue
Ford, Leighton
Fosdick, Harry Emerson
Foster, Richard
Fox, George
Fox, Matthew
Friend, Howard E., Jr.
Funk, Mary Margaret
G
Garrison, Becky
Geering, Lloyd
Gibbs, Eddie
Gire, Ken
Goleman, Daniel
Goll, James
Graham, Dom Alfred
Greig, Pete
Griffin, Emilie
Griffiths, Bede
Gru, Jean-Nicholas
Gungor
H
Haas, Peter Traban
Haight, Roger
Haliczer, Stephen
Hall, Thelma
Hansen, Mark Victor
Hays, Edward
Hazard, David
Healey, Charles
Hedrick, Charles
Hildegard of Bingen
Hipps, Shane
Holmes, Emily
Hougen, Judith
Humphreys, Carolyn
Hunard, Hannah
Hunt, Anne
Hunter, Todd
Hybels, Bill
I
Ignatius Loyola, St.
Issler, Klaus
J
Jager, Willigis
Jenks, Gregory C.
Johnson, Jan
Johnston, William
Jones, Alan
Jones, Laurie Beth
Jones, Tony
K
Kaisch, Ken
Keating, Thomas
Kelsey, Morton
Kent, Keri Wyatt
Kidd, Sue Monk
Kimball, Dan
King, Mike
King, Robert H.
Kraft, Robert A.
Kreeft, Peter
L
L'Engle, Madeleine
Lamott, Anne
Law, William
M
Madigan, Shawn
Main, John
Manning, Brennan
Martin, James
Mattioli, Joseph
Matus, Thomas
May, Gerald
McColman, Carl
McKnight, Scot
McLaren, Brian
McManus, Erwin
Meninger, William
Meyers, Robin R.
Miller, Calvin
Miller, Donald
Moon, Gary
Moore, Beth
Moore, Brian P.
Moran, Michael T.
Moreland, J.P.
Morganthaler, Sally
Mother Theresa
Mundy, Linus
Muyskens, John David
N
Newcomer, Carrie
Norris, Gunilla Brodde
Norris, Kathleen
Nouwen, Henri
O
Ortberg, John
P
Pagels, Elaine
Pagitt, Doug
Palmer, Parker
Paloma, Margaret M.
Patterson, Stephen J.
Peace, Richard
Peale, Norman Vincent
Pennington, Basil
Pepper, Howard
Peterson, Eugene
Piper, John
Plumer, Fred
Pope Benedict XVI
Procter-Murphy, Jeff
R
Rakoczy, Susan
Reininger, Gustave
Rhodes, Tricia
Robbins, Duffy
Robbins, Maggie
Rohr, Richard
Rolle, Richard
Rollins, Peter
Romney, Rodney
Ruether, Rosemary Radford
Rupp, Joyce
Russell, A.J.
Ryan, Thomas
S
Sampson, Will
Sanford, Agnes
Scandrette, Mark
Scazzero, Pete
Schuller, Robert
Selmanovic, Samir
Senge, Peter
Shannon, William
Shore, John
Sinetar, Marsha
Sittser, Gerald
Smith, Chuck, Jr.
Smith, Elizabeth
Smith, James Bryan
Southerland, Dan
Spangler, Ann
Spong, John Shelby
St. Romain, Philip
Stanley, Andy
Steindl-Rast, David
Strobel, Kyle
Sweet, Leonard
T
Talbot, John Michael
Tasto, Maria
Taylor, Barbara Brown
Teague, David
Thomas, Gary
Thompson, Marjorie
Thresher, Tom
Tiberghien, Susan
Tickle, Phyllis
Treece, Patricia
Tuoti, Frank
Twiss, Richard
V
Vaswig, William (Bill)
Virkler, Mark
Voskamp, Ann
W
Wallis, Jim
Wakefield, James
Ward, Benedicta
Ward, Karen
Warren, Rick
Webber, Robert
Wilhoit, James C.
Willard, Dallas
Wilson-Hartgrove, Jonathan
Winner, Lauren
Wink, Walter
Wolsey, Roger
Wright, N.T.
Y
Yaconelli, Mark
Yaconelli, Mike
Yancey, Phillip
Yanni, Kathryn A.
Yarian, Br. Karekin M., BSG
Young, Sarah
Young, William Paul
Yungblut, John R.
Z
Zeidler, Frank P.
This list is taken from Chris Lawson's Booklet, A Directory of Authors (Three NOT Recommended Lists)
To Lighthouse Trails:
I just came across your site in search of some background information concerning the emergent church movement (which I was aware of, but had no idea of it's size or that it was labeled as such).
I was concerned about a particular speaker at Compassion Intl. and after finding the post at the Lighthouse Trails blog, "Letter to the Editor: What To Do When Christian Charities, Such as Compassion, Turn Contemplative/Emergent," and reading some articles at 'Stand Up for The Truth,' I realized there are many on that particular list that cause concern.
Last June they appointed a new President and Chief Executive [Santiago Mellado]. When I went to the website, I read over his biography again… rather than summarize, I would just encourage you to read it.
Blessings,  _________

LTRP Note: Compassion International's new president, Santiago Mellado, was the president of the contemplative/emerging-promoting Willow Creek Association for 20 years (according to the biography mentioned above). Couple that with Compassion International's embracing of numerous contemplative/emergent speakers, and concerns about Compassion mount.  It is also troubling to consider what the ramifications may be for Compassion International if Mellado shares the same "Christian Palestinianism" views that Willow Creek leader Lynn Hybels has.
Related Material:
"Christian Palestinianism" & Emergents Lynn Hybels and Jim Wallis Come to Multnomah University For "Justice" Conference
No Repentance from Willow Creek – Only a Mystical Paradigm Shift
List of 50 Top Contemplative-Promoting Organizations Adds 8 Runner Ups