Archive for the 'Contemplative Denominations' Category
To Lighthouse Trails:
I have been going to a non-denominational church for years, and last year I noticed the term "Spiritual Formation" being used in the website of the Bible camp this church sponsors. I brought it to their attention, only to be met with indifference and the impression that I was somehow "over the top" to even suggest that Spiritual Formation was in fact Roman Catholic mysticism. They say they are doing a "good" Spiritual Formation yet have teachers at this camp who are from all sorts of New Age churches. Most of these teachers are linked with Rick Warren, Beth Moore, and a host of other contemplative teachers. The church I have been going to actually originated at this Bible camp over 50 years ago and was for many years very biblical and evangelistic. Now it's united with different denominations and a overload of New Age ideas.
So last year, because no one was listening to me, my wife and I left this assembly, and to this day, no one there seems none the wiser about SF having set up roots in this Bible camp. Nor do they care; no one even calls us, though we were dedicated in doing our part in this assembly for years and years.
Other than Lighthouse Trails and few other online ministries, why is it that no one seems to see this danger, and why are they so indifferent about even talking about this deception? Most of the folks in this assembly, I believe are true born-again believers, yet have blinders on.
This Bible camp offers credits to colleges locally, and these colleges also teach Spiritual Formation with the likes of Dallas Willard and Richard Foster. I actually wrote to these colleges and asked them if they teach SF that embraces the "silence," repetition of words, Lectio Divina etc. etc., and they proudly admitted to teaching such!
So where have all the Christians gone, and why are the majority of them not even willing to understand this RC deception? I just don't it.
Art
Dear LHT editors:
My parents attend an Assemblies of God church, and I try to keep up to date on what is going on.  I left the denomination years ago, but they are struggling to stay.  I just looked up the events for 2017 and wasn't too shocked to find good old Rick Warren as a speaker as well as Mark Batterson (The Circle Maker) and others who I am not familiar with, but who seem to be part of the large megachurch mindset.  Here is the link:  General Council 2017 | Anaheim, CA
Also if possible if you could add Joanna Weaver to your list of books to stay away from.  I am so grieved that churches just don't want to listen.  They refuse to expose error and embrace false teachers through books.  They pick out the nuggets.  It doesn't matter if the author got her info from mystics, contemplatives, and flat out heretics from the NAR movement.  :(
God bless you all and we will be praying for your ministry.
— Concerned
LTRP Comments: Dr. George Wood, who is the General Superintendent of the Assemblies of God church, is one of the leaders Lighthouse Trails is sending booklets to a few times a year.1 Thus far, he has received 5 booklets from LT: 10 Scriptural Reasons Jesus Calling is a Dangerous Book, 5 Things You Should Know About Contemplative Prayer, Rick Warren's Dangerous Ecumenical Pathway to Rome, Setting Aside the Power of the Gospel for a Powerless Substitute, and Is Your Church Doing Spiritual Formation (And Important Reasons Why it Shouldn't). On December 22, 2016, Lighthouse Trails editors received a short letter from Dr. Wood acknowledging receipt of the last two. It is our hope he will read the booklets and consider the information provided in them. As with many other denominations today, the Assemblies of God is heavily promoting contemplative spirituality.
Related Articles:
The Native Spirituality "Medicine Wheel" and The Circle Maker
Beth Moore & Priscilla Shirer – Their History of Contemplative Prayer and Why War Room Should Not Have Used Them
Letter to the Editor: Assemblies of God Pastor Disheartened by Direction AOG and Other Denominations Are Going
Rick Warren's Dangerous Ecumenical Pathway to Rome And How One Interview Revealed So Much
Is AOG Superintendent George Wood Responding With Video Regarding Ruth Haley Barton Issue?
DRESS REHEARSAL FOR A FALSE REVIVAL? – Evangelical, Charismatic, Emerging Leaders, & Pope Francis Unite for "Together 2016" in Washington, DC
LTRP Note: Please pray for Yoko, the woman from Japan who wrote this letter to us. We have been in correspondence with her this past week and have e-mailed her a copy of Dr. Harry Ironside's booklet called Redemption. She told us after reading it that she particularly liked this sentence from the booklet: "Do not forget that new birth is something more than just accepting certain doctrines. It is receiving Christ and believing the Gospel, as a result of which we are created anew in Christ Jesus, and we receive eternal life with all its new and godlike desires." Let us also remember to pray for the people in Japan that many would come to know the Lord and believe in His Gospel.
To Lighthouse Trails:
Hello, my name is Yoko, and I'm from Tokyo, Japan.
I'd like to thank Ray Yungen for his books A Time of Departing and For Many Shall Come in My Name, which I bought earlier this year through Amazon and also for his talks on YouTube that I've downloaded as mp3 files and listen to them like almost every day I must confess.
You may think of Buddhism and Shinto religion when you hear the word Japan, but my background is quite unusual in that my mother was hugely influenced by the QUAKERS when she was a teenager, because of the Quaker Girls School that she went to from 13 to 19, which gave her silent worship opportunities every single morning. She then went on to become very much into metaphysics and western philosophy. She would often sit quietly doing nothing when I was a child, and she would tell me that Jesus was one of those people who had psychic powers to heal the sick. But I was little and I had no idea what kind of thing my mother was trying to convey or teach to me.
I had a chance to live with a Christian family in the UK when I was 18 as an overseas student, but I then I went on to join the Quaker meeting in London for a short while, and later the Quakers in Tokyo, which led me to join all sorts of leftist political activities.
And then I learned of the New World Order on the Internet lately, and while I was researching the NWO, I heard of the name Alice Baily, Madam Blavatsky etc. I then realized what the battle really is. At first, I didn't know who Richard Foster was but I now do . . .
Ray's books and talks are immensely helpful for someone like me, so thank you very much.
It is still very sad and confusing for me that my mother who loves me still hasn't changed at all since I was a child.
Another unusual background of me is that my aunt was married to an author and researcher who was very much into Zen and helped popularized Tofu in the US in the 80s. So, as a child I always knew there are some Americans who are into eastern stuff but again, I didn't have the dots connected.
By the way, most Japanese regard themselves as atheists, but many people would want to marry in a church because it looks fashionable; they would worship Shinto shrine on New Year's day and go get buried inside your traditional Buddhist tomb along with your ancestors.
They are, of course, stressed out from working overtime and from living in a crowded environment (thankfully I'm not though!).
Zen meditation or mindful meditation is not so popular in Japan yet, but as in the west, Yoga has gained huge popularity in the last 10 years or so. Fitness clubs everywhere now have Yoga classes. Things like music festivals or mountain climbing tours, or surf retreats for the young people now have Yoga exercises added to them. It is now hip and cool to do Yoga, especially for the women who want to be beautiful and healthy. If something is hip in NY, Tokyo must hurry up and copy it.
Reiki is not at all well-known among ordinary Japanese, but I saw it advertised from people who are very much into environmental issues and social activism for "peace" etc. But it is still very minor.
I'm just writing this very casually. I haven't researched the situation in Japan deeply or anything . . . but thank you for letting me notice these things.
I'd had a Japanese-translated Bible, but recently I bought a King James Bible, and I believe the Word of God is giving me strength every day.
Thank you very much.
Best regards
Yoko
LTRJ Comment: Yoko later wrote a postscript to us, and we thought it was very insightful in light of the fact that the leading pioneer of the contemplative prayer movement, Richard Foster, is from a Quaker background.
P.S. From Yoko: I knew that Quakerism that I've been familiar with for a long time in my life isn't Christianity at all but it is in fact occultic, and you reminded me that the real Christianity is nothing like it.
No one in the Quaker camp that I knew of talked about Jesus Christ as the Saviour and no one talked about Satan's deception (because the Quakerism itself is his deception) and certainly not about being born again. I don't remember them talking about us as sinners and that we need to repent, so it is a satanic religion I've now come to think. They may be panenthiestic like the new agers but it is, like Ray has written in For Many Shall Come in My Name, a bundled package and a subtle one  too. They don't actually state that God is in all things, but they manifest it as radical environmental activism etc.
As you know, they are obsessed about the Inner Light in every man and woman.  I couldn't really understand there was any Light inside of me but I tried to think that way while I was there ! At times, I did experience some mystical strange energies flowing about in their meeting too. I don't know what realm I was put into then.
Castles in the Sand by Carolyn A. Greene is a story based on true facts and addresses the fast growing contemplative prayer movement within the evangelical/Protestant church. The story is about a 21st century Christian college girl who is introduced to the writings of a 15th century mystic girl, Teresa of Avila in her Spiritual Formation class.  Teresa of Avila is one of the ancient mystics to whom modern day contemplatives turn. For example, Richard Foster includes her in Devotional Classics, Sanctuary of the Soul, and Longing for God.  We think when you read this chapter of Castles in the Sand, you will see how the spiritual practices of Teresa of Avila line up with the occult but not with biblical Christianity. If you didn't get a chance to read chapter one  when we posted it, here it is again: (chapter one). Below is an excerpt to chapter two with a link to the entire chapter.
Castles in the Sand
Chapter Two
"Another Teresa"
Spain, circa 1533
The pale, shivering girl was vaguely aware of being lifted onto a clean sheet and covered with a dry blanket. When she opened her eyes, a blurry face hovered above her. The girl's head was pounding, and nausea swept over her in waves. Slowly, she pulled herself upright on the narrow straw mattress. Suddenly, she cried out with alarm as her big brown eyes continued to stare vacantly.
"Run, Rodrigo! He's found us! Run!"
"Sister Juana, she's burning up with the malaria," Teresa heard a young nun say as she was gently laid back down. Someone was dabbing her forehead with a cool, wet cloth. As if from afar, she recognized the voices of the two nuns who stood at the foot of her bed, praying their rosaries.
Her pulse faint, her breath shallow, the feverish girl closed her eyes, as her memory drifted back to her past, beginning with when she was just seven years old . . .
Holding her little brother's hand, she ran with him as fast as their little legs could carry them, and they made it past the city gate. Suddenly, she felt a large, strong hand grabbing her by the shoulder, abruptly ending their flight. Her uncle had caught up with them.
"Come now, little Teresa, it's time to go home. Your mother is anxious!" he said gently, as he dragged her and Rodrigo back home to their worried parents.
Safely home and tucked into her bed later that evening, she overheard the family members and servants talk late into the night.
"Whoever heard of a noble family having to send a search party into the streets for two precocious children–because of their vivid imaginations!"
"Who would put these foolish ideas into Teresa's head?"
"What could possibly have inspired a seven-year-old girl to run away with her little brother, and to Morocco of all places?!"
"And to face certain martyrdom by beheading at the hands of the Moors!" blustered her irate uncle loudly.
"That is what she desired," sighed another family member. "What do you expect of a child who reads too much?"
As Teresa grew older, only her father understood her love for books and the effect they had on her active imagination. She had inherited her passion for literature from her mother, who had spent many hours of the day in bed reading romance stories. She is so like her mother, her father frequently thought, smiling to himself. He often found Teresa alone on the roof of the villa, reading books rather than watching over her younger sisters and brothers in the courtyard below. How she loved those fascinating stories of saints and martyrs.
Twelve-year-old Teresa was profoundly impacted by her mother's tragic death. Her passing had left the young girl feeling emotionally raw and empty. Finally, in quiet desperation one evening, Teresa threw herself on the floor before an image of the Virgin Mary and pleaded with her, "Be my new mother."
Her father kept a watchful eye on his daughter as her extreme devotion to the Mother Mary and her good intentions to live a devoted life eventually gave way to an interest in fashion, perfumes, and hairstyles. Before long, her passion for reading and writing romances was rekindled as her imagination and beauty blossomed. Concerned that Teresa had no mother to guard her virtue, Father sent her away to boarding school at the Augustinian convent. After all, his lovely daughter was attracting the attention of far too many young men.
The first week at the convent was most dreadful for a girl accustomed to the fineries of life. But she soon decided that the harsh conditions served some practical use. At least she was being provided with an education, which was certainly preferable to looking after siblings, she reasoned. Click here to read the rest of chapter 2.
Click here for more information about Castles in the Sand.
From Understand The Times, International
RE: Calvary Chapel Costa Mesa and the Alpha Course (April 18, 2016)
Recently, Brian Brodersen, senior pastor of Calvary Chapel Costa Mesa, sent out an endorsement of Nicky Gumbel's Holy Trinity Brompton Alpha Course program. While Alpha is very well known in North America and around the world, it seems that Brian Brodersen and many other pastors know very little about Alpha.
In order to bring awareness to Brian Brodersen and all other Calvary Chapels and evangelical churches choosing to go this direction, Understand The Times has made the decision to post several links from the web site of Take Heed Ministries based in Northern Ireland. The speaker of the messages and the author of the article that follows is my good friend Cecil Andrews from Northern Ireland.
Please take the time to listen to these two messages and to read one of his articles posted on his web site. His web site is very important. Please click on the link and add it to your favorites.
Christian pastors and leaders should be warning about Alpha, not promoting it. By doing so, these leaders are showing a lack of concern for those who are blindly following them and their man-made programs.
Here are two video links to research:
https://www.youtube.com/watch?v=n6DjxpYR7mk
https://www.youtube.com/watch?v=Ll0A00LqKeM
Here is the link to an excellent article:
http://www.takeheed.info/pdf/January-2014/Alpha-attend-or-avoid.pdf
Dear Lighthouse Trails:
Wow, so glad to hear about your efforts to reach out to Christian Leaders to warn them about Jesus Calling.  Whether they heed the warnings or not, thank you for doing this!!
While I don't have any names to add to your list, (you covered most of the major leaders), the idea inspired me, because I've been wanting to reach out to pastors to warn them about Contemplative Prayer.
My wife and I left a church a year ago because we started hearing names like Richard Foster, Dallas Willard, Brennan Manning etc. and things have only escalated since we've left.
There's about 40-50 churches in the conference our previous church is in that I'd like to send some tracts to, addressed to the pastors and also send to the bishops in the different conferences until I can afford to send to all churches in every conference.
We have some good friends in the _____ yet, and we'd like to try to reach these pastors (although it might fall on deaf ears) who are following and recommending these contemplative practices. The tracts that I thought I was most interested in sending are:
1.) Serious Look at Richard Foster's School of Contemplative Prayer

2.) Brennan Manning's "New Monks" and their Dangerous Contemplative Monasticism

3.) 5 Things You Should Know About Contemplative Prayer – 2015 updated edition

4.) So You Want to Practice "Good" Contemplative Prayer

5.) Is Your Church Doing Spiritual Formation?
Wasn't sure if you had any recommendations on the one that might be best to send (would love to send the whole bunch to each one, but would have to do that over a period of time since I don't have that money to spend right now ), I did see the multi-pack, but would be better I think to buy the individual tracts if I'm buying 40 or 50.
Thanks for all the information, materials and resources you provide.  With all that's coming into the church these days it's a bit like watching the dam about ready to burst every which way you turn.
Blessings in Christ,
_______________

Dear ___________:
Thank you for your e-mail. We find it very encouraging. Your idea of reaching out to pastors and leaders within your own group is a great idea. The 5 booklets you mentioned above would all be good choices. You might consider starting with Warren Smith's booklet 10 Scriptural Reasons Why Jesus Calling is a Dangerous Book.  If you do, you are welcome to include the letter we wrote with what you send. Please feel free to copy that letter from our article from February 25th.   In two months, we plan to send out a second booklet to this list of leaders (which now has over 125 names on it). That one will be by Ray Yungen, dealing with contemplative prayer. God willing, we will send out a different booklet every two to three months to these people. As we stated in our 2/25 article, we have a sense of desperation to reach these men and women who are influencing and leading millions of people.
Sincerely,
Editors at Lighthouse Trails
By Roger Oakland
Understand the Times, International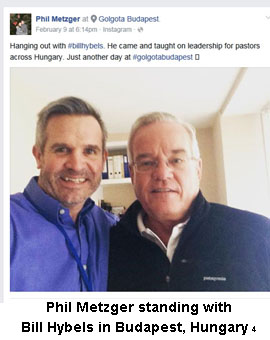 Recently, I was informed about a conference held this week in Budapest, Hungary where Willow Creek senior pastor Bill Hybels taught leaders. According to comments posted on Phil Metzger's Facebook page, the event was held at Calvary Chapel Golgota Budapest where Metzger is pastor. He is also the director of Calvary Chapel Bible College Europe (also located in Hungary). On Metzger's Facebook, Hybels was not only endorsed, he was praised. [3]
Perhaps most who read about this event will not be alarmed. But I was because I see the significance. I know that what Chuck Smith and Calvary Chapel once stood for is not at all what Hybels stands for. Bill Hybels was mentored by Peter Drucker along with Rick Warren to "reshape" Christianity for the 21st century. Hybels, from the famous Willow Creek Church located in South Barrington, Illinois, fathered the "seeker-friendly" movement.
When Hybels and his cohorts discovered that the seeker-friendly model produced spiritually illiterate believers, they said they "repented" [5] from this model of church; but in actuality, they delved right into teachings associated with the emergent church and contemplative mysticism, seeing those as the next "great" step. Interestingly, on Metzger's Facebook page, someone defending Metzger's promotion of Hybels said that it was irrelevant to talk about the emerging church because it was no longer an issue. But nothing could be further from the truth. While often called other names now, such as progressive, the ideologies of the emerging church are very much at work today. Click here to read this entire article and for endnotes.
Related Information
A Jesuit Pope? Understanding The Jesuit Agenda and the Evangelical/Protestant Church