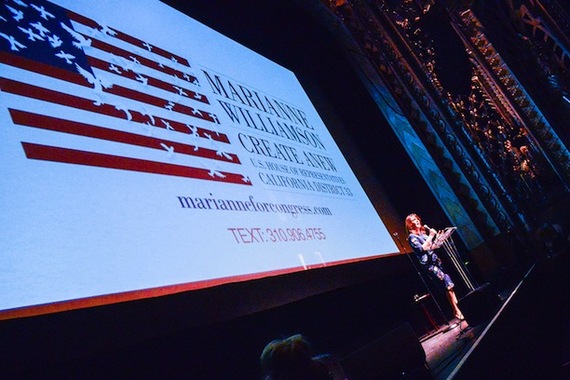 LTRJ Note: Marianne Williamson is a high profile New Age author and activist who was made widely known by Oprah when Oprah promoted Williamson's book A Return to Love: Reflections on the Principles in A Course in Miracles ( A Course in Miracles is THE go-to book for New Agers.). Williamson later helped to launch a lobby group in Washington DC called The Peace Alliance, with the goal of bringing about a Department of Peace in the U.S. government. We have written extensively about this on our research site and blog, and author and former New Age follower Warren B. Smith has written about Williamson in his book False Christ Coming: Does Anybody Care?. In Ray Yungen's article, "The New Age, Politics, and the Department of Peace," , he shows how the "marriage" between politics and the New Age is taking shape. He states:
When we comprehend [Marianne] Williamson's propensity towards the New Age and meditation (as a vehicle for world peace), it is astounding to know that Williamson was working closely with [the now late] Walter Cronkite, a former CBS news anchor and public icon, once referred to as "the most trusted man in America."  Williamson and Cronkite, along with Congressman Dennis Kucinich, are trying to convince the US government to start a cabinet-level Department of Peace within the executive branch via House bill HR808. The fact that someone as mainstream as Walter Cronkite would align himself with the openly metaphysical Williamson bespeaks of the current spiritual climate of our society. Incidentally, the campaign to start the Department of Peace is gaining momentum and currently has the support of over 288 U.S. Representatives and Senators and has local grassroot chapters in over 200 congressional districts.

Williamson embodies, as few others do, the marriage between political/social idealism and the embracing of metaphysical perception. As the tone of modern spirituality changes so will the various institutions that comprise society.
 In an article titled, "The Election is Over – What About the Department of Peace?,"   we quoted Warren Smith as saying:
Desirous of establishing a single, unified organization to help create peace, Marianne Williamson joined with Conversations with God author Neale Donald Walsch to co-found The Global Renaissance Alliance. Alliance members include a veritable "who's who" of bestselling "new age" authors and powerful "new gospel" advocates such as Barbara Marx Hubbard, Gary Zukav, James Redfield, Deepak Chopra, Wayne Dyer and many others.

The Global Renaissance Alliance describes itself as a "citizen-based network of spiritual activists" whose "mission is to make a stand in our local and national communities for the role of spiritual principle in solving the problems of the world."1 The unspecified "spiritual principle" is the "new gospel" notion that we are all "one" because we are all a part of "God."
So as you read the news story below, know that the world is fast moving toward a "new age" where man's supposed divinity will preempt the idea of a "single Savior" who died for the sins of the world.
From AllVoices.com
(out of house news source for informational and research purposes)
Marianne Williamson, the best-selling author whose "A Return to Love" spent 39 weeks on the New York Times bestseller list in 1992, announced Sunday that she is running as an independent for the US House of Representatives in California's 33rd District, a seat currently held by 74-year old Democrat Henry Waxman, one of the most powerful members of Congress.
Williamson, who made her candidacy official Sunday afternoon at the Saban Theatre in Beverly Hills, has written extensively about the moral and spiritual underpinnings of US politics in many of her books, including "Healing the Soul of America," a 2000 best-seller that focuses on transforming spiritual activism into social activism.
The theme of Williamson's campaign is "Create Anew."
Williamson writes on her campaign website that Waxman has been a good representative for 38 years and that she does not consider him an opponent. Rather, she sees them both as simply different candidates for the same position. In seeking to encourage "a new consciousness regarding our political discourse," Williamson hopes to stem the trend toward corporatism that has been so prevalent in recent decades. Click here to continue reading.