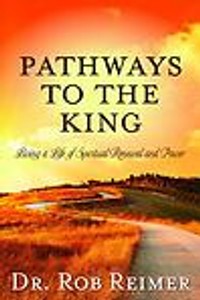 By L. Putnam
Dr. Rob Reimer, pastor of the Christian & Missionary Alliance South Shore Community Church, adjunct professor at the Alliance Theological Seminary, and speaker at various conferences has authored a book: Pathways to the King: Living a Life of Spiritual Renewal and Power.  To look inside is to learn how Reimer loses his way straying onto contemplative and kingdom now roads as he strives to experience, and expand God's kingdom on earth.
The Beginning:  Reimer's Renewal Pathways:

Reimer relates the church desperately needs renewal, and in order to reach this goal we must pursue intimacy with Christ.  To attain this goal there are eight pathways to the King from the first chapter's "Personalize Our Identity" to the final chapter's "Persist."
The Ending:  Reimer's Back Cover Endorsees:

Endorsements are given by Dr. Ron Walborn (Dean of ATS); Seth Barnes (Head of Adventures in Missions); Bishop Carlton T. Brown (Pastor, Bethel Gospel Assembly); and Rev.Tom Flanders (District Supt., CMA, New England).
Reimer's "Soul as a Container Image:" (p.22)
Reimer asks the reader to picture one's soul as a container with walls that thicken through sufferings.  If we process suffering well then we thicken the walls of our soul thus expanding our capacity to experience more of God.   If the walls of our soul are thin then we can't sustain the presence of God, and it will blow out the walls of our soul.  Curious!  Scriptural?  You be the judge. Click here to continue reading.