Today, we received an e-mail from Roger Oakland (Understand the Times), whom Lighthouse Trails and its readers have partnered with in the mission project in Kenya. In his e-mail, Roger said, "What is happening here is historical!" While many of the large evangelical mission organizations (World Vision, YWAM, etc) are becoming influenced by what we call the "new" missiology (a contemplative, emerging spiritual outlook), Understand the Times and Lighthouse Trails are committed (by the grace and strength of God) to uphold biblical integrity in our mission efforts. Below is an update from Roger, written in Kenya this past week. Please pray for him and for his safe return to the United States in a few days. For more information about the Bryce Orphan Homes (currently there are 12 orphan homes – with about 100 children), visit Understand the Times (where you can make donations and read updates). You can also visit our mission website Missions for Truth (where you can make donations there too).
Trip To Africa March 2012
March 15 and 16, 2012
By Roger Oakland
Before leaving _________ for the long three hour drive to ___________, Pastor Nelson set up a short meeting with four area pastors who had attended the meeting when I spoke  last November. It was an opportunity to dialogue with them and to find out more about the spiritual climate in Kenya. Byron and I asked questions and they responded. All of them agreed their two most difficult challenges were how to minister to the poor and dealing with the overwhelming apostasy and false teaching that permeates their country.
On our way to ________ we stopped at a small town where the highway was lined with people selling fruit. When we stopped to purchase some bananas Byron was confronted by a man claiming that he was a local police officer. He did not have a uniform and he did not have any identification that he was an officer of the law. He accused Byron of illegally taking photographs without a permit. Obviously the presence of two white foreigners in town provided an ideal opportunity for an income. Our driver Steve told us to get back in the car and we headed on our way.
The road to _________ was a pleasant surprise compared to the last time I had traveled the same route. We were able to make good time and arrived about noon at our hotel where we were met by Pastor Achilla and several of his team. The afternoon was a time to rest and prepare for the rest of the week. In the evening we met at Pastor Achilla's home with his team and discussed the Bryce Home program. Byron spoke to the group, we ate and then went to bed after a very long day.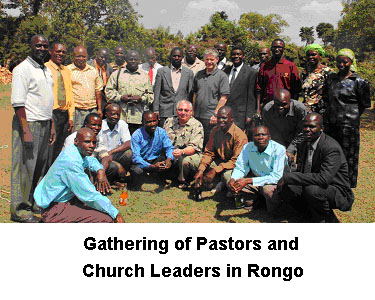 Today, March 16, we spent the entire day with pastors and church leaders. It was a time of teaching for Byron and me but also a time to hear the comments and suggestions from the 30 or more pastors who gathered to hear about the Bryce Home Project. From the time we spent with these pastors and the dialogue we had with them it has become even more apparent that God has brought us to Kenya for a reason. Something very special is in the making. While there are many orphanages in Kenya, as far as we know, there are few programs where support is
distributed through pastoral care to widows and their children. Not only are children provided food, clothing and shelter, they are given spiritual direction for their lives. Through the love and care given to these children, entire communities are being impacted. As Pastor Joshua told me, "through the Bryce Home Program light is being brought to our community.
We discovered the average size of the churches pastored by these men was about 30, approximately 60% are widows. The widow's husbands have died mainly because of AIDS. The surviving families live in absolute poverty. Their only hope for the widow is to be inherited as a wife by a relative. When the widow refuses to be forced into such a marriage and she has no other channel to look after her children because of tribal customs. Absolute poverty takes over.
The Bryce Home Program provides hope for widows who have become part of a local church and look to the church for help. It also provides a way that the church can administer help to members of the congregation in a biblical way. The whole church gets involved. The need for this kind of a program is unlimited. At least 20 pastors attended our meeting today because they were interested in overseeing a Bryce Home. A model has been constructed for us by the Lord. A team has been assembled to implement that model. Now what is needed is for Christians from around the world to get on board.
One of the main reasons that I wanted to return to Kenya was to see if we had a solid foundation to start a Bryce Home project that would be honoring to the Lord, built on a solid foundation of the gospel of Jesus Christ. From the time we have spent with the pastors who are overseeing the program, I can see two great qualities in the pastors – commitment to serving the Lord and commitment to serving widows and orphans. All they need for this to happen are the resources.
What we are seeing is true Christianity in action. I thank God for the people who have already caught this vision from around the world and have sent resources to Understand The Times and Lighthouse Trails so that we can come alongside these pastors and be the Lord's hand extended. Click here for more updates on Roger's March 2012 trip to Kenya.