Posts Tagged 'bryce homes for children & widows in kenya'
The latest slideshow from the Bryce Homes for Widows and Children in Kenya missions project. The project is supported solely from Understand the Times and Lighthouse Trails readers. To learn more, or to donate, visit www.missionsfortruth.com or www.understandthetimes.org.
By Roger Oakland
Understand the Times, International
It has been some time since we have sent out a report from Kenya sharing the progress that is being made with the Bryce Homes Program there. After our last trip to Kenya in December of 2012, we reported that if support funds were available we would like to expand the number of homes for the care of widows and orphans. Thanks to the response from our readers from Understand The Times and Lighthouse Trails we have been able to work towards this goal.
Thanks to the generosity of our supporters located in various parts of the world we now have added four more homes to our program to bring the total in Kenya to twenty. Initially, the vision for this program started with five homes. Since the program began, we have seen how God has directed and blessed all that is being done. Not only are the children and widows receiving food, clothes, and medical assistance, they are being nurtured spiritually by the team that God has raised up in Kenya to oversee the program.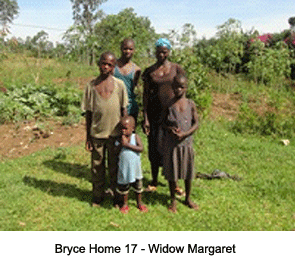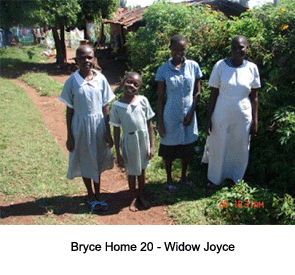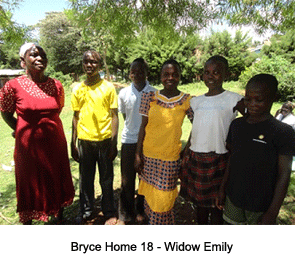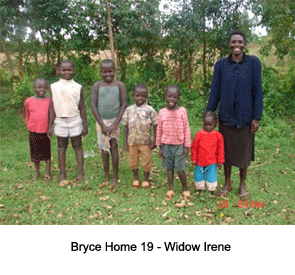 As well, eight new homes have been built this past year replacing shacks that no longer provided appropriate shelter. Each home is built with a metal roof, a wood stove and a chimney that directs the smoke outdoors. The widows have expressed their gratitude to their brothers and sisters in Christ from around the world who have expressed their love and concern for them even though they have never met face to face. Approximately 120 children are now receiving care, and for the first time in their lives have hope. This is how the Christian Church is supposed to work. Click here to continue reading and for more photos.
This week, Roger Oakland, director of Understand the Times and the Bryce Homes for Children, is in Kenya, visiting all 16 Bryce Homes and spending time with Pastors Achilla and Nelson who run the program in Kenya. The picture you see to the right here was taken yesterday while Roger and the pastors were visiting Widow Lewnida and Widow Alice, two of the Bryce Home widows. Needless to say, the children love Roger and see him as their "grandfather in the Lord."
Roger is sending daily reports. Below are Day 1, Day 2, Day 3. You can also follow his daily reports at the Understand the Times website, where Ron Pierotti is posting them.
Day Three in Kenya, December 2012
by Roger Oakland
To travel from _______ to _______ is not really that far – about 120 kilometers by road. However getting from Migori to North Kadem, an 80 kilometer continuous rock pile, is another story. If you are not physically in good shape, you risk the chance of being shook up badly.  Think of this. It would be the equivalent of riding the large wooden roller coaster at Knott's Berry Farm without getting off for three hours.
There are no words that properly describe this experience. However, when the day is done, I can look back and my mind and heart is filled with joy by what I saw and heard of what God is doing here in Kenya through our team. They have been raised up along with the support from Understand The Times and Lighthouse Trails to reach their people, and they have a plan. How encouraging this is to see what can actually happen when the Church of Jesus Christ functions as the Church of Jesus Christ should function. I give praise and thanks to the Lord who has placed this vision in our hearts and has provided a partnership through faithful brothers and sisters in Kenya who are willing to be God's hand extended.
In spite of the rugged trip, we finally did reach our destination where two of the Bryce Homes are located – Widow Lewnida and her 10 orphans and Widow Alice and her 4 orphaned children who are neighbors. On our last trip, Lewnida was looking after Alice and her children as Alice's shack was no longer livable. Since then a new home has been built for Alice so she now lives on her own. However, Lewnida has taken in three new orphans into her home.  Both Alice and Lewnida gave testimony of how their lives had changed and gave glory and honor to Jesus Christ in video-taped interviews. We unloaded the December supplies at both locations and presented Alice and Lewnida their Bryce Home plaques.
While we were on location, Lewnida's new four room house was literally being constructed by a crew of workers who had come from Migori. I was able to video tape some of the various stages of construction.  I plan to put together a slide show on how these houses are constructed at a later date so that those who have donated can see exactly how their funds are been being spent. While we were on location, another truck arrived with the wood for the rafters.  The house should be totally completed in a couple of weeks.
The highlight of the day for me was when the children gathered around me to see the individual photos that I had taken of them with my camera. They had never seen their own faces before nor had they ever got so close to a muzungu (white man) who could have been their grandfather. Pastor Achilla snapped a classic photo that I will always cherish.
After a couple of hours it was apparent that the late afternoon rain was on its way, and it was time to leave. Lewnida and Alice had prepared a meal for the workers and for us, and the table was set with food. We had a wonderful time together, encouraging one another and thanking Him for all He has done.
We arrived back home long after dark and very tired. Today, we will be going to _______ and delivering the December food support there. It will be a long day.
To see the reports for Day One and Day Two, click here.
LTRP Note: The following letter is sent to us from Mereza, one of the widows who is part of the Bryce Homes for Children that is supported by Understand the Times and Lighthouse Trails readers. You might also like to read two other testimonial letters that we previously posted: Two Testimonial Letters From Widows in Kenya – How Their Lives Have Changed . If you would like to learn more or would like to help support the 15 Bryce Homes in Kenya, please visit Understand the Times. The letter below was translated by one of Pastor Achilla's workers.
Dear readers:
I greet you in the name of our Lord Jesus. Finally, the Lord has enabled me to get an opportunity to share my testimony which is translated at least to pass appreciation to UTT and Lighthouse Trails readers. May the Glory be to our Lord
Jesus.
In order to convey systematic information, I have to cite each item and how the same has lifted my living standards.
MY HUMBLED BEGINNING
Immediately after my husband, who was the sole bread winner for the family, passed on, I entered into a traumatizing life which I could not imagine.
In order to feed my five children, I was forced to engage in tobacco farming and processing which is the famous cash-crop in Kenya. I decided to risk my life in such a hazardous enterprise. Its fruits became really bitter when my health began deteriorating. Constant tests in the hospital confirmed that it was the effect of the fumes from the traditional tobacco processing huts we commonly used. Still I decided not to stop but God finally intervened.
When Roger visited Kenya, I was graced by God to be one of the widowed women to be supported by the Bryce Home project. Since then, I have seen how through project the light of our Lord Jesus is over my life and the entire family.
FEEDING PROGRAMME
I have to clearly state that I had lived the latter part of my life without the knowledge of need to feed on balanced diet. This led to myself and my children to suffer from deficiency diseases. When the donors (UTT and the Lighthouse) intervened through the generous and caring arms of the Lord, my health has dramatically changed. People have even begun admiring my way of life. We no longer suffer the blows of malnutrition since the children can now access food rich in protein, carbohydrates and vitamins. Currently the children were over excited to take sodas (Coka-Cola) which was their first time in life to taste such a beverage.
ENOUGH BED REST
I cannot fail to mention the new status of my bedding characterized by a high density mattress, heavy blanket and a well set wooden bed. I can now relieve my body from the frequent back-ache which used to be my daily complaint. I used to think it was due to old age yet my age is not such advanced. Now it is an improvement I cannot express by mere words alone. Abundant blessings to the readers I say. My children have worn a loving face since then and now believe there is hope for life.
IMPROVED SHELTER
The kind of house I lived in before had become a terrible nuisance to the entire family especially during the rainy seasons. It could force me and the children to be disrupted during the sleep until the rain stops.
Currently the house I live in has iron-roof what seems to be a dream yet it is a reality. This house is fitted with a wood stove chimney which keeps away the smoke. Plastering of the house is in progress and this is an added step in my life. May the Lord teach me to live a life of honour in this house to give his name all the Glory.
SCHOOL UNIFORM
My children have great news to share. Their current status of school uniforms has caused a great stir in their school. They have become so modest that even their teachers comment.To me I thank the Lord since the children can now settle and learn in public school unlike when they used to be ashamed when wearing patched dilapidated uniforms.
What can I say, it is all about the Lord Jesus and He will definitely bless the hands which gave their kind donations.
May God bless Roger and UTT donors, Deborah and Dave together with LT Readers. I cannot fail to thank the team working tirelessly with Pastor Achilla to ensure the donated items reach us faithfully,
Yours Faithfully,
MEREZA
BRYCE HOME# 14
_______  KENYA
The latest news in from our mission work in Kenya. Check out the slideshow below.  If you would like to help support the 15 Bryce Homes (over 110 children), please visit Understand the Times. The project is being supported solely by Understand the Times and Lighthouse Trails readers. To see a photo of all the 15 Bryce families in Kenya, click here.
Hope you enjoy this latest slideshow from Kenya from Understand the Times' Bryce Homes for Children missions project. Click here to read more information.
LTRP Note: The following is two letters from two of the Christian widows in Kenya who are part of the Bryce Homes for Children missions project that is supported by Understand the Times and Lighthouse Trails readers. We launched this project in Kenya in 2011, and because of the donations from our readers and from Understand the Times, 15 homes (with over 110 children in them) are being helped. In addition to food and other household needs, UTT has used donations to build new houses for some of these families. More are planned for 2013. If you would like to learn more or donate, please visit www.missionsfortruth.com or http://www.understandthetimes.org/missionkenya.shtml. (Donations sent through UTT are tax deductible.) By the way, one of the most exciting aspects of the work over there is the agricultural project. Currently, one of the homes, Bryce Home #12, has begun to grow and harvest their own food. In time, we hope that all of the homes will have vegetable gardens and chickens to raise.
A LETTER FROM LEWNIDA, BRYCE HOME # 11
BENEFICIARY FROM – KENYA
Dear Donors,
I greet you in the name of our Lord Jesus Christ. First I thank the Almighty God for enabling my vernacular language be interpreted so as to communicate to you.
I therefore  have appreciative information basing on my improved living standards as a widow.
MY LIFE BEFORE THE BRYCE HOME SUPPORT
In order to give the whole testimony, I have to focus on my early life which was characterized by
Stress and depression:
Based on the demand of orphaned children under my custody, I had found it so hard to put bread on the table for them. Their food, if not to mention education, left me in a stressed life. I grew thin and had no hope in life.
Malnutrition
It looked to touching to the onlookers how my family members looked thin, because of deficiencies such as marasmus and kwashiorkor [forms of malnutrition]. This was also due to the persistence starvation which I could not avoid as a widow since I lacked energy even to till the land for farming.
My children found their school life so hard at early stages of lower grade education. They found it hard to study in hunger and without key education items such as books. I became afraid as a mother since many young girls as early as age 10 begin to give in early marriages for a living because their families are poor. My younger girls could not be an exception. This is why I was afraid.
I had completely lost hope and used to think people who have breathed their last were better off than the starving living. However I fellowshipped with Pastor Achilla who helped me in prayers to press on in life by faith. He made me to know that Jesus is the hope of the hopeless.
LIFE AFTER THE BRYCE HOME SUPPORT
Today I speak of a big testimony. My life has seen light and can now talk of:
Food
My family has monthly received food including cooking fat, beans, rice, maize, sugar, etc. making my life to appear new. Glory be to our Lord Jesus
Hygiene
Provision of washing and bathing soap has miraculously relieved my family from health related infection such as skin diseases, parasites and cholera as well as other water born diseases. I can now wash my utensils with soap, wash my clothes and dress clean. My children have really changed hygienically.
Improved bedding
I cannot fail to mention the kind of comfort I now find in my current bedding status. The blankets and mattresses have really changed my life. My children can now sleep soundly.
Life free from malaria infection
North Kadem Region, being a malaria zone in Kenya, posed a great health challenge but now we sleep under treated mosquito nets. My children no longer suffer from malaria due to prevention measures by the Bryce Home Project and Lighthouse Trails readers.
Improved skin care
Since I was borne, I did not know that our skin required some body oils to keep it smooth and prevent bacteria infection. I can now maintain my skin and this makes me feel a smooth flow of blood beneath the skin in my body.
I therefore urge fellow widows to remember God is the sole provider of the bread of life and those who remain in Him will never go thirsty. Keep on praying. I continue to pray for God to open more doors to LT and UTT and to have faith even that my house will be built by the Lord's favor.
To Roger and UTT, Deborah and Dave of LT and all the readers/donors, I lack words to express my thanks but the Almighty God will tell it in your lives. Am so blessed.
May the Lord favor you to continue with such a noble task.
Thank you.
Yours faithfully,
LEWNIDA – BRYCE HOME #11 NORTH KADEM
A LETTER FROM TERRY
BRYCE HOME # 6 BENEFICIARY

Dear Donors,
Receive greetings in the name of our Lord Jesus Christ. I take this God given opportunity to relay to you a thanksgiving information through this interpreted vernacular. My life as a widow with young children to take care of had been unbearable until when the UTT and LT intervened through the hand of God.
LIFE BEFORE THE BRYCE HOME SUPPORT
I would like to emphasize the level from which Bryce Home support project has taken me. My initial family life was characterized by:
Malnutrition
Poor feeding due to lack of food had hit my family hard, so hard that it robbed me of my beloved younger child. The high infant mortality rate swept across the village and my family was not exceptional. The major cause has always been measles.
Unhygiene
I could try to maintain cleanliness but the cost of soaps and detergents became a deterrent. My family clothes and utensils were therefore poorly cleaned leading to body infection and water born diseases such cholera, typhoid, etc.
Body discomfort
Our primitive family mattress (mat) indeed made me grow older than expected. I lacked comfort due to the hardness of the mat. My children could cry at intervals over night when the situation worsened.
Harsh weather conditions
The kind of house (hut) we lived in became unbearably during rainy seasons as I used to wake up at night with the children until the rain stopped. It became horrible during winter seasons, colds led us into a massive infection from Pneumonia.
Unhealthy skin
Body oils necessary to keep the skin smooth were necessities which my family could not access due to their costs.
LIFE AFTER THE BRYCE HOME SUPPORT
A worthy testimony I can call it. My life has totally changed since:
Improved nutrition
My entire family now feeds on a balanced diet rich in protein, carbohydrates and vitamins. At least we can now fry the food/vegetable unlike earlier on. This has made deficiency
disease a thing of the past in our lives.
Improved hygiene
The whole family can now bath, wash their clothes and utensils. Through these, skin diseases as well as water born diseases, have been kept away/prevented.
The provision of mattresses and the blankets has relieved my body and the family from a terrible fatigue of the mat. This has made the local society start viewing us as a blessed family. Glory be to God.
Quality Shelter
The house I currently owned has been plastered and I feel well protected from cold and I find life good, the wood stove chimney has been put to prevent being infected by smoke. I can now pray for other widows who are still suffering as I used to do. May God bless LT readers and UTT donors richly.
Quality skin
The use of body oils (cosmetics) has made my skin so smooth and protect it from bacteria infection. My children too appreciate this. I do here them comment while playing. I therefore urge other widows, orphans and the less fortunate in the society to pray and pray and trust in the Lord Jesus. Sincere prayer is the key which will open a door for life.I now have FAITH in Jesus that more can be done for His glory.
May the Lord continue to favor the Roger and UTT, Deborah and Dave and LT readers to continue touching the lives of many.
Hopelessness
School drop-out in children
Yours faithfully,
TERRY – BRYCE HOME # 6