By Roger Oakland
Understand the Times, International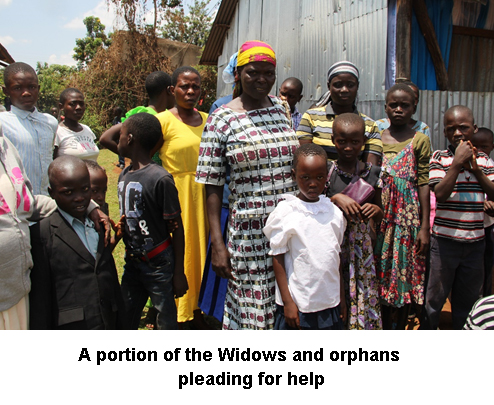 Our readers in the west may be wondering. How can there be so much poverty in Kenya and so many widows? Doesn't the Kenyan government care?  What about the local churches? Are they not helping the widows and orphans? What good can the Bryce Homes Program do in the midst of all this? Is it possible to do anything when there are so many problems?
The best way to describe the lack of social assistance from government agencies in Kenya is a bit mind boggling, I agree. There are departments of welfare and health in most counties and at a national level. They do the best they can with what they have. As far as the churches assisting the widows, this would be like saying the blind should lead the blind or the deaf should listen, or the sick should rise up and heal themselves. The problems are not only myriad, they are grandiose. Governments and churches are not agents of hope when it comes to pulling a widow and her family out of the mud.
There are no welfare checks every month. If you do not have a channel of support from someone somewhere, you are basically hopeless. The poorest of the poor seek assistance from others who are equally as poor. If you are unable to put food on the table yourself, your family goes hungry. The question remains: how can those who are hungry because of lack of food provide food for others who are hungry and may have less food than you do?
An example would be useful. One of the widows we met on this trip was a young lady by the name of Lea. Lea worked at our hotel as the supervisor of four hotel workers. They included the cleaning staff and the security workers. Her monthly salary is thirty dollars, but most of the time her salary is nothing but a promise or a piece of paper with the words "I O U." Her husband died of AIDS. Her husband's family threatened to kill her if she did not vacate her home that was located outside of the city. She has four children.
Out of desperation, she rents a tin shack in the city for $35 a month. If you are able to do the math this means if she does get paid for working, she would be five dollars in hole every month. This is without providing any food for her family. She is a regular attendee of one of the churches we support.
You may be asking: does she get steak, potatoes, beans, rice, chicken, vegetables, coffee, cookies, bread, cooking oil and other important necessities when she shops. The answer is she has no money to shop. She has to ask her neighbors or relatives on her side if they have something left over. Remember, her in-laws told her they will kill her and her kids if she comes near them. Sometimes, if they are blessed, they might have one meal a day which they eat before going to bed. This is the best time for them to eat so they can quell the hunger pains before falling to sleep. Click here to continue reading.
Related Reports from this trip: