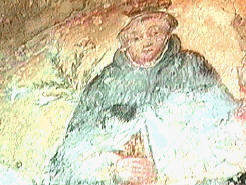 [Photo of Saint Thomas Aquinas]
For several years now, popular speaker and preacher David Jeremiah has been showing signs that he is in favor of contemplative spirituality. In 2001, he was quoting Henri Nouwen in church services. In 2002, he had his endorsement on the back cover of Erwin McManus' book, Seizing Your Divine Moment. In Jeremiah's 2003 book, Life Wide Open, he favorably quoted several authors with mystical and/or New Age proclivities. 1 Over the last couple years he has publicly rallied behind New Age sympathizer Ken Blanchard and mystic-promoting futurist Erwin McManus, and in Jeremiah's 2006 book, Captured by Grace, he includes an endorsement by Blanchard and favorably quotes Henri Nouwen again.
In today's Turning Point (David Jeremiah's daily commentary), he has once again shown his affinity toward those who practice or teach mystical meditation (i.e., contemplative). His commentary called "Living in Harmony" is summed up when he says "we should all live in harmony." But Jeremiah's quoting of mystic Saint Thomas Aquinas in his commentary today is troublesome. When Jeremiah said "we should all live in harmony," he was referencing the apostle Peter (1 Peter 3:8) who was speaking directly to other Christians (that's why Peter said "brethren"). For Jeremiah to quote Aquinas as saying "How can we live in harmony? First we need to know we are all madly in love with the same God," is inappropriate because contemplative mystics, like Aquinas, believe God dwells in all creation (including all humans).
We pray and hope that David Jeremiah will soon see the danger of contemplative/emerging theologies and rather than pointing people to this dangerous spirituality, he will warn them about it.
For more information and documentation:
David Jeremiah Proposes "Major Paradigm Shift" For His Church