Dear Lighthouse Trails:
I am writing to warn of Todd Bentley's Jan.27, 2021 announcement of his plans for 2021. Bentley went "radio silent" last year, but has reappeared, apparently/supposedly with a "25 year mandate" from God. He is launching via various media platforms, and not just in America, but in other continents.
In a 27 January 2021 Facebook post, Todd revealed his "vision" and plans for the year and beyond, which were based on a "series of angelic encounters, visions and personal encounters with the Lord that were absolutely life-changing"….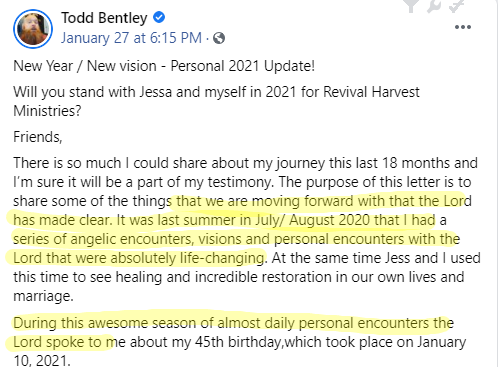 But what does the Bible say about "angelic encounters"?
1) DO NOT WORSHIP ANGELS OR SEEK TO "encounter" THEM:
Colossians 2:18-19 – 18 Let no man beguile you of your reward in a voluntary humility and worshipping of angels, intruding into those things which he hath not seen, vainly puffed up by his fleshly mind, 19 And not holding the Head, from which all the body by joints and bands having nourishment ministered, and knit together, increaseth with the increase of God.
Revelation 19:10 – 10 And I fell at his feet to worship him. And he said unto me, See thou do it not: I am thy fellowservant, and of thy brethren that have the testimony of Jesus: worship God: for the testimony of Jesus is the spirit of prophecy.
2) SATAN DOES DECEIVE AND MASQUERADE AS "an angel of light":

2 Cor.11:3-4,13-15 – 3 But I fear, lest by any means, as the serpent beguiled Eve through his subtilty, so your minds should be corrupted from the simplicity that is in Christ. 4 For if he that cometh preacheth another Jesus, whom we have not preached, or if ye receive another spirit, which ye have not received, or another gospel, which ye have not accepted, ye might well bear with him….
13 For such are false apostles, deceitful workers, transforming themselves into the apostles of Christ. 14 And no marvel; for Satan himself is transformed into an angel of light. 15 Therefore it is no great thing if his ministers also be transformed as the ministers of righteousness; whose end shall be according to their works.

3) LET'S SEEK TO "ENCOUNTER" THE TRUE GOD OF THE BIBLE (not angels or subjective experiences), through His Amazing, Powerful Word!

Psalm 119: 14-20, 25, 40, 47-50, 54, 72, 92, 97, 103, 127-130, 138, 140, 151, 162 –

14 I have rejoiced in the way of thy testimonies, as much as in all riches.
15 I will meditate in thy precepts, and have respect unto thy ways.
16 I will delight myself in thy statutes: I will not forget thy word.
17 Deal bountifully with thy servant, that I may live, and keep thy word.
18 Open thou mine eyes, that I may behold wondrous things out of thy law.
19 I am a stranger in the earth: hide not thy commandments from me.
20 My soul breaketh for the longing that it hath unto thy judgments at all times.
25 My soul cleaveth unto the dust: quicken thou me according to thy word.
40 Behold, I have longed after thy precepts: quicken me in thy righteousness.
47 And I will delight myself in thy commandments, which I have loved.
48 My hands also will I lift up unto thy commandments, which I have loved; and I will meditate in thy statutes.
49 Remember the word unto thy servant, upon which thou hast caused me to hope.
50 This is my comfort in my affliction: for thy word hath quickened me.
54 Thy statutes have been my songs in the house of my pilgrimage.
72 The law of thy mouth is better unto me than thousands of gold and silver.
92 Unless thy law had been my delights, I should then have perished in mine affliction.

97 O how love I thy law! it is my meditation all the day.
103 How sweet are thy words unto my taste! yea, sweeter than honey to my mouth!
127 Therefore I love thy commandments above gold; yea, above fine gold.
128 Therefore I esteem all thy precepts concerning all things to be right; and I hate every false way.
129 Thy testimonies are wonderful: therefore doth my soul keep them.
130 The entrance of thy words giveth light; it giveth understanding unto the simple.
138 Thy testimonies that thou hast commanded are righteous and very faithful.
140 Thy word is very pure: therefore thy servant loveth it.

151 Thou art near, O Lord; and all thy commandments are truth.
162 I rejoice at thy word, as one that findeth great spoil.

4) AS WE SEEK GOD, THROUGH HIS WORD, LET US REMEMBER THAT WE HAVE ACCESS TO HIS HEAVENLY THRONE OF GRACE, and that He hears our cries and answers prayers according to His will. . . . We need not seek false, counterfeit "experiences." We have access to and fellowship with the true God of the Bible, who promises us that when we seek Him, we will indeed find Him.
Heb.4:12-16 –
12 For the word of God is quick, and powerful, and sharper than any twoedged sword, piercing even to the dividing asunder of soul and spirit, and of the joints and marrow, and is a discerner of the thoughts and intents of the heart.
13 Neither is there any creature that is not manifest in his sight: but all things are naked and opened unto the eyes of him with whom we have to do.
14 Seeing then that we have a great high priest, that is passed into the heavens, Jesus the Son of God, let us hold fast our profession.
15 For we have not an high priest which cannot be touched with the feeling of our infirmities; but was in all points tempted like as we are, yet without sin.
16 Let us therefore come boldly unto the throne of grace, that we may obtain mercy, and find grace to help in time of need.

Jeremiah 29:13 – And ye shall seek me, and find me, when ye shall search for me with all your heart.

1 Chronicles 16:11 – Seek the Lord and his strength, seek his face continually.

Psalm 63:1-8 –
O God, thou art my God; early will I seek thee: my soul thirsteth for thee, my flesh longeth for thee in a dry and thirsty land, where no water is;
2 To see thy power and thy glory, so as I have seen thee in the sanctuary.
3 Because thy lovingkindness is better than life, my lips shall praise thee.
4 Thus will I bless thee while I live: I will lift up my hands in thy name.
5 My soul shall be satisfied as with marrow and fatness; and my mouth shall praise thee with joyful lips:
6 When I remember thee upon my bed, and meditate on thee in the night watches.
7 Because thou hast been my help, therefore in the shadow of thy wings will I rejoice.
8 My soul followeth hard after thee: thy right hand upholdeth me.

—————————————————————————————————
May His amazing, powerful, life-giving TRUE WORD, encourage and uplift us this day, and may we remember that His Word is well able to deliver and set free many from deception (including those being led astray by false prophets/"revivalists" like Todd Bentley), who are truly seeking to know the true GOD OF THE BIBLE, who reveals Himself through His word.

Here is a link to previous Lighthouse Trails articles warning about Todd Bentley:
https://www.lighthousetrailsresearch.com/blog/?tag=todd-bentley
———————————————————————————————-
He is our faithful Shepherd, who feeds, protects, and leads His precious sheep, according to His truth,
L. SHARP
---
Related Articles:
2018 – Evangelist Todd Bentley Claims Shirtless 'Financial Angel' Visited Him in Hotel Room, Another Wrestled Him at Home
2020 – Heavenly Realities with Todd Bentley – Angels! (CAUTION: Lighthouse Trails is posting this link for informational and research purposes only and not in any way as an endorsement of the content. In fact, we highly recommend viewers to use extreme discernment and caution and only watch enough to understand the nature of what Todd Bentley is presenting rather than watching the entire video.)
Todd Bentley and "The Beautiful Side of Evil" by Berit Kjos
The Perfect Storm of Apostasy – An Introduction to the Kansas City Prophets and Other Latter-Day Prognosticators by Mary Danielsen
(photo from bigstockphoto.com; used with permission)