"According to the U.S. Patent and Trademark Office, the name "Calvary Chapel" is owned by Calvary Chapel Costa Mesa . . . This means that every church name that has the words "Calvary Chapel" in it belongs to Calvary Chapel Costa Mesa."—Roger Oakland, March 2016

By Roger Oakland
Understand the Times, International
A new symbol has appeared at Calvary Chapel Costa Mesa (CCCM). Some may be wondering if this new symbol will be replacing the Calvary "dove" that has symbolized Calvary Chapel for decades. For now, at least, the dove logo seems to have gone "undercover" on the back wall behind the podium at CCCM and replaced by another symbol projected on the wall. Those who attend Calvary Chapel Costa Mesa will have seen it and know what I mean. Or if you receive "tweets" via Twitter from Brian Brodersen, Chuck Smith's son-in-law, you will have seen the new symbol. Brodersen inherited the pulpit at Calvary Chapel Costa Mesa because of his marriage to Chuck Smith's daughter, Cheryl. Since Pastor Chuck passed away, many changes have occurred at CCCM as the "new Calvary" replaces the "old Calvary" under new leadership.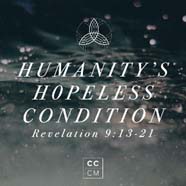 To the left here is the banner used to promote Brian Brodersen's Sunday morning study for Revelation 9:13-21 on March 6, 2016 that was sent out by Twitter.
On the picture below, note the symbol at the top center behind Brian as well as the absence of Chuck Smith's pulpit. This symbol is commonly used for the trinity in Catholic and some Protestant settings. Below, you can see an enlargement of the graphic. In a later commentary, I will present documentation to show the origin of this symbol. . . . Click here to continue reading and for more photos.