Letter to the Editor: Pope Francis Points to the "Contemplative" "Thomas Merton" in Speech to Congress . . . And the Role This Could Play in a One-World Religion
Thomas Merton
LTRP Note: On the morning of September 24th, Lighthouse Trails posted an article by Ray Yungen titled "Contemplative Spirituality – the Source of the Catholic Church's Expansion"  "Coincidentally," one hour later, Lighthouse Trails was contacted and told that the Catholic Church's Jesuit Pope Francis  talked about Thomas Merton (using the term contemplative to describe him) when he addressed Congress. Shortly later, Lighthouse Trails received this letter to the editor below.
The fact that Pope Francis referred to Merton (and his "contemplative style") when talking to Congress and our nation is probably one of the heaviest things we have encountered since beginning Lighthouse Trails 13 years ago. We have suspected but now believe that Pope Francis has the capability of orchestrating a one-world religion. As one Merton scholar explained: "The God [Merton] knew in prayer was the same experience that Buddhists describe in their enlightenment."1 In other words, Merton found Buddhist enlightenment in contemplative prayer.2 Merton's view that God was in every person is summed up in this statement:
During a conference on contemplative prayer, the question was put to Thomas Merton: "How can we best help people to attain union with God?" His answer was very clear: We must tell them that they are already united with God. "Contemplative prayer is nothing other than 'coming into consciousness' of what is already there."3
This is panentheism Merton is describing above. We took the quote from one of Brennan Manning's books. Remember the booklet we just released earlier this week about Beth Moore and her contemplative propensities where we quoted her saying that Brennan Manning's contribution to "our generation of believers may be a gift without parallel."4 But Manning resonates with Merton!  Please see what is happening here. It was no coincidence that we just released Ray Yungen's booklet on Richard Foster and John Lanagan's booklet on Beth Moore (both showing the interspiritual "fruit" of contemplative prayer), and then posting the article on the Catholic Church's Expansion this morning. We did not know the pope was going to be exalting Thomas Merton today. Surely, God is trying to send out a warning. We just fear that few will hear it.
In Yungen's booklet on Foster, he presents some new information about Merton that we never had before. It's vital, especially now that the pope has used Merton as an example of who the American people are (please read an excerpt from Yungen's booklet below the letter to the editor to better understand what we are trying to say).
Dear Lighthouse Trails:
I am writing to you today hoping to pass some information onto Ray Yungen.
Today, I was led by the Lord to watch Pope Francis' speech to Congress, I was curious as to what "interesting" things he was going to have to say. As I was watching the speech I heard him mention "Thomas Merton" which caught me off guard. I remember Ray and Warren Smith talking about him and how much he has been influenced by the New Age Movement. In his speech, he mentioned how "Merton was above all a man of prayer, a thinker who challenged the certitudes of his time and opened new horizons for souls and for the Church. He was also a man of dialogue, a promoter of peace between people and religions." He also said "Thomas Merton had the capacity for dialogue and openness to God" [contemplative]. He mentioned three other people in his speech, one of them being Dorothy Day [a radical feminist, social activist, and journalist], saying that these four people,4 including Thomas Merton, are "four representatives of the American people."
After watching the speech, I felt I needed to pass this information onto Warren Smith, so I e-mailed him; I'm hoping he gets the e-mail. I really feel that this is just another connection of how the New Spirituality/Contemplative Prayer is invading the Body of Christ, and this nation!
After I e-mailed Warren, I was led to Lighthouse Trails Research website to try and see if there was any other contact information there. As I was there, I looked at the "blog" section page. To my absolute surprise, I saw an article written by Ray Yungen called "Contemplative Spirituality – the Source of the Catholic Church's Expansion." It was posted on the EXACT same day as the Pope speaking to Congress. And what is one of the things the Pope talks about in his speech to congress? Thomas Merton!
Here is the actual video of his speech at Congress:
http://youtu.be/4rKi6ctW46A
Here is the written transcript of the speech:
http://www.sunherald.com/2015/09/24/6431313/text-of-pope-francis-address-to.html
I hope that you will be able to pass this information onto Ray, and hopefully even Warren Smith as well! It's just more information that can be used to connect the dots.
Endnotes:
Brian C. Taylor, Setting the Gospel Free (New York, NY: Continuum Publishing , 1996), p. 76.
Explained by http://www.atimeofdeparting.com Ray Yungen in A Time of Departing.
Brennan Manning,  The Signature of Jesus, p. 211,citing Merton's biographer, William Shannon
The other two were Abraham Lincoln and Martin Luther King, Jr.
Excerpt from Ray Yungen's booklet, A Serious Look at Richard Foster's "School" of Contemplative Prayer
Thomas Merton, a Catholic monk, is the most widely recognized of the modern-day contemplative writers. His influence is enormous in the contemplative field. Richard Foster quotes Merton over a dozen times in Celebration of Discipline and in other books as well, and many other evangelicals also quote Merton. The following entry from Merton's published work, The Asian Journal of Thomas Merton (written during his last trip to Asia*) speaks volumes as to Merton's spiritual sympathies:
We went looking first for Chatral Rimpoche [a Tibetan holy man] at his hermitage above Ghoom. . . . We were told he was at an ani gompa, a nunnery, down the road. . . . So off we went toward Bagdogra and with some difficulty found the tiny nunnery . . . and there was Chatral, the greatest rimpoche [a Buddhist teacher] I have met so far and a very impressive person.

. . . We started talking about dzogchen and Nyingmapa meditation and "direct realization" and soon saw that we agreed very well. . . . The unspoken or half-spoken message of the talk was our complete understanding of each other as people who were somehow on the edge of great realization . . . and that it was a grace for us to meet one another. I wish I could see more of Chatral. He burst out and called me a rangjung Sangay (which apparently means a "natural Buddha") . . . He told me, seriously, that perhaps he and I would attain to complete Buddhahood in our next lives, perhaps even in this life, and the parting note was a kind of compact that we would both do our best to make it in this life. I was profoundly moved, because he is so obviously a great man, the true practitioner of dzogchen, the best of the Nyingmapa lamas, marked by complete simplicity and freedom. He was surprised at getting on so well with a Christian and at one point laughed and said, "There must be something wrong here!" If I were going to settle down with a Tibetan guru, I think Chatral would be the one I'd choose.5 (emphasis added)
An equally revealing aspect of Merton's Asian trip is what he experienced at a Buddhist shrine in Ceylon:
. . . an inner clearness, clarity, as if exploding from the rocks themselves, became evident and obvious. . . . All problems are resolved and everything is clear, simply because what matters is clear. The rock, all matter, all life, is charged with dharmakaya [the unity of all things and all people]. . . I don't know when in my life I have ever had such a sense of beauty and spiritual validity running together in one aesthetic illumination. Surely . . . my Asian pilgrimage has come clear and purified itself. I . . . have seen what I was obscurely looking for. I don't know what else remains.6 (emphasis added)
Why would someone who was so heavily involved in "Christian" mysticism be so entwined in and enthusiastically embracing of Buddhist mysticism? I considered titling this booklet Something's Wrong Here because even though Chatral meant it in a positive way, when he said those words to Merton, he himself was shocked that Merton, a professing Christian, was basically on the same page as him and that they were able to fellowship.
One of Merton's biographers, William Shannon, made this very clear when he explained:
If one wants to understand Merton's going to the East it is important to understand that it was his rootedness in his own faith tradition [Catholicism] that gave him the spiritual equipment [contemplative prayer] he needed to grasp the way of wisdom that is proper to the East.7
What Merton meant by "dharmakaya" is actually what the New Age and eastern religions call cosmic consciousness (i.e., God is in everything and everybody.) But Foster, in his book Celebration of Discipline, guarantees the reader that what he's promoting will not lead to cosmic consciousness. He states, "It involves no hidden mysteries, no secret mantras, no mental gymnastics, no esoteric flights into the cosmic consciousness."8 (An excerpt from Ray Yungen's booklet, A Serious Look at Richard Foster's "School" of Contemplative Prayer)
Commentary: The Pope's Visit to America and Yom Kippur – Call No Man Father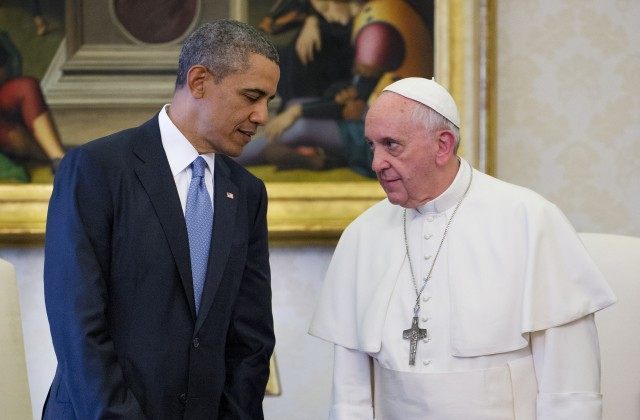 By Bill Randles
But be not ye called Rabbi: for one is your Master, even Christ; and all ye are brethren. And call no man your father upon the earth: for one is your Father, which is in heaven. Neither be ye called masters: for one is your Master, even Christ. ( Matthew 23:8-10)
Isn't it interesting that the man who is hailed as the very "Vicar of Christ" and who in the name of the Church of Christ recently signed a peace treaty with the so-called "Palestinian State" has come to America to meet with the man who virtually gave the terrorist state of Iran a nuclear program and 150 billion dollars, in the face of the fact that Iran considers the obliteration of Israel a "non negotiable" fact?
The irony is that the two Gentile rulers are having their unprecedented meeting on the Jewish High Holy Day of Yom Kippur, the day of national fasting, mourning, and repentance of sin.
The One who is the "head" of the Roman Catholic church, the so-called "Holy Father," will also meet with the U.N. and will hoist the Vatican flag over the U.N. alongside the "Palestinian" flag, representing the solidarity of the "Holy See" with the Arab claim on land that God gave to the seed of Abraham, Isaac, and Jacob as an unconditional covenant forever. See article, The Vatican Switch, will Join Palestine in flying flag .
And the Lord said unto Abram, after that Lot was separated from him, Lift up now thine eyes, and look from the place where thou art northward, and southward, and eastward, and westward:  For all the land which thou seest, to thee will I give it, and to thy seed for ever. And I will make thy seed as the dust of the earth: so that if a man can number the dust of the earth, then shall thy seed also be numbered.  Arise, walk through the land in the length of it and in the breadth of it; for I will give it unto thee. (Genesis 13:14-17—bold added)
Obama, the president of the United States and one of the Gentile kings of the earth, is the most hostile president to the state of Israel we have ever seen in the USA. He is a consistent supporter of Islam, having empowered ISIS, and disrupted the entire Middle East, turning it over to Muslim Brotherhood operatives, not to mention his unprecedented support for the Shia Iranian regime, an inveterate foe of the USA (the great Satan) and Israel (the little Satan), which it vows to wipe off the face of the earth.
The "Holy Father" is also a Gentile "King of the earth and their rulers."  He is head of the world's 1.2 billion Roman Catholics.
The Pope has called Palestinian leader Mahmoud Abbas, the terrorist who planned the 1972 Munich Slaughter of the Israeli Olympic team, a "man of peace" and gave him an "Angel of Peace Medallion." Abbas recently is quoted as saying that, "…we welcome every drop of Blood spilled in Jerusalem …"
Yom Kippur is on the Levitical calendar of "Appointments" Israel has with God. Israel's God appointed holidays are appointments in the year and in history. The Spring appointments have already been kept, for the feast of unleavened Bread, the feast of Passover and the feast of First fruits are all realized in the Death of Jesus , the removal of sin by His death and the resurrection of Jesus three days later.
The Summer feast/appointment has also been kept in history, for it was on the feast of Pentecost that the most high poured out of His Spirit upon all flesh, starting in Jerusalem.
What remains are the fall feasts of Israel, Trumpets, Yom Kippur and the feast of Tabernacles. Trumpets ( i.e. Rosh Hoshanna) is a call to Israel to re-gather. We believe that since the re-birth of the nation of Israel in 1948, the trumpets have been sounding.
Yom Kippur is not a feast but a fast and a time of deep repentance for Israel. It corresponds to the Great Tribulation and the coming "time of Jacob's trouble" spoken of in Jeremiah 30. It is observed as "ten days of awe," soul-searching, repentance, repudiation of all foreign gods, and great trial.
Therefore also now, saith the Lord, turn ye even to me with all your heart, and with fasting, and with weeping, and with mourning:  And rend your heart, and not your garments, and turn unto the Lord your God: for he is gracious and merciful, slow to anger, and of great kindness, and repenteth him of the evil. Who knoweth if he will return and repent, and leave a blessing behind him; even a meat offering and a drink offering unto the Lord your God?

Blow the trumpet in Zion, sanctify a fast, call a solemn assembly:  Gather the people, sanctify the congregation, assemble the elders, gather the children, and those that suck the breasts: let the bridegroom go forth of his chamber, and the bride out of her closet. Let the priests, the ministers of the Lord, weep between the porch and the altar, and let them say, Spare thy people, O Lord, and give not thine heritage to reproach, that the heathen should rule over them: wherefore should they say among the people, Where is their God? Then will the Lord be jealous for his land, and pity his people. ( Joel 2:12-18)
I believe that the meeting of these two powerful Gentile leaders on this the one Jewish feast that is a fast, and a call to repentance and soul-searching, is of deep spiritual significance. Surely, the real "Day of Atonement" is coming soon, as all nations turn away from Israel, and Jerusalem is increasingly becoming a "cup of trembling" to all of the nations round about and a "Burdensome stone" in the road, an impediment to the "New World Order" in which both Obama and the "Holy Father" are heavily invested.
Used with permission from Bill Randles.
NEW MOVIE, CAPTIVE: The Stories Behind the Story and Another Plug for The Purpose Driven Movement
LTRP Note: On September 18th, a new movie will hit the theaters, Captive. The film is the story about Ashley Smith, the young woman who was held captive by an escaped murderer and how she convinced him to give himself up. When the incident happened in 2005, it came out in news reports that the woman had read excerpts from The Purpose Driven Life to her captor. Free-lance journalist Paul Proctor wrote three stories about this that year. Because the movie is coming out, we decided to re-post these insightful articles by Paul Proctor (two of the articles are links below the first article). We agree with Proctor, who said while he was "thrilled that Ashley escaped with her life and that no one else was killed," he was sorry to see the incident turned into a marketing extravaganza for Rick Warren and The Purpose Driven Life. No doubt, the new movie will be another big plug for "America's Pastor" and his "New" Spirituality-promoting Purpose Driven movement.

By Paul Proctor
March 26, 2005—A friend called me on my cell phone a couple of weeks ago to share some amazing quotes from the Purpose Driven hostage shortly after her story broke and shot to the top of the human-interest charts. Before he could even finish reading the pertinent excerpts from the article he found, we both agreed that those who stood to benefit the most from this "miracle of God" would exploit it to the very limits of believability and in doing so, further legitimize Rick Warren and his Purpose Driven products, now captivating and confusing the spiritually lame, biblically ignorant and ecclesiastically ambitious around the world.
Of course we all know that nothing sells books, tickets, movies, merchandise, programs, popcorn, cotton candy and Kleenex like a life and death drama with a happy ending. That's why so many victims and perpetrators who come out of obscurity to suddenly find themselves before the TV cameras end up in some carnivalesque corner of the entertainment industry trying to capitalize on their newfound notoriety and turn it into a cash-producing and/or agenda-advancing career.
If history has taught us anything, it is that pop culture products, performances and personalities don't have to be good, credible, accurate or even real as long as they stimulate and motivate the masses. That's why the most popular household appliance sold in America today is not the dishwasher or the clothes washer, but the brainwasher; that big screen fantasy machine that talks you through the highs and lows of life each day like an electronic psychiatrist, while you recline on the couch for hours on end.
When you consider that five corporations control today's mainstream media, it's much easier to understand how a nation and even the world can be controlled into thinking, speaking and doing whatever the architects of illusion desire.
Things just don't happen by chance, they happen by design; and the powers-that-be have carefully planned your future and mine from cradle to grave. By way of seduction and suggestion we are steered deeper into a socialized slavery each day while laughing and crying our way through the facts, feelings and fantasies of a perceived reality called "television." Their slogan may be: "you decide" but rest assured, they've already decided FOR YOU what will and won't be seen on TV and what commentary and captions will accompany the compelling images they provide.
I'd wager to say that very few, if any, Purpose Driven puppets ever really heard or understood what was being taught them in Ashley Smith's emotionally charged interview as recorded by CNN. Most, I suspect, were just elated to learn that the "People's Pastor" had finally been validated in secular society by a Purpose Driven "miracle."
But, now that the euphoria has subsided somewhat, look again and reconsider carefully what she actually said:
SMITH: "We went to my room. And I asked him if I could read. He said, 'What do you want to read?' 'Well, I have a book in my room.' So I went and got it. I got my Bible. And I got a book called The Purpose-Driven Life. I turned it to the chapter that I was on that day. It was Chapter 33. And I started to read the first paragraph of it. After I read it, he said, 'Stop, will you read it again?' I said, 'Yeah. I'll read it again.' So I read it again to him. It mentioned something about what you thought your purpose in life was. What were you—what talents were you given? What gifts were you given to use? And I asked him what he thought. And he said, 'I think it was to talk to people and tell them about you.'"
You see, Ashley made a significant choice that day between the Word of God and the words of Warren. Like millions of others who keep Bibles around the house for a second opinion, she chose to read to her captor from Warren's book instead of God's Word. And because she made that choice and is still alive today, Ashley is now a hero in the eyes of a nation; and the media has proudly declared hers to be a salvation story and a miracle of deliverance from Almighty God.
I dare say if she had read something Jesus Christ had said, quoting Scripture to Mr. Nichols from her Bible and lived to tell about it, the networks wouldn't have even allowed her on the air, much less made a big deal out of it. What was the subtle message the architects were teaching us?
Be a hero! – Be Purpose Driven!
No wonder sales of the PDL book spiked! Who wouldn't want to be a TV hero and a media darling?
When Brian Nichols told Ashley that he thought his purpose was "to talk to people and tell them about you," I'm sure that made her feel very special; but the absurd implication of that statement seemed to escape most teary-eyed Christians I know; that God had four people shot dead at the courthouse that day in Atlanta just so Nichols could spend the rest of his life telling everyone about Ashley Smith. If it hasn't registered yet, that's horizontal worship, aka: idolatry; and THAT, my friends, is what the church growth movement is all about; worshiping one another and our collective achievements in the name of Jesus. That's why the emphasis is always on relationships rather than righteousness.
SMITH: "But after we began to talk, he said he thought that I was an angel sent from God. And that I was his sister and he was my brother in Christ. And that he was lost and God led him right to me to tell him that he had hurt a lot of people."
Well, in spite of Brian Nichols' thoughts and feelings, Ashley is not "an angel sent from God." She is quite human and has, as Warren admitted on Larry King Live, a less than angelic past. In addition, Mr. Nichols might consider himself to be a "lost brother in Christ," but I assure you; THERE IS NO SUCH THING. He is either lost OR he is a brother in Christ. He cannot be both simultaneously. Furthermore, a brother in Christ does not gun down innocent people in a court of law, flee for his life, take hostages and threaten to kill them.
SMITH: "I said, 'Do you believe in miracles? Because if you don't believe in miracles—you are here for a reason. You're here in my apartment for some reason. You got out of that courthouse with police everywhere, and you don't think that's a miracle? You don't think you're supposed to be sitting right here in front of me listening to me tell you, you know, your reason here?' I said, 'You know, your miracle could be that you need to—you need to be caught for this,' Smith continued. 'You need to go to prison and you need to share the Word of God with them, with all the prisoners there.'"
This is not the Gospel of Christ being shared, friends; this is a frightened woman appealing to a desperate man through his ego, using anything she can think of including God, sympathy, flattery, family, food and friendship to win his trust and just stay alive. Under the circumstances, I don't fault her for any of this; but let's just call it what it is. I also don't fault either of them for their confusion about God, His miracles and His purpose for their lives, considering their obvious lack of biblical knowledge, discernment and understanding.
I do, however, find it absolutely outrageous that a degree-holding, seminary educated, mega-church pastor like Rick Warren would take advantage of this terrible tragedy and the gross ignorance and confusion of those involved and twist it into something he can use to plug his book, his programs, and his upcoming faith-based global socialist P.E.A.C.E. Plan! That is unacceptable behavior, and he ought to be ashamed!
The real travesty that day was this: The Gospel of Christ was not proclaimed, no one repented, and no one was saved; at least not spiritually, which would have been a miracle indeed. According to the reports and interviews I've read, Smith and Nichols discussed a lot of heartwarming things in their lives but not Jesus Christ, the cross, His death, burial, resurrection, shed blood or redemptive plan for mankind. From what I can ascertain, their focus was, like Warren's, on a Purpose Driven Life, not eternal life in Christ.
Nichols did not surrender to Jesus Christ or anyone else for that matter; he was turned in to the authorities by his hostage and taken into custody without incident a short time later.
It just blows my mind that the church today thinks they have a monopoly on kindness and generosity; that displaying such things to strangers somehow MEANS you're an official "child of God! This is the counterfeit Christianity that the world is just wild about today; the new paradigm for the postmodern church: a religion of relationships, social service, and psychology, offered up in the name of our Homeboy, Jesus.
This kind of Christianity doesn't even need a Divine Savior or the Word of God, and is replacing both at church with what amounts to religious volunteerism—a politically correct value system and service organization comprised of smiley-faced worker bees that embrace no real doctrine, theology or belief beyond a luv for fellow man.
For a kind word and a drink, you can get THAT at any bar in town! One of the most loyal, unpretentious, unselfish people I know in this life is an atheist. He would give you or me the shirt off his back and do almost anything for anyone, yet he claims no God exists. When is the dumbed-down church of horizontal worship and service going to wake up from this Purpose Driven delusion and realize that our good deeds and human relationships mean nothing without a knowledge of, belief in, and obedience to, the Word of God?
Larry King mentioned during his interview the other night with Warren that a copy of The Purpose Driven Life was found in the back seat of [wife-murderer] Scott Peterson's car. They concluded that, in light of the outcome, he must not have read it. Here we have support from the LIBERAL media and its premier talk show host, an agnostic! That right there ought to tell you something's askew! How do we know Scott Peterson DIDN'T read it? Maybe the absence of tears and remorse the media and their expert psychologists condemned him for was really Scott gracefully accepting his newfound purpose in life on death row? That killing his wife and unborn son is what made it all possible. Same logic.
Anyway, call the Purpose Driven hostage outcome anything you want; but it was not a miracle. It was only reported as such because the book she chose to read from that day is published by a subsidiary of one of those big five corporations I mentioned earlier. They have a vested interest in Warren's success and none in Jesus Christ's.
I am thrilled that Ashley escaped with her life and that no one else was killed, including Mr. Nichols; but don't let the media hype this into something it was not. If I've learned anything about the "wide gate and the broad way," it's that the crowd is ALWAYS wrong.
I wish only the best for Ms. Smith and her little girl and sincerely hope that Brian Nichols confesses, repents, and surrenders to the One who works REAL miracles and doesn't end up a Purpose Driven hostage himself.
Used with permission from Paul Proctor.
The other articles Paul Proctor wrote about the Purpose Driven hostage story:
"Obama Administration Enables 'Boy Play'" – Child Molestation Overlooked by U.S. Government
LTRP Note: Because we are a research ministry, we do post news articles from various secular and Christian sources along with our own in-house articles if we believe our readers can benefit from the information.
By Matt Barber
WorldNetDaily
God help us. Here's what America's newly homosexualized, "values neutral" military looks like.
Last week, in a strange fit of actual news reporting, the New York Times published an exposé revealing that, under this Obama administration, the Department of Defense is not only permitting the homosexual abuse of little boys at the hands of Muslim allies in Afghanistan, but is effectively facilitating it. A handful of U.S. servicemen have had enough and are courageously blowing the whistle on this unimaginably evil policy. Naturally, they're being punished and drummed out of the service for doing so.
"Rampant sexual abuse of children has long been a problem in Afghanistan, particularly among armed commanders who dominate much of the rural landscape and can bully the population," reports the Times. "The practice is called bacha bazi, literally 'boy play,' and American soldiers and Marines have been instructed not to intervene – in some cases, not even when their Afghan allies have abused boys on military bases, according to interviews and court records. …"
"At night we can hear them screaming, but we're not allowed to do anything about it," Lance Cpl. Gregory Buckley Jr. told his father, Gregory Buckley Sr., who recounted his conversation with the Times. "My son said that his officers told him to look the other way because it's their culture," Buckley added.
Isn't multiculturalism peachy? Click here to continue reading.
Related Information:
The Color of Pain: Boys who are sexually abused and the men they become by Greg Reid
Seducers Among Our Children by Investigative Sergeant Patrick Crough
Powerful Radio Interview: Jan Markell Interviews Patrick Crough – Children Who Fall Victim to Sexual Predators & the Story of One Boy
A Commentary On The Acceptance Of Evil… by Bill Randles
"Contemplative Spirituality – the Source of the Catholic Church's Expansion"
I had always been confused as to the real nature of this advance in the Catholic church. Was this just the work of a few mavericks and renegades, or did the church hierarchy sanction this practice? My concerns were affirmed when I read in an interview that the mystical prayer movement not only had the approval of the highest echelons of Catholicism but also was, in fact, the source of its expansion. – Ray Yungen
"Contemplative Spirituality – the Source of the Catholic Church's Expansion"
by Ray Yungen
While many Christians are still not even aware that a practical Christian mystical movement exists, momentum is picking up, and an obvious surge towards this contemplative spirituality has surfaced. Evidence regarding the magnitude of this mystical prayer movement is now within reach of the average person. In 1992, Newsweek magazine did a cover story called "Talking to God," which made a clear reference to it. The article disclosed:
[S]ilence, appropriate body posture and, above all, emptying the mind through repetition of prayer have been the practices of mystics in all the great world religions. And they form the basis on which most modern spiritual directors guide those who want to draw closer to God.1
It is amazing to me how Newsweek clearly observed this shift in the spiritual paradigm over fifteen years ago, while many Christians (including most prominent leaders) still live in abject ignorance of this change. Are the teachings of the practical Christian mystic actually being assimilated so well that even our pastors are not discerning this shift?
In September 2005, Newsweek carried a special report called "Spirituality in America." The feature story, titled "In Search of the Spiritual," is seventeen pages long, and for anyone who thought that a Christian mystical movement did not exist, this article is all the proof needed to show it not only exists but is alive, well, and growing like you wouldn't believe.
Thomas Keating
The article begins by describing the origin of the contemporary contemplative prayer movement, which began largely with a Catholic monk named Thomas Keating:
To him [Keating], as a Trappist monk, meditation was second nature. He invited the great Zen master Roshi Sasaki to lead retreats at the abbey. And surely, he thought, there must be a precedent within the church for making such simple but powerful spiritual techniques available to laypeople. His Trappist brother Father William Meninger found it in one day in 1974, in a dusty copy of a 14th-century guide to contemplative meditation, "The Cloud of Unknowing."2
The most obvious integration of this movement can be found in Roman Catholicism. Michael Leach, former president of the Catholic Book Publishers Association, made this incredibly candid assertion:
But many people also believe that the spiritual principles underlying the New Age movement will soon be incorporated–or rather reincorporated–into the mainstream of Catholic belief. In fact, it's happening in the United States right now.3
Incorporating it is! And it is assimilating primarily through the contemplative prayer movement.
Contemplative leader Basil Pennington, openly acknowledging its growing size, said, "We are part of an immensely large community … 'We are Legion.'"4 Backing him up, a major Catholic resource company stated, "Contemplative prayer has once again become commonplace in the Christian community."5
William Shannon [a mystic proponent and the biographer of Thomas Merton] went so far as to say contemplative spirituality has now widely replaced old-style Catholicism.6 This is not to say the Mass or any of the sacraments have been abandoned, but the underlying spiritual ideology of many in the Catholic church is now contemplative in its orientation.
One of my personal experiences with the saturation of mysticism in the Catholic church was in a phone conversation I had with the head nun at a local retreat center who told me the same message Shannon conveys. She made it clear The Cloud of Unknowing is now the basis for nearly all Catholic spirituality, and contemplative prayer is now becoming widespread all over the world.
I had always been confused as to the real nature of this advance in the Catholic church. Was this just the work of a few mavericks and renegades, or did the church hierarchy sanction this practice? My concerns were affirmed when I read in an interview that the mystical prayer movement not only had the approval of the highest echelons of Catholicism but also was, in fact, the source of its expansion. Speaking of a meeting between the late Pope Paul VI and members of the Catholic Trappist Monastic Order in the 1970s, Thomas Keating, disclosed the following:
The Pontiff declared that unless the Church rediscovered the contemplative tradition, renewal couldn't take place. He specifically called upon the monastics, because they lived the contemplative life, to help the laity and those in other religious orders bring that dimension into their lives as well.7
Just look at the latest official catechism of the Catholic church to see contemplative prayer officially endorsed and promoted to the faithful by the powers that be. The new catechism firmly states: "Contemplative prayer is hearing the word of God … Contemplative prayer is silence."8
I realized just how successfully Pope Paul's admonitions have been carried out when I discovered the following at one popular Catholic bookstore. Many shelves were marked as spirituality–the focal point of the entire store. Eighty to ninety percent of the books on those shelves were on mystical prayer. It was clearly the overriding theme….
Contemplative spirituality reaches far beyond the walls of the Catholic church. Mainline Protestant traditions (Episcopalians, United Methodists, Presbyterians, Lutherans, United Church of Christ, etc.) have dived into the contemplative waters too. Their deep tradition of twentieth-century liberalism and sociopolitical activism has left them spiritually dry and thirsting for supernatural experiences. This school of practical mysticism gives them a sense of spirituality while still allowing them a liberal political correctness. Marcus Borg, [former] professor of Religion and Culture at Oregon State University and someone who resonates with mystical spirituality understands the popularity of mystical prayer. He states:
In some mainline denominations, emerging-paradigm [contemplative] Christians are in the majority. Others are about equally divided between these two ways of being Christian.9
A sales person at a bookstore that caters to these denominations once told me the contemplative prayer view has found a large audience in the Protestant mainstream, and many pastors are very open to these practices. She added that some members of the clergy did show resistance, but a clear momentum towards the contemplative direction was nevertheless occurring. An article in Publisher's Weekly magazine addressing the move toward contemplative prayer in mainstream religious circles confirmed her observation. One woman in the publishing field was quoted as saying, "[M]any Protestants are looking to satisfy that yearning by a return to the Western contemplative tradition."10 Another college professor pointed out:
My students have been typically middle-aged and upper middle class Methodists, Presbyterians, Congregationalists, and Baptists, active in the lay leadership of their churches. To outward appearances, they are quite conventional people. Yet I have found that virtually every one of my students has encountered the new age in one of its many forms and has been attracted by its mystery.11
Contemplative spirituality provides a seemingly profound experience of God without having to adhere to a conservative social outlook. It also gives its practitioners comfort to know they draw on a so–called Christian well of tradition. This dilutes any reluctance some might have about the orthodoxy of these practices.
To underscore the scope and reach of the contemplative prayer movement let's look at the numbers put out by an organization called Spiritual Directors International (SDI). On their website this group gives ample evidence of what their practices are. In one national conference, the following was presented:
This workshop offers an opportunity to study and experience the [spiritual] director's role in a person's move into the beginning and early stages of contemplative prayer, silence, and openness to new sorts of praying.12
One of the objectives of SDI is "Tending the holy around the world and across traditions." A 2008 membership list showed 652 Episcopalians, 239 Presbyterians, 239 Methodists, 175 Lutherans, and a whopping 2,386 Roman Catholics; counting another forty or so "traditions," the total was 6648. To show the nature of just what they mean by "across traditions," the list included Buddhist, Gnostic Christian, Hindu, Muslim, Jewish, Siddha Yoga, and even Pagan/Wiccan.* (see below)
(For more information about contemplative spirituality, spiritual formation, and New Age mysticism coming into the church, read A Time of Departing.)
Notes:
1. Kenneth L. Woodward, "Talking to God" (Newsweek , January 6, 1992), p. 44.
2. Jerry Alder, "In Search of the Spiritual" (Newsweek, August/September 2005, Special Report: "Spirituality in America"), p. 48.
3. Michael Leach (America, May 2, 1992), p. 384.
4. M. Basil Pennington, Centered Living: The Way of Centering Prayer (New York, NY: Doubleday Publishing, Image Book edition, September 1988), p. 10.
5. Sheed & Ward Catalog, Winter/Lent, 1978, p. 12.
6. William Shannon, Seeds of Peace (New York, NY: Crossroad Publishing, 1996), p. 25.
7. Anne A. Simpson, "Resting in God" Common Boundary magazine, Sept./Oct. 1997, http://www.livingrosaries.org/interview.htm), p. 25.
8. Catechism of the Catholic Church (Urbi et Orbi Communications, 1994), p. 652.
9. Marcus Borg, The Heart of Christianity (San Francisco, CA: Harper, 2004), p. 7.
10. Kimberly Winston, "Get Thee to a Monastery" (Publisher's Weekly, April 10, 2000), p. 39.
11. Bruce Epperly, Crystal & Cross (Mystic, CT: Twenty-third Publishers, 1996), p. 14.
12. Spiritual Directors International, Conference Workshops: "Exile or Return? Accompanying the Journey into Contemplative Prayer" (http://www.sdiworld.org/conference_workshops.html).
*Note on Spiritual Directors International. Since 2005, there have been significant increases in the SDI's demographic statistics of spiritual director members. The overall increase went from around 5000 members in 2005 to 6648 in 2008 with new denominations and religious groups added.
NEW BOOKLET TRACT: REJOICING THROUGH IT ALL—What Scripture Tells Us
REJOICING THROUGH IT ALL—What Scripture Tells Us by Warren B. Smith s is our newest Lighthouse Trails Booklet Tract. The Booklet Tract is 14 pages long and sells for $1.95 for single copies. Quantity discounts are as much as 50% off retail. Our Booklet Tracts are designed to give away to others or for your own personal use.  Below is the content of the booklet. To order copies of REJOICING THROUGH IT ALL—What Scripture Tells Us, click here.
REJOICING THROUGH IT ALL—What Scripture Tells Us
By Warren B. Smith
As challenging as it may seem at times, God's Word tells us to rejoice always (Philippians 4:4) and evermore (1Thessalonians 5:16). The various Hebrew and Greek words for rejoicing range in meaning from calmly happy to exceedingly glad and jumping for joy. The Bible reminds us that God's people should be a "happy" people because our God is the Lord (Psalm 144:15). We know that "though our outward man perish" yet our "inward man is renewed day by day. Therefore, we rejoice and give thanks for the "abundant grace" so mercifully bestowed upon us by God our Savior.
Knowing that he which raised up the Lord Jesus shall raise up us also by Jesus, and shall present us with you. For all things are for your sakes, that the abundant grace might through the thanksgiving of many redound to the glory of God. For which cause we faint not; but though our outward man perish, yet the inward man is renewed day by day. (2 Corinthians 4:14-16)
Why do We Rejoice?
The old revered hymn Count Your Blessings reminds us that even in our darkest moments we are to rejoice and count our many blessings:
When upon life's billows you are tempest tossed,
When you are discouraged, thinking all is lost,
Count your many blessings, name them one by one,
And it will surprise you what the Lord hath done.
There are so many blessings and so many reasons why we should rejoice always and evermore. Here are just a few:
Jesus Christ Came into the World to be Our Savior
And the angel said unto them, Fear not: for, behold, I bring you good tidings of great joy, which shall be to all people. For unto you is born this day in the city of David a Saviour, which is Christ the Lord. (Luke 2:10-11)
His Name is Above All Names
Wherefore God also hath highly exalted him, and given him a name which is above every name: That at the name of Jesus every knee should bow, of things in heaven, and things in earth, and things under the earth; And that every tongue should confess that Jesus Christ is Lord, to the glory of God the Father. (Philippians 2:9-11)
All Things were Created by Him
In the beginning was the Word, and the Word was with God, and the Word was God. The same was in the beginning with God. All things were made by him; and without him was not any thing made that was made. (John 1:1-3)
For by him were all things created, that are in heaven, and that are in earth, visible and invisible, whether they be thrones, or dominions, or principalities, or powers: all things were created by him, and for him: And he is before all things, and by him all things consist. (Colossians 1:16-17)
Jesus is the Propitiation for Our Sins
And he is the propitiation for our sins: and not for ours only, but also for the sins of the whole world. (1 John 2:2)
But God commendeth his love toward us, in that, while we were yet sinners, Christ died for us. (Romans 5:8)
Giving thanks unto the Father, which hath made us meet to be partakers of the inheritance of the saints in light: Who hath delivered us from the power of darkness, and hath translated us into the kingdom of his dear Son: In whom we have redemption through his blood, even the forgiveness of sins. (Colossians 1:12-14)
He Defeated Sin and Satan and Death on the Cross of Calvary
Forasmuch then as the children are partakers of flesh and blood, he also himself likewise took part of the same; that through death he might destroy him that had the power of death, that is, the devil. (Hebrews 2:14)
He Has Given Us the Victory
But thanks be to God, which giveth us the victory through our Lord Jesus Christ. (1 Corinthians 15:57)
Thanks be unto God for his unspeakable gift. (2 Corinthians 9:15)
We Are Saved Because of Him
That if thou shalt confess with thy mouth the Lord Jesus, and shalt believe in thine heart that God hath raised him from the dead, thou shalt be saved. (Romans 10:9)
We Have Been Saved by His Grace Alone
For by grace are ye saved through faith; and that not of yourselves: it is the gift of God: Not of works, lest any man should boast. (Ephesians 2:8-9)
We Are the Children of God Through Faith in Him
For ye are all the children of God by faith in Christ Jesus. (Galatians 3:26)
We Have Peace with God Through Him
Therefore being justified by faith, we have peace with God through our Lord Jesus Christ. (Romans 5:1)
He Gave Us His Life
Hereby perceive we the love of God, because he laid down his life for us: and we ought to lay down our lives for the brethren. (1 John 3:16)
He Gave Us His Word
All scripture is given by inspiration of God, and is profitable for doctrine, for reproof, for correction, for instruction in righteousness: That the man of God may be perfect, thoroughly furnished unto all good works. (2 Timothy 3:16-17)
He Has Given Us the Gift of Everlasting Life
For God so loved the world, that he gave his only begotten Son, that whosoever believeth in him should not perish, but have everlasting life. (John 3:16)
How do We Rejoice?
We Rejoice for this Day
This is the day which the LORD hath made; we will rejoice and be glad in it. (Psalm 118:24)
We Rejoice in God's Salvation
We will rejoice in thy salvation, and in the name of our God we will set up our banners. (Psalm 20:5)
And it shall be said in that day, Lo, this is our God; we have waited for him, and he will save us: this is the LORD; we have waited for him, we will be glad and rejoice in his salvation. (Isaiah 25:9)
Lest mine enemy say, I have prevailed against him; and those that trouble me rejoice when I am moved. But I have trusted in thy mercy; my heart shall rejoice in thy salvation. I will sing unto the LORD, because he hath dealt bountifully with me. (Psalm 13:4-6)
The voice of rejoicing and salvation is in the tabernacles of the righteous. (Psalm 118:15)
We Rejoice that God has Clothed Us with the Garments of Salvation
I will greatly rejoice in the LORD, my soul shall be joyful in my God; for he hath clothed me with the garments of salvation, he hath covered me with the robe of righteousness, as a bridegroom decketh himself with ornaments, and as a bride adorneth herself with her jewels. (Isaiah 61:10)
We Rejoice in Christ Jesus
For we are the circumcision, which worship God in the spirit, and rejoice in Christ Jesus, and have no confidence in the flesh. (Philippians 3:3)
We Rejoice in His Name
For our heart shall rejoice in him, because we have trusted in his holy name. (Psalm 33:21)
In thy name shall they rejoice all the day: and in thy righteousness shall they be exalted. (Psalm 89:16)
We Rejoice and Sing Praise to His Name
I will be glad and rejoice in thee: I will sing praise to thy name, O thou most High. (Psalm 9:2)
Sing unto God, sing praises to his name: extol him that rideth upon the heavens by his name JAH, and rejoice before him. (Psalm 68:4)
We Rejoice as We Seek the Lord
Let all those that seek thee rejoice and be glad in thee: let such as love thy salvation say continually, The LORD be magnified. (Psalm 40:16)
We Rejoice in Suffering for His Name
And they departed from the presence of the council, rejoicing that they were counted worthy to suffer shame for his name. (Acts 5:41)
We Rejoice in God's Word
I rejoice at thy word, as one that findeth great spoil. (Psalm 119:162)
We Rejoice in His Testimonies
I have rejoiced in the way of thy testimonies, as much as in all riches. (Psalm 119:14)
We Rejoice in His Statutes
The statutes of the LORD are right, rejoicing the heart: the commandment of the LORD is pure, enlightening the eyes. (Psalm 19:8)
We Rejoice in the Truth
Rejoiceth not in iniquity, but rejoiceth in the truth. (1 Corinthians 13:6)
We Rejoice When Others Walk in Truth
I rejoiced greatly that I found of thy children walking in truth as we have received a commandment from the Father. (2 John 1:4)
We Rejoice Even in Heaviness
Wherein ye greatly rejoice, though now for a season, if need be, ye are in heaviness through manifold temptations. (1 Peter 1-6)
We Rejoice Even in Sorrow
As sorrowful, yet alway rejoicing; as poor, yet making many rich; as having nothing, and yet possessing all things. (2 Corinthians 6:10)
We Rejoice When We Partake in Christ's Sufferings
Beloved, think it not strange concerning the fiery trial which is to try you, as though some strange thing happened unto you: But rejoice, inasmuch as ye are partakers of Christ's sufferings; that, when his glory shall be revealed, ye may be glad also with exceeding joy. If ye be reproached for the name of Christ, happy are ye; for the spirit of glory and of God resteth upon you: on their part he is evil spoken of, but on your part he is glorified. (1 Peter 4:12-14)
We Rejoice Even Though We Don't See Him
That the trial of your faith, being much more precious than of gold that perisheth, though it be tried with fire, might be found unto praise and honour and glory at the appearing of Jesus Christ: Whom having not seen, ye love; in whom, though now ye see him not, yet believing, ye rejoice with joy unspeakable and full of glory. (1 Peter 1:7-8)
We Rejoice in God's Mercy
I will be glad and rejoice in thy mercy: for thou hast considered my trouble; thou hast known my soul in adversities. (Psalm 31:7)
We Rejoice With Trembling
Serve the LORD with fear, and rejoice with trembling. (Psalm 2:11)
We Rejoice But Remain Alert for Evil Workers
Finally, my brethren, rejoice in the Lord. To write the same things to you, to me indeed is not grievous, but for you it is safe. Beware of dogs, beware of evil workers. (Philippians 3:1-2)
We Rejoice Because God is Our Help
Because thou hast been my help, therefore in the shadow of thy wings will I rejoice. (Psalm 63:7)
We Rejoice Because We Trust in the Lord and He Defends Us
But let all those that put their trust in thee rejoice: let them ever shout for joy, because thou defendest them. (Psalm 5:11)
The LORD is my strength and my shield; my heart trusted in him, and I am helped: therefore my heart greatly rejoiceth; and with my song will I praise him. (Psalm 28:7)
We Rejoice in the Lord Always
Rejoice in the Lord alway: and again I say, Rejoice. (Philippians 4:4)
We Rejoice but We do not Forget the Days of Darkness
But if a man live many years, and rejoice in them all; yet let him remember the days of darkness; for they shall be many. All that cometh is vanity. (Ecclesiastes 11:8)
We Rejoice When We are Hated and Reproached
Blessed are ye, when men shall hate you, and when they shall separate you from their company, and shall reproach you, and cast out your name as evil, for the Son of man's sake. Rejoice ye in that day, and leap for joy: for, behold, your reward is great in heaven: for in the like manner did their fathers unto the prophets. (Luke 6:22-23)
We Rejoice When We are Persecuted
Blessed are they which are persecuted for righteousness' sake: for theirs is the kingdom of heaven. Blessed are ye, when men shall revile you, and persecute you, and shall say all manner of evil against you falsely, for my sake. Rejoice, and be exceeding glad: for great is your reward in heaven: for so persecuted they the prophets which were before you. (Matthew 5:10-12)
We Rejoice When There Seems Little to Rejoice About
Although the fig tree shall not blossom, neither shall fruit be in the vines; the labour of the olive shall fail, and the fields shall yield no meat; the flock shall be cut off from the fold, and there shall be no herd in the stalls: Yet I will rejoice in the LORD, I will joy in the God of my salvation. The LORD God is my strength, and he will make my feet like hinds' feet, and he will make me to walk upon mine high places. (Habakkuk 3:17-19)
We Rejoice Before God
But let the righteous be glad; let them rejoice before God: yea, let them exceedingly rejoice. (Psalm 68:3)
We Rejoice When the Righteous are in Authority
When the righteous are in authority, the people rejoice: but when the wicked beareth rule, the people mourn. (Proverbs 29:2)
We Rejoice and Make a Joyful Noise
Make a joyful noise unto the LORD, all the earth: make a loud noise, and rejoice, and sing praise. (Psalm 98:4)
We Rejoice in Hope
Therefore being justified by faith, we have peace with God through our Lord Jesus Christ: By whom also we have access by faith into this grace wherein we stand, and rejoice in hope of the glory of God. (Romans 5:1-2)
Rejoicing in hope; patient in tribulation; continuing instant in prayer…(Romans 12:12)
We Rejoice When We are Revived
Wilt thou not revive us again: that thy people may rejoice in thee? (Psalm 85:6)
We Rejoice in the Lord and Shout for Joy
Be glad in the LORD, and rejoice, ye righteous: and shout for joy, all ye that are upright in heart. (Psalm 32:11)
We Rejoice With Them that Rejoice And Weep With Them that Weep
Rejoice with them that do rejoice, and weep with them that weep. (Romans 12:15)
We Rejoice After Sowing in Tears
He that goeth forth and weepeth, bearing precious seed, shall doubtless come again with rejoicing, bringing his sheaves with him. (Psalm 126:6)
We Rejoice Because Jesus Went to the Father
Peace I leave with you, my peace I give unto you: not as the world giveth, give I unto you. Let not your heart be troubled, neither let it be afraid. Ye have heard how I said unto you, I go away, and come again unto you. If ye loved me, ye would rejoice, because I said, I go unto the Father: for my Father is greater than I. (John 14:27-28)
We Rejoice and We Suffer With the Body of Christ
And whether one member suffer, all the members suffer with it; or one member be honoured, all the members rejoice with it. (1 Corinthians 12:26)
We Rejoice When Christ is Preached
What then? notwithstanding, every way, whether in pretence, or in truth, Christ is preached; and I therein do rejoice, yea, and will rejoice. (Philippians 1:18)
We Rejoice in Every Good Thing the Lord Gives Us
And thou shalt rejoice in every good thing which the LORD thy God hath given unto thee. (Deuteronomy 26:11)
We Rejoice and Give Thanks for His Holiness
Rejoice in the LORD, ye righteous; and give thanks at the remembrance of his holiness. (Psalm 97:12)
We Declare His Works With Rejoicing
Oh that men would praise the LORD for his goodness, and for his wonderful works to the children of men! And let them sacrifice the sacrifices of thanksgiving, and declare his works with rejoicing. (Psalm 107:21-22)
We Rejoice that Our Names are Written in Heaven
Notwithstanding in this rejoice not, that the spirits are subject unto you; but rather rejoice, because your names are written in heaven. (Luke 10:20)
We Rejoice in the Day of Christ
Do all things without murmurings and disputings: That ye may be blameless and harmless, the sons of God, without rebuke, in the midst of a crooked and perverse nation, among whom ye shine as lights in the world; Holding forth the word of life; that I may rejoice in the day of Christ, that I have not run in vain, neither laboured in vain. (Philippians 2:14-16)
We Rejoice in the New Heavens, the New Earth, and the New Jerusalem
For, behold, I create new heavens and a new earth: and the former shall not be remembered, nor come into mind. But be ye glad and rejoice for ever in that which I create: for, behold, I create Jerusalem a rejoicing, and her people a joy. And I will rejoice in Jerusalem, and joy in my people: and the voice of weeping shall be no more heard in her, nor the voice of crying. (Isaiah 65:17-19)
We Rejoice Right to the End
But Christ as a son over his own house; whose house are we, if we hold fast the confidence and the rejoicing of the hope firm unto the end. (Hebrews 3:6)
We Rejoice Evermore
Rejoice evermore. (1Thessalonians 5:16)
Beware of False Rejoicing
While Scripture tells us to rejoice in the Lord always and evermore, we are not to rejoice in things that are not from God. In today's church, false teachers, false teachings, and false Christs abound. Godly rejoicing is based on a true relationship with our true Lord and Savior Jesus Christ. True rejoicing is the inward and outward expression of the Holy Spirit within us. We rejoice that the joy of the Lord is our strength (Nehemiah 8-10). Godly rejoicing takes place in all circumstances—no matter what. It says in spite of everything, the Lord is with us and "it is well with my soul." However, the city of Nineveh is a classic example of ungodly false rejoicing:
This is the rejoicing city that dwelt carelessly, that said in her heart, I am, and there is none beside me: how is she become a desolation, a place for beasts to lie down in every one that passeth by her shall hiss, and wag his hand. (Zephaniah 2:15)
The Bible warns us that we can be "zealously" affected by things that are not of God (Galatians 4:17). As with Nineveh, Israel's ungodly false rejoicing also led to severe consequences:
Therefore my people are gone into captivity, because they have no knowledge: and their honourable men are famished, and their multitude dried up with thirst. Therefore hell hath enlarged herself, and opened her mouth without measure: and their glory, and their multitude, and their pomp, and he that rejoiceth, shall descend into it. (Isaiah 5:13-14)
In Revelation 3:1, Jesus underscored how the church in Sardis had a reputation for being spiritually "alive," when in reality, it was spiritually "dead."
And unto the angel of the church in Sardis write; These things saith he that hath the seven Spirits of God, and the seven stars; I know thy works, that thou hast a name that thou livest, and art dead. (Revelation 3:1)
Let us not be deceived. Jesus warned that worldwide deception—not worldwide rejoicing and worldwide revival—would be the chief sign at the end of time (Matthew 24:3-5). While New Age teachers proclaim the coming of a great "Global Spiritual Awakening" and a "Planetary Pentecost," deceived Christian leaders similarly proclaim the coming of a great "Global Spiritual Awakening" and a "Second Pentecost." However, the Bible warns of global deception, the coming of Antichrist, and a planetary holocaust.
There is no legitimate worldwide revival poised on the threshold ready to break forth. What we are told in Scripture—if we choose to believe it—is that "evil men and seducers shall wax worse and worse." Yet, in spite of it all—and through it all—we are to rejoice in our Lord God who has mercifully warned us that these events will definitely transpire. His warnings are not intended to frighten or intimidate us, but to prepare us for what lies ahead. We are to continue in our faith and in the things of which we have learned and been assured. The apostle Paul states:
Yea, and all that will live godly in Christ Jesus shall suffer persecution. But evil men and seducers shall wax worse and worse, deceiving, and being deceived. But continue thou in the things which thou hast learned and hast been assured of, knowing of whom thou hast learned them. (2 Timothy 3:10-14)
True Rejoicing
People involved in true rejoicing expose false teachers rather than joining forces with them. They reprove spiritual deception rather than becoming a part of it. People involved in true rejoicing fear God, keep His Word, and do not look for signs and wonders or get involved in false rejoicing or revival. They "rejoiceth not in iniquity but rejoiceth in the truth." They celebrate the truth, the whole truth, and nothing but the truth. People involved in true rejoicing endeavor to rejoice always and evermore.
Let the heavens be glad, and let the earth rejoice: and let men say among the nations, The LORD reigneth. Let the sea roar, and the fulness thereof: let the fields rejoice, and all that is therein. Then shall the trees of the wood sing out at the presence of the LORD, because he cometh to judge the earth. O give thanks unto the LORD; for he is good; for his mercy endureth for ever. (1 Chronicles 16:31-34)
To order copies of REJOICING THROUGH IT ALL—What Scripture Tells Us, click here.
George Barna and Frank Viola: Have No Problem with the "New Spirituality," But Preaching, Pastors, and Pews Are Pagan
By Philip Gray
Free Lance Writer for Lighthouse Trails
In Pagan Christianity, Frank Viola and George Barna tell readers "Reading this book takes courage." We couldn't agree more, but not for the same reasons that Viola and Barna warn their readers. They tell us that it takes courage, not because of what the books says but because of what a Christian must do after he or she reads it (p. 253). We say it takes courage because of the misrepresentation the authors have given to Christianity and because the book is a smoke screen for the "new" spirituality.
Basically, according to Pagan Christianity, if you are a Christian and you have been participating in any of the following activities, you have been practicing paganism:
1. Meeting in a building for church
2. Listening to a sermon
3. Having a pastor
4. Paying that pastor a salary
5. Sunday School lessons
6. Sitting in a pew (or balcony)
7. Using a pulpit
8. Using some sort of order to the church service, which includes taking an offering, having communion, giving announcements, and singing songs of worship.
9. Dressing up for church
10. Having a choir
11. Altar call
12. Evangelized to save a soul
After reading this list, how did you rate on that? How many of these activities are you guilty of? Did you go to church last Sunday? Did you put on your best outfit? Did you listen to a choir sing? Did that neighbor you bring respond to an altar call to give his life to Jesus Christ? Did you sit and listen to your pastor teach or preach the Word? Well, according to Pagan Christianity, if you did, you are more like a pagan than like a Christian. Of these activities, Barna and Viola say: "Such practices are foreign elements that God's people picked up from their pagan neighbors" (p. xx).
The point of this review is not to defend all of these practices in and of themselves. The point is to show that this book is another subtle stab at traditional Christianity, a stab that attempts to make Christians feel guilty for just about everything they do that has to do with going to church . . . everything that is, that is external. This book has absolutely nothing to do with the heart condition of man, nothing to do with sin and repentance but is merely a smoke screen to cover up the real issues that are plaguing the church today. For whether one dresses up for church or not, whether one gives a sermon or not, whether one sings or not, whether one gives an offering or not, and whether one sits in a pew or not, the issue that God looks at is the condition of the heart and not the outward appearances. One can sit in a pew and have evil intent in his heart; another can sit in a pew and be a godly humble man of God. It's not the pew that makes him one or the other.
Judge not according to the appearance, but judge righteous judgment. John 7:24

[F]or the LORD seeth not as man seeth; for man looketh on the outward appearance, but the LORD looketh on the heart. 1 Samuel 16:7
Pagan Christianity says that "the great bulk of first-century practices have been removed from the Christian landscape." The book tells readers that "such practices are presently being restored on a small scale by those daring souls who have taken the terrifying step of leaving the safe camp of institutional Christianity" (p. xviii). But the book never really tells us what those practices are, except to continually say it is something spectacular that excludes the above activities and includes small groups of people who stand around in circles, embracing, and sharing with one another their various thoughts, feelings, songs, prayers, and ideas – according to Viola and Barna, that is what makes a person a good New Testament Christian (i.e., nobody's wrong, everybody's right, all opinions are good, and we don't need pastors or teachers).
While there is certainly nothing wrong, in and of itself, for a group of people to stand in a circle and share with one another, it is not a guarantee that the group of people will be abiding in God's will in their lives. And, in fact, if Viola's and Barna's recipe for proper Christian living is acted upon, that group of people in the circle is probably going to be in trouble because rather than having the Word of God taught to them or preached to them by those who are called into the office of teacher or pastor, they will be "dialoguing" with one another, asking a lot of questions, and never coming up with any answers (because the postmodern isn't supposed to have any actual answers – having answers offends).
What is the real agenda of Pagan Christianity? Well, this much we can say, it sure isn't to warn believers against true pagan practices and beliefs such as eastern-style meditation, walking through labyrinths, doing Yoga, focusing on the breath, rejecting the atonement, and so forth. In a day when spiritual deception is at an all time high, when growing numbers of Christian leaders, churches, schools, and organizations are falling into the trap of practicing, promoting, and embracing mysticism and other New Age practices (disguised with Christian terminology, by the way), it hardly seems appropriate and wise to tell Christians to stop sitting in pews, stop having sermons (and pastors for that matter), stop meeting in buildings, end all Sunday School lessons, and by all means stop dressing up on Sundays.
Perhaps what is most distressing about this book is that there is an underlying sentiment that the "preaching" and teaching of God's Word is not a New Testament practice and should be done away with. Perhaps this is the real message of Pagan Christianity. Rather than have the Word presented and preached as if it is an authoritative source for believers, get rid of all the venues in which it is presented (church buildings, sermons, pastors, pews,pulpits, etc.) as such and turn it into something we can all debate, dispute, question, challenge and reinvent.
What we would call Pagan Christianity is a perfect example of "missing the point." But with Frank Viola co-authoring a book with New Age sympathizer Leonard Sweet and George Barna, a Rick Warren look alike with a dominionist agenda, is that really any wonder that they have missed the point?
I have preached righteousness in the great congregation: lo, I have not refrained my lips, O LORD, thou knowest. Psalm 40:9

The Spirit of the Lord GOD is upon me; because the LORD hath anointed me to preach good tidings unto the meek; he hath sent me to bind up the brokenhearted, to proclaim liberty to the captives, and the opening of the prison to them that are bound. Isaiah 61:1

Arise, go unto Nineveh, that great city, and preach unto it the preaching that I bid thee. Jonah 3:2

From that time Jesus began to preach, and to say, Repent: for the kingdom of heaven is at hand. Matthew 4:17

Notwithstanding the Lord stood with me, and strengthened me; that by me the preaching might be fully known, and that all the Gentiles might hear: 2 Timothy 4:17

Preach the word; be instant in season, out of season; reprove, rebuke, exhort with all long suffering and doctrine. 2 Timothy 4:2
Beth Moore & Priscilla Shirer – Their History of Contemplative Prayer and Why War Room Should Not Have Used Them
Beth Moore & Priscilla Shirer –  Their History of Contemplative Prayer and Why War Room Should Not Have Used Them by John Lanagan and the Editors at Lighthouse Trails is our newest Lighthouse Trails Booklet Tract. The Booklet Tract is 14 pages long and sells for $1.95 for single copies. Quantity discounts are as much as 50% off retail. Our Booklet Tracts are designed to give away to others or for your own personal use.  Below is the content of the booklet. To order copies of Beth Moore & Priscilla Shirer – Their History of Contemplative Prayer and Why War Room Should Not Have Used Them click here.
 "Beth Moore & Priscilla Shirer – Their History of Contemplative Prayer and Why War Room Should Not Have Used Them"
By John Lanagan and the Editors at Lighthouse Trails
I knew the Lord was calling me to experience Him in prayer in a brand new way.1—Priscilla Shirer

[I]f we are not still before Him [God], we will never truly know, to the depths of the marrow in our bones, that He is God. There has got to be a stillness.2—Beth Moore
Contemplative prayer, which Priscilla Shirer refers to as her "brand new way" and Beth Moore says is essential in really knowing God, is in reality an ancient prayer practice that is essentially the same as New Age or Eastern meditation though disguised with Christian terminology. Those who participate and enter the contemplative silence, as it is called, open themselves to great deception.
Now, because of the success of the War Room movie, many fans are going to flock to the websites and materials of Beth Moore and Priscilla Shirer. Those who buy Shirer's book, Discerning the Voice of God: How to Recognize When God Speaks, will discover Shirer's affinity with contemplative prayer. And those who buy the DVD Be Still or a book titled When Godly People Do Ungodly Things will learn of Moore's contemplative prayer propensities.
Contemplative prayer is a primary factor to consider as we watch the visible church depart from sound doctrine more and more. It is promoted by such ministries as Mike Bickle's International House of Prayer (IHOP),  Bethel Church of Redding, California (Bill and Beni Johnson), Saddleback's Rick Warren, author Kenneth Boa, and pastor and author Tim Keller to name just a few.
How was Priscilla Shirer introduced to this practice? She writes:
[A] friend sent me a book on silent prayer. The book explains how purposeful periods of silent prayer can help believers hear God's voice. I was very drawn to the spiritual journey of the author, and I read the book twice. As my heart burned within me, I knew that the Lord was calling me to experience Him in prayer in a brand new way.3
Thus fascinated with this newly discovered concept, Shirer then read a Bible verse, which she perceived as a Word from the Lord: "As you enter the house of God, keep your ears open and your mouth shut" (Ecclesiastes 5:1, NLT). She explains:
It confirmed the message of the book I had been so drawn to and what I sensed the Holy Spirit was leading me to do.4
She was further amazed to learn that some of the women from her church were going to participate in a "silent prayer retreat. Women would gather to spend 36 hours of silence in anticipation of hearing the voice of God."5
She had read about this in the book on silent prayer, but now here were people actually talking about the same thing. Shirer seems to have taken all this as part of God's plan.
Beth Moore and Her Contemplative Hero
In her book When Godly People Do Ungodly Things, in a section about "Unceasing Prayer," Beth Moore states:
I have picked up on the terminology of Brother Lawrence [a Carmelite mystic], who called praying unceasingly practicing God's presence. In fact, practicing God's presence has been my number one goal for the last year.6
Moore says:
A head full of biblical knowledge without a heart passionately in love with Christ is terribly dangerous—a stronghold waiting to happen. The head is full, but the heart and soul are still unsatisfied.7
This language is very indicative of contemplatives and echoes Richard Foster who says we have become barren and dry within or Rick Warren who believes the church needs Spiritual Formation (i.e., contemplative prayer) to come to "full maturity."8 However, this could lead one to think that the Word of God is little more than a philosophy or belief system and needs the help of contemplative prayer to be effective at all. The insinuation is that the Holy Spirit is dormant and ineffective without this vital stimuli. Contemplatives make a distinction between studying and pondering on the Word of God versus loving Him, suggesting that we cannot love Him or know Him simply by studying His Word or even through normal prayer—we must practice contemplative to accomplish this. Click here to continue reading this booklet.