In This Issue - click choice
If you would like to print this newsletter, use our new PRINT button up above. In order for it to print right, you will probably have to check the box that says "Remove images. If you want to print just ONE particular article from this newsletter, go to our blog site, type the title name of the article into the search box, and then use the green print button at the bottom of each article.
Lighthouse Trails Research PRINT JOURNAL: Our low-cost subscription-based print journal is mailed out to homes and offices 6 times a year. The 32-page journal contains the most important stories from our e-newsletter from the previous 8 weeks and also other features. You may wish to receive that in addition to this free e-newsletter. You can sign up any time during the year for the print journal. You can also buy individual or past issues here. Many people have now signed up for the print journal, and we are getting very favorable feedback that the journal is most beneficial. For common questions about the journal, click here.
Note: Because we are a research ministry, we do post news articles from various secular and Christian sources along with our own in-house articles if we believe our readers can benefit from the information. We also post video clips from YouTube at times. Also please note, any advertising on YouTube videos is not in any way connected to Lighthouse Trails and is beyond our control, but we make every effort to use only video clips that have no obscene or vulgar content including in advertising.
Photos used in this e-newsletter that are not exclusive to Lighthouse Trails are either 1) in the public domain, 2) used in accordance with the US Fair Use Act, 3) or are from bigstockphoto.com; used with permission.
Erwin McManus, Moody, Liberty, Cedarville, and Biola Help Pave the Emergent/Social Justice/Progressive Future with Barefoot Tribe
Lighthouse Trails has been warning readers for several years about the emergent church. In those warnings, we've addressed the spiritual leanings of Erwin McManus.1 We also challenged David Jeremiah because he told his church that he wanted to use McManus' book The Barbarian Way to help bring about a "major paradigm shift" in his church.2 Well, there's no question about it, the evangelical church has gone through a major paradigm shift. This week we received some information from a Lighthouse Trails reader about an event called Barefoot Tribe Gathering, which is another example of where emergent leaders are taking the church, in particular young evangelicals, who by the way are being encouraged not to even call themselves evangelicals or Christians anymore. They see themselves on a much higher ground than that. It's a ground that incorporates all religions, all people, and all beliefs and practices.
This emergent progressive church (which they tried to make us believe was a thing of the past) is the new "Christianity" for millions of young people. Under the disguise of helping the poor, taking care of the environment, and loving everyone (except their critics), is a growing body of people with a New Age/New Spirituality mindset that embraces all spiritual views and believes God exists in everyone. The Cross (or atonement) doesn't mean the place where Jesus Christ took our place and died for our sins but rather means at-one-ment (that is, we are all one and connected together with a "God" energy that flows through all things and all people). This at-one-ment rejects the idea that God would actually send His Son to a violent death to pay for OUR sins; rather this emergent view of atonement means that Jesus was a good example of someone who laid down His life and we should follow that example. That's as far as this "new church" will go with the Cross. To say He paid the penalty for our sins is to say that man is sinful and is not God. The new social justice, emergent, progressive "Christianity" cannot do that because it doesn't believe that.
According to the Barefoot Tribe's website, Erwin McManus was one of the speakers in the 2014 Barefoot Tribe Gathering (and by the way, the emergent church has made a lot of progress since then with the help of "evangelical" names such as McManus). We also noticed that Palmer Chinchen, who heads up Barefoot Tribe,  has been bringing the Barefoot Tribe message to various Christian colleges including Cornerstone University, Biola, Moody, Cedarville, and Liberty. What better place to change the face of Christianity than at the Christian universities. While parents keep their heads in the sand and pay huge dollars to have their children educated at "nice safe Christian colleges," right under their noses, their kids' spirituality is being turned upside down, and in many, if not most, cases will never be restored to biblical Christianity. Other colleges Barefoot Tribe has spoken at are:
Lest some think that Barefoot Tribe is simply an outreach to the poor and needy in the world, Palmer Chinchen's books, including Barefoot Tribe, are packed with quotes by, references to, and inspirations from some of the leading emergent writers today (Sweet, Ortberg, N.T. Wright, Nouwen, Brueggemann, Morgan Cron, Campolo, etc.). Satan has an agenda to deceive the whole world, and most proclaiming Christians and church goers have no idea it is  happening right in their own backyards.
The information sent from our reader:
The Barefoot Tribe Gathering 2014 and 2017
"We are on the crest of an epic shift in humanity. This generation views the world as an extended family – increasingly interconnected through technology – and living with a deep moral obligation to care for one another.
The Barefoot Tribe GATHERING will promote conversation, collaboration, and help network a generation of Christ-followers to respond to the plight of desperate people in broken places."
http://www.palmerchinchen.com/gathering
– Palmer Chinchen is organizer
2014 Speakers
(1)  Bob Goff:  author of Love Does – http://bobgoff.com/
(2)  Dr. John M. Perkins:  https://spu.edu/depts/perkins/john-perkins/
(3)  Caitlyn Crosby:  Oprah pick for Super Soul 100 list  as a "Soul Giver":  http://www.supersoul.tv/supersoul-100/soul-givers/caitlin-crosby
More on Caitlyn:  https://www.thegivingkeys.com/pages/our-founder-caitlin-crosby
(4)  Erwin McManus: http://awakengroup.com/?ag_team=erwin-raphael-mcmanus
Barefoot Tribe:  http://www.palmerchinchen.com/barefoot-tribe
-video
Related Articles:
Letter to the Editor: Serious Concerns Over Beth Moore's New Series, "Entrusted"
LTRP Note: We find it noteworthy that on the eve of our going to press with Roger Oakland's new book, The Good Shepherd Calls, we read this letter to the editor that arrived in our inbox this morning. The things this letter talks about are some of the same things Roger discusses in the book. What's more, this letter to the editor is more proof that it isn't just Lighthouse Trails, Understand The Times, and a handful of other discernment ministries that see what is coming about. (Those whom we challenge and critique want people to think that it is indeed just a handful, but it isn't.)  Based on the phone calls, e-mails, letters, and social media comments for nearly 15 years, it is clear that many Bible-believing Christians understand the times in which we live and see the apostasy coming upon the church. As for the letter below, we commend this woman for speaking up and warning her church members.
Dear Lighthouse Trails:
My small Southern Baptist church recently finished Beth Moore's "Entrusted" series which includes articles from her daughter Melissa Moore.  Not having experienced Beth Moore I wanted to give her the benefit of the doubt.  Being informed by Lighthouse Trails and other discernment websites, I approached the class with a good deal of wariness.  I love Beth and Melissa Moore as sisters in Christ.  I was hoping to find nothing of concern in "Entrusted."  This was not the case.  Following are some of my concerns.
Quite a lot of this study had to do with unity.  Beth had several pages of praise for the unbelieving "hero," Rabbi Gamaliel and his speech that unified the Sanhedrin, holding him up as an example for church leaders to follow.  She then contrasted Gamaliel with believers Paul and Barnabas and expressed dismay that they should split in a disagreement over John Mark, as though it was an avoidable incident over a minor problem.  She had a strong emphasis on not "compromising fellowship," with a major criteria for unity being that we join together for evangelism regardless of denomination, and with the assumption that we all believe the same basic Gospel message.  All other major doctrines seemed to be a minor concern.  There was a quick negative comment about what divides us, the inerrancy of Scripture being one of them. She read Acts 14:3 concerning God's use of signs and wonders through Paul and Barnabas, saying that she wants and expects wonders and indicated we should as well.  Before one of her grandchildren was born, "a word had been spoken" that led them to believe the child would be a boy, but it was instead a girl . . . a false prophecy.  .  Her daughter Melissa wrote approvingly about traditions of the early church (i. e., Roman Catholic), the liturgy and especially the creeds, with a desire to see all churches united in incorporating these traditions in weekly worship. There was a personal story from Melissa about how comforting she found this form of worship, as she was sharing the same worship experience with churches all over the world at the same time.  Lastly, Beth switched among at least eight Bible versions, including The Message. 
There were other comments scattered throughout the videos and written materials with which I disagreed mixed in with a majority with which I did agree, making it difficult to sift through it all.  However, at the inerrancy of Scripture comment, I couldn't hold my tongue.  When I told the ladies' Bible study group that I couldn't agree with Beth on this, as well as her subtle comments promoting ecumenism, I was met with defensive hostility and warnings about division in the church.  I never intended to cause waves or division, but I love those ladies and I couldn't let this pass.  There was obvious tension and discomfort at the next church service.
How can we unite in evangelism when we don't even agree on how to be saved?  How can we unite with those who hold unscriptural views on marriage, sexuality, abortion, health-and-wealth, etc.?  Doesn't it matter what a new believer is taught?   Is being safely in the fold all that matters?  Most importantly, the world appears to be nearing Christ's return and we are warned about the increase of apostasy and deception.  The experiential emergent movement, Chrislam, etc. are rapidly transforming the world's religions by incorporating Roman Catholic traditions and encouraging religious unity.  Aren't Bible studies like this one leading in the same direction?  Yet churches like mine seem completely oblivious.  Should we not warn them, or at least raise suspicion?
I haven't been back.  I don't want to be the focus of the problem.  My hope and prayer is that these brothers and sisters whom I love will instead focus on the major issue of discerning apostasy.  I pray they don't trust anything that comes from any source without doing a thorough evaluation.  And I pray they discuss everything before admitting it into the church, perhaps electing a trusted group of Bereans to act as a defense against apostasy.
Thank God for Lighthouse Trails Research and similar discernment websites, speaking the truth, and shining the light in the darkness.  Thank-you, LTR!
Cathy
Related Articles:
Remembering the Enticing Appeal of Richard Foster and Beth Moore's Be Still Film
Beth Moore & Priscilla Shirer – Their History of Contemplative Prayer and Why War Room Should Not Have Used Them
Is Beth Moore's "Spiritual Awakening" Taking the Evangelical Church Toward Rome?
LIGHTHOUSE TRAILS HAS GONE TO PRESS WITH THE GOOD SHEPHERD CALLS! STREET DATE: DECEMBER 19, 2016
Lighthouse Trails has gone to press with Roger Oakland's new release, The Good Shepherd Calls: An Urgent Message to the Last-Days Church. The scheduled street date for the book is December 19th, 2016 when all pre-orders will be shipped.
Since the turn of the millennium, in particular since September 11, 2001 when America was attacked by terrorists triggering a global-wide spiritual paradigm shift, Christianity as we have known it has experienced a major meltdown. While many are saying Christianity is on the brink of a great revival and even a "new reformation," in reality, we are witnessing the greatest apostasy in modern-day history.
This latter-day deception has impacted every evangelical and Protestant denomination to one degree or another, and it is worldwide. The sheep have been led astray by shepherds who have neglected what they have been called to do—protect the sheep.
The Good Shepherd Calls brings clarity to what this delusion looks like, why it is happening, where it is headed, and what can still be done to warn believers and unbelievers alike.
This book is about following Jesus Christ,
the Good Shepherd!
Book Information:
288 pages | Softbound
$14.95 (qualifies for quantity retail discounts)
ISBN: 9781942423126
Available through Lighthouse Trails or most major outlets (Amazon, Barnes and Noble, etc.)
Click here to order your copy. This is one book you won't want to miss.
American Missionary to Nicaragua Pleads Guilty to Helping Ex-Lesbian Who Fled Country With Daughter
photo: Christian News Network
LTRP Note: Lighthouse Trails has been following the story of Lisa Miller and her daughter Isabella for over  seven years. We are advocates for the protection of children, even if that sometimes means breaking laws of the land if the laws of the land have become immoral and outrightly harmful to children. Today, still in hiding with her mother, Isabella is nearly 14 years old. The man discussed below (not related to her) helped Lisa and Isabella Miller escape to safety.
By Heather Clark
Christian News Network
BUFFALO, N.Y. — An American missionary to Nicaragua entered a guilty plea on Wednesday to a charge of conspiracy in international parental kidnapping for helping an ex-lesbian flee the U.S. with her child seven years ago.
"Timo Miller is a good man," his defense attorney, Jeffrey Conrad of Pennsylvania told the Buffalo News. "He made a mistake and he wants to put this behind him."
Several supporters sat in the courtroom as Timothy Miller, also known as Timo, entered his plea. Miller lives in Crossville, Tennessee, but conducts missions work with Christian Aid Ministries in Managua, Nicaragua. He appeared in court in Buffalo, N.Y. as that is the location where the stated crime occurred. Click here to continue reading.
Related Articles:
Pastor Kenneth Miller Sentenced to 2 Years in Prison for Aiding in the Protection of Lisa Miller and Daughter Isabella
Vermont Judge Threatens Mother in Hiding With Arrest
David Jeremiah Admits Richard Foster's Celebration of Discipline Promotes New Age Practices!
For many years now, Lighthouse Trails has been trying to warn the body of Christ about the book that first introduced contemplative spirituality into the evangelical/Protestant church. That book, Celebration of Discipline by Richard Foster, was released in 1978, and in that first edition, Foster said, "we should all without shame enroll in the school of contemplative prayer." Since then, and largely because of the influence of that book, contemplative spirituality has saturated the church in no small way, and many Christians have truly "enroll[ed] in the school of contemplative prayer." Through our research, we have determined that over 90% of the  Christian colleges, seminaries, and universities (the places our future pastors are trained at) have, to one degree or another, accepted Richard Foster's spirituality via their Spiritual Formation programs (which always use textbooks either by Foster or ones that point to him). What's more, from years of research and correspondence from believers, we estimate that a copy of Celebration of Discipline sits on the bookshelves of the majority of Christian pastors and leaders today.
While we have dedicated ourselves day and night for 15 years to bringing this issue to the table of present-day Christianity, hoping to see Christian leaders at least acknowledge that there is an issue here, our message has, for the most part, been rejected or simply  ignored by the evangelical  leadership. And yet, one of the most prominent, well-known, and respected evangelical leaders has himself put into print that Richard Foster's Celebration of Discipline promotes New Age practices. Here are Jeremiah's own words from his book, The New Spirituality in the chapter titled "New Age Influence in the Church" (subtitled: In this lesson we see how the New Age movement is changing the church):
Sometimes false doctrine—and in the case of this present study, New Age ideology—gets into the church from within, and sometimes from without the body. Once it infects the church it can spread like an infection. . . .

Dr. Norman Geisler, Christian apologist, was attending one of the most respected, and largest Baptist churches in the country. He was astounded to hear the huge choir singing a song whose lyrics included: "I [meaning God] am the grass you walk in, I am the air you breathe, I am the water you swim in." That is pure pantheism. God is not the grass, nor the air, nor the water. Those are all elements He created, and He is totally distinct from them. It is shocking that someone in the leadership either didn't have the discernment to recognize what the lyrics were saying, was too busy with musical things to notice. But that's how New Age influence enters the church—when no one is watching.

Dr. Geisler has also made some notes on the contents of one of the best-selling Christian books of our day, Celebration of Discipline by Richard Foster. Geisler noted some 15 different places in the book where New Age and Eastern practices were recommended for Christians—thing such as Transcendental Meditation, turning from "manyness" to "oneness," meditating on the void (nothing), and others. (The New Spirituality, David Jeremiah, Turning Point, 2002, pp. 106-107; emphasis added)
David Jeremiah acknowledges that once New Age ideology "infects the church it can spread like an infection." And surely, we have seen this take place.
Two things are sad and confusing: First, Christian leaders must not share David Jeremiah's concerns about Celebration of Discipline because 14 years after Jeremiah stated wrote this, Foster's influence has only escalated within the church and Christian colleges. Second, and this we find most confusing, one year after The New Spirituality was published, Jeremiah's book Life Wide Open was released. In that book, as we have written about in the past on a number of occasions, Jeremiah says there are a handful of people who have learned the secret to living a passionate life (for God), and then he proceeds to name a number of these people which include New Age sympathizers, a Buddhist sympathizer who converted to Catholicism, ecumenist and contemplative advocate Rick Warren, and a Catholic contemplative mystic. You can read about this in our article "David Jeremiah's Book Life Wide Open – Still Sold on His Website – Still Includes New Agers."
While we cannot understand how David Jeremiah could favorably point to those with New Age persuasions shortly after warning about the New Age in The New Spirituality, nevertheless,  a major player in today's Christian church warned about Richard Foster's Celebration of Discipline and the practices that book endorses.
Perhaps not too many pastors and leaders read David Jeremiah's book, The New Spirituality. Perhaps they have no idea what David Jeremiah (and Norm Geisler) think about Richard Foster's book. If you have a pastor, and you think he might have a copy of Celebration of Discipline in his pastor's library, you might consider printing this article and giving him a copy. Tell him, this time it isn't Lighthouse Trails saying it but rather is a leader whom they most likely respect saying it.
Related Article:
"Celebration of Discipline – 38 Years of Influence! – Probably On Your Pastor's Bookshelf"
The Calvary Chapel Association Announces Complete Separation from Brian and Cheryl Brodersen, Calvary Chapel Costa Mesa, and the Calvary Chapel Global Network
Understand the Times, International posted the following letter November 28th that was sent out worldwide to  Calvary Chapel Pastors by the Calvary Chapel Association.

November 28, 2016

Calvary Chapel Pastors,

Pastor Chuck Smith chose a group of men to lead the Calvary Chapel movement after his passing. The Calvary Chapel Association Council was a plan he reiterated on numerous occasions. A Council provides checks and balances, and a collective wisdom to help steer us in the right direction.

The CCA Council consists of men from across the country who are committed to the core values that have made us Calvary Chapel. Like many of you, we have given our lives to build Calvary Chapel churches. What makes the 1700 churches "Calvary Chapel" are the values Pastor Chuck instilled in us – our doctrine and philosophy of ministry. The principles we were taught and the transformative power of God's Spirit have proven to be more than sufficient. The CCA Council's primary goal is to maintain what has been our Calvary Chapel identity for fifty years, while seeking the Holy Spirit for fresh power and wisdom to advance God's Kingdom.

We believe Calvary Chapel has a unique and important role in the Body of Christ. Pastor Chuck left us a glorious legacy. Yet the new Calvary Chapel Global Network, established by Brian Brodersen, now threatens that legacy. This network goes by the name "Calvary Chapel," but has no framework for affiliation or required commitment to the Calvary Chapel core values. Such a network will ultimately de-emphasize our Calvary Chapel distinctives. The CCGN establishes a different version of Calvary Chapel, and will cause confusion. Brian claims the authority to represent, and even more critically, to define, what Calvary Chapel is and is not. In a recent letter to the movement, Brian quoted Amos 3:3, "Can two walk together unless they are agreed?" Brian's resignation from the Council, acknowledges he disagrees with the way the CCA Council would lead and define Calvary Chapel. This has created a crossroads that none of us on the Council wanted. To continue reading this letter, click here where UTT has posted it in its entirety.
Related Articles:
The Calvary Chapel Movement and the Sinking of the Titanic
Greg Laurie, Calvary Chapel, and New Catholic National Shrine for Marian Apparitions
Fed Up With False Teaching: Calvary Chapel Church Says "So Long" to the CC Association
Frank Viola Reposts Interview with George Barna on "Pagan Christianity" – They're Still Missing the Point
On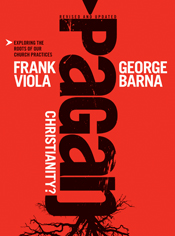 December 7th, author Frank Viola reposted an interview he did with co-author George Barna on their book Pagan Christianity. http://www.patheos.com/blogs/frankviola/georgebarnainterviews. Therefore, Lighthouse Trails is reposting the critique on that book written by our  free-lance writer Philip Gray. Viola and Barna believe that book will help bring about a new reformation to the church. Unfortunately, the reformation the emergents are bringing about is not a reformation from God. This book is a perfect example of that.
"Lighthouse Trails Book Review: Pagan Christianity by Viola and Barna – A Perfect Example of 'Missing the Point'"
In Pagan Christianity, Frank Viola and George Barna tell readers "Reading this book takes courage." We couldn't agree more, but not for the same reasons that Viola and Barna warn their readers. They tell us that it takes courage, not because of what the books says but because of what a Christian must do after he or she reads it (p. 253). We say it takes courage because of the misrepresentation the authors have given to Christianity and because the book is a smoke screen for the "new" spirituality.
Basically, according to Pagan Christianity,  if you are a Christian and you have been participating in any of the following activities, you have been practicing paganism:
1. Meeting in a building for church
2. Listening to a sermon
3. Having a pastor
4. Paying that pastor a salary
5. Sunday School lessons
6. Sitting in a pew (or balcony)
7. Using a pulpit
8. Using some sort of order to the church service, which includes taking an offering, having communion, giving announcements, and singing songs of worship.
9. Dressing up for church
10. Having a choir
11. Altar call
12. Evangelized to save a soul
After reading this list, how did you rate on that? How many of these activities are you guilty of? Did you go to church last Sunday? Did you put on your best outfit? Did you listen to a choir sing? Did that neighbor you bring respond to an altar call to give his life to Jesus Christ? Did you sit and listen to your pastor teach or preach the Word? Well, according to Pagan Christianity, if you did, you are more like a pagan than a Christian. Of these activities, Barna and Viola say: "Such practices are foreign elements that God's people picked up from their pagan neighbors" (p. xx).
The point of this review is not to defend all of these practices in and of themselves. The point is to show that this book is another subtle stab at traditional Christianity, a stab that attempts to make Christians feel guilty for just about everything they do that has to do with going to church . . . everything that is, that is external. This book has absolutely nothing to do with the heart condition of man, nothing to do with sin and repentance, but is merely a smoke screen to cover up the real issues that are plaguing the church today. For whether one dresses up for church or not, whether one gives a sermon or not, whether one sings or not, whether one gives an offering or not, and whether one sits in a pew or not, the issue that God looks at is the condition of the heart and not the outward appearances. One can sit in a pew and have evil intent in his heart; another can sit in a pew and be a godly humble man of God. It's not the pew that makes him one or the other.
Judge not according to the appearance, but judge righteous judgment. John 7:24

[F]or the LORD seeth not as man seeth; for man looketh on the outward appearance, but the LORD looketh on the heart. 1 Samuel 16:7
Pagan Christianitysays that "the great bulk of first-century practices have been removed from the Christian landscape." The book tells readers that "such practices are presently being restored on a small scale by those daring souls who have taken the terrifying step of leaving the safe camp of institutional Christianity" (p. xviii). But the book never really tells us what those practices are, except to continually say it is something spectacular that excludes the above activities and includes small groups of people who stand around in circles, embracing, and sharing with one another their various thoughts, feelings, songs, prayers, and ideas – according to Viola and Barna, that is what makes a person a good New Testament Christian.
While there is certainly nothing wrong, in and of itself, for a group of people to stand in a circle and share with one another, it is not a guarantee that the group of people will be abiding in God's will in their lives. And, in fact, if Viola's and Barna's recipe for proper Christian living is acted upon, that group of people in the circle is probably going to be in trouble because rather than having the Word of God taught to them or preached to them by those who are called into the office of teacher or pastor, they will be "dialogging" with one another, asking a lot of questions, and never coming up with any answers (because the postmodern isn't supposed to have any actual answers – having answers offends).
What is the real agenda of Pagan Christianity? Well, this much we can say, it sure isn't to warn believers against true pagan practices and beliefs such as eastern-style meditation, walking through labyrinths, doing yoga, focusing on the breath, rejecting the atonement, and so forth. In a day when spiritual deception is at an all time high, when growing numbers of Christian leaders, churches, schools, and organizations are falling into the trap of practicing, promoting, and embracing mysticism and other New Age practices (disguised with Christian terminology, by the way), it hardly seems appropriate and wise to tell Christians to stop sitting in pews, stop having sermons (and pastors for that matter), stop meeting in buildings, end all Sunday School lessons, and by all means stop dressing up on Sundays.
Perhaps what is most distressing about this book is that there is an underlying sentiment that the "preaching" and teaching of God's Word is not a New Testament practice and should be done away with. Perhaps this is the real message of Pagan Christianity. Rather than have the Word presented and preached as if it is an authoritative source for believers, get rid of all the venues in which it is presented (church buildings, sermons, pastors, pews,pulpits, etc.) as such and turn it into something we can all debate, dispute, question, challenge and reinvent.
What we would call Pagan Christianity is a perfect example of "missing the point." But with Frank Viola co-authoring a book with New Age sympathizer Leonard Sweet and George Barna, a Rick Warren look alike with a dominionist agenda, is that really any wonder that they have missed the point?
I have preached righteousness in the great congregation: lo, I have not refrained my lips, O LORD, thou knowest. Psalm 40:9

The Spirit of the Lord GOD is upon me; because the LORD hath anointed me to preach good tidings unto the meek; he hath sent me to bind up the brokenhearted, to proclaim liberty to the captives, and the opening of the prison to them that are bound. Isaiah 61:1

Arise, go unto Nineveh, that great city, and preach unto it the preaching that I bid thee. Jonah 3:2

From that time Jesus began to preach, and to say, Repent: for the kingdom of heaven is at hand. Matthew 4:17

Notwithstanding the Lord stood with me, and strengthened me; that by me the preaching might be fully known, and that all the Gentiles might hear: 2 Timothy 4:17

Preach the word; be instant in season, out of season; reprove, rebuke, exhort with all long suffering and doctrine. 2 Timothy 4:2
Related Articles:
  Leonard Sweet—A More Magnificent Way of Seeing Christ? by Warren B. Smith
Anti-Religion Jeff Bethke Hits the News Again – New Book, Same Message: "Imagine No Religion"
Understanding the Times – "Men Love Darkness Rather Than Light" by Maria Kneas
Letter to the Editor: My Children Asked to Read About Benefits of Yoga in School
To Lighthouse Trails:

My kids are taking an AP English class and were asked to read articles that show the benefits of Yoga in schools. The question was not if Yoga was good or bad, but whether detention using Yoga was effective, reading an article that said it was (per query of the students' getting detention).  Essentially inviting the kids to challenge their opinions to include Yoga in a myriad of situations in life.  My kids were aghast, that it is truly the new normal in education.  I did a search to see, and CNN is coming out with an article on Yoga and meditation nearly monthly now, I find this quite alarming.  I thought perhaps the matter would interest all of you at Lighthouse Trails.
http://www.cnn.com/2016/05/10/health/yoga-in-schools/
www.cnn.com/2016/11/04/health/meditation-in-schools-b... Proxy  Highlight Nov 8, 2016 …
An elementary school in West Baltimore uses meditation in place of detention, sending kids to a quiet space to stretch,
do yoga and practice…
www.cnn.com/2016/11/03/health/yoga-stress-strategies/ Proxy  Highlight
Nov 20, 2016 … Try these five yoga-based ways to tame tension and regain peace of mind, … According to Harvard Medical School's Dr. Herbert Benson, we can use our … Repeat it out loud several times or simply concentrate on it for a …
www.cnn.com/2013/08/22/health/yoga-in-schools/ Proxy  Highlight
Aug 22, 2013 … Many school districts are adding yoga to their curriculum but some say the … Middle School in Atlanta, lay out their mats and get ready to wind down. … the third limb — posture, according to Yoga Journal expert Richard Freeman. … for Law and Policy president Dean Broyles said in a statement at the time.
www.cnn.com/2016/02/08/health/mindfulness-teenagers-s... Proxy  Highlight
Feb 9, 2016 … Students at Marblehead High School in Massachusetts meditate in a new Zen Room at the school. … School in Massachusetts, students started moving their desks out of … morning meditation sessions two times a week before classes. … complete with yoga mats, blankets, tranquil music and soft lighting, …
www.cnn.com/2016/10/05/health/yoga-superhuman/ Proxy  Highlight
Oct 19, 2016 … Unlike conventional Western exercises, yoga focuses on the breath, and "that turns out … You can also slowly pedal out your heels, by straightening one leg at a time to ease into the posture. … The benefits of yoga in schools … According to Yoga Journal's national survey (PDF), as of 2016, there are more …
money.cnn.com/gallery/pf/2015/01/27/best-jobs-2015/10... Proxy  Highlight
Feb 16, 2015 … Yoga instructors balance their time between teaching classes that bring … planning what goes into each class and getting the word out about a …
edition.cnn.com/2014/11/13/business/new-schools-life-... Proxy  Highlight
Nov 13, 2014 … A new kind of school is popping up all over the world — and they want to teach … as well as full-time MA degrees on Digital Media Management. … Check out: Masterclass – Business Transformation for a two-day course … work stress with yoga to learn and practice the science of enhancing your well-being.
www.cnn.com/2015/09/03/health/turning-points-anorexia... Proxy  Highlight
Sep 3, 2015 … Find out what's happening in the world as it unfolds. …. "I took time off and it turned out to be a gift. … Now a high school senior, Degener is still teaching yoga classes and loading up on high-level classes to prepare for the next …
From a concerned parent
Related Articles from Lighthouse Trails:
YOGA: Exercise or Religion—Does it Matter?
YOGA and Christianity – Are They Compatible?
A Tribute to Ray Yungen, from Castle's in the Sand Author, Carolyn Greene
LTRP Note: Carolyn recently mailed this letter to Lighthouse Trails. She wrote it shortly after Ray passed away (on October 16th). Carolyn is the author of Castles in the Sand and Dangerous Illusions.

RAY YUNGEN (1952-2016)
Dear Lighthouse Trails,
How I have missed Ray Yungen, and always will.
The first time I heard about Ray, I read his book, A Time of Departing, on the contemplative spirituality that had crept into my church. I had been questioning it, and his book gave me the confidence to stand in the truth.
The first time I met Ray was when he came to speak at my church . . . the new church we found and loved where the truth was being taught.
The first time I got to know Ray was a few days later. We had lunch in the Greek restaurant, and we talked about all the things that had put us on the same page for such a time as this. One touching thing he told me that day was that he was a romantic at heart. His dream was to have a picnic with a checkered tablecloth and a basket of food on a grassy hill with someone he could love. A beautiful girl with a British accent perhaps, with whom he could wax eloquent. It was sweet that he shared his hopes in many conversations to come, and I wished it for him, but it was not to be.
The first time he came to our family's home was some time later, to discuss my research on a current faith healer who was telling everyone to "come get some" Holy Ghost fire at a big so-called revival in Florida. He walked in, and I was prepared to get down to business and show him all I had found. But he asked if I had any coffee, and if he could just sit on the leather couch and take it all in. It was my first introduction to the idea of having an awareness of the ambiance of a moment, that life was not all about work. Life was about taking it in and enjoying the gift of it. I saw that in Ray— a home was a place to cherish. I remember how he so enjoyed the roast beef dinner at our table, how relaxed he was, how he enjoyed every moment, and took interest in everything. It was not a fancy meal but one he would refer to years later as "a wonderful dinner," even though we didn't have the HP sauce he requested. After dinner, we watched video clips together on my computer of the madman who shook and flailed wildly on stage, claiming it was the Holy Spirit anointing, like a wolf deceiving the sheep. Ray were so stunned by it that he stood up, walked to the view windows and looked out at the hills . . . deep in thought at first; then very excitedly, he began to pace and explained how this was the connection between Brother Lawrence (who danced like a madman when he went into "the presence") and this modern-day movement. And sure enough, as I researched further, this false teacher did indeed "practice the presence," and even taught it. Ray thanked me profusely. I was simply honored.
Then Ray made a temporary move to Canada and lived with some brothers in the Lord. The first time I dropped by to discuss his research, he greeted me with such delight and enthusiasm. We were always on the same page and had many interesting conversations. Together, we led an evening addressing questions about Yoga to concerned parents at a local elementary school that was introducing it to kids.
What also impressed me was that Ray knew the Bible very well. He loved attending our church when he could and was a wonderful addition to our fellowship, often joining the lunch crowd at the restaurants for Sunday dinner. I always sensed God's strength and joy in him. He couldn't suppress the sparkle in his eye or subdue the constant grin that lit up his face. Especially when we would visit the local Christian bookstore, and he would bounce from book to book, excitedly expressing his exasperation, for all to hear, that such a store would sell books written by the mystics.
The time came when he had to go back home to the U.S., and we lost contact. From what I saw in the time he was with us, he embraced life as much as he did his calling. His passion was the ministry God gave him . . . to warn the church of false teaching disguised as the truth.
Surely he changed the direction of so many people walking the paths of error. Looking back on time, I now realize that God used Ray to change the course of my life. I was told he picked my pen name for the novel I wrote for his publisher, the publishing company that would not even exist were it not for Ray. I was so honored. How I wish I could have told him these things before he left us.
The first time I heard of his illness, I had hoped to share these thoughts with him. But then suddenly, he was gone. I was so sorry to hear the final news. That day I pictured him walking in a golden meadow with Jesus, picnic basket in hand, a sparkle in his eye, waxing eloquent, and enjoying the ambiance of eternity.
I miss Ray. He truly was, and forever will be, a RAY of SON SHINE.
Carolyn
LTRP Note: If you have not read Castles in the Sand and its sequel Dangerous Illusions, we would highly recommend it, especially if you have or are a college-aged person.
Carolyn Greene
Remembering the Children: 46 Claims Filed in 2 months to Catholic Priest Abuse Victims Program
Photo from cover of Seducers Among Our Children
LTRP Note: This news story is another reminder that untold numbers of children have been and continue to be sexually abused (and not just in the Catholic Church) around the world. It's an epidemic that still remains hushed in many cases today. Let us not forget that the power of sexual abuse lies in its secrecy. May we, as Bible-believing Christians, do our part to protect children. If you have never read Seducers Among Our Children by Investigative Sergeant Patrick Crough, we highly recommend it. Crough, a Lighthouse Trails author, is a devoted believer in Christ and a defender of children. His book is a vital resource in knowing how to protect children from sexual abuse.
And whosoever shall offend one of these little ones that believe in me, it is better for him that a millstone were hanged about his neck, and he were cast into the sea. Mark 9:42
By Jennifer Peltz
Associated Press
NEW YORK — It took 30 years for a former student to be ready to report he'd been sexually abused by a respected Roman Catholic priest on high school trips. But it didn't take long to realize the priest wouldn't be held accountable in court.
Though the church said investigators found the allegations credible, the accuser couldn't sue or press criminal charges, mainly because of the passage of time.
Instead, he's looking to a new compensation process set up by the Archdiocese of New York, potentially the most extensive effort of its kind to date. Some 46 people have filed claims in under two months, and the total could at least triple.
The program lets people take claims, often too old for court, to a noted outside mediator while keeping painful details private.
Yet victims' advocates are wary, noting that the archdiocese hasn't given any estimate of the payouts or the total it will spend. Some activists see the program as a church tactic to shield information about the handling of problem priests and counter pressure to let decades-old child sexual abuse cases go to court. Click here to continue reading.
Related:
Protecting Your Child From Sexual Predators – With Prayer & the Word by Patrick Crough
Letter to the Editor: Catholic/NAR Theological Unity Coming on Rapidly
To Lighthouse Trails:
On November 22 on TBN, Samuel Rodriguez promoted Catholic priest Father Cedric, who apparently has been on TBN before. http://www.tbn.org/watch-us/our-programs/live-with-passion-hosted-by-fr-cedric-pisegna
Samuel Rodriguez, photo from NHCLC.org
Rodriguez, as you know, is New Apostolic Reformation (NAR) affiliated.
The Catholicism/New Apostolic Reformation theological unity is coming on rapidly. Seven weeks ago, I sent a certified letter to Mike Bickle of IHOP-KC concerning the Catholic contingent that will be at Onething 2016. Precedent has been set as the Catholics were at Onething 2015.
The four IHOP-KC worship leaders who were pro-Catholic at Onething 2015 also got a copy of my letter.
Unfortunately, all five of my warning letters were returned to me unopened.
We now have well-known people like Rick Warren, Mike Bickle, Samuel Rodriguez and others essentially functioning as pro-Catholic advocates.
Homosexuality and Catholicism are key components of the rising false church; of this I am more convinced than ever.
A Concerned Believer
Related Material:
Assemblies of God Leader Dr. George Wood Joins New Age Sympathizer Leonard Sweet at Luther 2017 (Another Step Toward Rome?)
The Perfect Storm of Apostasy – An Introduction to the Kansas City Prophets and Other Latter-Day Prognosticators
TV Preachers [Copeland, Robison] Glowingly Describe Meeting with Pope to Tear Down 'Walls of Division'
Pope Francis, Rick Warren, and That 2014 Catholic Interview No One Thought Important? Reminder of Its Revealing Facts About "America's Pastor"
DRESS REHEARSAL FOR A FALSE REVIVAL? – Evangelical, Charismatic, Emerging Leaders, & Pope Francis Unite for "Together 2016" in Washington, DC
SPECIAL LOW PRICE ON HARRY IRONSIDE 8-BOOKLET PACK THIS WEEK
8 HARRY IRONSIDE BOOKLETS IN ONE PACK—
JUST $10.00 FOR A LIMITED TIME (Reta
il Value: $15.60)



Use code IRONSIDE at checkout to get this pack for just $10 (offer expires on 12/16/2016)
Click here to get this special pack of these wonderful teachings by Harry Ironside.
1. What Does it Mean to Be Justified By God?
2. The Expectation of His Return
3. For God So Loved the World That . . . Whosoever!
4. Regeneration: "Ye Must Be Born Again."
5. Redemption: To Be Free of Sin's Curse and Power
6. What is the Gospel? Understanding What it is and What it is Not
7. Substitution—He Took Our Place!
8. Three Vital Questions on Navigating Discernment

Visit our online store for a complete listing of all our resources. To see all our special-priced items, click here.