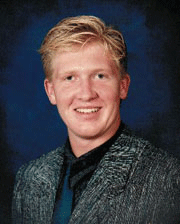 By Roger Oakland
Understand the Times, International
June 23 is always a bitter-sweet day for our family. Our son Bryce was born 39 years ago today. This reminds us of his life and how much we miss him. He was only 27 years old when his life was suddenly taken in a car accident in Saskatchewan, Canada. The pain that remains, because of this loss, never goes away. As parents, who have also lost a child, will understand, memories of things he did constantly remind us of his life. While we know we will be reunited in the future, there are certain days, like his birthday, that are especially important to us now.
Those who visit our Understand The Times web site (understandthetimes.org) will understand Bryce's life and death have made a great difference to many children around the world. He was the inspiration for the origin and development of the Bryce Homes Program in Myanmar, South Africa, Kenya, and the Philippines, which now supports 38 separate homes. There are over 200 children in these homes (plus the adults who provide the on-hands care and spiritual leadership in these countries).
Each year, I personally visit each country to see how the programs are functioning and look for ways that we can improve, expand, and meet more needs. Financial provision for these programs has come from Christian brothers and sisters who have generously contributed from around the world through online donations or by check to our two non-profit organizations, one based in Canada and the other in the USA. Our publisher, Lighthouse Trails, has graciously helped us by informing the readers of their newsletter list about the Bryce Homes Widows and Orphans Program in Kenya, which has now expanded to 20 separate homes. Click here to continue reading.